Leica M 10 Digital Rangefinder Camera

Index of Thorsten von Overgaard's user review pages covering Leica M9, Leica M9-P, M-E, Leica M10,
Leica M 240, Leica M-D 262, Leica M Monochrom, M 246 as well as Leica Q and Leica SL:


A New Leica M 10
By: Thorsten Overgaard. January 15, 2017. Lates update February 3, 2017.
Expect Simplicity
The Leica M system is the core of Leica Camera AG, and the core of the Leica M system is simplicity.
Despite what people might ask for, the Leica M 10 is a step back towards simplicity. In an age where everybody asks for more, what defines the Leica brand is keep it to the minimum.
I am independent writer and photographer. I buy the cameras and equipemt I see fit to what I do, and then I write user reviews. I don't write about things I don't use in my work. I don't make money on selling cameras but on my photographs, books, extension courses and workshops. My website is free to read, and so is my new Magic of Light Photography Television channel.
Enjoy, and stay tuned for my first user report in February 2017 on the Leica M 10.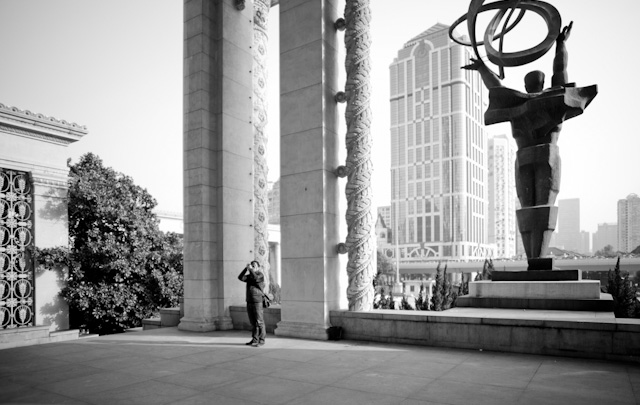 Shanghai. Leica M 240 with Leica 21mm Summilux-M ASPH f/1.4. © 2013-2017 Thorsten Overgaard.
The new Leica M10
The new Leica M10 is a downscale and improvement of the Leica M 240 in the sense that there is still a menu, but it has been simplified. The viewfinder, screen and speed has been optimized. The design has been refined without changing the tradition (see Leica MP further down the page).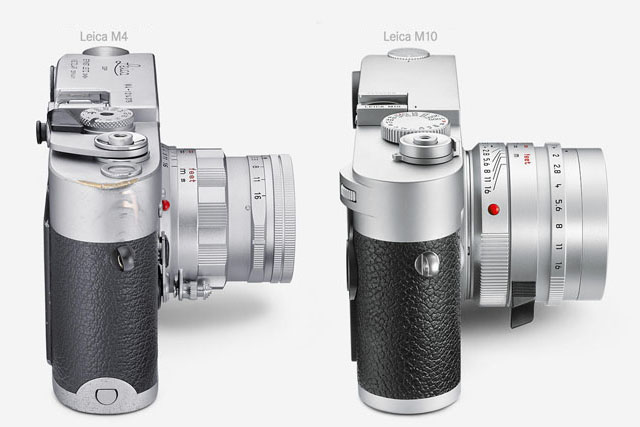 What Exactly is "The Essential"?
Photography is control of light, and the lens provides focus. Photography is not much other than that. These are the essential parts of a camera.
Wireless transfer and wireless remote control are nice and have their place in today's world of smartphones and social media, but it's not essential, so don't expect Leica Camera AG to add a WiFi button on the camera. In fact, don't even expect it to be in the mandatory menu.
Though, with young designers and relatively new owners, expect new features to be taken seriously, without stealing the picture.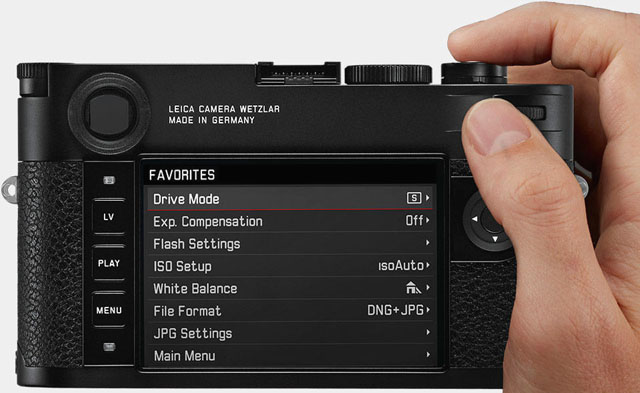 Customized menu of the Leica M10.
The Customized Menu
The Leica M 10 has the posibility for the user to customize your own menu with the few (or many) items you want in your menu. If you use WiFi a lot, put it there. If you never use it, leave it in the main menu.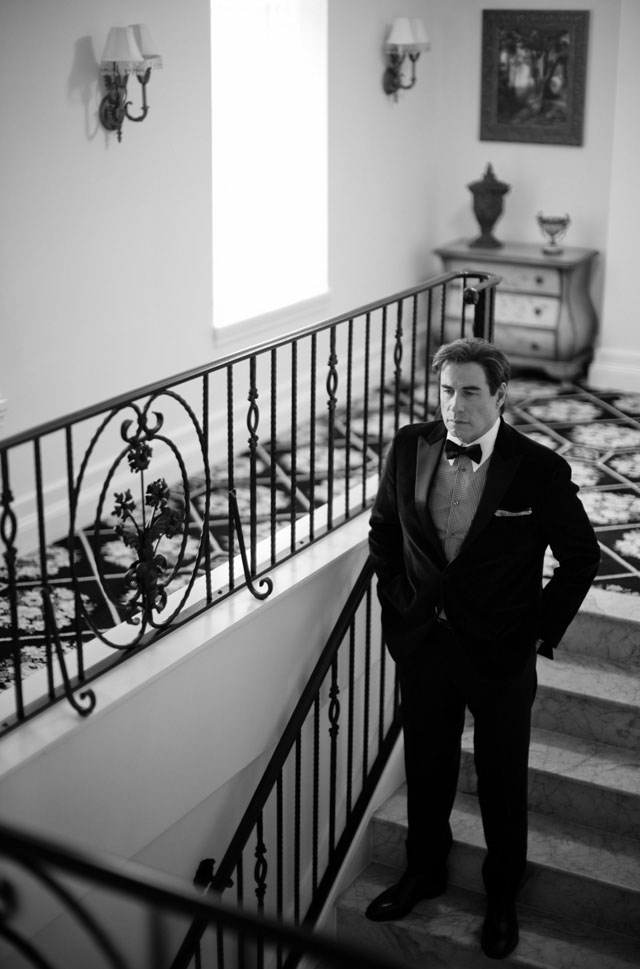 John Travolta. © 2017 Thorsten Overgaard. Tuxedo by Matteo Perin.
Less Complexity, More Photography
Leica Camera AG learned their lesson as to frames-per-second, buffer speed and all those things. The Leica Q and the Leica SL indicates they know how to make electronics that surpass even the most abusive use.
All questions that are left are the viewfinder and the image quality.

The Leica M10 in black with my ventilated lens hood for Leica 35mm FLE.

Photo by Florian Boberg.

The New 24MP Sensor

Not much information will be available on the sensor. Just like the Leica SL and the Leica Q sensor, all we will know is that it's made by or for Leica, and this one is made for the Leica M10. I much prefer not to compare details on sensors (as to who produced them and so on), but simply do this: Look at the picture.

In the case of digital, the picture is not just what comes from the camera, it's what you can make out of what comes from the camera using Lightroom or Capture One. It usually takes some weeks or months to settle for a way to get your own look with a new camera and sensor.

The image quality will take a while to get right, no matter what. Opinions will be divided, but eventually we'll get the look we want. Most of us. I'm not worried about it. I dislike changes but they come with every new sensor model.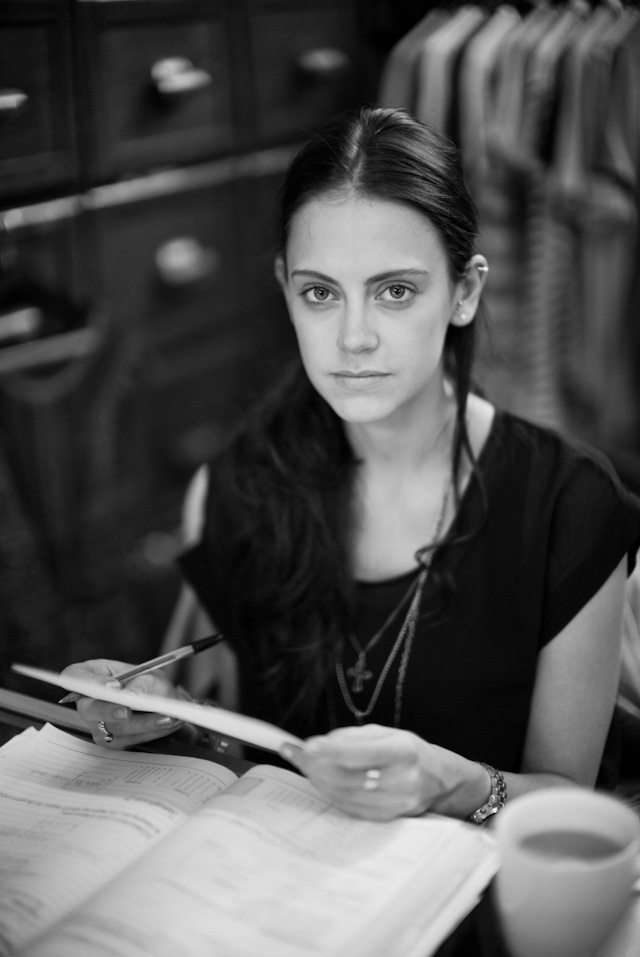 The office of fashion designer Bolongaro Trevor, London. Leica M 240 with Leica 50mm Noctilux-M ASPH f/0.95. © 2013-2017 Thorsten Overgaard.
The viewfinder is the real exciting point. How will it look and how will it work? In an age where everybody starts to love electronic viewfinders, Leica M users still (also) love the traditional Leica M rangefinder mechanism.
How are they combined? That's the most exciting question in this and the future Leica M cameras.
The past of the Leica M: In trying to accommodate customers' presumable want for other ways to focus, Leica first came up with the SLR-like VisoFlex, and then with the Leica M 240 with the Electronic VisoFlex. Obviously both were impractical and not in alignment with the simplicity of a Leica M.
At announcement of the Leica M10, the viewfinder was announced to be a 3.7MP Leica Bizofurex EVF but the one Leica sell with the camera and promote on their website is the 2.4 MP Visoflex that was made for the Leica TL.
| | | |
| --- | --- | --- |
| | | |
| Leica Visoflex EVF2 electronic viewfinder on the Leica M 240. | | The Leitz VisoFlex came out in 1951 as a way to implement a mirror on a Leica M. |
| | | |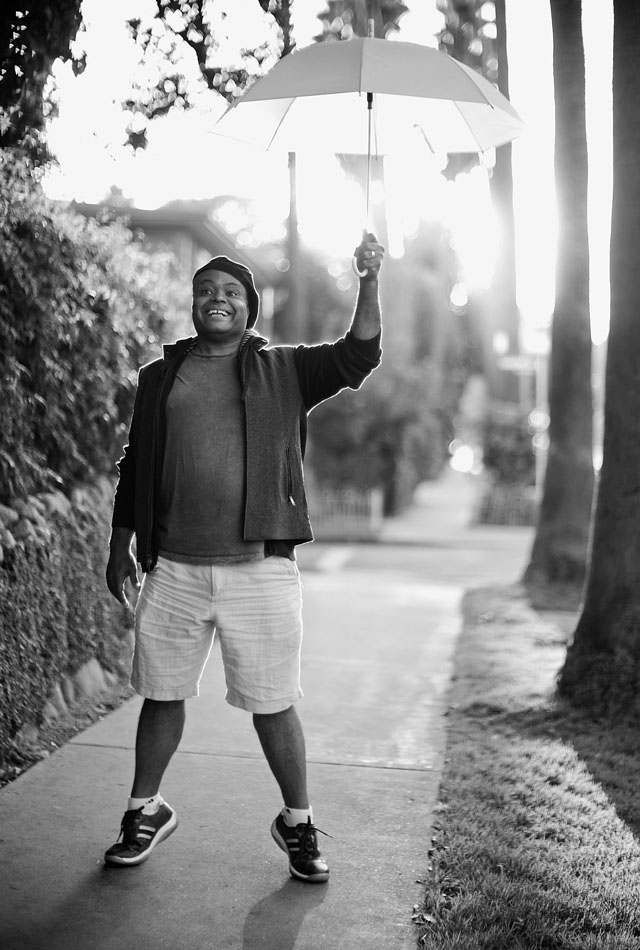 Actor Terence Hines in Los Angeles. Leica M9 with Leica 50mm Noctilux-M ASPH f/0.95. © 2014-2017 Thorsten Overgaard.
What is Eye Relief?
The Leica M 10 includes, as one of the important new improvements, a "50% wider Eye Relief". Eye Relief is the term for the distance between the eye and the first piece of optics in the viewfinder. In short, it should give a higher and wider and more relaxed view.
In short, when the Eye Relief is correct, you see the whole image clearly, without distrurbing elements of frame or reflections. This is obviously technology learned from the Leica binoculars that has always been extremely bright and clear to look through. Expecially for us who wear eyeglasses.
You can read more about Eye Relief here.
The viewfinder is wider on the front which allows for more enlargment. It used to be 0.68 on a Leica M, with the Leica M10 it is now 0.73.
Why is my M10 not the M11…?
The point maybe is this: The Leica M9 is a legendary classic Leica rangefinder camera. The first full-frame digital Leica, the true love of many who still use it today, 6 years after its release. I redefined my love for this camera some months ago as you can read in this page 19 of "The Worlds (Possibly) Longest Camera Review".
I also just last week released my Leica M9 review on The Magic of Light Photography Television:
The Leica M 240 will, in a few years - in the bright and clear retrospective light we will see the world in then - be remembered as a well-made digital rangefinder that did the job but perhaps missedsome of the soul and simplicity.
Given the choice to skip the M 10 model and jump to Leica M 11, or skip the Leica M 240 - step over it as if it never really happened - and go to Leica M10 seems the decision that was made. With this, Leica M-D 10, Leica MM 10 and Leica M-P 10 are all in the future.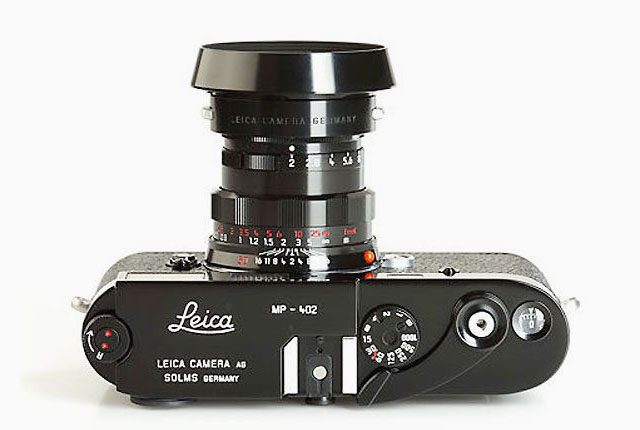 Nothing is like the old days: The classic Leica MP film rangefinder camera with a knob for rewinding of the film.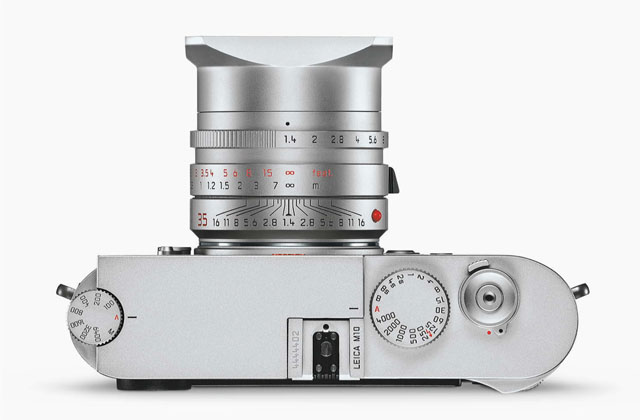 The Leica M10 with ISO-dial instead of rewinder knob.
Leica M10 and other Leica M models
Model
Leica
M8
Leica
M8.2
Leica
M9
Leica
M9-P
M
Typ 240
M-P
Typ 240
M
Typ 262


M-D
262
Leica
M10
EVF
No
No
No
No
1.4MP
EVF-2
External
1.4MP
EVF-2
External
No
No
2.4 MP Typ 0020 Visoflex with GPS device.
(or 3.7MP
Leica Bizofurex)

Screen
No
Start
2006
2008
09/2009
06/2011
03/2013
11/2014
12/2015
05/2016
01/2017
End
2009
2009
2012
2012
-
-
-
-
-
MP
10
10
18
18
24
24
24
24
24
Sensor
CCD
CCD
CCD
CCD
CMOS
CMOS
CMOS
CMOS
CMOS
Format
18x27
18x27
24x36
24x36
24x36
24x36
24x36
24x36
24x36
AA filter
No
No
No
No
No
No
No
No
No
Video
No
No
No
No
Yes
Yes
No
No
No
Adapters
Leica
screw
mount
Leica
screw
mount
Leica
screw
mount
Leica
screw
mount
Leica R
Nikkor
LeicaCine
Leica
screw mount
Leica R
Nikkor
LeicaCine
Leica
screw mount
Leica screw mount

Leica
screw
mount

Leica R
Nikkor
LeicaCine
Leica
screw mount

Shutterless
No
No
No
No
No
No
No
No
No
Mirrorless
Yes
Yes
Yes
Yes
Yes
Yes
Yes
Yes
Yes
Live View
No
No
No
No
Yes
Yes
No
No
Yes
WiFi
No
No
No
No
No
No
No
No
Yes
Framelines
LED
White or
Red
LED
White or
Red
LED
White
LED
White
LED
White or
Red
DNG
DNG
DNG
DNG
DNG
DNG
DNG
DNG
DNG
DNG
JPG
JPG
JPG
JPG
JPG
JPG
JPG
JPG
No
JPG
Base ISO
160
160
160
160
200
200
200
200
100
Max ISO
2800
2800
3200
3200
6400
6400
6400
6400
50,000
Processor
Maestro
Maestro
Maestro
Maestro
MaestroII
Buffer
No
No
No
No
No
2GB
1GB
1GB
2GB
Frame selector
Yes
Yes
Yes
Yes
No
Yes
No
Yes
Yes
USB port
Yes
Yes
Yes
Yes
Extra
Extra
No
No
Extra
GPS
Extra
handgrip
Extra
handgrip
No
No
Extra
(Sits in
the EVF)
Viewfinder
0.68X
0.68X
0.68X
0.68X
0.68X
0.68X
0.73X
Weather sealed
No
No
No
No
Yes
Yes
Yes
Yes
Yes
Weight
580g
600g
680g
680g
580g
680g
647g
Digital color filters for B&W
Built-in
Built-in
Price $US new
4,800
5,995
7,000
8,000
6,595
6,995
5,395
5,995
6,595
Price Pounds
2,990
4,950
5,395
5,600
Price Euro
6,500
| | | |
| --- | --- | --- |
| | | |
| | This article will continue --> | |
| | First page in my user report coming February 2017 | |
Leica M 10 Forums:
L-Camera-Forum. Also known as Leica User Forum.
Leica M 10 Live Blogging:
David Farkas of Leica Store Miami is on site, providing up-to-the-minute coverage. You can follow him on twitter at http://twitter.com/reddotforum and on facebook.com/reddotforum. After the event, he will be providing a re-cap with more details at www.reddotforum.com.

Leica M 10 Reviews:
Enche Tjin: "Interview with Stefan Daniel and Jesko Neuhausen on M10" (as of January 29, 2017)
Sean Reid: "Black & White Comparison of Leica M10, M240 and M246" (as of January 28, 2017)
Sean Reid: "Color Studio Comparison Tests of Leica M10, M240 and SL" (as of January 22, 2017)
Chromasoft: "Leica M10 raw file (DNG) analysis" (as on January 21, 2017)
Erwin Puts: "Leica M10, 2,000 hours" (as of January 20, 2017)
Steve Huff: "Leica M10 higher ISO tests vs Sony A7RII, Leica SL" (as of January 20,2017)
Jonathan Slack: User Report Leica M10 (at L-User-Forum as of January 18, 2017)
Jonathan Slack: User Report Leica M10 (at LHSA as of January 18, 2017)
Steve Huff: The Leica M10 is Here! (as of January 19, 2017)
RedDotForum.com (as of January 18, 2017)
Sean Reid: Reidreviews (as of January 18, 2017)
DP Review: The M U want: Leica M10 First Impressions Review and Samples (as of January 18, 2017)
DP Review: Leica Boss: Hands-on with new Leica M10 (as of January 18, 2017)
Thephoblographer.com: Review of M 10 (as of January 18, 2017)
Amateur Photographer: Leica M 10 Hands On First Look (as of January 18, 2017)
INTERNATIONAL ACADEMY OF PHOTOGRAPHIC ARTS: Leica M10 (as of January 18, 2017)
Leica M 10 Video Reviews:
The Phoblographer: Stafan Daniel talks about the Leica M 10 (as of January 18, 2017)
Amateur Photographer: Leica M 10 Hands On First Look (as of January 18, 2017)
Steve Huff: The Leica M10 video review (as of January 19, 2017)
DP Review: "Leica M 10 Hands On" (as of January 19, 2017)
Matt Stuart - "Exploring Brussels with the Leica M 10" (as of January 19, 2017)
Kai W: "Leica M10 Hands-on Preview" (as of January 19, 2017)
Matt Granger: Leica M10 (as of January 19, 2017)
LeicaRumors: "New Leica M 10 in 24 hours" (as of January 17, 2017)
Steve Huff: A New Leica M Coming Soon..?" (as of January 17, 2017)
Leica M10 Rumors: The Big Recap (LeicaRumors as of January 11, 2017)
LeicaRumors: One more picture of the Leica M10 in black (as of January 11, 2017)
LeicaRumors: "New picture of the entire back of the Leica M10 camera" (as of January 11, 2017).
LeicaRumors: "New leaked picture shows the buttons on the back of the Leica M10 camera"
LeicaRumors: "Another picture of the Leica M10 camera" (as of January 10, 2017)
LeicaRumors: "Leica M10 camera to be announced on January 18th, 2017" (as of Dec 8, 2016)
Sign up for my free newsletter to stay in the know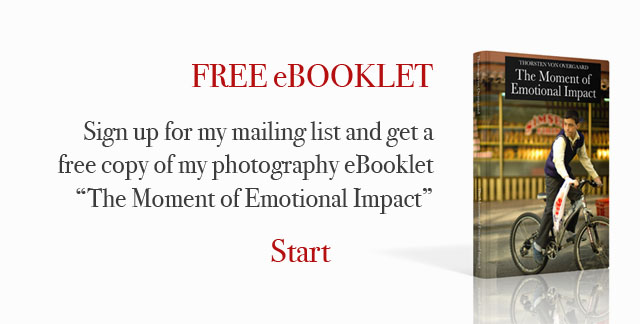 Limited time offer for my readers from Serge Ramelli: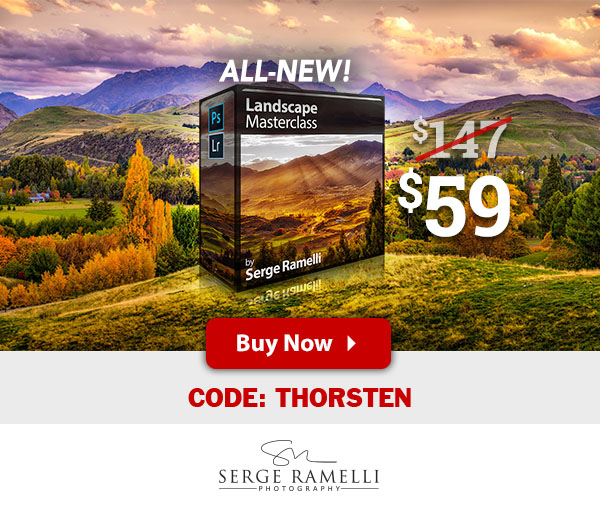 When Serge Ramelli attended my workshop we spoke about letting my readers have some of his courses in Lightroom at special prices. This is the first one. Simply click on the link and use the code: THORSTEN to get 60% off the price.

Index of Thorsten von Overgaard's user review pages covering Leica M9, Leica M9-P, M-E, Leica M10,
Leica M 240, Leica M-D 262, Leica M Monochrom, M 246 as well as Leica Q and Leica SL: