Leica 50mm Summilux-M ASPH f/1.4
Leica 50mm Summilux-M ASPH f/1.4 LHSA Edition 11 627 (2005)
Leica 50mm Summilux-M ASPH f/1.4 Lenny Kravitz Edition (2015)
Leica 50mm Summilux-M ASPH f/1.4 Black Chrome Edition (2016)
Leica 50mm Summilux-M f/1.4 (non-ASPH)
Leica Xenon f/1.5
Leiac Summarit f/1.5
By: Thorsten Overgaard. April 9, 2012. Updated September 16, 2016
Summilux = "Highest light lenses"
"Summilux" refers to the maximum lens aperture - in this case the f/1.4 lenses from Leica. "-lux" means light, and "Summi-" probably comes from Latin summum, meaning "highest." The first Summilux lens introduced was the 1960-model of the 50mm Summilux f/1.4 which was a screw-mount lens (before then the most lightstrong lenses were the 1935-1950 Leica 50mm Xenon f/1.5 lenses), and not till six years later, in 1966, would the Leica marketing department (or whoever make up the names) discover that the "highest light lenses" was surpassed by the even higher light lens, the first Noctilux f/1.2 "Light of the Night" lens.
[This article is in the works and will be expanded over time]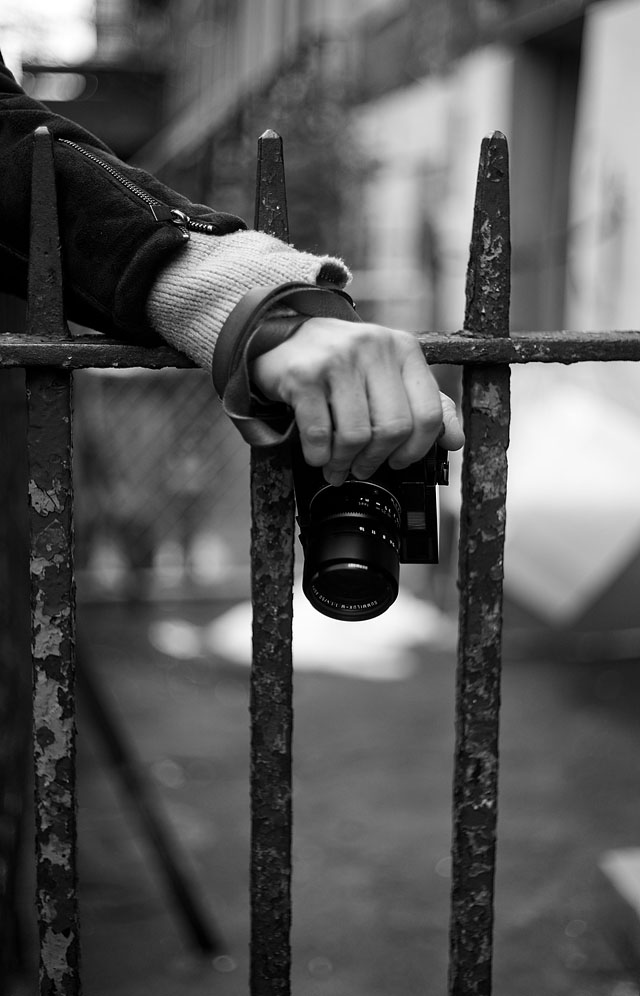 The Leica M9 and Leica 50mm Summilux-M ASPH f/1.4 in the hands of Birgit Krippner who used to shoot exclusively with this lens.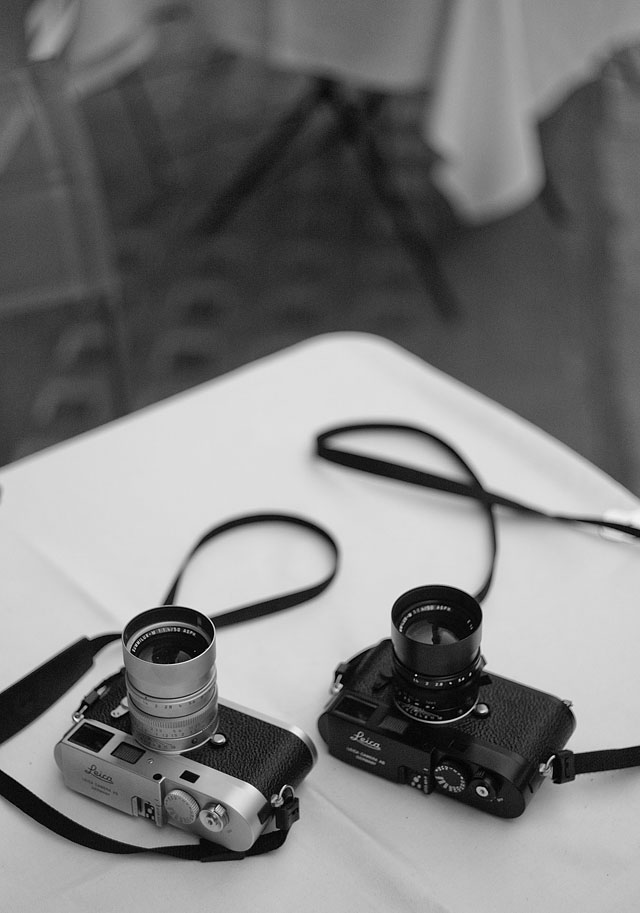 The current Leica 50mm Summilux-M ASPH f/1.4 is available in both chrome and black.

Limitied editions of the Leica 50mm Summilux-M ASPH f/1.4
Leica 50mm Summilux-M ASPH f/1.4 LHSA Edition (2005)
In 2005 Leica made a limited run of the then newle designed 50mm Simmilux-M ASPH f/1.4 designed by Peter Karbe. This was the LHSA edition in black paint (glossy) and silver for the and was sold with and without the M3 camera. The price on release was around $3,000 and dropped a bit in the following years, then sky-rocketed towards $7,000 - $8,000 in 2015-2016.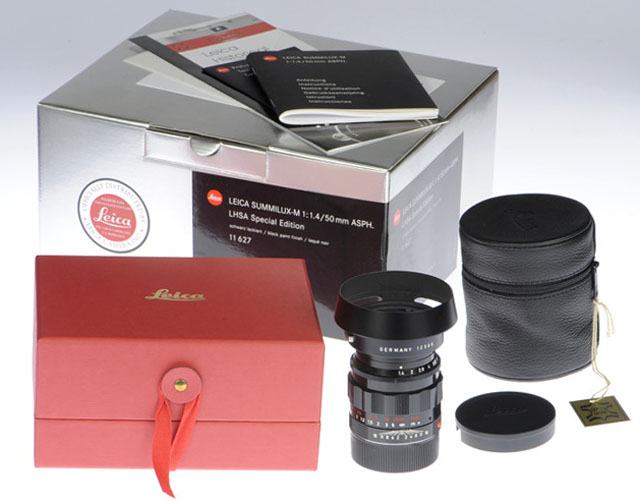 Leica 50mm Summilux-M ASPH f/1.4 LHSA-edition in black paint. Hood is part no 12 586.

These lenses were sold with and separately from the MP3 bodies manufactured for the LHSA in 2005.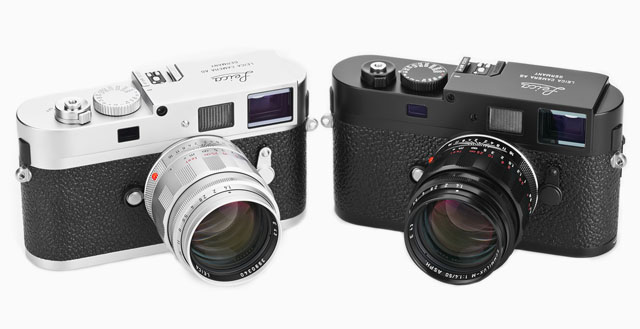 Leica 50mm Summilux-M ASPH f/1.4 LHSA-edition in silver and black. Current optical design in 1959 barrel.
Leica 50mm Summilux-M ASPH f/1.4
Lenny Kravitz "Reporter" Limited Edition of 125
In 2015 Leica Camera AG then released a very limited series of this lens in black paint, but intentionally brassed. A set of one black Leiac M-P 240 camera and two lenses (35, 50) in a suitcase, designed and named after Lenny Kravitz.
The series of 125 numbered sets of sold out about 9-12 months after it's release.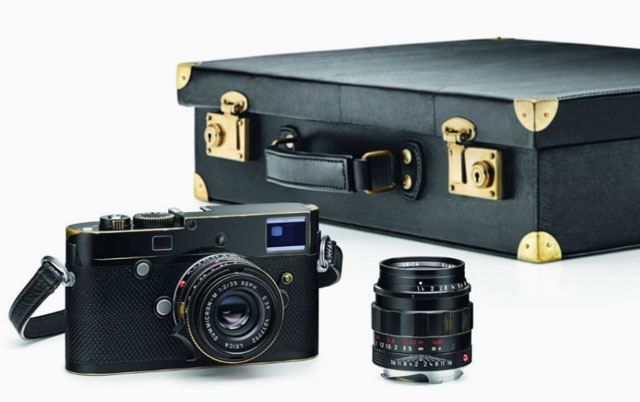 Lenny Kravitz "Reporter" limited edition of 125 sets in suitcase. Leica M-P 240 with Leica Summicron-M ASPH f/2.0 and Leica 50mm Summilux-M ASPH f/1.4 Black Paint.
Leica 50mm Summilux-M ASPH f/1.4 BC (Black Chrome) 2016
Few months after the release of the Lenny Kravitz model, Leica released another series of 500 the the same lens, but in matt black (Black Chrome) and not brassed.
A Leica 50mm Summilux-M ASPH f/1.4 lens, but in old-school brass design and barrels. Initially the retail price was $3,900 and then rose to $4,350 in autumn 2016.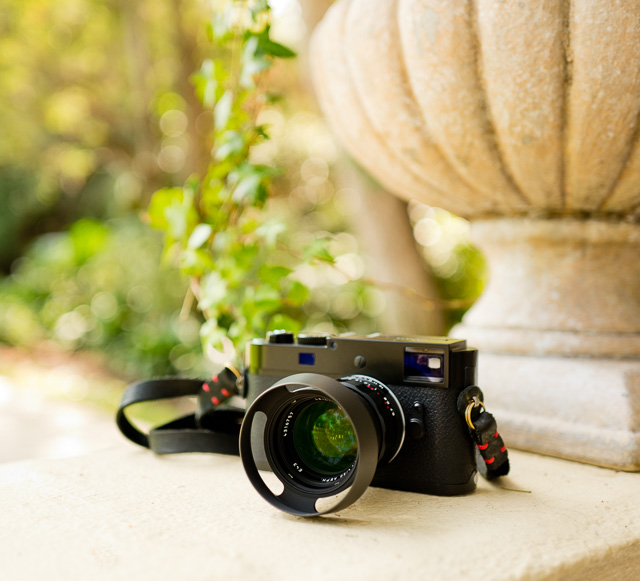 Leica 50mm Summilux-M ASPH f/1.4 Black Chrome limited edition in 1959-design (500 released in 2015) on Leica M-D 262. Comes with hood (12 586) and metal and plastic lens cover. © 2016 Thorsten Overgaard.
How to mount a filter
on the Leica 50mm Summilux-M ASPH f/1.4 Black Chrome
or any other 1959 non-ASPH version
You will notice that whereas the normal 50mm Summilux-M ASPH f/1.4 has a 46mm filter size, the limit editions has a filter size of 43mm. Not a big problem as 43mm ND filters and UV filters are also available. Just a surprise as no other current Leica lenses has a 43mm filter size (but all the 50/1.4 lenses had in the old days).
But you will see that when the filter is mounted, the classic shade (art no 12 586) doesn't fit onto the lens anymore! There exist a vintage UV filter that goes with the lens. I don't use UV-filter, so I haven't tried to get one.
But I do use ND (Neutral Density) filters, so I acquired a 43mm ND filter (3-stop or 0.9ND) and then fumbled with it for a bit.
Step 1
Step 2
Step 3
Put on the lens shade.
Drop the ND filter into the shade.
1) Lock filter first with the bayonet locks.
2) Then press it down with a finger and turn the whole shade with filter till it sits as tight as it can.
In actual fact, if you mount the shade first, and then drop the ND filter down into the bayonet locking mechanism (press the silver buttons to open the "reverse locks" for attaching the shade upside-down when traveling). Then you will see that it almost locks. If you then turn the shade aroune the filter will actually screw onto the lens to some degree. Enought to make it stay there.
Obviously, when you want to take off the ND filter, you will have to turn the shade counter-clockwise till the filter screw let go of the screw on the lens.
You will see that the filter and shade sits tight together and you can't turn the shade futher clock-wise around. Now, if the filter turns counter-clockwise as you move around, be aware that the filter will work it's way out of the screw again and eventually drop. If you drop one, it's not the end of the world. It's only a $45 filter and not a lens.
Buy the new eBook
"The Freedom of Photographic Expression"
by Thorsten Overgaard

"The Freedom of
Photographic Expression"
eBook for computer, Kindle and iPad
October 2016 (268 pages)

In this easy to read and apply eBook,
Thorsten Overgaard takes beginners and experienced photographers through the basics of controlling the light and the camera.
This book covers the technical side of photography from beginners level to semi-pro, features a number of photographs by Thorsten Overgaard and chapters on his philosophy on photography.

Only $148

Buy Now

Instant Delivery

"I've bought the new book - made a start reading it - it is really interesting.
I know it's basic at the beginning but it isn't written in a patronizing way. I have been taking photographs for many years and have been lucky enough to be paid to take them for the last seven years; but it's always good to be taken back to the start"
P. S. (UK)

""Really enjoy your writing and teaching"
D. K. (USA)

"I love your insights on photography."
D.B. (USA)

★ ★ ★ ★ ★ ★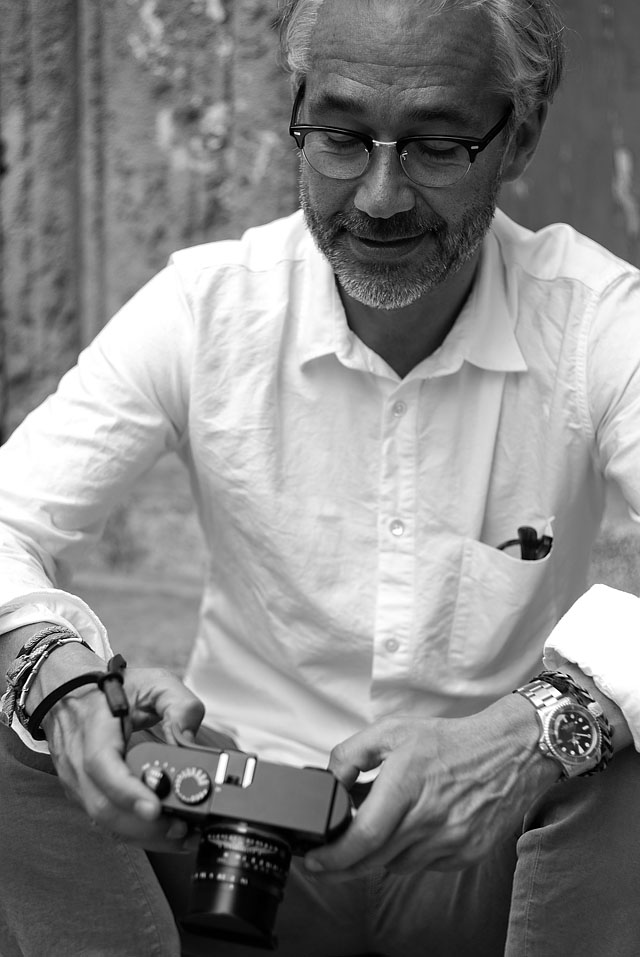 Proud owner of a Leica 50mm Summilux-M ASPH f/1.4, Hans van Dijk from Holland. Palermo, May 2011

Join the NEW Thorsten von Overgaard
Photography Extension Course

"My wife game me this course and I absolutely love it.
Now I think more in light and shadows. Used a lot of the techniques on a recent trip and
my photos have improved a lot. Well done, Thorsten!"
S.N. (Mexico)

"I am happy with my purchase of the extension course. Well written, easy to understand"
K.D. (USA)

"I very much enjoy the incredible knowledge"
V.V. (United Kingdom)

"Addictive, beautifully and simplistically written. Just amazing. Cleared my concepts"
V.P. (USA)

"The extension course is the best course I read about photography (and I'm still at the beginning)"
M.S. (Luxembourg)

"I'm already in page 81 of the Extension Course, and your communication and words provoked a change in me at an aesthetic level that I felt but I couldn't explain"
C.L. (USA)


The NEW
Overgaard Photography Extension Course

The waiting list is over!

After a couple of years with a long waiting list, I have finally redesigned the course so I can handle the students interested in this course. Not only that. The number of pages has gone up from 120 to 330..!

I teach you the basics of photography in an easy-to-understand and step-by-step way that anyone from age 12 to 90 years can understand and easily apply. This extension course is for everyone from 12-90 years.

The intention with this extension course is to get you going in your photography adventure with lightning speed and inspire you to reach to new heights.

Enjoy!

Specially tailored for Leica and digital photographers.

You work at your own pace after you recieve the full package of material via mail. It works as PDF on computer, iPad, Kindle, or - if you like - make your own print.

Join the Home School for
Leica and Digital Photographers

Only $798.00

Buy now. Instant delivery by mail.

ITEM #1708-2016

Note: If you have bought The Overgaard Extension Course (2010) previously you may enroll on this new course for free. Simply e-mail me.
50mm Summilux-M types
Xenon
f/1.5
(Schneider)


1936-1950
"XEMOO"



Screw
mount

Xenon
f/1.5
(Schneider) Taylor-Hobson

1936-1950
"XEMOO"



Screw
mount


Summarit
f/ 1.5



1949-1960
"SOOIA"



Screw
mount


Summilux
f/1.4
Version I


1960-1963
"SOOME"



Screw mount


Summilux-M
f/1.4
Version I


1959-1961
"SOOME"



Bayonet mount


Summilux
f/1.4
Version II


1962-2004
Chrome
11 114
Black
11 114
Bayonet mount

Summilux-M ASPH (APO)
f/1.4
Version III

2004-current
Chrome
11 891
Black
11 891
Bayonet
mount
Serial xxxxxxx
to -
Serial xxxxxxx
to -
Serial xxxxxxx
to -
Serial xxxxxxx
to -
Serial xxxxxxx
to -
Serial xxxxxxx
to -
Serial xxxxxxx
to -
Shade 12 586
E43 filter
Shade 12 586
E43 filter
Shade 12 586
E43 filter
Built-in shade
E46 filter
0,7 m - infinity




x lenses in x groups
This lens is an APO construction.
xxx g
xxx g
xxx g
xxx g
xxx g
xxx g
335 g
f/1.5
f/1.5
f/1.5
f/1.4
f/1.4
f/1.4
f/1.4
xx xxx front cap
Walter Mandler
Peter Karbe
Ken Rockwell have made this filter overview of 43mm filters for Leica lenses.
Screw-thread lenses are for Leica II, 250FF, III, 250GG, IIIa, IIIb, IIIc, IIc, Ic, IIIf, If, IIf, If, IIIg, Ig but can be mounted on Leica M bayonet cameras with an adapter. Everything works as if the lens had a M bayonet mount when the adapter is applied.
Interview with lens designer Peter Karbe
on the Leica 50mm Summilux-M ASPH f/1.4
Peter Karbe at the factory in Solms, with an original notebook of Max Berek from 1930.
Photo by: © Thorsten Overgaard, September 2010.
Peter Karbe, head of Leica optics design, worked on the 50mm Summilux-M ASPH f/1.4 for ten years, and in his spare time.
His masterpieces so far include the Leica 50mm APO-Summicron-M ASPH f/2.0 and the Leica 50mm Noctilux-M ASPH f/0.95.
(See my article with interview with Peter Karbe on the Leica 50mm APO-Summicron-M ASPH f/2.0).
Here's an excerpt from a talk David Farkas of Dale Photography had with Mr. Peter Karbe at Photokina in 2008:
Sitting with Peter you really get the feeling that these lenses are his children. Talk of certain lenses puts a small smile on his face and a glint in his eye. Then, he'll go on about why it is special and unique. For instance, many know of his many years of work on the 50mm Summilux ASPH.
He is extremely proud of this lens, pointing to the MTF-chart and exclaiming that wide open at f/1.4 it resolves 40lp at above 50%.
He went into how he came up with the modified special double gauss design and how the back half of the lens is identical to the 35mm Summilux-M ASPH f/1.4, while the front half is identical to the Leica 50 Summicron. This was the secret to achieving such performance in a fast 50.
Then, he said that one Saturday morning over his first cup of coffee in his kitchen he thought about [Dr. Walter] Mandler. Apparently, after Mandler designed the Noctilux, he used the same design to build the 75 Summiux.
And while Peter doesn't like the 75 Lux, he decided that he needed to design a 75 based on the 50 ASPH design.
Shortly thereafter, keeping everything the same, except for removing one lens element in the first doublet behind the central ASPH element used to correct for aberrations caused at 1.4, he minted the design for the Leica 75 APO Summicron-M ASPH f/2.0.
Why the Leica 50mm Summilux is an APO lens
I asked if the design was the same why the 75 was an APO lens and the 50 wasn't. Here is a bit of a shocker… the 50 lux ASPH is an APO lens, containing an APO-correction element. But, he thought the idea of an APO 50 was a bit silly so they never put it on the lens or in any marketing materials.
He really believes in revisiting the past for inspirations on the future. Peter said that he often thinks about what his predecessors from decades ago would do with today's technology.
This was his inspiration with the Summarits. Classic designs with a modern twist. He studies and claims (who would doubt him) that he is familiar with the designs of almost all of the Leica lenses made to date. He has his favorites as well as examples that were not so successful.
According to Peter, the great leaps in lens design were brought about by technological advances. The first was with new types of glass, then with coatings, followed by computer modeling, and now just recently, advances in mechanical design and manufacturing.
This is why the S lenses and the new 21 Lux are as lightweight as they are. A lot of attention is now being paid by the design team to the manufacturing process. Karbe has organized small design teams in his fast-growing department to be more efficient and productive. An optics designer is paired with a mechanical designer and a production manager to develop the entire product, not just the optical path. Handling, feel, ease of manufacture, and consistency in quality control are equally important to imaging performance.
Also, by using more shared designs and more common components, more lenses can be brought to market faster. The 35 and 50 Summarit. The 75 and the 90 Summarit. The new 21 Lux and 24 Lux are all examples of this. With the 21 and the 24, one designer did both lenses simultaneously as they are fundamentally the same optical formula.
Another interesting thing I learned was that Leica started using computer-aided modeling back in the 1960's before anyone else. Since that time, they have had their own proprietary software (kept up to date, of course) based on calculations made at Leica over the last 100 years. He says this is one of Leica's real advantages that no one can copy.
The foundation of knowledge and expertise is handed down from each generation of lens designers to the next. The Leitz Glass Works has also been invaluable in learning about new formulations and the handling of exotic glass elements. These latest exotic glasses require a great deal of care in handling. Much like a piece of raw steel, this glass reacts adversely and rapidly with gasses in the air. They use a wet to wet to wet process in Solms, whereby the glass moves through the grinding, polishing and coating steps in one go, not spaced or binned. This is crucial to maintain the performance of these expensive elements which can cost more per ounce than pure silver.
We talked more about how the type of glass for certain lens elements are chosen and how, based on his experience, he just knows what effect this will have on aberrations. We discussed the trade-offs lens designers have to make and how MTF only tells part of the story."
Leica Definitions
Summarex - The lens was supposedly named after the dog Rex of lens designer Max Berek (1886-1949). Then again, Rex refers to "King" and Summar is "the sum of", or "highest".
Summilux - Refers to the maximum lens aperture - here f/1.4 , "-lux" added for "light".