Leica Summilux-C and Summicron-C Cine Primes
By: Thorsten Overgaard, July 29, 2014 (Updated June 12, 2020)
Leitz Cine Lenses
The Leitz Cine lenses are out and about. The set is $262,000 for the Summilux lens set and 100,000 for the Summicron set. But the lenses can also be found invidually for around $17,500 and will fit onto a Leica M 240 via the Leica C-to-M adapter, or a Leica M10 with an adapter.
Leitz Cine Wetzlar used to be CW Sonderoptic
The name of the company producting the Leica cinema lenses changed from CW Sonderoptics to Ernst Leitz Cine Wetzlar in 2018, one reason probably being that the majority owner of Leica Camera AG acquired the brand name Leitz (whereas the brand name Leica is shared with two other companies other than Leica Camera AG). www.leitz-cine.com . Also he auchtion house that sells rare and vintage Leica cameras and lenses every six months has been named Leitz Photographica Auktion, and the camera brand may head that way too. But that's another story for another day.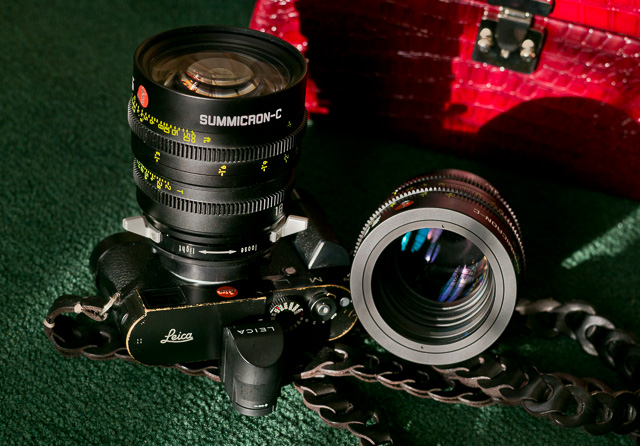 The Cine Lenses are made for cinema use, but as can be seen here, one can also attach them to a Leica M 240 still camera. See further down in the article.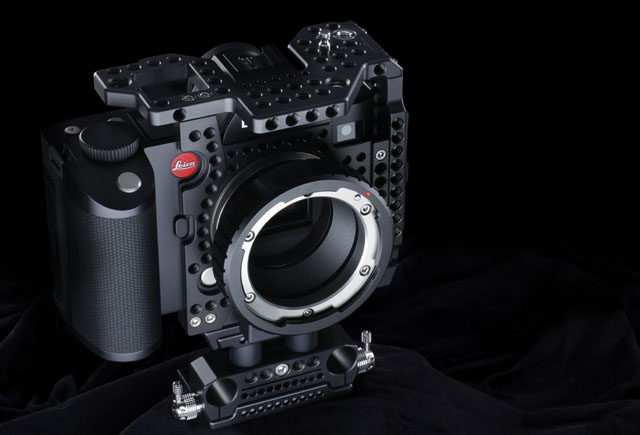 Leica SL 601 with Full Metal Jacket MJ_H1 adapter for Leica Cine lenses. See further down.
How does a lens win an Oscar?


Birdman (2014) was done with Leitz Summilux-C lenses.

In February 2015 the lenses won an Sci-Tech Oscar themself, and a lot of new movies nominated for Oscars used Leitz Cine lenses as well. Including the Movie of the Year, Birdman.

The Summilux-C lenses are quite unique, both as cineman lenses, and certainly as optical lenses. The optical design features multiple aspherical surfaces that presents a flat field coverage across the entire 35mm frame and suppress color fringing at the corners of the frame.

All Summilux-C lenses' aperture goes from T1.4 to T22 with a linear (no clicks) iris that stops to closure (the aperture closes completely so the iamge can go to black).

The Summilux-C features front and backend filer capability.


The Revenant (2015) was made with Leitz Summilux-C lenses on ARRI ALEXA 65 (Emmanuel Lubezki).

The focus is close focus down to 1 feet (30 cm), and the focusing scale is uniform across all the Summilux-C lenses. The focusing scale is of a small diameter, turning 270 degrees, with expanded focusing marks spacing in critical focus ranges. A feature exclusive to the Leitz Summilux-C is that the focusing ring is divided in half so that minimum objects distance to 6 feet is 135 degrees of rotation (providing a uniform focusing scale for all the lenses from 6 feet to infinity).

The lens mounts are made from glass-impregnated titanium for smoothness and strength, and focusing happens without breathing.

All lenses are designed similar size and weight for quick change, and also for production that includes many of the same parts across the spectrum of focal lengths (easier to keep stock and produce lensese then).

Obviously, the Summilux-C lenses feature high resultuion for 4K and beyond.


A scene from Mission Impossible "Rogue Nation" (2013) with Leitz Summilux-C on ARRI ALEXA 65 (Robert Elswit).


Andre de Winter won an Oscar for designing the opto-mechanilcal parts. Optical designer Iain Neil took one for the optical design. © Thorsten Overgaard.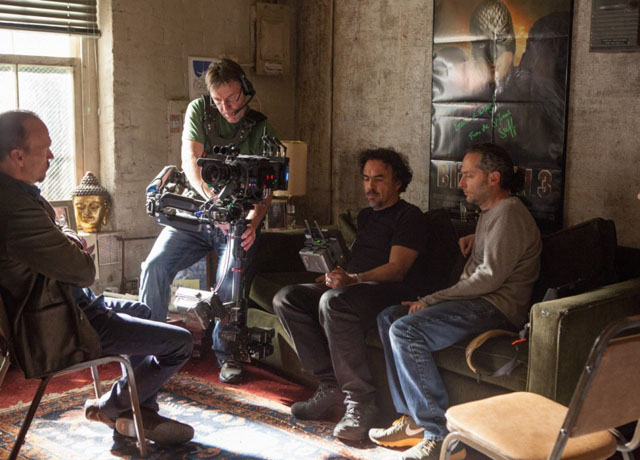 Leica Cine lenses was used for the Oscar-winning Movie of the Year 2015, Birdman. Notable for the long sequences of continuos filming. Diretor Alejandro González Iñarritú, Director of Photography Emmanuel Lubezki, Steady Cam Operator Chris Haarhoff and lead actor Michael Keaton.
Leica Summilux-C lenses are motion picture lenses with specifications never seen before, approaching the realm of the wavelength of light. They use multiple aspheric elements with some tolerances are down in single digit microns.
The main aims set forth in designing them has been light weight, small size and a fast aperture. The lenses are designed for slightly greater than full 35mm cine frame. A full cine frame is about 28- 29mm, the Leica cine lenses are 33-36mm.
The lenses also feature a patented small diameter focus scale. Every mark in every lens is individually calibrated and engraved. Further, the scales on each lens match each other in a complete set - a first in movie prime lens making, making changing of lenses much faster and simpler.
As og September 2013 the first 100 sets of lenses had been delivered and reportedly there is a one year waiting list currently, though they can be rented in many rental houses.
For a complete updates list of rental houses that has Leica Cine lenses in stock, see the list here at CW Sonderoptic.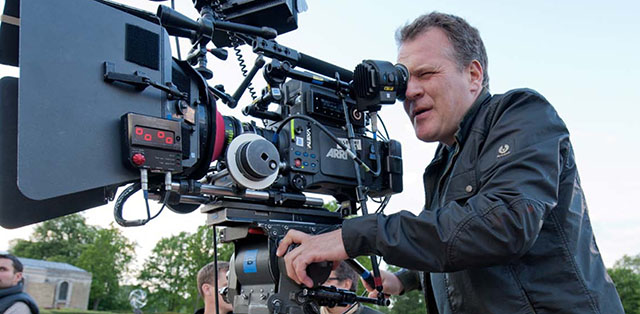 The 2014 Coen-brothers movie Gambit was shot with Leica Summilux-C lenses by Florian Ballhaus.
The unique thing about the Leica Cine lenses is that they are made by Leica, compact and not that expensive compared to what movie primes usually cost. Compared to Leica M lenses and Leica R lenses, they may look quite expensive, but they are actually in the mid-range of movie primes, maybe even in the lower end.
The evolution of the Leica Summilux-C lenses is an impressive process that has been covered very well by Jon Fauer, and down this article there is a link to his complimentary 110 page PDF magaine with articles about them.
The story began with with Christian Skrein's concept of Leica lenses for motion picture production. Then with added practical experience from Otto Nemenz. Then the blessing, vision, and financing from Leica Camera AG owner Dr. Andreas Kaufmann. Finally hired legendary optical designer Iain Neil and equally esteemed mechanical designer Andre de Winter (who was hired at Ernst Leitz Canada by Dr. Mandler in March 1969 and has been at it ever since).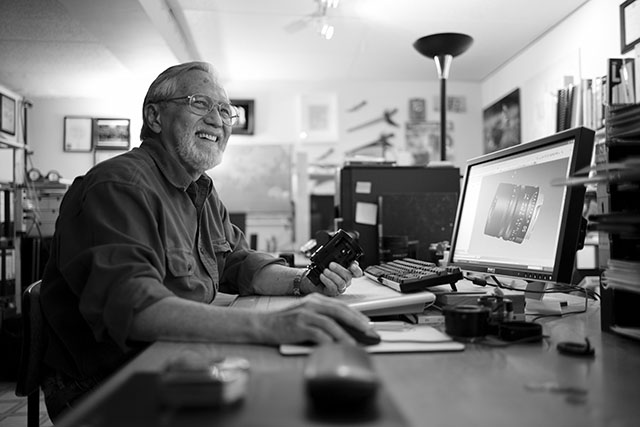 Andre de Winter did the opti-mechanical design of the Leitz Summilux-C lenses and has also done Leica 50mm Noctilux, Leiac 50mm Summilu and other lenses. © Thorsten Overgaard.
Today a group of the most skilled Leica Camera AG employees has been tranferred across the Leitz Park square in Wetzlar, to the Leica sister company CW Sonderoptic, to help manufacture and assemble these masterpieces. Erik Feichtinger and Gerhard Baier are Managing Directors.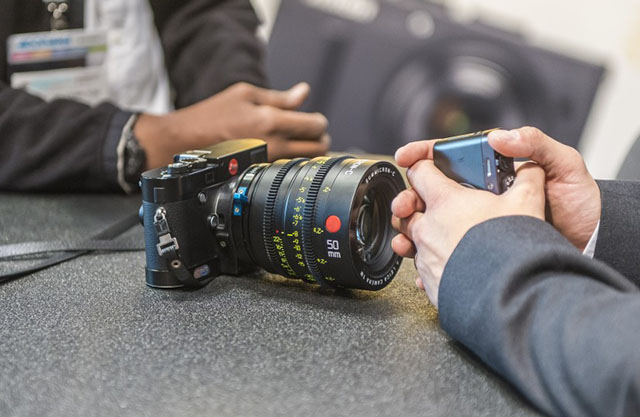 Leica M240 with Leica 50mm Leica Summilux-C . With the new ARRI PL-to-M adapter from Peter Denz in Munich that turns the Leica M into a superb Director's Finder or rather intersting still camera. The ARRI PL-to-M mount adapter provides extra support for heavy PL lenses, it is an adapter with baseplate.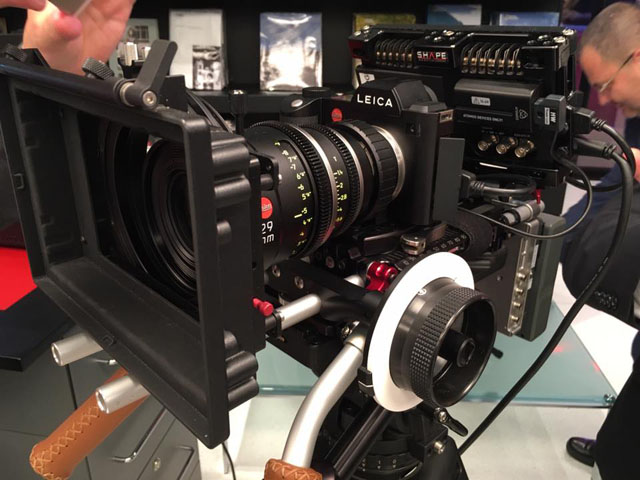 As of November 20 2015 the Leica SL will start shipping with 4K video capability and adapters for Leica Cine lenses and Leica S lenses. Don't underestimate the 4K video ambitions in the Leica SL which is here seen with the 29mm Summilux-C. Photo: Saul Frank/Camera Electronics

The complete Jon Fauer report on the Leica Cine lenses
Jon Fauer has covered the Leica Cine adventure in a number of article for FD Times. All of it available as the complimentary PDF download "Leica and CW Sonderoptic Report".
Jon Fauer, ASC runs Film and Digital Times and was the man behind the documentary Cinematographer Style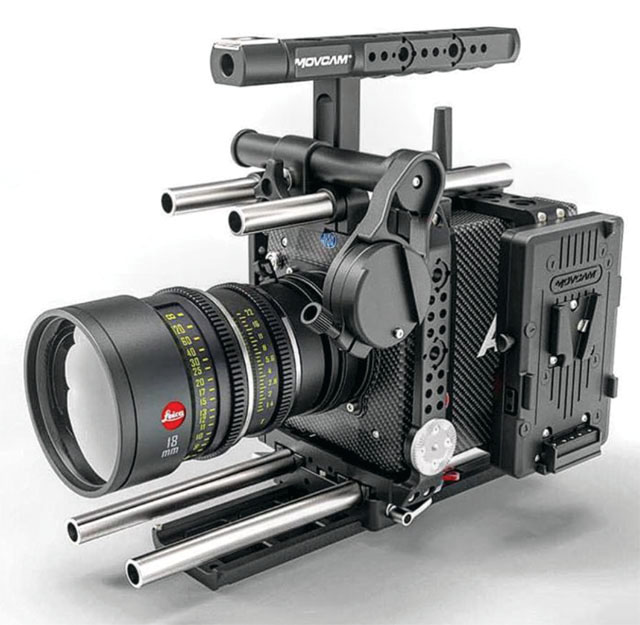 Arri Mini with Leica Cine 18mm Summilux-C f/1.4
Leitz and Leica in moviemaking history
One little known fact is that in 1970 Ernst Leitz Canada was awarded the design and manufacturing contract for the new 70mm IMAX projection system and in 1983 Ernst Leitz Canada began work with Panavision for their state of the art cinematographic lenses.
Steven Spielberg's "Empire of the Sun" from 1987 is one of the movies that was made with Panavision Primo-L Lenses from ELCAN (Ernst Leicat Canada) and was Oscar-nominated for Best Cinematography.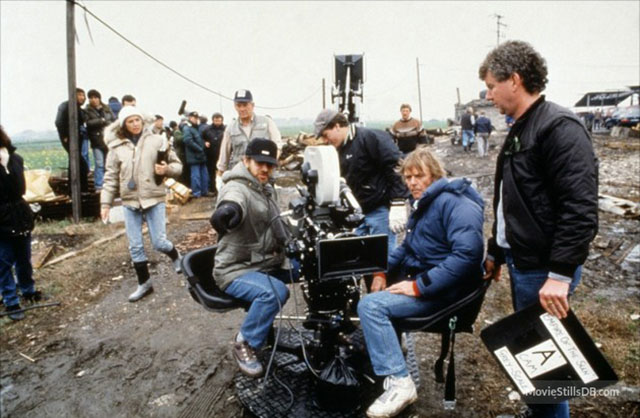 Steven Spielberg on the set of Empire of the Sun in 1986 where they used, amongst others, a 800mm Panavision Primo-L lens from ELCAN (Ernst Leicat Canada).

Early Leitz C-mount 25 mm Hektor-Rapid cine lens on a 16 mm Bolex H16 of 1935. Bolex also made adapters for regular Leica screw mount lenses on its cameras, like this popular 3.5/50 Elmar lens with the VALOO hood that allows convenient setting of f-stops. Photo: Rolf Fricke.
| | |
| --- | --- |
| | |
| | Leicina was Leitz 8mm cameras |
| | |
Leitz also did 8mm Leicina with Dygon and later with Angenieux zoom ("Leicina Vario") and Schneider zoom.
A rare top of the ine Leicina Super 8 model had Leica M bayonet mount as well as a Cinegon 10mm M-bayonet lens and Schneider Super Zoom with M bayonet and server motor.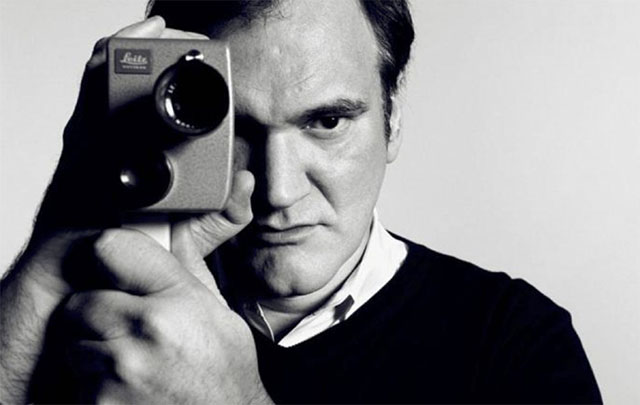 Quentin Tarantino with his Leitz Leicina S8 camera. Yes, Leica used to make film cameras for a short while.
Leica R lenses on RED and Blackmagic
Before Leica Cine lenses became reality, the Leica R lenses was the fairly economical and easy way to ge the Leica look on movies - and still is. Some of the now 20-40 year old R lenses from the Leica R line are available and will do the job with an adapter. The most sought-after would be the Leica 35-70mm Vario-Elmarit-R ASPH f/2.8 that sells for around $12,000 second-hand while many other interesting R lenses are available in the $1,000 - $2,000 range.
You can also add Leica R lenses to the Blackmagic cameras with the Metabones Leica R Lens to Blackmagic Cinema Camera Speed Booster or the pocket version, Metabones Leica R Lens to Blackmagic Pocket Cinema Camera Speed Booster or m
For a complete list of R-lenses, see my Leica Lens Compendium.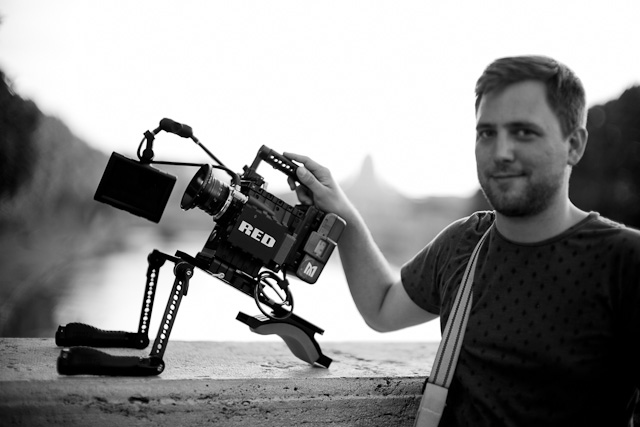 Director Reid H. Bangert from Northpass Media in Rome with the RED Scarlet equipped with a Leica 50mm Summilux-R f/1.4 lens (and large ND-filter) used for the short documentary "A Life With Leica". Photo: Thorsten Overgaard.
The Oskar Barnack 1911 Cine Camera
Back in the early 1900's movie cameras was usually made of wood, so a metal camera was quite unusual. Back then moving pictures was to the world what internet was to the 1990's. Oskar Barnack had a very strong lifelong personal interest in moving pictures and this was basically what lead to first this movie camera and eventual to the Leica 35mm still camera. I will get into this later in my article about Oskar Barnack.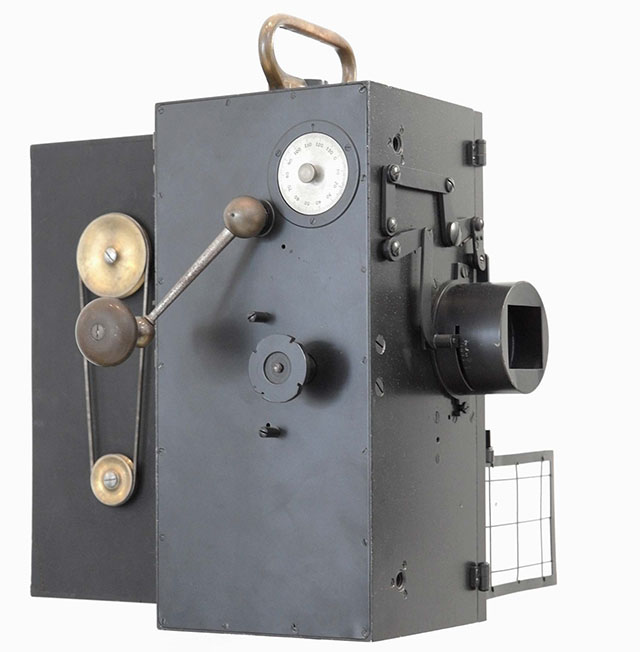 In June 2014 Leica Camera AG revealed this 1911 cine camera prototype made by Oskar Barnack. It is now on display in the factory in Wetzlar. Back then movie cameras was usually made of wood, so a metal camera was quite unusual. Photo: Jon Fauer © Film and Digital Times.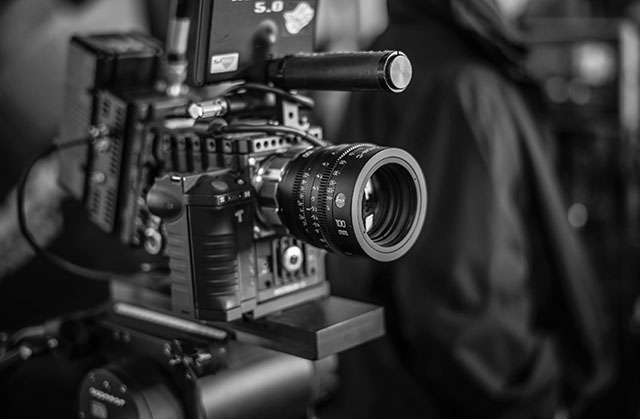 Today: The Leica Cine 100mm Summicron-C f/2.0 on a RED Dragon camera. Photo by: Curt Schaller.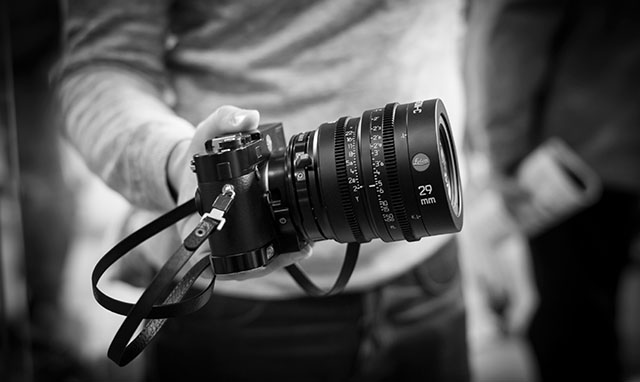 Today: The Leica 29mm Summicron-C with a ARRI PL-to-Leica M adapter on Leica M 240. Photo by: Curt Schaller.
The Full Metal Jacket with PL moiunt for Leica SL 601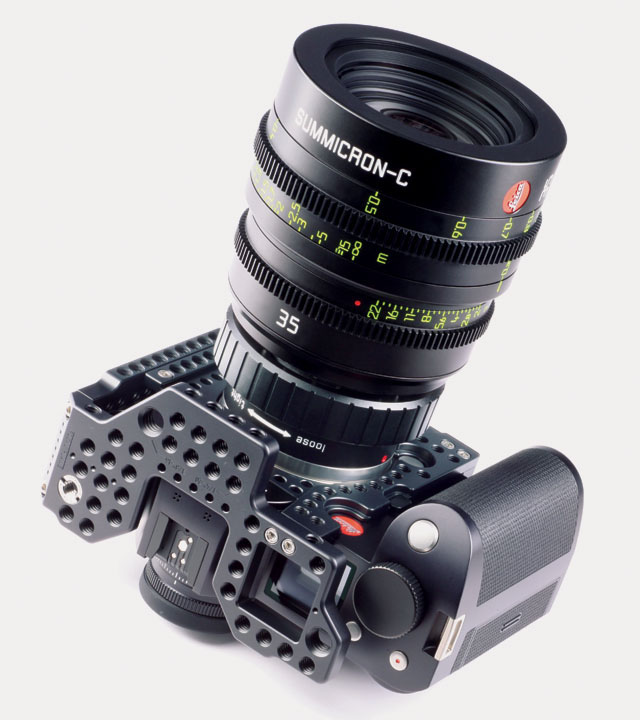 Leica SL 601 with Full Metal Jacket MJ_H1 adapter for Leica Cine lenses.
The Leica M ARRI PL Mount Adaptor now ships
April 2015: The adaptor for the Leica M 240 and Leica M-P 240 that allow it to take PL mount lenses (Leica Cine lenses) now ships from CW Sonderoptic in Wetzlar. The adaptor is a baseplate and handgrip with an adaptor mounted and makes the Leica M 240 into a directors viewfinder, allows set photographers to use the same lenses as the film camera, and of course Leica M 240 owners to buy or rent Leica Cine lenses and use them on their Leica M 240.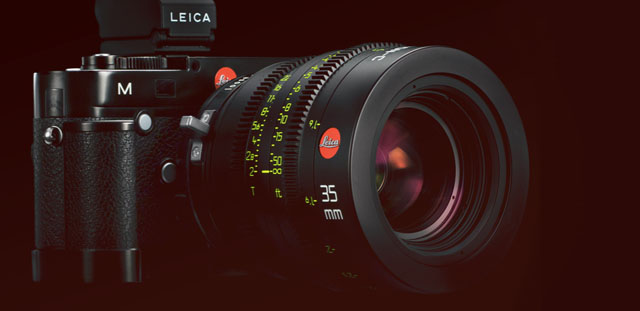 Leica M 240 with the Leica M PL Mount Adaptor. More info.
My test of the Summilux-C cine lenses on the Leica M 240
I had the possibility to use the Leica 18mm Summicon-C f/2.0 and the Leica 100mm Summicron-C f/2.0 lenses with the adaptor on my Leica M 240 and Leica M 246 in Los Angeles in September 2015.
I did a variety of shoots of portraits and street in West Hollywood and (Straight out of) Compton.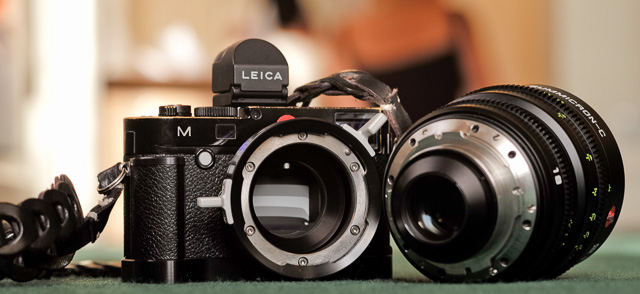 The adaptor is a two-piece installment on my Leica M 240 camera. First the bottom plate is mounted and then the bayonet is screwed onto the bottom plate. The aluminium "vings" you see are for tightening the lens in the bayonet. You tirn one way it is loose, the other way it is tight.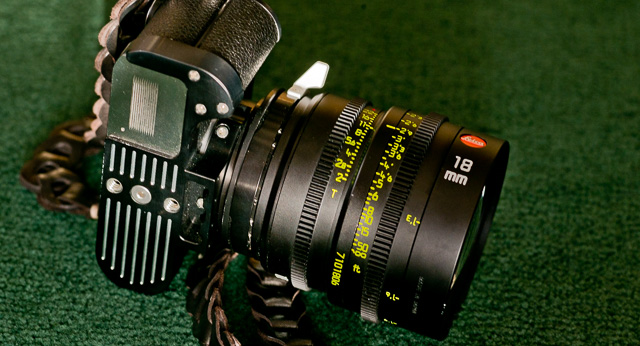 The bottom, handgrip and bayonet is a massive set as can be seen here. The SD-card and battery is changed by removing the stainless steel plate in the bottom. A screw in the bottom is manually screwed in to tripod mount fo the camera body to keep the bottom plate safe in place.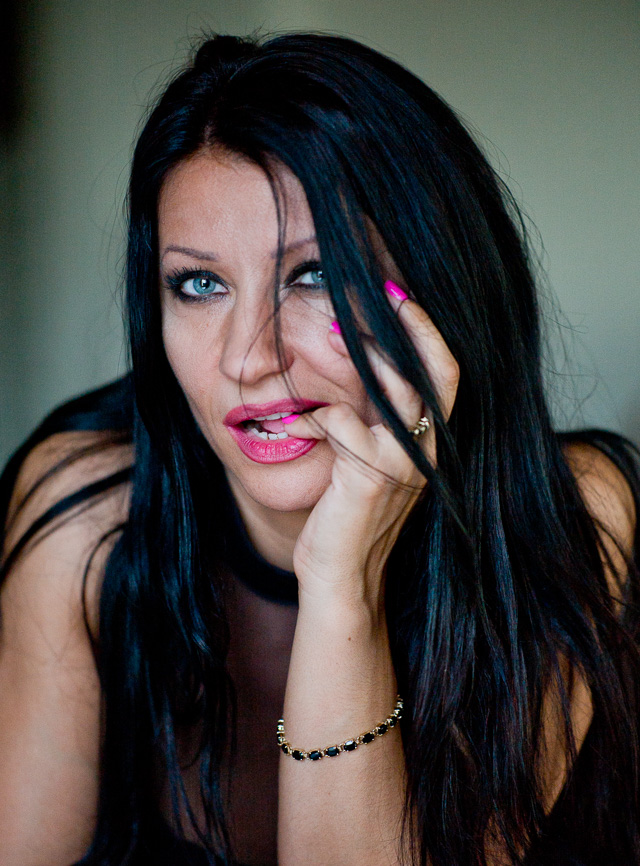 Maria-Magdalena photographed in Hollywood with the Leica M 240 with Leica 100mm Summicron-C f/2.0 (3200 ISO).
Characteristics of the Summicron-C
What I recognized first in the Leica Summicron-C was the control of tones and very balanced colors that I have seen in my 35-70mm Vario-Elmarit-R f/2.8 lens that is one of the most exotic and complicated lenses Leica Camera AG ever mad (it sells for 12,000 - 16,000 on eBay these days).
The tonal control I am talking about is best seen in the details of the grill of the Porsche 911.
But what the Leica Cine lenses has that the Vario-Elmarit doesn't have is the flare and flower of bokeh when shot straight at a light source or with a strong light source just in the edge. This was exactly what I had hoped for, because I didn't want the look of a Leica S lens.
It's all very addictive and I dared to ask CW Sonderoptic if it was actually possible to buy a single lens instead of a set of 6. It is.
I decided to visit CW Sonderoptics to talk more about what i speacial about the cine lenses. I recognize that they have more glass than a Leica M lens, and this might give some of the look of a Leica R or Leice S lens. But it was clearly this wan't all there was to it.

It's an addictive set to work with. Here is the 18mm Summicron-C f/2.0 on my Leica M 240 and the Leica 100mm Summicron-C f/2.0 next to it.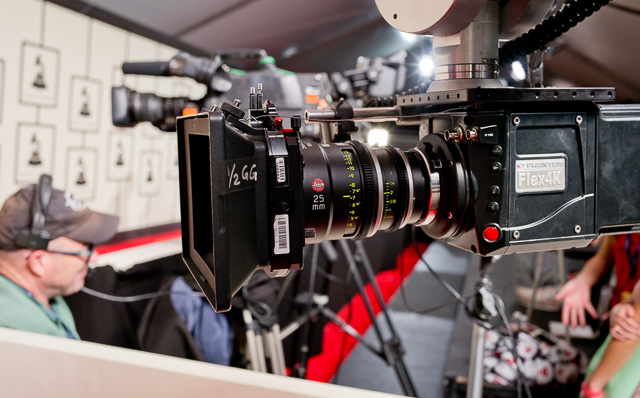 The Leica 25mm Summilux-C f/1.4 at work at the red carpet at the Grammys 2016. The lens is mounted on a Phantom Flex4K that does high speed video 360 around the dresses for Fashion Police (using a Cinebot Robot Arm). © 2016 Thorsten Overgaard.
Leitz Cine introduces "full-frame" THALIA lens series for VistaVision and Super 35 cinematography
August 2017: Where still photography like to increase the megaapixels, the cine cameras increase the sensor size and thus require lenses with even larger diameter coverage. The THALIA lenses does just that, they cover up to ARRI ALEXA 65, RED 8K and more with an image circle of 60mm. THALIA is Greek and means, "pletiful". Price range is around $25,000 per lens and there will be 24, 30, 35, 45, 55, 70, 100, 120 and 180mm.
With aperture ranging from f/2.2 tol f/3.9 they are not Summilux-C or Summicron-C lenses. But they cover full-frame, and they are lightweight and not terrible expensive in cine context.
The New
"Capture One Pro Survival Kit"
By Thorsten von Overgaard

430 pages easy-to-understand
workflow logics, as well as tutorial
of Photoshop and Digital Asset Management.

Packed with help and tools for all questions on digital photography workflow.


Thorsten von Overgaard

The complete workflow of Thorsten Overgaard,
made easy with pre-flight checklists and step-by-step instructions on how to set up and use a professional
photo editing software like Capture One Pro.

Laid out in a way that is easy to understand
and everyone can apply.

The Capture One Surival Kit also includes
simple and to-the-point tools on how to use select tools as catalogs, Photoshop, how to do backup and how to organize pictures archives so they don't get lost and doesn't have to be reorganized again and again.

Also: Specialized first-help chapters on how to sync your entire photo archive with the smartphone, how to
escape Apple Photos, how to empty photos out of an iPhone, how to get out of Lightroom CC, what to do with
iPad editing ... and more on how to not survive the digital age and perhaps even outsmart it.

Now comes with Overgaard
Leica Styles for FREE
Special black & white conversion, better skintones
and a CMOS sensor color correction.
(Value $48.00. FREE with this kit).

Thorsten von Overgaard
Capture One Survival Kit

For computer, iPad, smartphone and Kindle.
Buy Today. Instant delivery.

Price $598.00

100% satisfaction or money back.

Already got the Capture One Survival Kit?
- and want to update to Version 20
* Buy the update here*


Capture One Styles

You can download a number of film styles, matte styles, black and white styles and more to use in capture One. Capture One Styles
download page


Get the "Capture One Pro"
Software App

You need the desktop software application "Capture One Pro" to utilize my Capture One Pro Surivival Kit and to edit pictures in Capture One. You can download both Capture One Pro software and software updates:
Capture One download page

#2002-1219
Movie credits for Leica Summilux-C and Summicron-C lenses
The Leica Cine lenses has been used in Iron Man 3 (Jeff Cronenweth, ASC), X-Men (Newton Thomas Sigel), Transformers: The Age of Extinction (Amir Mokri), The Book Thief (Florian Ballhaus, ASC), Dawn of Planet of the Apes (Michael Seresin, BSC), Gambit (Florian Ballhaus) and many other movies and commercials.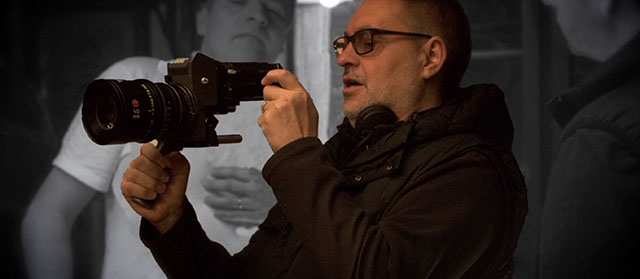 The Book Thief director Brian Percival with Leica Summilux-C on a directors finder. The Book Thief was made with Arri Alexa XT Plus with Leica Summilux and Angenieux Optimo Lenses.

Harris Shavides test of Leica C-Summilux lenses
Shot in ARRIRAW 3K on an Arri Alexa. Master DP Harris Savides ASC took the Leica Summilux-C lenses into the Upper West Side of NYC for a test shoot.
Those familiar with Harris Savides' work (American Gangster, will see his trademark style come through in this piece. This film in particular shows the absolute sharpness in the focal plane that these lenses provide, combined with the soft pleasing focus falloff. Highlight tones & flare quality is notable as well.
The quality of the bokeh (out of focus highlights) in this piece is a combination of lens & the Alexa itself. Notice as the circles travel from the edge to the center as they go from an almond shape to a circular shape. After shooting on these lenses with many cameras, this feature only showed itself on the Alexa.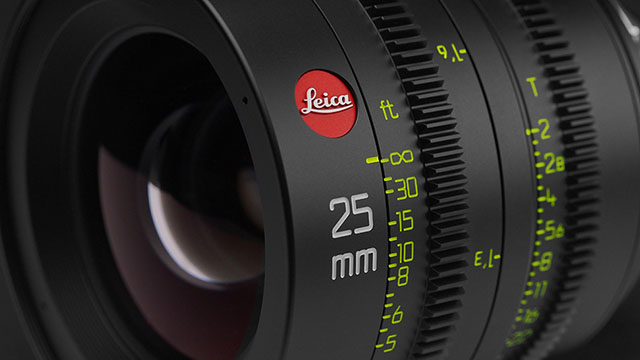 The Leica Summilux-C Multi-Aspherical lenses
Multiple aspherical optical design and available in 18mm, 21mm, 25mm, 35mm, 40mm, 50mm, 75mm, 100mm with additional focal lengths 16mm, 29mm, 65mm.
Made of Titanium. 1.6 - 1.8kg (3.5 - 4.0 lbs.).
Price for a set $262,000 (8 lenses).
Leica 35mm Summilux-C lenses was designed to be a groundbraking new line of leightweight PL mount primes designed to deliver ultra-high optical performance for film and digital capture.
These new T1.4 close focus primes employ a unique multi-aspheric design and high-precision cine lens mechanics to provide unmatched flat field illumination across the entire 35mm frame and suppression of color finging in the farthest corners of the frame with no discernable breathing.
All the Summilux-C lenses share a uniform length ana 95mm threaded lens front and similar location of focus and iris/aperture rings (which allow quick interchange of lenses).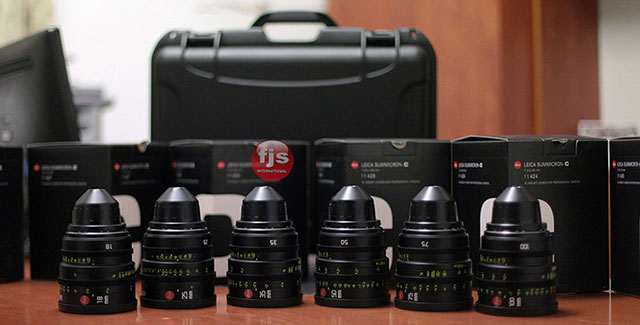 A set of Leica Summicron-C lenses on display at FJS International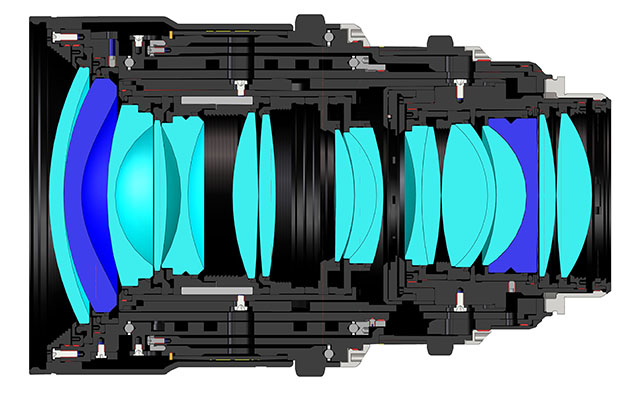 A sectioned drawing by opto-mechanical designer André de Winter for one of the Leica Cine lenses. A great deal of skill goes into designing the optical elements as well as the mechanical (opto-mechanical) design. Not to mention the assembling that is done by some of the brightest heads at Leica Camera AG wo has been transfered to the other side of the Leica Campus in Wetzlar .
The Leica Summicron-C
18mm, 25mm, 35mm, 50mm, 75mm, 100mm with additional focal lengths 21mm, 29mm, 40mm, 135mm.
Made of Stainless Steel. Lower cost alternatives to the Summilux-C, with full coverage up to and including the new RED Epic Dragon Sensor in 6K Mode.
1.3 - 1.5kg (2.7 - 3.4 lbs.).
Price for a set is $101,450 (6 lenses). Individual lenses - where available - approximately $17,500, though $23,200 for the 135mm Leica Summicron-C.

Leica Cine Primes
Year
Aperture
Size
Image circle
Weight
Price $
16mm Summilux-C Multi-ASPH
2014 -
f/1.4 - f/22 - closed
142 x 95mm
33mm
18mm Summilux-C Multi-ASPH
2012 -
f/1.4 - f/22 - closed
142 x 95mm
33mm
18mm Summicron-C
2013 -
f/2.0 - f/22 - closed
101 x 95mm
36mm
21mm Summilux-C Multi-ASPH
2012 -
f/1.4 - f/22 - closed
142 x 95mm
33mm
21mm Summicron-C
2014 -
f/2.0 - f/22 - closed
101 x 95mm
36mm
$ 17,450
25mm Summilux-C Multi-ASPH
2012 -
f/1.4 - f/22 - closed
142 x 95mm
33mm
25mm Summicron-C
2013 -
f/2.0 - f/22 - closed
101 x 95mm
36mm
29mm Summilux-C Multi-ASPH
2014 -
f/1.4 - f/22 - closed
142 x 95mm
33mm
29mm Summicron-C
2014 -
f/2.0 - f/22 - closed
101 x 95mm
36mm
$ 17,760
35mm Summilux-C Multi-ASPH
2012 -
f/1.4 - f/22 - closed
142 x 95mm
33mm
35mm Summicron-C
2013 -
f/2.0 - f/22 - closed
101 x 95mm
36mm
40mm Summilux-C Multi-ASPH
2014 -
f/1.4 - f/22 - closed
142 x 95mm
33mm
40mm Summicron-C
2013 -
f/2.0 - f/22 - closed
101 x 95mm
36mm
50mm Summilux-C Multi-ASPH
2012 -
f/1.4 - f/22 - closed
142 x 95mm
33mm
50mm Summicron-C
2013 -
f/2.0 - f/22 - closed
101 x 95mm
36mm
65mm Summilux-C Multi-ASPH
2014 -
f/1.4 - f/22 - closed
142 x 95mm
33mm
75mm Summilux-C Multi-ASPH
2012 -
f/1.4 - f/22 - closed
142 x 95mm
33mm
75mm Summicron-C
2013 -
f/2.0 - f/22 - closed
101 x 95mm
36mm
100mm Summilux-C Multi-ASPH
2012 -
f/1.4 - f/22 - closed
142 x 95mm
33mm
100mm Summicron-C
2013 -
f/2.0 - f/22 - closed
101 x 95mm
36mm
135mm Summicron-C
2014 -
f/2.0 - f/22 - closed
118 x 95mm
36mm
$ 23,200
Feature comparison of Leica Summilux-C and Leica Summcron-M
See definitions in the bottom of the page
Summilux-C
Summicron-C
Focal Lengths:
18, 21, 25, 35, 40, 50, 75, 100 mm
18, 25, 35, 50, 75, 100 mm
Additional Focal Lengths:
16, 29, 65 mm
21, 29, 40, 135mm
Focus rotation:
300°
Iris rotation:
180°
Image Circle:
33+ mm
36 mm
Length:
142 mm / 5.6"

101 mm / 4"
(135mm Summicron: 188mm / 4.6")

Weight:
1.6 - 1.8 kg (3.5 - 4.0 lbs.)

1.3 - 1.5 kg (2.7 - 3.4 lbs.)

Telecentric:
Telecentric
Color balance:
Color balanced to match closely.
Color:
Natural color balance
Breathing:
No breathing
Very little breathing
Reflective coatings:
Extremely low reflective coatings
Lens design
Multiple aspherical
Classic high performance
Resolution:
Extremely high
Contrast:
Extremely high
Very high
Relative ilumination:
High relative illumination over field
Chromatic aberation:
Very low
Front and rear filter:
Yes
No
Net holder
Yes
No
Made of:
Titanium
Stainless Steel
Lens mount:
PL
Matched focus and aperture ring
Yes (all focal lengths in both sets are the same)
Expanded focus in critical range:
Yes
No
Mount on Leica M240:
Yes, via PL to M adapter from Peter Denz
Design:
Professor Iain Neil (optics) and André de Winter (mechanics)

The White Horse in Doha, Qatar, January 2013. Photographed in the last minutes of the sunset light, Leica M Monochrom with Leica 50mm Noctilux-M ASPH f/0.95. Adjusted in Lightroom 3. 320 ISO, 1/4.000, f/0.95. © 2013-2016 Thorsten Overgaard.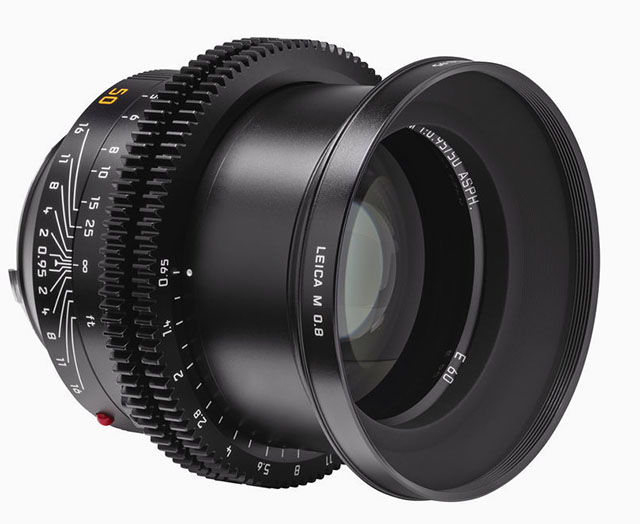 Leitz Cine 50mm 0.8 ($15,800), the cine version of the Leica 50mm Noctilux f/0.95.
Leica M lenses from Leitz Cine
In 2017, a small selection of Leica M lenses became avaialbe from Leitz Cine, but as of June 2019, a wide range of the Leica M lenses now are available as cine lenses, unique packaged for that specific use.
Leitz Cine introduced adapters for Leitz Cine M-Mount for ARRI ALEXA Mini & AMIRA ($1,300), as well as Leitz Cine M-Mount for Sony VENICE Camera ($1,300).
M-Mount from Leitz Cine
Year
Aperture
Size
Image circle
Weight
Price $
21mm M-Mount 0.8 ASPH
2019 -
f/1.4
36mm
$10,000
24mm M-Mount 0.8 ASPH
2019 -
f/1.4
36mm
$9,800
28mm M-Mount 0.8 ASPH
2019 -
f/1.4
36mm
$8,500
35mm M-Mount 0.8 ASPH
2019 -
f/1.4
36mm
$6,900
50mm M-Mount 0.8 ASPH
2019 -
f/1.4
36mm
$8,000
50mm M-Mount 0.8 ASPH
2019 -
f/0.95
36mm
$15,800
75mm M-Mount 0.8 ASPH APO
2019 -
f/2.0
36mm
$8,200
90mm M-Mount 0.8 ASPH APO
2019 -
f/2.0
36mm
$8,400
Leica Cine Macrolux for macro
Leitz Cine introduced the Mactolux 0.5X, 1X and 2X diopters that can be mounted on front of the Leica Cine lenses in May 2016. Like the ELPRO for Leica lenses, it makes the lens into a macro lens. They can also be stacked .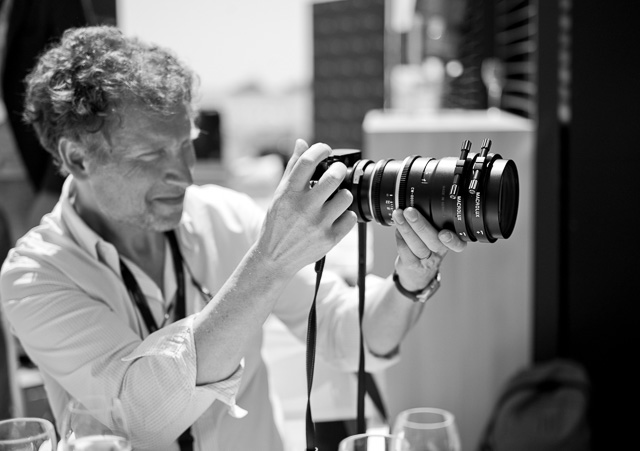 French cinematographer Guillamue Deffontaines with the Leica 100mm Summilux-C f/1.4 with two Macrolux 1X adapters on front, at the Cannes Film Festival 2016. © 2016 Thorsten Overgaard.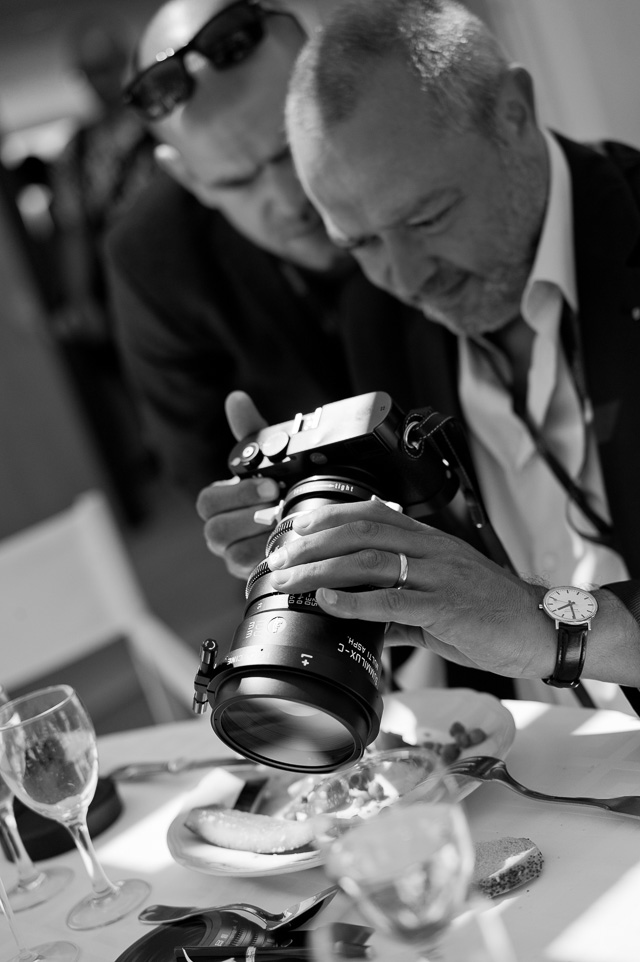 Lunch at CW Sonderoptic at Cannes Film Festival 2016. Emmanuel Froideval and Tommaso Vergallo admiring the macro images.
The story of CW Sonderoptic = Leitz Cine Wetzlar
CW Sonderoptic GmbH was founded in 2008 to design, manufacture and market Leica-branded cine lenses for film, television and commercial production. The "CW" stands for "Cine Wetzlar", a reference to both the company's mission and legacy. It is based at Leitz Park in Wetzlar, Germany, the original hometown of Ernst Leitz and Leica Camera.
Dr. Andreas Kaufmann, majority owner and chairman of the supervisory board of Leica Camera AG, started CW Sonderoptic to design and develop what became the Leica Summilux-C cine lenses. The concept behind these lenses was originally conceived by photographer and filmmaker Christian Skrein along with Hollywood rental house owner Otto Nemenz.

Inside CW Sonderoptic in Wetzlar, Germany. Photo: Jon Fauer © Film and Digital Times.
The dream for the set of Leica Summilux-C lenses was for them to be the most advanced cinema lenses yet created in regards to size, performance, mechanical precision, and optical tolerance. To create such a design they brought in legendary cine lens designer Iain Neil. Together they determined the specifications and features of the lenses and began production with the first sets delivering in early 2012.
After the favorable market reaction to the Summilux-C lenses, CW Sonderoptic began working on a new product line, the Leica Summicron-C cine lenses. First shown in early 2013, the Summicron-C prime lenses offered a smaller, lighter lens that maintained a high quality while being only one stop slower. These lenses began delivering to the cinematography market in late 2013.
Under the guidance of Managing Directors Gerhard Baier and Erik Feichtinger, CW Sonderoptic continues to develop and manufacture new and innovative products for cinematographers all over the world.
CW Sonderoptic also is represented in the Leica Store Los Angeles. An overview of where to rent or buy Leica Cine Primes is available here.
Blog at https://www.leitz-cine.com/blog
Ernst Leitz Wetzlar GmbH


Am Leitz-Park 2
35578 Wetzlar
Germany

+49 6441 20311 900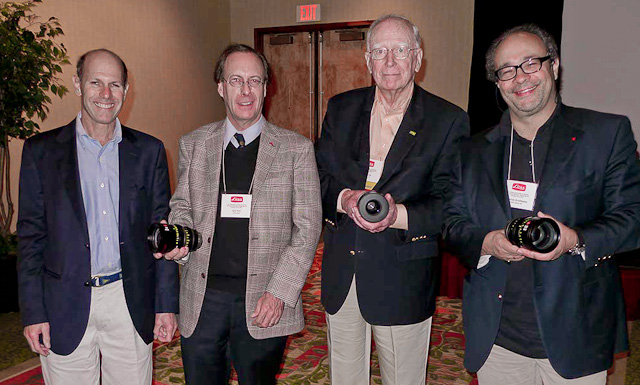 Jon Fauer, Iain Neil, Rolf Fricke (LHSA), Dr. Andreas Kaufmann, with Leica Summilux-C lenses at the LHSA meeting in Pittsburgh, October 2011.
André de Winter
| | |
| --- | --- |
| | |
| | André de Winter |
As this article is written, André de Winter marks his 45th anniversary with Leitz and Leica. Since 2007 he has been working on the Leica C lenses as Chief Mechanical designer at CW Sonderoptic.
He was hired by Dr. Mandler in March 1969 to work on opto-mechanical design at Ernst Leitz Canada, Ltd. (ELCAN). Back then Gerhard Bechmann was head of the design department and the first projects André de Winter was put to work on, was the Leica-M underwater-housing for the US Navy and the 50mm Noctilux-M f/1.0 and he worked directly under Dr. Mandler and Gerhard Bechmann.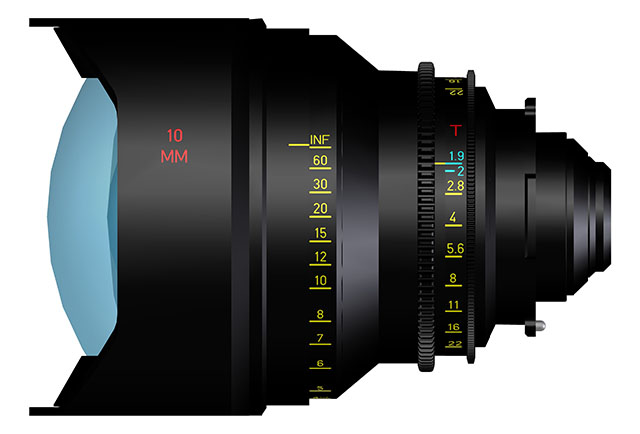 A 10mm Panavision drawing by André de Winter. One of the 10 Panavision lenses he did the mechanics for in the early 1980's, from Ernst Letiz Canada, Ltd.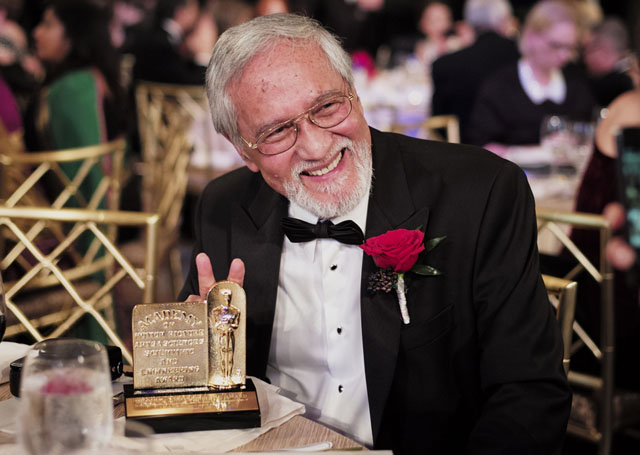 André de Winter in Hollywood with the Oscar the cine lenses won in February 2015.
Tests of the Leica Cine lenses
Alfonso Parra test 2013
RED Dragon and Leica lenses... "I have to say they we have tested just about every combination of lenses with the RED Dragon sensor and the Leicas win. This really should be no surprise. All the Leicas cover the full sensor and have the most resolution of all lenses tested. While some lenses will necessitate dropping down to 5.5K to cover... the Leicas don't. The resolution of these lenses are completely matched with the Dragon sensor."
- Jim Jannard August 2, 2013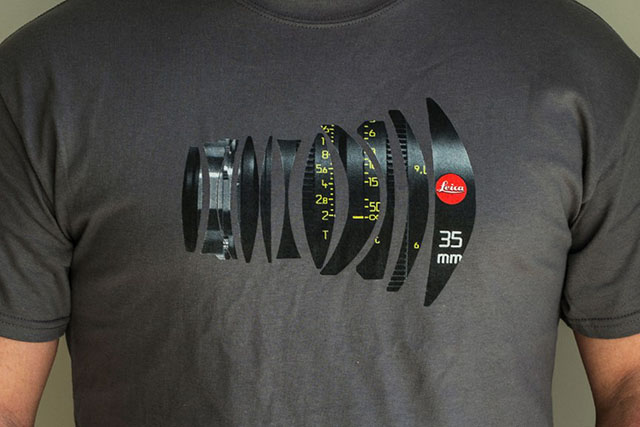 A sexy t-shirt from CW Sonderoptic with the 35mm Cine lens ...
Leitz Cine Definitions:
What does Summicron mean?
The word "Summicron" refers to the maximum lens aperture of this lens, here f 2.0. There are many guesses how this name came about, a popular one being that the "summi" came from "summit" (summit means the highest point of a hill or mountain; the highest attainable level of achievement) while the "cron" came from "chroma" (ie. for colour).
Not so: The name (Summi)cron was used because the lens used Crown glass for the first time, which Leitz bought from Chance Brothers in England. The first batch of lenses were named Summikron (Crown = Krone in Deutsch). The Summi(cron) is a development from the original Summar (the 50mm f2.0 lens annoy 1933)
What does Summilux mean?
Refers to the maximum lens aperture of f/1.4. "-lux" added for "light" (ie. the enhanced light gathering abilities).
What does ASPH mean?
ASPH stands for "aspheric design".
a-spherical = non-spherical.
Most lenses have a spherical design - that is, the radius of curvature is constant. These are easy to manufacture by grinding while "spinning" the glass. This design however restricts the number of optical corrections that can be made to the design to render the most realistic image possible. ASPH lenses, however, involve usually 1 element that does *not* have a constant radius of curvature. These elements can be made by 1) expensive manual grinding, 2) molded plastic, 3) Leica's patented "press" process, where the element is pressed into an aspherical ("non-spherical") shape. This design allows the manufacturer to introduce corrections into compact lens designs that weren't possible before. Practically, the lens performs "better" (up to interpretation) due to increased correction of the image, in a package not significantly bigger than the spherical version.
ASPH is a method where the glass is pressed, and if you think about it for a little while, it means that you can make shapes that you can't possibly grind: With grinding you can make a curved shape. With pressing (ASPH) you can make the shape of circles in the water if that is what is required.
Normal speric lens (grinded)
ASPH (note the shape of the glass as result of pressing reather than grinding)
Spherical uncorrected versus Spherical corrected: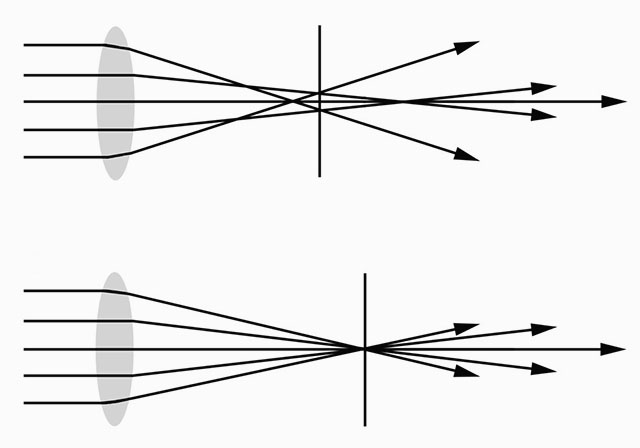 Telecentric
A lens design where the size of things doesn't change when focus and aperture changes. The relative size of things stay the same. Telecentric lenses tend to be larger, heavier, and more expensive than normal lenses of similar focal length and f-number.
Breathing
Refers to the shifting of angle of view of a lens when changing the focus. It noticeably changes the composition of the shot.
PL mount
An open standard introduced by ARRI in the 1970's. Today used by Leica, Zeiss, Angenieux, Cooke, Fujinon, Canon PL, etc.
Leica Summicron-C
Leica made a 40mm Summicron-C lens in the 1970's for the Leica CL camera and the sister-camera Minolta CL. There is not similarity to the Leica Summicron-C Cine lenses, except for the name. This make it a little difficult to search for sample photos online, of course.
A Life With Leica feat Thorsten von Overgaard: