Highly recommended:
"Your articles made me switch to Leica this week and I just finished your Leiac M240 Masterclass. I love your feedback.Planning on one of your workshops in Porto and I'm saving up!"
O. M. (Portugal)
"Your masterclass video is great and very inspiring. I also have almost every book you've written".
I. U. (Germany)
"Thank you for an amazing masterclass.
For your philosophical conviction.
For your inspiration on uniqueness and photography. For your images, and thoughtful teaching. Your words soothe and speak to my soul".
P. P. (New York)
"I have very much enjoyed the Leica M240 Masterclass video. Thank you for what you do".
J.T. (Florida)
"I am very glad that you talk through all the menu settings and I feel I do truly understand what I am setting, and why!
I can now see how to get the best out of the evf which I had purchased but not really used and I really had no idea about using. I have been shooting with Leica film cameras for about 20 years but I am quite a late convert to digital and I have always been very fuzzy and indecisive about all the menu functions on any digital camera. Thank you!"
R. C. (USA)
Thorsten Overgaard "The Leica M240
Video Masterclass"
Order now. Instant delivery.
For computer, smartphone and iPad
Released October 20, 2017
17 videos + workbook
ONLY $398.00
Item #1844-1017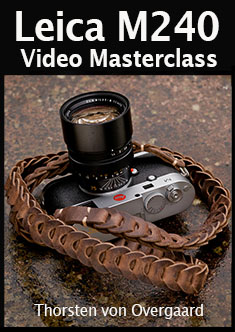 The Leica M240 Video Masterclass is two hours of video and a 20 page checklist for trying out things for yourself.