"Photography
is simple"
Thorsten Overgaard is one of the best to explain in simple terms how cameras works, and how to get excellent results.
Be competent. Buy and study this easy-to-use video class that explains how to get focus right, what sharpness is, how to get the exposure and the colors right, and more ...
"Easy to apply, photography finally told so everyone can become an expert user"
Normal price $498.00
Explained by Thorsten Overgaard by using Leica Q2, Leica SL2, Leica M11, Leica M10 Monochrom, 35mm film cameras, Leica Digilux 2 and more.
Thorsten Overgaard:
"Camera Excellence Video Class"
For Computer, iPad, Apple TV and smartphone.
Normal price $498.00
Today only $198.00
Save $300.00
USE CODE: "COXY66"
ON CHECKOUT
Order now. Instant Delivery.
100% satisfaction or money back.
Item #1847-0323
Released April 2023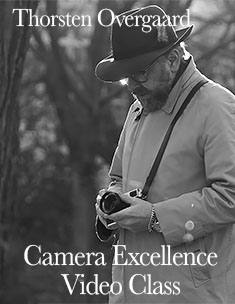 Subjects covered in this easy to use video class:
– The 5 most important things in photography.
– What is sharpness in photoraphy?
– How to focus and nail the sharpness.
– Understanding focal lengths and angel of view in photography.
– Megapixel resolution and sensor noise.
– Controlling light.
– Controlling colors and tonality.
– The exposure triangle of ISO, shutter speed and Aperture.