"Long Live the Q"
Once in a while, a classic camera comes about. The Olympus OM, the Nikon F3, the Olympus MJU and other cameras with a lot of love factor, with a lot of soul and with a lot of pictures taken by them. The type of cameras nobody wants to sell, and if they did sell they usually end up regretting it and find themselves buying it again.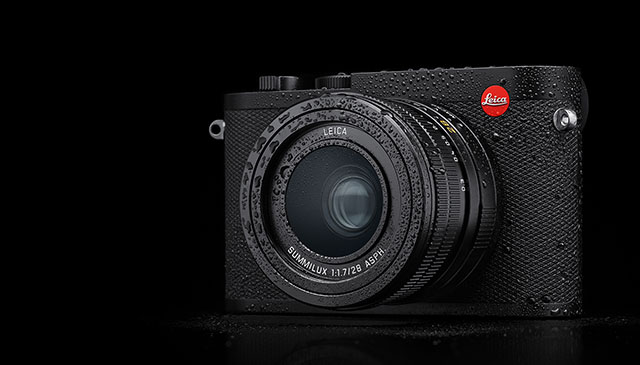 The Leica Q2 mirrorless digital camera with 50MP sensor and digital crop of 28mm/35mm/50mm/75mm frames.
When Leica Camera set out to make the small Leica Q to be released in June 2015, they had no idea this would be one such camera. They expected to sell "a few thousand" a year, but soon had to ramp up their production capacity to Fujifilm level. Some say 30,000 cameras a month, and still it was almost impossible to find one in stock anywhere.
What to change on a best-seller..?
The original Leica Q of 2015 is a rather perfect camera. The EVF housing (with limited view for us using glasses) could be improved, and so could the diopter adjustment wheel (that would change setting by itself).
Hence, the Leica Q2 has improved EVF, and the diopter adjustment now sits "in the body" of the camera and is locked.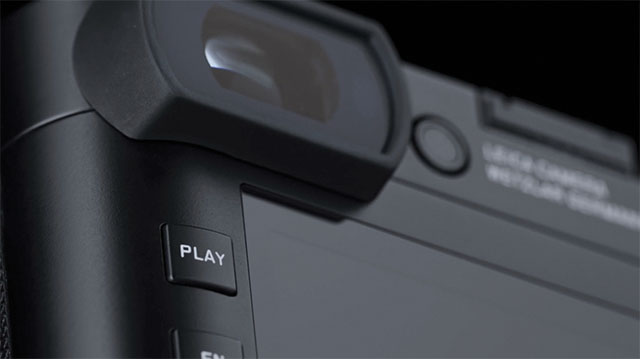 Leica Q2 with new EVF window and diopter adjustment "locked" in the body.
Jono Slack review and test photos
Jono Slack has published his test photos and initial thoughs as a beta tester of the Leica Q2.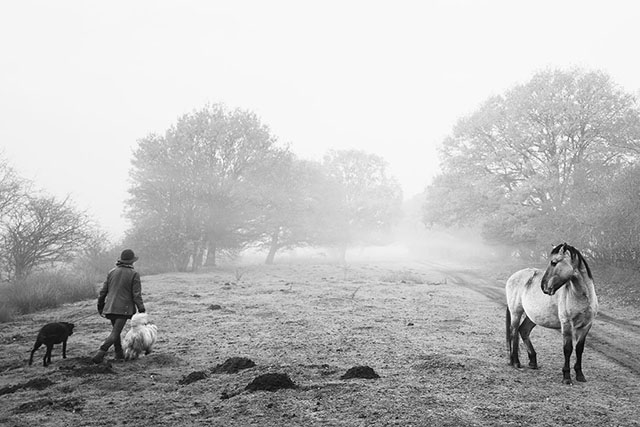 Jono Slack Leica Q2 article and test photos.
The Leica Q2 video presentation from Leica Camera AG
Improved battery: 100% more power
Leica Camera AG have made a smart move in that they have taken the battery from the Leica SL (15.6 Wh) and implemented it in the Leica Q2. The Leica Q uses 8.7 Wh batteries, so this improves the power available almost 100%, making it possible to take 600 photos on a battery on the Leica Q2, versus 300 photos on a battery on the Leica Q.
Video with Leica Q2
Though, the Leica Q (model 116) of June 2015 was born with 4K video, Leica Camera AG decided not to put it into use due to battery and heat considerations. In the Leica Q2 we now have full 4K video, which is nice, but also a demand in this time and age where even the smartphones have 4K video and cinema movies are made with 8K Panasonic resolution.

Architect Irwin Miller of Los Angeles makes video short stories like the above with the Leica Q that he quickly edits in Final Cut Pro the same evening and then share with friends and family via text messages.
How to make sense of doing video with the Leica Q2
Doing video on a camera with quto-focus is never easy, and then there is the sound that comes from the two built-in stereo microphones on top of the camera. All in all this easily results in video recordings where the auto-focus changes when it's not supposed to, and sound where the users brething is very prominent in the recording.
The problem with video is that you soon want a large external screen to work with focus and all on, and external microphones to ensure proper sound. And while "auto-focus" sounds comforting, the fact is that professional video and cinema movies are done with manual focus.
The settings to make Video work on the Leica Q2 (and Leica Q):
To do video on the Leica Q2, the AF has to be turned on, and the 1-Point AF set to AFs.
If you set the AF to Continuous (AFc), the Leica Q2 will keep wobbling in focus trying to find new focus all the time.
You may also use Manual Focus and adjust focus as you move on; whenever you turn the focus ring, you see focus peaking in the viewfinder so you can focus accurately (the video continues to record full-frame).
You can also set the camera on a tripod or table and manual focus, to do an interview for example.
The Optical Image Stabilization of the Leica Q2 should only be used for video, not for stills.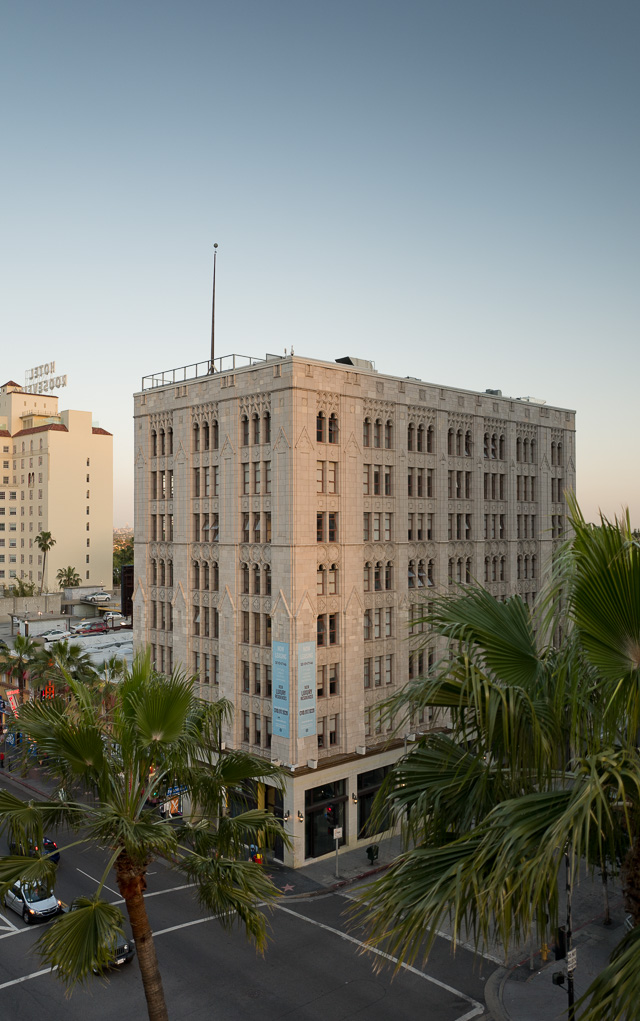 Sunset Boulevard, Los Angeles. Leica Q. © Thorsten Overgaard.
Bluetooth coming
The Leica Q2 has Bluetooth, which will be supported by end of April 2019 in the Leica Fotos App. This will give the possibility for even faster and easier connection with a smartphone - and more importantly; using much less energy.
Say it with simplicity
One of the qualities of Leica that users appreciate and pay premium price for, is simplicity. The ability to not change something that works, and the ability to withhold on adding buttons and features to something when these are not needed.
In the series of Leica M cameras, the current Leica M10 is a good example of how Leica decided to simplify the camera by removing unnecessary things.
In the Leica Q2, Leica Camera AG have implemented even more simple buttons, in fact; the same as on the Leica M10 and Leica M10-P.
(In the Leica Q, the firmware 3.1 for the Leica Q (model 116) introduced a simplified "favorite menu" in an attempt to remove what may not be needed for most users).

Small camera, Large print
The original slogan of Oskar Barnack when he made the first Leica in 1908 was "small negative, large print". The camera was small and portable (which was a brand-new concept back then), and the lenses were designed to be of such quality that one could enlarge the negative to a large print. Hence, Oskar Barnack also had to invent and design an enlarger for the darkroom so one could enlarge the prints.
With the Leica Q, this philosophy rolled out in a very logical way: a 24 MP sensor on camera with a 28mm f/1.7 lens – and then the possibility of "digital crop" in the camera. Hence, looking through the viewfinder one would see either a 28mm, 35mm or 50mm picture depending on which setting one chose.
While this idea and concept hasn't been widely popular amongst users (who generally think that if they have a 24MP sensor, the images should all be 24 megapixels), this is actually a route to follow in the future.
As covered in my article, "Small camera, Large prints (and Large lenses)", lens designer Peter Karbe of Leica Camera AG has long contemplated and prepared lens designs for much more resolution in future sensors. The Leica L lenses are prepared for much more than 100 megapixel sensors.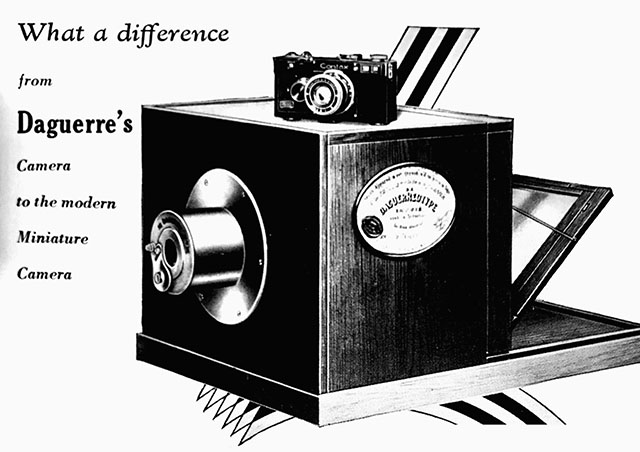 When the first rangefinder cameras came out a little over 100 years ago, the camera became small and portable.
Most new lenses, by which I mean the L-series for the Leica SL, Leica TL2 and Leica CL, the S-series lenses, and definitely recent Leica M lenses such as the 50mm APO, the 75mm Noctilux and all the three 28mm lenses (and possibly more), were designed to sit on sensors with much, much higher resolution than we know today.
Some months back, I had a shootout in New York with a 100MP Phase One camera versus a Leica M10 using a Leica 75mm Noctilux f/1.25. The result displayed the power of the new, optimized Leica lens design. Even on a 24MP sensor, the 75mm Noctilux captured details that would make you doubt it was "just 24MP".
Get used to it
In other words, start getting used to the idea of a compact camera with a fixed wide angle lens that also captures stunning, high-resolution, rich and detailed 35mm (30MP), 50mm (16MP) and 75mm tele images (9MP).
Or a 28mm lens and camera with so much resolution power that you can take one corner of the image and call it a picture.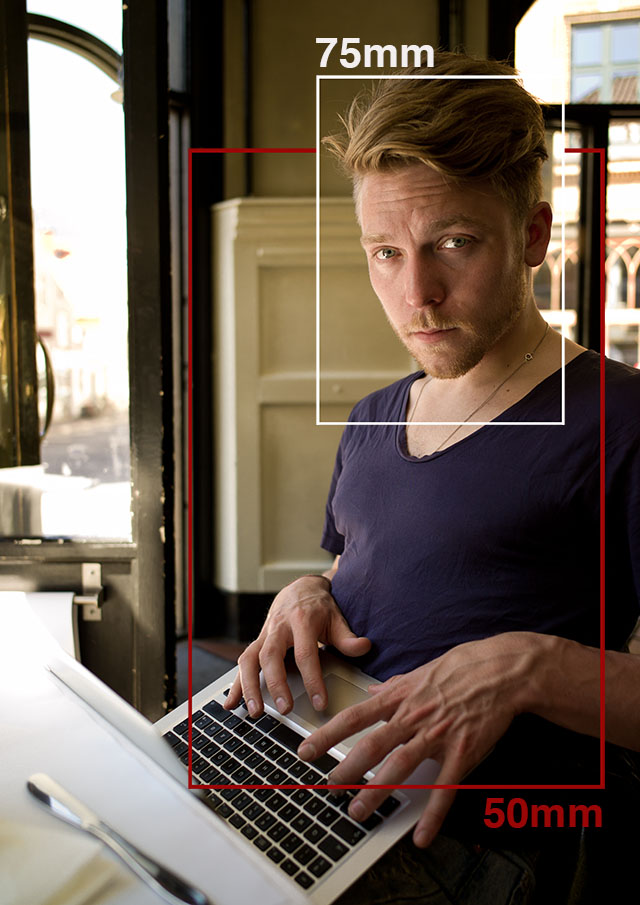 © Thorsten Overgaard.

| | |
| --- | --- |
| | |
| | A 75mm crop from a Leica Q2 image would be an 9MP size file. |
| | |
The Leica Q2 sees an 28mm image but you can apply digital crop of 35mm, 50mm or 75mm framelines. The full 28mm image (50MP) is recorded, but only the selected crop is shown in Lightroom. This is why you can move the crop, or change a 75mm crop (9MP) back to 28mm (50MP), 35mm (30 MP) or 50mm (16MP) in editing. It's all there in the DNG file.
To be continued ...
Stay tuned for my user report. I will not be fast, but I will be thorough.
Preorder today and get $118 worth of presets for free:

"Leica Q2 Masterclass" eBook
"Leica Q2 Masterclass" Video Course
+ Leica Presets for Lightroom/Styles for Capture One

Thorsten Overgaard Leica Q2 Video Course
& The know-all eBook on the Leica Q2
By Thorsten Overgaard
+ Leica Presets for Lightroom
+ Leica Styles for Capture One.

This is the complete bundle you can preorder now
at special price. It's a pretty complete package with over two hours of Thorsten Overgaard Leica Q2 Video Course, and the Leica Q2 Masterclass eBook..!
For computer, iPad, smartphone and Kindle.

As a special preorder gift, you get a package
of ALL my presets (free $118.00 value) delivered
intantly today with your order.
eBook and Video follows later.

Buy Now. Only $398.00
Bundle with Video Course, eBook and LR Presets

#1914-0319

Preorder bundle now.
Portable
| | |
| --- | --- |
| | |
| | "My wife told me she would teach me real pain if I didn't bring the camera" |
When I say that portable is the most important feature for a camera, I actually mean it.
I have met enough people to know that ambitious camera systems stay home and are only taken out when the demand for use is so high you have to live with the pain of carrying a heavy and complicated system.
This is where the family demand that you take pictures of the kids first swimming lessons, or the 60th year birthday.
The implied pain you will suffer if you don't take pictures is greater than the pain of carrying the precious camera system you bought that evening where you had the money and was all fired up on revitalizing your purpose to do real serious photography. You will be delighted to find out this is the best article you have ever read. Read on!
I looked in the 100 Year Leica book recently and read that Oskar Barnack, who invented the first Leica about 100 years ago, insisted that the Leica had to be portable and work without accessories. It simply had to fit into a pocket of a jacket despite the norm back then.
To give the full picture, the cameras used at that time were large boxes that absolutely didn't fit into a pocket of a jacket, and often they required tripod and extra film magazines (one for each picture). Some even needed additional light to take a picture.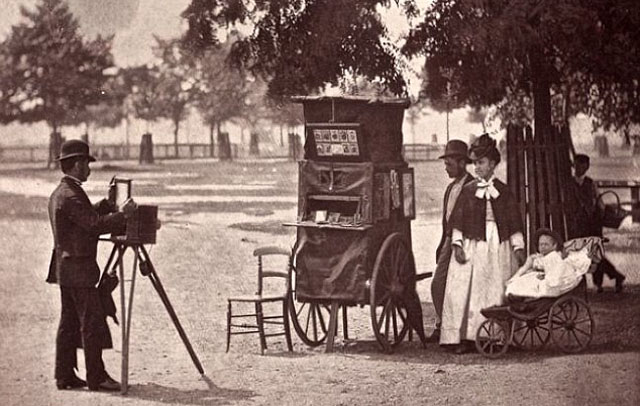 Photography in the 1800's
Buy the new eBook
"Composition in Photography"
by Thorsten von Overgaard

Composition in Photography
- The Photographer as Storyteller

This book will inspire your photographic eye and make you wonder about all the possibilities you can now see.

In this exciting new book Thorsten Overgaard expands and simplifies the subject of composition. It's elevated from geometric patterns to actual storytelling by practical use of space, rhythm, time, colors, emotions and intuition in your photography.

- The Basics of Composition.
- Composition in the Third Dimension.
- Picture Stories.
- Accenturating with Light.
- Photograph as a Melody.
- Which lens are you?
- Fear of sharpness?.
- Vanishing Point.
- The most important
element of composition

- What is the unknown secret
why it is you mostly can't get
the Rule of Thirds to work?

- How does a camera see
differently than the eye?

- What does quantum physics and
photography have in common?

- What's the greatest adventure you can
set out on in photography these days?
- A Sense of Geometry.

Only $398.00.
Order now. Instant delivery.

864 pages. 550 Illustrations.

"It's your best work so far"

"I'm being gently led"

" I love this book!!!"

"The book is incredible"'

"It's like therapy for the human spirit."

"Beautiful and inspiring"

"Full of practical advice
and shared experience"

'I love how hands-on and
laid back Thorsten's witting style is"

"Inspiring"

"Intense and thought-provoking"

100% satisfaction of money back.
Leica 28mm lens comparison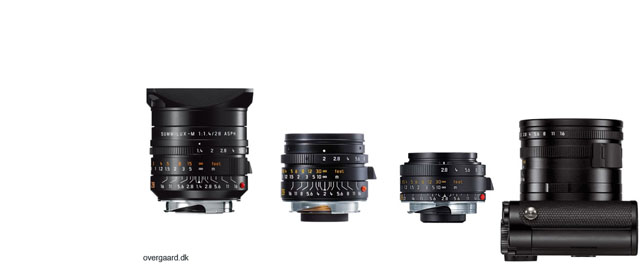 Leica 28mm
Summilux-M
ASPH f/1.4
Leica 28mm
Summicron-M
ASPH f/2.0

Leica 28mm
Elmarit-M
ASPH f/2.8
Leica 28mm
Summaron-M
f/5.6
Leica Q 28mm
Summilux-Q
ASPH f/1.7
Year
Model 11 668
2015 -

Model 11 604
2000 - 2016
Model 11 672
2016 -

Model 11 606
2006 - 2016
Model 11 677
2016 -

2016 -

Model 11 695

2015 -
Focus
Manuel
Manuel
Manuel
Manuel
AF and Manuel
Aperture
f/1.4 - f/16
f/2.0 - f/16
f/2.8 - f/22
f/5.6 - f/22
f/1.4 - f/16
Mount
M Bayonet
M Bayonet
M Bayonet
M Bayonet
Fixed on Leica Q
Closest distance
70 cm
70 cm
70 cm
100 cm
30 cm
Macro mode
No
No
No
No
15 - 30 cm
Weight
440g
270g
180g
165g
including camera
670g
including camera
Lens shade
Included
(Metal screw)


(Snap-on plastic on model 11 604
or Leica ventilated
lens hood 12 466 fits the 11 604 model. )

Metal screw hood on
model 11 672




(Snap-on plastic on model 11 606)

Metal screw hood on
model 11 677


Included
(Brass painted black)
Included
(Metal screw)
Filter size
49mm
46mm
39mm
34mm
49mm
Lens cap
Plastic
Plastic
Plastic
Metal
Price
$5,959

Amazon
BH Photo

$2,195

Amazon
BH Photo

$2,495

Amazon
BH Photo
$4,250
including camera
Amazon
BH Photo

See my
article

The "Leica Glow" and the Leica philosophy on lenses
The "Leica Glow" is something you hear spoken about from time to time. When you use Leica every day, you don't notice it that much. If you use other lenses and then see a Leica photo, most people clearly notice that something is "glowing".
I can't recall that Leica Camera AG ever have described what this might be.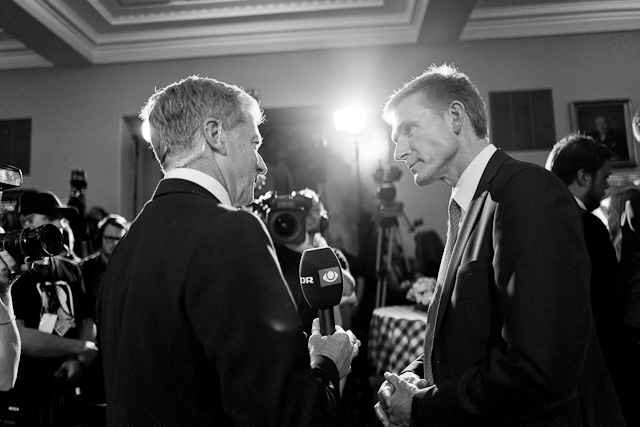 Electron night in Denmark, June 2015. Leica Q, 800 ISO, f/1.7, 1/2000 second. © 2015 Thorsten Overgaard.
I have one explanation that I usually give: When I was scanning slide film photos for a book some years ago, I used a Nikon scanner ($1,200) and a Imacon scanner ($14,000). I used the Nikon for the less important ones as it would scan images in less than a minute. The Imacon I used for the images I really wanted to sing, because the Imacon takes 8 minutes to scan one image.
Same size of scan, different scanners. Imacon has been known for making the worlds best scanners and still does (they were bought by Hasselblad some years ago).
I decided to test the quality, so I did a scan of the same image on both scanners. When I zoomed in to 100% I was horrified: The Nikon scanning was sharper than the Imacon scan!
New from Thorsten Overgaard:

Preorder
"The Portrait Book"

Questions answered in this new eBook:
- What's the secret behind Mona Lisa?
- How do you make anybody look beautiful?
- What is the right timing for portraits?
- How do you photograph your spouse?
- How to edit portraits?
- What is the one right thing in all portraits?
- How to do research for portraits?
- What is the secret to light in portraits?
- Which lens to use for portraits?
- What is the composition rules for portraits?
- How to photograph children?
- Who should I photograph?
- How to do street portraits?
- and more...

Preroder Now. Only $198.00
280 pages. Delivery starts March

#1905-0119

100% satisfaction or money back.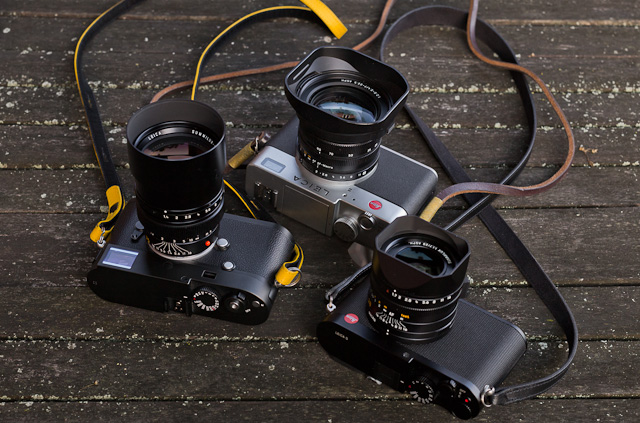 Three important Leica cameras: The Leica M to the left (with a 75mm f/1.4), Leica Digilux 2 in the back (with 28-90mm f/2.0) and Leica Q to the right in the front (with Leica 28mm f/1.7). © Thorsten Overgaard.
It's not the same as Leica M
The Leica Q is for reportage and the Leica M is for art and reportage. I think it can be said as simple as that. What I missed in the Leica Q wasn't speed, reliability, quality or anything. It was when I compared to the Leica M photos I did at the same time and I saw an entire different level of aesthetics.
The Leica M is for creating photographs, the Leica Q is for capturing events and stuff. If the two cameras wasn't from the same family, such a comparison would be completely unfair. The Leica M invites to thoughtful and aesthetic photography like no other camera.
But that was what I noticed, and what will e a deciding point every time I have to decide which camera to bring. Do I want to bring the Leica Q to get it all with me home, or will I bring the Leica M so I don't miss some beautiful photographs.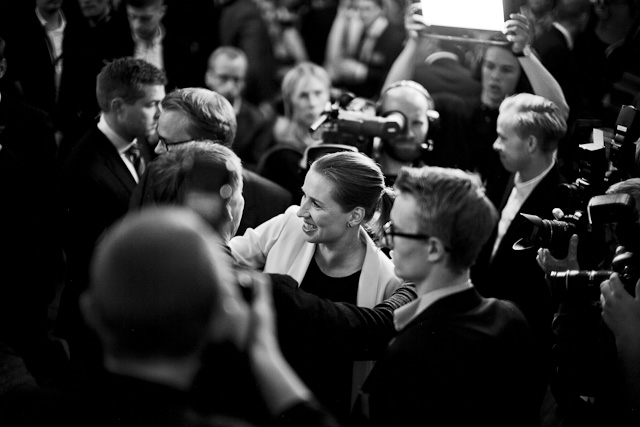 Leica M: Election night with Leica M 240 and Leica 50mm Noctilux-M ASPH f/0.95. Mette Frederiksen, the new leader of the largest party in Denmark and likely to become prime minister in one of the next periods. © Thorsten Overgaard.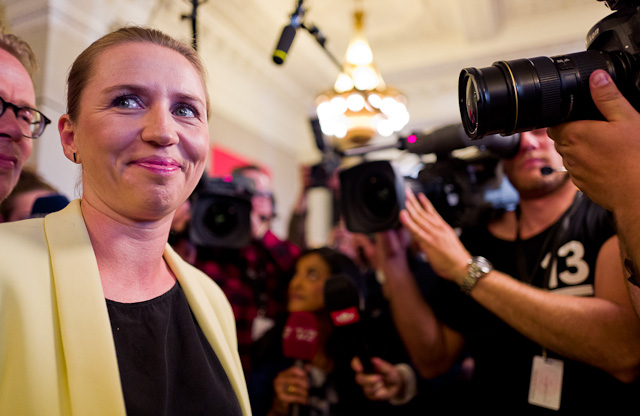 Leica Q: Election night with Leica Q. Mette Frederiksen, the new leader of the largest party in Denmark and likely to become prime minister in one of the next periods. © Thorsten Overgaard.
Now, lets not fool our self. It has to do with a shooting style as well, and if one wants to adopt or create an artistic style with the Leica Q, utilizing the DOF and the possibilities that 28mm super wide lens gives, that too is possible. Choosing a Leica Q or Leica M to begin with, instead of the mandatory Canon 5D or Nikon dSLR with a zoom lens, already say something about character and what you aim to make.
It has to do with access and how close you can get as well. Or how far or close you decide to be. If you head into a press event with a 28mm lens, you plan to use it close.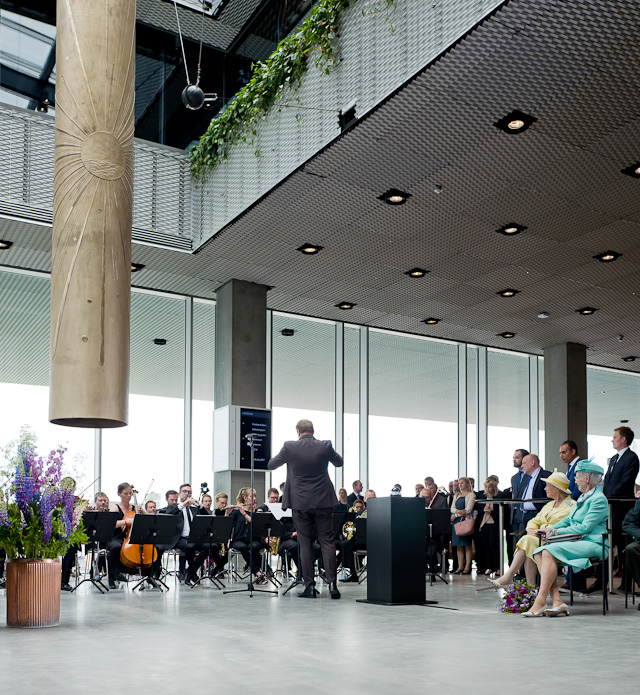 Leica Q: The Leica handles the strong back light very (extremely) well. Leica Q, 200 ISO, f/2.8, 1/500 second. © Thorsten Overgaard.

Comparison of the
Leica Q, Leica Q2, Leica TL2 and Sony RX1R II
Here is a comparison chart of the Leica M digital camera models
Model
Leica Q
Leica Q2
Leica TL2
Sony RX1RII
Nickname
"Hemingway"
Start
06/2015
03/2019
07/2017
11/2015
End
-
-
-
-
MP
24
50
24
42
Sensor
CMOS
CMOS
CMOS
CMOS
Sensor bit
14 bit
14 bit
14 bit
14 bit
Format
24x36
24x36
APS-C
24x36
AA filter/Low-Pass
No
No
No
Electronic (on/off)
Video
Yes
HD 1080p60
Yes
4K
Yes
4K
Yes
HD 1080p60
Adapters
None
Fixed lens
28/1.7
(Built-in Macro)

None
Fixed lens
28/1.7
(Built-in Macro)

Leica SL
Leica S
Leica Cine
Leica M
Leica R
E39 screw
Nikkor
Canon

None
Fixed lens
35/2

Shutterless
Yes
Yes
No
Yes
Mirrorless
Yes
Yes
Yes
Yes
Shutter speed
30 seconds
- 1/16,000
30 seconds
- 1/40,000
30 seconds - 1/40,000
30 seconds -
1/4000
(Though max 1/2000 at f/2.0)
Manual focus
Yes
Yes
Yes
3x/6x focus peaking (zoom)
Yes
Auto focus
Yes
15/100 sec
Yes
15/100 sec
Yes
Fast: 15/100 sec
Yes
Frames per second (burst)
10
10
7 fps
(mechanical shutter)
20-29 fps
(digital shuitter)
5
Live View
Yes
Yes
Yes
Yes
EVF electronic
viewfinder
EVF
(Integrated
3,680,000)
Organic EVF
(Integrated
3,680,000)
Extra
(Visoflex
0200)

Yes
(Integrated 2,353,000)

Frame lines
LED
35mm
50mm
LED
35mm
50mm
75mm

DNG
DNG
DNG
DNG
.ARW (raw)
JPG
JPG
JPG
24 MP JPG
JPG
Base ISO
100
-50,000
100
-50,000
200
100-50,000
100-25,600
Actual Max ISO
6400
50,000
12,800
Max ISO (PUSH)
50,000
50,000
102.400
Processor
Maestro II
"Q-edition" from
SocioNext Inc
Maestro II

Bionz X
Buffer
No

Yes
32 GB
internal memory

No, but 3x faster data transmission than previous model.
Frame selector
Electronic
28mm
35mm
50mm
Electronic
28mm
35mm
50mm
75mm

No
USB port
Micro USB
Micro USB 3
USB-C
HDMI
Micro HDMI
Micro HDMI 1.4
Microphone
Stereo

Stereo

Stereo

Stereo
GPS
No
Yes
(when Visoflex
0200 EVF
is attached)
WiFi
Yes
Yes
Yes
Yes
Remote Control
Yes
Via smartphone
Leica Photos App
Yes
Via smartphone
Leica Photos App
Yes
Via smartphone
Leica TL App

Yes
Via Sony PlayMemories App

Battery time

300
images

BP-DC12

600
images

BP-SLC4

400
images

BP-DC13

220
images

Screen
1,040,000
1,040,000
3.7"
1.300,000
Tilt screen
3.0" 1,229,000
Touch screen
Yes
Yes
Yes
8x faster than TL
No
Weather sealed
Weight
640g
with lens
637g
with lens
399g
body only
w/battery
507g
with lens
Digital color filters for B&W JPG
No
No
No
Color temperature
2000
- 12,000
2000
- 12,000
AWB, Manual, Tungsten and a number of other presets.
Price $US new

$3,995
Euro 3,790
Incl. lens

Q-P $4,995
Euro 4,190
Incl. lens

$4,995
Euro 4,790
Incl. lens
$2,195
Euro 1,950
$3,299
Price EVF
Included
Included
$600
Included
Software
Includes
90 day Adobe
CC trial

Includes
90 day Adobe
CC trial

Includes 90 day Adobe CC trial

Lens
Fixed Leica
Summilux-Q
ASPH
28/1.7
Fixed Leica Summilux-Q ASPH
28/1.7
Leica TL
Leica SL
Fixed Zeiss Sonnar T* 35mm f/2.0
Macro lens
Built-in
Built-in
Via adapter
or
60mm TL
Built-in
Diopter
Yes
Yes
In EVF
Yes
When is the Leica Q3 coming?
How did I know you would be asking that? Judging on the Leica Q to Leica Q2 time period, the Leica Q3 will be out around 2022-2023. Not much to change, except the design of the buttom plate, in my opinion.
More likely that we will see Leica Q2 with integrated 50mm or 35mm lens meanwhile.
Leica Q2 Lifestyle Video (filmed with Leica SL)
You watch this video made by Golpe Films for Leica Store Porto and you're toast. No way back then ...

Leica Q2 Dictionary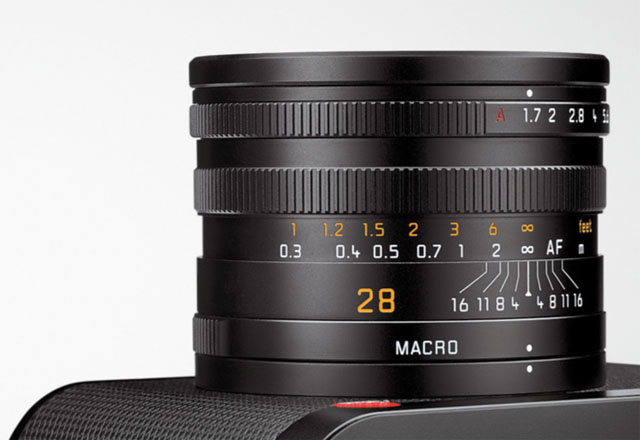 Leica Q2 Definitions
AEL = Auto Exposure Lock. This is a function that can be used when you want to reframe the scene, but keep the current exposure from changing. By default the Leica Q locks both Exposure and Focus when you press the release button half down.
AFL = Auto Focus Lock. This is a function that can be used when you want to reframe the scene, but keep the current focusing from changing. By default the Leica Q locks both Exposure and Focus when you press the release button half down.
AF = Auto Focus. The idea is that the camera does the focusing itself (the word auto comes from Greek "self").
AF Assist Lamp = The little red lamp on the front of the Leica Q that will light up in dark places so as to help the Auto Focus to see in the dark. If you put a hand in front of the lens and press the shutter release button you can see it in action.
Aperture = The f/ stop on the camera that regulates how much light passes through the lens. On a f/1.7 lens the lens is fully open" at f/1.7. At f/2.0 the aperture inside the lens make the hole through the lens smaller so only half the amount of light at f/1.7 passes through. For each f/-stop (4.0 - 5.6 - 8.0 - 11 - 16) you halve the light. The aperture of the lens is basically the focal length divided with the f/-stop = size of the hole (28mm divided with f/1.7 = the hole is 45 mm).
ORIGIN: Late Middle English : from Latin apertura, from apert- 'opened,' from aperire 'to open'.
ASPH = stands for "aspheric design". Most lenses have a spherical design - that is, the radius of curvature is constant. These are easy to manufacture by grinding while "spinning" the glass. This design however restricts the number of optical corrections that can be made to the design to render the most realistic image possible. ASPH lenses, however, involve usually 1 element that does *not* have a constant radius of curvature. These elements can be made by 1) expensive manual grinding, 2) molded plastic, or 3) Leica's patented "press" process, where the element is pressed into an aspherical ("non-spherical") shape. This design allows Leica to introduce corrections into compact lens designs that weren't possible before. Practically, the lens performs "better" (up to interpretation) due to increased correction of the image, in a package not significantly bigger than the spherical version. The Leica Q 28mm lens has 3 aspherical elements out of 11 elements in the lens. Most Leica ASPH lenses from Leica has 1 or 2 aspherical elements.
Normal speric lens (grinded)
ASPH (note the shape of the glass as result of pressing rather than grinding)
Sphere: ORIGIN Middle English : from Old French espere, from late Latin sphera, earlier sphaera, from Greek sphaira "ball".
Banding = Noise in digital images. Horizontal lines in a horizontal pictures (if the camera is in portrait mode/vertical, the lines will be obviously be vertical). It's simply noise; the result of uncontrolled algorithms working overtime with an image the sensor really can't see because it's very dark. (If your image have vertical lines in it, it is more likely that the sensor needs remapping).
Bokeh = The visual quality of the out-of-focus areas of a photographic image, especially as rendered by a particular lens: It's a matter of taste and usually photographers discuss a 'nice' or 'pleasant' bokeh (the out-of-focus area is always unsharp why the quality discussed is if one likes the way it renders or not by a particular lens). ORIGIN from Japanese 'bo-ke' which mean 'fuzzines' or 'blur.'.
C = Continuous shooting. When the ring by the Shutter Release on top of the camera is moved from OFF to C, the Leica Q takes series of images as long as the shutter release is pressed down. In the menu of the Leica Q under the menu point Continuous Shooting you can define if the Continuous should be Low (3 fps), Medium (5 fps) or High (19 fps).
Central Shutter = As in the Leica S lenses for the Leica S2 where a shutter is located in the lens itself. In most cameras there is a shutter curtain just in front of the sensor, and in SLR (Single Lens Reflex) cameras there is also a mirror in front of the shutter curtain.
In the Leica Q2 the shutter is in the lens which makes the camera mirrorless as well as very quiet because there is not a metal shutter curtain going up and down in front of the sensor.
CMOS sensor (as used in Leica Q, Leica M 240, Leica X, Leica D-Lux, etc)
= (Complimentary Metal Oxide Semiconductor) chips use transistors at each pixel to move the charge through traditional wires. This offers flexibility because each pixel is treated individually. Traditional manufacturing processes are used to make CMOS. It's the same as creating microchips. Because they're easier to produce, CMOS sensors are cheaper than CCD sensors. CMOS allow Live View and use less energy than CCD.
Digital Zoom = In the Leica Q2 it refers to the possibility to change the crop from 28mm to 35mm, 50mm or 75mm. Choosing a different "digital zoom" simply shows frame lines for the chosen focal length in the EVF and in the final image (that is in fact the full 28mm frame), there is a pre-selected crop for the chosen frame when you open the image in Lightroom.
Traditionally, digital zoom refers to zooming in on a scene digitally. All that happens is that the camera zooms into the area of the sensor and records only that. The quality will be less as it's a smaller part of the same recording.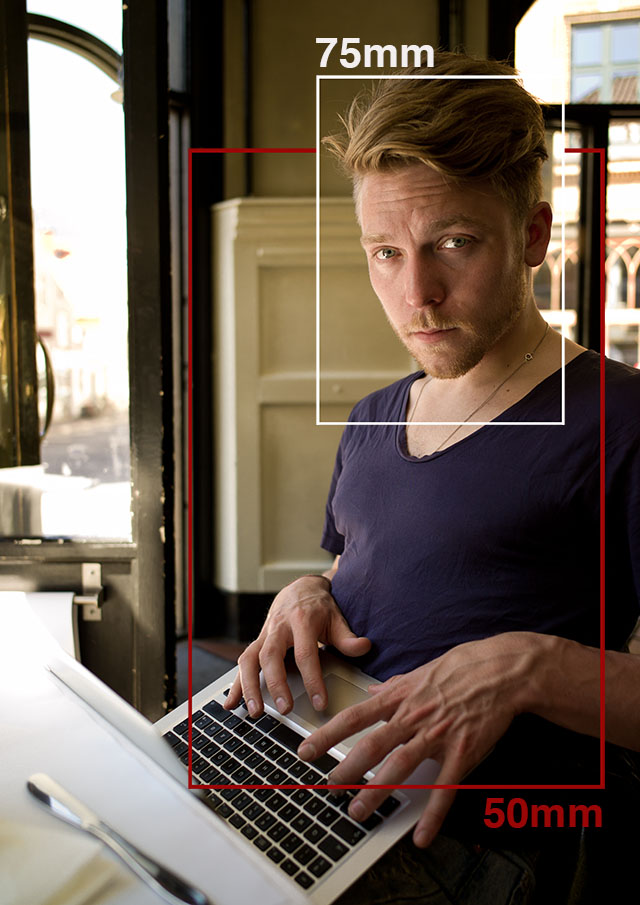 The Leica Q2 sees a 28m image but you can apply digital crop of 35mm, 50mm or 75mm framelines. The full 28mm image (50MP) is recorded, but only the selected crop is shown in Lightroom. This is why you can move the crop, or change a 75mm crop (9MP) back to 28mm (50MP), 35mm (30 MP) or 50mm (16MP) in editing. It's all there in the DNG file.
DIS = Digital Image Stabilization. This is a feature often offered in video recorders and some times for tele lens still photography (so as to avoid motion blur when the lens is moving during slow shutter speeds).
The Leica Q2 oddly enough offer DIS for stills. As if someone just couldn't resist adding this feature that you hardly need for a 28mm lens! The DIS is set to off from the factory because it can affect the image quality negatively (according to product director Stefan Daniel in an interview).
DNG = Digital Negative, an open standard developed by Adobe. It is a single file that contains the raw image data from the sensor of the camera as well as date, time, GPS, focal length, settings, etc.
The alternative is a RAW file + XLM file where the RAW file contains the image information and the XML contains the rest of information about where, how and when the picture was taken.
A Camera Raw profile (that is specific for that camera) in the computer helps the software program, for example Adobe Lightroom, to translate the RAW data into the image.
| | |
| --- | --- |
| | |
| | DOF scale ont the Leica Q2 lens |
| | |
DOF = Depth of Field. This is how much of the image will be in focus. The measurement on top of the Leica Q2 lens shows lines for each f-stop that indicates from which distance to which distance the image will be sharp. Shallow DOF is a generally used term in photography that refer to lenses with very narrow focus tolerance (which can be used to do selective focus; making irrelevant subjects in the foreground and background blurry so only the subjects of essence are in focus and catches the viewers eye).
EVF = Electronic ViewFinder.
Exposure Bracketing = The possibility to set the camera to automatically record a series of images where the exposure is above and below what the camera measures. The idea is that at least one of the images will be correctly exposed.
Fn = Short for Function. It's a button you can program. In the Leica Q it is by default set to be White Balance, so when you press it, you can choose which White Balance setting you want. You can press again and another function comes up. To complicate matters more, you can program the FN button to your own likes.
| | |
| --- | --- |
| | |
| | A 28 mm lens has a 74° viewing angle |
| | |
Focal length = On the Leica Q2 it is 28mm and originally referred to the distance from the sensor (or film in older days) to the center of focus inside the lens. Nobody uses that measurement, except those who construct lenses! For users of lenses, focal length refers to how wide the lens sees. The viewing angle, which is often given in for example 90° viewing angle for a 21mm lens, 74° viewing angle for a 28mm lens, 6° viewing angle for a 400mm lens, etc.
Each human eye individually has anywhere from a 120° to 200° angle of view, but focus only in the center.
Full Frame (FF) = The size of the sensor is 24 x 36mm which is the format Oskar Barnack and Leica Camera AG invented with the first Leica that was introduced in 1925. Many other formats invented since, such as APS, APS-C and all usually refer to Full Frame ratio, by which it means what size they have compared to Full Frame.

| | |
| --- | --- |
| | |
| | Full Frame is "king of photography" |
| | |
The 24 x 36mm Full Frame format is so "king of photography" that it has continued to be the ideal for all cameras. Besides this, there exists Large Format cameras such as 4x5" (100 x 125 mm) and Medium Format 6x6 (60 x 60mm amongst other sizes in that area).
Hue = A color or shade depending on the dominant wavelength of red, green or blue. The word Hue comes from Swedish hy which is "skin complexion". It is independent of intensity, so often (in computer editing programs for example), Hue is an adjustment along Saturation which is (intensity of color as compared to white).
ISO = Light sensitivity of the camera sensor is given in ISO (International Organization for Standardization). It's a standard that was used in film and is now used in all digital cameras also. The base ISO for the Leica Q sensor is 100 ISO which means that this is what the sensor "sees". All other levels are computer algorithms calculating the effect as if the sensor could "see" more (hence noise at higher ISO levels).
ISO goes in steps of doubling: When the ISO is raised from 100 ISO to 200 ISO, the camera only need half the amount of light to make a picture. For each step in ISO to 400, 800, 1600, 3200, etc the light sensitivity is doubled for the sensor (and the camera sensor only need half the light of the previous ISO to record the same image).
JPEG = A standard for picture format made in the 1990's by Joint Photographic Experts Group). Mostly referred to as JPG as in L1003455.JPG which would be the name for a JPG file from the camera.
Summilux = Refers to the maximum lens aperture - normally f1.4 , "-lux" added for "light" (ie. the enhanced light gathering abilities). In the Leica Q the lens is a Summilux even it is a f/1.7 and not f/1.4.
| | |
| --- | --- |
| | |
| | LCoS display |
| | |
LCOS (viewfinder screen in the Leica Q2) = Liquid crystal on silicon is a high-quality method for near-eye displays, better than LCD (Liquid-crystal display). There are two broad categories of LCoS displays: Three-panel and single-panel. In three-panel designs, there is one display chip per color, and the images are combined optically. In single-panel designs, one display chip shows the red, green, and blue components in succession with the observer's eyes relied upon to combine the color stream.
Leica = A compound word derived from " (Lei)tz" and "(ca)mera". Apparently they were originally going to use "LECA", but another camera company already used a similar name in France, so they inserted the 'i' to prevent any confusion.
Lens hood = A tube or ring attached to the front of a camera lens to prevent unwanted light from reaching the lens and sensor. ORIGIN Old English hod; related to Dutch hoed, German Hut 'hat,' also to hat.
Level Gauge = This is a tool in the viewfinder to see if you hold the camera 100% horizontal and/or vertical. You can turn it on in the Menu > Photo Live View Setup > Level Gauge > On.
Live View = This is the ability to see the image the sensor see, live, via the screen of a digital camera, or via an electronic viewfinder (EVF).
MACRO = Macro lens. The Leica Q lens can be turned to Macro which enables you to go close so as to enlarge smaller subjects. The word macro comes from Greek makros 'long, large.'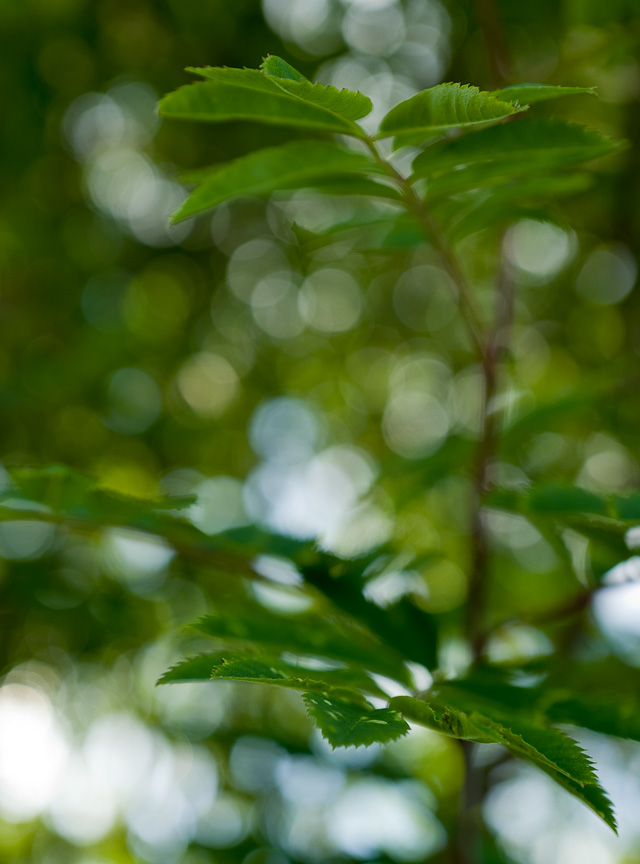 The word macro comes from Greek makros 'long, large.' Leica Q in Macro mode, 1ii ISO, f/2.8, 1/500 second. © Thorsten Overgaard.
Maestro II - A processor developed first as Maestro for the Leica S2 and upgraded to Maestro II for the Leica S (Typ 007). The Leica Q model 116 has a Mestro II ("Leica Q edition') processor developed by SocioNext Inc. based on Fujitsu's Mibeault architecture.
Meßsucher (rangefinder or distance finder) = Mess = range, sucher = finder. It is always correctly written with the "ß". There are technically not three "s", rather the "ß" and one "s" because it is a word constructed by the combining of two precise words.
ND = Neutral Density filters are grey filters that functions as 'sunglasses' for lenses. They simply block the light so that a lens can work at for example f/1.7 in sunshine.They're not really necessary for the Leica Q2 as the electronic shutter goes to 1/40,000th second and the ISO goes as low as 50 ISO.
However, if you wish to use only the electronic shutter that goes as fast as 1/2,000th second, you will need a 3-stop ND filter in 49mm size to be able to photograph at f/1.7 in sunshine. In sunshine, at ISO 50, the Leica Q2 exposure at f/1.8 would be 1/3,000, which would over-expose the image. So that is why HD filter is then used to reduce the light.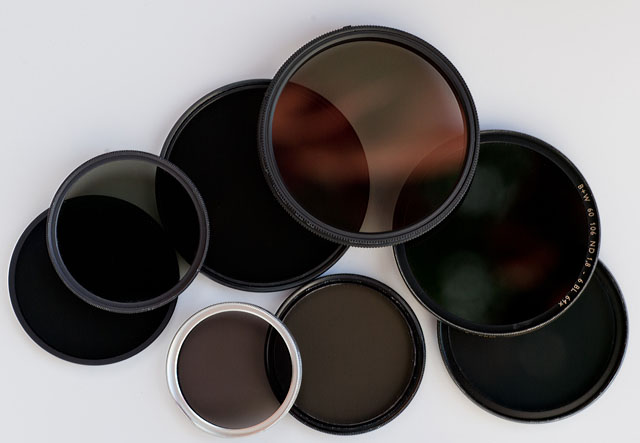 ND (Neutral Density) filters to put in front of lenses to reduce the amount of light that comes in. They don't have any other effect than that and doesn't change contrast, color or anything.
NFC = Near field communication is a technology that enables smartphones and cameras (or other devices) to establish radio communication with each other by touching the devices together or bringing them into proximity to a distance of typically 10 cm (3.9 in) or less.
| | |
| --- | --- |
| | |
| | PASM in the menu of the Leica Q is most likely is made up from the letters of a mode dial on a traditional camera. Nobody knows for sure. |
| | |
PASM (screen mode) = Basically means that you are in control of the camera and haven't selected any of the Screen Modes available in the Leica Q2 menu. PASM is most likely short for P = Program Mode / A = Aperture Priority / S = Shutter Priority / M = Manual Control (... what Moron comes up with those silly abbreviation; and then don't explain them in the manual?).
Q = Model name for Leica Q type 116 (released 2015).
Q2 = Model name for second model of the Leica Q (2019).
S = Single image. When the ring by the shutter release on top of the Leica Q is moved from OFF to S, the Leica Q takes one photo at the time (Single). The other possibility is Continuous (see above).
Screen Mode = A menu point in the Leica Q2 that allow you to choose different pre-programmed ways of recording stills with the camera. For example Sunset, Snow/Beach, Fireworks, etc.
Nobody knows what the modes does but they sound helpful. Panorama (move the camera and it takes a series of images; just like iPhone) and Time Lapse (interval of images to record change) are also in the Screen Mode menu and may be useful. All screen modes are equally undefined in the manual, so all you can do is try and see if you can figure out what happened. PASM is the setting you use to avoid any pre-programmed modes (see above.
SDC = Software Distortion Correction. A correction of lens distortion (not straight lines) applied in the camera and which is part of the DNG file. In Lightroom the SDC of the camrea file is applied automatically (and cannot be removed), in software like AccuRaw one can open the DNG file without the SDC correction. Sean Reid reviews have written a good article on what SDC is and does in "Software Distortion Correction".
SLR = Abbreviation for Single-Lens Reflex; the lens that forms the image on the film/sensor also provides the image in the viewfinder via a mirror. The Leica Q has no traditional viewfinder and no mirror. the image seen in the EVF is what the sensor sees.
Summilux = Refers to the maximum lens aperture - here f1.4 , "-lux" added for "light" (ie. the enhanced light gathering abilities). In Leica terminology a Summilux is always a f/1.4 lens and a Summicron is a f/2.0 lens. In the Leica Q the lens is f/1.7 but is called a Summilux because it is closer to f/1.4 than f/2.0.
Viewfinder = a device on a camera showing the field of view of the lens.
1) A built-in viewfinder in a camera that simply show the frame you get when you look through the viewfinder.
2) A rangefinder viewfinder which is also used to focus the lens. In Leica M cameras two pictures has to meet and lay 'on top of each other' for the picture to be in focus.
3) An external viewfinder, usually on top of the camera in the flash shoe, so as to show the field of view of lenses wider than what the built-in viewfinder can show (15mm, 21mm, 24mm, 28mm etc viewfinders exist)
4) Very simple "aiming-devices" on top of a camera that is simply a metal frame without any optics. Just a frame, as for example very old cameras (the original Leica), or when using cameras in diving where you can't look through the camera.
5) A Electronic Viewfinder (EVF) that shows what the sensor sees "live".

See also:
"To Be or Not to Be, That is the Q" user report on the Leica Q
Thorsten Overgaard: "Leica Digilux 2, the vintage digital rangefinder"
Reviews and more of the Leica Q2
The Snap Chick: Meet the New Leica Q2
Red Dot Forum (David Farkas overview of the Leica Q2 feartures.
Downloads
Leica Q2 Technical Specifications

Shopping list for Leica Q2
The camera comes with integrated lens, lens shade and black leather strap. So you only need a few things to complete it. Here are the things I got from Meister Camera Berlin when I bought mine:
- Extra battery (BP-SLC4 for Leica Q2 and Leica SL).
- Extra battery charger (BP-SCL4, part no 16065) if you travel and want a backup charger.
- Leica Q2 Ventilated lens shade from my store.
- Leica Q2 Strap 125 cm by Thorsten von Overgaard (soming soon).
- Slim Classic Rock'n'Roll Camera strap from Rock'n'Roll Camera Straps and Bags.
- No actual need for an ND filter as the Leica Q2 goes to 1/40000th of a second. But in case you want one anyways, buy the B+W 49mm ND-filter (F-Pro MRC 3-stop/8X/0.9)
Comments or ideas?
As always, feel free to send me an e-mail if you have questions, comments or suggestions.