Thorsten von Overgaard is a Danish writer and photographer, specializing in portrait photography and documentary photography, known for writings about photography and as an educator.
For specific image needs, contact Thorsten Overgaard via e-mail.
Also visit:
Leica Definitions
Leica History
"Photographer For Sale"
Leica Lens Compendium
Leica Camera Compendium
Leica 50mm Noctilux-M ASPH f/0.95
Leica 35-70 Vario-Elmarit-R ASPH f/2.8
Leica M9 and Leica ME
Leica M Monochrom
Leica M Type 240
Leica M Type 240 Video
Leica Digilux 2
Leica X
Leica 35mm Summilux-M ASPH f/1.4
Leica S medium format dSLR
"On The Road With von Overgaard"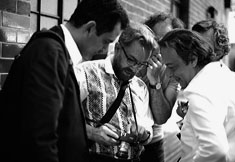 See student photos from previous seminars here

AUGUST 2014:
Overgaard Photography Workshop
New York
August 28 - 31, 2014
Sold out
SEPTEMBER 2014:
Overgaard Photography Workshop
Berlin
September 19 -22, 2014
Few spaces left
Overgaard Photography Workshop
Paris
September 24 - 27, 2014
Few spaces left
OCTOBER 2014:
Overgaard Photography Workshop
London
October 20 - 23, 2014
Few spaces left
Overgaard Photography Workshop
Rio de Janerio, Brazil
October 28 - 31, 2014
Info/register
NOVEMBER 2014:
Overgaard Photography Workshop
Havana, Cuba
November 3 - 6, 2014
Info/register
Overgaard Photography Workshop
Hong Kong
November 18 - 21, 2014
Waiting list
Overgaard Photography Workshop
Jakarta
November 23 - 26, 2014
Info/register
Overgaard Photography Workshop
Taipei, Taiwan
November 28 - Dec 1, 2014
Info/register
DECEMBER 2014:
Overgaard Photography Workshop
Kyoto, Japan
December 4 - 7, 2014
Info/register
Overgaard Photography Workshop
London
December 12 - 15, 2014
Info/register
Overgaard Photography Workshop
Santa Barbara, CA
December 18 - 21, 2014
Info/register
Overgaard Special Workshop
Hollywood
December 27-30, 2014
Info/register
JANUARY 2015:
Overgaard Photography Workshop
Santa Fe, New Mexico
January 2 - 5, 2015
Info/register
Overgaard Photography Workshop
Austin, Texas
January 7 - 10, 2015
Info/register
Overgaard Photography Workshop
New York
January 12 - 15, 2015
Info/register
MAY 2015:
Overgaard Photography Workshop
Istanbul
May 8 - 11, 2015
Info/register
JUNE 2015:
Overgaard Photography Workshop
Rome
June 2-5, 2015
Info/register

What People Say about the Thorsten von Overgaard Workshops:

"Thorsten, I appreciate the genuine way in which you continue to communicate with your students and admire your success in creating a community of enthusiasts around you.

"I was such a beginner when I did your workshop that it has taken me quite a while to incorporate what you taught us into my photographic life.

" I remember you are not a fan of spending hours on a photo, and nor am I - indeed one of the benefits of the workshop was to show how one could spend more time about and about with the camera."



- M. B. (France)

| | | |
| --- | --- | --- |
| | | |
| | "Thank you again for the great time in Sydney. It was (and I say this quite seriously) a life changing experience. I'm a lot more confident to take and show my photos now. You should be proud that you have obviously brought knowledge and confidence to so many people. I will see you again some time in the future for a refresh" | |
| | - J. G. (Australia) | |

| | | |
| --- | --- | --- |
| | | |
| | "I was participant on your photo workshops in Malmö in 2011 and 2012. My abilities increased beyond imagination after that. Will you be offering a workshop only about portrait photography?" | |
| | - C. B. (Malmo, Sweden) | |

| | | |
| --- | --- | --- |
| | | |
| | "Meeting you was one of the most memorable things in my life!" | |
| | - I. L. (USA) | |

| | | |
| --- | --- | --- |
| | | |
| | "I'm one of the luckiest guys in the world who have chance to attend Thorsten Overgaard workshop in Bangkok." | |
| | - N. S. (Thailand) | |

"Dear Thorsten and Joy, I wish to thank you and Joy for a wonderful four days of photography. From the first day of theory to the last day of choosing our best, it was a wonderful experience that inspired me to take more pictures and share them with others.

I learned a great deal from your critical comments and also your showing how to improve the final picture through minor adjustments in Lightroom. May of my friends have a heavy hand with Lightroom but you showed us how to adjust the camera so that minimal post processing was necessary to have a good final product.

Joy was also such a pleasure to be with. She is such a professional in her chosen field of modeling, entertainment and production. Her sharing of this knowledge with us was a compliment to Thorsten's photographic knowledge. She was also very flexible and willing to share her poetry with us after coming out of the cold of Seoul's winter too.

I will always remember those four days as being very special because of both of you. When you come to Seoul again, I plan to be there!

Again thank you for a wonderful photo experience."

- G. F. (Korea)

"The Overgaard Photography Workshop is an investment that pays immediate dividends.

In four short days there was a marked swagger in my step. This may sound irrelevant to photography, but in my opinion it's one of the unspoken tangibles that make professional photographers like Thorsten so damn good – their confidence is able to make them disappear in a sense, and put their subjects at ease.

The funny thing about this is that it wasn't something discussed during the workshop, it was something that I learned from observing Thorsten work. The way he moved without hesitation, the manner in which he sized up his subject, and got the shot and moved on. Quick, clean, and confident! For me, that was the most valuable part of the workshop – spending four days at the elbow of a professional photographer!

What an experience!

I came away excited, eager, and confident that I could produce the kind of photographs I've always envied!

Thank you to my friend Thorsten! Some time in the future, somewhere in the world, our paths will cross again!"



- J. J. (New York)

| | | |
| --- | --- | --- |
| | | |
| | "Thanks again for an amazing experience. Definitely keen to do another workshop with you both in the near future to hone my skillz. Apologies for having to run out constantly. Thanks again for everything." | |
| | - G. C. (Hong Kong) | |

"I was in a flat spot with my picturemaking, I was reading your blog which I follow with great interest. Your blog said 'wear your camera and get out and do something'.

Well after a bit of thought, I went out and put on an exhibition of 80 pictures in our local library exhibition room. This turned out to be very successful with photographic societies and others visit the exhibition.

Thank You for having inspired me!"



- R. D. (UK)

"Towards the end of 2012 I purchased a Leica M9P camera and Leica 35mm lens; I did not know how much this little black box was about to shape all of 2013 for me.

In Jan 2013 I attended a four day workshop in London with Danish photographer Thorsten Overgaard. It was, not only, an incredibly informative few days but also tons of fun and I met some wonderful people. The encouragement I got from Thorsten and everyone else gave me an incredible boost to get 2013 started. In fact I loved the workshop so much I immediately enrolled on the Sept 13 session which turned out to be even better.

I found Thorstens straight forward approach to both using the camera and towards editing extremely refreshing but it was the way he taught me how to look for light that, honestly, changed the way I view the world.

I see differently now and because of that I also think differently. I've started to compose and record music in a way that is much clearer and for the first time in my career true to how I want to hear it."
(Feel free to see images on my blog).



- B. G. (Music Composer & Producer London)

"First of all I would like to thank you for some very educational and inspirational days in Sydney. I feel that I've grown a lot as a photographer, not only through what you taught us, but also by just observing how you move and interact with subjects on the street. And your "All you need is love" approach to photography is the best advise I've ever received as a photographer.

I'm still aiming for my "less is more" approach to photography. If something doesn't add to the story you're trying to tell then try to crop it out (preferably in camera) or wait for the right moment when there are no distractions. I just had another look at your website and one of my favorite photos is of the Sikh reading a book shot with the 80mm Summilux-R. There must be hundreds of people in that photo but they all add to the story and therefore not a single one should be cropped. Very inspiring indeed!

Hope to see you again in the future, in Australia or somewhere else around the world. All the best."



- H. H. (Sydney)

| | | |
| --- | --- | --- |
| | | |
| | "The workshop with you really pushed an evolution in my photography… particularly the notion of sharpness, and how the photographer controls the illusion of sharpness with the light instead of using just the rendering capabilities of the lens." | |
| | - P. W. (San Francisco) | |