Leica M9 Digital Rangefinder Camera - Page 2

Index of Thorsten von Overgaard's user review pages covering Leica M9, Leica M9-P, M-E, Leica M10,
Leica M 240, Leica M-D 262, Leica M Monochrom, M 246 as well as Leica Q and Leica SL:


The feeling of the Leica M9 - tool of the artist
By: Thorsten Overgaard
The pictures of Birgit Krippner (top of page and below here) are really going to get the pixel-peepers (people who enlarge digital images greatly to study the pixels so as to compare the "image quality" of different cameras) up their chairs. Birgit Krippner produced these two images after having changed her camera from Nikon D700 to the Leica M9, and to me they illustrate how the Leica M9 is not a machine to create pictures, but a tool of the artist to produce emotions. I bet these images won't leave you for a while.
How the idea came about I'll leave to the viewer to think about. But can one imagine such an idea would come about with an autofocus camera?
Read the interview with Birgit Kippner on page 5.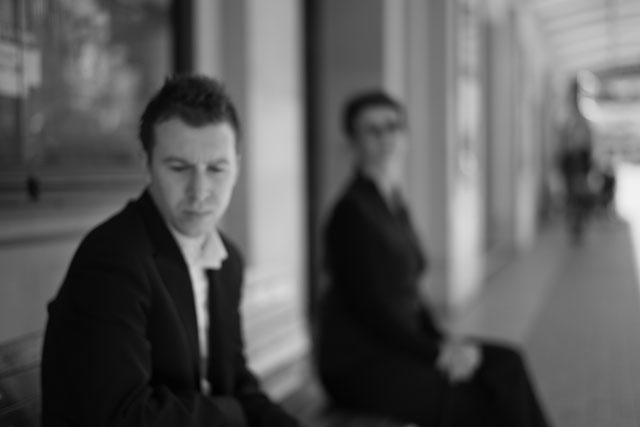 Birgit Krippner, Leica M9 with 50mm Summilux-M f/1.4, 160 ISO.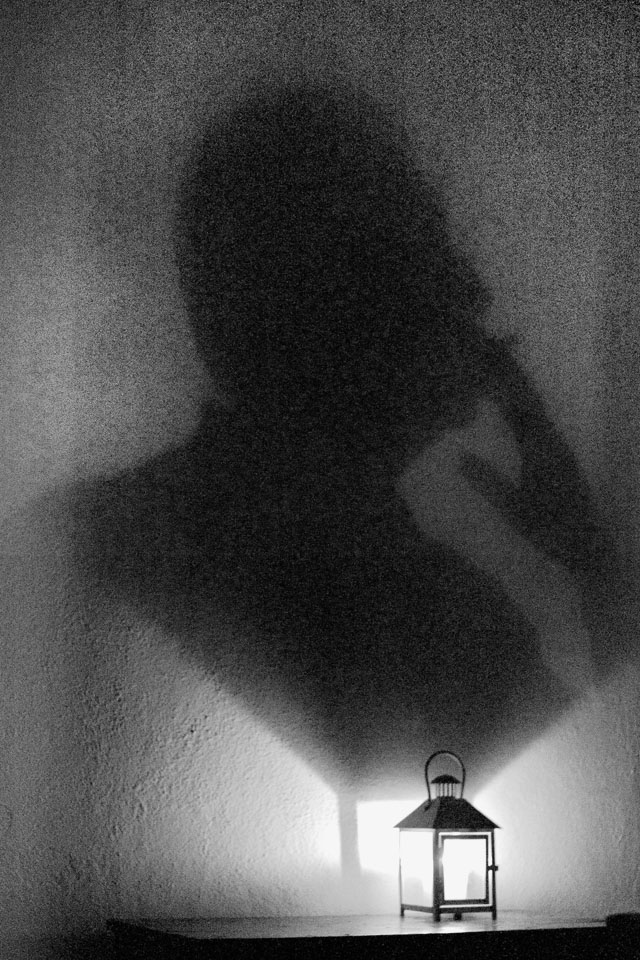 Photo by Jonathan Slack. Leica M9 at 2500 ISO, 1/11 second, 35mm Summilux-M f/1.4.
Jonathan Slack of Great Britain was one of several photographers who had the opportunity to test the Leica M9 prototype (called Leica P8 or P-864) since June 2009 to help Leica stremline the camera and its software. In his September 9, 2009 review, Words, he says:
"Everyone has their pet wishes, and to fulfill all these wishes companies like Canon and Nikon have made increasingly complex cameras with more and more features, many of which are used rarely and by only a few people. With the Leica M9 it seems to me that Leica have added the features that people really need, but resisted the temptation towards over-complexity. Of course it isn't perfect (otherwise how could they sell us an M10!)."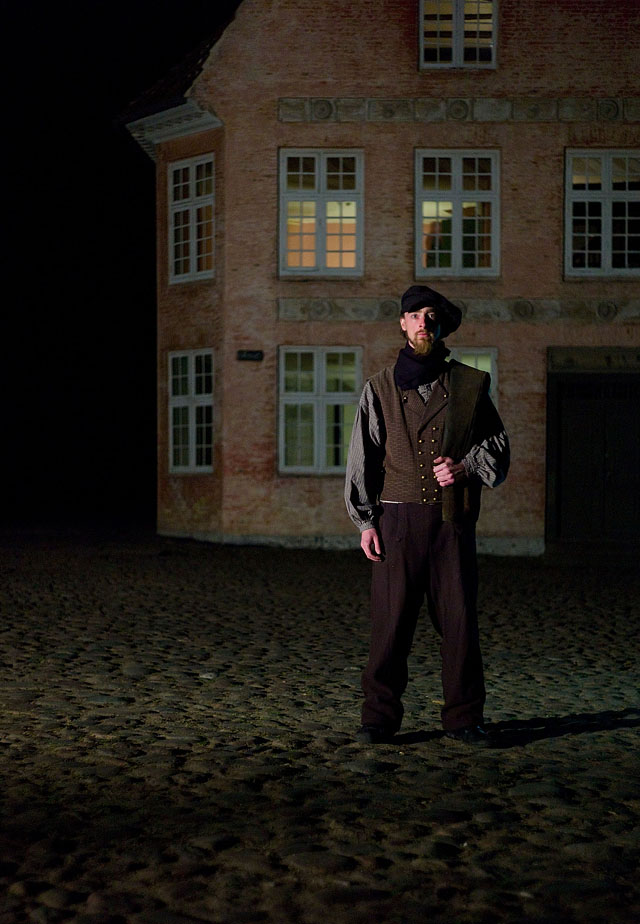 I've done a lot of photographs for The Old Town in Denmark the first week of Leica M9, and this is one of them. It's an outdoor evening shoot with a 2000w blonde light (3200K) as only light from left, and then normal tubes and tungsten lights in the house behind. Leica M9, 50mm Summicron-M f/2.0, 800 ISO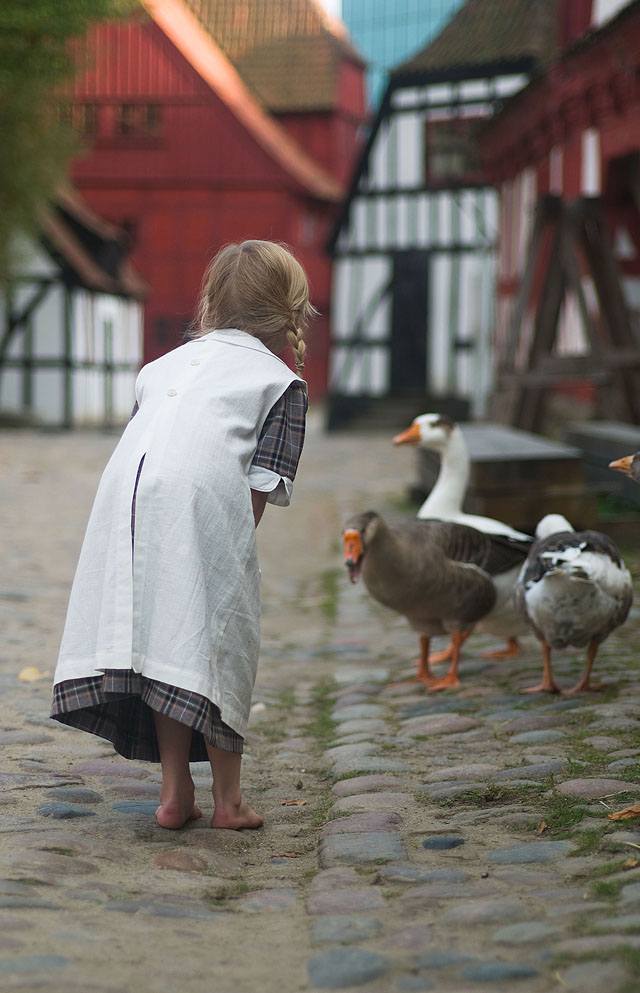 The goose wisperer, Leica M9 with 90 mm Tele-Elmarit f/2.8, 200 ISO.

The new lenses for Leica M9
Three interesting lenses saw the light months before the Leica M9 became a reality. All exremely lightstrong lenses that display an almost over-human control over light. The two Summilux-M lenese, Leica 21mm Summilux M f/1.4 and Leica 24mm Summilux-M f/1.4, and the fastest standard lens in the world, the 50mm Noctilux-M f/0.95.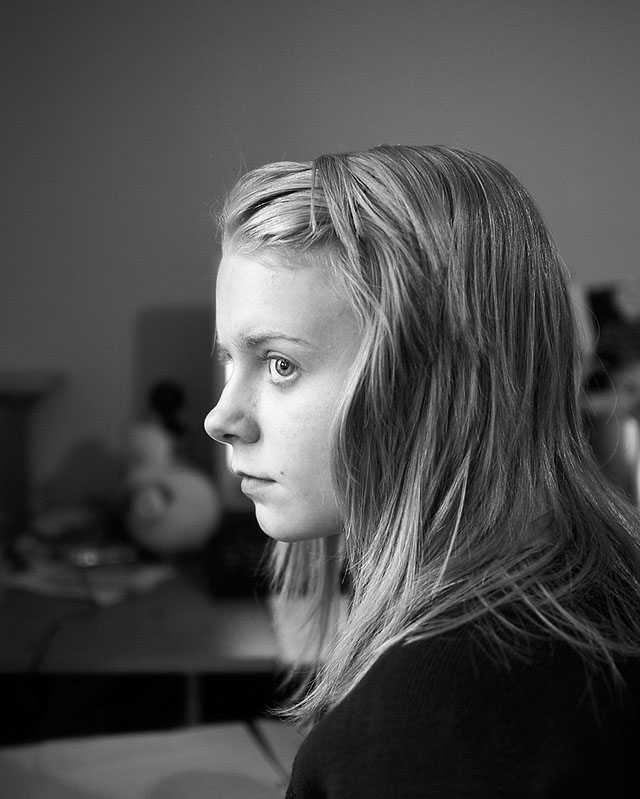 Leica M9 with 24mm Summilux-M f/1.4 @ f/1.4, 400 ISO. It's actually a cropped version of the picture and was taken at 0.7 meter distance. Photo by Simon.
Simon who did the above picture, says of the 24mm Summilux-M f/1.4:
"Having read Sean's review of the 24 Lux and seeing the fringing he got wide open I did lots of shots at the dealer at things like lamp shades and dark flowers in a bright shop window, the kind of stuff that would show fringing. However, in all those pictures, whether at f/1.4 or smaller, I could not get it to occur, and my own opinion was that for 99% of pictures it probably wouldn't be a problem.
The picture is fully open. With a close focus distance of 0.7m you can get quite creamy backgrounds although not anything like with a 50 Lux or a 75 Cron. As the DOF is relatively large at f/1.4 (e.g. compared to a 50 Lux) you will always be able to make out what an object is. However, I find the OOF areas to be very nicely rendered."
In a time of less advanced lenses for digital...
Where "everybody else" seem to rationaize their lenses and take shortcuts by making less lightstrong lenses (because digital cameras can go higher in ISO why that is a more economical way than creating complicated, expensive and large lenses of exotic glass), Leica Camera AG seem determined to broaden the Summilux range of lenses. Summilux is the name of all f/1.4 lenses in the Leica lens range (Summicron for f/2.0 lenses, Elmarit for f/2.8 lenses).
Apart from the extra light the photographer get to work with, and thus enables him to photograph even more discrete in dark places, increasing aperture hole also influence dramatically the look of the photo. The depth of Field (DOF) becomes extremely narrow and demanding for the photographer. So much more fun, if that is the fun one is looking for. But also the ability to tell a story or direct the viewer by using selective focus: What is in focus is what attracts the eye, what is not becomes atmosphere.
What does f/1.4 mean?
For a lens to be f/1.4 the opening through the lens has to be the focal length divided with 1.4, which is why we don't see 500mm f/1.4 lenses around; the diameter of the open area where the light can pass through would have to be 500mm/1.4 in diameter = 360mm! It would be almost a suitcase of glass.
But a 21mm lens f/1.4 requires a aperture hole through of "only" 15mm. It may sound a lot easier than the 500mm lens f/1.4, but then consider that you work with a 90 degrees angle of view - you have to control light from 90 degrees rays so that the light hit the sensor and create a crisp and sharp picture without distortions.
I'm no expert, and hardly intereste in how they manage to do it, but I do know it involves a piece of paper, a pencil and a calculator to figure that one out. As well as very special glass qualities, hand-assembling with tight controle. Hence the prices of these small photographic jewels.
Read more about the Summilux-M lenses in the Steve Huff reviews with sample photos from the 21mm Summilux-M f/1.4 and the 24mm Summilux-M f/1.4.
Leica M9 as the reportage camera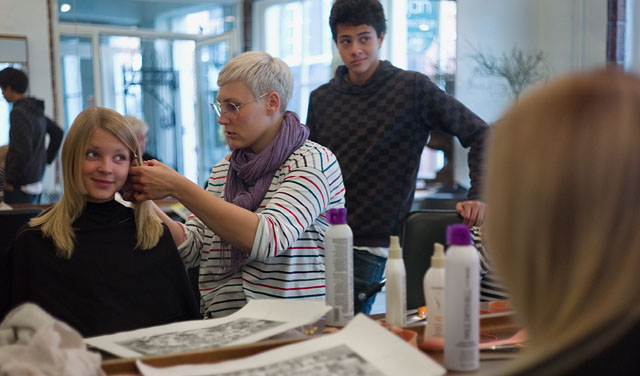 My daughter and her boyfriend at the hairdresser. Something is definitely going on. Leica M with 50mm Summicron-M f/2.0, 400 ISO.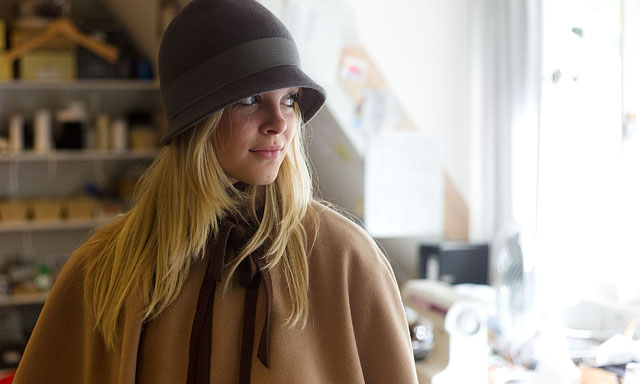 This one is for John Thawley I guess. Youth, light and great lenses, what's more to ask for. Leica M9 with Summicron-M f/2.0, 200 ISO.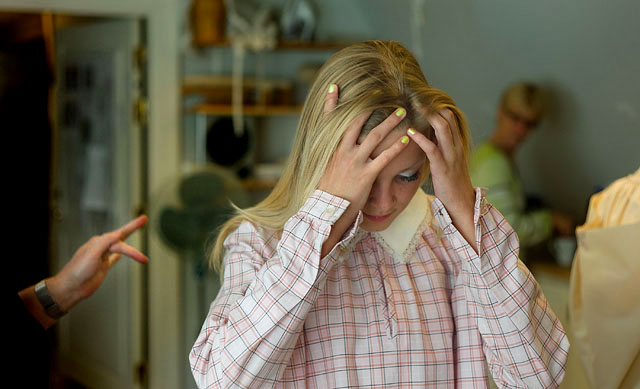 As if that persons full cahracter was summed up in that one hand-expression. In fact, it was. Leica M9 with 50mm Summicron-M f/2.0.
My son asked me, "why are you driving with your camera" the other day. The Leica M9 hangs over the shoulder while I drive. Easier that way when I have to get in and out the car, and I don't forget it then.
It's extremely compact. A camera body and two extra lenses you can wear if you have a neck to hang the camera around and two pockets. And you're all set. Your battery will last for the day, and your 16GB card will hold about 400 pictures in uncompressed DNG. Nobody notice the camera and it doesn't say a thing. Those who does notice seem to feel charmed by it. Being shot by a Leica M is a compliment of some kind, judging from peoples reactions - you don't get the "you damn paparazia" eyes from bystanders that you some times get when shooting dSLR.
Things happen when you wear your camera. You get to see things and document them. My daughter likes to sit on my arm, and she fits right in above the camera. No problem, and thus the camea goes where we goes.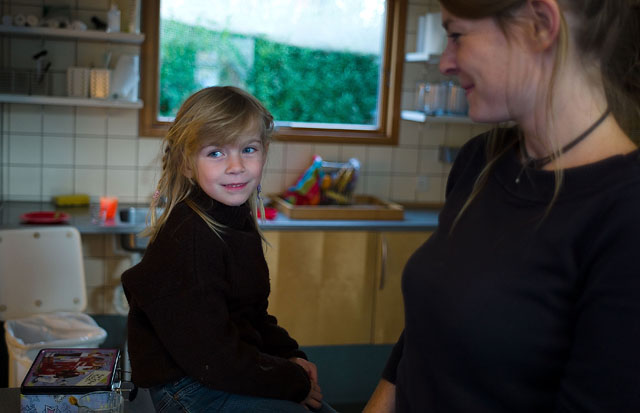 I like the mixed light on this one. Taken in the morning when I placed my daughter on the kitchen table in the kindergarten. Leica M9, 35mm Summicron-M f/2.0, 400 ISO. I wore my camera over the shoulder because I can .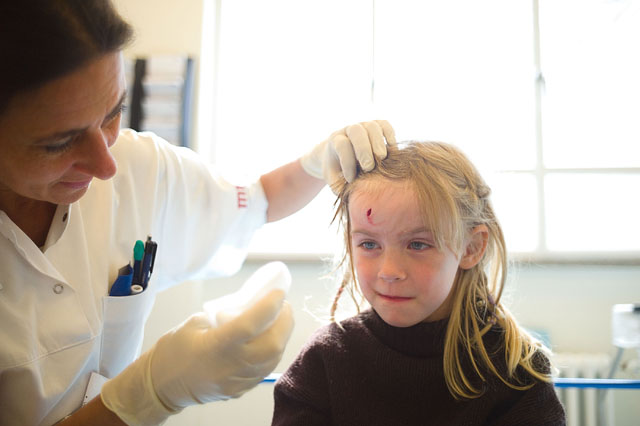 A few hours later I had to pick her up as she had fallen on a step and had gotten a 8 mm long cut. We went to the hospital to get it cleaned and glued. Leica M9 and 35mm Summicron-M f/2.0, 800 ISO. Look how brave she looks, probably realized the potential of showing the pictures in the kindergarden.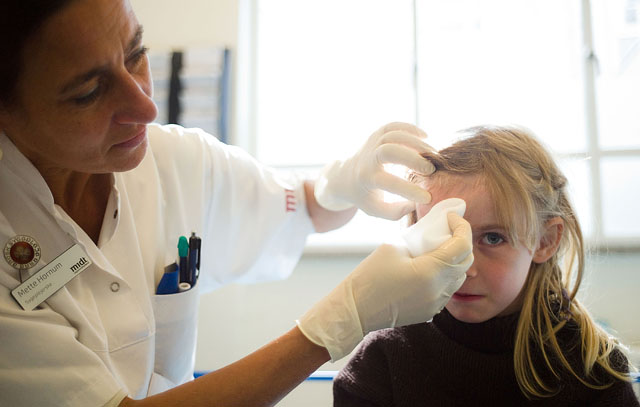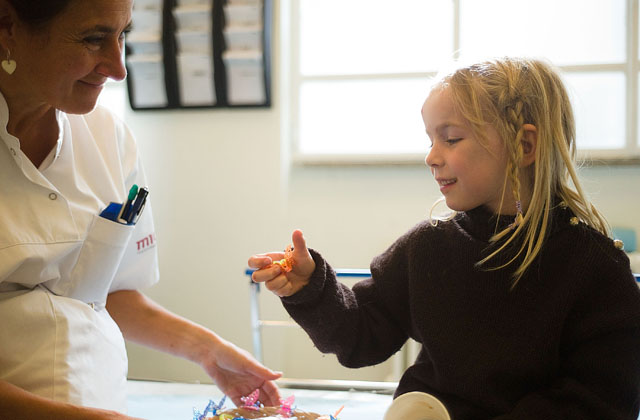 It's like traveling in a time pocket, in a period of history where photographers were a welcomed part of life and portrayed it artistic and real. Somewhere between the time where cameras became mobile in 1920 and before they became obstructive in the 1970ies. There's a distinct difference between "standing behind a camera and looking at life" and being part of the scene.
The smaller camera, the more daring you get
msAlso, there's an interesting phenomen I'm discovering these days. Because it seems that the smaller the camera, the more daring you get with people. When you work with a dSLR it's like an unspoken agreement comes about between photographer and subject that "we're doing a picture now" and it becomes arranged or staged to some degree. Even if not said aloud.
With the M you have a choice of opearting stealth, or if you chose to stage a photo it's like people don't take the camera serious - but then at the same time sense this might be a better photo than with a huge camera. It's as if they're smiling inside and we're playing a fun game. Or if this is the moment they've been waiting for through all their career in front of all kinds of cameras. Finaly the right one.
I don't know, but I'm sensing something and I'm trying to define it and use it in a clever way.
Leica M9 with 50mm Summicron-M f/2.0, ISO 640 and very mixed light.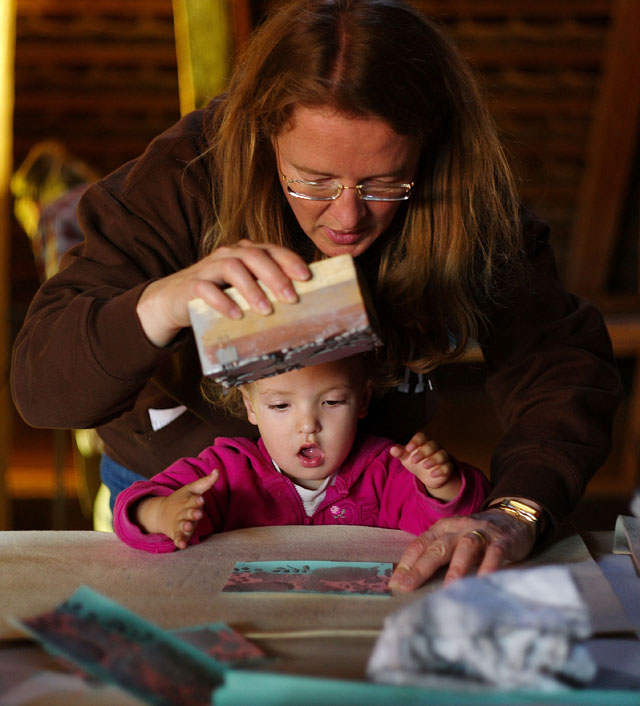 Vola! Made her own print.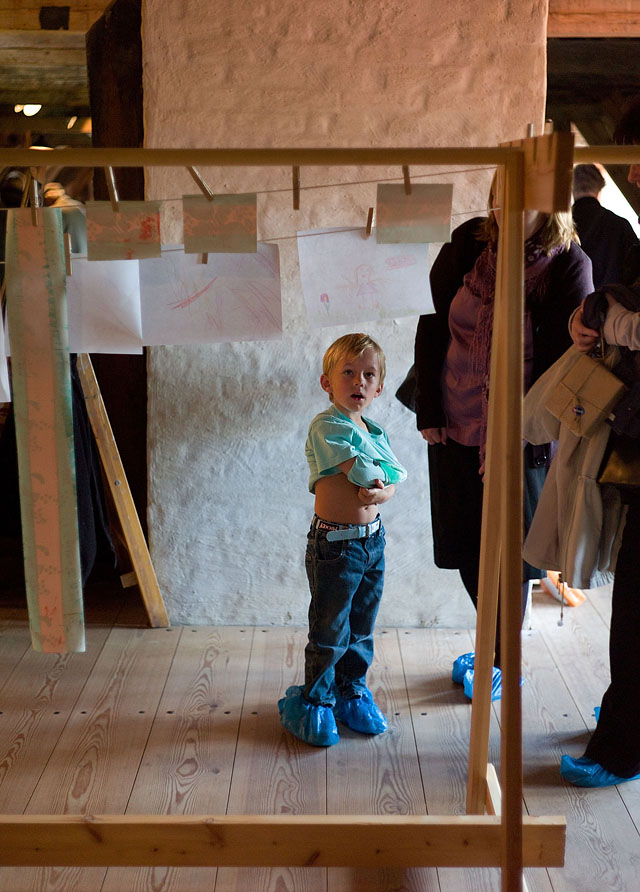 Hung up for drying. It's like I'm not there though we all know I am. Leica M9 with 50mm Summicron-M f/2.0, 640 ISO.

This is how it looks - the small print compared with the one on the wall. This one is re-taged (do that again you just did), except they don't know when we start, when we shoot and when we're done, so they are not in character all the time.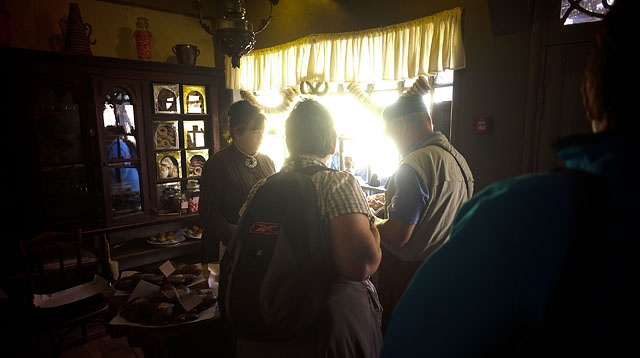 Leica M9 with 21mm Super-Angulion f/3.4. 800 ISO inside the bakery.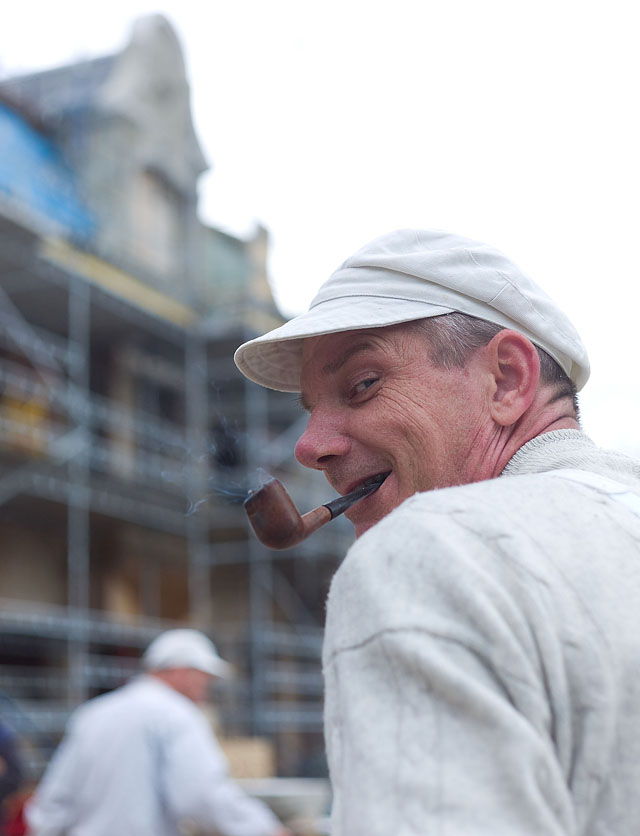 I got 15 shots of his neck, then he finally looked what was going on. Leica M9 with 35mm Summicron-M f/2.0, 200 ISO.
Wedding photography with the Leica M9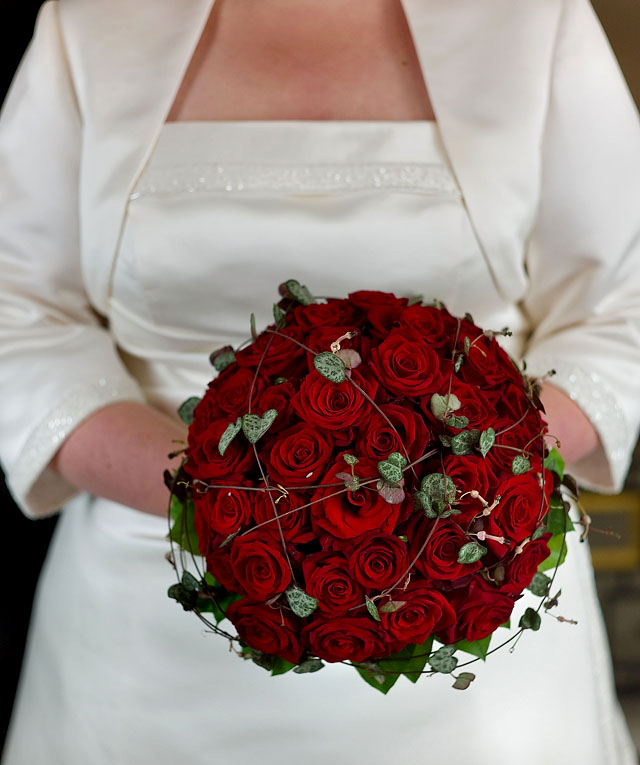 Leica M9 as a camera for wedding photography coming up next...
Leica M9 with 50 mm Summicron-M f/2.0, 200 ISO (the EXIF says 21mm but that is because part of the 6-bit coding on the lens was worn off).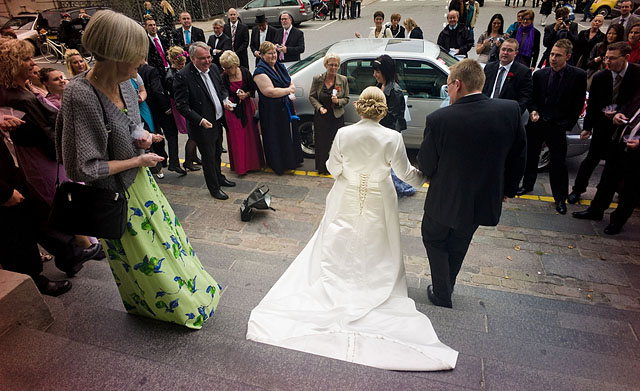 Leica M9 with 21mm Super-Angulon-M f/3.4, 400 ISO.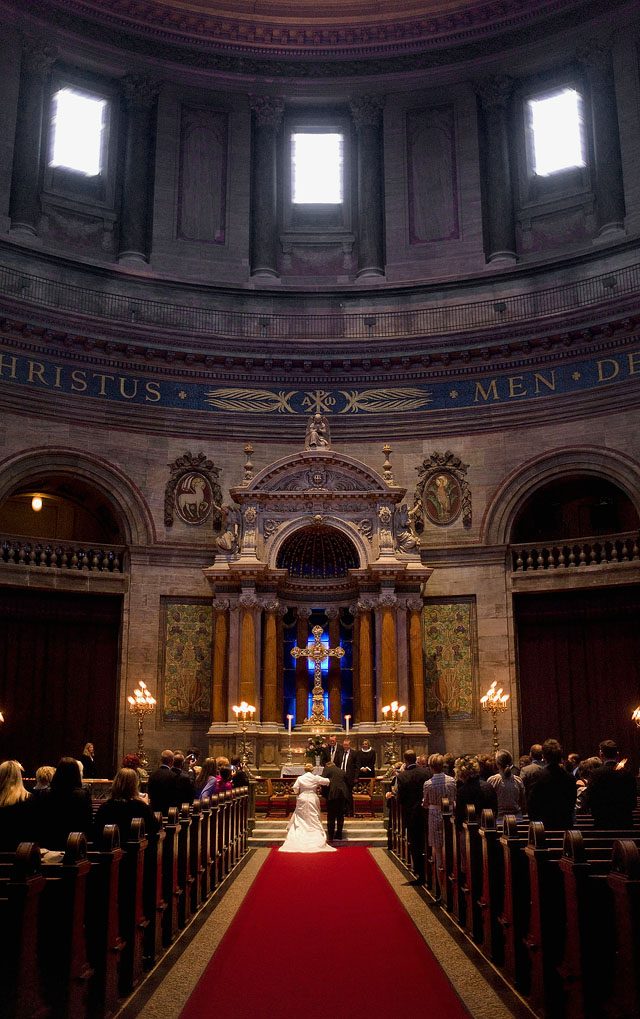 Leica M9 with 35mm Summicron-M f/2.0, 800 ISO.
Leica M9 and Leica R9/DMR comparison
Shooting this wedding, I also did "red carpet arrival" photos of all guests. For this I used daylight lamps, two KinoFlo 4Banks beauty lights and one ARRI 1,2 kW HMI lamp (see the article "Quality of Light" for more on what those lamps are), and then I used manual white balance setting.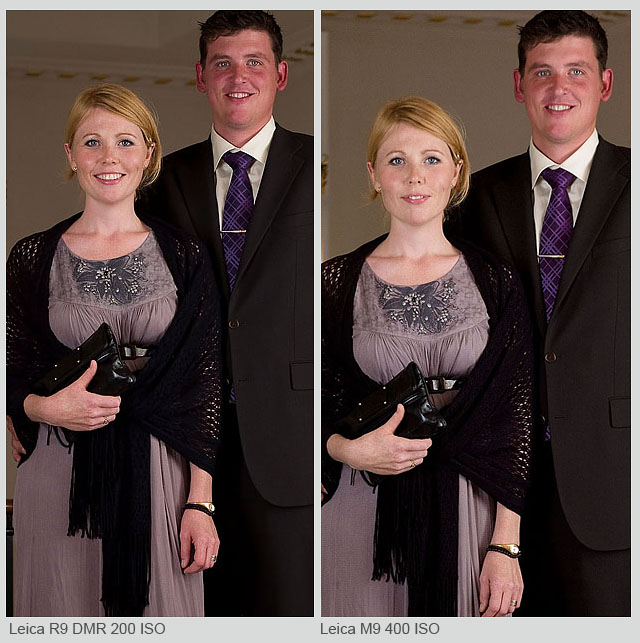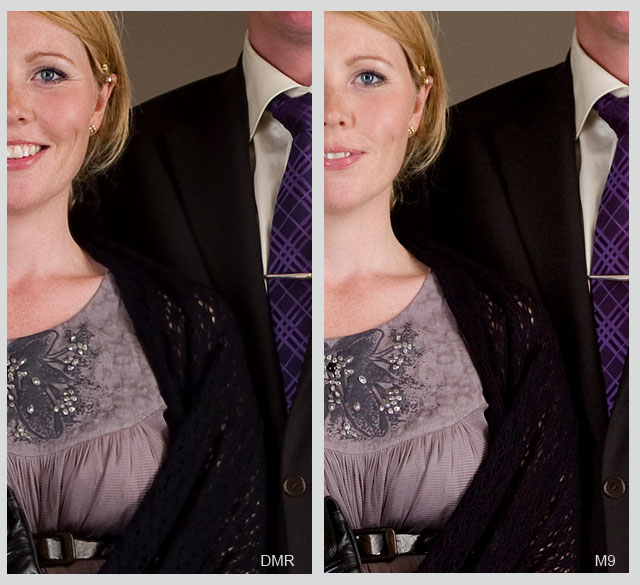 A closer look. What interest me is not so much there is of edge sharpness but how lenses and sensors capture lgith and details in 3D. The left shot with the DMR is the 35-70mm/2.8 ASPH at 200 ISO and the right one is the Leica M9 with 50mm Summicron-M f/2.0 at 400 ISO. The exposure is not exactly the same but you get a good impression of how close they are - actually. And that's a good thing, a very good ting.
Skin tones are right when white balance is
What is interesting is that the skin tones, tonality, details and overall is very much the same for the Leica M9 as the highly praised Leica DMR under these conditions: Which was 1) good quality light with 2) 5400 K daylight lamps, manual lightmetering with external lightmeter and 3) finished in Lightroom with minor adjustments.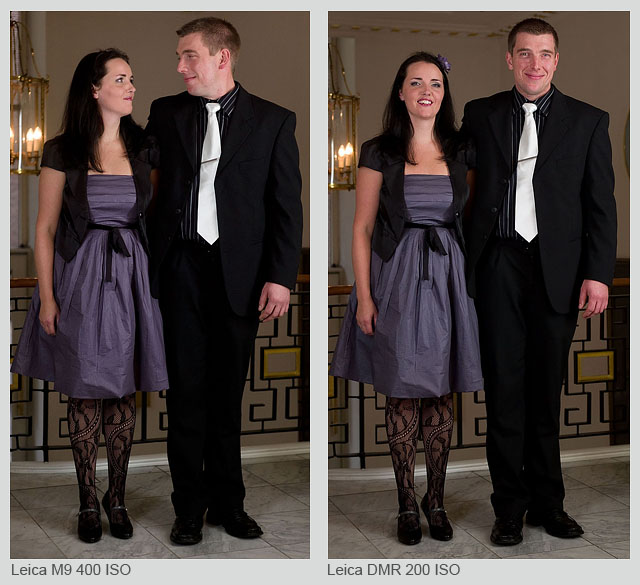 In case you didn't notice before, skin tones comes in many different variants even within the same nationality. But they're the same from DMR to M9 in these pictures. Also note the shadow details and the general handling of light reflections in texture.
I have noticed that skin tones are a bit off on the Leica M0 with firmware 1.002 when I use the preset white balances (Tungsten, Shadow, Daylight, etc) and with my experience on skin tones and colors using manual white balance (selecting Manual in the white balance menu and pointing the lens towards a WhiBal grey carrd), it's not the sensor but the preset white balance settings that are off. The sensor seem pretty capable of getting them right.
I take that this will be discussed to some degree, but in the end it's up to each user to get his workflow and colors correct - or as he or she wants them. But manual white balance is a good starting point.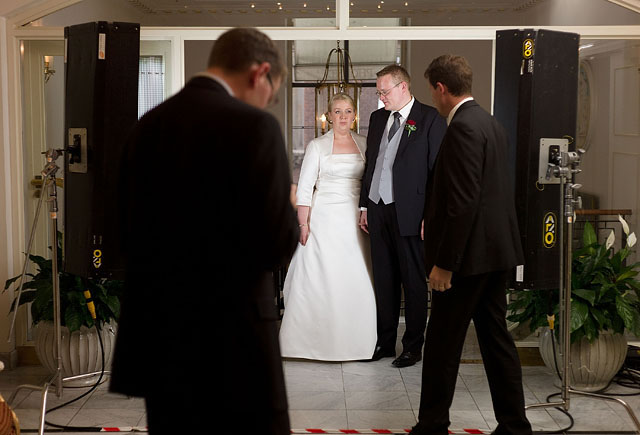 Here's a general view of the setup with the two beauty lights (KinoFlo 4Banks) on each side. To the right, pointing up in the ceiling is an ARRI 1,2 kW HMI daylight lamp as the ones known from film sets (see below).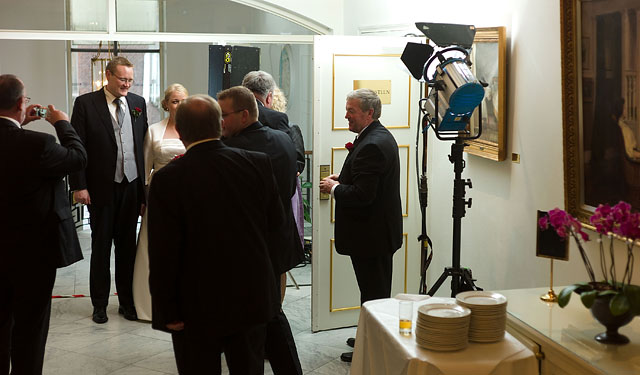 Here's the ARRI 1m2 kW HMI daylight lamp to the right, just providing white daylight all over.
As always, feel free to e-mail me at thorsten@overgaard.dk with suggestions, ideas and questions.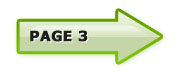 Leica M 240, Leica M-D 262, Leica M Monochrom, M 246 as well as Leica Q and Leica SL: