Hasselblad Imacon Flextight Photo
Film scanner for 35mm and medium format film
Made in Denmark
Imacon Flextight Photo brochure [PDF]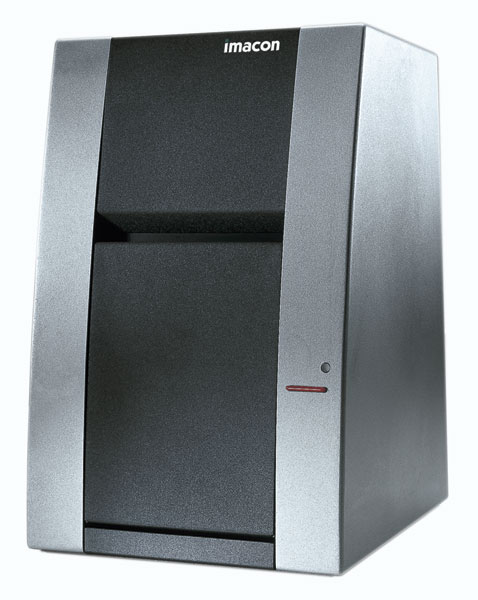 The Hasselblad Imacon Flextight Photo film scanner.
I bought this scanner when I came home from Asia after having photographed tsunami relief help for a month. I had about 3,300 slides to scan and wanted to both upgrade the quality of my scans, as well as have two scanners working at the same time to bring down the overall scanning time. I used a Nikon Coolscan IV already.
After few weeks I ceased to use the Nikon Coolscan IV and used the Imacon only. The Imacon software Flexscan made corrections much easier and thanks to a "four slides at a time" slide holder, the speed was ok (even the Imacon takes 8 minutes to do a 3200 dpi scan of each 35mm slide). I will normally prepare four slides and then let the scanner work on a computer dedicated to scan work while I do some other stuff.
The simplicity of this scanner and its FlexColor software is awesone. Also the manual from Imacon where they tell how to establish a color true workflow is amongst the simplest color explanations I've ever seen. As to maintenance it requires a new blue filter every three or five years. The light tube it uses seem to last for 1-2-3 years depending on use. Both items are in the 20$ range.
Imacon homepage
Flextight Photo product page link
Flexscan software FlexColor V4 download page at Hasselblad-Imacon

Thorsten Overgaard, August 2005