The Leica 90mm lenses
Leica 90mm Summarit-M f/2.5
Leica 90mm Summarit-M f/2.4
Leica 90mm Elmarit-M f/2.8
Leica 90mm Tele-Elmarit-M f/2.8
Leica 90mm APO-Summicron-M ASPH f/2.0
Leica 90mm Summilux-M ASPH f/1.5
Leitz 90mm Thambar f/2.2
Leica 90mm Thambar-M f/2.0 (2017)
Leitz 85mm Summarex f/1.5
Leitz ELCAN 90mm Noctilux-M
Leica 90mm Macro-Elmar-M f/4.0

By: Thorsten Overgaard. March 2009. Edited January 17, 2020.
Add to Flipboard Magazine.
The first 90mm lenses from Leitz became popular as portrait lenses because you could blur out the background and isolate the person in the portrait. Further down the road, Leitz introduced the legendary Thambar lens that was deliberately made "faulty" to make blurred portraits that looked like the large format Hollywood portraits (where the photographer would put vaseline on the front lens to smooten the skin and produce a soft, glowing, radiant portrait!). Over the years, Leica have refined the 90mm lenses for combined macro (the f/4.0 Macro-Elmar), the inexpensive Summarit (f/2.4), and the outstanding APO (f/2.0).

(The Leica 90mm Summilux-M ASPH f/1.5 review is on this page)
The Summarit
The Leica Summarit lenses have an aura of "not good enough" about them. The "Summarit Quartet" of the 35mm, 50mm, 75mm and 90mm f/2.5-lenses was born during a period with changing CEOs and changing ownership of Leica Camera AG.
What now were these new, economical lenses? This was almost blasphemy for the Leica users who are accustomed to hand-made lenses designed with no considerations to cost.
The opinions were divided in 2007 when the "the evil Summarit quadruplets" were introduced.
But now, with waiting lists from China to Cambridge for $7,000 Leica cameras and $11,000 Leica lenses, the Summarit series of four economical lenses are still alive and doing well. The secret behind the lower prices was rethinking the design and materials used, and that they made much larger batches. Hence more economical production overall.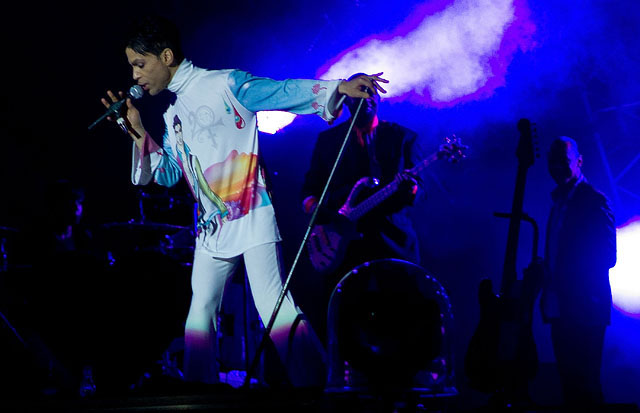 Prince performing. Leica M9 with Leica 90mm Summarit-M f/2.5. © Thorsten Overgaard.
Leica lenses and cameras have traditionally been made in smaller batches. They would switch from making one type of lens in the morning, another after lunch and a third type after the afternoon tea. Very small batches. With the Summarit thousands were produced so as to be economical, always in stock, always available, and at a good price a new Leica user could easily handle.
All in all not an entirely stupid strategy.
Hence they are still well and alive in the ranks of world renowned Leica lenses. And let's not forget the Leica family of lenses has grown with the S-lenses of which quite a few are also Summarit-S f/2.5 lenses. Not to mention the legendary 40mm Summarit f/2.4 on the Leica Minilux camera (which was Henri Cartier-Bressons retirement camera).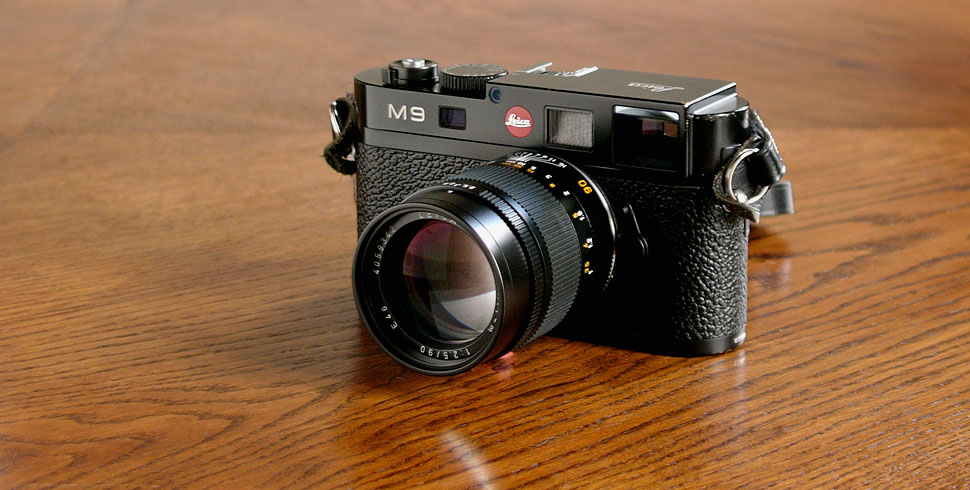 A very handy and light lens - and economical too! Leica M9 with Leica 90mm Summarit-M f/2.5 (without the lens shade). The lens shade is bought seperate (item no 12 460 for 75mm and 90mm Summarit-M) and offers good protection not only against flare but also takes bumps and protects the lens and glass. The lens comes with a small front ring (which can be seen in the picture) that is screwed off so the shade can be mounted . I could persuade myself to use it as shown because I lke the look of the glass and it's compact that way. However, I do use it with the shade because I already a couple of times bumped into things.
I came to spread a rumor in 2011 that the Leica 90mm APO-Summicron-M ASPH f/2.0 was not in production anymore as Leica was redesigning it. Which was what I was told from a dealer when I wanted one in 2010. That turned out not to be true. Leica still produces the lens, and most places you will find a 2 year waiting list for it. More on that lens - which I finally got in 2012 - further down this article.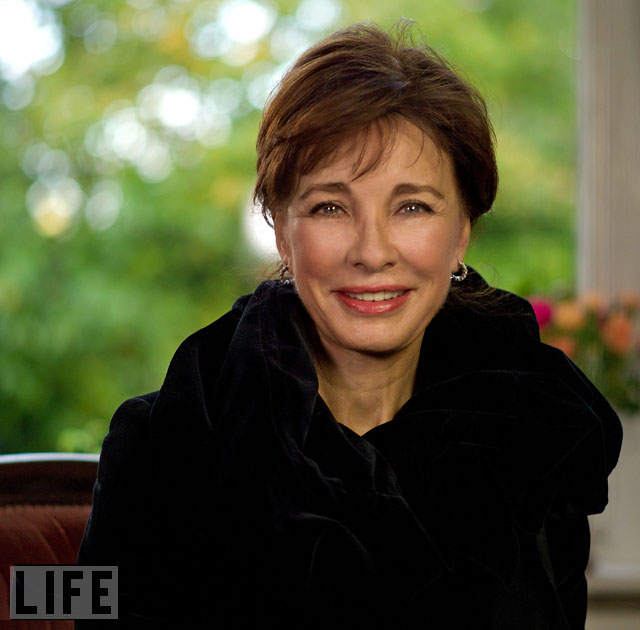 American actress Anne Archer, October 2010. Leica M9 with 90mm Summarit-M f/2.5. © Thorsten Overgaard
When I asked Leica Camera Denmark to borrow a 75/2 and a 90/2 to shoot the Roskilde Festival, all I got was a 90mm Summarit-M f/2.5 which they claimed was "really not that bad."
I would usually shoot music on stage with the Leica R9/DMR and a Leica Vario-Elmarit-R ASPH 35-70mm f/2.8 (and a crop factor of 1.3 making that a 45-90mm lens), and then often the Leica M9 with a 50mm.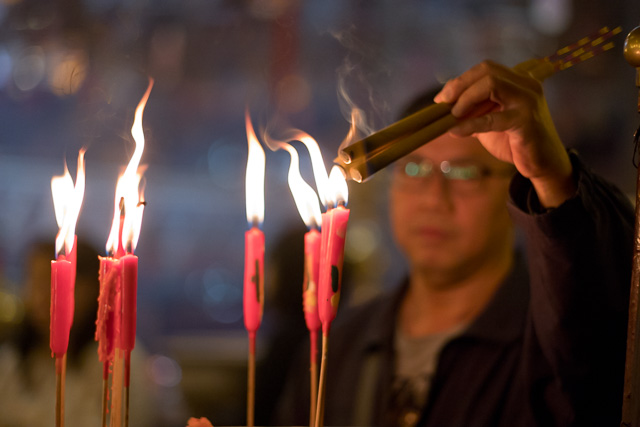 Hong Kong by Thorsten Overgaard. Leica M10 with Leica 90mm APO-Summicron-M ASPH f/2.0.
But I knew the stages at Roskilde Festival are so tall it would require a 75mm or 90mm to use the Leica M9, and I wanted to see how it would work using the Leica M9 for that this year. The Leica M9 is just so much more rock'n'roll than any dSLR camera, so if it could work..!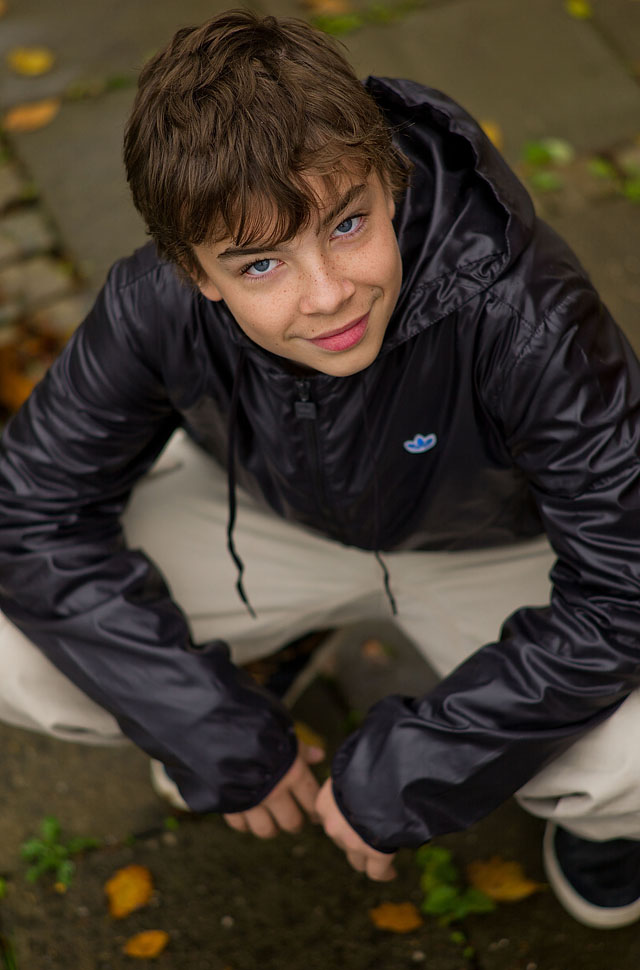 My son Oliver posting for and in adidas originals. Leica M9 with 90mm Summarit-M f/2.5. © Thorsten Overgaard
But before I show some rock'n'roll photos further down the page, let's first look at what I did in a kindergarten for a days shooting.
I was amazed how sharp the Leica 90mm Summarit-M f/2.5 was, and how easy it was to focus with the Leica M9. You sort of develop a "focus-and-hope-technique" in the beginning, untill you actually realize that when it is in focus in the viewfinder, it's in focus in the photograph as well.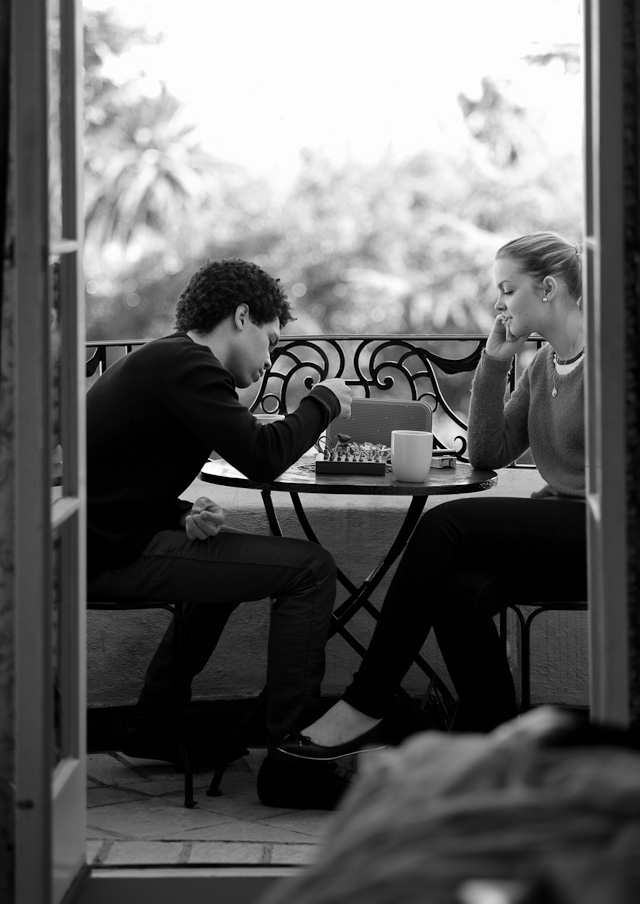 Zach and Caroline having a play of chess on the balcony in Hollywood. Leica M 240 with Leica 90mm APO-Smmicron-M ASPH f/2.0. December 2014.
Join The Overgaard New Inspiration Extension Course


More info: Read the article.

For a limited time this course includes
a free portfolio review by Thorsten Overgaard.
You can do the course at home and travel at your own pace. Overgaard has taught workshops for years and has compressed the experience to a package of articles, training drills, assignments and video tutorials that will inspire your photography and take you to the next level!

"The Overgaard
New Inspiration Course"
For computer and iPad. 181 p eBook.
Only $798

Order now - Instant delivery.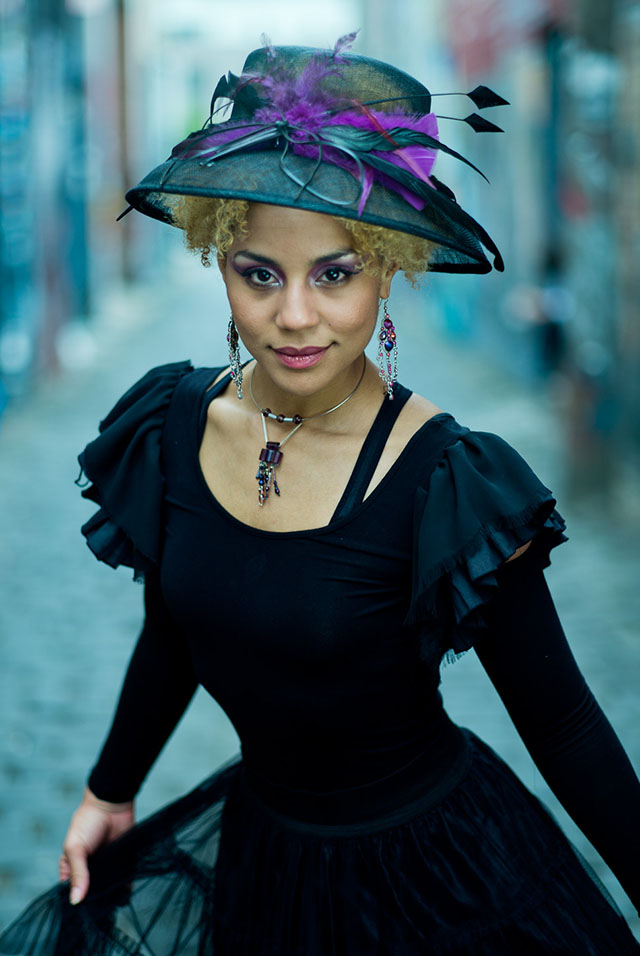 Joy Villa by Thorsten Overgaard. Leica M 240 with Leica 90mm APO-Summicron-M ASPH f/2.0. © 2014 Thorsten Overgaard. Melbourne, April 2014.
My only concern on the lens was "does it come better than this?". The 90mm Summicron-M ASPH f/2.0 is twice the price of the Summarit-M ($2,150 from B&H Photo).
You must ask yourself, "what am I missing?" for the last 100% on top of the price of the Summarit. Half an f-stop and some weight, yes. The APO and ASPH must also give a more sharpness, micro detail and more true colors. And the bokeh is probably different. I decided I would have to investigate that later, but as it stands, I got the the 90mm Summarit-M f/2.5 and found I could get it to work.
As you will see.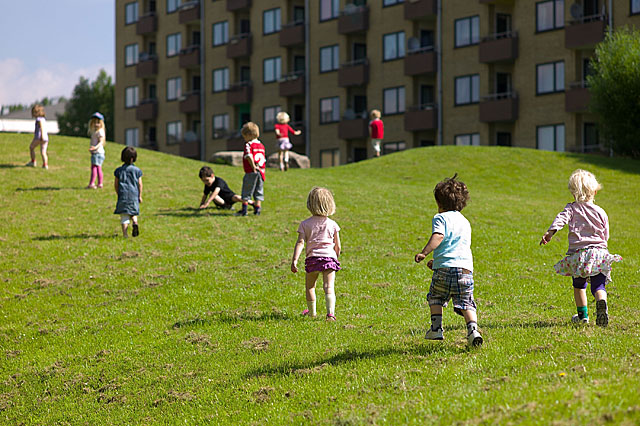 Very high contrast with sun and shadows. Leica M9 with Leica 90mm Summarit-M f/2.5. © Thorsten Overgaard
My preferred lens is the 50mm on the Leica M9 and Leica M 240. Some prefer 35mm, but for me it is 50mm. On the Leica R9/DMR it's the 80mm.
It'a a matter of habit and style, but I wonder if it plays in that I have long sight and thus may prefer the longer look of 50mm than 35mm. In any case, I find a 90mm lens easy to work with, I keep a bit more distance to things than I would normally with a 50mm, but I get the DOF (Depth Of Field; unsharp background) I want, even with a Summarit f/2.5 lens.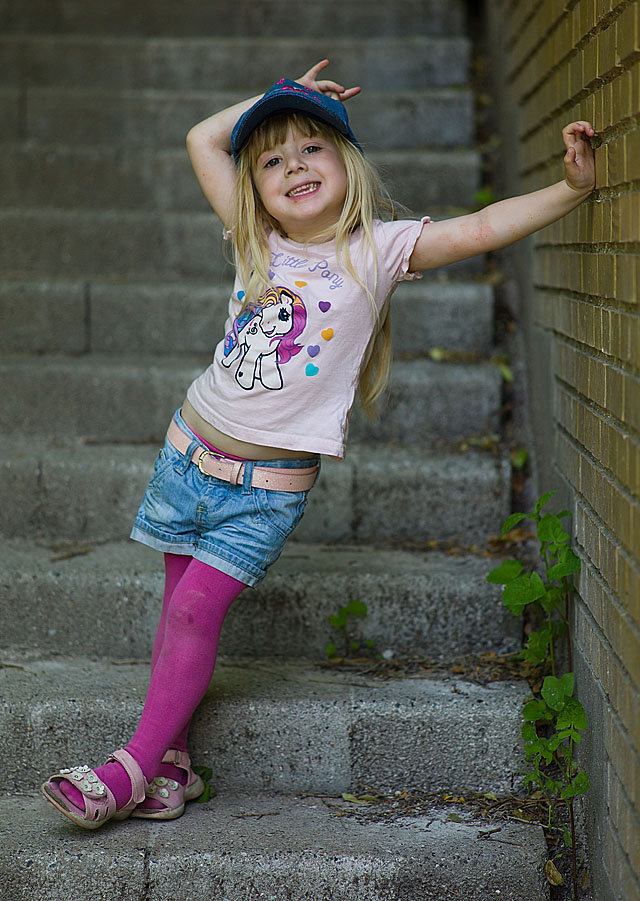 Cuting it up! Leica M9 with Leica 90mm Summarit-M f/2.5.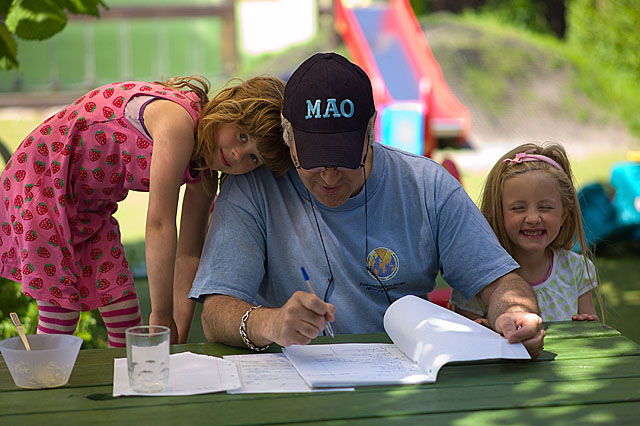 Leica M9 with Leica 90mm Summarit-M f/2.5.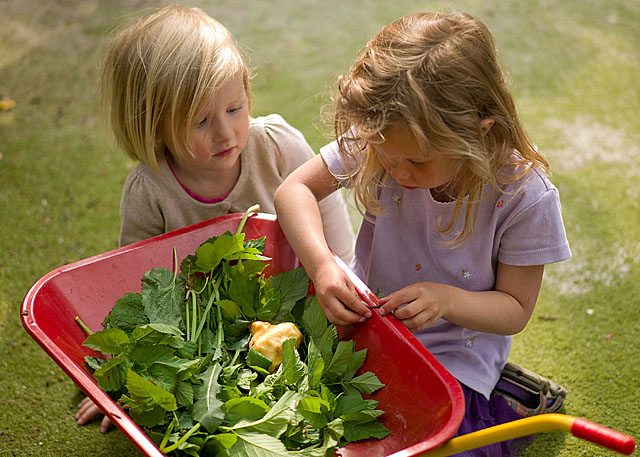 Worm salad. Leica M9 with Leica 90mm Summarit-M f/2.5.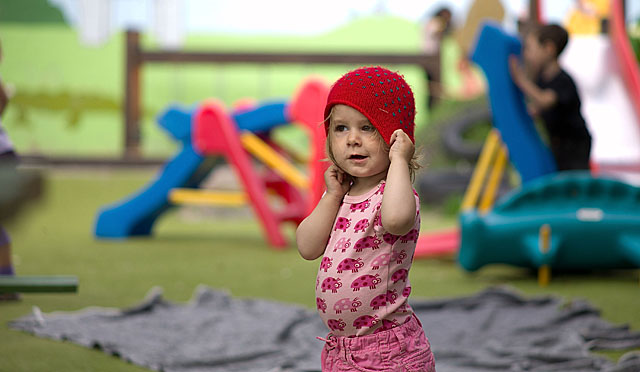 Fashion Week. Leica M9 with Leica 90mm Summarit-M f/2.5.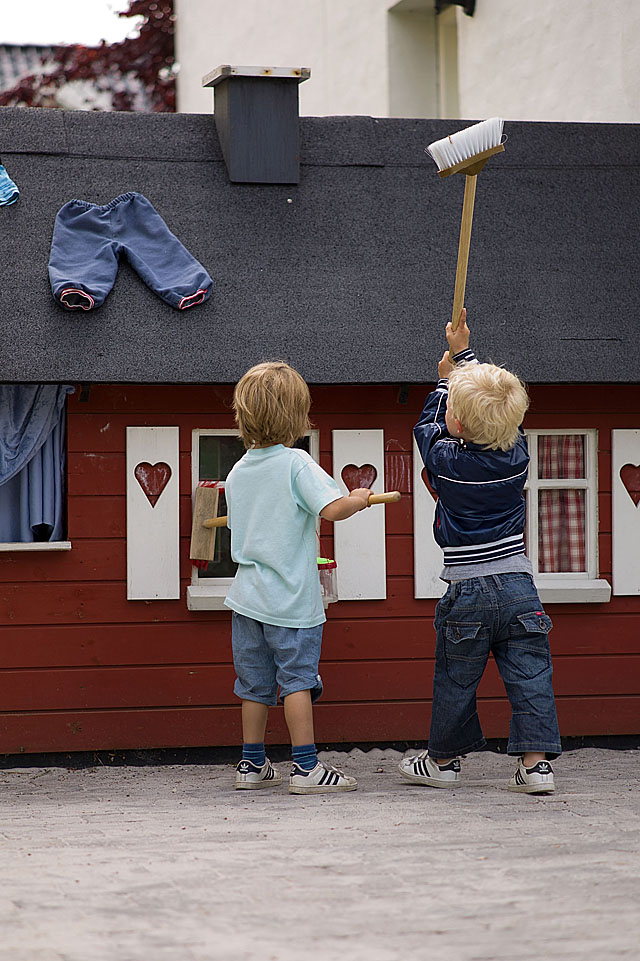 Home repair in the kindergarden. Leica M9 with Leica 90mm Summarit-M f/2.5.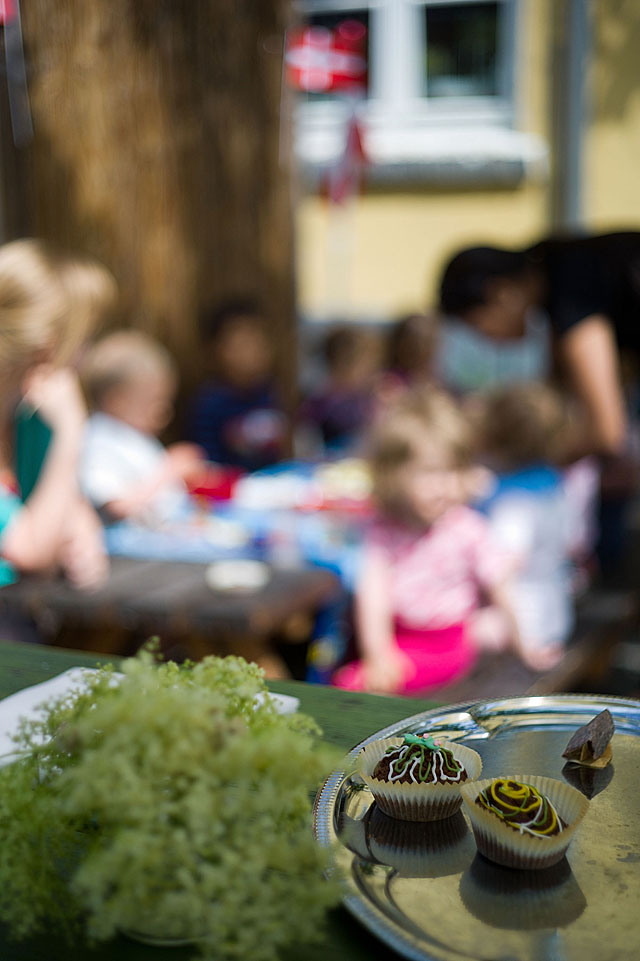 Some bokeh study of the Leica 90mm Summarit f/2.5 at 1 meters focus distance at f/2.5.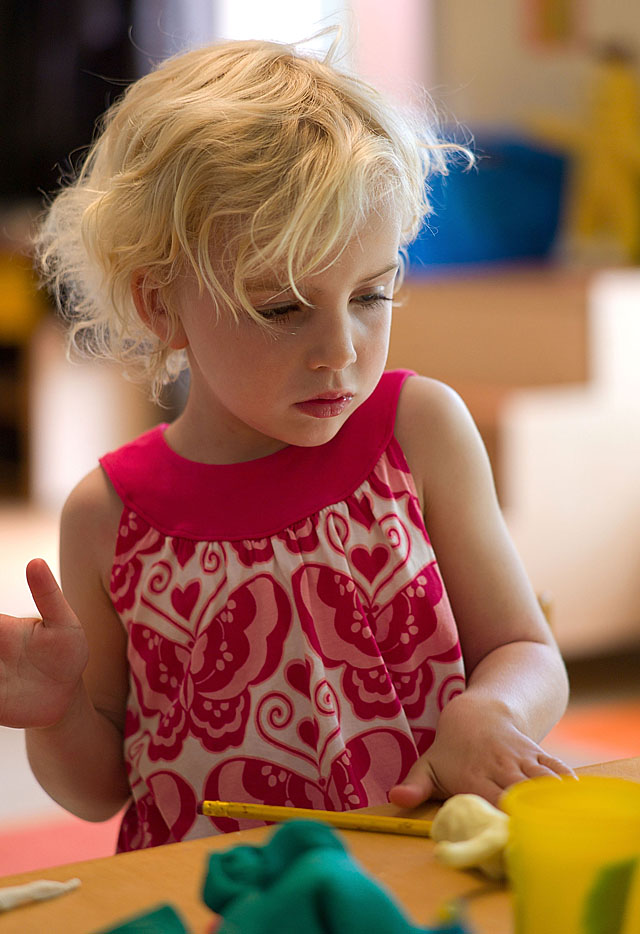 Leica M9 with Leica 90mm Summarit-M f/2.5.

Lunch time in the kindergarden. Leica M9 with Leica 90mm Summarit-M f/2.5.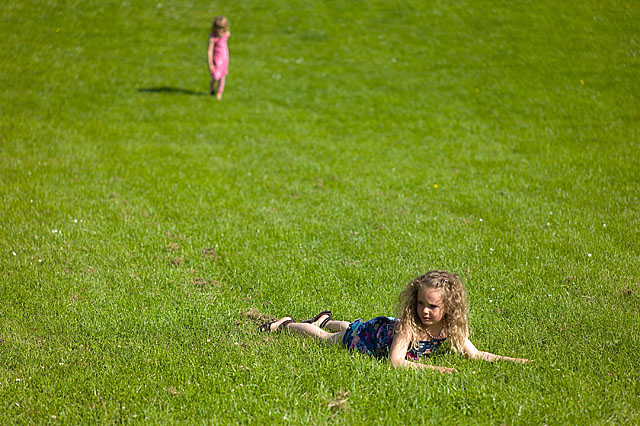 Leica M9 with Leica 90mm Summarit-M f/2.5.
Classic 90mm work: Rock'n'roll
Shooting rock'n'roll and stage performance with the Leica M9 and the Leica Summarit-M f/2.5
Now, the real test was of course how the Leica M9 and a 90mm would perform in the place of a dSLR. Roskilde Festival is one of Europes largest festivals with about 70,000 people at the festival on any day. Hence, many of the stages are large and high which requires some sort of tele lense.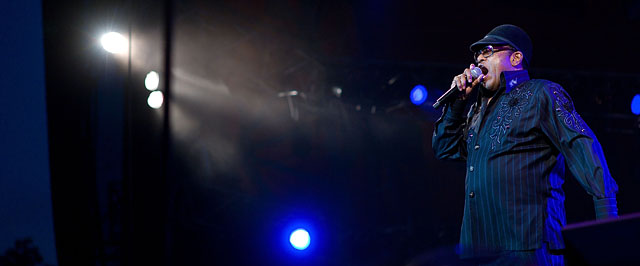 The real test: How does the Leica M9 and a 90mm perform for concert photos. You know, in the real rock'n'roll days it was all Leicas. So why not anymore? That was what I was thinking. Bobby Womack at Roskilde Festival. © Thorsten Overgaard.
When we work at the Roskilde Festival, we stay in The Media Village which is in fact a village behind the largest stage, with press center, outdoor four star restaurant, loads of bars, a five-star coffee place (organic of course) and various television stations and media and record labels have their trailers set up there for the event. It's a huge operation and has been going for 40 years now.


The media center houses a few hundred media people from television, wire services, magazines, blogs and newspapers. And in front of the stage you will find between 10 and 40 photographers at each concert with permission to shoot the first three acts of that concert.
It's not that the Leica M9 was alone. This year I counted three other Leica M9 and one Leica M8 (and countless Leica D-Lux 4 cameras and a few Leica X1), but mostly they are hidden in the camera bag and only serve as gadgets. I think it is safe to say that I was the only shooting a Leica M9 for serious business. Everyone else was using from one to eight(!) dSLR cameras at a time, equipped with mainly 70-200mm zoom lenses and quite a lot of 400, 600 and 800mm prime lenses. I was using the Leica M9 with 90mm alongside my Leica R9/DMR and 35-70mm Vario-Elmarit ASPH f/2.8.
You may also want to read my article "How to shoot rock concerts and other stage performances" if you are interested in more aspects of that.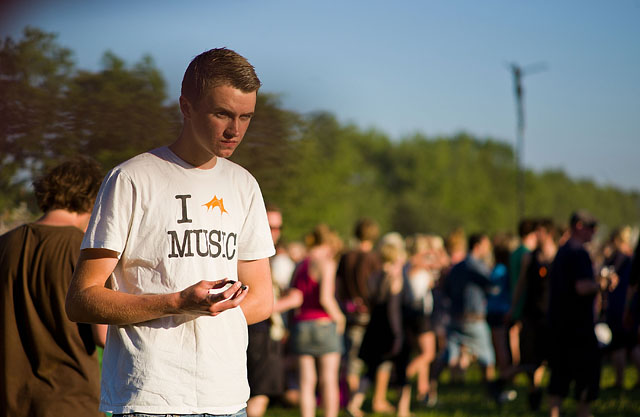 I also shot a great deal of atmosphere for Getty Images and Redferns as they have many media requiring festival photos showing atmosphere and audiences. Leica M9 with Leica 90mm Summarit-M f/2.5.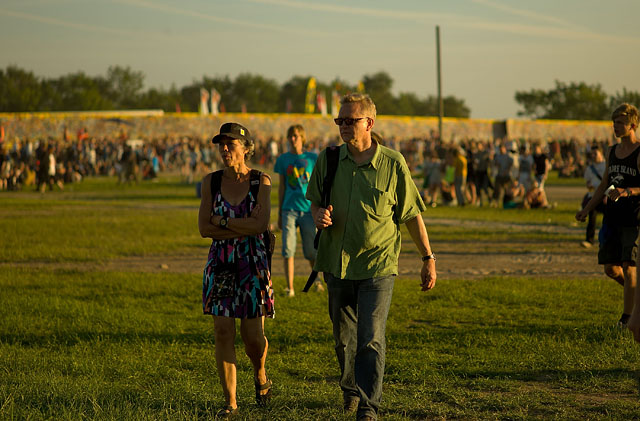 The Roskilde Festival has been going for 40 years so you'll find all ages from 14 to 70 amongst the audience. Some have attended every year for 40 years. Leica M9 with Leica 90mm Summarit-M f/2.5.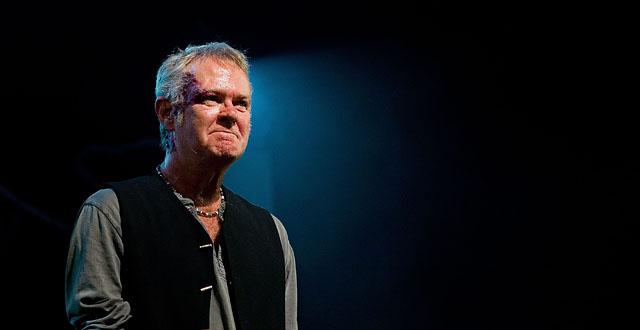 This one. I wouldn't be able to tell if it was done with the outstanding 35-70mm Vario-Elmarit-R ASPH f/2.8, which is probably the best ever zoom made, or the 90mm Summarit f/2.5. But is is actually the Leica 90mm Summarit-M f/2.5.

C. V. Jørgensen. Leica M9 with Leica 90mm Summarit-M f/2.5.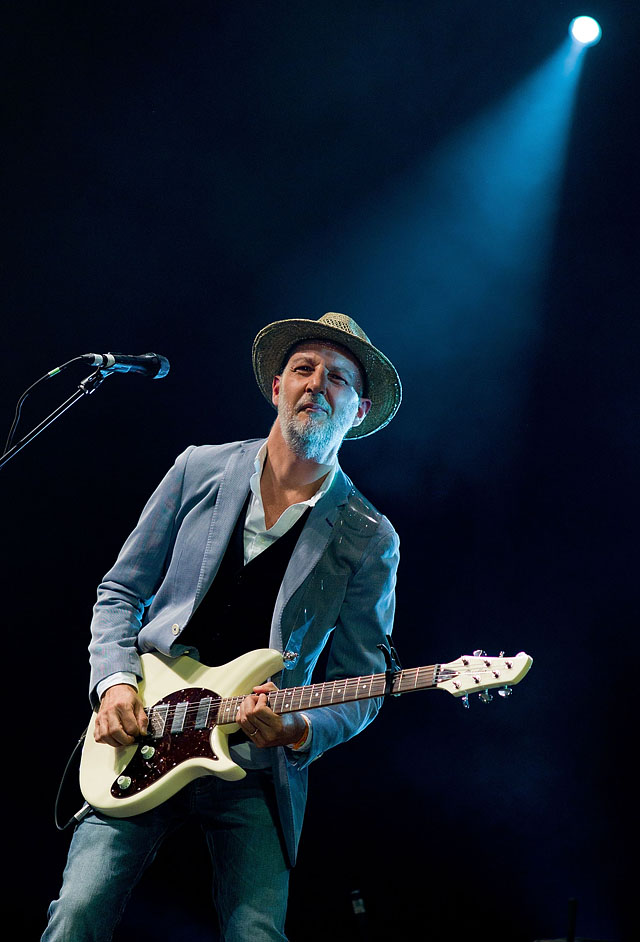 C. V Jørgensen Band. Leica M9 with Leica 90mm Summarit-M f/2.5.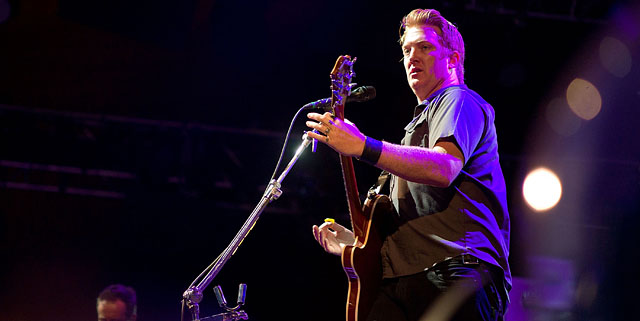 This one is from the Orange Stage which is the biggest stage and where there is a lot of light equipment and loudspeakers in front of the photo pit. We all stand with our heads about 60 centimeters/2 feet below the stage floor with a very limited view of what is happening on the stage.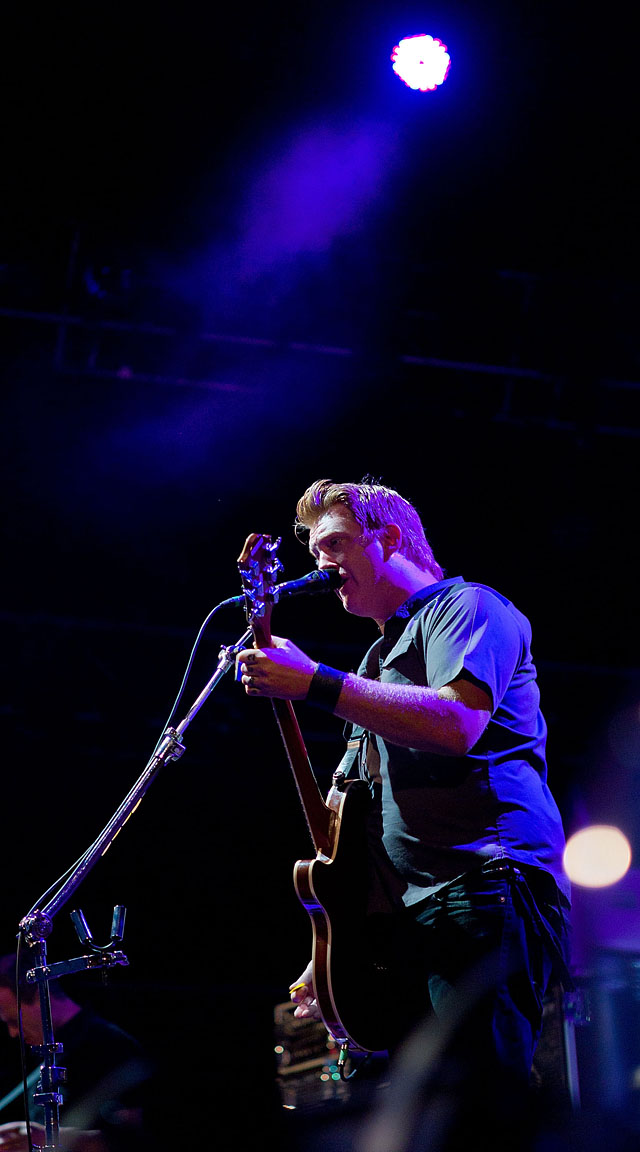 Leica M9 with Leica 90mm Summarit-M f/2.5.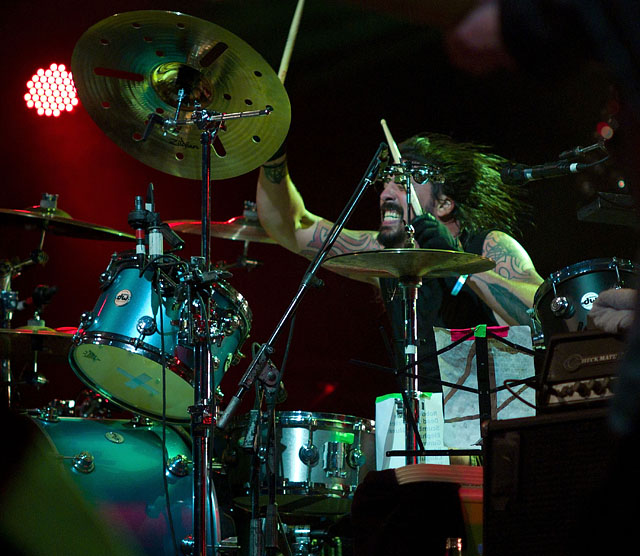 This one will keep the pixel-peepers occupied for a little while. It's taken by pointing the camera "blind" over the stage edge (that is way too tall to also look through the viewfinder), and then it's cropped. It's Dave Grohlof Foo Fighters on drums, so it's rather important to get that shot. Also many of the other photographers hadn't noticed that the most prominent name on stage was the one hiding behind the drums. And here is the full image it's cropped from: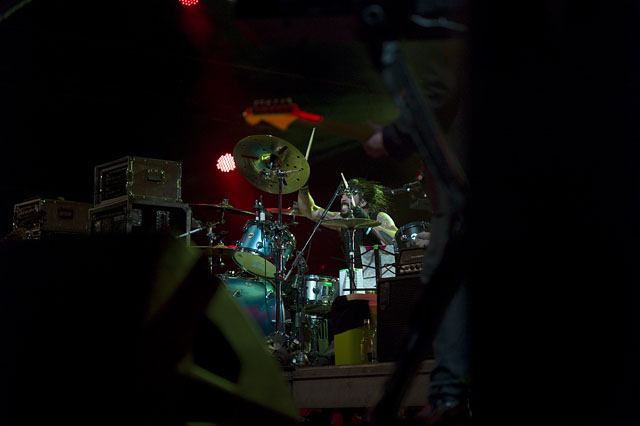 Dave Grohl on drums. Leica M9 with Leica 90mm Summarit-M f/2.5.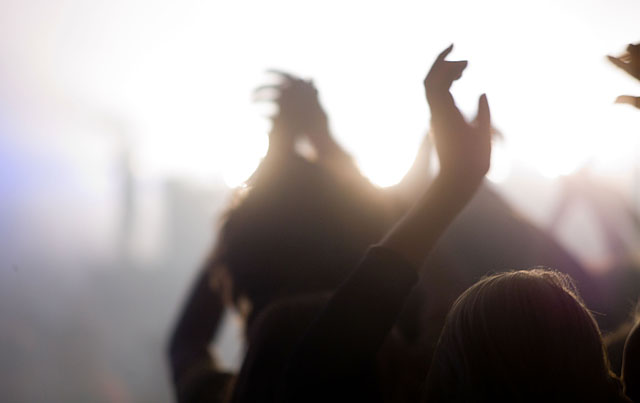 This one has the sexy look as of the crown jewel of the Leica R lenses, the Leica 80mm Summilux-R f/1.4. Yet it's the Leica 90mm Summarit-M f/2.5 taking in a load of light from straight ahead. It handles it well I think.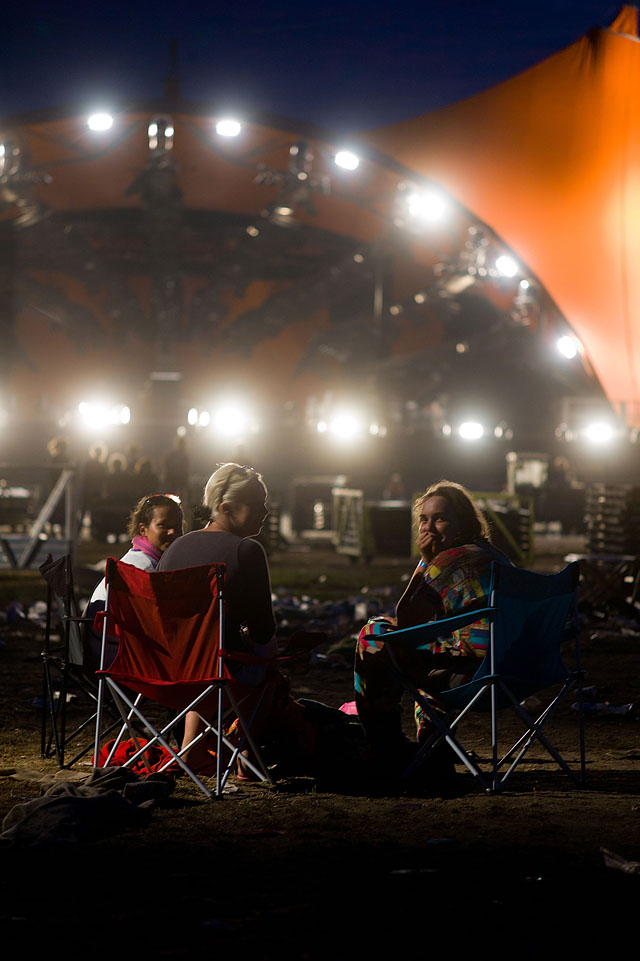 Another sexy look of a lens handling the light well. Leica M9 with 90mm Summarit f/2.5, 800 ISO.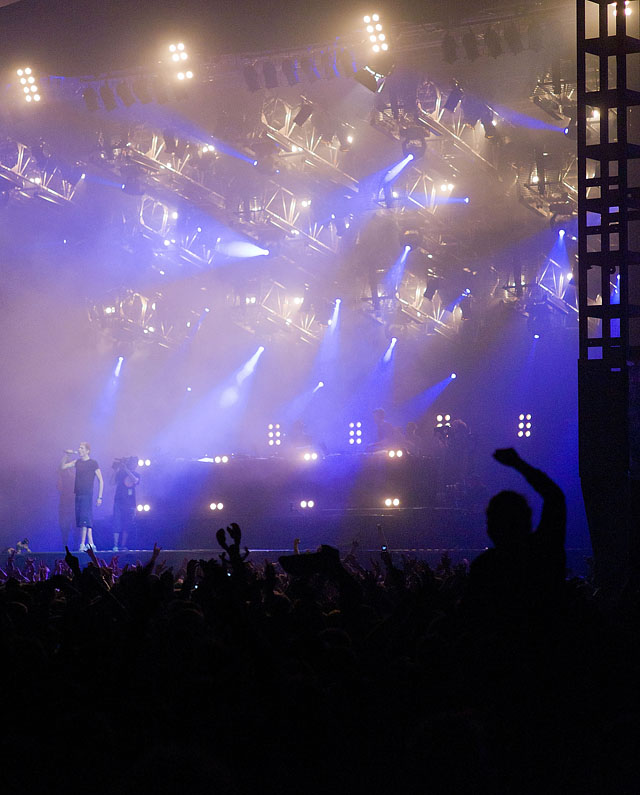 This one is at 1600 ISO because I simply had to. There was very little light to work with. I usually don't go higher than 800 ISO so as to be able to control adjustments in Lightroom without getting to weird colors. Most of the light you see in the image is LED light which means that it doesn't behave logical as it's often not straight 3200 Kelvin tungsten light, and even when it is supposed to be acting like 3200 Kelvin, it behaves very differently when adjusted in any direction. As a side note, Peter Gabriel in fact developed crystal lamps so as to have true colors in 3200 Kelvin tungsten. But most of the new light is LED, and LED light is a technique in constant deveopment why you really never know what odd direction it takes.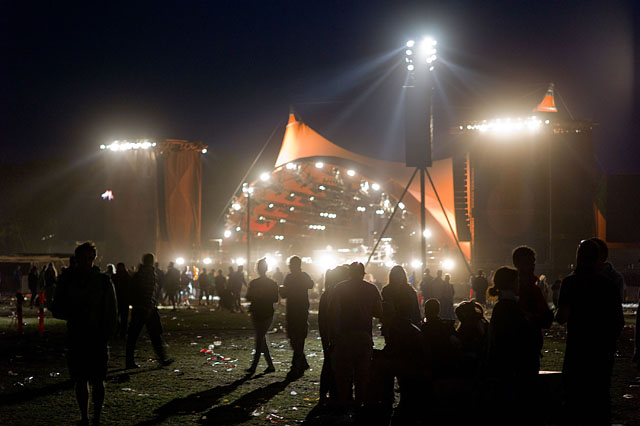 I like shooting stuff like this, and it's amazing it can be done with a f/2.5 lens. The way the 90mm Summarit handles the strong light in the background is partly the lens' signature of that, partly humidity. Leica M9 with Leica 90mm Summarit-M f/2.5.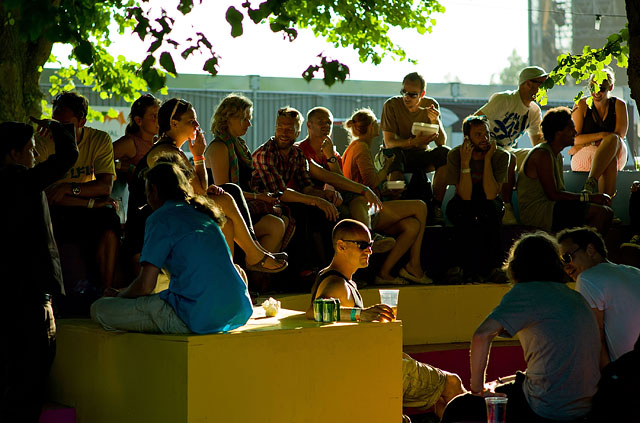 Any lens that can handle this type of light and contrast, and yet maintain a high quality look of atmosphere and true colors is an OK lens. I could name a few brands where this would be a very soft and milky photo. Leica M9 with Leica 90mm Summarit-M f/2.5.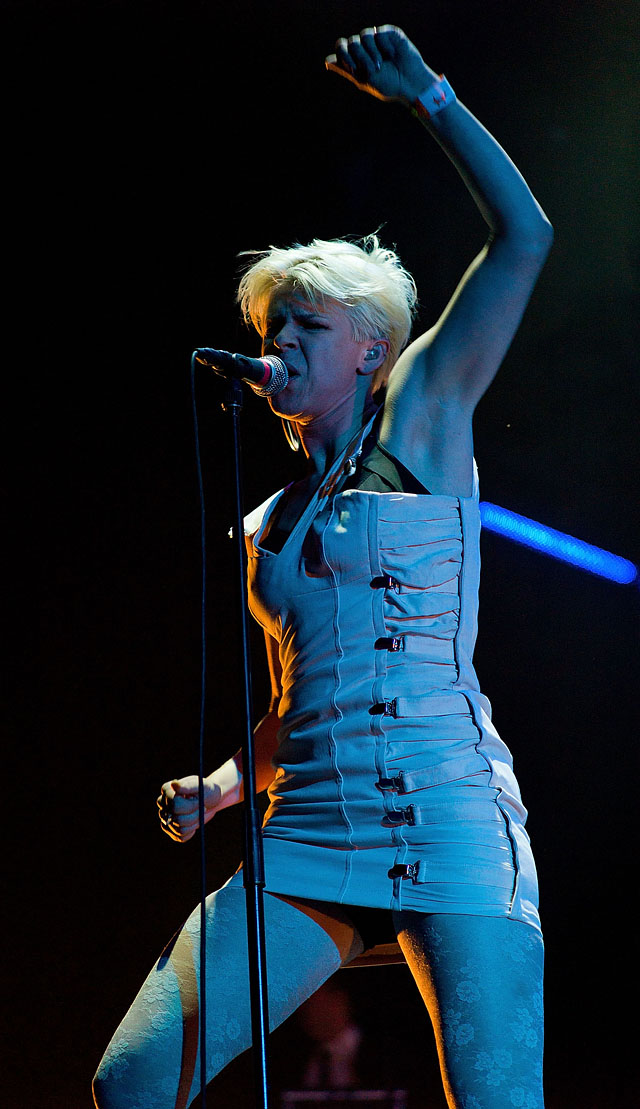 Swedish singer Robyn. It's a concert photo, but it's also a fashion photo, which is why I look very carefully at how the lens handles the details in the dress even in odd and contrasty light as this. Leica M9 with Leica 90mm Summarit-M f/2.5.
"One Day My Prince Will Come"
That is the title of a Chick Corea tune (from Disneys Cinderella), which turned out to actual truth at this years Roskilde Festival where Prince performed as the closing act.
And of course he didn't allow any photographers in the photo pit in front of the stage. Last year I missed one of the all time greatest concerts with Neil Young by editing in the press center and listening from a distance. This year I decided to just enjoy a concert as audience, and then do some atmosphere photos from the spot amongst the audience.
I could have moved closer, but the concert was so damn good I didn't want to focus on photographing, I just wanted to experience a full concert as audience (which I haven't done for 10 years or so). Nevertheless I managed to snap a few photos with the Leica 90mm Summarit-M f/2.5 that was so sharp I could crop them and send them to Redferns and Getty Images.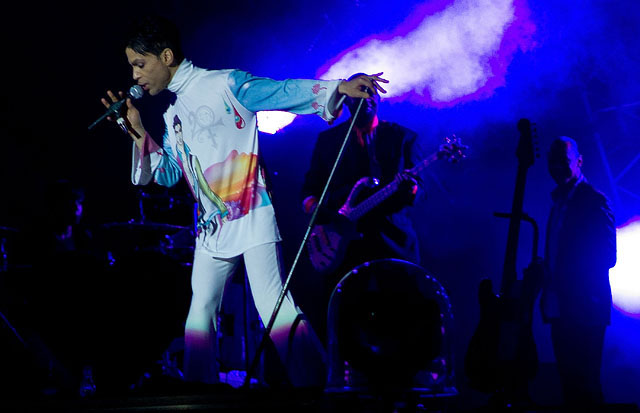 Considering everything this is an pretty OK concert photo of Prince.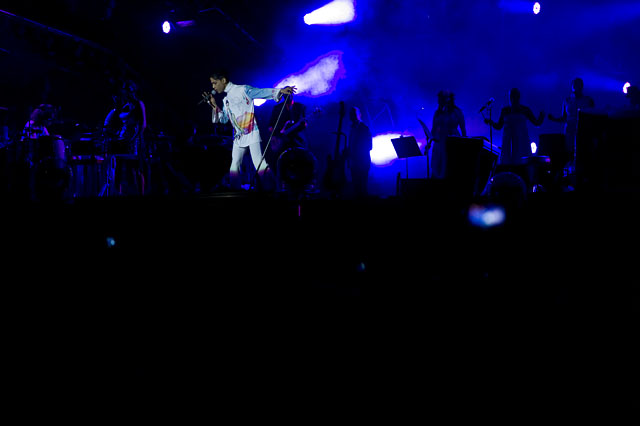 This is the full image, and I've seen what the guys with 800 mm lenses made. They are not as sharp, probably because they worked with f/8 lenses and low light, handheld or on monopods. I could just handheld a Leica M9 with an incredible sharp 90mm Summarit f/2.5.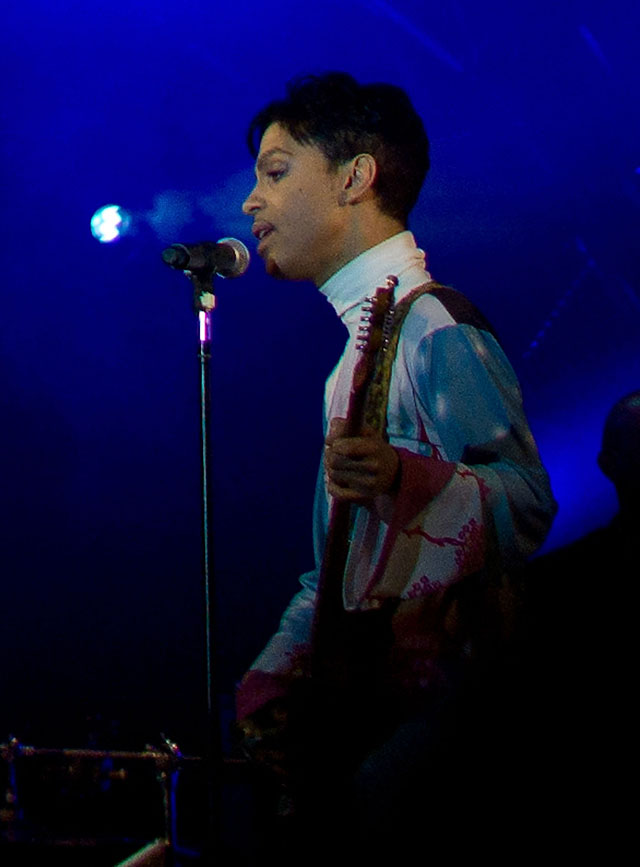 This one is also a crop, and a very close one, see below: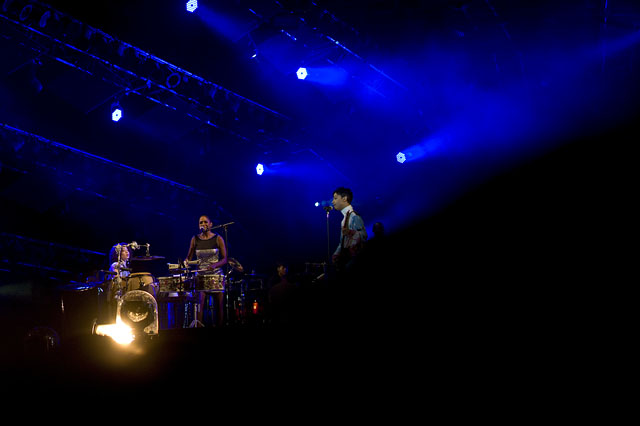 PS
You can see the slideshow from Roskilde Festival 2010 right here. I used Leica R9/DMR with 35-70mm Vario-Elmarit f/2.8 and Leica M9 with 90mm Summarit-M f/2.5 and Leica 50mm Summicron-M f/2.0 (II) for the images in it.
Shooting models with the Leica M9 and Leica 90mm Summarit-M f/2.5

Here are a few portraits and model shootings with the Leica M9 and Leica 90mm Summarit-M f/2.5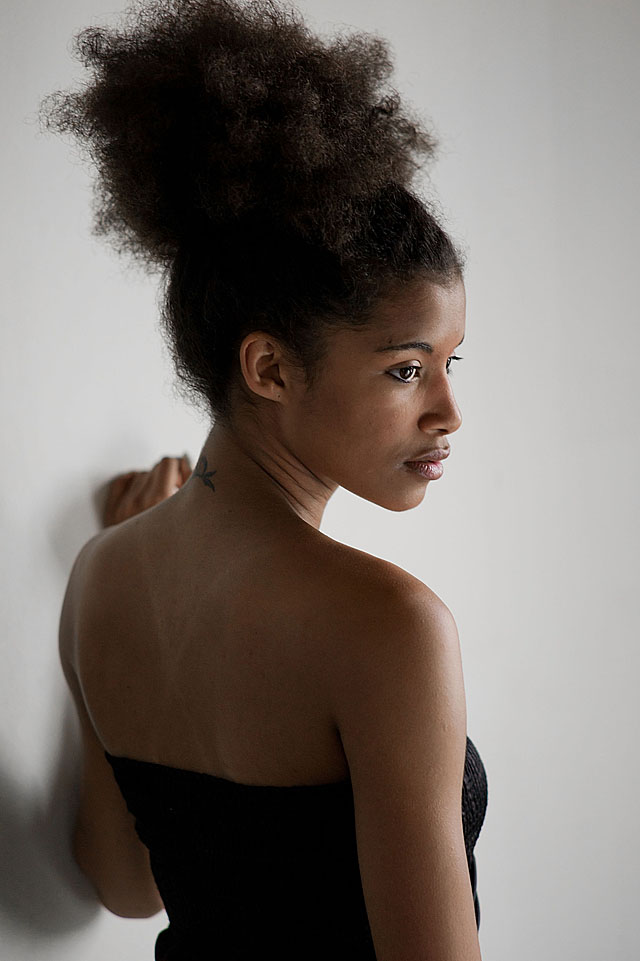 Linda Sanogo. Leica M9 with Leica 90mm Summarit-M f/2.5.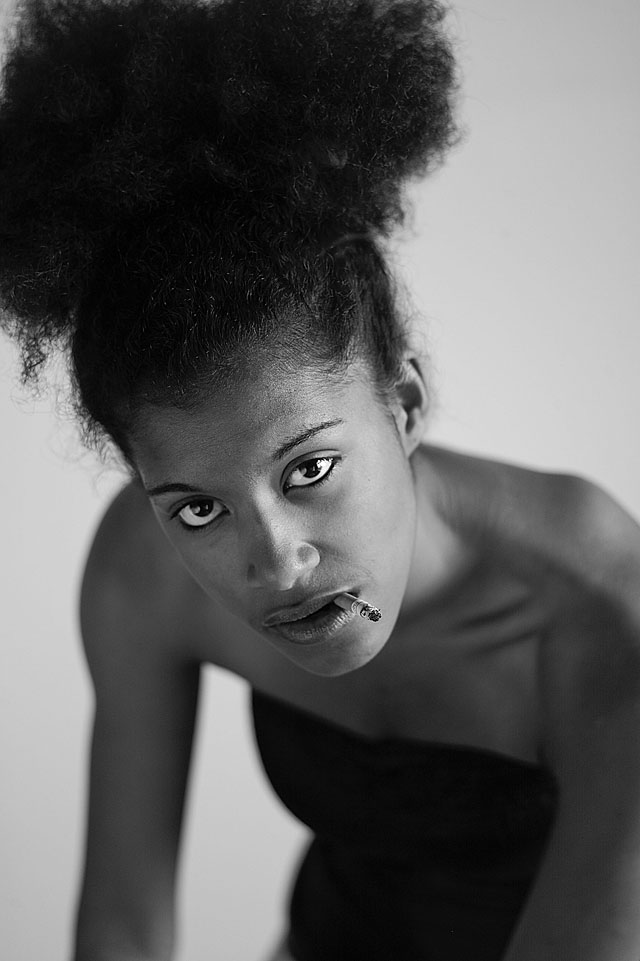 Linda Sanogo. Leica M9 with Leica 90mm Summarit-M f/2.5.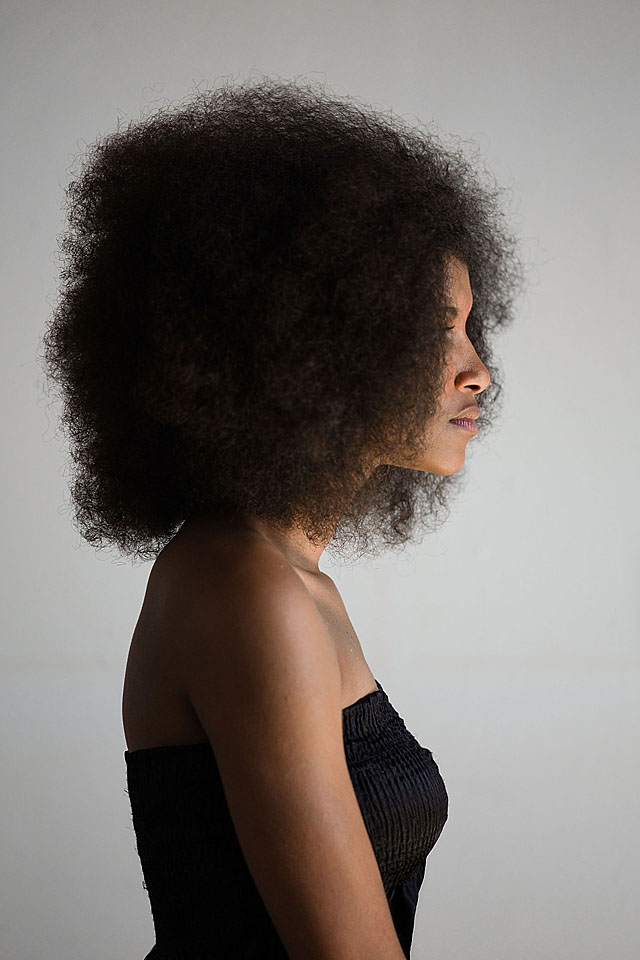 Linda Sanogo. Leica M9 with Leica 90mm Summarit-M f/2.5.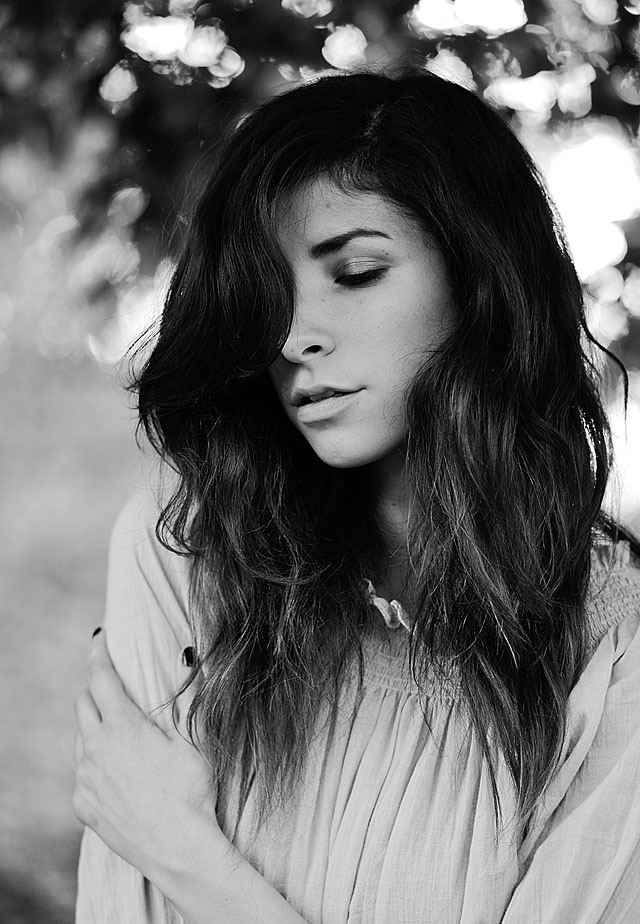 Stephanie. Leica M9 with Leica 90mm Summarit-M f/2.5.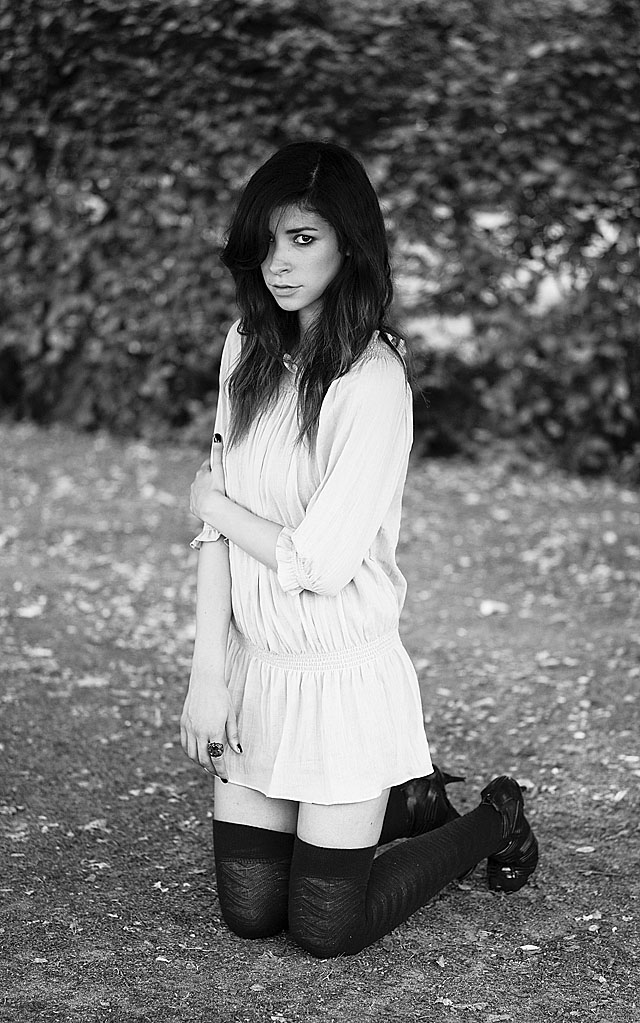 Stephanie. Leica M9 with Leica 90mm Summarit-M f/2.5.
The Leica 90mm APO-Summicron-M ASPH f/2.0
After having had the Leica 90mm Summarit-M f/2.5 for a couple of years and been happy with it, I stumbled over a box with the Leica 90mm APO-Summicron-M ASPH f/2.0 in the backoffice at the Leica Galerie Salzburg.
They had just gotten it that morning. I called Meister Camera Berlin and Leica Denmark to hear how that was possible when the last thing I heard was that it was not being produced since 2010. Both places confirmed it had been in production all the time, but that there was a two year waiting list. Meister Camera in fact asked me to call somebody in Denmark or somewhere else as their waiting list was more than long enough without my participation.
With that update, I quickly snapped the lens in the Leica Galerie Salzburg.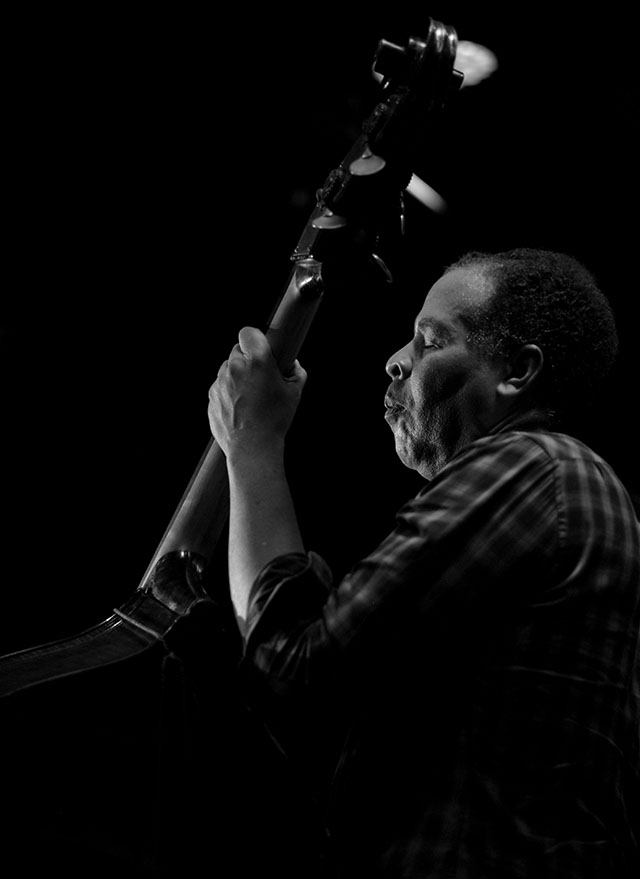 Stanley Clarke in Blue Note Jazz Club, New York, September 2012. Leica M Monochrom with Leica 90mm APO-Summicron-M ASPH f/2.0.
As I had expected, it wasn't a revolution. It is twice the price of the Summarit, and it's heavier. The heaviest Leica 90mm of the current ones. The most compact is the Summarit which is lighter and smaller than the Elmarit f/2.8. By all physical laws a f/2.8 should be smaller than a f/2.5, but that is not the case.
The most superior Leica 90mm lens
What the Leica 90mm APO-Summicron-ASPH f/2.0 offers over the others is first and foremost the certainty that this is the most superior Leica 90mm lens. That is a very good reason to get it, for that is what Leica to some degree is about: Knowing that it is the top of the line.
The 90mm APO-Summicron-M ASPH was designed for the 1998 release based on the previous 90mm mocels that were all quite good and basically coundn't be better before new technology enabled Leica Camera AG and the designer Lothar Kölsch to lift the 90mm even higher.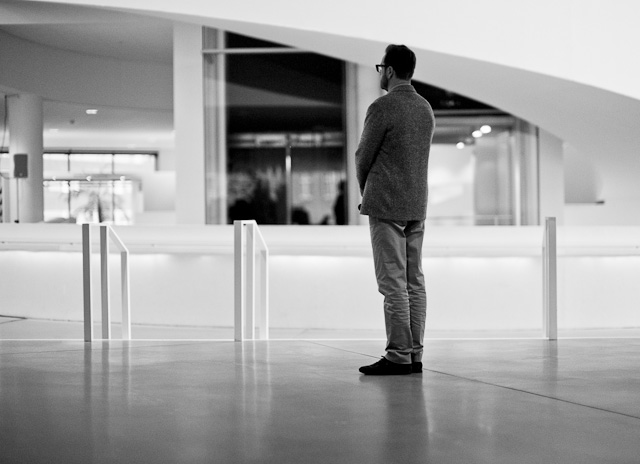 Waiting for the Queen. Leica M9 with Leica 90mm APO-Summicron-M ASPH f/2.0.
The Leica 90mm Elmarit-M f/2.8 has a very similar look of the 90mm APO-Summicron-M ASPH. There is obviously one stop in difference, so the Summicron can photograph with half the light of the Elmarit, and the bokeh (out of focus area) is more blurred at f/2.0 than f/2.8.
The main difference that elevates the Summicron the 5% - 15% above the others, is the APO.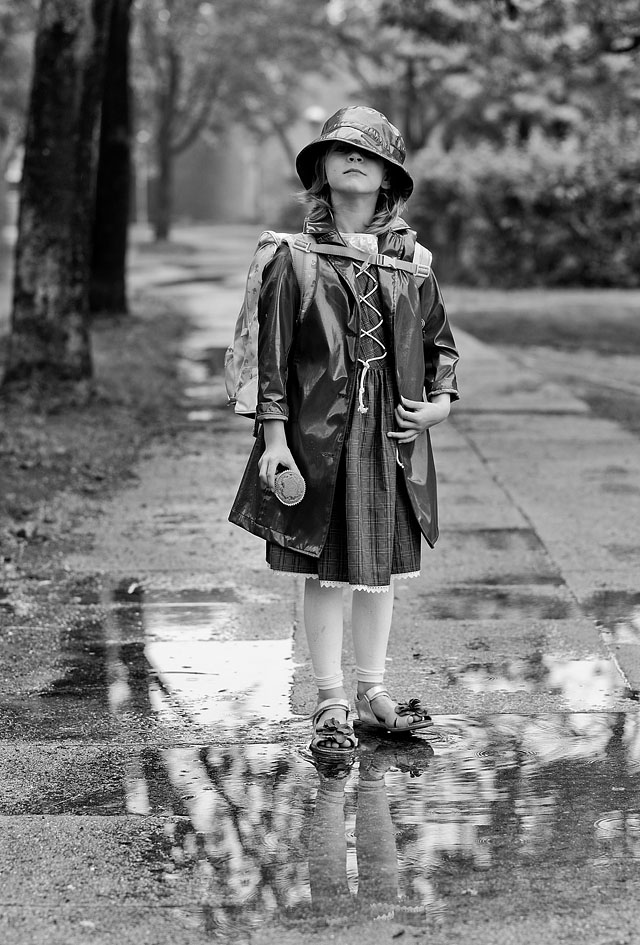 Robin in the rain. Leica M9 with Leica 90mm APO-Summicron-M ASPH f/2.0.
NEW VERSION 11.3

Buy Now. Instant delivery.

New Version 11.3

ONLY $698.00


Now includes
4+ hours of
video tutorials.

100% satisfaction
or 100% refund.
More info.



#2130-1121-3


Update to Version 11.3

Apply code "UPDATE113" on checkout to get this complete version 11.3 update.

$298.00

Updates all previous Surival Kit versions since 2009.

Buy the complete new
Lightroom Survival Kit 11.3
The Legendary Tutorial for Photographers

Brand-new JUNE 2022-version.
Now with brand-new 4+ hours of video tutorials.
New sections on compostition and storytelling.
How to edit color photos.
How to edit black & white photos.
How to do keywords logical and easy.

The most successful photo editing kit ever

Photographer Thorsten Overgaard first released the Lightroom Survival Kit in 2009 and have honed it with new and fresh updates. This Version 11 is the most radical updated and renewed version ever, four years in the making.


Professional workflow experience made simple, logical and easy to use.

Master editor makes it simple to understand

The Survival Kit is unique and one-of-a-kind being made for photographers for photographers. When someone understands their subject, they can explain it so it is easy to understand. The hallmark of Thorsten Overgaard is to make expert knowledge shown and told in a way so anyone can apply it.

Hands-on advice that works

With a 450 pages workbook and 4+ hours of video, every element of digital photography is touched on, in handy chapters and pre-flight checklists. Editing of color vs black and white photos, keywording, cropping of images, fine-tuning of tones, color balance and color control, export of originals, printing, archiving and backup, and much more.

Comes with the Overgaard Leica Presets (Value $48)

The Lightroom Survival Kit comes with Thorsten Overgaard's special-made Lightroom Presets for all digital cameras and for Leica digital cameras.

Understand all from camera to the final print

Chapters in this version goes over the background for High Dynamic Range (HDR), digital raw files and how to set up a professional photography workflow, from calibrating the screen to editing in Lightroom, and to making a final print. And more ...

10+ years experience in one package

No need to spend years figuring out the smartest way to do things when you can tap into the best way of doing things right here. The workflow of Thorsten Overgaard as been refined through years of field work with more than a thousand workshop attendees.

This method of workflow now used by thousands

The Survival Kit has been taught to thousands in workshops and in this Survival Kit. What does it do? It make you enjoy taking and making photos, and it increases your production considerabely. Most important of all, it'll give you back ownership of your files (which you will understand why is so important, once you have bought the Survival Kit and started applying its methods).

"Thorsten's methodology is perhaps not what hardware-, software- and cloud-companies want us to do, but as a former IT engineer I can only acknowledge his views about preserving our digital heritage. This workflow explained is for me the best I have ever seen".

★★★★★

Video tutorials, image files, presets, checklists, definitions, tutorials of Lightroom, that boils down years of experience to a workflow you can implement in less than one day.
I am sure a lens designer could tell a lot more about APO, but what I think I see in APO lenses all over the line of Leica lenses is mainly extremely clear colors.
This is the tip of the iceberg, because what that indicates is that a lot of underlying qualities have been taken care of. As you may know, colors (and hence light) consist of Red, Green and Blue rays. The red light rays travel in an aberated pattern; meaning that they zig-zag a little and don't follow the same route as Green and Blue.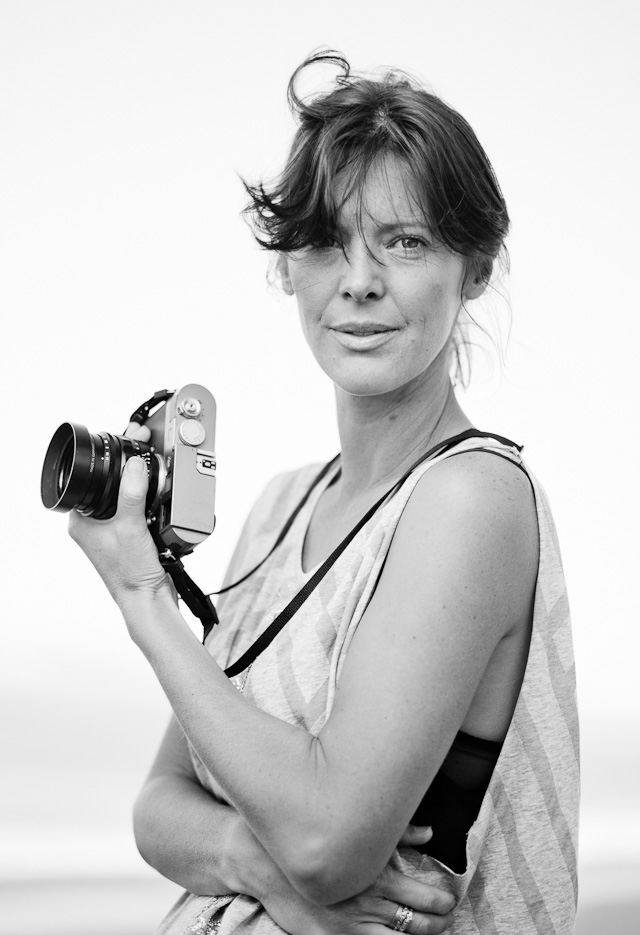 Pamela Tinning in the New Zealand Workshop, April 2013. Leica M 240 with Leica 90mm APO-Summicron-M ASPH f/2.0.
| | | |
| --- | --- | --- |
| | | |
| | | |
| Before correction | | APO lens |
Obviously, if there are three colors, all three colors must meet on the same spot on the sensor plane as when they started their travel from the real world in front of the lens.
That would be how you get realistic reproduction of the subject; to the tiniest detail. These abberated red rays must have caused quite a few lens designers a lot of sleepless nights. APO mainly (as per my understanding) makes it possible to correct the Red rays, and this results with the Red, Green and Blue light rays actually meeting in the same spot. At different apertures and at different distances.
Precision!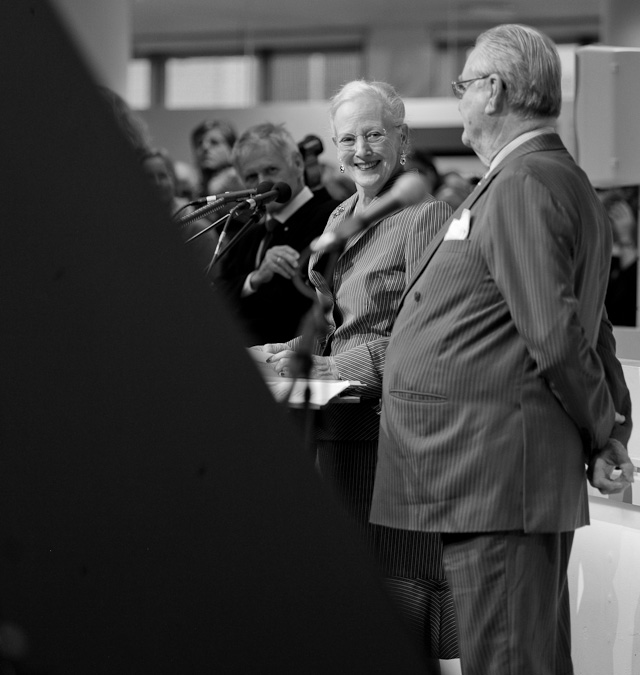 Queen Margrethe II of Denmark, October 2013. Leica M 240 with Leica 90mm APO-Summicron-M ASPH f/2.0.
It's quite a miracle, and that is all I feel I need to know and understand about the underlying technology.
Leica Camera AG had their Glass Laboratory established in 1949 under Dr. Gustav Weissenberg, and it operated until 1989. They had many breakthroughs in glass types with names and qualities I cannot comprehend; but the with result that the lenses became better (which is my interest in the matter). I think the crown jewel of lens technology developed by the glass lab was (and is) the Leica 180 mm APO-Telyt-R f/3.4, which to my understanding was the superior example of bright and clear colors due mainly APO.
For me, APO is the trademark for the bright colors and the textures you can almost touch and feel. In essence, looking at the micro-details (as for example the skin on a face) in a photograph is what makes the overall "Leica look".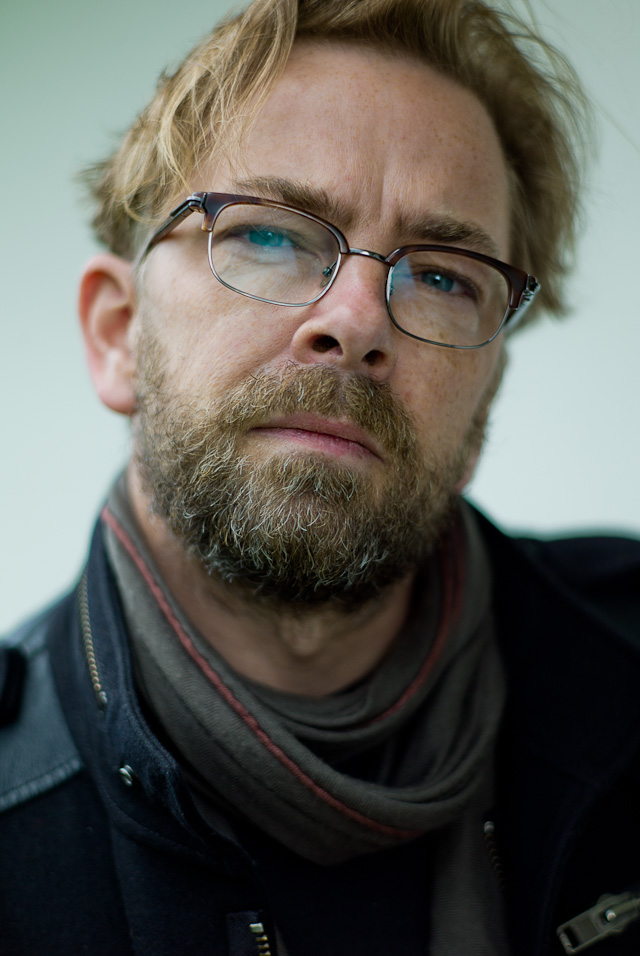 Michael Juffart is a friend who has an obsession with (my) Leica 90mm APO-Summicron-M ASPH f/2.0. Here is a portrait he did of me in his kitchen in Hamburg in June 2012 with the Leica M9 and the 90mm APO.
Zeiss lenses are really sharp, but they are generally dead cold. Canon lenses are of varied quality, and the sensor makes the edges very sharp. And dead. And so on.
The reason Leica has the reputation as the best lenses in the world, and that Imacon has the reputation as the best film scanners in the world, is exactly that: They manage the light in every micro detail in a way so the reproduction maintains the feel of the texture. It simply looks real.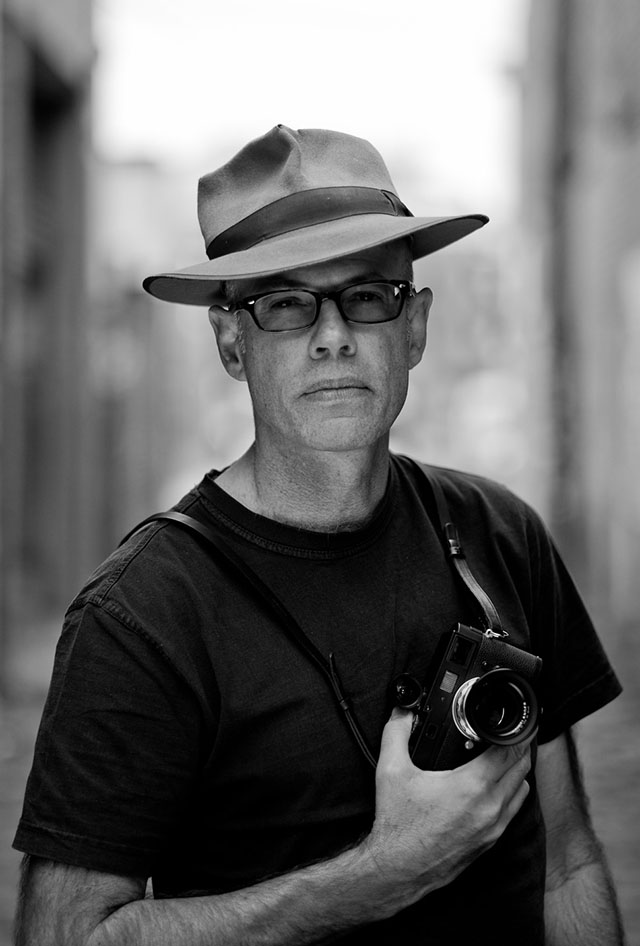 Hardy Lamprecht at the Sydney Workshop, January 2014. Leica M 240 with Leica 90mm APO-Summicron-M ASPH f/2.0. © Thorsten Overgaard.
When we look at the image, we just see "the Leica look" or "something" or that it looks "good" or "different". But the overall picture is made of all those micro details. That's what you are looking at, actually.
Now, the interesting thing is that Leica Camera AG didn't stop with the Leica 90mm APO-Summicron-M ASPH. They also did a Leica 75mm APO-Summicron-ASPH f/2.0 that has the same qualities; but is almost so sharp you may get a Gucci in your face if you do portraits of women with it. But that is another story.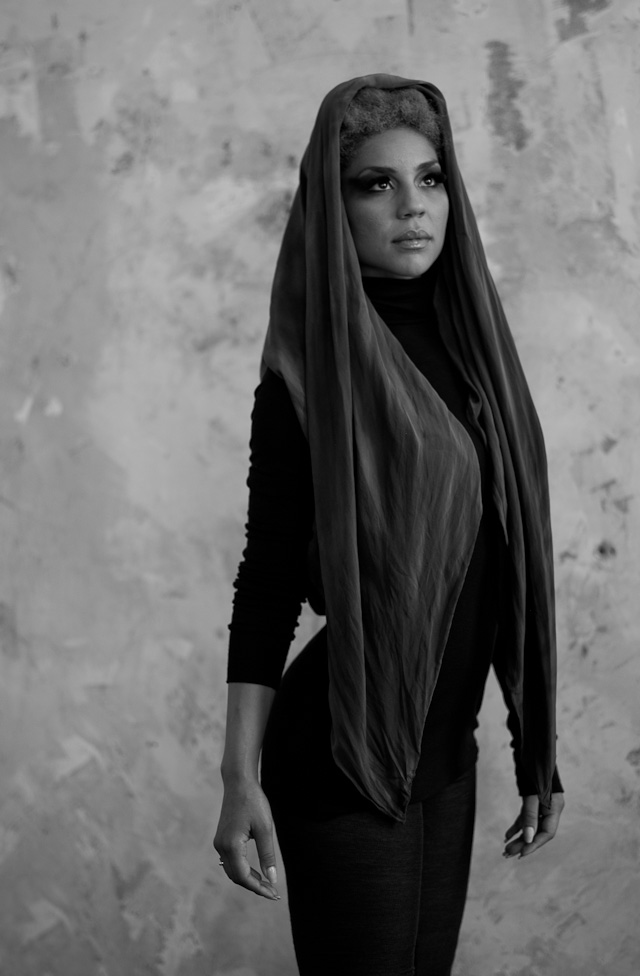 Joy Villa in Vienna, September 2013. Leica M Monochrom with Leica 90mm APO-Summicron-M ASPH f/2.0.
The real interesting part is that when Peter Karbe designed the Leica 50mm Summilux-M ASPH f/1.4 he actually applied APO technology to it. But, as he said, they found it a little childish to write APO. traditionally APO has only been for tele lenses from 75mm and up. Not standard lenses.
With the Leica 50mm APO-Summicron-M ASPH f/2.0 Leica Camera AG and Peter Karbe decided to make another 50mm lens that is in fact an APO lens, and where it is also written on the lens.
Only the future can tell if we will get to see wide angle APO lenses as well.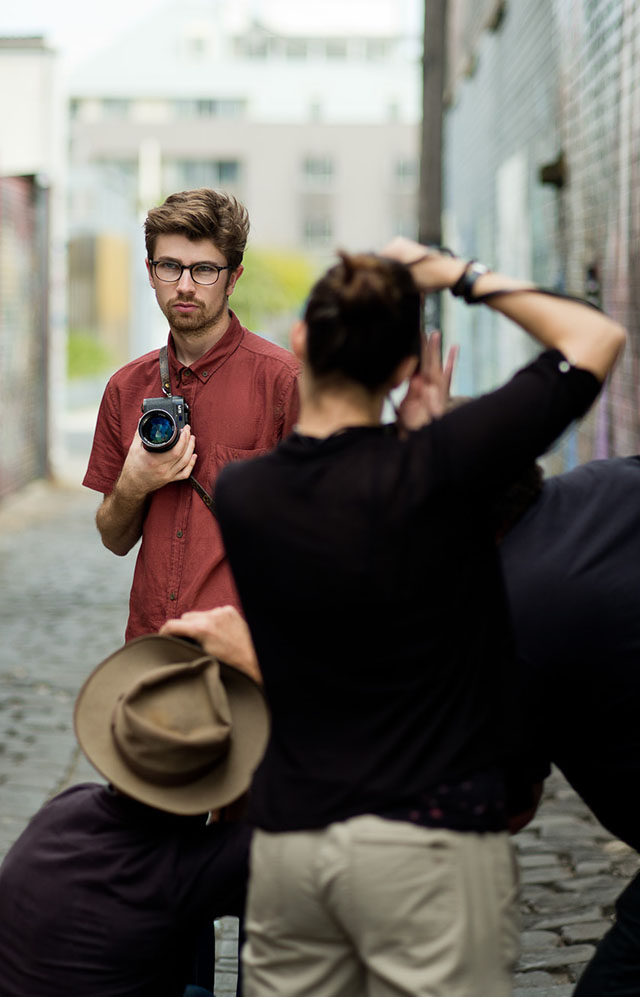 Sean Lewis posing at the Sydney Workshop working with portraits, January 2014. Leica M 240 with Leica 90mm APO-Summicron-M ASPH f/2.0.
My point is this; that every APO tele lens in the R system and M system, and the new APO lenses in the M system all have this magic quality that they have clearer colors than the eye sees (just as many new Leica lenses see more shadow details than the eyes see).
That was a long story to nail the fact that, as I see it, the APO is the main difference one gets by going with the Leica 90mm APO-Summicron-M ASPH f/2.0.
I could say a more relaxed, yet super-natural and bright image.
The 90mm APO-Summicron-M ASPH f/2.0 seems to have so much horsepower in its design that making an outstanding natural and detailed image is something that is very easy for it. Anything you ask of it lies way within it's capabilities.
The difference between the Elmarit, Summicron and Summarit look
The Elmarit and the Summicron has the characteristic relexed and very detailed 3D feel in the micro details.
The Summarit has the sharpness and lacks the 3D feel when compared to the Summicron and Elmarit.
If you look at the pictues above from the Summarit, they are good. They are great. But when you see what the Summicron can do, you see some of the "nice sharpness" qualities that Zeiss, Nikon and other lenses can do, but without the last touch of 3D feel that the Summicron and Elmarit has.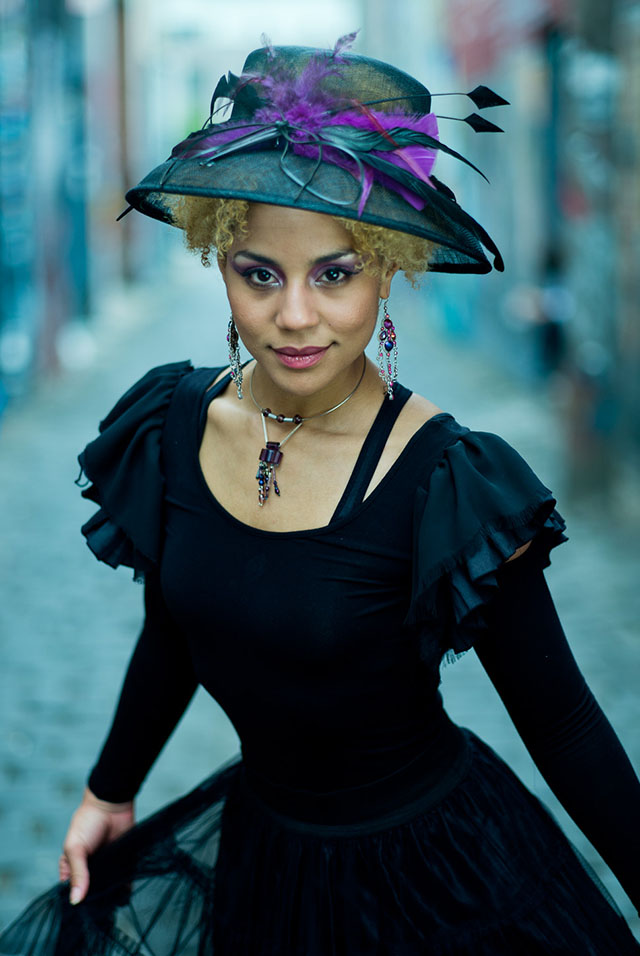 Joy Villa having a Miss Poppins moment at the Sydney Workshop, January 2014. Leica M 240 with Leica 90mm APO-Summicron-M ASPH f/2.0.
The Leica 90mm Summilux-M ASPH f/1.5 portrait lens
December 2019 Leica released the 90mm Summilux-M ASPH f/1.5, which in shape and all reminds of the Leica 75mm Noctilux-M ASPH f/1.25 that I have written extensively about in my article. The 90mm I have written about here.
The new M lenses seem to take a similar format, for production purposes (using the same elements and makign the production more predictable and effective), and also just beaues it is a cool thing that lens families have same dimensions (as seen in Cinema lenses and Leica SL lenses). The 90mm Summilux is 91mm long and 74mm in diameter, which is the exactly same measurements as the 75mm Noctilux f/1.25. The filter size is E67, which means filters and such fit both.
Where the 75mm Noctilux has closest focus range of 85cm, the 90mm Summilux has closest focus range of 1 meter. In reality, it will give approximately the same frame of closest focus.
The f/1.25 of the Noctilux vs the f/1.5 of the 90mm will result in a similar depth of field.
The floating element of the 90mm Summilux-M ASPH f/1.50 is kind of magic, though mostly one would use the lens wide open and not use the floating element. The floating element is that when you change f-stop to for example f.4.0, the lens elements move so as to compensate for any change in focusing, so that focusing will be accurately adjusted.
For more on the 90mm/1.5, read my article "Lux Aeterna (Eternal Light)"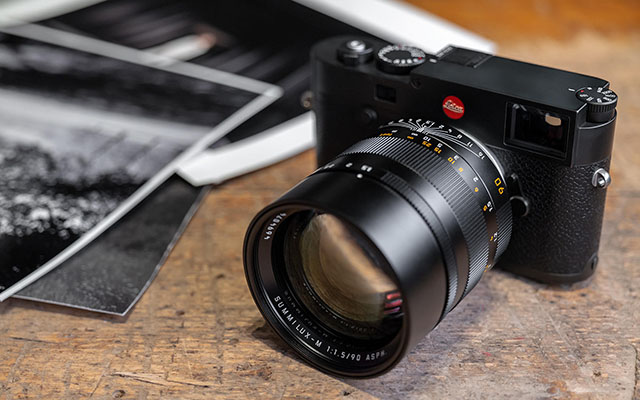 The Leica 90mm Summilux-M ASPH f/1.5 on the Leica M10.
The Leica 90mm Tele-Elmarit-M f/2.8 (II)
I also have an older 90mm Elmarit-M f/2.8 lens from 1980 which has some scratches on the front glass which is why I have lended it out to a friend along with a Leica M4.
The defects on the front glass coating made it unusable for shooting against the light (and "is there any other type of photography?", as Jack Nicholson would have formulated it, had the movie "A Few Good Men" been about photography). But it has been used for a few shots with Leica M4 film and Leica M9 as you can see below.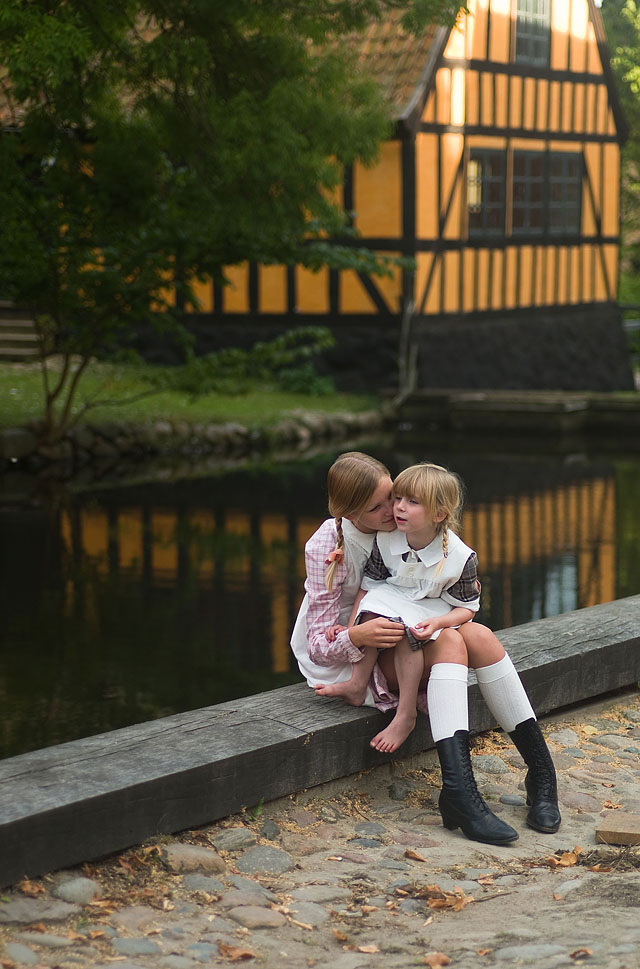 Leica M9 with 90mm Tele-Elmarit f/2.8 (II), 400 ISO.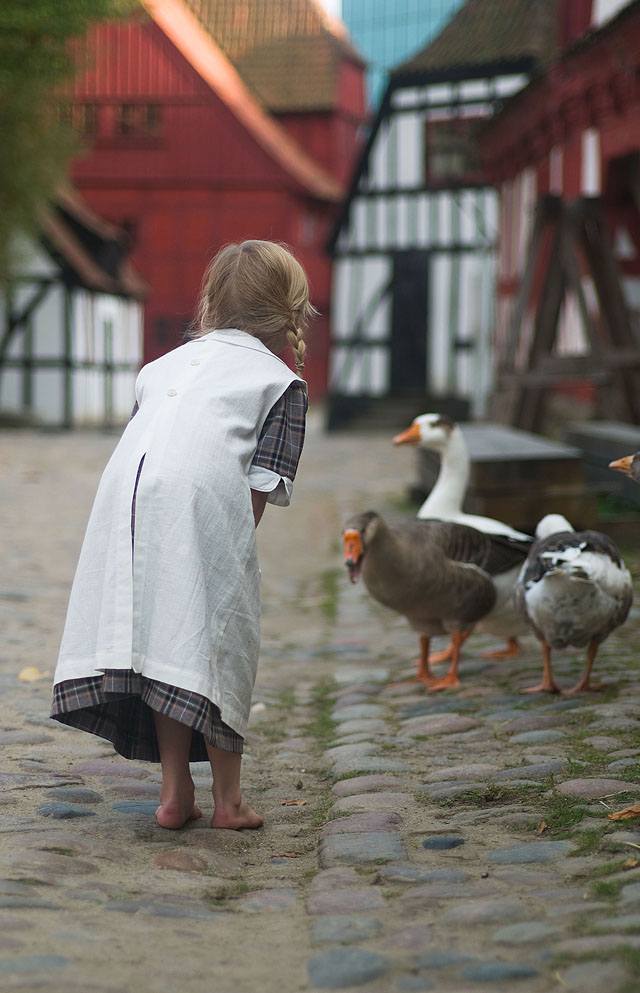 The goose wisperer, Leica M9 with 90 mm Tele-Elmarit f/2.8 (II), 200 ISO.
The Leitz 90mm Thambar f/2.2
There has been quite a few Leica 90mm lenses made over the years, and they can all be fitted onto any modern Leica M camera.
But one Leica 90mm seem to keep us sleepless even it was made in 1935 to 1940, and only in 3,000 samples. It's the Leica 90mm Tahmbar f/2.0 which was made as a deliberately soft-focus lens. It even came with a Soft Focus filter that would blur the center of the image; so as to assure that everything was blurred!
Also known as the worst ever designed lens!
If you paid attention in the section above about the Leica 90mm APO-Summicron-M ASPH f/2.0 and the ability to record micro details, then you will understand better how a lens can be both blurred and detailed at the same time.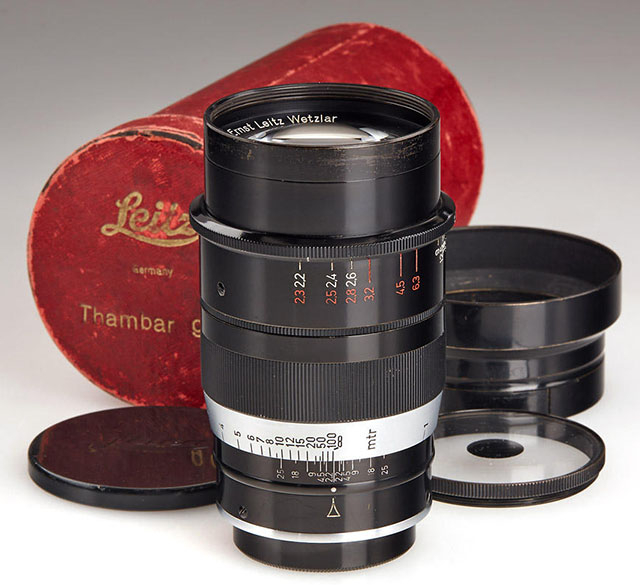 A complete set of a Leitz 90mm Thambar f/2.2 consist of the original red box, lens cap, lens shade and the special soft focus filter with a black dot in the middle. They exist in both a Meter and a Feet edition (the focusing scale). Only 3,500 or less were made from 1934-1940, from serial number 226001 to 540500.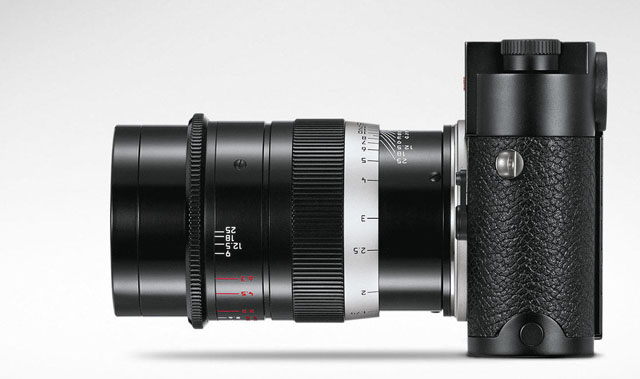 The Thambar 2017 model on the Leica M10. The meaning of the Greek term "thambo" means "to be blinded by beauty".
Ups, I did it again
From November 2017 Leica offered the Leica 90mm Thambar-M f/2.2 again. The same imperfect design of optics to produce glowing and artistis photographs. A distinctive, dreamily romantic look and unmistakeable bokeh, created by deliberately under-corrected spherical aberrations. Also, a 20-bladed aperture for circular rendition of out-of-focus highlights. You can read an intersting article about the ideas behind the original Thambar and the new Thambar here.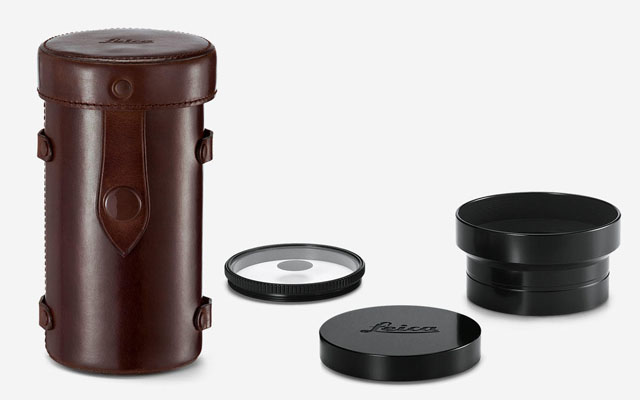 The new 2017 Thambar-M comes with all the rare goodies: The spot filter and the expensive shade. And a very nice leather container. Total price for Thambar-M with acessories is $6,495.00.
Technical data on the Thambar
Production year:
1934 - 1940
Leitz 90mm Thambar f/2.2
2017 -
Leica 90mm Thambar-M f/2.2
Serial numbers:
226001-226500
Weichzeichner ("blur") 9 cm 1:2.2 1934: 500
283001-283500
Weichzeichner ("blur") 9 cm 1:2.2 1935: 500
311001-311500
Weichzeichner ("blur") 9 cm 1:2.2 1936: 500
375001-375500
Thambar 9 cm 1:2.2 1937: 500
416501-417000
Thambar 9 cm 1:2.2 1938: 500
472001-472001
Thambar 9 cm 1:2.2 1938: 500
540001-540500
Thambar 9 cm 1:2.2 1940: 500
TOTAL ASSIGNED SERIAL NUMBERS
1934-1940 was 3,500 pcs. but generally it
is agreed that only 3,000 were made.
Order No.
TOODY
Lenses:
Four lenses in three groups.
Four lenses in three groups.
F-stop range:

Stop-less aperture ring:
f/2.32 to f/6.3 with red numbers
(for use with soft focus filter)

f/2.2 = f/2.3 and f/2.4 = f/2.5 and f/2.6 = f/2.8
marked to take the smalle difference in
aperture value into account when using
the soft filter.

f/9.0 to f 25 in white numbers for use
without soft filter.

Stop-less aperture ring:
f/2.32 to f/6.3 with red numbers
(for use with soft focus filter)

f/2.2 = f/2.3 and f/2.4 = f/2.5 and f/2.6 = f/2.8
marked to take the smalle difference in
aperture value into account when using
the soft filter.

f/9.0 to f 25 in white numbers for use
without soft filter.

Filter:
E48 (48 mm)
E49 (49 mm)
Lens shade:
Replacement shade, order no "SHADE"
(1939 from Leitz New York)
Veight:
500 g (1.1 lb)
500 g (1.1 lb)
Focusing range:
1 meter to infinity.
1 meter to infinity.
Mount:
Screw mount, but with use of a screw-mount
to M-mount adapter it works on any Leica M
model from Leica M3 to Leica M 240
(will activate the focus assist on the
Leica M 240 and Leica M10 as well).
M bayonet mount
with 6-bit code
Price from new:
Unknown. It was an economical lens,
most likely less than a normal 90mm.
$6,495.00
Price increase:
Generally price around 2010 was $2,000,
in 2014 it is around $3,500 - $8,000.
Recommended ND filter:
Heliopan 48mm 2-stop ND filter from BH Photo.
Heliopan 48mm 2-stop ND filter from BH Photo.
Where to buy:
Leica Shop Vienna
luigicases.com
New World Camera
Any Leica dealer.
Follow Jolie Lou in Instagram for new Thambar photos 2017 and onward. You can also see a Leica Blog post about her work with the Thambar-2017 here.
Also , here is an intersting blog on the Thambar new and old, by Heinz Richter.
New or old Thambar ..?
Considering the $6,495.00 price of the new Thambar, versus the "uplifted" collectors price $4,000 - $8,000 for the original version, the question of course is, which to get? I couldn't, and I would't say. I have the old one, and I've experimented with it to a large degree. I don't see the new version offering much challenge for me; the results would look similar. But the confort of a new version is tempting (as many of the older are stiff in the focus from dry oils, some has gotten fungus, etc).
The relatively high price of the new Thambar could be appreciated by those who own the old one, because it will keep it's price.
The argument for the new one would be coatings and how smooth the mechanics run. Though you are not actually looking for improved image quality when you wan the Thambar look (if you did, look at the Summarex 85mm). If you like original things, the original Thambar in a complete set with box and all will be about the same price as the new one. And as we all know, when you want somethnig new Leica, you actually want the old Leica.
85mm Summarex, maybe?
Let's just throw in an alternative in terms of intersting portraits, with bubbely bokeh: The 85mm Summarex f/1.5 what sells for around $2,500 as second-hand lens. You can see sample iamges in the 85mm Summarex Flickr group. It's a heavy lens, it has more of the usual qualities of a lens, yet with some of the wild looks of the Thambar.
The Summarex was designed as a screw mount lens by Max Berek in 1936 and produced from 1940-1954. It comes in silver (4,000 made) and black with 2 or 3 chrome bands (300 made), and it's around 800g. You can use it on any Leica M with a scren to M adapter ($50).

"Don't judge a book by it's cover" ... though I really want this lens when I see this beautiful photo of it by Emyas on Flickr.
The original Thambar (1935-1940) is a limited lens, and (for this reason) a collectors item. That means that the price for this ugly old blurred lens goes from €2,500 to €6,000 depending on how well it is maintained, as well as what it comes with.
The lens hood is not important if you want to use the lens, but if you are a collector, it is mandatory (and the price for this acessory is accoringly pretty high).
The soft filter is great to have if you use the lens, but in reality you could make one yourself from any 48mm UV-filter and a piece of black tape. But if you are a collector, both the filter, the lens cap and the rather useless original red box is mandatory. Hence the price difference.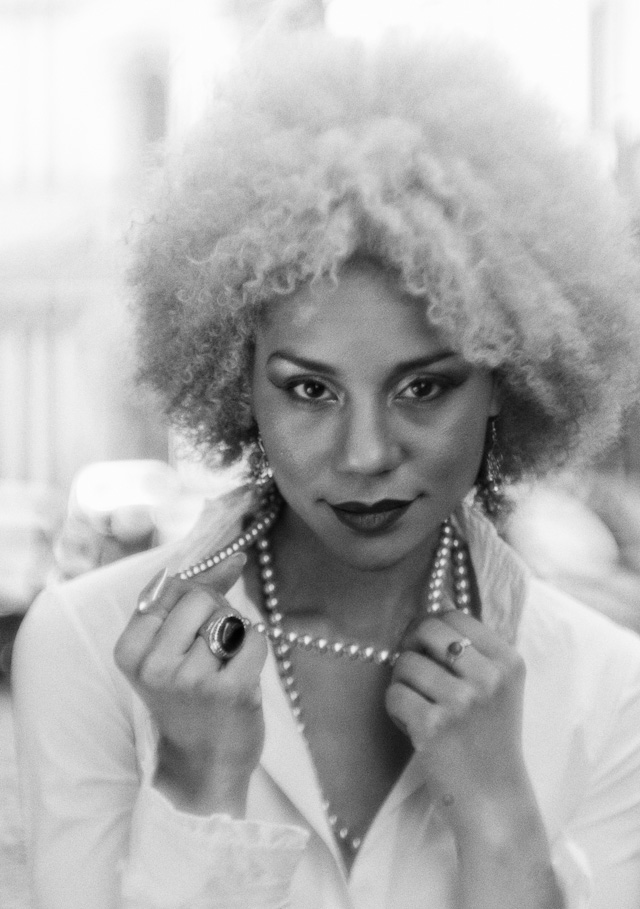 Princess Joy Villa in Rome. Leica M Monochrom with Leica 90mm Thambar f/2.2. This one is in Lightroom, then extra geytones in the skin and more overall contrast achieved with the Silver Efex Pro, using the Kodak CN Pro 400 setting.
Only one type of Thambar is of no interest for anyone, and that is the few ones with "fungus" which is a live organism that attacks the glass and makes tiny "worm stripes" in the glass.
One could say that a few defects more or less in a Thambar would perhaps only make it more of a Thambar, but the problem with "fungus" is that you can't get rid of it. It occurs in conditions of darkness and humidity, and from there it grows and increases over the years as if it was a seed planted to take over the world one day (which I cannot rule out, though it will take a few thousand years before any existing "fungus" will grow large enough to scare a mouse!).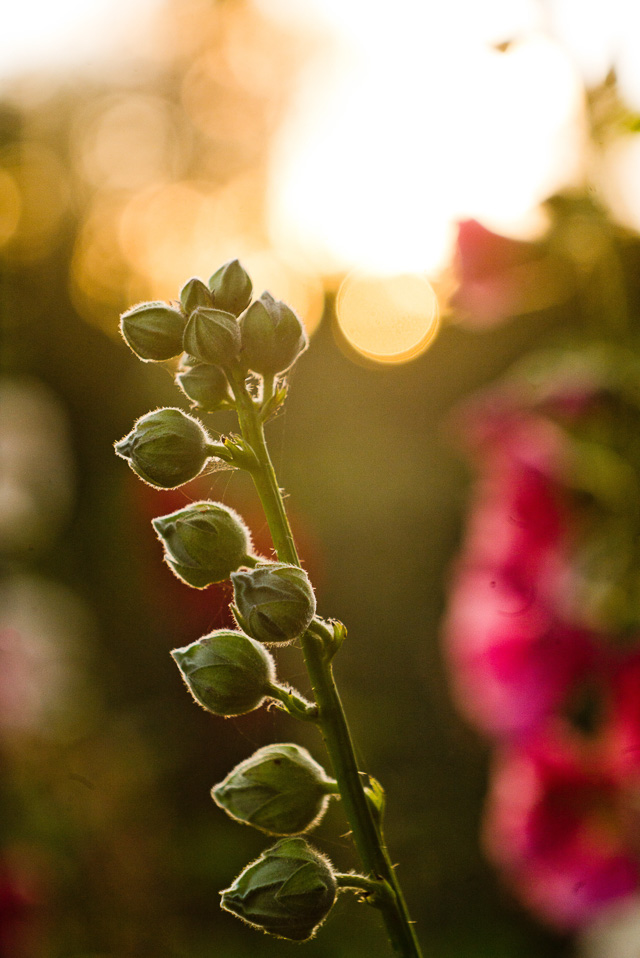 Flowers in my garden in Denmark, July 2015. Leica M 240 with Leica 90mm Thambar f/2.2 and Leitz OUFRO macro adapter.
From George Butler
It's not easy to find portrait photos online made with the Thambar, even that was what the lens was made for. So I was more than happy when I got an e-mail from George Butler in June 2014 with his story of using a complete and very fine Thambar for years.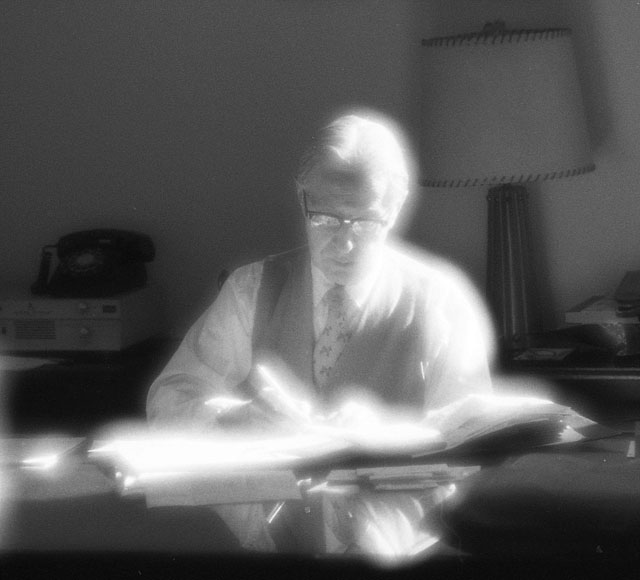 George Butler: " The screw-in 'filter' is not a filter at all. Rather, it is an attachable central stop. That is the reason there are two separate aperture scales on the lens. One scale for use with the central stop, and one scale for use without the stop. The area of the lens blocked by the central stop is well corrected. This forces the image to be formed from light passing through the part of the lens that has the chromatic and spherical aberration engineered into the periphery of the lens. This image is of my father sitting at his desk and is my all-time favorite of the Thambar images I have made over the years. Leica M4 with Leitz 90mm Thambar lens. aperture was fully open at 2.3. Central stop attached. Tri-X film developed normally.
My first Thambar experiments in 2011

Hong Kong February 2011, wide open at f/2.2 without the soft filter.
When in Hong Kong in February 2011 I stumbled over four (4!) Leica 90mm Thambar f/2.2 lenses in the camera district and had the chance to test one of them with help from Steven Collins (as assistant holding a silver reflector) and Derek Young (as model).
I've been in love with this lens for a long time but never been able to find examples of use for what it is in fact intended for: Soft portraits as the ones that were popular in the 20's and 30's in Hollywood (some made with large format cameras with Vaseline on the lens).
It gave me an idea what it was about, and also about the troubles I would subscribe to in case I bought it. I was indecesive if I really needed this defect beauty in my life for another three years, till I finally found a Thambar at the Leica Shop Vienna when I visited to buy a filter (at least that is the official explanation). They of course didn't have the filter. But they had the Thambar and I had little defences left.
Thambar in colors
I got to work with the Thambar a little over the next days, in Rome. It is frustrating, and at times I can't decide if it looks to be as promising a relationship as I hoped, or if I have inherited an old color television from East Berlin where the antenna needs adjustment.
The Thambar is not impossible for color photographs. They colors didn't exist in the Hollywood portraits, nor the lens was designed. But they do now. It's just raising the bar even higher controlling overflow, flare and the colors in a lens that is was clearly not designed for the colors we expect today.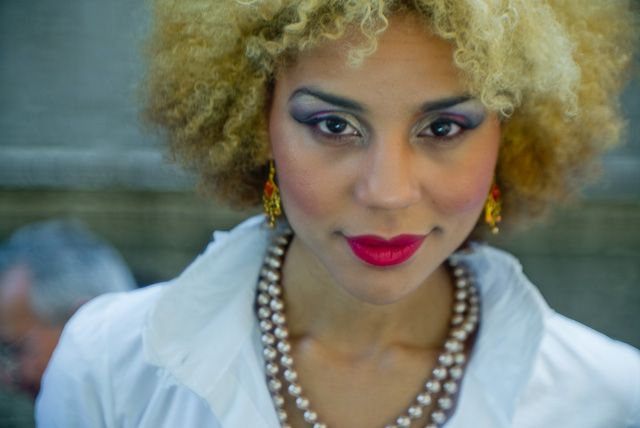 Princess Joy Villa in Rome, in colors. Leica M 240 with Leica 90mm Thambar f/2.2 at f/3.2 with center spot soft filter.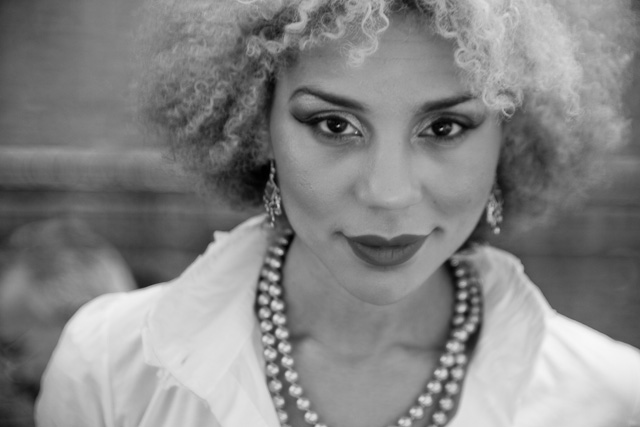 Princess Joy Villa in Rome, in black and white from the JPG Fine file in the camera. Leica M 240 with Leica 90mm Thambar f/2.2 at f/3.2 with center spot soft filter.
The ultimate portrait lens
The Thambar fullfilled a need in the 1930's for a portrait lens that would produce the same (female) portraits as rolled out from Hollywood. The dreamy soft skin and friendly characteristics, yet with all the other details intact than the small imperfections.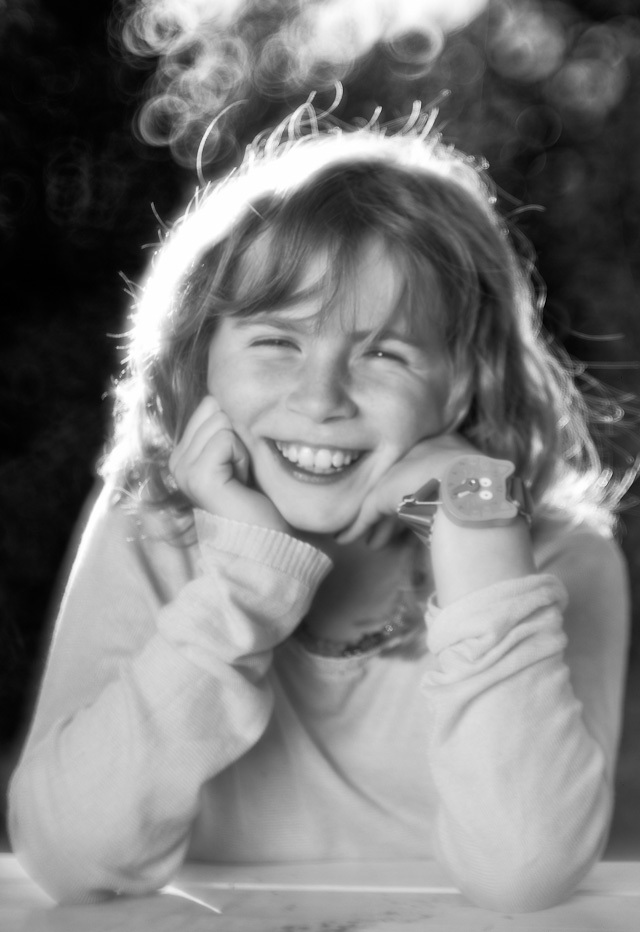 My daughter Robin Isabella von Overgaard. Leica M 240 with Leica 90mm Thambar f/2.2 at f/3.2 with the soft center spot filter. "That is beautiful," was her reply. I am on the right path..!
For us who fight with making portraits with this lens today it may sound unrealistic that photographers in the 1930's and 1940's used the Thambar as their main portrait lens, but they did! Indoor and outdoor. The Thambar was the new wonder-tool for photographers who dealt with people who want to look younger and more beautiful than reality.
The blurred look, what we would call lack of technical quality in our days, was less important than the fact that the aim of looking younger and more perfect was obtained.
I know a photographer in Denmark who is very popular with the female models. His photos are always slightly blurred, with the result that they look younger and had perfect skin. One day I asked him what the secret was, and his answer was simply "1/15 of a second".
With a medium format camera, the resulting motion blur at 1/15 second will remove the thin lines even a professional model would like to live without.
But there are two problems with using the Thambar.
Strong backlight
One is understanding that it is best used with strong light behind the person. It's an effect lens that is supposed to make the light and the face glow. It is not a precision lens meant to record details. You are working on creating a dream image, not a recording!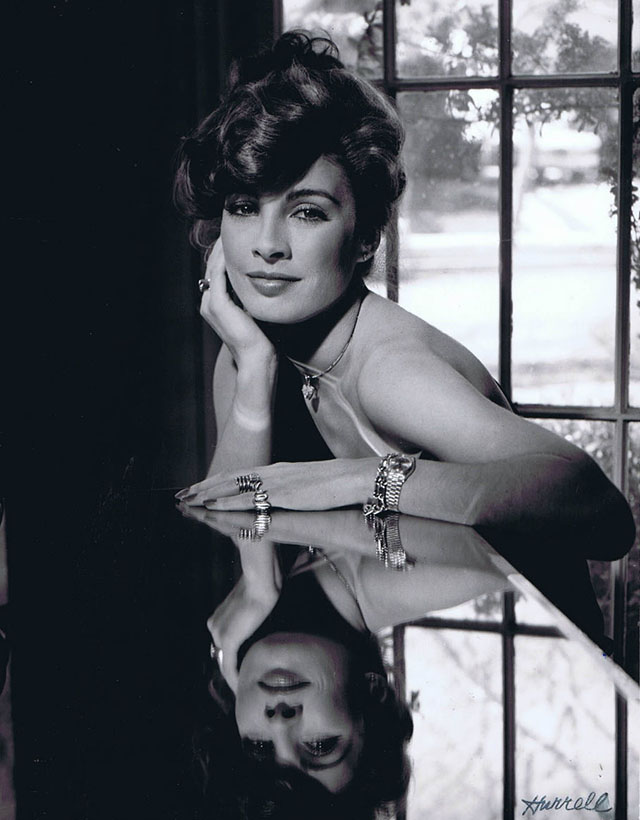 This is how any woman wants to look: Anne Archer photographed by George Hurell in 1977. Beautiful then, beautiful now.
This is quite easy to understand, especially if one starts analysing the light settings of for example George Hurell (also known as "The Rembrandt of Hollywood" in 1930-1940) and the way he set the light with usually two strong light sources from behind and above. The face was in shadow, with reflections often from a white sofa or other surface the movie stars face was resting on.
George Hurell was using a large format camera (and I thought he used Vaseline on the lens to blur the image a little. But I have learned that he used a large Wollensak Verito lens on his 8x10 camera; often stopped down to ensure sharpness). He used "heavy retouching" in a day and age where you had people painting the images imperfections away.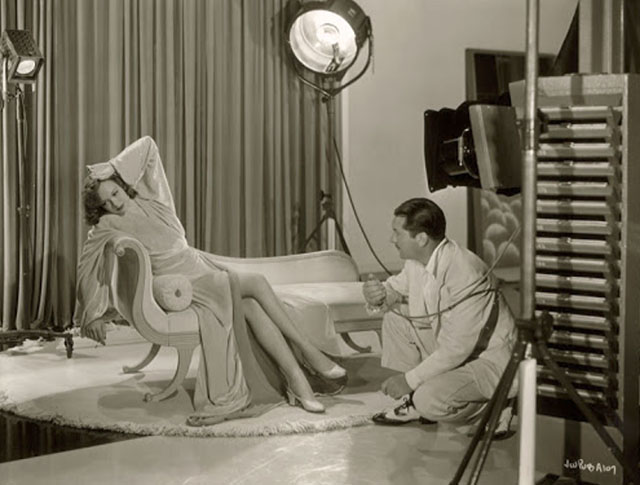 This is how any photographer wants to work and how I imagined my life would be when I got the Thambar. making any woman look glowingly amazingly beautifull! (This is Max Munn Autrey at work).
The Thambar in theory is then the perfect tool to obtain all this beauty requested. Except for one small detail that becomes quite obvious when you attach it to a modern digital camera as the Leica M 240:
This lens does not have very good control of light and colors! The perfection of modern Leica lenses is exactly that they can isolate light and shadow with no overlap or overflow, that it can isolate each Red, Green and Blue light ray very precise so you obtain very accurate colors, very good shadow details, high contrast and a minimum of lens flare - and even small light rays from strong backlights won't be overflowing what must be shadows!
The Thambar is not a modern lens with those qualities. The result being that if there is too much light, or the light source(s) are not controlled very precise and elegant, you get an overflow of light. Very bad colors, very soft contrast and simply not the magic image you dreamt about all the hours you were surfing eBay for Thambar lenses and hiding pocket money behind the book shelf so as to one day be able to buy this wonder of a lens!
The other problem using the Thambar is:
Photoshop vs. the natural look

Thambar was deviced and put into production at a day and age where basically no technology existed that would allow one to make a person look magic and beautiful. The question could very well be if that technology now exists as Photoshop and other software to make an old face look like the surface of a brand new BMW.
It may not be a very well known fact for many, but today when you see an advertisement for H&M with Beyonce by a pool, it's not her legs, skin or hair anymore. It's all "enhanced" to give us the impression that if a modern woman wears this H&M bikini top and bottom (for only $28), she will be perfect!
H&M had to correct that by releasing the original images because Beyonce knows she looks good enough without having her hips corrected by some young retoucher with acne.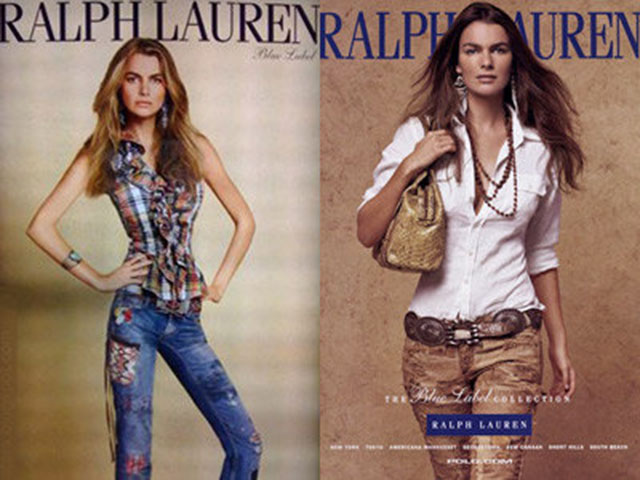 This is how Ralph Lauren "improved" the same models look in the same printed campaign. They excused for bad photoshopping (not for altering the model and introducing aliens in fashion).

Likewise, hardly any fashion cover resembles the image the photographer took with his camera. The skin, the hair, the eyes, the teeth and even the face shape has all been "improved" in the computer.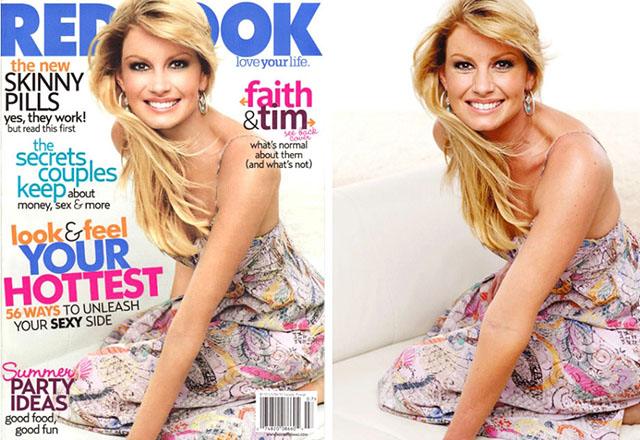 An example of a magazine cover "optimized" so the reader can "learn to look and feel their hottest" . It is quite invalidating to be photographed for a frontpage, and then learn that they didn't like your look. And the elbow as well that has been "modernized".
The problem with the Thambar is that it could perhaps easily be mistaken for a very bad performed photoshop attempt to make it look "different".
The task you as a Thambar user is faced with, in short, then is how to make it look magic and beautiful. And natural made.
Which is not a bad thing to do. In a way, that is what is the real art. Without tricks, with light and natural means to put emphasis on what is beautiful in a person, and hide what is less desireable to show.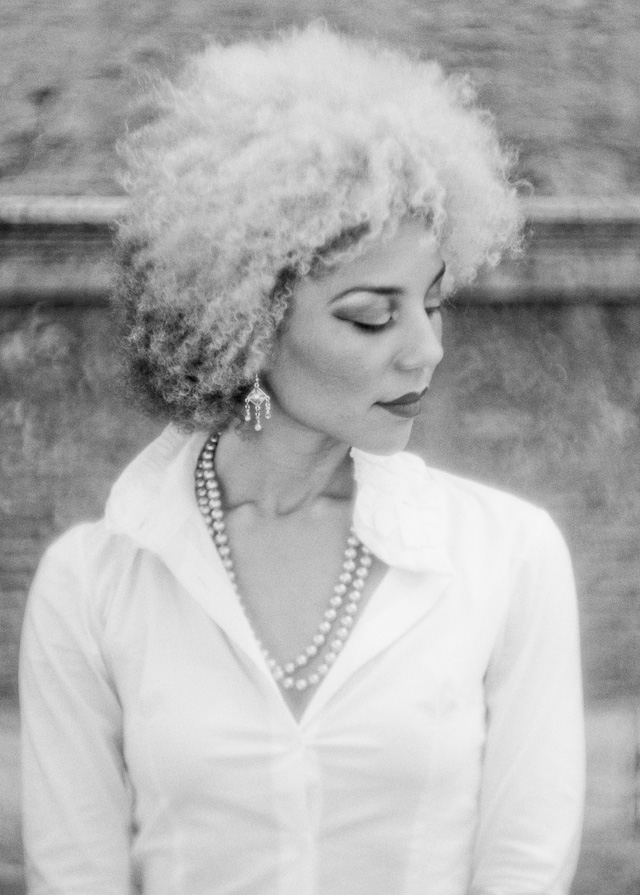 Princess Joy Villa in Rome. Leica M 240 with Leica 90mm Thambar f/2.2 at f/4.5, with the soft center spot filter.
The original brochure of the Thambar said that "this lens is for the professional who knows what he is doing", and that may be even more true today.
The only comfort in case of total failure producing anything historic with this lens is that it is a collectors item. The price will continue to go up simply caused by the fact that the lens is limited, and as time goes by some will fall apart or get lost in a fire.
You can always get your money back for the lens, should you decide to abort the mission.
Understanding the Thambar
The original manual for the Leitz Thambar from E. Leitz, Inc., 730 Fifth Avenue in New York makes as much sense as moderne manuals for Leica products. Which is not that much. But it does give a direction of the thinking.
Obviously, it helps to travel back in the time machine to the 1930's to understand it. The manual mentions that objects with extremely strong contrast may show differences of intensity of 1000:1 negatives may show contrast of 100:. But it also states that such negatives can never be printed or enlarged direct without losing tone rendering in the highest lights and the deepest shadows, since the photographic paper cannon reproduce a contrast of light values exceeding 20:1 or at the most 30:1.
It's clearly a different world today, which is why I mention this. Digital images with the Thambar on a Leica M 240 will reproduce much different today than the chemistry of the 1930's.
Deliberately spherical aberration
TThe idea with the Thambar is to create a "sunny image" with some "haloes", but not too extreme. The essential characteristic of a soft-focus lens is that certain aberrations - notably the chromatic and spherical aberrations - are deliberately left incomplete corrected. In the case of the Thambar Leitz decided to go with "the residual spherical aberration".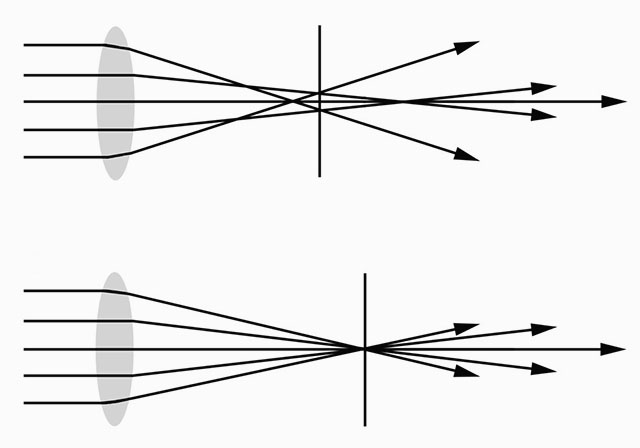 Spherical uncorrected versus Spherical corrected. I feel that Leitz didn't design this but simply must have found a way to not optimize the lens. In other words, they left the office early that day, and I am left with the problem making something beautiful out of those light rays hitting all the wrong places!
You should have bought it when it was new
It appears that one of the arguments for the Thambar back when it was new, in the 1930's and 1940's was that it was more economical due to the less correction. A good lens was more expensive, and particular a good f/2.2 lens that was also rich on contrast at f/2.2 would be much more expensice to acquire.
The logics basically is that the lens is rather good at f/9.0 and then grows increasingly aberrated as you open it up to f/2.2. And the manual basically says that the wider you open up the aperture, the less lens you get.
And somewhere in-between you get the Thambar look.
Without much interst in the project my daughter Robin Isabella volunteered (nevertheless) in making a few examples.
| | | |
| --- | --- | --- |
| With soft filter: | | |
| | | |
| f/2.2 with soft filter | | f/3.2 with soft filter |
| | | |
| | | |
| f/6.3 with soft filter | | f/9.0 with soft filter |
| | | |
| Without soft filter: | | |
| | | |
| f/4.5 without soft filter | | f/9.0 without soft filter |
This makes some sense after having used the lens for a short while. At f/2.2 it seems almost too much, whereas at f/3.2 and f/4.5 it has the glow and perhaps "sunny image" that a Thambar should have. At f/9.0 to f/25 you might have bought any lens as it ceases to have a special "sunny image" or the intented "haloes".
As you may be able to imagine, I have had to adjust my thinking to this as I always use all my lenses wide open. But I think I will have to rewise my use of the Thambar on this if I am to ever make any decent results. F/3.2 to f/6.3 seem to be my test zone for the time being.
The scale for soft filter - the red and the white f-stops
The Thambar features a red scale of f-stops (from f/2.2 to f/6.3) where the soft focus filter may be attached to obtain the soft-focus also in the center. When entering the white scale (from f/9.0 to f/25.0) the soft-filter will result in a black dot in the center of the image. In other words, only use it from f/2.2 to f/6.3 for the desired soft focus all over the field (if avoiding more sharpness in the center of the image is your goal).
Next thing: Finding the right light
The next project in learning to make any woman look like a rare diamond is then the light. There cannot be too much as it will overflow the image. On the other hand there need to be some light from the background, some bright edges and a fairly wellit face to make the "sunny images" come about.
It's not easy. Then again, nobody said it would be.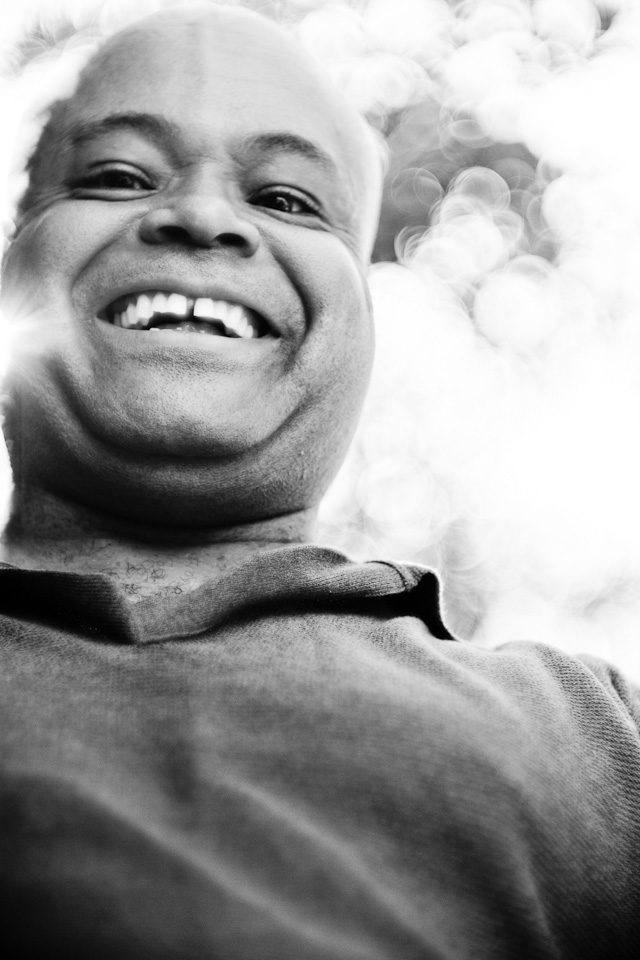 American actor Terence Hines in July 2014 in Hollywood, working with bubbling expressions
Leitz 90mm Thambar for music videos
In May 2014 I used a Thambar for music video in Vienna. Built-in special effects, as you can see. It is quite obvious a very special look:

We used four Leica M 240 cameras and different lenses for this Joy Villa music video for her song "Beautiful".
Other resources to the Leitz Thambar
Shutterbug: "The Leitz Thambar 90mm f/2.2 - Why Is It Considered A Legendary Portrait Lens?" (By Roger W. Hicks, April 1, 2005).
Why 90mm isn't a portrait lens anymore
We all know that a 90mm lens (or 75mm or 80mm) lens is the perfect portrait lens. The truth of the matter is that it used to be.
Back when - in the 1930's to 1980's - when 90mm was the preferred portrait lens, a typical 90mm lens would be f/2.8 or f/4.0 and a 50mm lens could be f/2.0 but was mostly f/2.8 or f/3.5.
The main reason the 90mm was better for portraits was because it would blur the disturbing background better than a 50mm and hence isolate the subjet - the face.
With todays 50mm f/1.4 and f/0.95 lenses, one can do exactly that with a 50mm that it took a 90mm to do back in the day.
The other reason to use a 75mm, 80mm or 90mm is distortion in perspective. If you use a 35mm for portrait, the nose will be slightly out of proportion, and if the person has his or her hands in front of them, they will be out of proportion. Big hands and big nose!
The 50mm and 90mm have a similar lack of distortion, so that is why I use my 50mm lens for portraits. If I want to tell a wider story by showing the background and circumstances, I will use a 35mm or 21mm and move closer to the subject; put the subject in for example the right 1/3 of the photo and let the image show the background (like inside a livingroom with many books on the shelves; a pianist with his piano, etc).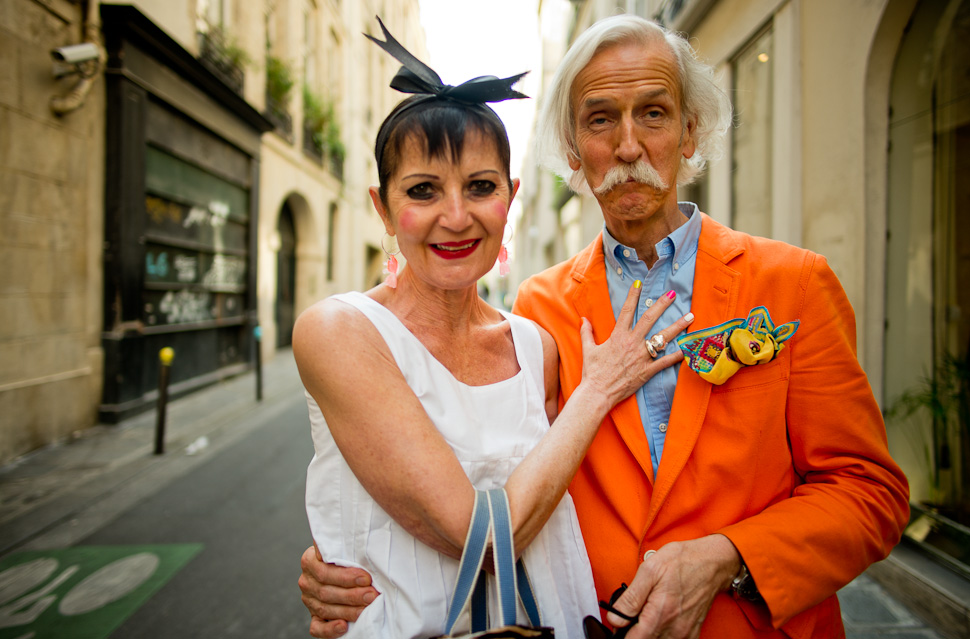 The 21mm Summilux-M ASPH f/1.4 in is a modern Leica lens that in fact has depth of field (blurred background) as well as no distortion. Leica M 240 in Paris, May 2014.
What this all adds up to is that you don't have to have a 90mm to do portraits. If you - like I do - use your 50mm for most things, the 50mm may just as well step in as the portrait lens. I like to be that close to the subject as well. With a 90mm I have to be quite far away if I want to keep the shoulders and space on the sides.
If you use a 35mm as your most used standard lens it makes sense to get a 75mm or 90mm to get closer to things, and for portraits. Though, if you don't move close with a 35mm but keep a distance, you may get very much space around the person; but you can crop the image "back to a 50mm frame" later.
Buy the new eBook
"A Little Book on Photography"
by Thorsten von Overgaard

Order now - Instant delivery.

★ ★ ★ ★ ★ ★

It's a humorous understatement to call this
new eBook by Thorsten Overgaard for
"A Little Book on Photography".
It's a grand book, a history lesson, life experience, a biography and poetry book and brilliant photo book!
All in one beautiful package of 180 pages
to fire you up and get you to love
photography ... unconditionally!

"A Little Book on Photography"
eBook for computer, Kindle and iPad.
New release March 2017.
Intro price only $47 - 180 pages.

Buy Now

Instant Delivery
Focusing a 90mm
Traditionally it has been the consensus that the 90mm lens was hard to focus, and the 135mm really hard. The Leica M 240 with the EVF-2 electronic viewfinder changes this completely. What you see in the viewfinder is what the sensor sees, so even if the camera is out of adjustment in the rangefinder mechanism, the image from the sensor doesn't lie.
You also see the full frame in the EVF-2 from edge to edge, whereas in the rangefinder/viewfinder you see a somewhat 24mm image, and only the center crop of that is what the 90mm captures on the full sensor.
Having said that ...
The 90mm is not impossible or "hard" to focus. It's sensitive. Which is why, when a technician is asked to adjust the focus mechanism of the rangefinder on a Leica M camera, he or she mounts a 90mm lens onto it and adjust the focus - as they do - first on infinity, then close focus and finally mid-focus.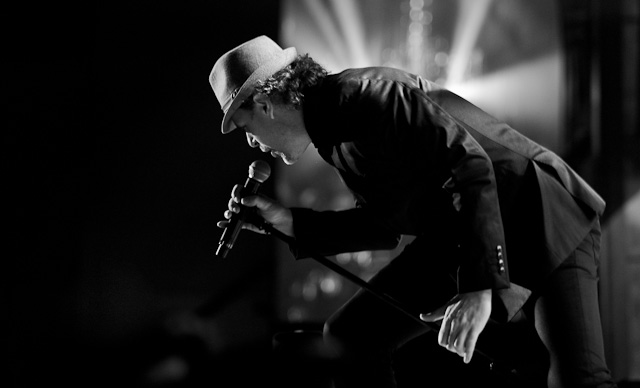 Rob Meister performing. Leica 90mm APO-Summicron-M ASPH f/2.0.

When the focus is accurate with the 90mm highly focus-sensitive lens, it will be perfect with 50mm, 35mm and the rest of them.
Some may find that a 1.25X or 1.4X eyepiece helps "center the eye" on the cropped frame of the rangefinder, but in general most people who get diopters and eyepieces for the Leica M use them for some days or weeks; then they realize it isn't their eyes.
Use your Jedi skills
You got them, you're just not used to using them. But with trust comes competence! Focusing is a skill that very much consist of making a decision. In a dSLR camera a comforting green lamp will light up in the viewfinder and warm your heart, a copper bell will ring twelve times and a freindly female voice will announce that you have reached auto focus.
In a Leica nothing tells you when you have focus. You have to decide and press the shutter release. The worst that can happen is that some of the photos you took are not in exact focus, but on the other hand, when you hit it just right, it's sparkling sharp!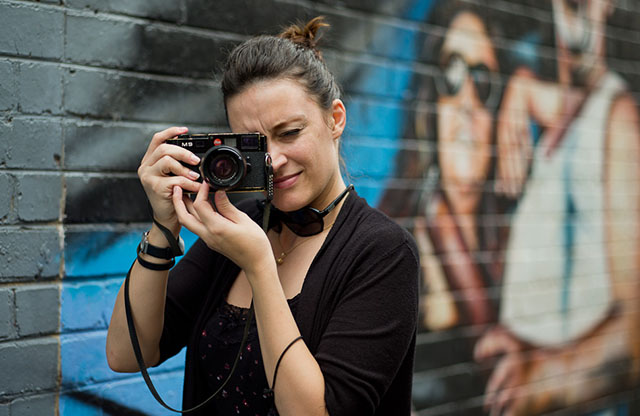 The Sydney Workshop, January 2014. Moenika Hubsch-Wong by Thorsten Overgaard. Leica M 240 with Leica 90mm APO-Summicron-M ASPH f/2.0
Also, one of the advantages of manual focus is that you can actually decide what should be in focus. The eyeball or the frame of the prescription glasses ... or an inscription on a gold ring on the hand stretched out in front of the face.
Focusing has to be done quickly and "sloppy", because you really can't know. So you focus, press the shutter release, focus again and press the shutter release. And once more.
That is how the best get a picture in focus from time to time. The ones who are trying carefully to focus by turning the focus ring back and forth till it analytically seems right ... will usually end up with a lot out of focus.
It's like opening a door. Your hand grab for the handle, opens it and you walk through. As long as you don't think about it, it works.
The 90mm lenses in Leica history
| | |
| --- | --- |
| | Che Guevara |
The famous head shot of Che Guevara, reproduced on millions of rebellious T-shirts and student walls: that was taken on a Leica 90 mm short tele lens — by Alberto Díaz Gutiérrez, better known as Korda, in 1960.
The Leica 90mm lenses has been in existence since the first Elmar f/4.0 screw-thread was brought to market in 1930, five years after the Leica camera was brought into commercial production (see the article Leica History for more on this).
Here is a complete list of the 90mm lenses from Leica Camera AG:
Screw-thread 90mm lenses
Intro
End
F
Code
Weight
Designer
1930
1930
Elmar (un-coupled)
4.0
ELANG
1931
1931
Elmar (thick < 100,000)
4.0
ELANG
1931
1931
Elmar (thick coupled)
4.0
ELANG
1933
1933
Elmar (black nickel)
4.0
ELANG
1933
1945
Elmar (black)
4.0
ELANG

1935
1939
Thambar (black) E48 filter
2.2
TOODY
500 g
1946
1947
Elmar (all chrome)
4.0
ELANG
1947
1954
Elmar (chrome A36)
4.0
ELANG
1954
1964
Elmar (chrome E39)
4.0
ELANG
1957
1959
Summicron (I) removable lens-hood
2.0
SOOZI
Dr. Walter Mandler
1959
1962
Summicron (I)
2.0
SEOOF
Dr. Walter Mandler
1959
1963
Elmarit no. 11 029
2.8
ELRIT
1964
1964
Elmar (3 element)
4.0
ELANG
M Bayonet-mount 90mm lenses
Intro
End
F
Code
Weight
Designer
1954
1963
Elmar (rigid) ELGAM
4.0
11 830
Dr. Walter Mandler
1954
1968
Elmar (collapsible) ILNOO
4.0
11 631
Dr. Walter Mandler
1957
1959
Summicron (I)
2.0
SOOZI
Dr. Walter Mandler
1959
1974
Elmarit
2.8
ELRIM
Dr. Walter Mandler
1959
1979
Summicron (II)
2.0
SEOOM
475 g
Dr. Walter Mandler
1964
1968
Elmar (3 element)
4.0
11 830
Dr. Walter Mandler
1964
1974
Tele-Elmarit (I) black
2.8
11 800
Dr. Walter Mandler
1964
1974
Tele-Elmarit (I) chrome
2.8
11 899
Dr. Walter Mandler
1965
1965
ELCAN-M (produced for the US millietary)
1.0
Dr. Walter Mandler
1973
1977
Elmar-C
4.0
11 540
1974
1990
Tele-Elmarit (II)
2.8
11 800
355 g
Dr. Walter Mandler
1980
1998
Summicron-M (III) black
2.0
11 136
475 g
Dr. Walter Mandler
1980
1998
Summicron-M (III) silver
2.0
11 137
690 g
Dr. Walter Mandler
1990
2008
Elmarit-M black
2.8
11 807
410 g
76 mm long
1990
2008
Elmarit-M chrome
2.8
11 808
560 g
76 mm long
1998
-
APO-Summicron-M ASPH (IV) black
2.0
11 884
500 g
Lothar Kölsch
1998
-
APO-Summicron-M ASPH (IV) black paint
2.0
11 636
500 g
78mm long x 64 mm
1998
-
APO-Summicron-M ASPH (IV) chrome
2.0
11 885
500 g
Lothar Kölsch
2004
2014
Macro-Elmar-M (collapsible) black
4.0
11 633
230 g
59mm long
2007
2017
Summarit-M black
2.5
11 646
360 g
66 mm long
2014
-
Macro-Elmar-M (collapsible) black
4.0
11 633
230 g
59mm long
2017
-
Summarit-M black
2.4
2017
-
Summarit-M silve
2.4
2018
-
Thambar-M (remake)
2.2
2019
-
Summlux-M ASPH
1.5
11 678
Notes and definitions to the timeline of Leica 90mm lenses
The 90mm Noctilux for the American Army
One of the exclusive 90mm editions is the one pictured below, an f/1.0 lens made by Leica Canada under the name ELCAN (Ernst Leitz Canada). According to Hans Kafle at the Leica Forum there was one Elcan-M 90mm f/1.0 sold at Christie's auction in London for 20.900 £ a few years ago (the one in the picture) – with a Leica KE-7A from 1972 included. A similar lens was offered for sale by Arsenal Photo in 2008 for 23,000 £. Another one, model 164-0005 was offered by Westlicht Auchtions in 2015 was sold for Euro 110,000 (estimate was Euro 40,000).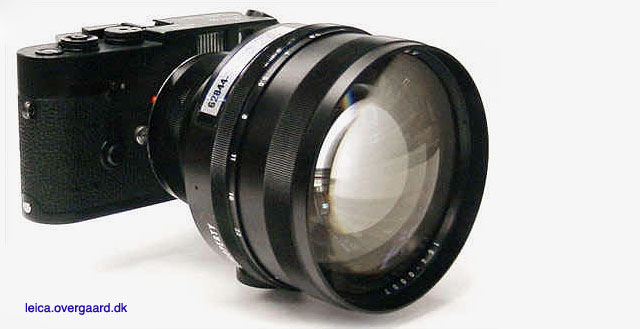 The Leitz ELCAN 90mm Noctilux-M f/1.0 model C164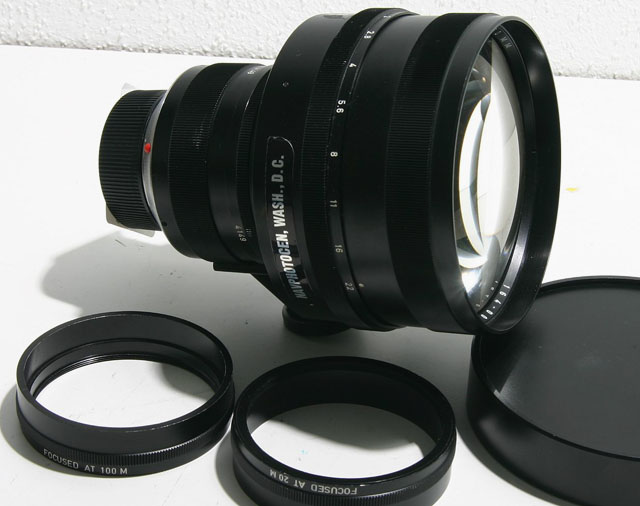 The Leitz ELCAN 90mm Noctilux-M f/1.0 model C164 no 164-0005 from 1970 with four distance rings (4457 for infinity, 4149 for 100 m, 4149 for 50 m and 4149 for 20 m). Less than 100 were made of these.
90mm Noctilux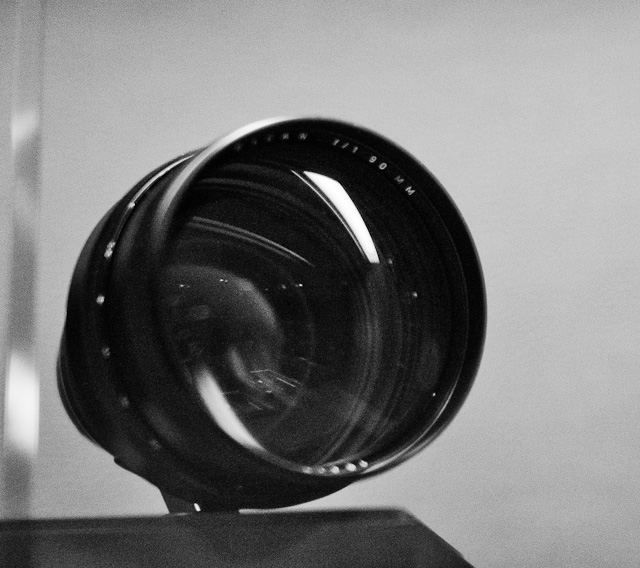 The 1965 ELCAN-M Noctilux f/1.0 on display in the Leica Store Seoul. (Produced for the US millietary, designed by Dr. Walter Mandle). © 2013-2016 Thorsten Overgaard.
Definitions
APO
stands for "apochromatically corrected" lenses. In most lenses, optical design concentrates the focus of blue light and green light into a single plane, but red light falls slightly into another plane of focus. Red subjects, therefore, would be ever so slightly out of focus compared to blue and green subjects in the same frame. In APO lenses, the design and expense has been put in to making red light focus on the same plane as blue and green. Under a microscope you would see that all light subject is now in focus, creating a sharper image overall. Many manufacturers offer APO designs, but in most of these only the very center of the lens is APO corrected. Leica prides itself on making most of the frame APO corrected.
| | | |
| --- | --- | --- |
| | | |
| | | |
| Before correction | | APO lens |
ASPH
… stands for "aspheric design". Most lenses have a spherical design - that is, the radius of curvature is constant. These are easy to manufacture by grinding while "spinning" the glass. This design however restricts the number of optical corrections that can be made to the design to render the most realistic image possible. ASPH lenses, however, involve usually 1 element that does *not* have a constant radius of curvature. These elements can be made by 1) expensive manual grinding, 2) molded plastic, 3) Leica's patented "press" process, where the element is pressed into an aspherical ("non-spherical") shape. This design allows the manufacturer to introduce corrections into compact lens designs that weren't possible before. Practically, the lens performs "better" (up to interpretation) due to increased correction of the image, in a package not significantly bigger than the spherical version.
ASPH is a method where the glass is pressed, and if you think about it for a little while, it means that you can make shapes that you can't possibly grind: With grinding you can make a curved shape. With pressing (ASPH) you can make the shape of circles in the water if that is what is required.
Normal speric lens (grinded)
ASPH (note the shape of the glass as result of pressing reather than grinding)
There is another Aspherical lens manufacture technique: an uneven coating layer is applied to a spherical lens. The coating is thicker on the edges (or on the center, depending). Canon "Lens Work II" calls these "simulated" aspherical lenses. Simulated and Glass-Molded (GMo) asphericals show up in non-L Canon lenses, while the L lenses have actual ground aspheric elements.
Bokeh
the visual quality of the out-of-focus areas of a photographic image, especially as rendered by a particular lens : It's a matter of taste and usually photographers discuss a 'nice' or 'pleasant' bokeh (the out-of-focus area is always unsharp why the quality discussed is if one likes the way it renders or not by a particular lens).
ORIGIN from Japanese 'bo-ke' which mean 'fuzziness' or 'blur.'
Elcan
Ernst Leitz Canada, established 1952, was and still is the military/industrial branch of the old "Ernst Leitz Canada". In 1998, the ELCAN plant was sold to Raytheon (USA), who bought it from its previous owner, Hughes Aircraft Co.
Elcan-R is also the name of s series of lenses made in the 1960ies and early 1970ies, as the U.S. Navy High Resolution Small Format Camera System during the Viet Nam war.
Elmar
Refers to the maximum lens aperture - here f3.5 . Historically derived from the original 1925 50mm f3.5 Elmax lens, which was an acronym of Ernst Leica and Professor Max Berak, designer of the original lenses. Later that year the 50mm f3.5 Elmar superceded the Elmax, which was discontinued due to its complexity and high cost of manufacture.
Elmarit
Refers to the maximum lens aperture - here f2.8 . The name is obviously derived from the earlier (and slower) "Elmar" designation. Not every f2.8 lens is called an "Elmarit" though, the most obvious current exception being the 50mm f2.8 Elmar-M collapsible lens which for nostalgia and marketing reasons has kept the original 1930's Elmar name (the 50mm f3.5 collapsible Elmar, manufactured 1930-59, was one of Leica's most famous and popular lenses).
Mandler, Dr. Walter (1922 - 2005)
Legendary Leica lens designer. Read more in Leica History.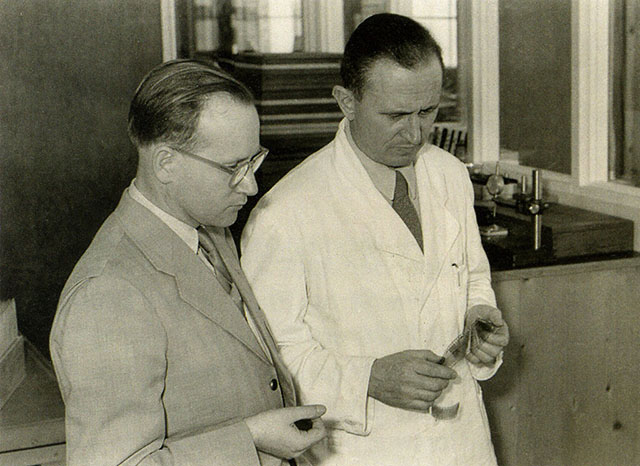 Otto Geier, supervisor of the Optics Department of Ernst Leitz Canada (on the right), with the legendary lens designer Dr. Walter Mandler.
Thambar Soft Filter
A soft filter is a clear glass filter with a black dot in the middle of approx 1/2" or 12mm in diameter. What it does is that it blurs the center of the image that is usually sharper than the edges of a lens.
Summar - (or a story of name development)
The 1933 lens 50mm f2.0 Summar: It started out as Summar (f2.0), then the Summitar (f2.0 in 1939), then the Summarex (f1.5 in 1948), then the Summaron (35mm f.2.8 in 1948, then later f2.0, f3.5 and f5.6 lenses), then the Summarit (f1.5 in 1949 and used again for the 40mm f2.4 on the Leica Minilux in 1995, then again for the 35mm, 50mm, 75mm and 90mm Summarit f2.5 in 2007) then the Summicron (f2.0 in 1953 for the collapsible 50mm) and finally the Summilux (50mm f1.4 in 1959).
However, Leitz in Wetzlar made the Mikro-Summar 42mm f4,5 around 1910 for their Leitz microscopes (Leitz was orignally a microscope producer, see history site). Leitz also made a Mikro-Summar 35mm F:4,5.
ORIGIN of Summar is unknown.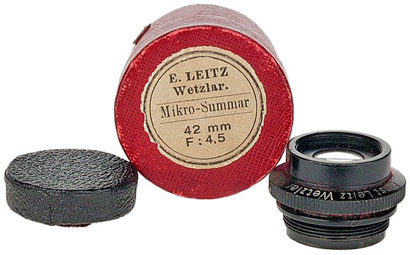 Leitz Wetzlar Mikro-Summar 42mm f4.5 lens anno 1910 might be the first lens carrying the name Summar.
Summarit
Refers to the maximum lens aperture - here f1.5 of the first Summarit - but then it gets confused with 2.4 and 2.5 lenses as well.
Summicron
Refers to the maximum lens aperture - here f2.0 . There are many guesses how this name came about, a popular one being that the "summi" came from "summit" (summit means the highest point of a hill or mountain; the highest attainable level of achievement) while the "cron" came from "chroma" (ie. for colour). Not so: The name (Summi)cron was used because the lens used Crown glass for the first time, which Leitz bought from Chance Brothers in England. The first batch of lenses were named Summikron (Crown = Krone in Deutsch). The Summi(cron) is a development from the original Summar (the 50mm f2.0 lens annoy 1933)
Thambar
Another interesting lens that was made by Leica is the 1935 lens Thambar. The origin of name is currently unknown though most Leica lens names has a meaning as we'll get into a bit later). At most about 3000 were made of the Leitz Thambar 90mm f.2.2, probably in eight batches, starting with 226xxx (actually built in 1934) and going through 283xxx, 311xxx, 375xxx, 416xxx, 472xxx, 511xxx, and 540xxx (about 1939/1940).
Today they are staggeringly rare and extremely expensive.
Known to be a legendary soft-focus portrait lens that 'make a woman look 10 years younger.' A glass filter with a black spot in the middle, about 13mm (1/2") in diameter cuts out the central (sharpest) part of the image and makes everything even softer.
(Source: Roger W. Hicks)
Here are some advice from a Thambar user, Theodor Heinrichsohn, who have used it mainly for portraits using an Leica M5 and Leica M6:
1. The results are more or less unpredictable. Best practice is to shoot many times and pick the one you like best.
2. Shots against the light are generally more effective than with the light behind you.
3. The most pleasing results to my taste were with center filter at medium apertures. With luck portraits took on the "dreamy" look that the lens is famous for.
4. I never used the Thambar for anything except portraits.
The lens has been rumored to be slightly radioactive due to the process of producing the glass.
Here are some sample photos of Koichiro Itamura Photography.
Here are some more sample images from Blue Penguin.

More resources on 90mm Leica lenses
Steve Huff has performed some interesting reviews and comparisons between the different 90mm lenses:
Steve Huff: The Leica 90 Elmarit-M f/2.8 Lens Review
Steve Huff: The Leica 90 Summicron-M APO ASPH Lens Review
Jono Slack: "Leica 90mm Macro-Elmar-M f/4 and Leica Macro Adapter M"
Erwin Puts has written some interesting reviews and articles on the Noctilux lenses:
Erwin Puts: "Summarit lenses - Arguably the most important product announcement by Leica in a decade!"
Erwin Puts: Apo-Summicron-M 1:2.0/90mm ASPH and Leica Macro-Elmar-M 1:4/90mm

LFI issue 8/2007, February 2010 deals with the four Summarit-M lenses. You can get hold of LFI backissues at www.LFI-Online.de