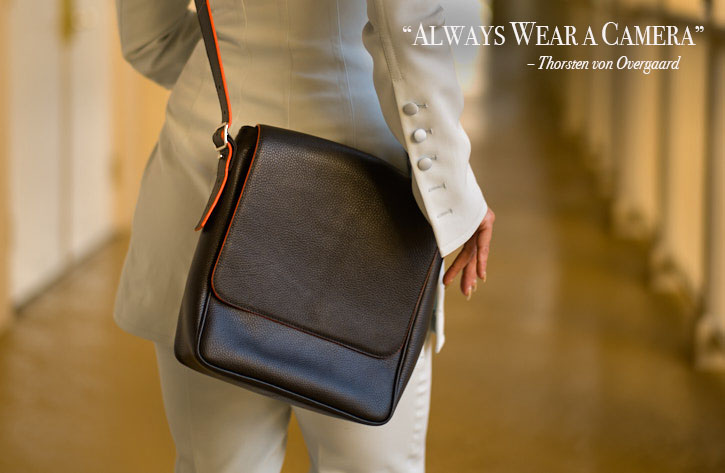 A travel bag, for cameras. Designed by Thorsten Overgaard.
The Von Mini Messenger
Walkabout Camera Bag/Document Bag
The secret of The Mini Messenger is that it folds around the body so that you don't feel the bag even after wearing it an entire day. It can be almost empty, or it can be full. Of course, the more weight you put into it, the more you are going to feel it.
You can take almost any bag and carry it for some hours empty, and even though it weighs nothing, your shoulder and back will feel as if you've been hauling around a heavy bag. The secret of the Mini Messenger is the shape of the bag, as it folds around the body and feels "weightless" while holding a phone, a lens and other small things.
A couple of years ago, I designed "The Von Mini Messenger" and I have used it for two years myself every day, all over the world, before we put it into production. It has a "secret" pocket on the back (against the body), a zipper pocket inside, and two small compartments for business cards, SD-cards, battery, lighter or similar small items you could want to keep handy. It's stylish - and built to last a lifetime.


Tested for every-day use by myself over the course of two years, I know this bag does the job, has the right size, the right pockets and is built to be loved throughout a lifetime.
I like simple things
| | |
| --- | --- |
| | |
| | Our artisans are part of family workshops which have been doing leather work for generations. |
The simpler it is, the harder it is to make. To obtain the exact design, style and usability I wanted, we had to continue to work on the details. "It's ready when it is right," was the slogan through countless prototypes, drawings and tests of "The Von" bag which was first introduced in 2017, and subsequently tested through my travel to more than 50 countries since.
In most product designs these days, there are a lot of useless things added which complicate, or there are ways of doing things the wrong way for the right reasons. Things are seldom put to test in the real world by the people the product was intended for.
The sole reason I make camera bags, desk blotters, camera straps and other products was always that I wanted something done in a certain way, and it didn't exist. So I had it made for me. As a general rule, I want simplicity, and it has to have out-of-this-world quality at the same time. And if something is awesome and works, it has to last for a lifetime. That's the simple philosophy.
Reviews:
"I received my mini-bag, and I love it! Thank you. I love that it has a narrow profile while still holding the camera plus other stuff. It looks very sturdy, and the inside is soft and clearly will not harm the LCD on the camera or any other equipment. It's kind of expensive, which I knew, but I believe it will probably last longer than I will" Ms. L. F. (California, USA).
"Use the Mini Messenger every day for work and travel" O.C. (United Kingdom)
"Been loving my Mini Messenger. Took it with me to New Orleans this weekend right after it arrived". R. K. (Indiana, USA)
"This is my everyday bag for everything since I got it four years ago". C. B. (New Hampshire, USA)