New Leica from Ken Hansen New York Inc:
We have most lenses and cameras in stock. Email for prices and options.

Special offer: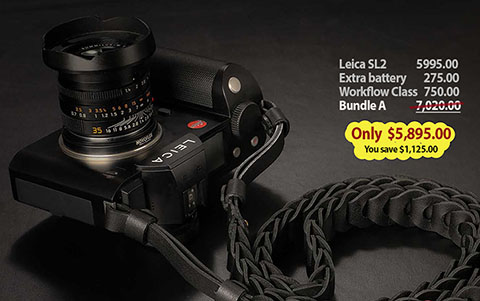 Leica SL2 Bundle

Camera and 2 batteries $6,270.00
Workflow Masterclass $750.00
Value $7,020.00

Save $1,125.00
Only $5,895.00

In stock. Ships worldwide
from Ken Hansen New York

Save $1,125 on the Leica SL2 bundle
Only 5,895.00. You save 1,125.00
The bundle consist of:
1) Leica SL2 boxed camera body
w/battery and charger $5,995.
2) One extra battery $275.
3) The Photographers Workflow Masterclass with Thorsten von Overgaard $750.
#SL2A-0820

Ken Hansen New York Inc used Leica list:
Updated
Email khpny19@aol.com in New York for questions and to reserve equipment.
We can find almost any second-hand item you would want. Email for prices and options on items not on the list here:
Leica M - System camera bodies:

M9M used mint, complete in box $2250
M10 Silver used mint, condition complete in box $4500
M10P Silver used mint, complete in box, 2 year warranty left $6200
M10P Silver Used Mint, body, charger and battery $6000
M10M Demo 1 year warranty $7500
MA black New full warranty $5195
24 3.8 Used mint, complete in box $2250
28 2.8 used mint, complete in box $1900
28 2.0 mfr 11604 used mint, complete in box $ 2495
35 2.0 used Used Mint, complete in box $ 3050
50 2.0 Apo Silver Demo 1 year warranty mint, complete in box $7900
50 2.0 Used mint, complete in box $1950
75 2.0 Apo-summicron Used mint, complete in box $3700
90 2.0 Apo summicron Used mint, complete in box $4,200
90 2.4 demo 1 year warranty $1900
Leica M system-Lenses:

24 / 1.4 Summilux Asph. open box ... $7725
24 / 3.8 Elmar Asph. open box ... $2725
28 / 2.8 Elmarit Asph. box complete 1 year warranty left 9+ ... $1775
28 / 2.8 Elmarit Asph. open box full warranty ... $2375
28 / 2 Summicron Mfr. 11604 box complete ... $2625
35 / 2 Summicron Asph. Black 1 Year warranty left ... $2900
50 / 2 Summicron rigid caps serial #1886441 ... $1295
50 / 2 Summicron rigid silver box, bubble,and caps ... $1250
50 / 2 Summicron Box complete 1 year warranty left on ... $1950
50 / 0.95 black pouch+caps 8+ ... $8595
75 / 2.4 Summarit Silver Open Box ... $1925
75 / 2 Apo Summicron Asph.Box complete 1 Year warranty on it ... $3995
90 / 2 Apo Summicron Asph.box complete 1 Year left on it ... $3895
Leica SL & Leica TL System:

SL body used, Mint in box complete $2250
SL2 open box Full warranty $5795
50 F2 asph used mint, complete in box $4200
50 1.4 asph used mint, complete in box $ 4000
16-35 open box full warranty $5800

Leica CL system:

35 / 1.4 Summilux-TL Asph Black Box complete 1 Year warranty ... $1950
Leica S system:

Leica Q Cameras

Point & shoot cameras