By: Thorsten Overgaard. January 14, 2018. Edited and updated with video August 15, 2021.
One of the fundamental things to make your life and composition easier is to decide what lens you are.
You don't have to learn to use all lenses. I recommend finding out "which lens you are" and start working with it.
I work most naturally with 50mm, which also happens to be the size ratio that is closest to how the eye sees. The eye sees a wide-angle view of 8mm, but we look at one thing at the time, focus on it, adjust the exposure, then look at another part of the scene, adjust the focus and exposure. That's how you get a whole room in focus, even though you are in actual fact only looking at one face in the room at a time. You scan and compile.
The great landscape photographer Ansel Adams mentions that one should be aware that every detail is in focus in a landscape photograph. This is unlike how the eye experiences a landscape or scenery. So, he recommends to get trained in previewing how the landscape will look as a photograph versus how it will look to the eye.
The lens that feels most natural to compose with is "The lens you are".
Leonardo da Vinci (left) seemed to think in 40mm whereas Picasso (right) seemed to work 50mm – 80mm.
Johannes Vermeer (left) I would say was a 35mm painter. Grant Wood (right) was 50mm or 90mm.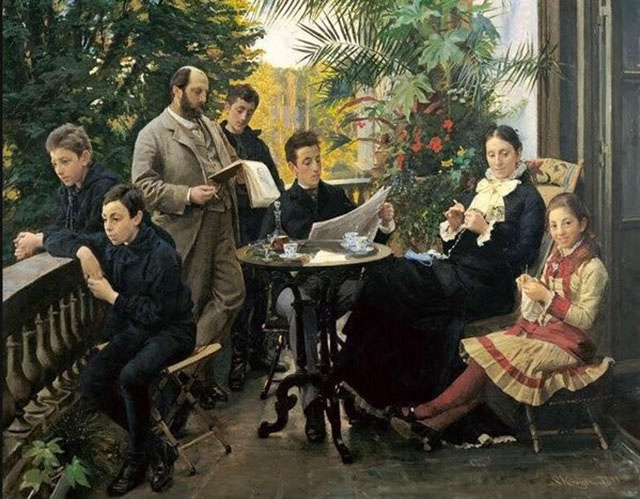 P. S. Krøyer was a 50mm painter with a tendency to go 80mm, but also 35mm if the scene required it. In this scene, he seems to have kept "The Hirschsprung Family" (above) within a 50mm frame. If you compare this to the "Signing of the American Constitution" by Sam Knecht (below), you will notice that the people in this painting have almost the same size, whereas the "Signing of the American Constitution" (below) by Sam Knecht has different relative sizes of the persons within it. If the persons are of relative importance, and if they are spread over a distance from front to back, it makes sense that they would have different sizes. In a family portrait as the above, the family may want to show the members with similar size and prominence in the painting.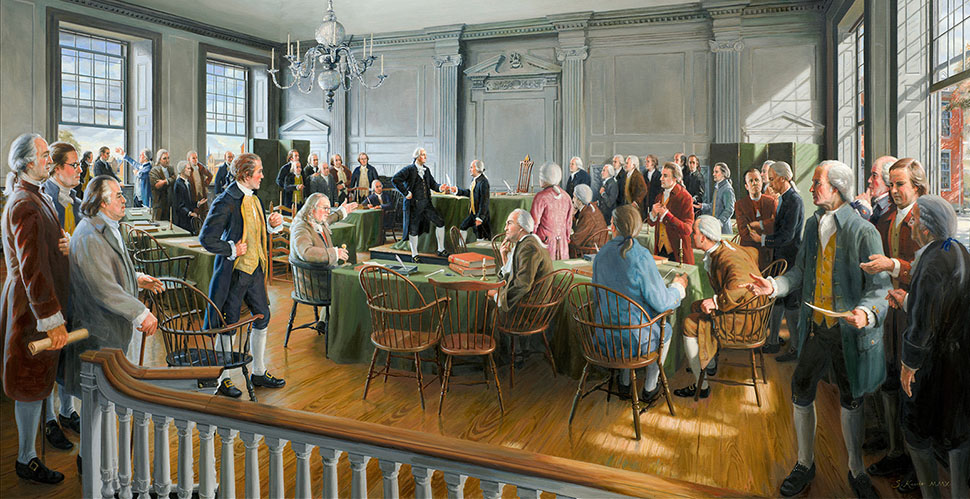 "Signing of the American Constitution" by Sam Knecht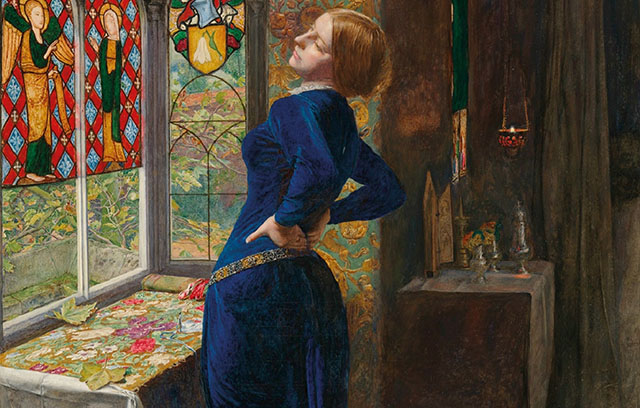 John Everett Millais I would say was a 28mm or 35mm painter, mostly. This is his painting "Mariana".
Buy this New eBook by Thorsten Overgaard


In this easy to read and apply eBook, Thorsten Overgaard takes you on a journey to see, understand and simply use light.
"One of the most important ways to get an aesthetic and pleasant picture is to find the good light."

"Finding the Magic of Light"
eBook for computer and iPad
Only $47.

Order now - Instant delivery.
44 Pages. More info.
You prevision a photo and take the camera to the eye. What the camera will capture should match what you saw. The idea you had in your head.
You thought of a compact photo, but what you got was a lot of space. You think 50mm but use a 28mm. It's going to make you feel you can't make photos: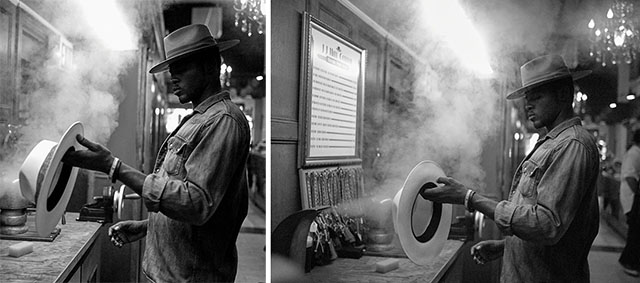 You thought of this compact photo, but what you got was a lot of space. You think 50mm but use a 28mm. It's going to make you feel you can't make photos.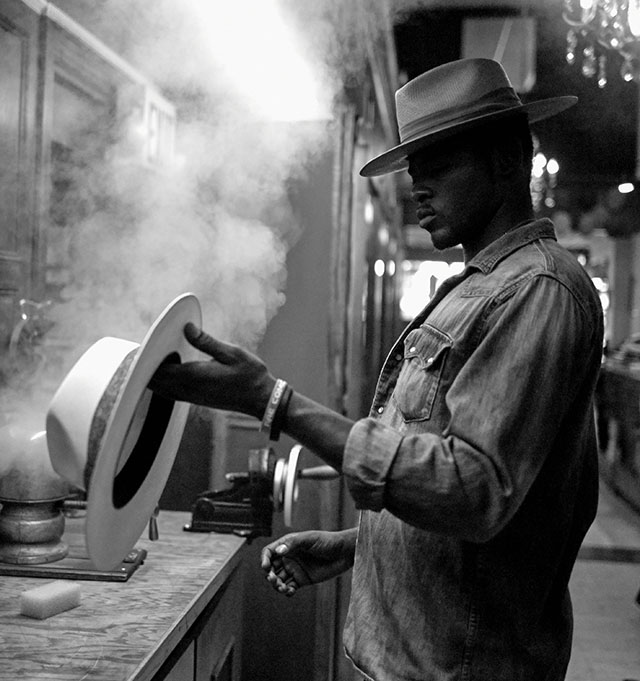 This was how you wanted to do it.
If you were a painter (and you sort of are, except you use light to paint with), how would you prefer to compose your canvas?
Would you start with a wide view, or would you go more natural? Or maybe zoom in?
This is a very basic element of your natural ability to compose. I walk around and I see 50mm photos, and I have a 50mm lens. It's very easy.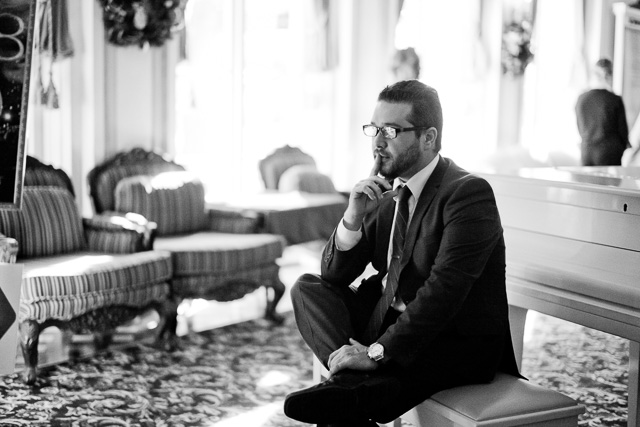 I use a 50mm for 95% of my photos. Leica M10 with Leica 50mm Summilux-M ASPH f/1.4 BC.

I don't trouble myself with having to use other lenses, except when a scene demands it, or if I have a period of some hours or days where I want to challenge myself and see things differently. Then I will dig out my 90mm, 28mm or 21mm.
Traditionally, the most sold Leica lens is the 35mm. In the beginning, the 1920's - 1940's, it was 50mm because the Leica was made for 50mm lenses. It has the size ration of the eye, and the rangefinder of the Leica was calibrated for 50mm lenses.
I think the photojournalism of the 1950's and 1960's was what tipped it over to 35mm. The 35mm lens is very versatile, and good for reportage. You sort of want to not miss anything, so you want it wider than 50mm. Still, you can make a portrait with a 35mm and crop it so it's like using a 50mm or 75mm. And you can make reportage photos that tell a story of people and the surroundings.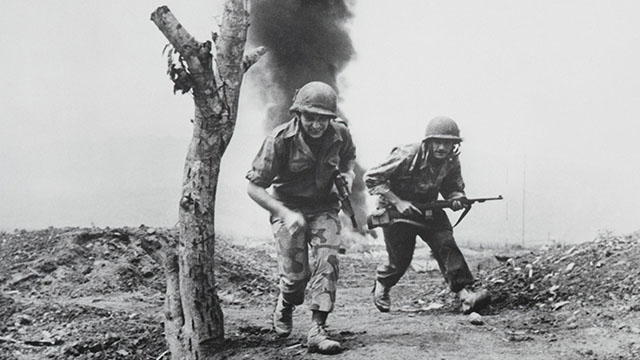 With the 35mm for reportage, you don't exclude things just because you are close. You can crop it later.
By 1980, the most sold Leica lens was 35mm. For me, 35mm is too wide and the lines tilt too easy with it. I feel much more comfortable with the 50mm. For long periods, I've even preferred an 80mm.
Picking your focal length is very easy. How do you think or see things? That's the focal length. That's your voice, or your language.
To Be Continued ...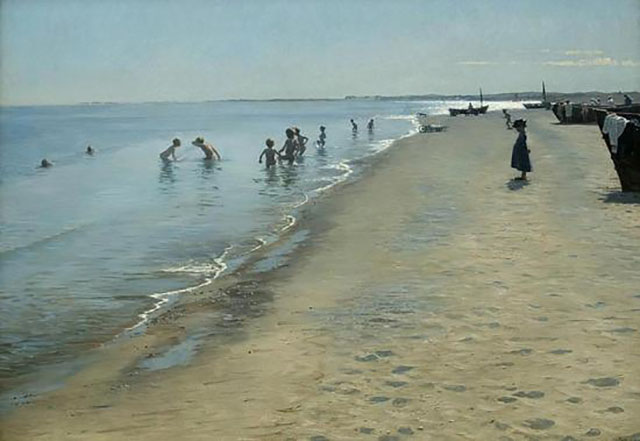 P. S. Krøyer