Leica M Type 240 Digital Rangefinder Camera - Page 36

Index of Thorsten Overgaard's user review pages on Leica M9, Leica M9-P, Leica M-E, Leica M9 Monochrom, Leica M10, Leica M10-P, Leica M10-D, Leica M10-R, Leica M10 Monohcrom, Leica M11, Leica M 240, Leica M-D 262, Leica M Monochrom 246, Leica SL, Leica SL2, Leica SL2-S, as well as Leica TL2, Leica CL, Leica Q, Leica Q2 and Leica Q2 Monochrom:


By: Thorsten Overgaard

Video & Moviemaking with the Leica M (Part 2)

When I got the Leica M Type 240 the idea of doing a video with the Leica 50mm Noctilux-M ASPH f/0.95 was straight forward. I already did it the first day (as you can see on the previous page 35). Wasn't this what everybody wanted to do?

Little did I know about how much I didn't know about video.

I am a still photographer (minimalistic; preferring the minimum of equipment). I didn't upgrade from Leica M9 to the Leica M Type 240 to do video, nor did I expect many of the traditional Leica M users to do either. And I was right in that assumption, according to the responses I got from the usual Leica M still photographers.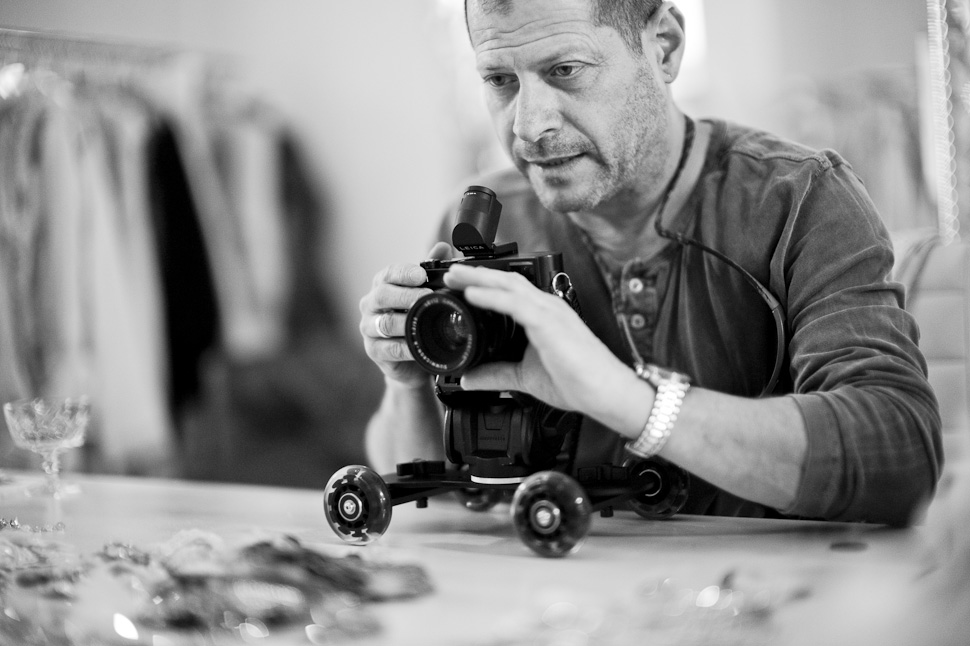 Johnnie Behiri working with the Leica M Type 240 on a Mini skater with Leica 50mm Summicron-R f/2.0.
Unfortuntely this may have been the only point where I was right in this matter
What I hadn't taken into account was some people are already doing video with other tools and may be looking at Leica M Type 240 as a possible new tool. They did not see the beauty of narrow focus and beautiful creamy bokeh of a f/0.95 lens. Instead they only noticed what they perceived to be a less than optimum image quality, sharpness and some unwanted effects that I will describe later.
To make a long story short and to introduce somebody who knows what videographers want, Austrian videographer Johnnie Behiri from cinema5d.com flew to Denmark.
We set up a 3-minute documentary about Danish dress designer Maibritt Kokholm. This is the result:
New from Thorsten Overgaard:
Leica M Video Masterclasses

Enjoy this easy to use video class with
Thorsten Overgaard going over the Leica M10. More than one hour one-on-one with Thorsten on the camera, the menu, shooting outside, focusing and more.

For computer, iPad, smartphone and Kindle.

Thorsten Overgaard
Leica M10 Masterclass Video Course

Only $398.00

100% satisfaction or 100% return.

Order now. Instant delivery.
#1801-0917


Enjoy this easy to use video class with
Thorsten Overgaard going over the Leica M 240. Almost two hours one-on-one with Thorsten on the camera, the menu, shooting outside, focusing and more.

For computer, iPad, smartphone and Kindle.

Thorsten Overgaard
Leica M 240 Masterclass Video Course

Only $398.00

100% satisfaction or 100% return.

Order now. Instant delivery.
#1844-1017




Buy both and save $300.00

Leica M10 Video Masterclass and Leica M240 Video Masterclass
ONLY $498.00
Does the Leica M Type 240 perform satisfactory for video?
Yes and no.
Which I shall try to clarify in this article.
I should also mention that I had ongoing discussions and file exchange with Andrew Reid who runs the eoshd.com website and who, after having seen the original files from the Leica M Type 240, concluded: "I'd rate the Leica M in the same league as the 5D Mark III in terms of the video quality. It's a pretty good effort."
A conclusion he couldn't draw after having seen only the Vimeo video which we had edited in iMovie (he recommended downloading a trial of Adobe Premier). Andrew Reid also helped me with a lot of good advice in short to-the-point mails, and for this I am thankful, and shall try to share his insight and advice in this article.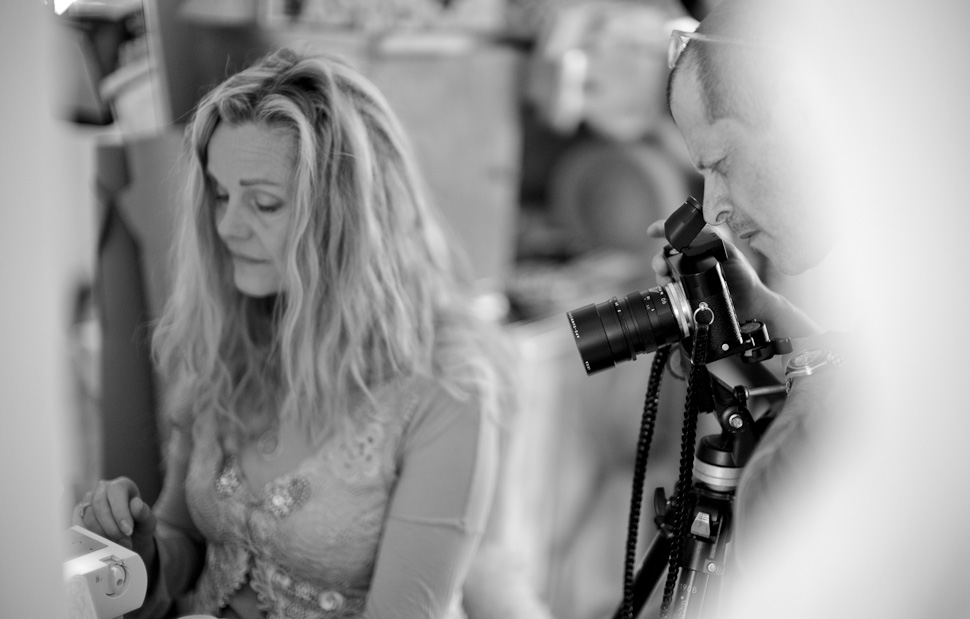 Johnnie Behiri working with the Leica M Type 240 with Leica 90mm APO-Summicron-M ASPH f/2.0 and Leitz M-to-M macro adapter "Oufro"
Videographer versus minimalistic artistic minded still photographer
Johnnie Behiri has done hundreds of similar short videos as the one we planned for BBC and National Geographic. Doing a video with a videographer behind the camera allowed us to test the Leica M Type 240 under the conditions that videographers normally work.
It also allowed me to study how a videographer sees the world and his equipment. What for me is a choice of an artistic tool and simplicity equipped with the best lenses money can buy, is for a working videographer a choice of value for the money and getting the shots.
I could have chosen to influence the light setting, the white balance, the use of lenses. But that was not the idea. The idea was to let a videographer use my Leica M Type 240 and lenses and form his own opinion and review as it as can be seen on cinema5d.com.
What is different for still and video (the short version)
If you want to use the Leica M Type 240 for video there are a few things to take into consideration. I am by no means an expert, whilst wiser now than a week ago. And I shall try to share some of my limited wisdom on the subject.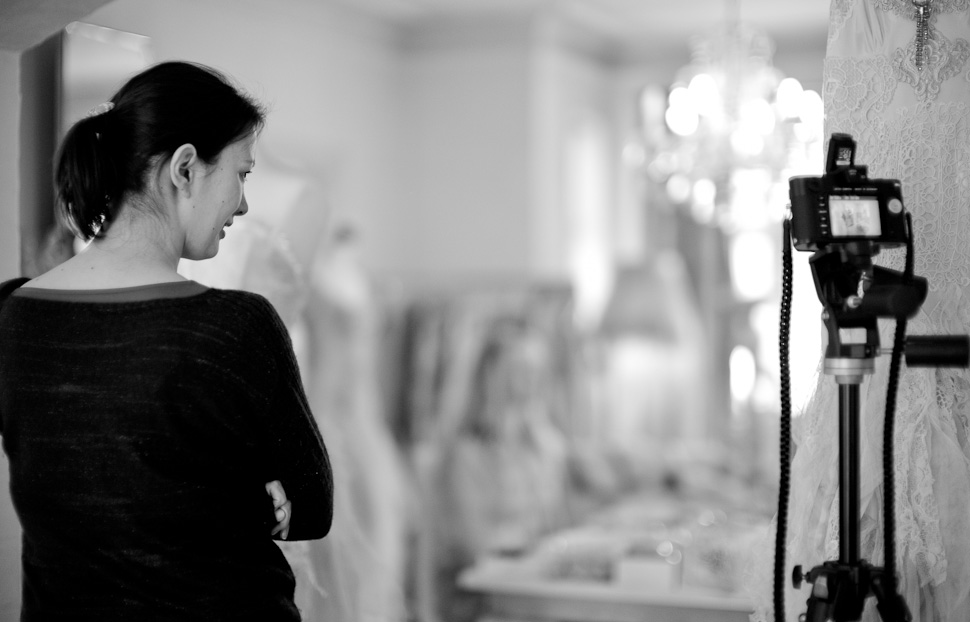 Claudia Würtl, assistant of Johnnie Behiri and the Leica M Type 240
Video is recorded at 1/50 sec exposures
The first inkling that video is a different world than still photography will start to light up when we realize that video is shot at 1/50 second. You will realize this changes the whole thinking and use of light.
Where the word photography comes from 'painting with light', the word 'video' comes from 'to see' or 'to see and hear'.
The Leica M Type 240 is set up for still photography which is why the shutter speed dial on top of the camera has a 1/30, 1/45 and 1/60 setting. However, the one to use is 1/45 and that will tell you in the preview that the shutter speed will be 1/45 sec. However, when you start filming, the shutter speed will be 1/50 and also on the preview screen the shutter speed will rightly be shown as 1/50. As soon as you know it is not a problem, but untill then it is a bit confusing.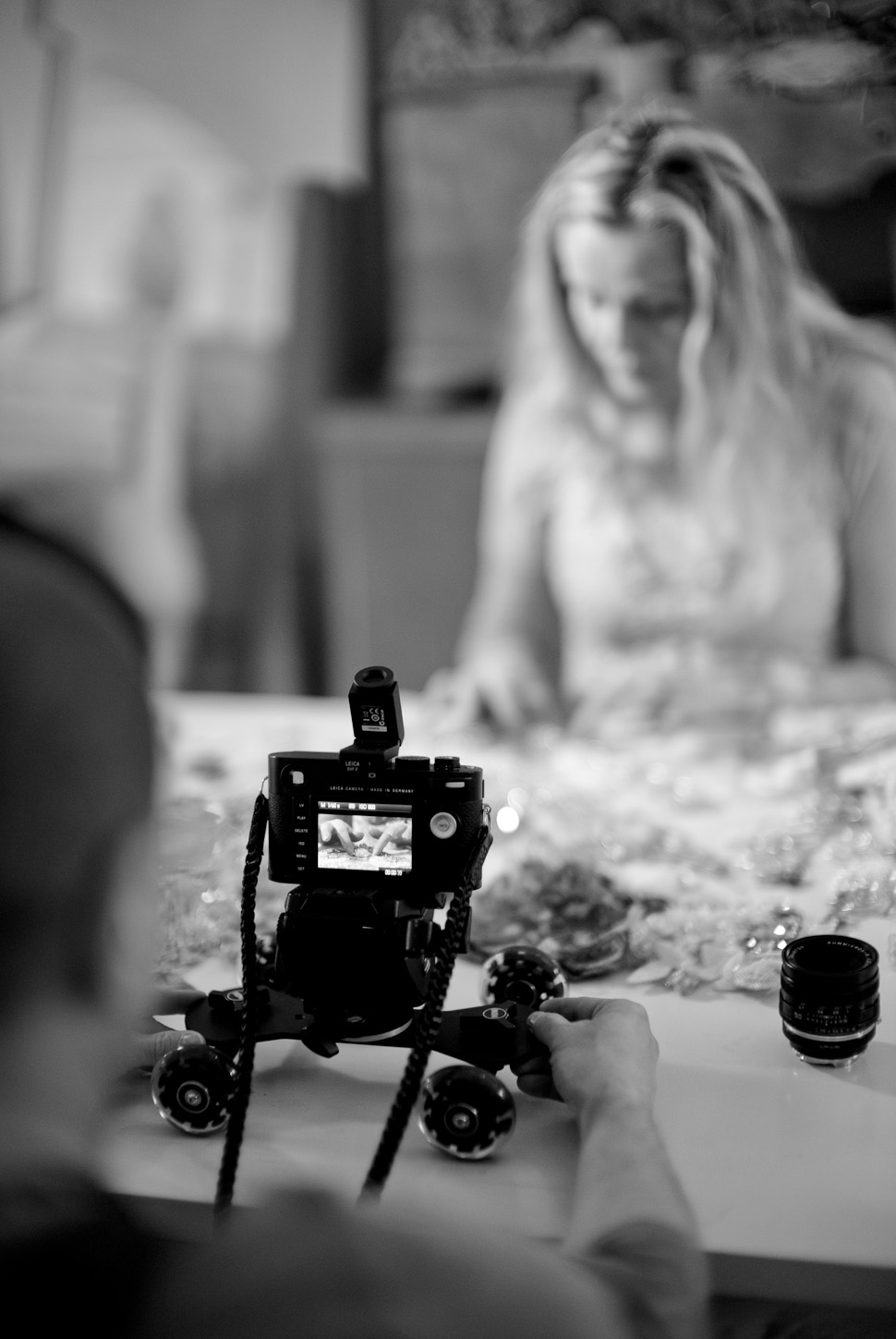 Johnnie Behiri working with the Leica M Type 240 on a Mini skater with Leica 90mm APO-Summicron-M ASPH f/2.0 and Leitz M-to-M macro adapter "Oufro" to capture the hands of Maibritt Kokholm.
A few new naughty video words: Rolling Shutter and Banding
| | |
| --- | --- |
| | |
| | A band called Rolling Stones performing Like a Rolling Stone. Interestingly enough with artificial Rolling Shutter as a video effect. |
When I posted my first video from the Leica M Type 240 on the previous page, I wanted to show the dreamy effect the Leica 50mm Noctilux-M f/0.95 produces.
What interested videographers and what video blog reviewers noticed was not what the Leica 50mm Noctilux-M ASPH f/0.95 can do wide open at f/0.95. What they noticed was the apparant lack of sharpness and the rolling shutter caused mainly by the use of higher shutter speeds than 1/50.
Each frame in video is recorded not from a snapshot of a single point in time, but rather by scanning across the frame either vertically or horizontally. In other words, not all parts of the image are recorded at exactly the same time.
Hence when you pan the camera from left to right for example, you can visually see on the display (and in the video) that vertical lines don't stay vertical but tilt more or less. The Leica M Type 240 has a serious amount of rolling shutter making it less suitable for panning. And the same goes if the camera is standing on a tripod and a car drives by; that car too will result in rolling shutter.
This type of Rolling Shutter known as "Wobble" or "Skew" is less noticeable. Words we would like to be without but seemingly will have to learn to use when doing video on the Leica M Type 240.
The Leica M Type 240 can shoot at 24fps without flickering as long as the shutter speed is kept on 1/50.
CCD sensors as the Leica M9 used, are alternatives to CMOS sensors but cannot be used for live view. CCDs use what is referred to as global shutters which take a snapshot representing a single point of time and do not suffer from these motion artifacts.
One of the reasons CCDs look so filmlike is that the noise pattern is completely randomized. On CMOS it is uniform and you can always notice the fixed pattern of noise imprinted on the image. A CCD sensor has grain like film and it moves in the same way as film grain.
Buy the new eBook
"The Freedom of Photographic Expression"
by Thorsten Overgaard

"The Freedom of
Photographic Expression"
eBook for computer, Kindle and iPad
October 2016 (268 pages)

In this easy to read and apply eBook,
Thorsten Overgaard takes beginners and experienced photographers through the basics of controlling the light and the camera.
This book covers the technical side of photography from beginners level to semi-pro, features a number of photographs by Thorsten Overgaard and chapters on his philosophy on photography.

Only $148

Buy Now

Instant Delivery

"I've bought the new book - made a start reading it - it is really interesting.
I know it's basic at the beginning but it isn't written in a patronizing way. I have been taking photographs for many years and have been lucky enough to be paid to take them for the last seven years; but it's always good to be taken back to the start"
P. S. (UK)

""Really enjoy your writing and teaching"
D. K. (USA)

"I love your insights on photography."
D.B. (USA)

★ ★ ★ ★ ★ ★
Understanding video image quality
The Leica M Type 240 is a 24MP digital rangefinder equipped with a special designed CMOS sensor without AA filter and with Leica designed microlenses. Plus the Leica Maestro processor behind that was developed for the Leica S medium format cameras.
The still output is a 24MP raw file. The video output from the same camera is 24, 25 or 30 frames per second in compressed JPG, a much smaller size than the 24MP raw file.
Digital video from HDSLR cameras (as the Leica M Type 240 is considered) involve downscaling a very high resolution sensor to 1920x1080 JPGs which involves heavy compression of each frame to for manageable video file sizes.
How this is done largely determines the final quality - or how close the video frames look to a raw still frame from the sensor. The ideal situation would be to get a direct tap on the sensor and raw files at 24fps but obviously that requires a lot of power and there's issues around heat too.
That was the bad news. The good news is that there is room for improvement in video cameras. No doubt that one day teenagers will be shooting 4K video with their iPatch (the Captain Hook digital eye patch I have patented that does all that you need in life).
High end cinema cameras and Super 35mm motion picture film is closer in look to raw, or film. That's not possible with a HDSLR with the current technology (the Aptina sensor in the Nikon 1 can shoot 4K (10MP) raw video at 30 fps, but then only for 1 second due to buffer size limits).
Here is the current state of video quality versus 24MP still camera quality:
| | | |
| --- | --- | --- |
| | | |
| 100% crop from the video, 200 ISO. Film Mode: OFF | | Similar crop from the DNG still, 200 ISO |
| | | |
| | | |
| Full-size video image unaltered. Film Mode: OFF | | Full-size still camera DNG image unaltered |
In terms of quality, each frame of a DSLR video clip should aspire to be as close to a JPEG in terms of quality as possible. The digital processes required to get video off a photographic sensor can cripple the image if the compromises are too heavy.
When a JPG is compressed one can experience a degree of banding (a tone that goes in steps instead of subtle shading), unrealistic colour, lack of fine noise grain, moire, aliasing and mushy details.
I am not a videographer but a still photographer. What I hear is that the quality of the Leica M Type 240 video files are (as) good (as the Canon 5D III) and probably could be better if the footage was left more flat (unaltered by camera setting).
But I also hear that it is not near the quality of the Canon 5D III. So I will let that be determined by others:
Sample of Leica Type 240 video for download
If you would like to see some of the original footage from the camera, feel free to download these and play around with them for your private use:
Macro with Leica 50mm Noctilux - movie clip and DNG still file 200 ISO (90MB)
Inteview with 35-70mm Vario-Elmarit-M f/4.0, 800 ISO and Noctilux at 200 ISO (195 MB)
Outdoor handheld 200 ISO, 35-70mm Leica Vario-Elmarit-R f/4.0 @ f/4.0 (316 MB)
Noctilux Macro at f/0.95 800 ISO handheld (diamonds and dress details) (148 MB)
Noctilux f/0.95 at f/0.95, 3200 Kelvin, 1600 ISO handheld (250 MB)

Leica M Type 240 with Leica 50mm Noctilux-M ASPH f/0.95
Frames per second
Video is 25 fps or 24 fps; for normal always 25 fps sLight m. For slow motion you would use 30fps or more.
You should shoot 25 fps in Europe. If you shoot 24 fps outside of the US and Japan, street lights and some indoor lights might flicker if you don't stay at 1/50.
Once you push to 1/100 or higher, motion will have a staccato digital feel.
The Leica M Type 240 has to be set at 1/45 second on the shutter dial on top of the camera. In the preview mode when you focus the display will say 1/45, but when you actually start recording, the shutter will be 1/50.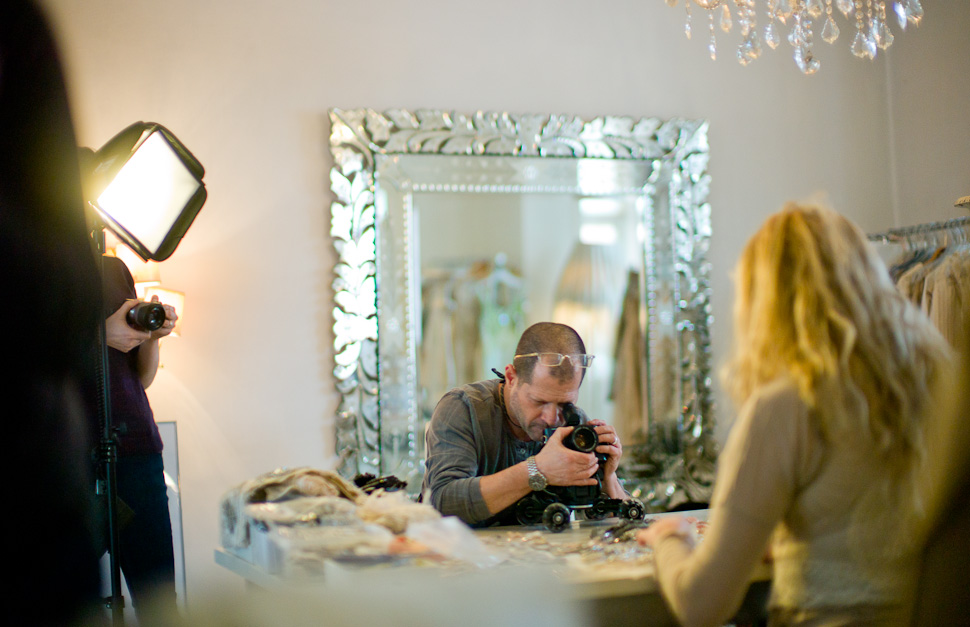 Johnnie Behiri working with the Leica M Type 240 on a Mini skater with Leica 50mm Summicron-R f/2.0. Litepanels Sola ENG kit for additional light from the corner.
Light metering in video
The Leica M Type 240 offers several built-in light metering methods (spot meter, classic center and intelligent multi-field metering). Unfortunately the preview on the display and/or in the EVF2 viewfinder shows only a bright image to focus by, and not untill you press the shutter release half down will you get the actual preview of how the exposure will look.
For a videographer, having to use one finger for preview whilst trying to adjust the aperture or ISO to get it right is not optimum. And to make it furhter complicated, when changing the ISO no preview is available in the viewfinder of how the change of ISO affects the exposure.
Some firmware optimizations could be done: There could be a live preview all the time of the exposure, and when going into the ISO setting menu, the image preview should stay on the screen so the videographer can find the right ISO.

Use of light meters for precise and reliable exposure
Another resource is using an external light meter. I do that when I do portraits and similar photographs where I want to guess less and have the certainty that the exposure will be right:
Light meters such as Sekonic L-758DR and the Sekonic L-358 are sold as still light meters but are also suited for external light metering when doing video with the Leica M Type 240.
If buying a new light meter I would recommend getting the CINE editions, such as the Sekonic L-758Cine. But any lightmeter that has a fps (or fs, frames per second) setting can do the job.
You have to set the lightmeter so you get the f/s (frames per second) in the window, and then set that to either 25 fps or 24 fps, depending on where you are working (24 fps in the US, 25 fps in most places outside US).
You then set the ISO to for example 200 (the Leica M Type 240 goes up to 1600 ISO in video).
What is not shown on the light meter is that video is shot at 1/50 second. So as a still photographer you will miss the infomration about shutter speed, as well as the ability to change it as a parameter for light control.
Then you measure the light and that gives you the f-stop. Here is a comparison of settings for video and still under the same light conditions:

Sekonic L-758DR set to 25 fps for video:
(You set the fps and ISO and the light meter tells you the f-stop)

Sekonic L-758DR set to f/1.0 for stills:
(You set the aperture and ISO and the lightmeter tells you the shutter speed)
=
VIDEO 25 fps:
ISO:
f-stop:
STILLS exp:
ISO:
f-stop:
25 fps
200 ISO
f/1.4
=
1/60 sec
200 ISO
f/1.4
25 fps
200 ISO
f/4.0
=
1/750 sec
200 ISO
f/1.0
25 fps
200 ISO
f/11
=
1/6000 sec
200 ISO
f/1.0
As a still photographer this may take a little training to get used to. Because the fps is locked and the ISO determines the sensitivity. Hence the lightmeter tells you how much light to exclude by adjusting the F-stop. Or you may change the ISO. But the shutter speed you can't change.
The only other way to exclude light would be with ND-filters.
ND-filters in video (video needs much less light than stills)
Wide open lenses are not really used a lot in video due to focusing issues, but also video require less light.
When you go outdoors you often need ND-filters to reduce the light. ND is Neutral Density and basically sunglasses for the lens. It is a grey filter that does not change the look, the colors, the contrast or anything. It just reduces the light.
For video a gradual ND filter would make sense. These are also very usable for still photography though you normally use 3-stop ND filters (also known as 8X ND-filters).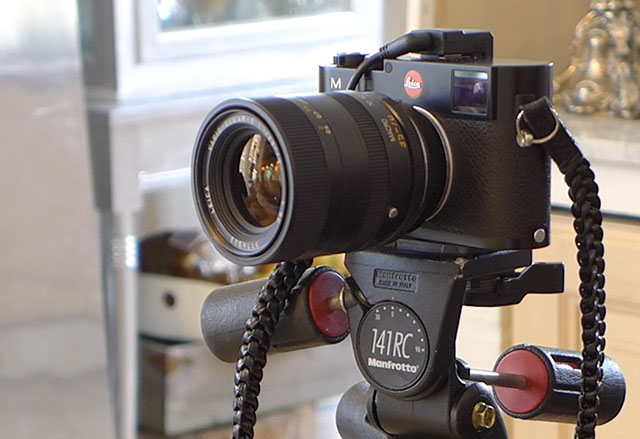 Leica M Type 240 with Leica Vario-Elmarit-R f/4.0 zoom lens. A fairly inexpensive Leica lens that has been sold as a kit lens with the Leica R8 and Leica R9 and there is many available second-hand. Needs a Leica R-to-M adapter to fit onto the Leica M Type 240.
White Balancing in video (WB)
The white balancing for video in the Leica M Type 240 follows the manual WB set in the (still) camera. I do manual white balance with a WhiBal greycard, unless working outdoor where I will use Auto for general photography, or 3200 Kelvin for general shooting in artificial light indoor or in the evenings.
ISO settings
I haven't tested ISO settings in detail. The base ISO of the sensor is 200 ISO so I would stay on that, but most videographers will want their f/4.0, hence 800 ISO or similar indoor. That is what we used in the above video, 800 ISO indoor and 200 ISO outdoor.
The Leica M Type 240 goes to 1600 ISO for video.
Focusing video
The EVF2 is a really good viewfinder. When doing video the traditional Leica viewfinder is not used. The traditional viewfinder it the one built into the camera body where you focus by making two images match (a very precise device involving very expensive prisms and precise engeneered mechanical alignment).
There is a focusing aid button on front of the camera that, when pressed, activates a zoom funcion to aid focusing in the EVF2 or on the display on the back of the camera.
The zoom ratio can be changed with the thumb wheel, 10X being the maximum.
The camera can also be set to automatically zoom in when the focus ring on the lens is moved, which in my opinion is preferable.
Unfortunately the zoom function for focusing is not available during filming, meaning that the videographer has to rely on his or her good eye sight to adjust focus on the preview screen or in the viewfinder during filming.
The area where the zoomed focus is, is always in the center of the frame. It cannot be moved which is not optimum for video where the camera is often locked to a frame on a tripod. Could be a possible firmware update for the future.
Speaking of the rather good EVF, which is also helpful in still photography for focusing and many other reasons, the menu is always displayed on the preview screen on the back of the camera and never in the EVF. It's confusing to begin with, but again a possible firmware upgrade could make it possible to see the menu in the EVF (as it could be done in the Leica Digilux 2). Videographers will often use only the EVF, especially if the camera is placed so that the EVF is in an upright position (due to angle of the camera or because the camera is placed close to a wall).
Many videographers have gotten accustomed to having an external screen attached to their camera for exposure, framing and focusing reasons. That the screen is correct in terms of brightness is important. One should take time to adjust the EVF of the Leica M Type 240 as the image preview is not available in the EVF while you adjust the brightness on the menu. So you have to go back and forth untill you find the right brightness. Thankfully that should only be done once.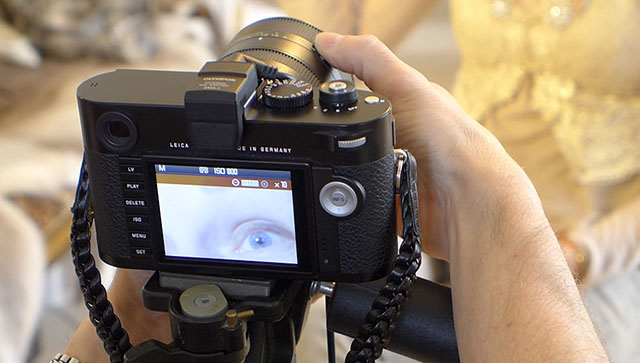 Focusing with 10x enlargment in the center of the screen. This feature is on the preview screen as well as in the EVF2 viewfinder. But not while filming why you have to focus before you start filming. When the filming starts, all you have is the preview screen with a normal screen view (or EVF2 if the space is not taken up by the microphone as it is on this photo).
It's a little ironic that videographers will never look through the acoustic viewfinder. It is one of the virtues of the Leica M rangefinder camera: This clear, bright and fantastic precise rangefinder is also a considerable part of the price for the camera. It is quite a piece of engeneering and some quality glass that goes into the rangefinder mechanism. I would say it is likely that Leica will offer a future version of the Leica M with just an EVF as videographers will want just that. Some of the still photographers will prefer an EVF inside the camera and no device on top of the camera (though a majority of hard-core Leica M rangefinder fans will prefer the classic acoustic viewfinder).
The EVF2 is really nice to use, but if you wear glasses you may want to have a cloth nearby to clean them.
Sound
On the previous page there is a few details about the sound. In practical terms it is very good that the sound level can be seen on the screen ... but not so good that the Leica M Type 240 does not offer a headphone jack at all. For the video above we added a wireless microphone connected via the microphone adapter in the hot shoe. Some wireless microphones offer a jack for headphones, so there you are. Maybe listen in on that device.
The microphone setting also has a "Concert" setting but it remains to be defined in the manual what that setting does. For concerts, yes, but how?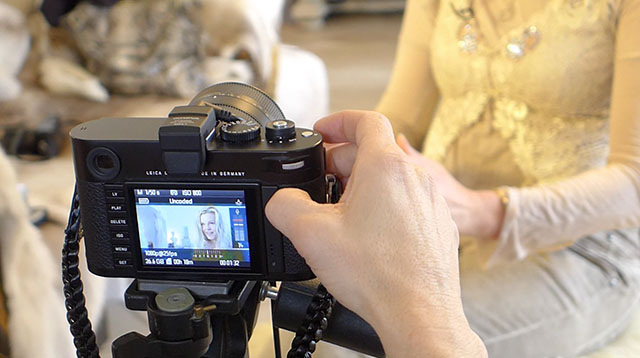 The sound level can be seen during recording when you press INFO, and can be adjusted as well. There is no sound exit for headphones.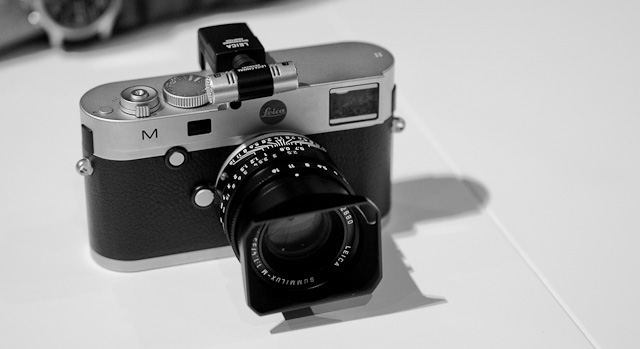 Microphone - The Leica M has a built-in mono microphone under the top plate (under the four small holes), and you can also add a stereo microphone in the flash shoe.
Battery
The battery of the Leica M Type 240 is one of the really strong points, which is good for video.
For still photography I would set the camera to Auto Power Off to "two minutes".
For video I would set Auto Power Off to "Off" so as to make sure that the camera doesn't turn off during setting up.
All in all you want a video camera to be on all the time, and the Leica M Type 240 handles that task really well. For the recording of the video at the top of this page we were down to 20% battery when the day was over. That was 20GB of recording and the camera on for about 3-4 hours, including shooting outside in cold weather.
To change the battery one has to unmount the camera from the tripod as the tripod is attached to the camera itself through the bottom plate. But to change battery and/or SD-card, the bottom plate has to be taken off. Not a big problem as one would usually use a 32GB SanDisk memory card 90MB/Sec (somewhat 2-4 hours of video) and the battery seems to last for a very long time.
Editing and post production
A video editing tool allows you to cut and paste video clips, change, remove or add sound, add subtitles and other text ... and many other things that will make it a final video.
iMovie is nice but not really considered good enough for editing of HD footage as this. Apple Final Cut Pro was quite good till Version X that made many professionals leave that software. The advice I have gotten for solving the issue of producing simple video editing without losing the quality of the Leica M Type 240 video files, is to download a 30 day trial version of Adobe Premiere Pro CS6 (or if you are signed up for the Adobe Creative Cloud as I am, you can use it as part of the overall Adobe software subscription).
When loading off the video files from the camera I prefer to copy directly to a folder. As with my images, each folder has a unique event number so that I have a chronological archive (that is not sorted alphabetically after whatever default name I would call the folder):

I have used this event-number system to oganize photographs for years, and with video I have added a "-1-VIDEO" to the event number so that video and stills (and all other files related to a project) are at the same place - chronologically - on the drive, yet distinguished.
Directly to the drive, not via a software
Copying directly to a folder is faster but also ensures that you are organizing where your video files are, not a software.
Editing and exporting from Adobe Premiere
From the folder you simply drag and drop the Leica video clips into the Project window of Adobe Premiere Pro CS6.
Then you can chop them up and edit them on the timeline just like iMovie. It's as easy to use but more professional. More complex? Only if you delve deep into the features.
When it comes to exporting the video for the web, Premiere has the presets built in for Vimeo and YouTube but I recommend custom settings. Choose H.264 and see the attached screen grab for the rest. No need to go into the other tabs to change anything like 'Filters', etc. This will give you footage which is the same quality as what the Leica produced in-camera.
Stay organized
When exporting video, name the final version the same event number as the folder with the original clips.
Vimeo Pro account
For your videos you may consider having a Vimeo Pro account as that allows more and larger files. Vimeo is better interface and image quality than YouTube (but you can use both), and has the feature that you can replace a video file (YouTube doesn't). Often you may want to edit a small thing or correct a spelling error after your video went online, and then it is handy that you can simply replace the video.
Vimeo allows you to make your video private, with a password for selected people, or even hidden from Vimeo, but embedded on your website. As for example the Hendrix video further down this page where the music rights allow me to use it on my page, but not on Vimeo or other pages. Hence I have set it so you can't see it on Vimeo, nor embed it on other pages.
Vimeo will also work as your personal backup archive as you can download the file from Vimeo, should it be lost somehow, some day.
Grading and post production
It is very common to grade video, meaning that you give a look to it. You use a program like Film Convert where you, based on a camera profile, get a basic look that you work from. Then you can add sharpness, contrast, 70ies look, monochrom, etc. Look at a movie like ARGO that was not filmed with 1980ies equipment. It was graded to look as if it was.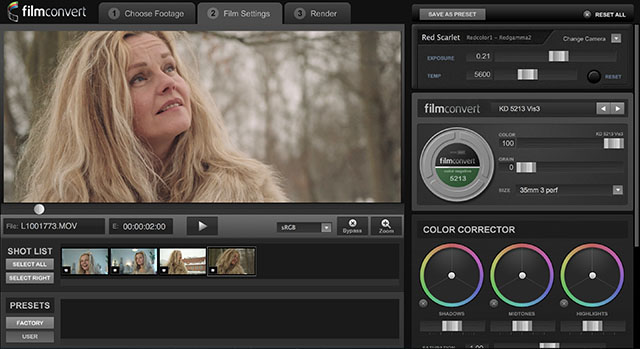 Film Convert software tool for grading of video
For grading pursoses, the file from the camera should be flavorless and flat, neutral, as possible. The Leica M Type 240 lacks some possibilities for this, compared to for example Canon 5D III. The closest we have gotten is to set the Film Mode to "Off". The Film Modes in the Leica M Type 240 can be too contrasty and colorful. But judge for your self. In the video on top, the part from 2:01 to 2:12 was with Smooth Color Film whilst the rest is with Film Mode set to Off. For several reasons the video on top of this page is not graded at all.
| | | |
| --- | --- | --- |
| | | |
| Film Mode set to: Smooth Color Film | | Film Mode set to: Off |
Sensor dust
One should be extremely aware of possible sensor dust doing video. When you shoot at f/4.0 sensor dust is much more visible than at f/1.4, and at f/11 it becomes even more visible.
The way to get rid of sensor dust is to remove it before you shoot - or remove it and then shoot the part again. You can't edit it out the same way as in still.
Cleaning mode with preview of dust
The Leica M Type 240 has a cleaning mode that allows you to see the dust spots on the preview screen. So that will help (as you don't have to record the video and then check it).
My feeling is that turning off LV (Live View) before changing lenses might help. When the Leica M type 240 is in Live View the shutter curtain is up. When you take off a lens, the shutter curtain closes to protect the sensor from dust, rain and snow. But if you turn off Live View by simply pressing the LV button before changing lenses, you minimize the risk for dust moving around and getting to the sensor.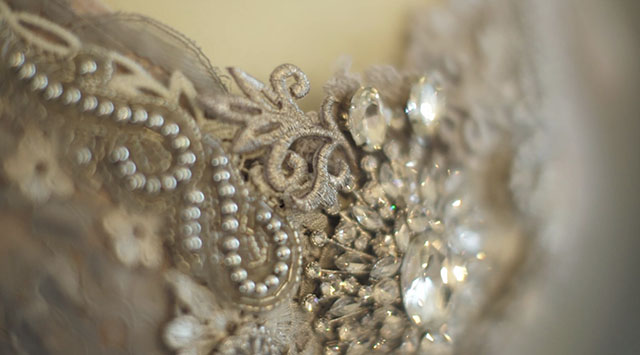 A macro still from the video, using Leica M Type 240 handheld with Leica 50mm Noctilux-M ASPH f/0.95 @ f/0.95 with Leitz M-to-M macro adapter "Oufro". 800 ISO, 1/50, 25 fps, Film Mode "Off".
The dangerous new cult called "Depth Of Field"
A true story: Recently I was researching a person and googled him. I found very few things, but I did find his YouTube video channel, and in that a video called "Depth of Field Technique."
"Aha!" I thought, "he is into some alternative mysterious new wave thing and he wants to meet me to recruit me." So I go to the video to get an idea of how strange and wierd this thing might be, and what do I find?
A video about DOF - the Depth Of Field in photography!
Not a strange new cult or new wave thing someone makes billions selling via multilevel marketing, but the technique of having very narrow focus in photography by using a lightstrong lens, getting beautiful out of focus areas (also known as 'bokeh').
Stupid of me, yet not that far from the truth in the matter of video.
Many Leica photogarphers (and dSLR shooters as well) will have experienced clients, family members and others looking with awe on their pictures and asking, "How do you make the background look so creamy? It looks beautiful! I just want to eat it! It's sooo sexy!", and that is in essence the cult called Depth of Field.
Why Depth of Field must be fought with all means
Now, here comes the interesting thing. Videographers in general don't want DOF, or at least not as much as we still photographers do. How would you maintain focus if the focus is thin as ice, say 1 inch (25mm) and the camera or the subject moves?
Hence, for most videographing the f-stop is f/4.0 or f/5.6 and the lens is a wide angle lens which has even less DOF and more sharpness.
Further they prefer zoom lenses because it is easier to work with.
I have been lending out a few R lenses through the last years to videographers, and I always found it odd that they preferred a 35-70mm f/4.0 when I offered them a 35-70mm f/2.8 or the crown jewel of Leica R lenses, the 80mm Summilux-M f/1.4.
DOF is aesthetics, but videography is not as much about aesthetics as getting the shot in focus. "To See"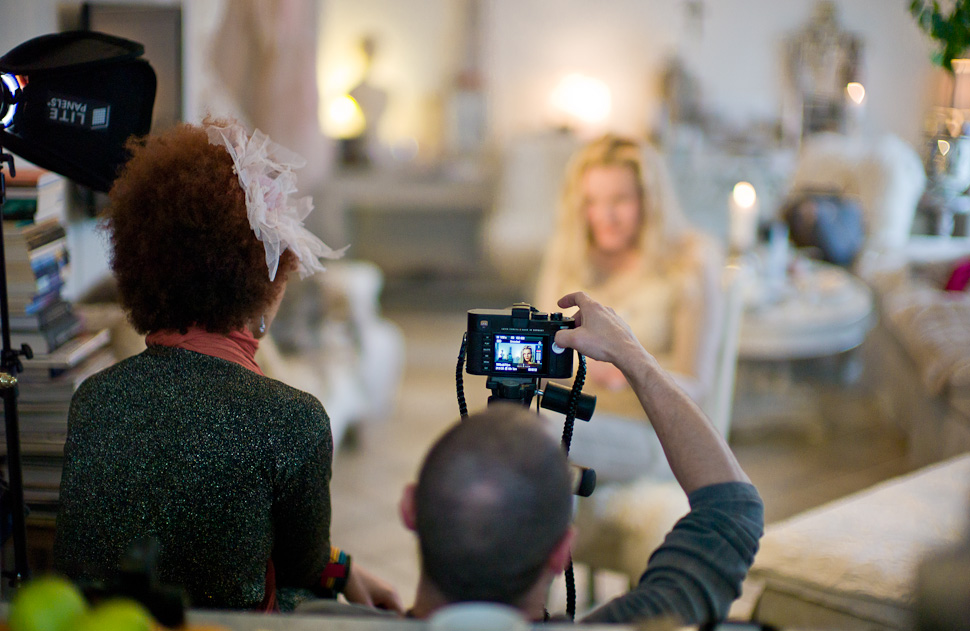 Maibritt Kokholm while Johnnie Behiri runs the Leica M Type 240 with Leica 35-70mm Vario-Elmarit-R f/4.0.
Value for money
Or money for nothing, as Dire Straits sing. One of the qualities of using a Leica M Type 240 for still photography is that you use the best lenses money can buy. Wide open at f/0.95, f/1,4 and f/2,0 they perform so well must often dry our eyes and thank the lens designer Peter Karbe in our prayers.
But if you are a videographer who travels with a lot of gear, including lights and you prefer to shoot at f/4.0 or smaller apertures to ensure sharpness, work in a limited resolution compared to 24 MP still files and are used to enhancing the images in post production (grading), then quite a few lenses can do a similar job for less. Why buy the best and most lightstrong lenses if value for money is what matters?
It is not that the Leica 35-70mm Vario-Elmarit-R f/4.0 is a bad lens. I've had several videographers who borrowed it and liked it as much or better than the Zeiss they normally would use. But the Leica 50mm Noctilux-M ASPH f/0,95 is outstanding, even wide open at f/0,95. Hence we did a test to see the difference between the two, including the possibility to use 200 ISO for the Noctilux and 800 ISO for the Vario-Elmarit:
| | | |
| --- | --- | --- |
| | | |
| 50mm Noctilux-M ASPH f/0.95 at f/1.4, 200 ISO | | 35-70mm Vario-Elmar-R f/4.0 at f/4.0, 800 ISO |
Of course, if you want to play with DOF, you also have to play with sparkling bokeh, hence your composition must be in three dimensions, not only two.
Three types of Leica M Type 240 video users
1. The videographer who does reportages for television, company documentaries, weddings or anything else that make him or her work with the video a lot every day.
The HDSLR concept is four years old now (shooting video with a dSLR) and the trend is going towards video cameras rather than dSLR cameras.
The compactness of the Leica M Type 240 will not mean much to them as they carry quite a lot of equipment already. Tripods, extra light, microphones, batteries, cables and all.
The acoustic viewfinder of the Leica M Type 240 they will never use for video.
The complete lack of understanding for videographers' needs in a video camera that Leica Camera AG seems to have applied during the development of the Leica M Type 240 firmware and hardware will isolate the camera to a very narrow field of videographers that either want some exotic B-roll, have an unfulfilled love for Leica and/or want to have a high quality still camera with them.
The image quality is good, but not better than Canon 5D III as far as we can tell by now, and the outstanding Leica M lenses will not be used wide open.
If you look deep down into a videographers bags you will find it extremely practical, packed for all eventualities (including screw drivers, gaffer tape and malaria pills), and first and foremost reliability and cost benefit. If you turn around and look at the videographer himself or herself, you will not be met by an image from Vogue, but a person ready to climb Mount Everest in snow and rain.
So many things speak for videographers not buying the Leica M Type 240.
It may be a misunderstanding that anyone thought that Leica Camera AG wanted to sell cameras to videographers. Everything in the Leica M Type 240 suggests that Leica Camera AG looked at the success of having video in consumer cameras like the Leica D-Lux 6 and thought, "Let's add a video recording button the the Leica M Type 240".
And so they did. But not much more.
2. The wannabe filmmaker would be the one who wants to do a real motion picture but lacks the studio, the tailers packed with A-listers, the 200+ staffers, gaffers and assistant directors ... but in the Leica M Type 240 eye a possiblity to make an HD video in the spirit of a motion picture.
The artistic look, the use of light to create atmosphere and aesthetic, using daring small depth of field.
The limit of the Leica M Type 240 is the ability to use it handheld. It can be done, perhaps, if you are good at it and use weight for stabilizing. But that is a technique of you as camera operator, not a built-in feature of the camera.
For the exotic and creative wannabe-filmmaker the Leica M Type 240 features a range of the best and most exotic lenses in the world, including the possibility to add Leica R and even Nikon lenses to the setup (using Leica R-to-M adaptor or a third party Nikon-to-M adaptor).
3. The Leica M photographer is the one like me. I never asked for video in my Leica M but welcomed the opportunity to try it out.
Some will argue that video is on the rise and still photographers should offer that to clients as well, and in that concept the Leica M Type 240 might be interesting. I must admit it has me thinking, "How may I make more revenue by also supplying some video clips from for example an assignment in Vietnam, when anyways there for a photo assignment?"
In my case the question is extended to also include the consideration, "without becoming a videographer; without risking being sent out to do video instead of stills?". Because I don't want to do video, I want to do still. I don't want to transfer into a videographer.
Not everyone may feel like me. Others may welcome the idea of doing both, or even doing more video and less or no still photography.
Maybe the Leica D-Lux 6 or even an iPhone is good anough for what you want to do
The Leica M Type 240 is good for one type of video in my current viewpoint, and that is artsy video that looks like the images I would do. I have recently used the Leica D-Lux 6 for video for travel blogs and magazines' websites because it is easy to have with you, easy to use and fullfills some basic needs to see and hear things. It also, it turns out, does amazingly sharp and nice looking video without much knowledge or trying hard, hence it may be used for web television on a magazines website, or as "On the Road" stories on my own website:

One of my On the Road with Thorsten Overgaard videos, a Behind the Scenes of Album Cover Shoot for Danish pop star Louise Dubiel. Filmed with Leica D-Lux 6 and edited in iMovie.
I will not spend many words on this, but leave it up to your own experience and fantasy as a Leica M still photographer to envision what using Leica M for video will limit you to, or on the other hand require of you if you wish to make it better quality.
What I see is that I can do tripod video stills with amazing DOF, clarity and quality, location interviews with fairly good sound quality and atmosphere videos on exotic locations, day and night. I can do that and send the video files to the magazine for them to edit, or have an assistant work with it in case I wanted to build a video archive.

The problem arises if I want to do more than that. Just doing a panorama over a city with the Leica M Type 240 would require a tripod with a video head, or some other device that would enable some stable movement. A top notch sound quality for the location interview would require an external recorder. And so on.
In other words, before I would know of it, my equipment would escalate from one camera and one lens (ideally) to a backpack of extra things.
And also, would I be doing video that would require a Leica M Type 240 with great Leica glass, or could I simply pack a Leica D-Lux 6 and do satisfactory video with that. Or even better, just forget about video?
I agree this is a consideration we all have to perform - should I do video and stills, or just stills - and then reconsider again as times they are a changin'. But I don't agree that everybody has to make video.
And especially the factory owner, banker or dentist who have found happiness in creating aesthetics with a Leica M in his spare time. Why should he be burdened with doing videos of the kids, family reunions and editing them? Maybe he should just enjoy creating aesthetic stills.
And even more importantly, if you are to do video, is the Leica M then the right tool for that? The trend is that videographers move towards high definition video cameras and away from dSLR cameras with video.
4. The filmmaker could be a possible fourth category, and whilst they may like the Leica M Type 240, the resolution is not for filmmaking.
They may use Leica C lenses made for movie cameras, or even buy a Leica R or Leica M adapter for their RED camera to attach Leica R or Leica M lenses.
Did Leica Camera f... up?
In my opinon, short and simply yes.
Let's just assume there is a reason to change from CCD sensor to CMOS sensor apart from the fact that the sensor is more economical to produce and use, performs higher ISO, allows Live View (focusing and meter reading from the sensor image) and video.
Why would Leica produce a number of prototypes to send out to photogaphers so as to use their response to fine tune the Leica M camera concept, but never involved any videographers in the development of their first Leica M with video?
I'm taking a bold standpoint here and saying that they didn't. So many things are not designed for video in the Leica M Type 240 that it indicates that Leica Camera AG simply tried to resemble the Leica D-Lux 6. A consumer amera that is very good for consumers, but unlikely to be used for videographers or professional filmmakers.
Some of the blunders may be fixed in firmware, whilst others may be fixed in hardware updates. To summarize what should be done, rather than focusing what is missing, let's imagine a version 2 of the Leica M Type 240 with updated firmware and hardware:
Leica M Type 240 future version 2
| | | |
| --- | --- | --- |
| Preview with 16:9 bars: | | Preview with 4:3 size sensor (24 x 36 mm full frame): |
| | | |
Dedicated video mode in the menu
The Leica M Type 240 will get a dedicated video mode in the menu that will switch on 16:9 bars instead of a 4:3 preview in the EVF2 viewfinder and on the display on the back. The video mode will also change the Film Settings in the menu to include;
Shutter speed always 1/50
Despite what the shutter speed dial is set to by accident or on purpose, the menu will tell the videographer that the shutter speed is now maximum 1/50.
Flat image setting and more user-defined file types for videographers
Much of what videographers do is edited and graded in software later. Hence they depend on a 'flat' image that is not saturated, sharpened or otherwise improved in the camera.
Preference for compression
The videographer can preview and change the bit rate.
Preference for file size or time limit
The maximum video file size is 4 GB or 30 minutes, but depending on compression the maximum file size may have been reached after 18 minutes or 25 minutes. Therefore the videographer can make a choice if he wants a warning 120 seconds before one of these limits are met, and/or if the videographer wants to set a shorter time limit that will allow an uncompressed recording.
Focusing while recording
In the updated version one can focus both on the preview screen and in the viewfinder during recording, and focus peak can be set to turn on automatically.
New features for both still photographers and videographers:
Live View real time metering
Both for still and video a real-time preview of the image will be possible so that one doesn't need to press down the shutter release half to see the actual preview. This will allow the videographer to use that one finger for something more important, for example pressing the front button to focus.
Live View real time metering during ISO setting
Some have complained that the ISO is not as in the Leica M9. Instead of all the ISO settings on one screen to scroll through and select from, there is only one in the top to change. But this gives space for a real time preview on the screen of the effect of the ISO change. Particuarly helpful for videographers who use the ISO and aperture to adjust exposure based on the Live View.
Focus peak can be moved
The focus peak can be in the center of the screen by default, but the photographer can move it up and down and sideways whilst focusing and recording using the arrow key.
Menu brightness preview is visible in viewfinder
Using the EVF2 the videographer and photographer can see the menu in the viewfinder (when switched on; as he or she can see preview of images played back from the camera in the viewfinder), and also see a preview of viewfinder brightness in the viewfinder when adjusting it.
New hardware features added:
Image stabilization added
To use the Leica M handheld the choice of image stabilization will be added.
External DHMIs and sound input/exit via hand grip
A new hand grip will be available that use the multi-connection under the camera to add possibilities for extra HDMI (for external viewing screen), power supply, headphones and extra microphones via the bottom plate.
Leica ND filters
Leica Camera AG will be designing, producing and selling ND-filters for their lenses, as well as Variable Neutral density filters.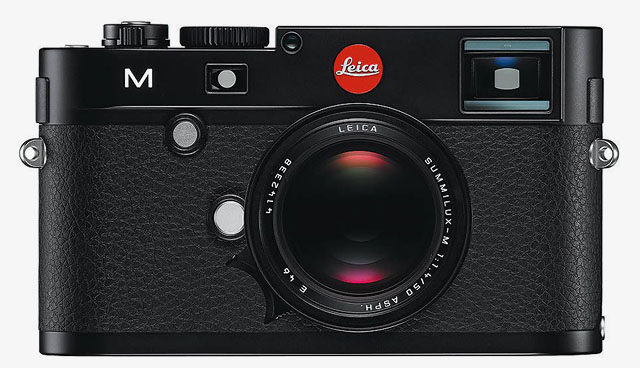 Leica M (aka Leica M10 or M240 or Type 240) in black paint. Also available in silver/chrome (below). The Focus Peak button is the chrome one below the M, and when pressed, you use the Thumb Wheel on the back (see below) to decide how much you will zoom in. And then you focus.