Leica M Type 240 Digital Rangefinder Camera - Page 35

Index of Thorsten Overgaard's user review pages on Leica M9, Leica M9-P, Leica M-E, Leica M9 Monochrom, Leica M10, Leica M10-P, Leica M10-D, Leica M10-R, Leica M10 Monohcrom, Leica M11, Leica M 240, Leica M-D 262, Leica M Monochrom 246, Leica SL, Leica SL2, Leica SL2-S, as well as Leica TL2, Leica CL, Leica Q, Leica Q2 and Leica Q2 Monochrom:


By: Thorsten Overgaard

Video- & Moviemaking with the
Leica M Type 240 and Noctilux-M ASPH f/0.95 (Part 1)

I think everyone will agree that they will not buy Leica M to use it for video ... but then still have some curiosity as to how a video with the Leica 50mm Noctilux-M ASPH f/0.95 might look. Here is an example of it:


Sample video: Filmmaking with the Leica M Type 240 and Leica 50mm Noctilux-M ASPH f/0.95 - "Cafe Day" made in Aarhus, Denmark, March 2013. © Thorsten Overgaard. 25 fps. Editing by Joy Villa. The first edition of this video was edited in iMovie, with stabilization on several shots, which gave it a "rolling shutter" - not an effect of the camera. This new version is straight without image stabilization and show the actual quality.

Narrow focus in video

The focus peak works very well (where you press the front button of the camera and then with the thumb-wheel can decide how much you will enlarge the preview in order to fine-tune the focus. You can also set this to Automatic so that when you turn the focus on the lens, the zoom-in turns on so you can focus precisely). Hence you can use a Noctilux at f/0.95 or a Leica 90mm at f/2.0 with narrow focus and nail the focus.

But mostly videorecording with dSLR cameras is done with f/4 or f/5.6 to control the focus. And you may do that too. But then it does look incredibly sexy with narrow focus.
New from Thorsten Overgaard:
Leica M Video Masterclasses

Enjoy this easy to use video class with
Thorsten Overgaard going over the Leica M10. More than one hour one-on-one with Thorsten on the camera, the menu, shooting outside, focusing and more.

For computer, iPad, smartphone and Kindle.

Thorsten Overgaard
Leica M10 Masterclass Video Course

Only $398.00

100% satisfaction or 100% return.

Order now. Instant delivery.
#1801-0917


Enjoy this easy to use video class with
Thorsten Overgaard going over the Leica M 240. Almost two hours one-on-one with Thorsten on the camera, the menu, shooting outside, focusing and more.

For computer, iPad, smartphone and Kindle.

Thorsten Overgaard
Leica M 240 Masterclass Video Course

Only $398.00

100% satisfaction or 100% return.

Order now. Instant delivery.
#1844-1017




Buy both and save $300.00

Leica M10 Video Masterclass and Leica M240 Video Masterclass
ONLY $498.00
Sound recording on the Leica M Type 240
The only two ways of recording sound into the Leica M is via the built-in microphone or the Leica Stereo Microphone Adapter Set that goes into the hotshoe on top of the camera.
Currently the Leica Stereo Microphone Adapter Set is not available so you may get the Olympus Pen E-PL 1 microphone Olympus SEMA-1 which essentially is the same, just with a different logo.
The microphone is connected to the adapter via a mini-jack and can thus be taken off and an extender cable added. And the Olympus also comes with a clip-on so you can place the microphone on a person (for interview and such).
In other words, as soon as the stereo microphone is placed in the Leica M hotshoe (the flash shoe), you have a mini-jack right there on the camera. The expansion-possibilities are only limited by your imagination:
You can add a one-to-multiple plugs mini-jack adapter and thus attach several microphones in different locations and/or on different persons.
You can also add a Sennheiser wireless reciever that will work withwireless clip-on microphones so that you can work wireless. Or you can get a mini-jack to XLR box (can be attached under the camera) so you can use 'real' microphone cables.
It's not going to be a pretty sight, but it will be pretty good sound.
For general info, most television and video is done with mono microphones. So you need not worry that you turn your stereo signal into mono by adding more microphones.
No image stabilization
There is no built-in image stabilization in the Leica M Type 240 which is why you will need a very stable hand, or a tripod.
It may look fine on the display or in the viewfinder when you record it, but on a larger computer screen you see every little shake of the camera.
Sound, focus, moviemaking ...
Without image stabilization you should work with tripod.
For proper sound you will need to insert the stereo microphone on top of the camera and expand your microphone setup from there.
But you will then discover that you have taken up the space for a microphone where the Leica Visoflex EVF2 electronic viewfinder also should have been sitting on the camera. So how to focus?
Fortunately the focus peaking will work well on the screen of the back of the camera as well. So you can manage.
For info, only smaller video cameras have auto focus. Larger pro video cameras and cinema cameras have manual focus (and usually a focus puller; a person responsible for focusing the camera).
As the Leica M will invite to using tripod and not moving around that much handheld, setting it up with the focus and then use the hotshoe for sound ... it will work.
Depending on how much you expect the subject to move you can go f/0.95 for narrow focus, or f/5.6 or similar if for example two people are doing an interview.
It's not a versatile pro video or moviemaking setup, but it is Leica lenses, and it is fairly compact (or at least, it was till you started adding tripods, microphones and all).
Buy the new eBook
"The Freedom of Photographic Expression"
by Thorsten Overgaard

"The Freedom of
Photographic Expression"
eBook for computer, Kindle and iPad
October 2016 (268 pages)

In this easy to read and apply eBook,
Thorsten Overgaard takes beginners and experienced photographers through the basics of controlling the light and the camera.
This book covers the technical side of photography from beginners level to semi-pro, features a number of photographs by Thorsten Overgaard and chapters on his philosophy on photography.

Only $148

Buy Now

Instant Delivery

"I've bought the new book - made a start reading it - it is really interesting.
I know it's basic at the beginning but it isn't written in a patronizing way. I have been taking photographs for many years and have been lucky enough to be paid to take them for the last seven years; but it's always good to be taken back to the start"
P. S. (UK)

""Really enjoy your writing and teaching"
D. K. (USA)

"I love your insights on photography."
D.B. (USA)

★ ★ ★ ★ ★ ★
Correct colors (white balance) in video
White balancing is important (as covered in this article) and is rather easy to set on the Leica M Type 240.
The white balance is set for stills, and the same WB stays recorded and is used when you do video.
To get the colors right in the short sample movie above, I first did a manual white balancing using a WhiBal card in front of the camera, measuring the light under the lamps (see the photo on the top of this page). Later I set the White Balance manually to 3200 Kelvin as I mostly do in the evening (as 3200 Kelvin is the light/color temperature you find in most livingrooms, cafes, car headlights, etc).
Black and White video
The Leica M Type 240 can be set to shoot in DNG+JPG Fine (as the Leica M9 and Leica ME can), and when that is done, the video will be black and white as well.
To set this you first set the camera to DNG+JPG Fine, and then in color saturation set it to black and white.
Editing Leica M Type 240 videos
(More on this later)
Development of the Leica M for video
Here is a link to an interview with Leica M product manager Jesko von Oeynhausen from Photokina 2012 with EOSHD.COM about rolling shutter, how the sensor is optimized for both stills and video, etc.
The market will divide
It doesn't take much fantasy to imagine what could be made with the Leica 50mm Noctilux-M ASPH f/0.95 in terms of music videos, atmosphere clips, tourism videos and more. Not to mention the interesting effects when one attaches an R lens as the Leica 400m Telyt-R f/6.8 or a Leica R zoom lens.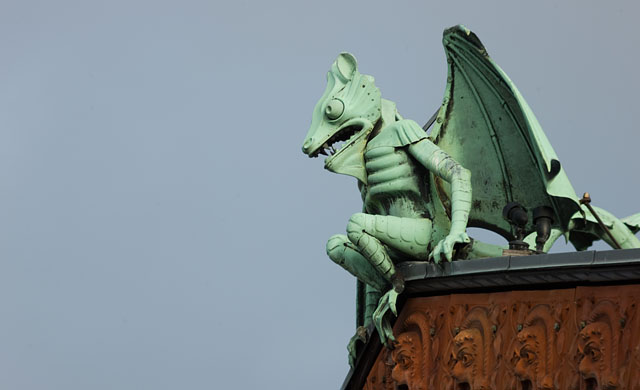 Rooftop detail of Aarhus Theater with the Leica 400m Telyt-R f/6.8 on the Leica R8/DMR dSLR camera (samples of this lens on the Leica M Type 240 will follow later).
Leica R lenses are already available for Canon 5D via Canon-to-Leica-R adapters, and Leica R lenses can also be rebuilt to fit Nikon via Leitax. RED cameras also offers converters for both Leica R and Leica M lenses.
But for the narrow sphere of interest in this article - which is the Leica M - it's logical that many Leica M users updated from the Leica M9 to shoot rangefinder and not video. But it is also logical that a new market of Leica M video shooters will arise.

The two types of Leica M 240 video users
I think the interest in the Leica M 240 for video divides into two interest groups:
The Leica photographer who are not buying the M240 for the video but may be curious to see what the video could be used for. Mostly we will use it almost as an iPhone to do some video and post it on YouTube or Facebook, or in iPad for private use.
A few may get more ambitious and use the Leica M240 within their abilities for small videos of atmosphere (music videos, product features, interviews for example). Very few current Leica M shooters will advance into;
The videographer who are considering using Leica M 240 for B-roll or to do video- and/or film projects, including all the preproduction, the gear, the setting up scenes, editing and grading into professional video or film.
It's two different viewpoints and I definitely am in the first category, having bought the Leica M 240 to do still photography, but curious to see how the video works. And the above video is a two-hour "production" (done whilst having dinner in a cafe) by available evening light, without preproduction or planning, without professional editing or grading, and with the built-in learning experience that the Leica M Type 240 requires a tripod.
More Leica M Type 240 video samples coming
I understand the videographer viewpoint, and I have a few film folks who would like to get some raw footage and work with. So we'll see what that brings about. I have absolutely no problem providing the hardware and time to help the videographers who would like to have a proof of quality.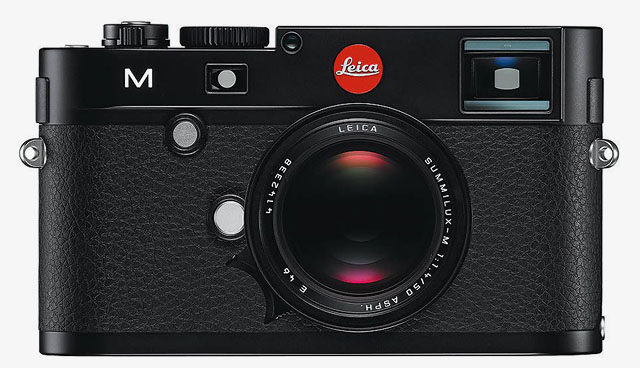 Leica M (aka Leica M10 or M240 or Type 240) in black paint. Also available in silver/chrome (below). The Focus Peak button is the chrome one below the M, and when pressed, you use the Thumb Wheel on the back (see below) to decide how much you will zoom in. And then you focus.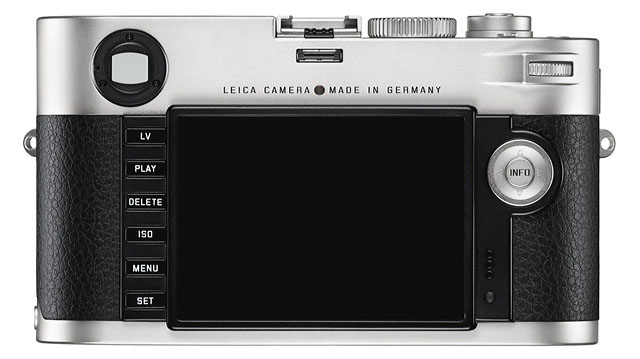 Disclaimer: Why I hate video and you should too
The added video capability is nice ... but could develop into a nightmare. Not for Leica, but for you who like to make something out of it.
I speak of experience, I like to think: In 2000 I bought a Canon XM1 semi-pro video camera that was compact for that time and had a 3CCD sensor. In a matter of months I had accumulated tele microphones, wireless clip-on microphones, video lights, extra cables and extra large batteries.
You would be amazed to realize how many batteries it takes to run all those microphones, and how many bags you need to carry with tripods, lamps, batteries, cables and all.
I learned that to accomplish in moving pictures what you can do in still images, in terms of quality, it takes a lot of good light, sound equipment and planning. And on top of that, editing video is a long and tiring process that require software.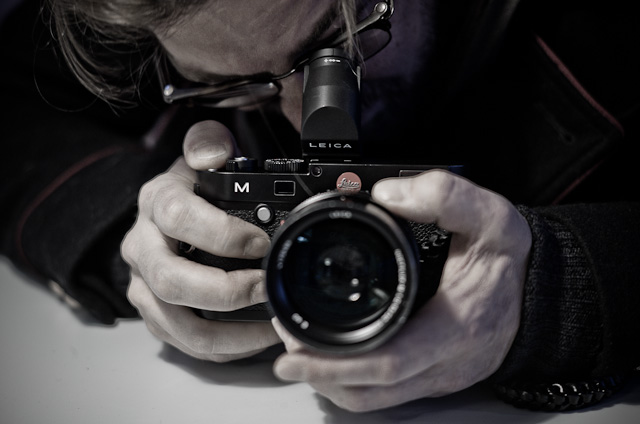 Recording video with the Leica M Type 240 and EVF2. Photo by Joy Villa.
How to become hero of the year (with less work)
Where you may shoot a frame or two with your Leica M of the school graduation and become the hero of the year, doing a video of the same event is a two-three day process. It involves a lot of carrying equipment, lamp tripods and bags. And you will never really be satisfied with the result: Every success leads to searching for ways and equipment to improve it further.
Likewise, the Leica D-Lux 6 offers very simple and surprisingly clear and high quality video. But what you will learn is that the microphone is on the top of the camera and that is why the sound will mainly be you breathing rather than the voices of the people in front of the camera. Hence you will start wishing for external microphones, more than one microphone connected at the same time, small and large tripods ... and so it goes.
And still with a lot of time spend importing, editing, exporting and uploading video files.
I hate video
I state so without reservation and without the slightest shame. I simply and honestly hate it.
(I actually sold my Canon gear with all the extra equipment in 2001, after 10 months. I sold it for 1/10th of the price - just to make sure to get rid of it.)
I did get a Leica D-Lux 6 this year (after they added a f/1.4 lens) that I can use to document things. But luckily I can turn it over to someone else to edit it.
Therefore, I say the same for the Leica M. It will be amazing to shoot high quality video with Leica M lenses. But curb your enthusiasm, because before you know of it you will want more microphones, XLR microphones, plugs on the camera, additional battery power, longer recording times, ways to stabilize the camera on tripods and/or devices to pan with it, image stabilization in the camera, external video lights, special shoes perfect for panning, a production van, more harddrive space, a real broadcast monitor and a few more Leica M cameras to get more angles ...
In other words, you will want a new and larger Leica M video camera, and alot of other equipment. And you will learn that a good tripod for video is way more expensive than a good tripod for a still camera (because the head has to be able to move and pan smoothly).
The small miracle, the Leica M
The miracle of the Leica M is that you can make the worlds best and most professional images with a small camera. The same miracle does not apply to filmmaking. Go somewhere where they are doing a movie and look at all the trucks and all the equipment - that is what it takes to make the worlds best and most professional moving images.
And perhaps now, before you start this new accumulation of equipment, realize that the reason you got a Leica M Type 240 is not to do mediocre results, but because you actually strive for the best. Hence the video will be good for the same as I use the Leica D-Lux 6 for: To document things and make informal videos that look ok on YouTube. But if you want to go ambitious on video be prepared to go the whole way.
But you did get video
The good thing is that the video is in the Leica M and may be used for something. And you didn't even pay extra for it (compared to the Leica M9). And at the same time the video is not there, meaning that Leica Camera AG didn't complicate or change the camera to make it into soemthing else than the Leica M.
A final note on making moviemaking and video from someone who actually know how to make them :-)