By: Thorsten Overgaard. June 6, 2015. Latest edited May 29, 2019.
White balance is something all have heard about but few use. That's because it's widely misunderstood. Most people think it's somethimg that happens automatically, in the camea, or that it is something you "fix in the computer".
Nothing could be more wrong. Colors are too important for the aesthetics of photographs to let it up to an automatic feature to decide what is the right colors.
White Balance could be the first adjustment you do when you import an image into Adobe Lightroom or Capture One Pro. But White balance can also be set in the camera so that the colors are fundamentally correct and neutral in the camera, and when imported into the editing software, they will look ready to use.
There are neutral colors, which in this context it means that the color of an apple or a red brick wall is that exact color in the photograph as the one you saw in the real world.
There are different views on colors. Neutral is a better word, or 'exactly the right color representation'. That is the ideal you work with, technically making a photoraph. First you get the colors right, then you are free to make artistic changes to chem: make them warmer or colcer, saturate or desaturate all or single colors.
If you can't get the colors neutral, your're helpless. So that's why we're having this conversation. I'll teach you now to get the colors neutral.
hc color temperature should fundamentally be neutral and correct, and from here you may adjust the color temperature of the image as an "artistic choice" to for example being warmer.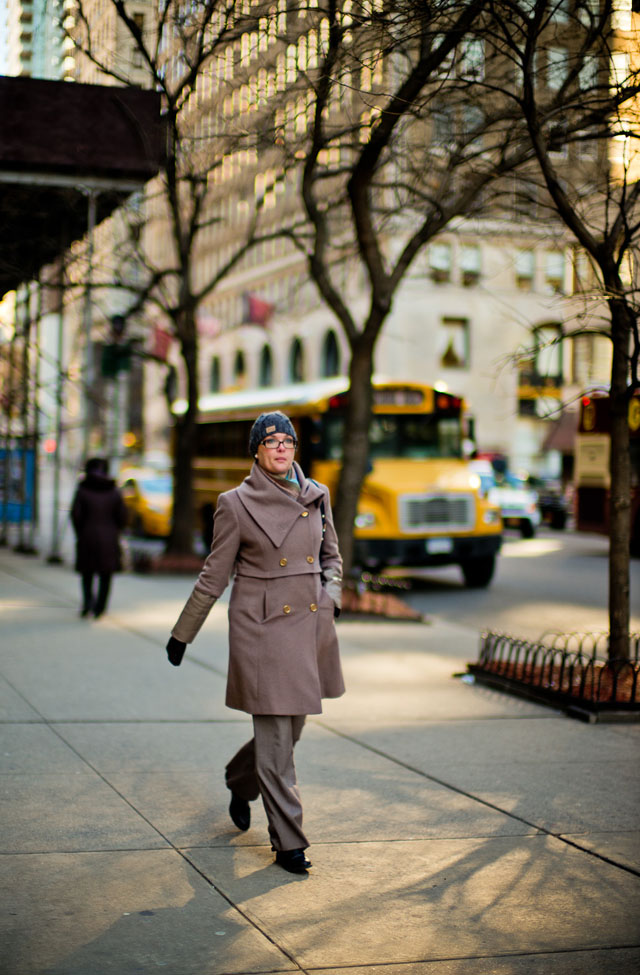 New York by Thorsten Overgaard.
Join the NEW Thorsten von Overgaard
Photography Extension Course

"My wife game me this course and I absolutely love it.
Now I think more in light and shadows. Used a lot of the techniques on a recent trip and
my photos have improved a lot. Well done, Thorsten!"
S.N. (Mexico)

"I am happy with my purchase of the extension course. Well written, easy to understand"
K.D. (USA)

"I very much enjoy the incredible knowledge"
V.V. (United Kingdom)

"Addictive, beautifully and simplistically written. Just amazing. Cleared my concepts"
V.P. (USA)

"The extension course is the best course I read about photography (and I'm still at the beginning)"
M.S. (Luxembourg)

"I'm already in page 81 of the Extension Course, and your communication and words provoked a change in me at an aesthetic level that I felt but I couldn't explain"
C.L. (USA)


The NEW
Overgaard Photography Extension Course

The waiting list is over!

After a couple of years with a long waiting list, I have finally redesigned the course so I can handle the students interested in this course. Not only that. The number of pages has gone up from 120 to 330!

I teach you the basics of photography in an easy-to-understand and step-by-step way that anyone from ages 12 to 90 can understand and easily apply.

The intention with this extension course is to get you going in your photography adventure with lightning speed, and to inspire you to reach to new heights.

Enjoy!

Specially tailored for Leica and digital photographers.

You work at your own pace after you receive the full package of material via mail. It works as a PDF on computer, iPad, Kindle, or - if you like - make your own print.

Join the Home School for
Leica and Digital Photographers

Only $798.00

Buy now. Instant delivery by mail.

ITEM #1708-2016

Note: If you have bought The Overgaard Extension Course (2010) previously you may enroll on this new course for free. Simply e-mail me.
Artistic change of White Balance in Lightroom
Here is an image I adjusted White Balance from 4800 Kelvin (as shot Auto White Balance in the camera) to 6800 Kelvin by moving the Temp ruler in Lightroom:
Before
After
External White Balance
If you did a manual white balance with a white piece of paper or a greycard (WhiBal®) before you photographed, the white balance is most likely as it should be, and all colors looks good.
You can also use an external Color Meter that will measure the White Balance so you can type in the correct Kelvin value. This image below gives a good idea how much of an improvement the step up will give your image:
Usig WhiBal
Using external color meter
The image to the left was made with the White Balance set in the camera by pointing it to a WhiBal card and was 5500 Kelvin. The image to the right is measured with the Sekonic C-700 that read the light 6098 Kelvin.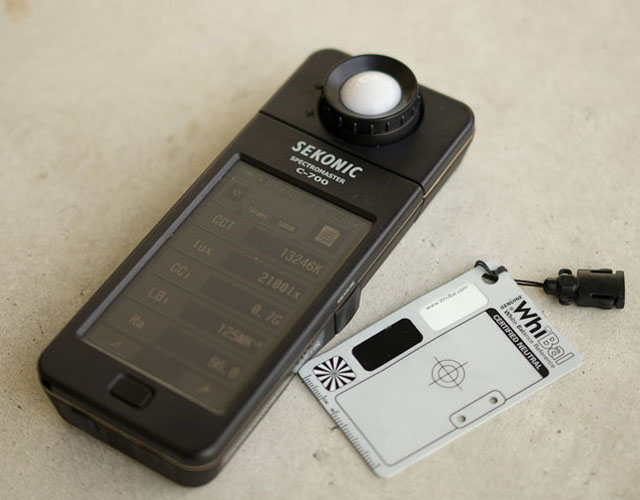 Sekonic C-700 Color Meter ($1,400) and WhiBal white balancing card ($30, often referred to as a "whibal greycard").
I have to read the Sekonic C-700 Color Meter and do the adjustment in Lightroom (or in the camera before I take the picture). In this case I adjusted it in Lightroom.
I did this video some time ago on how to set the White Balance in camera before the shoot with a WhiBal card:

Setting the White Balance manually on the Leica M Type 240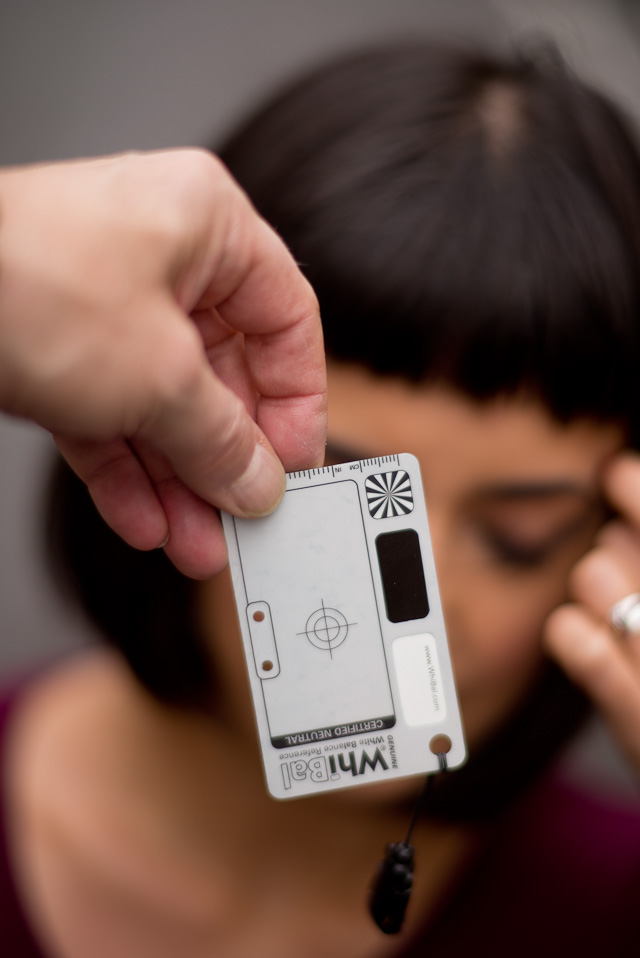 Setting the white balance in the camera before photographing is clearly to prefer and is rather simple. You simply put the WhiBal card (or a piece of white paper) in front of the main subject and take a "reding" with the camera. Then the White Blaance is adjusted to the actual light.


Correct White Balance
If you didn't set the White Balance in the camera or are not satisfied with the Auto White balance the camera did, you need to establish the correct color temperature and adjust it to "white light" (daylight).
In Lightroom you can click on the symbol for White Balance (WB), which is the picker to the left in the color panel: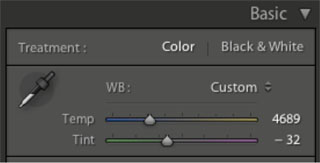 You can also use the W-key on the keyboard that corresponds to the white balance mode.
You then point at something neutral white, grey or black: A wall, the edge of a persons glasses, a white shirt, a black shirt, the white of the eyes, a grey button on a jacket.

Pick a neutral target as the one marked with yellow in this image.
What you look for to put the pointer at is something that is neutral and which is hit by the key light (the most important light source in the image). In the above, the white table with the light from outside would be a good spot to put the pointer at to get a neutral white light.
You will see a preview of how the image's colors changes when you click on a point in the pictures.
If the color doesn't look right, you UNDO it and then try another spot and see how that works:

Command (-key) + Z (-key) is undo/regret previous action.
Every time you hit Command + Z Lightroom steps one step previous in the actions you did. Usually you can undo the last 20-30 actions you did.
Using preset White Balance in Lightroom
You may also use the presets As Shot, Tungsten and so on: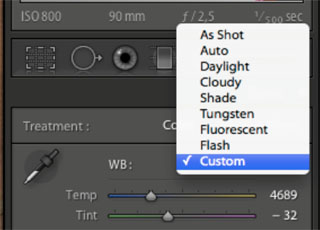 Using the White Balance slider in Lightroom
You can use the Temp (the scale showing the Kelvin number) to get closer to achieving the correct white balance, but it's difficult to decide when the balance is correct and the colors looks neutral.
One problem with White Balance is "remembering the color". It's almost impossible because colors change after light, size and which colors are next to them.
If you buy paint for a wall based on a small sample, you will discover that your wall looks very different because the size is bigger. And the color changes again when the light changes!

Further, the color temperature (White Balance) is a combination of Temp and Tint. Play around with the two and you will see how you get into trouble very easily!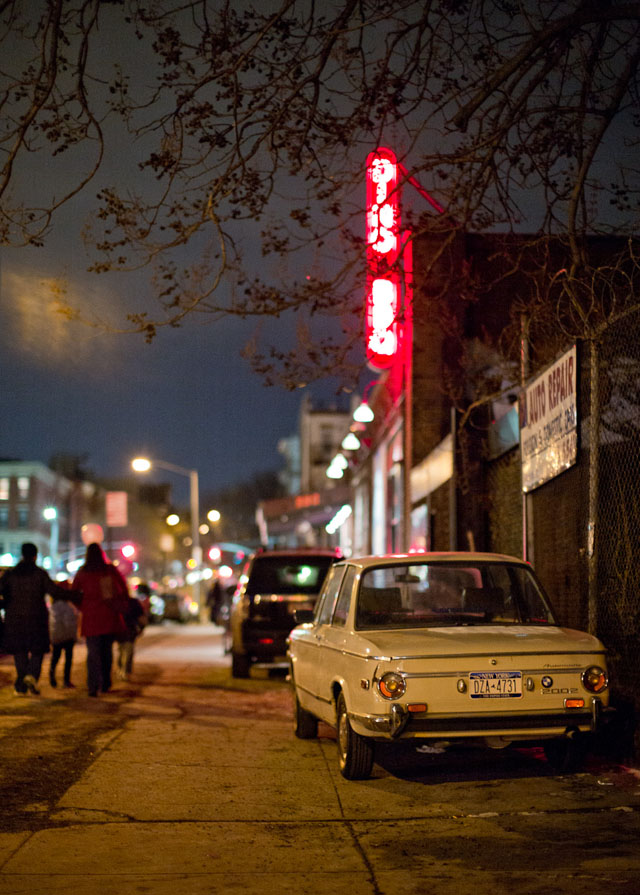 The easiest way
The fastest and easiest way to get the colors right in a photograph is to set the White Balance manually with a piece of white paper or the neutral grey WhiBal card before you photograph. Nothing to fix in the comptter and no guessing as to what the exact skin tone was.
Buy my Lightroom Survival Kit for more on this
I hope this was helpful. You can learn more on this and other ways to get the right workflow in my Lightroom Survival Kit 6: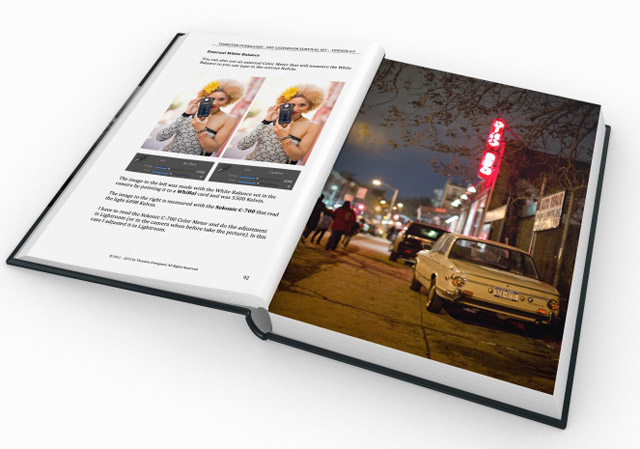 The Lightroom Survival Kit 6 contains sections that are easy to understand and use on White Balance in Lightroom, as well as many other subjects to "survive Lightroom" and improve the overall quality of photography.
New Lightroom Survival Kit
for only $498

270 pages on how to set up a photography workflow, from calibrating the screen to editing in Lightroom, and printing. How to deal with Lightroom CC vs. Lightroom CC Classic. How to organize files, back up, clouds, use DAM (Digital Asset Management) catalogs and Photoshop.

Read more here

Video tutorials, image test files, presets, checklists, definitions, tutorials of Lightroom and Photoshop that boils down years of experience to a workflow you can implement in less than one day.

10+ years experience in one package

Why spend years figuring out the smartest way to do things when you can tap into the best way of doing things? My workflow has been refined through years of field work.


Professional workflow experience made simple, logical and easy to use.

Update for only $198

Update your Lightroom Survival Kit to the new
Lightroom Survival Kit for only $198.
You get a complete new installation. Order here.




Only $498.00

Order today.
Instant delivery.

Now comes with
FREE Leica Presets
for Lightroom
by Thorsten Overgaard
($68 value)

Full satisfaction
or money back.


Compatible from Lightroom 1.0 to Lightroom Classic CC version 8.2.
More on the Lightroom Survival Kit 6
More on White Balance