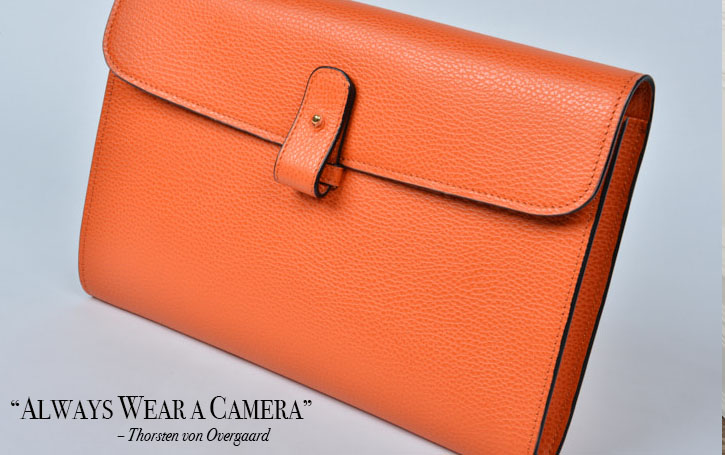 An elegant and casual document clutch for women or men. 22 x 32 x 5 cm with space for pens, phone, business cards and more.
The Von Document Clutch
A piece of simplicity and beauty to have lying around on the desk with paper, or for collecting documents and go to a lunch meeting. If you are a woman, it also serves as an evening clutch for phone, lipstick and a mirror.
This beautiful bag is a design studio that took another direction, and we decided it was a keeper. Once you open it, you see why: There is almost no limits for what you can use this little wonder for. Papers, phone, keys, lipstick, chewing gum, books, notebooks, newspapers.
I like simple things
| | |
| --- | --- |
| | |
| | Our Italian artisans in Verona, Venica and Milano are part of family workshops which have been doing leather work for generations. |
The simpler it is, the harder it is to make. To obtain the exact design, style and usability I wanted, we had to continue to work on the details. "It's ready when it is right," was the slogan through countless prototypes, drawings and tests of "The Von" bag which was first introduced in 2017, and subsequently tested through my travel to more than 50 countries since.
In most product designs these days, there are a lot of useless things added which complicate, or there are ways of doing things the wrong way for the right reasons. Things are seldom put to test in the real world by the people the product was intended for.
The sole reason I make camera bags, desk blotters, camera straps and other products was always that I wanted something done in a certain way, and it didn't exist. So I had it made for me.
As a general rule, I want simplicity, and it has to have out-of-this-world quality at the same time. And if something is awesome and works, it has to last for a lifetime. That's the simple philosophy.