Singapore Masterclass
My goal is to instill enthusiasm in any photographer and raise his or her skill level, self-confidence and production volume. And I do.
By: Thorsten Overgaard
The Overgaard Photo Seminar Masterclass & Advanced Workshop is limited to 8-10 participants.

If you have questions, don't hesitate to e-mail thorsten@overgaard.dk for further info.

The Overgaard Masterclass Workshop is tailored to bring you up to an advanced level on using your camera equipment, setting up a workflow on your computer, editing and presenting images, and shooting different assignments.

Use the button to check out via PayPal if you are sure, or send an e-mail to thorsten@overgaard.dk for further info, to reserve a space, or to require invoice payable via bank transfer. You may also enquire about changing date of seminar/join waiting list for a seminar for the chance that someone wants to change to the other date.


Thorsten Overgaard
ADVANCED WORKSHOP
Singapore
(Last Singapore Workshop was
November 27 - 29, 2015)

Send an e-mail to thorsten@overgaard.dk for further info on upcoming workshops.

Other locations: See the seminar calender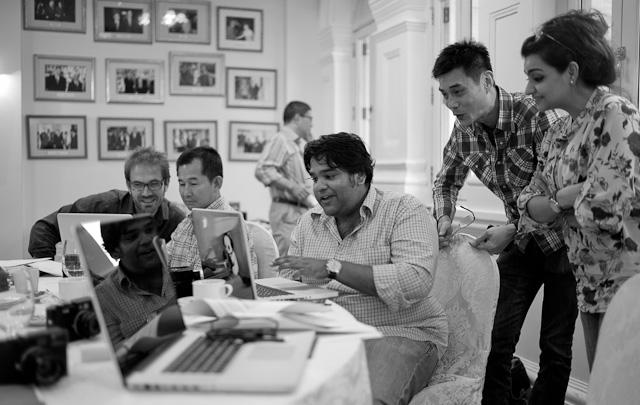 The Leica Workshop in Singapore, November 2012
Preparations for the Overgaard Photography Masterclass: Before attending the masterclass you will receive a eBooklet to study that deals with the fundamental and technical theory of photography. This is useful for everyone but is mainly for those who have not attended an Overgaard Workshop before. The point is that we will not go over basic technical things, though there will be possibility to ask questions of any kind related to the eBooklet and any other questions regarding cameras, lenses and photogarphy.
What to bring: You will bring the camera(s) you usually use and a lens or two for the walkabout day.
Bring a computer with (Capture One or) Lightroom installed (30 day trial is available) to set up a workflow and work with images on the 2nd and 3rd day.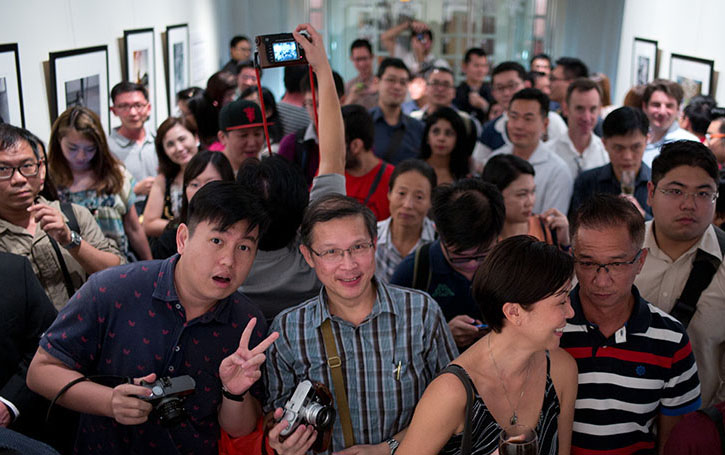 The "Exhibition Von Overgaard" in the Leica Gallery Singapore 2015 raised $10,000 to the children of Cambodia.
"I cannot tell you how much I enjoy your workshops in Paris, your guidance, your mentoring, your encouragement, your friendship and your warm personality. I just come away from you and your program with a remarkably great feeling.

You have great talent, a special touch and a brilliant way of empowering people. Gifts abound within your world.

Thank you and thanks to the lovely Princess Joy who makes your world complete. "



- J. A. (New York)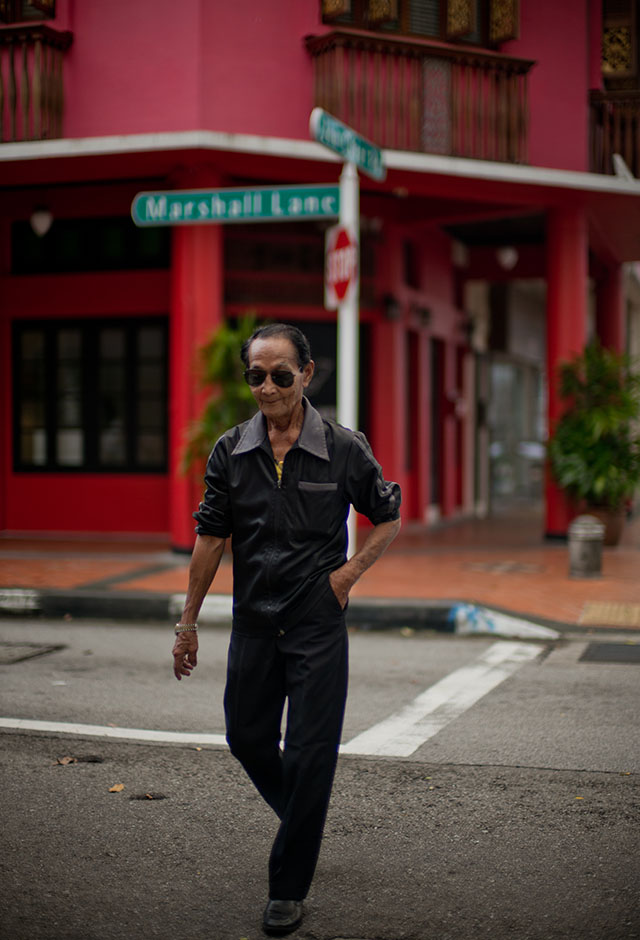 Singapore, December 2013.
| | | |
| --- | --- | --- |
| | | |
| | "it has taken me a while to digest what I learned at the seminar. I have to say, you made me change my way taking pictures. Even weeks later I recall the one or other snippet of information. There was a lot for me to go through." | |
| | - H.C., Australia | |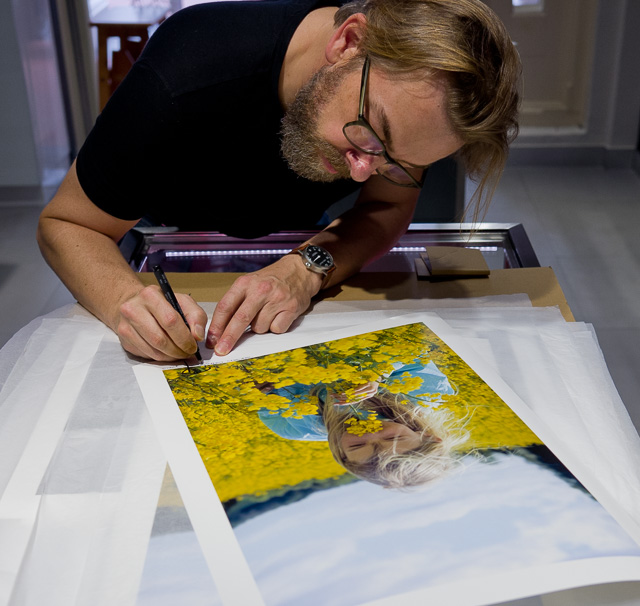 Before we left Singapore I signed the prints that was sold in the "Exhibition Von Overgaard" the Leica Gallery Singapore. Leica SL with Leica 24-90mm Vario-Elmarit-SL ASPH f/2.8-4.0.
What to expect: You will meet likeminded people who want to improve their photography. 80%-100% will be Leica users, and if you are not, be prepared to become one. And if you are, be prepared to want more.
The masterclass is very informal and hands-on. You will be able to ask all the questions you like as we will spend 30-40 hours together.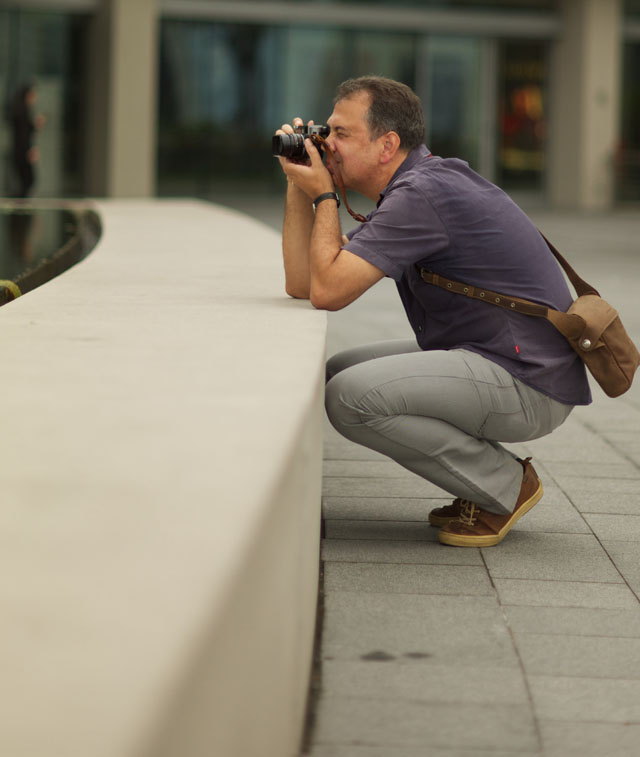 Ian Woodroofe at the Singapore Workshop. Photo by Kieth Sheridan
What we will deal with: The Masterclass is not limited to certain assignments, and it is not the type of class where you are sent off to do assignments by yourself. We work as a group and Thorsten Overgaard is present at all time.
You are free to work with your own themes and ideas. The things we will deal with will be: Light, composition, storytelling, street story, model shoot, portrait photography, sharing and social media, workflow, archiving and master editing in Lightroom.
You will learn to use a lightmeter, manual white balance, reflector, be able to spot the right light on locations, run an effective and powerful workfflow, edit in Lightroon, work an archive based on keywords and much more.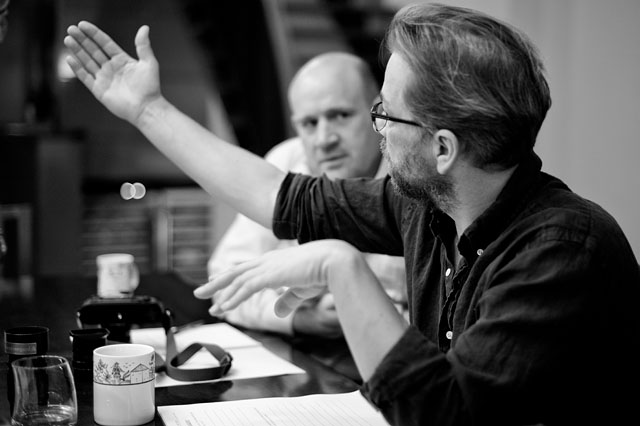 Workshop in Singapore. Photo by Frank Stelzer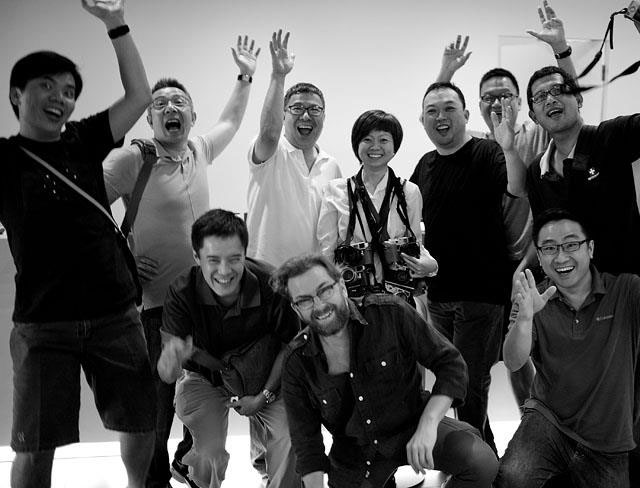 The workshop visiting the Leica Store Singapore in March 2012. In the center with all the cameras is the store manager Teh Wan Leng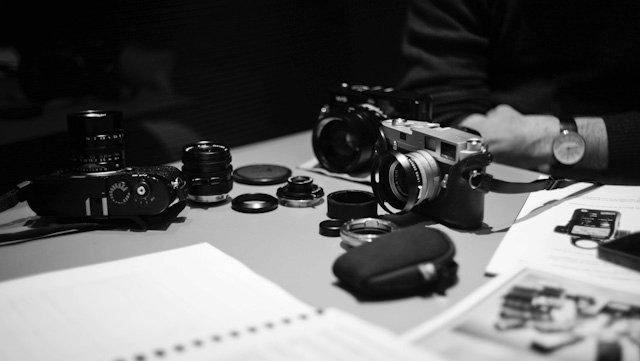 One wouldn't be able to imagine all the equipment a handful of photographers can bring together... Photo by Pieter Franken.
| | | |
| --- | --- | --- |
| | | |
| | "It's really changed my perception on photography and technique as a whole." | |
| | - BL, Singapore | |
End result: Competent in telling stories with a camera, including finalizing them for presentation. You will enjoy photography and will produce much more than you used to. You will walk out from this seminar taller and more confident.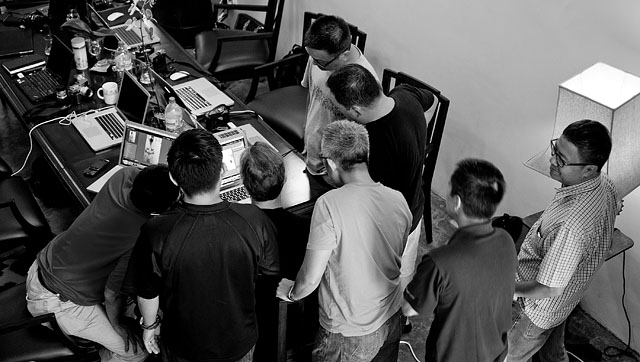 Working with Lightroom in Singapore. Photo by Alan Tan
| | | |
| --- | --- | --- |
| | | |
| | "it has taken me a while to digest what I learned at the seminar. I have to say, you made me change my way taking pictures. Even weeks later I recall the one or other snippet of information. There was a lot for me to go through." | |
| | - H.C., Australia | |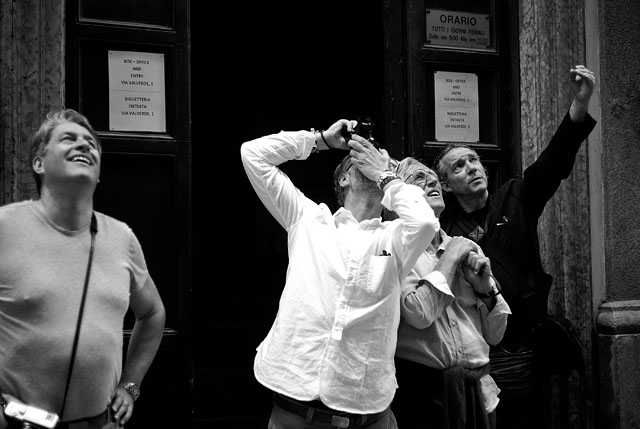 Michael, Hans, Friedl and Oskar at work in the streets of Palermo. We walk around and work as a group.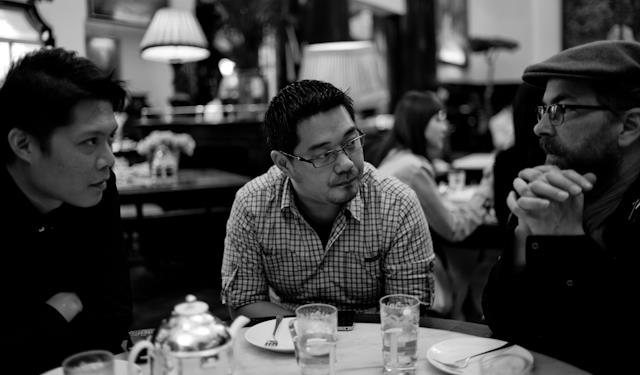 We will be spending 30-40 hours together doing formal seminar, walking about, working on images, having coffee and lunch. Lots of things to talk about. Photo by Younes Kabbaj from the Hong Kong seminer.
"Simple the best - I learnt a lot from you at the Photo Seminar. It was great to spend a lot of time with you and your experience. I am still deep impressed and it were very memorable days for me. I highly recommend anyone Thorsten's photo seminars.
Now it is time for my homework"
- T.S., Zürich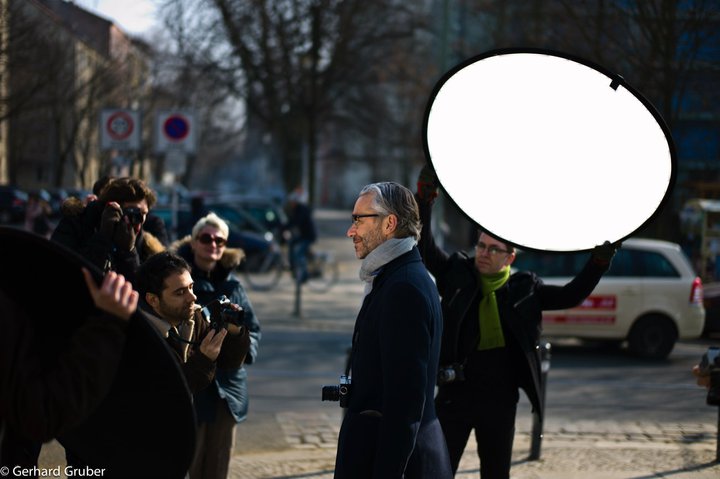 Doing portrait photography on location in Berlin, February 2011. Photo by Gerhard Gruber.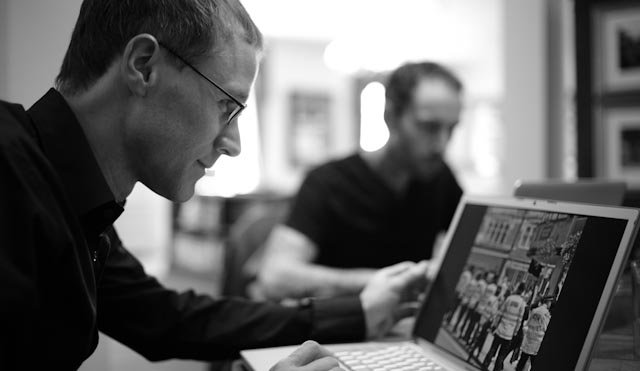 Swiss photographer Matthias Frei editing in London.
| | | |
| --- | --- | --- |
| | | |
| | "Thanks so much for an inspiring weekend. I learned a lot, and it was a great group of people to spend the weekend with. I hope to see you again soon, either in NY or somewhere else. " | |
| | - D.G., New York | |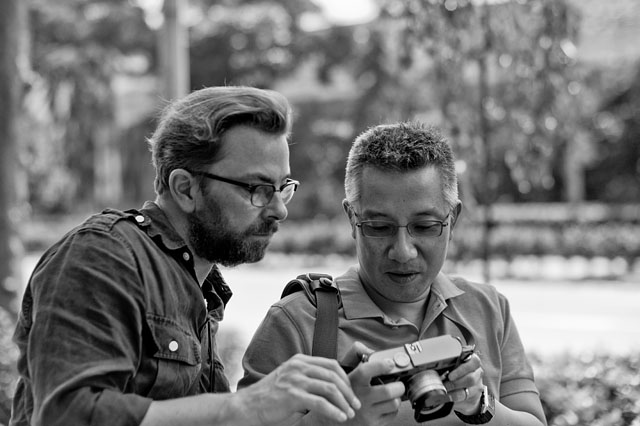 Singapore workshop, photo by Ron Yeoh
| | | |
| --- | --- | --- |
| | | |
| | "Thank you again for the course. It was a great few days when I learnt a huge amount. I like your easy style. I'm now hoping to have enough money for a Leica M11" | |
| | - R.S., London | |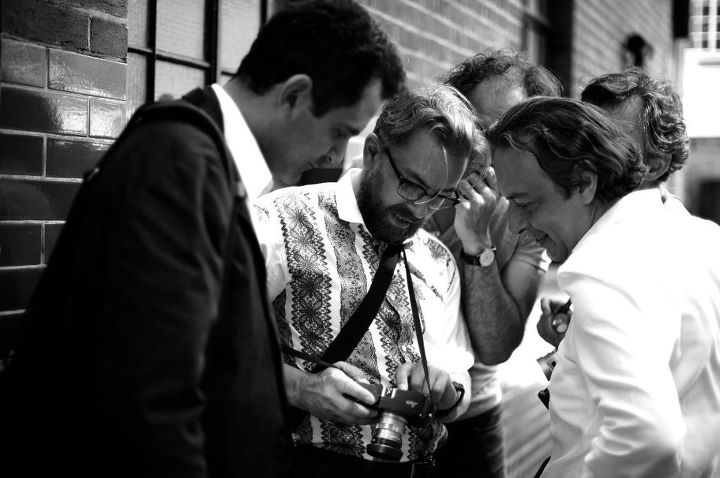 London workshop. Photo by Felix Kunze.
| | | |
| --- | --- | --- |
| | | |
| | "Photography has become dear to my heart again. Hope we have still some time to spend together." | |
| | - J., Spain | |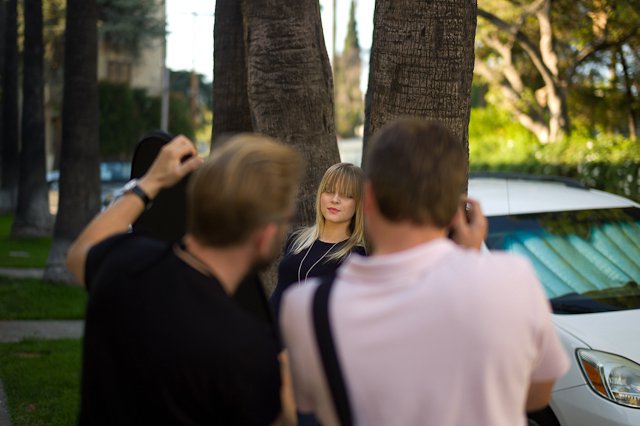 Los Angeles, July 2011. Photo by Jeff Rovner.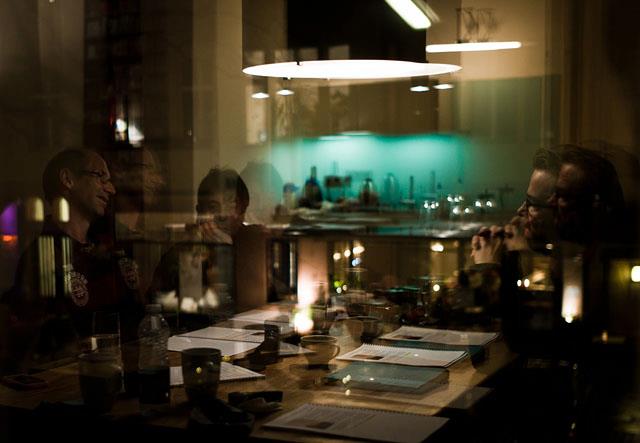 Networking: The seminars tend to be new networks as we share the same passion in photography, and the participants usually have quite a lot more in common than just photography. Berlin 2011, photo by Malou Lasquite.
| | | |
| --- | --- | --- |
| | | |
| | "Thanks so much for all your instruction this past weekend. I really enjoyed meeting you and spending time understanding more of how you view things. I know there is a lot more to learn and hope we meet again." | |
| | - R.Y., Texas | |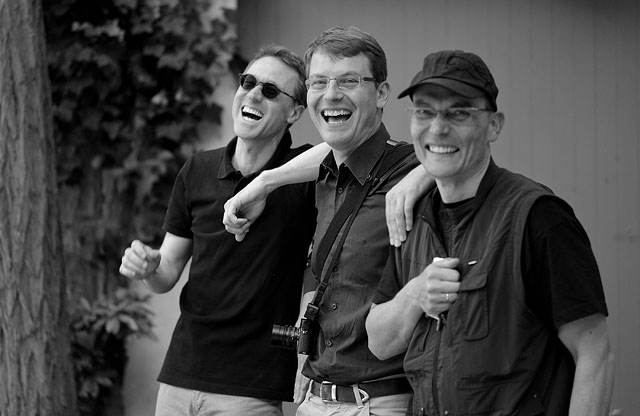 Matthias, Thomas and Chrostoph in Zürich, June 2011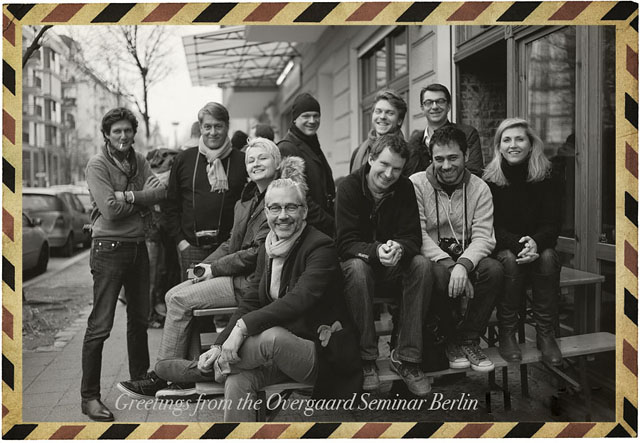 Berlin, February 2011
| | | |
| --- | --- | --- |
| | | |
| | "It has been truly enlightening and a great joy for me to share those seminar days with you all! Many beautiful memories remain in the portait and especially the street photography departement ... and not last those personal talks we had about different styles of photography and Leica." | |
| | - M.F., Austria | |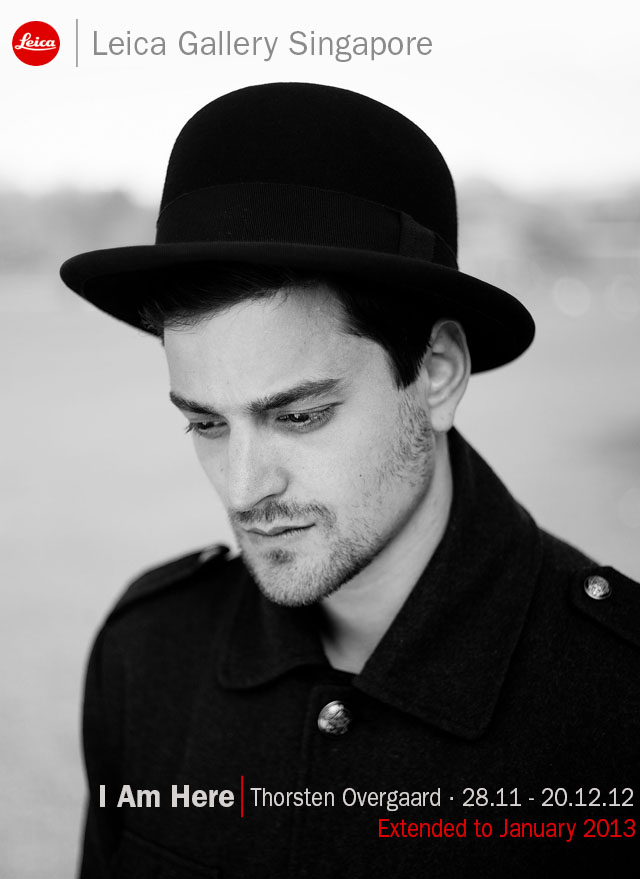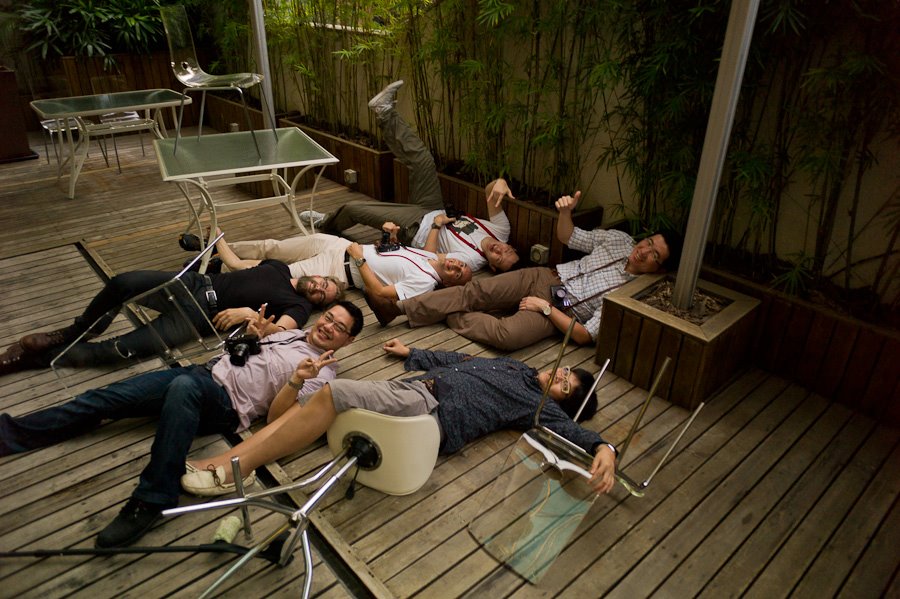 Hong Kong, December 2011.
(If you use iPad you may click here to visit the original video on Vimeo)
"Picture Perfect" video about Danish feature writer and photographer Thorsten Overgaard, by Emma Brumpton for Channel Four. The video was done on The Faroe Islands in 2008 during a week of photographing climate changes, when Al Gore visited the islands.
Reviews of the Thorsten von Overgaard Workshops:
What People Say
User review of the Thorsten von Overgaard Workshops in Rome and Paris:

"Thank you for the Rome workshop.

The last days I spent with you in Rome I have done once before. So why do it again? Same type of workshop and with the same photographer.

Simply because I was so inspired by the first workshop two years ago, that I felt I would (and could) squeeze even more out of you a second time.

Of course some repetition was present on theory but two photo shootings are newer the same, and you always get new information there either wasn't presented the first time, or that you did not grasp at that time.

My overall goal taking part in the Rome Workshop was to focus much on the light, which I can transfer to future photo and television news stories that I produce.

And I got it!

The hands-on practice and advice from you benefits both experienced pro's like my self, and amateurs who wants to step up a level. So with my tired feet walking around hot Rome, I now will go back to work and let the experiences and inspiration go into my photography works.

You are newer to old, too experienced or (especially) too good to learn. Thank you for good company and learning experiences. Thank you to Princess Joy villa and Robin Isabella as well..!"




- Morten Aalbek (Videographer of the year 2014, Denmark)
Review of the Thorsten von Overgaard Workshop in Berlin:

"The Berlin Workshop is still resonating with me. It was truly a great experience, and was really nice to meet you and your family!"




- T. S. (Canada)
User review of the Thorsten von Overgaard Workshop in Seattle:

"I diligently edit and process my images after every shoot as taught in your workshop and am always up to date with my images.

I have had your New Inspiration Course for a couple of days and have viewed all videos. I recently submitted a few images to a gallery in Portland for an exhibit.

I will continue to refine and work on the things you have talked about."




- T. S. (Canada)
Thorsten von Overgaard Workshop Review Rome:

"I enjoyed myself very much in the Rome Workshop. I learned a lot, and only now the full experience is sinking in.

Thank you. I am trying make the New York Monochrome Masterclass.

All the best to Princess Joy Villay and Robin Isabella".




- E. L. (Jerusalem)
Thorsten Overgaard Workshop Review:

"Thorsten, I appreciate the genuine way in which you continue to communicate with your students and admire your success in creating a community of enthusiasts around you.

"I was such a beginner when I did your workshop that it has taken me quite a while to incorporate what you taught us into my photographic life.

" I remember you are not a fan of spending hours on a photo, and nor am I - indeed one of the benefits of the workshop was to show how one could spend more time about and about with the camera."



- M. B. (France)
Thorsten Overgaard Workshop Review:

"Thank you again for the great time in Sydney. It was (and I say this quite seriously) a life changing experience. I'm a lot more confident to take and show my photos now. You should be proud that you have obviously brought knowledge and confidence to so many people. I will see you again some time in the future for a refresh"



- J. G. (Australia)
Thorsten Overgaard Workshop Review:

"I was participant on your photo workshops in Malmö in 2011 and 2012. My abilities increased beyond imagination after that. Will you be offering a workshop only about portrait photography?"



- C. B. (Malmo, Sweden)
Thorsten Overgaard Workshop Review:

"Meeting you was one of the most memorable things in my life!"



- I. L. (USA)
Thorsten Overgaard Workshop Review:

"I'm one of the luckiest guys in the world who have chance to attend Thorsten Overgaard workshop in Bangkok."



- N. S. (Thailand)
Thorsten Overgaard Workshop Review:

"Dear Thorsten and Joy, I wish to thank you and Joy for a wonderful four days of photography. From the first day of theory to the last day of choosing our best, it was a wonderful experience that inspired me to take more pictures and share them with others.

I learned a great deal from your critical comments and also your showing how to improve the final picture through minor adjustments in Lightroom. May of my friends have a heavy hand with Lightroom but you showed us how to adjust the camera so that minimal post processing was necessary to have a good final product.

Joy was also such a pleasure to be with. She is such a professional in her chosen field of modeling, entertainment and production. Her sharing of this knowledge with us was a compliment to Thorsten's photographic knowledge. She was also very flexible and willing to share her poetry with us after coming out of the cold of Seoul's winter too.

I will always remember those four days as being very special because of both of you. When you come to Seoul again, I plan to be there!

Again thank you for a wonderful photo experience."

- G. F. (Korea)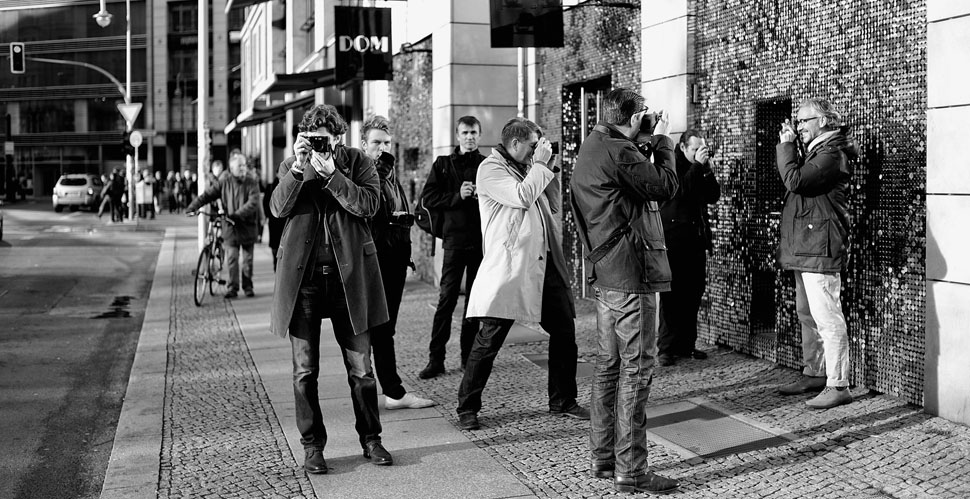 Overgaard Workshop in Berlin
User review of the Thorsten von Overgaard Workshop:

"The Overgaard Photography Workshop is an investment that pays immediate dividends.

In four short days there was a marked swagger in my step. This may sound irrelevant to photography, but in my opinion it's one of the unspoken tangibles that make professional photographers like Thorsten so damn good – their confidence is able to make them disappear in a sense, and put their subjects at ease.

The funny thing about this is that it wasn't something discussed during the workshop, it was something that I learned from observing Thorsten work. The way he moved without hesitation, the manner in which he sized up his subject, and got the shot and moved on. Quick, clean, and confident! For me, that was the most valuable part of the workshop – spending four days at the elbow of a professional photographer!

What an experience!

I came away excited, eager, and confident that I could produce the kind of photographs I've always envied!

Thank you to my friend Thorsten! Some time in the future, somewhere in the world, our paths will cross again!"



- J. J. (New York)
Video reviews Overgaard Workshop Rome:
User review of the Thorsten von Overgaard Workshop:

"Thanks again for an amazing experience. Definitely keen to do another workshop with you both in the near future to hone my skillz. Apologies for having to run out constantly. Thanks again for everything."



- G. C. (Hong Kong)
Thorsten Overgaard Workshop Review:

"I was in a flat spot with my picturemaking, I was reading your blog which I follow with great interest. Your blog said 'wear your camera and get out and do something'.

Well after a bit of thought, I went out and put on an exhibition of 80 pictures in our local library exhibition room. This turned out to be very successful with photographic societies and others visit the exhibition.

Thank You for having inspired me!"



- R. D. (UK)
Thorsten von Overgaard Workshop Review from the London workshop:

"Towards the end of 2012 I purchased a Leica M9P camera and Leica 35mm lens; I did not know how much this little black box was about to shape all of 2013 for me.

In Jan 2013 I attended a four day workshop in London with Danish photographer Thorsten Overgaard. It was, not only, an incredibly informative few days but also tons of fun and I met some wonderful people. The encouragement I got from Thorsten and everyone else gave me an incredible boost to get 2013 started. In fact I loved the workshop so much I immediately enrolled on the Sept 13 session which turned out to be even better.

I found Thorstens straight forward approach to both using the camera and towards editing extremely refreshing but it was the way he taught me how to look for light that, honestly, changed the way I view the world.

I see differently now and because of that I also think differently. I've started to compose and record music in a way that is much clearer and for the first time in my career true to how I want to hear it."
(Feel free to see images on my blog).



- B. G. (Music Composer & Producer London)
User review of the Thorsten von Overgaard Workshop in Sydney:

"First of all I would like to thank you for some very educational and inspirational days in Sydney. I feel that I've grown a lot as a photographer, not only through what you taught us, but also by just observing how you move and interact with subjects on the street. And your "All you need is love" approach to photography is the best advise I've ever received as a photographer.

I'm still aiming for my "less is more" approach to photography. If something doesn't add to the story you're trying to tell then try to crop it out (preferably in camera) or wait for the right moment when there are no distractions. I just had another look at your website and one of my favorite photos is of the Sikh reading a book shot with the 80mm Summilux-R. There must be hundreds of people in that photo but they all add to the story and therefore not a single one should be cropped. Very inspiring indeed!

Hope to see you again in the future, in Australia or somewhere else around the world. All the best."



- H. H. (Sydney)