A travel bag, for cameras.The 'Tokyo' model is light brown 'Taupe' soft calfskin.

The Von "Tokyo" Camera Bag/Document Bag

I love bags, and I have had many that I use as camera travel bags. From the excellent Billingham canvas bags to the expensive Hermes and Fendi bags.

A couple of years ago, I designed my own "The Von" camera travel bag and it's been the center of my travel bags since. It has the right size, the right compartments, it's stylish - and built to last a lifetime.

An elegant and simple carry-on bag made for 2-4 Leica M cameras with 4 lenses and accessories. Also fits 15" MacBook and/or reflector. Adjustable shoulder strap. eight pockets inside and one zipped compartment. Comes with to-die-for handmade insert with adjustable compartment. Insert can be taken out and the bag can act as a weekend or document bag.


A customer in Hong Kong who has been a Hermes client for many years, wrote us back, "I am really impressed by the bag. I have been using it on my European trip, and even had it on me for a hike in the Swiss alps. It is really Hermes quality and a bit sturdier I think. Well done! I also got positive comments from people I met.



The Von camera bag in light brown Taupe is called "Tokyo" and is made of soft Italian calfskin.

I like simple things

| | |
| --- | --- |
| | |
| | Our artisans are family workshops that have been doing leather work for generations. |

The simpler it is, the harder it is to make. To obtain the exact design, style and usability I wanted, we had to continue to work on the details. "It's ready when it is right," was the slogan through countless prototypes, drawings and tests of "The Von" that were first introduced in 2017 and tested through my travel to more than 50 countries since.

In most product designs these days, there are a lot of useless things added that complicate, or there are ways of doing things the wrong way for the right reasons. Things are seldom put to test in the real world by the people the product was intended for.

The sole reason I make camera bags, desk blotters, camera straps and other products was always that I wanted something in a certain way, and it didn't exist. So I had it made for me. As a general rule, I want simplicity, and it has to have out-of-this-world quality at the same time. And if something is awesome and works, it has to last for a lifetime. That's the simple philosophy.

Add to Flipboard Magazine.
The Von "Tokyo"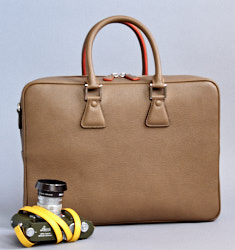 An elegant and simple carry-on bag made for 2-4 Leica M cameras with 4 lenses and accessories.
Also fits 15" MacBook and/or reflector. Adjustable shoulder strap. eight pockets inside and one zipped compartment. Comes with to-die-for handmade insert with adjustable compartment. Insert can be taken out and the bag can act as a weekend or document bag.
Soft Italian calfskin and a matching adjustable shoulder strap. The inside, with hand-painted orange edging to make it special, and "ALWAYS WEAR A CAMERA" stamped inside so as to whisper inspiration to you in the morning. That's all.
41 x 11.5 x 31 cm
(16 x 4.5 x 12 inches)
#TheVonTaupeiTokyo
The Von Taupe Brown "Tokyo" Calfskin Camera Bag

(When this item is on preorder, expect 2-3 months delivery).
ONLY $4,498.00
Specifications:
Khaki brown 'Taupe' Calfskin with Orange Edging details, Alcantara inside.
Attachable shoulder strap 110 - 122 cm (44 - 48 inch adjustable).
With The Von Insert: An "Always Wear a Camera" adjustable and removable light-weight insert of Alcantara.
Four document/passport/filter pockets and one zipped large compartment.
Five metal studs in bottom.

The Von Insert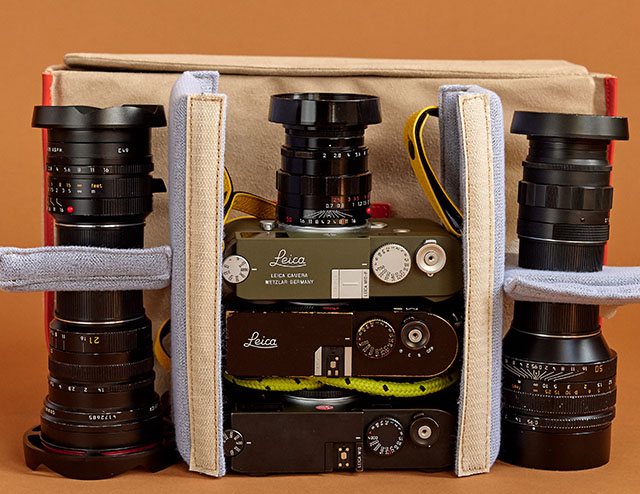 The light-weight adjustable insert made of Alcantara is a removable insert and comes with the Von bag.
When used in the bag, there still remains space in the ends (to the left and right) for hard drives, chargers, etc.
There is also space on the front and back for a reflector or a laptop.
There is also space above the insert for a sweater, newspaper or whatever else you may want to carry in the bag. See here how it works.
It comes with The Von bag, but can also be bought individually (14 x 3.5 x 9") to use as an insert in any designer bag like Louis Vuitton iCare (14") / Steamer MM (18"), Goyard Ambassade (17"), Gucci, Fendi Pekaboo 16.1", etc.
For a cheaper solution with similar functionality you can also use the Hadley Pro insert from Billingham ($110).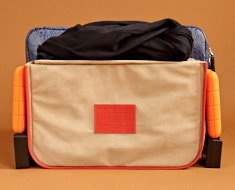 The shoulder strap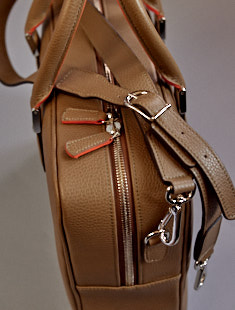 The Von comes with a matching shoulder strap which attaches to the bag, using durable and long-tested metal parts (looks pretty too). The strap is adjustable in length, intended for carrying the bag across your body, but you can also have it hanging off one shoulder.
Other colors:
The inside story
The inside of a bag is for you to enjoy, and it should remind you through its quality and aesthetics that this bag was made for your pleasure and long-term use. I've always judged a bag on its inside quality: this is where the craftsmanship shows. The interior is for me what the bag "really is" rather than just a pretty exterior to look at.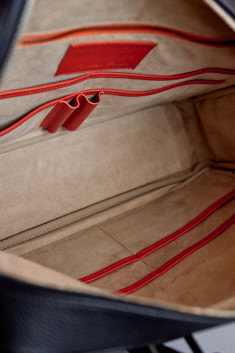 Eight pockets (four on each side) for passports, business cards, notebooks. The pockets are flat and don't take up any space when not in use, but allow for rather bulky things in them, when used. They don't take up any space but give you lots of space for organizing and storage.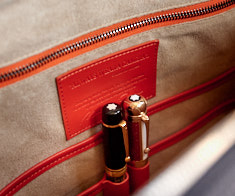 Two pen holders large enough for fountain pens.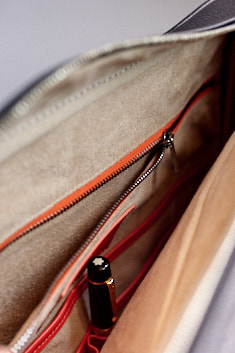 One zipped large compartment for cables, card reader, memory stick, WhiBal cards and all the loose parts you don't want to have floating around somewhere else.
The Von is made to live in, you can tell it can't wait to take good care of your cameras.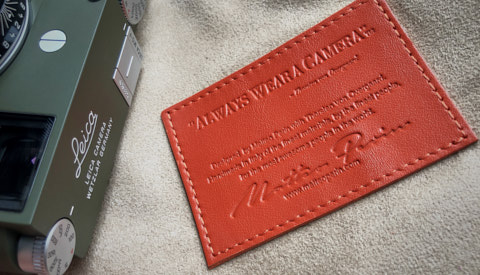 All my bags have the inscription "ALWAYS WEAR A CAMERA" upon them. Because, that's what it is about. A lifestyle of traveling and photographing, always creating aesthetic photographs. The label also reads, "Handmade in Italy of the finest materials, by the finest people, for the most awesome people in the world".
The "Always Wear a Camera" Calfskin Camera Bag by Thorsten von Overgaard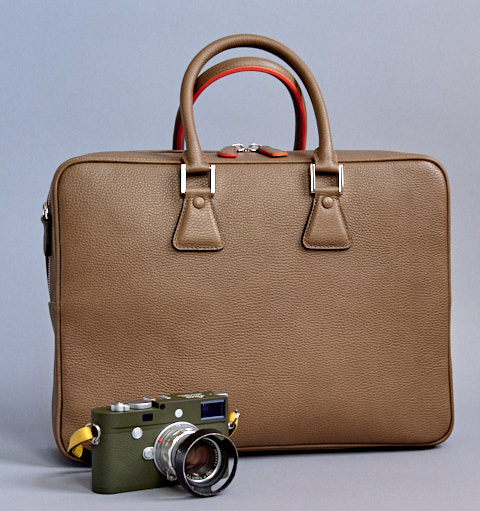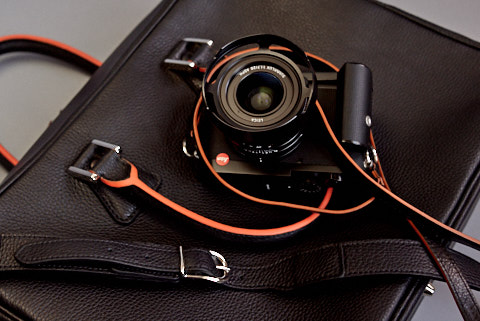 Throw it around: This bag is made for use over many years in the real world. It may be a fashion statement, but it's made for being thrown in and out of cars, dragged through airports, getting bumped in the overhead compartment, stacked on a trolley, handled by bellboys, and all that. The things inside keep protected and organized, and the bag is made so as to be patient to abuse, intended to last a lifetime. The harder you use it, the more patina it will get, but it will hold together and be yours forever.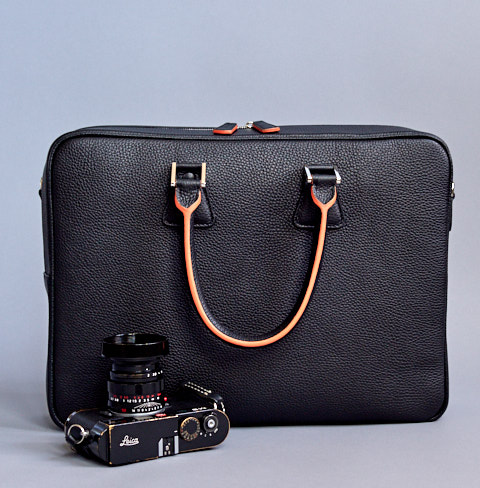 Pretty with orange edges: Orange edging is an old Italian tradition to close the edges and for decoration. An artisan will paint the edges carefully, usually 8-10 times over a day or two to achieve the right finish and durability.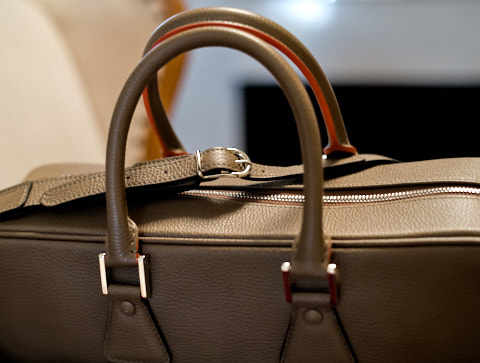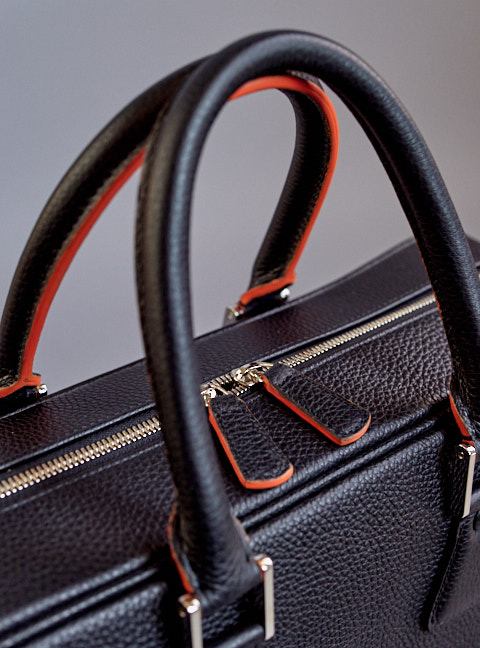 Handles to die for. Just the right shape and size to be comfortable when you carry the bag, and a decorative design that completes the bag when not used. Sturdy, made of soft leather, soft piping inside to give the right size and softness, with orange edging details in the best artisan tradition.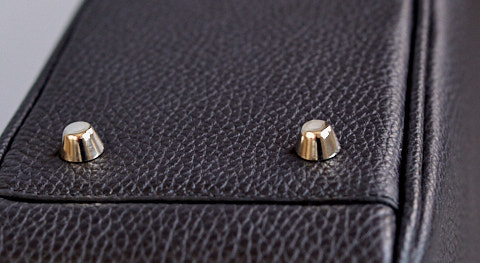 Drop it like it's hot. Five metal studs under the bag so you can park it on the floor in the airport or anywhere else without smudges or water getting into it from the bottom.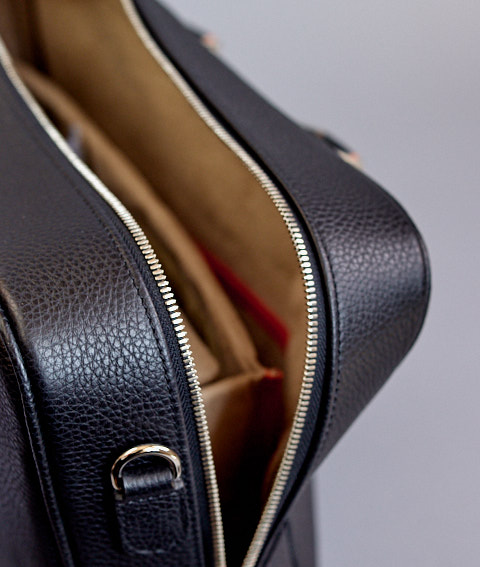 A zipper opens all the way so you can easily get stuff in and out of the bag. Notice in this picture, the space above the insert that allows for a newspaper, sweater, jacket or other extras.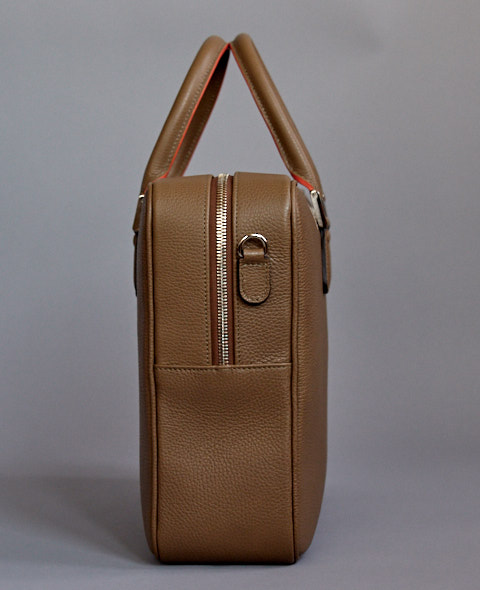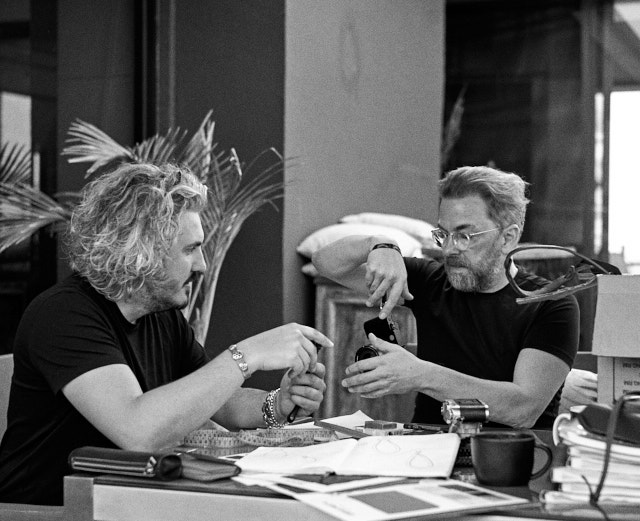 "It's ready when it is right" is the philosophy, and everything is made for me first, used for a long while, adjusted and used again, then put into production. When it's right, it's ready.
Other stuff I made for myself, you can buy:

Leica M10-P Safari with "Yosemite" camera strap. Leica M10-P Silver with "Concorde" camera strap.

More great design: Also check out the ventilated shades for Leica and other lenses designed by Thorsten Overgaard here.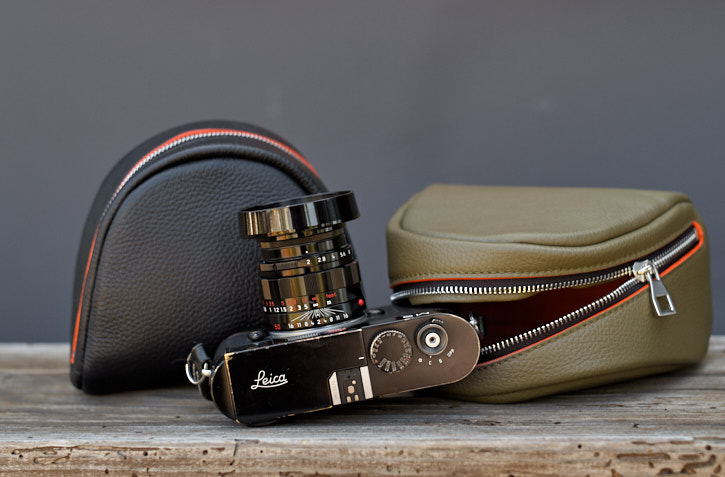 The Camera Pouch and Photography Acessories Pouch "ALWAYS WEAR A CAMERA" By Thorsten von Overgaard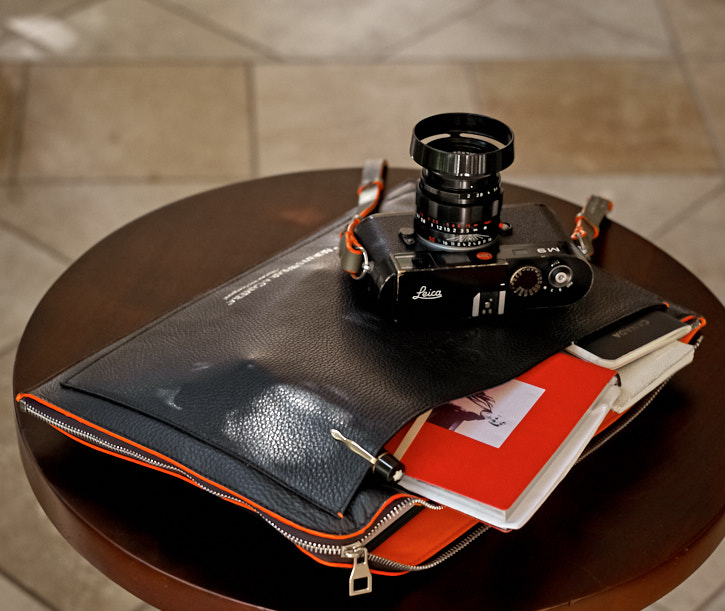 The "Always Wear a Camera" Calfskin Document Carry-On By Thorsten von Overgaard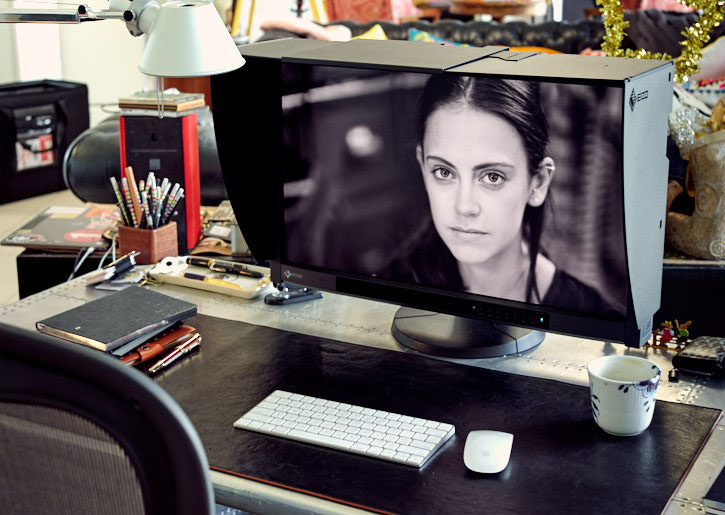 My Desk Blotter is made for working in style and comfort: With a comfortable size of 36" x 19" (90 x 45 cm) there is plenty of space on the 40" Desk Blotter to the left and right for cups, notes, cameras and all you want to have handy. Soft, beautiful, elegant, simple, water resistant and non-reflective.