The story
behind that picture
"Dickens in Boston Snow"
By Thorsten von Overgaard
On February 13, 2014 a winter storm was tracking across the United States East Coast.
I had just arrived to Boston at 9:35pm the evening before, on a flight from Los Angeles. When I woke up on the 13th I went for breakfast at Charlie's Sandwich Shoppe just two blocks from the apartment I had rented.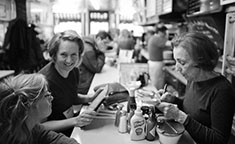 Charlie's Sandwich Shoppe in Boston.
It was gently snowing, and as the minutes went by this turned into a blizzard.
I was excited, because I always see the unexpected and the unusual as a possible gift for photographs. Either I went straight out in the city, or maybe I went back to gear up with a scarf, but I was pretty determined to experience as much of the blizzard firsthand as possible.
50mm Noctilux in the snow
My choice of weapon was the 50mm Noctilux f/0.95. It just was… I don't think there is any reason for it.
I first walked towards a mall some blocks away so as to try to locate myself in a city I had never been in before. There I saw wider streets with traffic, and newer buildings which weren't that interesting.
I circled back to my own neighborhood around 158 West Brookline Street and I just followed my intuition as to which direction to go for pictures.
As I recall, I was on the way back to my apartment. It was cold, it was snowing wet snow, and there was a rather strong wind, and I was excited about the possibilities.
Torn between a warm apartment and the urge to explore, I stayed outside. I knew I could go back whenever I wanted to, but I wanted to allow the moment to maybe show me some possibilities.
At one point I did something that even to me, in that moment, seemed odd: I spent fifteen minutes standing on top of the stairs to a townhouse, having what I thought was an exciting frame in view: A series of townhouses down the street, with stairs and trees in front of them. I just needed a person or something in the frame.
During the cold, windy and wet weather that seemed to just get worse by the minute, people were absent from the streets. Still, I was determined to wait for at least something reasonable.
Only a Danish photographer would stand still with a camera soaked in wet snow, with fingers turning blue and constantly having to clean my glasses and the camera's lens to be able to see something.
I remember that while I was standing there, loyal to my idea, I heard the sound of people to my left. I turned to look, and somebody was starting a Beetle that had been parked in a rather romantic setting. I took a photo a few seconds before the car left the spot, then returned to my planned frame.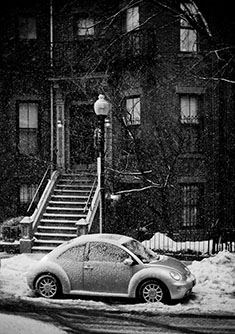 The Beetle in Boston
In retrospect it seems a little foolish that I would be so loyal to the idea of that particular frame. But I was on guard and I just wouldn't give it up.
Eventually I had given the frame a chance for at least fifteen minutes. People had come and gone and I had photographed them. Later, in the editing on the computer, I would be able to see what I had gotten.
I decided to head back, maybe via a detour around the area. I was on my way home to warm coffee and dry clothing when I peeked down a narrow alley through the backyards.
I intuitively stopped, framed, checked the exposure ... and then I waited for somebody who would walk from the other street through the alley towards me.
It was a prevision. After a very short while, I realized how unrealistic that actually was. During a normal day, that prevision would likely become reality within a minute, but in this weather it was more likely to never happen. Nobody was outside unless they really had to be (with the exception of me).
As it happened, a person passed by, I took two photos, and even though he was not walking my way, I took it as a clap on the back that I had at least tried.
I thought, "Ok, that's it. I did what I could in this weather; I got my townhouses with some people." Then I headed back to the apartment.
I like this photo
As a photographer, you tend to decide when you take a photo, or perhaps often even when you plan to take the photo, how that photo will be considered. It makes you blind to see the actual photo as others would. You see your own flaws and your own successes not by looking at the picture, but by remembering the experience of taking it.
That's how we sometimes love photos that nobody else cares about. But also how others love photos that we don't consider that important.
The "Dickens in Boston Snow" is a good example of such a photo that, in the moment I took it, I didn't get what I had envisioned. What I wanted never happened, but then something else did.
It's taken me five years to gradually be able to see what others consistently have said when they see this photograph: "Wow!", and often followed by a sentence that includes a reference to Charles Dickens.
This is how it simply became known as "The Charles Dickens photo". Even though he isn't in it, he's all over it.
In the larger print of this photo, the amount of detail of the walking man, as well as in the snow and the texture of the walls, is amazing. You will also notice that in the shadows, you can sense that the lens is filled with snow on its front glass.
I once saw this as a depressing photo, an unnecessary photo like those which people take of homeless people. But strangely I feel happiness and enthusiasm when I look at it.
I don't think one should be able (nor required) to explain why one likes a photo. Use your eyes, and what you see is what you see.
I see an empty city centered around a person, and I somehow feel an energy burst of eternal survival.