The Travel bags designed for Thorsten von Overgaard
by Matteo Perin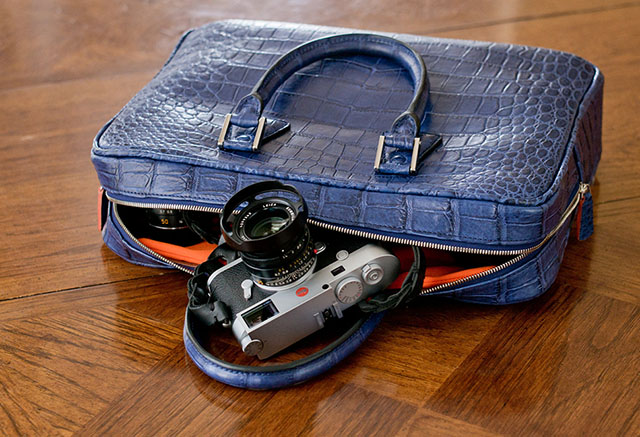 The Von Camera Bag
When Goyard in Paris wouldn't fix the Goyard Aplin backpack I had bought as travel bag for cameras (whihc is different from a walkabout bag for daily use), I decided to make my own bags. Luxury used to mean that you got the best artisans can make, using best possible materials, based on many years of experience, resulting in a product that can ultimately last for generations.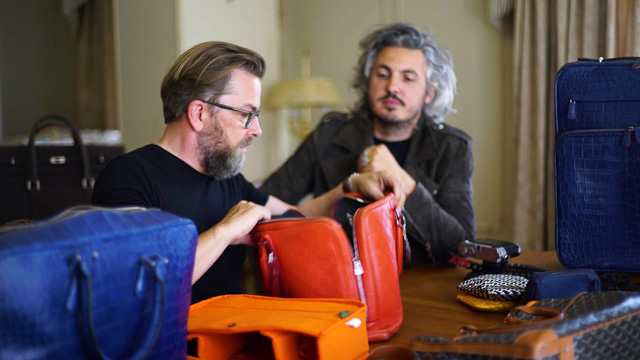 Thorsten von Overgaard and Matteo Perin working on design of camera bags and travel bags
With Italian designer Matteo Perin, I decided to make some bags for myself, using the bestartisans and the best materials available. I wanted - as I always do - something that works.
We ended up with The Von Camera Bag that is specified to my exact needs, which is a travel camera bag that holds 4-6 lenses and 2-4 Leica M bodies, with space for battery charger, extra batteries, a couple of hard drives, cables, card readers, filters and a few other things. It is large enough to fit a 32" folded reflector (which happens to be the same size as a 15" labtop) along one side of the bag, next to an orange Billingham Hadley Pro insert (which holds four lenses and 2-4 Leica M bodies). The material is alligator, which makes it quite exclusive (and about eight times more expensive than normal leather).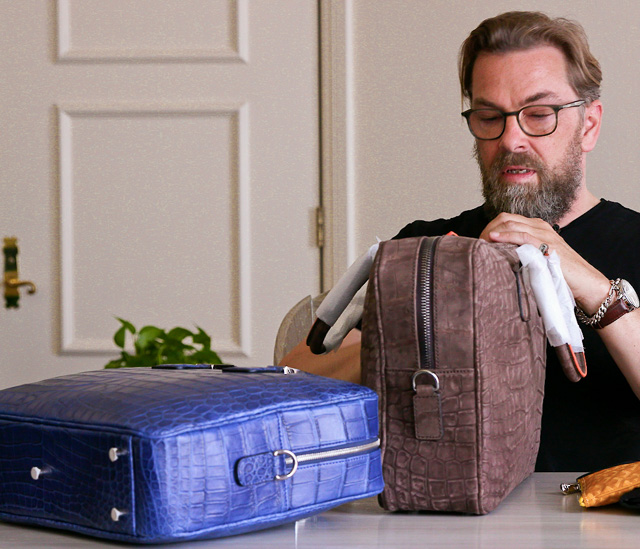 The Von Camera Bag in blue croc (left) and grey croc (right).


The Von travel camera bag, for 4 lenses, 2-4 Leica M cameras, a folded 32" reflector, batteries, chargers, hard drives, etc. Volume: 13 L

The Von


Black deerskin.
11 x 40W x 30H cm
(4.3 x 15.5W x 11.5H inches)
$8,000.00

The Von

Calfskin with
Croc handles and piping
11 x 40W x 30H cm
(4.3 x 15.5W x 11.5H inches)
$14,000.00

The Von

Blue Croc Limited Edition
11 x 40W x 30H cm
(4.3 x 15.5W x 11.5H inches)
$39,000.00
BUY HERE

Inserts:

Leica M insert
Microfiber Suede
$798.00

Leica SL insert
Microfiber Suede
$798.00

Leica S insert
Microfiber Suede
$798.00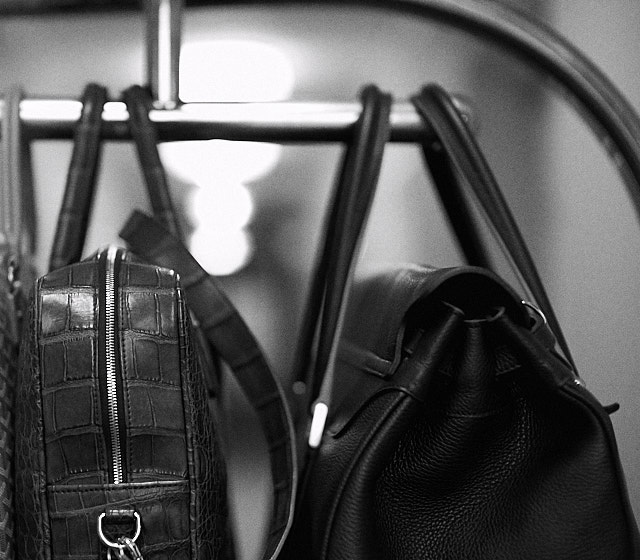 The Von Camera Bag and The Von 24hr JetSet Bag.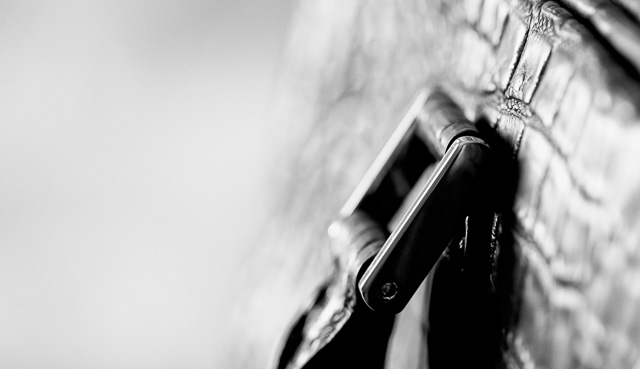 Detail of the handle of The Von Camera Bag
The Von Messenger Mini Bag
The bag for using when you don't want to carry a bag.
This is a photographer's walkabout bag and the only bag I will walk with throughout the day. I always have my camera across the chest, so the Von Messenger Mini bag holds (no camera but only) extra battery, phone, en extra lens, gloves, scarf, filters, water and the small things one would else have to have in pockets. Also handy for holding small things one buy on the way so one can keep both hands free to operate the camera.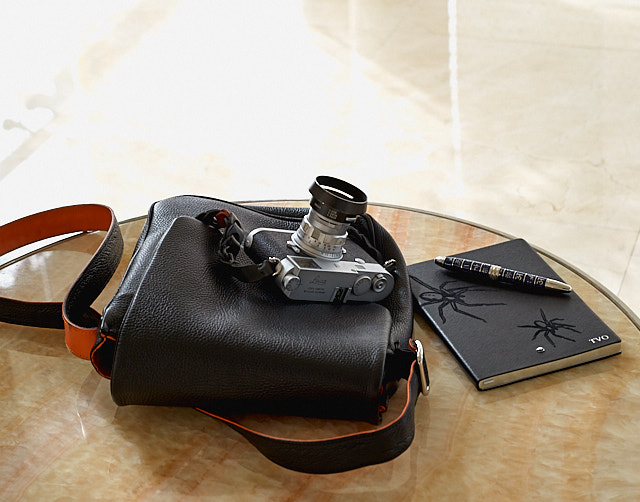 The Von Messenger Mini Bag in black calfskin made for walkabout all day. Fits a 3 feet reflector and/or 15" computer.
For transportation from the car to a care, or similar, the bag holds a camera and two lenses, and even a 15" MacBook Pro upright (with the flap is open).
The Von Messenger is designed to fold to the body so it isn't tiring to carry, even for a whole day. It's a very compact bag (7.50 x 24W x 28H cm). The strap is soft leather, wide and without any shoulder pad; the adjustment sits on the back end of the bag while the front end of the shoulder strap is sewn tot he bag. Simple and comfortable, and very discrete.
Wide comfortable leather strap that is adjustable on one side of the bag. Can be made with initials engraved with silver on front; only visible when the flap is opened up. The bag also holds a 15" MacBook when the flap is up so one can walk from the office to the car or a cafe with it. Alcantara inside which is durable, soft, easy to keep clean and doesn't scratch equiopment.
Soft leather with a few orange edge details and chrome fittings. Flat hidden pocket on the back (towards the body) for papers, receipts, magazine, etc.


Inside details of the two pockets that has orange edge details. Also space for two (thick) fountain pens.

The Von Messenger Mini


Black cowhide (or deerskin).
Alcantara inside.
7.50 x 24W x 28H cm
$2,998.00
BUY HERE
Some of the available colors in cowhide/deerskin:
Black
Tabacco
Flame
Canere
Giallo
"The Von 24hr Jetset Bag"
Next project with Matteo Perin was a 24hr Jetset Bag. It's meant to be a travel bag for a short 24-hour travel, but in my life it takes the place of my document bag. I've used an orange leather-version of the Louis Vuitton Porte-Document Voyage for years (from the Fall/Winter 2011 collection), but it's always been packed to the max with papers, computers, pens, headphones, water and all the small things you need in your carry-on. So I decided to go larger with this bag.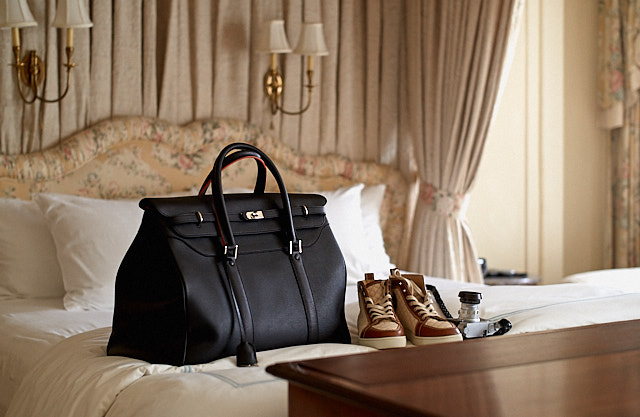 The Von 24hr Jetset Bag in black calfskin with cashmere insert.
Some of the available colors in deerskin:
Black
Tabacco
Silk
Canere
Navy
Unlimited colors to choose from. Also available in cowhide, slightly different colors.
Spacious travel bag (volume of 30 L - almost 3 times the inside space of The Von) you can use as a traditional 24hr travel bag, or as I do, a extremely spaceious document bag for books, MacBook, hard drives, scarf, headphones, gloves, documnets and all the stuff you want in your carry-on to have it handy.

The Von 24hr Travel Bag
Limited Edition Black


Black Deerskin.
Alcantara inside.
Outside max: 28 x 50W x 42H cm
$9,995.00
BUY HERE


The insert for the 24Hr Travel Bag fits in the 24hr Travel bag, but also in The Von and any other bag where you need an insert to hold pens, passport, business cards and more. (Photo coming).

24hr Insert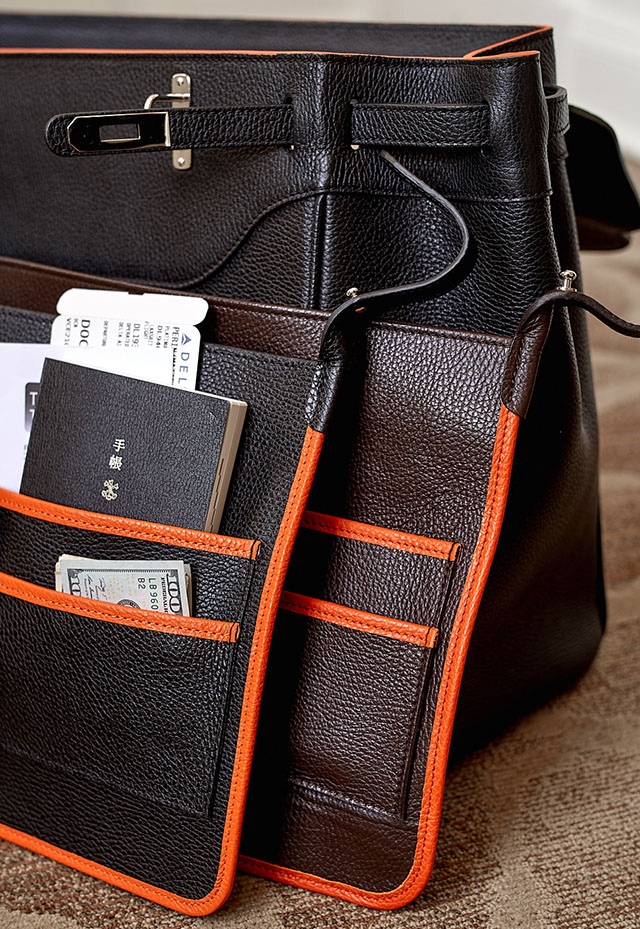 The removeable 24hr Insert you can get for The Von 24hr JetSet Bag. Here shown in black and brown calfskin. These inserts can be tailored for special tools or gadgets you want to hold in them (scissors for hairdresser, cigars, watches, extra pens, etc). The nomral version has pockets for passport, notebooks, thin hard drives, etc.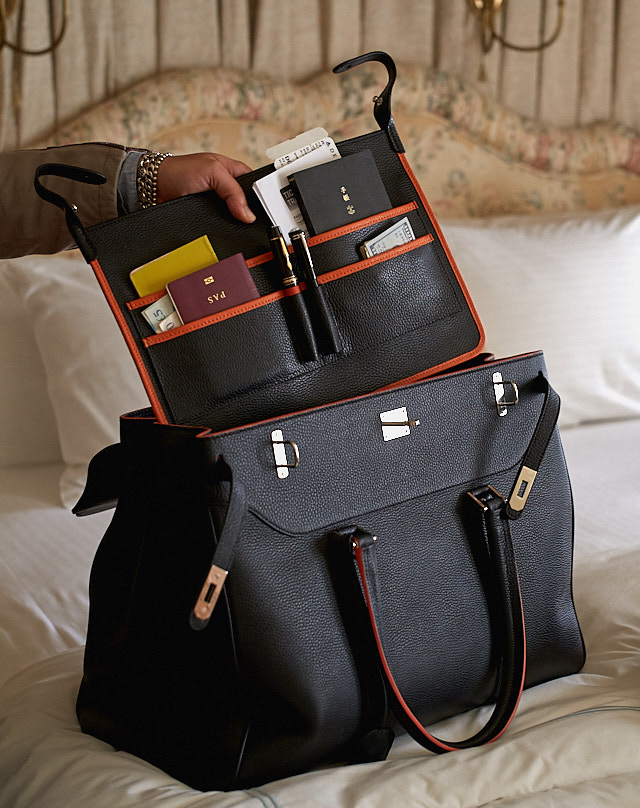 The insert goes into The Von 24hr JetSet Bag or any other bag you want extra pockets in.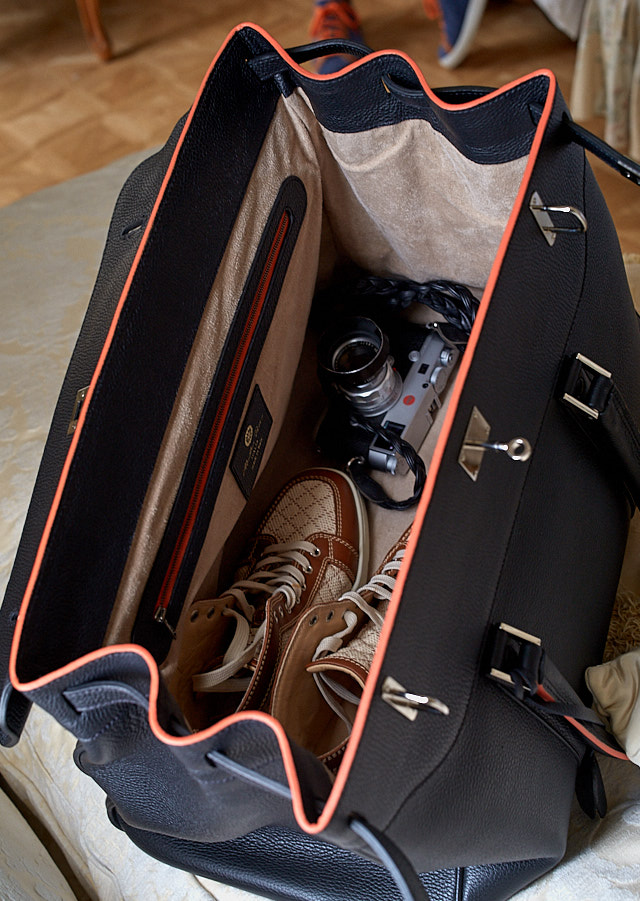 The inside of The Von 24hr JetSet Bag is soft cashmere. It's designed as an over-the-top document bag with space for much more than just documents - when you want extra space for all your stufff on the airplane as carry-on.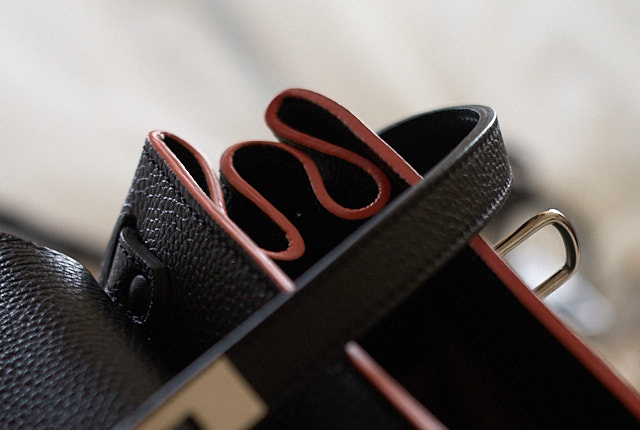 The Von 24hr JetSet Bag detail.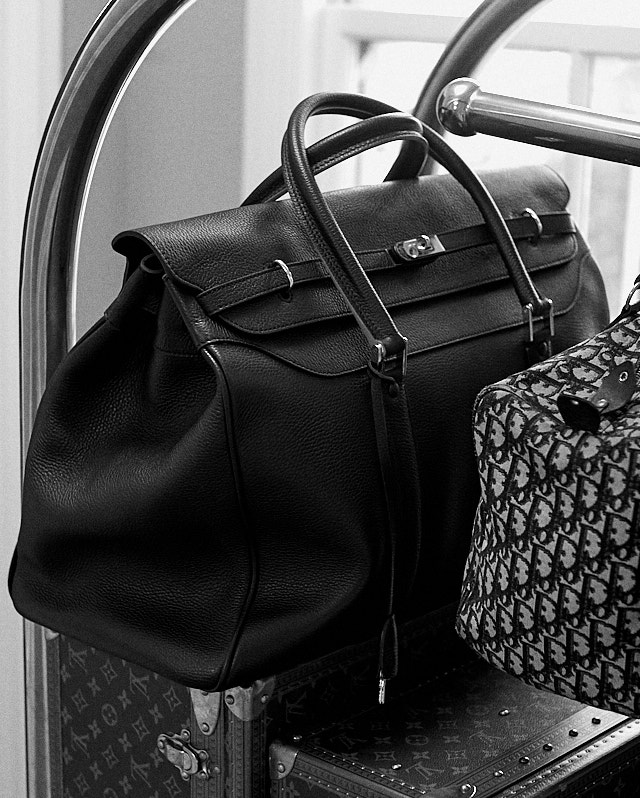 A The Von 24hr JetSet Bag in black deerskin.
The VonBack backpack
We've also been working on at VonBack and have made several prototypes. I still believe a backpack would be an ideal camera bag for travel. I like to carry my bags by the handle, it's old-fashioned. But I rely on trolleys, which many airports have. But there is not a single American airport that offer trolleys anymore (inside the airport, after security), which mean you have to find other ways to carry things. Here are some of the VonBack prototypes.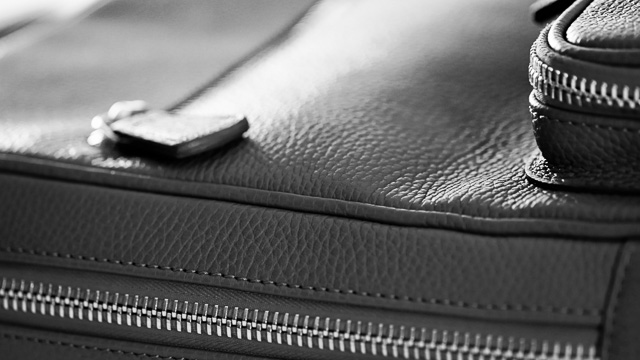 The Von Backup Backpack in Deerskin
Bag sizes explained
When you get into luxory bags, they are often described with PM, MM or GM as names for sizes. I can never remember them myself, as I don't speak French, but here they are:


PM - Meitite Modele = S - Small model.



MM - Moyen Modele = M - Medium model.



GM - Grand Modele = L - Large model.