The Pixii Rangefinder Mirrorless Camera Review
By: Thorsten Overgaard. September 1, 2020.
Pixii digital rangefinder camera for Leica lenses
Review coming soon: A new 11MP digital rangefinder camera that is 460g (1 pound) plus whichever Leica lens you want to put onto it. Internal memory only, ideally used with a smartphone in the pocket where the pictures show up as you take them.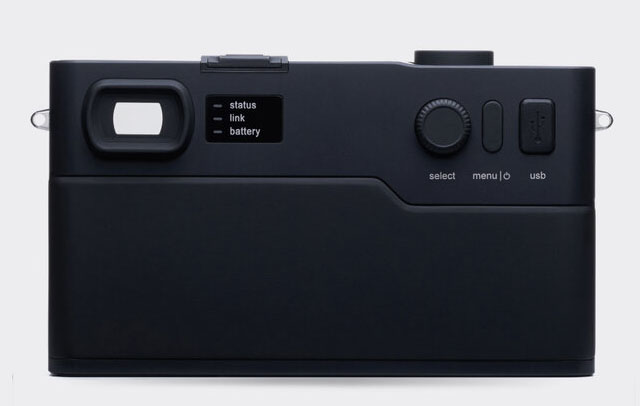 Should be simple to figure out. No screen and a few buttons. The Pixii.
Specifications:
Viewfinder
Optical viewfinder with coinciding rangefinder (magnification 0,67X)
Independent LED backlit framelines for standard prime lenses: 28mm, 35mm, 40mm and 50mm
Exposure indicators and focal length confirmation
Automatic parallax correction
Automatic LED intensity adjustment
framelines
Sensor
CMOS sensor, 5.5µm pixel pitch
Electronic global shutter
APS-C optical format
RGB color matrix, optimized with micro-lenses
12-bits sampling rate
High dynamic range mode (60-90dB)
RAW (DNG) and JPEG format (4080x2732)
Native gain: ISO 320
Optical stack : IR filter < 1.0mm, no low-pass filter
Lens
Interchangeable lens system
Manual focus and aperture control
M compatible lens mount, also compatible with M39/LTM lenses (with adapter)
Dark chamber designed to fit collapsible lenses
Body
Dual-block machined aluminium body
ISO accessory shoe
Tripod socket A ¼,
Lugs for carrying strap
Dimensions : 138x79x33mm
Weight: 460g (incl. battery)
Finish: silver anodized, space gray, matte black
‍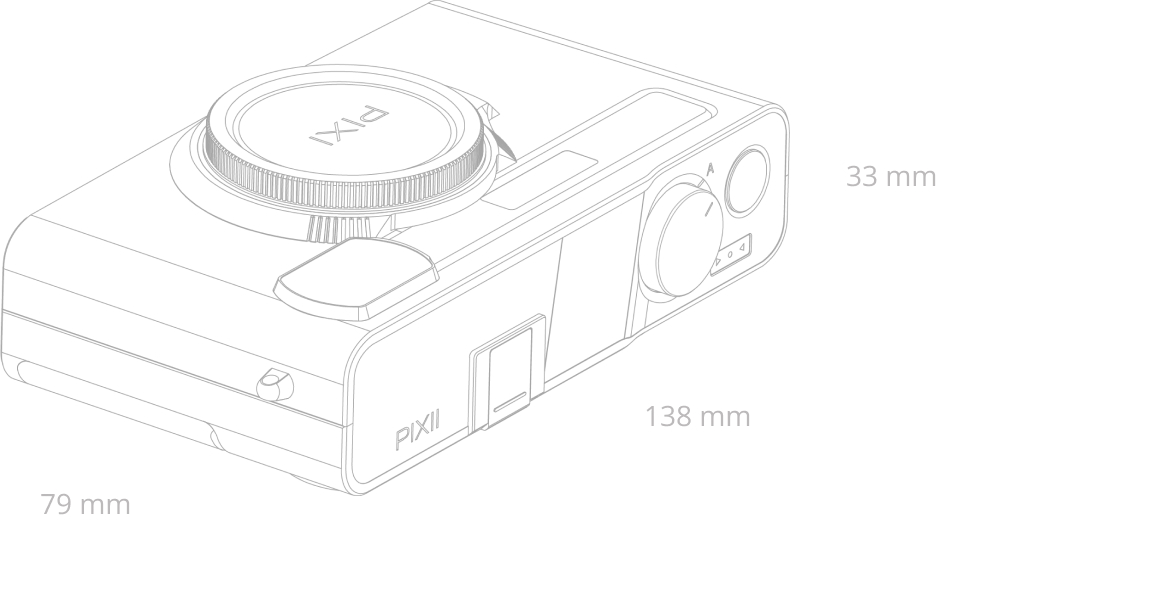 Controls
Manual shutter speed selector
Automatic speed mode
2 stage shutter button: exposure metering/lock and shutter release
OLED control screen
Quick ISO selection, white-balance and supplementary settings via integrated menu
‍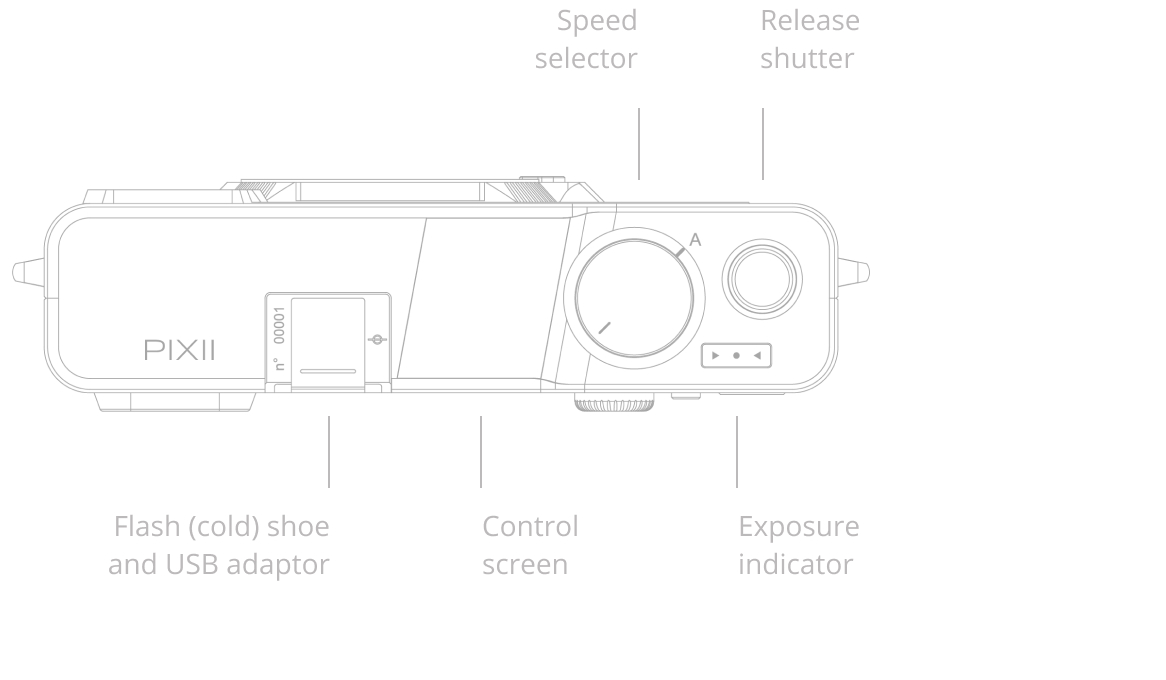 System
Dual core ARM SoC with integrated FPGA accelerator
Wi-Fi 802.11 b/g/n connectivity
Bluetooth LE 5.0
Storage: 4GB, 8GB or 32GB internal storage (offload via USB-C cable and/or Bluetooth)
Power
Li-ion 7.4V battery, 1000mAh capacity, model NP-FW50
Integrated USB charger
Programmable suspend and power off timer
Price
Pixii A1112 - 8GB 3,490 euros (VAT incl) USD 3,290 (VAT excl).
Pixii A1112 - 4GB 2,700 euros (VAT incl) USD 3,050 (VAT excl).
I like simple things

I make things for myself the way I think they should be, and I use them for my travel to more than twentyfive countries a year. Once I am happy with the way stuff works, I make it available for you to buy.

SHOP THE COLLECTION:

Ventilated Shades f

or most Leica lenses




Classic look to the lenses, sturdy protection against bumps and scratches ... and yes, they shade for the light as well.



Camera Straps f

or Leica M and Leica Q




"Simply a leather strap" – My handmade soft calfskin camera strap is the ultimate sophisication in simpliciy and luxury.

Camera Pouches

for Leica M and Leica Q




The soft calfskin pouch you don't need ... but you just can't resist! For camera with lens, or to keep track of loose parts.

"The Von" Camera Bag Carry-On Travel


Made to travel in style. Handmade by the best artisans in Milano, Venice and Verona to bring the owner a liftetime of happiness.

24h Travel Bag

with lots of Carry-On space




I decided to make a bag with all the space I could ever need to bring onto an airplane.



The Von Mini Messenger


The Ideal Walkabout Photographers Bag

.

Tested for three years all over the world by me.

Camera Backpack


I've made a series of backpacks becuase they are practical for many things.

Document Carry-On for iPad or Computer


Put a mess of everything in this and you look stylish and organized.

Desk Blotters and Larger-Than-Life Mousepad


Nothing beats the feelling of soft calfskin leather on your desk ... but this one takes away reflections, damps the keyboards and makes you happy!

Computer shade for MacBook Pro 15"


Better tonality, accurate colors and concentration for the eyes with my travel shade that snaps onto the MacBook with magnets and folds for travel.

Workshops & Masterclasses
With Thorsten von Overgaard for Leica enthusiasts and digital photographers in more than 25 countries a year. Pick your favorite city and meet Thorsten Overgaard.
Photography Extension Courses


Start an extension course with Thorsten Overgaard, work at your own pace and take the time you want.

At your own pace, and home

One-on-one Training anywhere in the world
Train with Thorsten Overgaard personally, tailored for you and private, any place in the world, or online.

Video Classes:

Learn from Thorsten Overgaard




Watch to learn about your camera, how to use light, how to do street photography, or simply to stay inspired.

eBooks on Photography


The foremost Leica expert and multi award-winning photographer Thorsten Overgard write books that teach and inspire.

Signed Prints by Thosten von Overgaard
Select photgoraphs from the archive of Thorsten von Overgaard, signed, sealed and delivered for your collection.


Adobe Lightroom Presets for Leica


As a Leica and Lightroom user you will love the simplicity and original look of the Presets Thorsten made for his Leica files.

Used Leica Cameras


Ken Hansen New York Inc

updated stock list of second-hand Leica lenses.