By: Thorsten Overgaard. February 2, 2020.
I sometimes go places
In Los Angeles, I've long wanted to take a walk in the hills above Sunset Boulevard, around the time when the sun softly sets behind the mountains. Finally, a few weeks ago, my daughter and I took a walk down the hill and made some photographs of what we saw.
Los Angeles is the place I spend most of my time these days, so I guess that qualifies it as my home. It's also the place where my big(gest) loudspeakers reside, which definitely makes it feel like home.
But Los Angeles is a strange city. Despite the rich history and all the icons featured in movies (most recently Once Upon a Time in Hollywood), the city doesn't inspire walkabouts and photography on a daily basis: It is not a walking city like New York, London, Paris or Tokyo.
Los Angeles looks amazing from a car, but is quite boring to walk in.
To take advantage of Los Angeles and the many possibilities for iconic photographs, one has to drive 30 or 60 minutes to a location, photograph it, and then drive 30 or 60 minutes back home.
I'm embarrassed to say I do this only a few times a year, and often only when others invite me to go, for example to the historic train station in Downtown Los Angeles, or to the Hollywood sign. I just don't find the city very inspiring, even though it is, as I said, quite iconic and historic on so many levels.
I suppose it's embarrassing that people from around the world travel far by plane to experience this city, but I who wake up in it, am too lazy to spend half an hour in a car to do the same.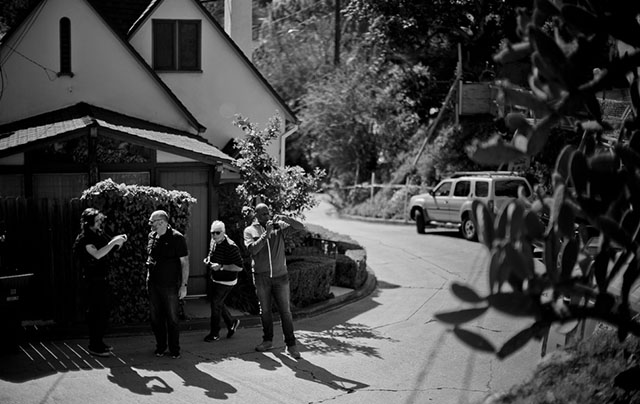 Walkabout in Los Angeles with the Overgaard Workshop. Most locals from Los Angeles have never walked in the city. Nobody walks in LA, everybody drives.
We did it
But a few weeks ago, my oldest daughter and I took an Uber for the 6 minutes (!) drive to the top of the road above the Stahl House and then walked down the hills towards Sunset Avenue just as the sun settled.
It's not an unlikely idea, because when I do workshops in LA, that is what we do: We go explore the fairly boring streets of Los Angeles by foot. I take notice that local folk from Los Angeles are always amazed about their city, Nobody walks in Los Angeles, so the experience of walking any street with a camera is an experience they've never had before.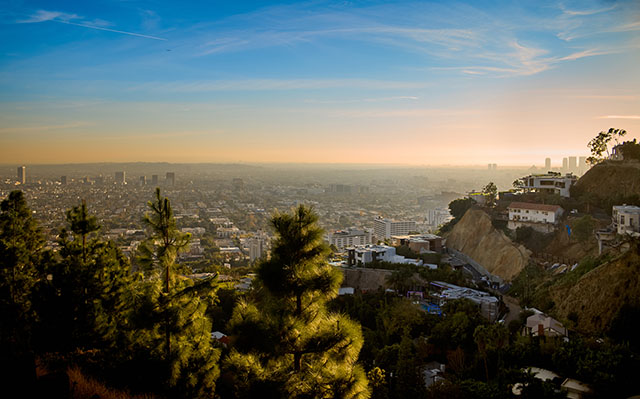 Hillside Avenue. Leica M10-P with Leica 28mm Summilux-M ASPH f/1.4 © Thorsten Overgaard.
So, it shouldn't have surprised me that my daughter and I had a blast: Some breathtaking views across the hilly landscape with houses that seem to have been dropped randomly onto the hills. And we got to explore the houses close-up, which I look at every day from a distance. Also a handful of new houses are being built, which we could walk into and talk with the workers. Finally, we found a few really nice houses that we made a note about, because that is what Los Angeles has; a lot of hidden gems that make you want to live there the rest of your life.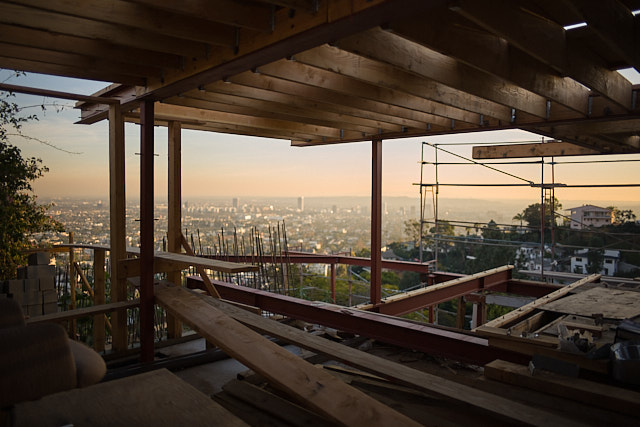 Leica M10-P with Leica 28mm Summilux-M ASPH f/1.4 © Thorsten Overgaard.
An unexpected turn
In our stride up a side road to see one of the new buildings being constructed, there was Bellgave Place. In that exact moment it looked like a poem of light, colors and lines.
All I had to do was lift my camera, focus and take the photo. That's fundamentally how simple it was to make this photograph "Bellgave Place" that in the following days got a lot of likes everywhere I showed it.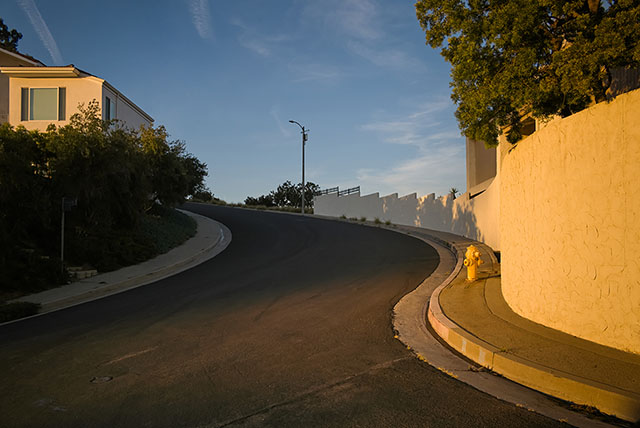 Bellgrave Place. Leica M10-P with Leica 28mm Summilux-M ASPH f/1.4. Technically, it's photographed at daylight Kelvin 5400 (which makes the walls that warm from the 2200 Kelvin sunset light, and the shades colder from the 7000 Kelvin shade light). 800 ISO at f/3.4. © Thorsten Overgaard.
Recognition
I recently decided to start posting photos to the LFI Gallery again, so I posted this photograph. And was happy to see that it was included as a Leica Master Shot.
In general, I take note when Instagram likes, Facebook likes and "likes in person" peak on a photograph. It's a way of learning and seeing what others see.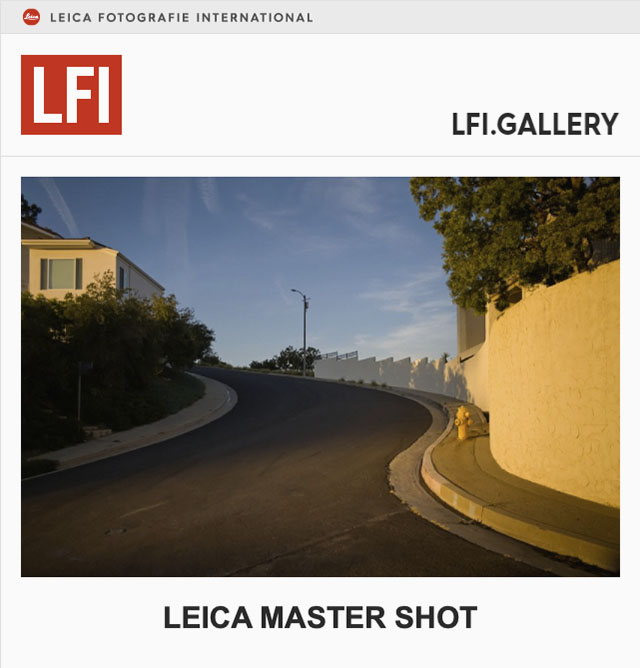 The photo by Thorsten Overgaard "Bellgave Pl, Los Angeles" was included in the LFI Gallery "Leica Master Shot".
More to come ...
I hope you enjoyed today's Story Behind That Picture. As always feel free to email me with ideas, questions, suggestion.
Buy this New eBook by Thorsten Overgaard


In this easy to read and apply eBook, Thorsten Overgaard takes you on a journey to see, understand and simply use light.
"One of the most important ways to get an aesthetic and pleasant picture is to find the good light."

"Finding the Magic of Light"
eBook for computer and iPad
Only $47.

Order now - Instant delivery.
44 Pages. More info.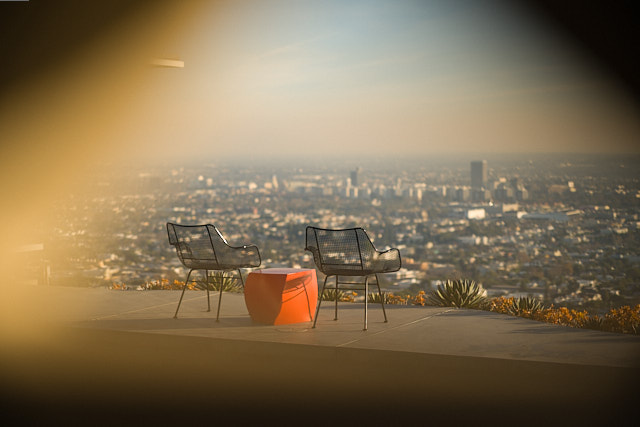 The Stahl House. Leica M10-P with Leica 50mm Summilux-M ASPH f/1.4 © Thorsten Overgaard.