By: Thorsten Overgaard. June 2, 2016
To Protect and Preserve
I'll let you in on a few things you might not know. My website started out as a blog before anyone started using the name blog. People often refer to my website as "your blog"
Still this day I don't like blogs. It is software designed to hold content, and it's designed in a way so that if it didn't happen within the last 5 minutes, it's really damn hard to find and read it. This frantic way of communicating and storing history has rolled over to social media where the timeline is even worse.
There are three things that distinguish my website from the norm. The first thing is that it was never made to attract attention to what I do or me. It was made to tell stories and preserve knowledge. Back when the Internet was young and innocent in 1996, we had the saying "sharing is caring". It meant if you knew how to do something, you would share it.
It was in that spirit my website was made. Some will be familiar with the term "pay it forward" which means that good deeds can spread like ripples in the water. Karma: some day, somehow, it will pay back.
You don't know how or when but it doesn't matter. It shouldn't matter.
As you will see, this is a very different approach to life than the way social media is run today; "if it doesn't pay back 'likes' right now, it's anyways gone in a few hours."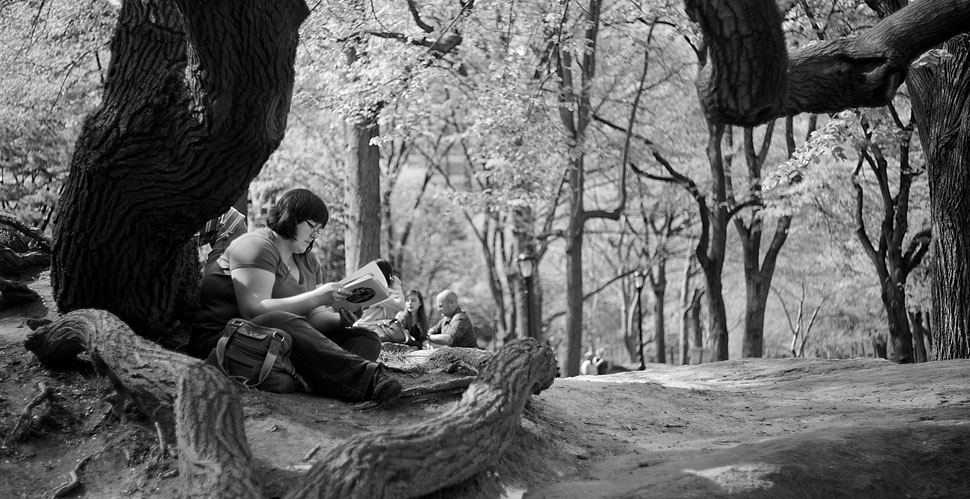 Central Park, April 2012. Leica M9 with Leica 50mm Summicron-M f/2.0 II. © Thorsten Overgaard.
I like to preserve. I always tried to renovate houses so they would last another 100 or 200 years after I left them, and the whole subject of photography – the purpose of photography for those who do it – is to preserve a moment or a vision of how things (should) look. It's never anything I thought much about, but when I look back, there is that red line of preserving.
Hence, no surprise the Overgaard.dk website is built in a way so that if you are new to the Leica M9, there you go. 20+ pages on how to use that camera right there at your fingertips. Even if you found the site and lost it again, it's still there in the same place and unchanged. Some things expanded since your last visit, but what was there to begin with is still there.
It happens to also make my life easier, not to constantly update, and that's another benefit of it.
I remember stories I read in the 1990's on New York Times, and the damn things are long gone now. Untraceable.
My Lightroom Survival Kit is more about how to preserve your photographs than about how to use the software. It deals with the software, but the real headache you have to solve is how to preserve your beloved stuff. The ones who have done my workshop will know how concerned I am about maintaining your property – the photographs – throughout this constant tsunami of digital data. It is so bad that if William Shakespeare (1564-1616) had been writing what he did in the 1990's, it would easily have been lost by now. That is one tragicomedy he didn't get to know about as he wrote on paper more than 400 years ago.
Preserve means, "to keep in advance". Part of making something is to think ahead and how to ensure its continued existence.
As my website gained popularity in use and an always astonishing number of visitors, I started realizing the importance of keeping it going.
I calculate it like this: When I spend a day of my life writing an article, readers collectively spend one and a half year reading it. On one hand, the time spent should be worth it and not pissed away on some useless gossip, on the other hand the article should continue to exist and be available for as long as anyone may have use of it.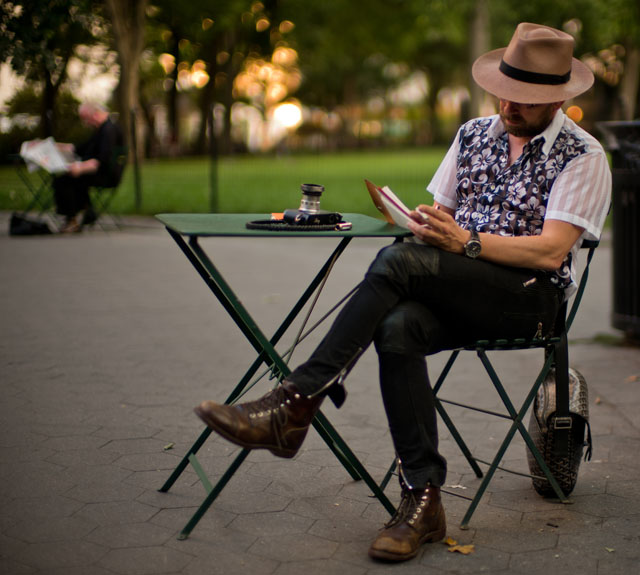 Madison Square Park in New York, 2013. Photo by Joy Villa. Leica M 240 with Leica 50mm Noctilux-M ASPH f/0.95.
The secret to that is low-tech. My website was using the basic Internet language (HTML) since day one, and that's still how it is. Google can scream about mobile friendly and Adobe about Flash as much as they want, but if "upgrading" means the content gets lost, that's not a good trade, is it?
| | | |
| --- | --- | --- |
| | | |
| | "I always look up your Leica page when I need to know something." | |
| | - Dr. Andreas Kaufmann (Austria) | |
A third thing is that I don't communicate with my readers via the website. There is no space for people to add comments or start cyber wars with others. The focus is the content, and I get plenty of friendly e-mails and friendly questions that I try to address. (Some of you will have received answers to e-mails you sent 2-3 years ago and though were lost in the stream. I read everything I get, and I answer at some point or another).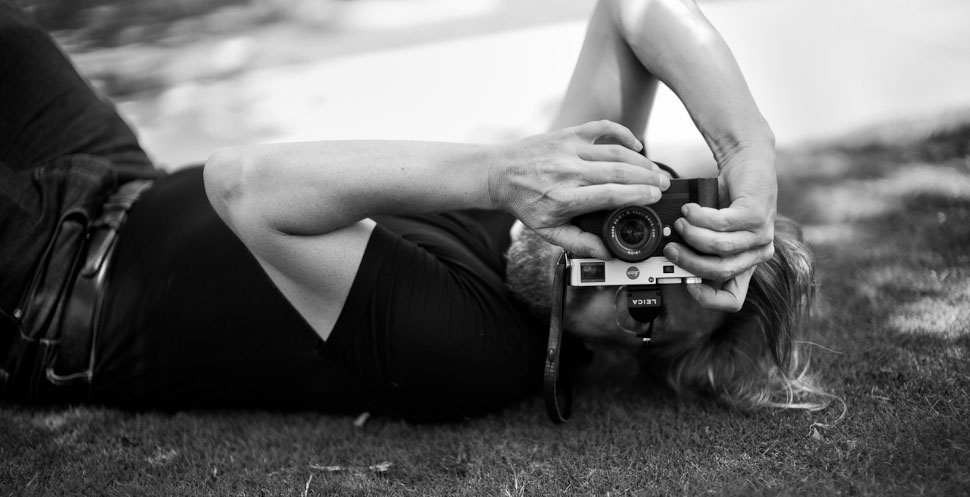 Los Angeles, 2014.
Comments on websites are something that drives traffic and improves Google ranking. That's the original reason why those phenomena appeared on the Internet. I find it a nuisance and more a waste of time than a gain of knowledge or energy; but I like forums where the main point is to discuss and comment on subjects.
Most social media and blogs today are things set up to make you a user. That's why your smartphone and web browser is so obsessed with pop-ups that ask you to log in. You as a user represent a value, and when Instagram and the likes are sold, the price is determined by the number of users in the system (as they represent future possible income as viewers of ads or subscription payments).
| | | |
| --- | --- | --- |
| | | |
| | "I stop by your website and really enjoy learning your experience and sharing on Leica M9 system. It is probably one of the best informative site which provides much useful information for many users. I have gained a lot from it and I like your shooting method." | |
| | - D. Y. (Singapore) | |
In my opinion, the value of a media (newspaper, website, book, movie, etc) is not how many uses you can trap to watch ads, but what you as a reader gets out of it. Does it contribute to your life, does it help you improve your skills and achieve worthwhile goals in your life?
The overgaard.dk website is not about SEO (Search Engine Optimization) and was never optimized to rank high. The reason the website comes up first when you search for a subject like Leica Digilux 2 is that I've been writing about it for 12 years and keep adding relevant content and information while others have forgotten about it and thrown their attention on something brand new. After all, when you search for keywords, you are looking for relevant content and not just keywords. This actually is the way it was 20 years ago also: Some would use popular words to attract attention to pages that dealt with anything else than that subject (usually as invisible text in the background). Search engine technology has been optimized to help you find content that matches what you search for.
On my website, the content is the keywords. The vision is preserving history. The aim is to help others.
I hope you enjoyed this little sneak-peak into the thoughts about the Overgaard.dk website. As always, feel free to e-mail me at thorsten@overgaard.dk with suggestions and ideas.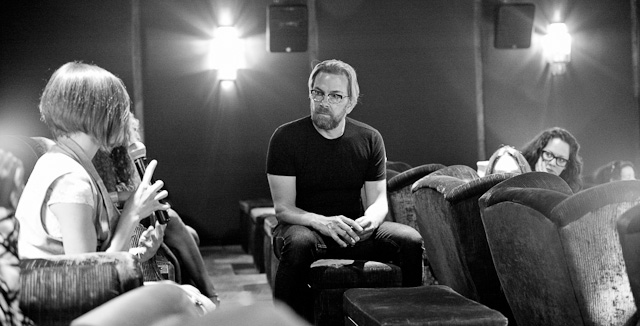 Thorsten answering questions after the premiere of A Life With Leica in Hollywood, August 10, 2014. Photo by Joy Villa.
| | | |
| --- | --- | --- |
| | | |
| | "Your work is great! I sit down with your eBook "The Magic of Light", grab my coffee, read and then open to a new page in my notebook and write! Your work affirms my thoughts on beauty and life. Thank you!" | |
| | - M. B. (USA) | |
Buy the new eBook
"A Little Book on Photography"
by Thorsten von Overgaard

Order now - Instant delivery.

★ ★ ★ ★ ★ ★

It's a humorous understatement to call this
new eBook by Thorsten Overgaard for
"A Little Book on Photography".
It's a grand book, a history lesson, life experience, a biography and poetry book and brilliant photo book!
All in one beautiful package of 180 pages
to fire you up and get you to love
photography ... unconditionally!

"A Little Book on Photography"
eBook for computer, Kindle and iPad.
New release March 2017.
Intro price only $47 - 180 pages.

Buy Now

Instant Delivery