By: Thorsten Overgaard. March 26, 2021.
Thorsten von Overgaard made his own postcards from all over the world.
Buy your own set of A5 postcards by Thorsten von Overgaard from all over the world.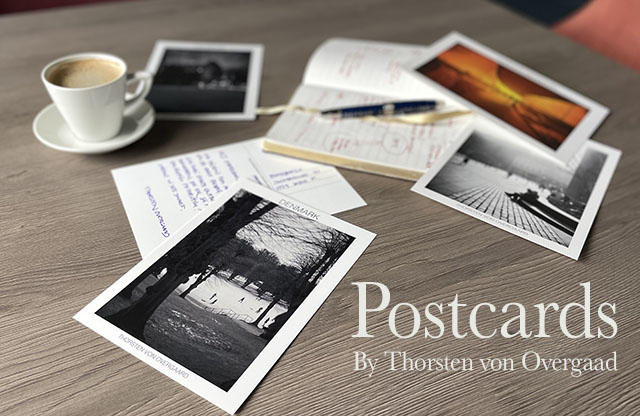 Get my free eBook "The Moment of Emotional Impact"
Free webinar with Thorsten von Overgaard.
FREE LEICA STYLES BY OVERGAARD FOR CAPTURE ONE PRO.
FREE LEICA PRESTS BY OVERGAARD FOR ADOBE LIGHTROOM.
For my article about the HISTORY OF LEICA, see my extremely long article about more than 100 years of history here.
For photography definitions, see my photography dictionary.
On the table:
Japan poster by Studio Claus Due.
Always Wear a Camara leather desk blotter.
Beosound Level bluetooth/Google speaker in wood
"Always Wear A Camera" Mini Messenger in black calfskin.
Jesper Wung-Sung: "Kvinde set fra Ryggen" hardbound book ??
Leica M10-P Safari digital rangefinder.
Leica 50mm Summilux-M f/1.4 BC.
Leica 50mm Noctilux f/0.95 lens.
Eyevan 7285 glasses 147 S.
Eyevan 7285 glasses 557-3241.
Disclosure:
Thorsten von Overgaard is a Danish writer and photographer, specializing in portrait photography and documentary photography, known for writings about photography and as an educator. You are always welcome to send an e-mail to Thorsten for questions, suggestions and ideas.
Thorsten Overgaard is an independent writer and photographer who write, teach workshops and publish user reports about the equipment he uses. There is no affiliation with Leica Camera AG or any camera dealers, no free gifts, no sponsorship, no kickback and no paid content. All you see is real and based on the life of an eccentric and hard-working photographer who makes his own money, buys his own equipment and form his own independent opinions - and shares with you. Enjoy the ride.
Video credits:
Produced by: Thorsten Overgaard (www.overgaard.dk)
Equipment:
This video was made with the Leica SL 601 and Leica 35mm Summilux-L ASPH f/1.4, using Sennheiser wireless microphones.
#Photography? #Leica35mmAPO? #review