When in Bangladesh some months ago I was in the dilemma that I didn't have time to stop and take pictures of the street life.
I was picked up before 6 AM and had to drive all day and arrive by sunset. It wasn't a long distance – only 250 miles – but it was a 10 hours drive.
I had arrived late to the airport the evening before, so I slept on the way out of the city. The car had really bad air-condition – if any – and the road was bumpy.
A few times we stopped at eventless places for food or gasoline. In-between the stops the view was the same endless mess of diesel busses, trucks, muddied roads and people.
Buy the new eBook
"A Little Book on Photography"
by Thorsten von Overgaard

Order now - Instant delivery.

★ ★ ★ ★ ★ ★

It's a humorous understatement to call this
new eBook by Thorsten Overgaard for
"A Little Book on Photography".
It's a grand book, a history lesson, life experience, a biography and poetry book and brilliant photo book!
All in one beautiful package of 180 pages
to fire you up and get you to love
photography ... unconditionally!

"A Little Book on Photography"
eBook for computer, Kindle and iPad.
New release March 2017.
Intro price only $47 - 180 pages.

Buy Now

Instant Delivery
After lunch I took a long and deep nap and didn't wake up till around four. When I woke up it was a paradise of low light, green fields and almost no people. It was very different from the endless city we had left.
I asked the driver to stop a single time and did a few minutes outside with the camera. But I had a deadline , so one stop was all I could afford to waste of time. I had to do the rest from the car out the window. The magazine in theory can do without atmosphere photos, but it sets the tone and give more to the actual story for people who have never seen Bangladesh (with less than 125,000 tourists a year, not many have seen Bangladesh first hand).
When we arrived to the rather small city that was the destination there was quite a few photo opportunities of people close to the car as we drove slowly, stopped, drove a little more and stopped.
I put on the 21mm Summilux-M f/1.4 and prepared to capture something outside my window if and when it happened. It's easier envisioned than done. Holding a camera in a horizontal position in a bumping car … quite a few mishaps to be embarrassed over when looking at the images in the editing. A lot of them looks like the camera went off by itself.
One of the captures that worked was this young boy on a bicycle. I don't know why I so often end up with kids on bicycles. I do.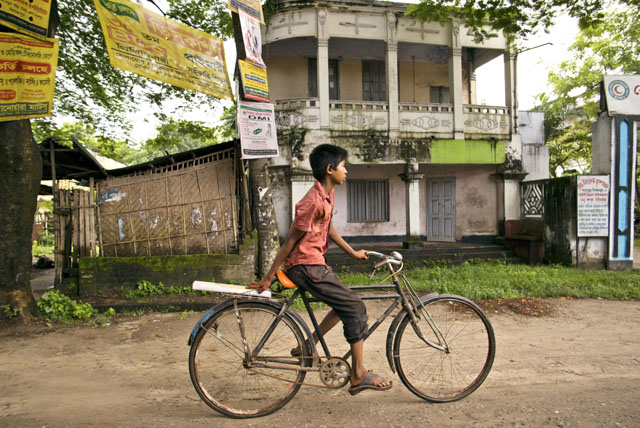 The photograph from the car in Bangladesh. Leica M 240 with Leica 21mm Summilux-M ASPH f/1.4
I arrived at the destination 20 minutes after this. Later than expected, but early enough to have fading light to do what would become one of the key shots in the magazine.
Not only did the magazine use one of my other street photos (done from walking in the streets before 6 AM) for their front page. They also used the boy on the bicycle over two pages.
I took so many pictures from the car it's almost embarrassing. 700 or so, and a lot of them was hit and miss where the subject didn't make it into the frame or it was simply blurred.
But three of the street photos from the car made it into the magazine as an image of how Bangladesh looks.
I guess if you take enough photos and risk it, chances are that a few will work out. And that is usually all you need.
As always, feel free to mail me comments, suggestions and ideas to thorsten@overgaard.dk
Join the NEW Thorsten von Overgaard
Photography Extension Course

"My wife game me this course and I absolutely love it.
Now I think more in light and shadows. Used a lot of the techniques on a recent trip and
my photos have improved a lot. Well done, Thorsten!"
S.N. (Mexico)

"I am happy with my purchase of the extension course. Well written, easy to understand"
K.D. (USA)

"I very much enjoy the incredible knowledge"
V.V. (United Kingdom)

"Addictive, beautifully and simplistically written. Just amazing. Cleared my concepts"
V.P. (USA)

"The extension course is the best course I read about photography (and I'm still at the beginning)"
M.S. (Luxembourg)

"I'm already in page 81 of the Extension Course, and your communication and words provoked a change in me at an aesthetic level that I felt but I couldn't explain"
C.L. (USA)


The NEW
Overgaard Photography Extension Course

The waiting list is over!

After a couple of years with a long waiting list, I have finally redesigned the course so I can handle the students interested in this course. Not only that. The number of pages has gone up from 120 to 330!

I teach you the basics of photography in an easy-to-understand and step-by-step way that anyone from ages 12 to 90 can understand and easily apply.

The intention with this extension course is to get you going in your photography adventure with lightning speed, and to inspire you to reach to new heights.

Enjoy!

Specially tailored for Leica and digital photographers.

You work at your own pace after you receive the full package of material via mail. It works as a PDF on computer, iPad, Kindle, or - if you like - make your own print.

Join the Home School for
Leica and Digital Photographers

Only $798.00

Buy now. Instant delivery by mail.

ITEM #1708-2016

Note: If you have bought The Overgaard Extension Course (2010) previously you may enroll on this new course for free. Simply e-mail me.
Thorsten Overgaard, March 12, 2015