By: Thorsten Overgaard. February 11, 2015. Updated March 5, 2017.
We flew in to Los Angeles for the Grammy Awards in the beggining of February 2015. It's entirely a music event - the largest in the world. I just stayed on the sideline and snapped a few photos from the Rocnation's pre-grammys event hoted by Jay-Z and Beyonce.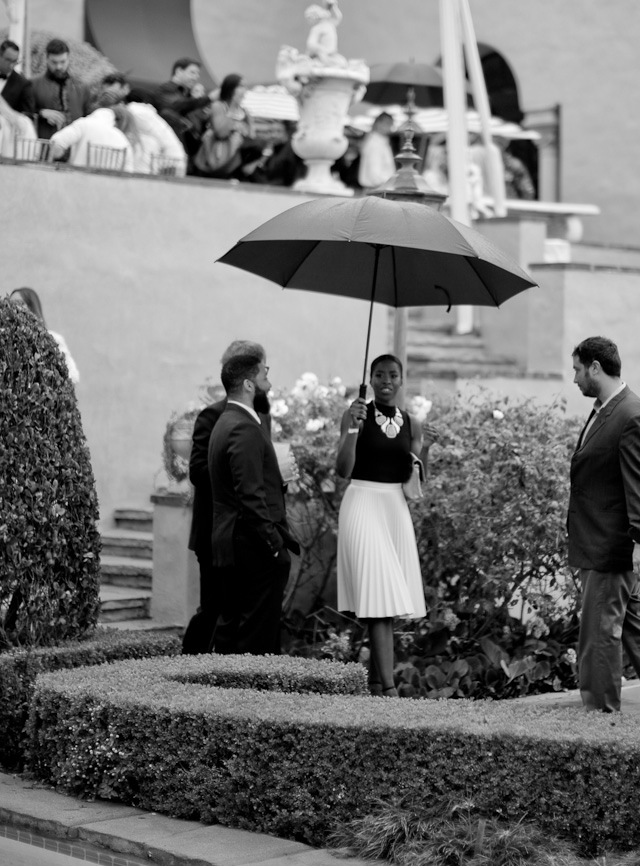 Atmosphere from the Rocnation pre-Grammy Brunch. Leica M 240 with Leica 50mm Noctilux-M ASPH f/0.95
Hollywood is a special place with it's own ways, and when it comes to the music industry it consists of the people we all see in the media, but also a lot of rather dull looking office people who deal with contracts and money, huge guys with earpieces, mafioso-looking people with gold-framed sunglasses, producers and musicians who's names are famous but their faces unfamiliar. And then there is the whole scene of PR people, fashion designers and event managers, not to mention the press.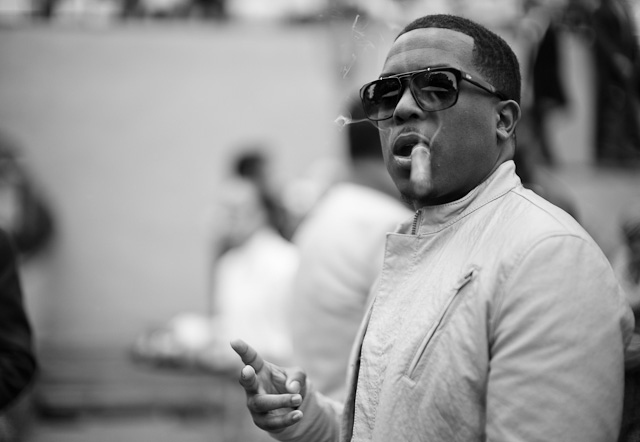 This person doesn't work in legal or finance, I'm sure. Rocnation pre-Grammy Brunch. Leica M 240 with Leica 50mm Noctilux-M ASPH f/0.95
All those types were present at the first actual event we attended. Jay-Z and Beyonce are the royalty of the music industry, and the ROCNATION -Pre-Grammy Brunch is their event on the day before the actual Grammy Award show.
Suitable for a brunch in the music industry it doesn't start untill just after noon. We were picked up in Beverly Hills by a shuttle car and drove the 6 minutes up the hills to the entrance of the "secret location" which is the Godfather mansion. From there we went on another small shuttle up the driveway.
The whole thing was very casual with everybody hanging out. The first person we met in the garden was Michael Bolton who looks amazingly great. We met three hours later, he greeted me with my name.
He remembered it!
Speakings of manners, we stumbled into the kids of Will Smith just after. I think on purpose, their famous father and mother steps back and let the two kids do their own thing. Jaden Smith is 16 and his sister Willow Smith is now 14.
They move around with the confidence as if they had been in the industry for 30 years. I had the opportunity to hang around for a little bit and saw how they were extremely helpful and interested in people, and I noticed that Jaden gave the hand to a security guard who had directed him to the restroom.
To put things in perspective, when we had some fruit later and talked with the staff serving it, they told us we were the first people who had spoken with them during the whole event.
Politeness is an extremely great thing. In exclusive events with limited access politeness often is forgotten to get first in or look like you belong. I noticed that I waited to let some people pass through a door, and they seemed surprised. I didn't think of it.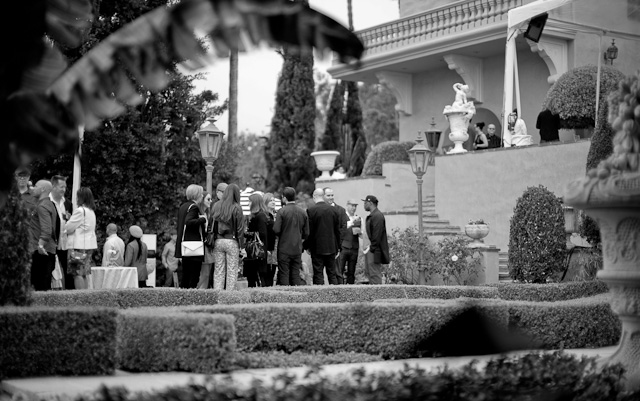 Atmosphere from the Rocnation pre-Grammy Brunch 2015. Leica M 240 with Leica 50mm Noctilux-M ASPH f/0.95
But the Smiths inspired me I must say. When we sat in the garden Diane Warren came over to talk about my shoes. I'm a jerk with faces and names, but I did recognize her face as someone I was familiar with from somewhere.
When she and her friends left, I got the idea I should have gotten up my chair and given her my hand. That would be a very un-Danish thing to do, but a very polite gesture to anyone who approach you so they know they are welcome and are not unimportant.
Everybody is important. That perhaps was the most important lesson of the day for me, I think. I learned that from the Smith kids, 14 and 16 years old. It gives me some hope for the future of the entertainment industry.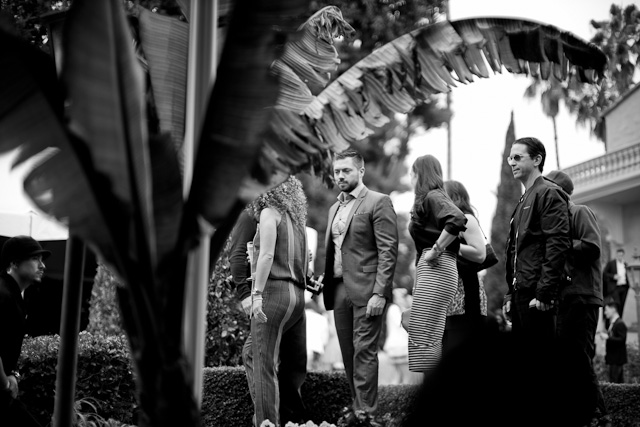 Atmosphere from the Rocnation pre-Grammy Brunch 2015. Leica M 240 with Leica 50mm Noctilux-M ASPH f/0.95
We met Kim Kardashian and Kanye West. I will save the Kanye West, for another time. I also noticed Janelle Monae in the garden and smiled to her to let her know I liked her outfit. As I said, I am bad with faces and names, so even I have her music , I didn't know who she was other than one of the most well-dressed women.
She was quite busy in this event and more or less was at all events before and after the Grammys. It takes energy and a team to be in the spotlight that much. I grabbed a few photos of her.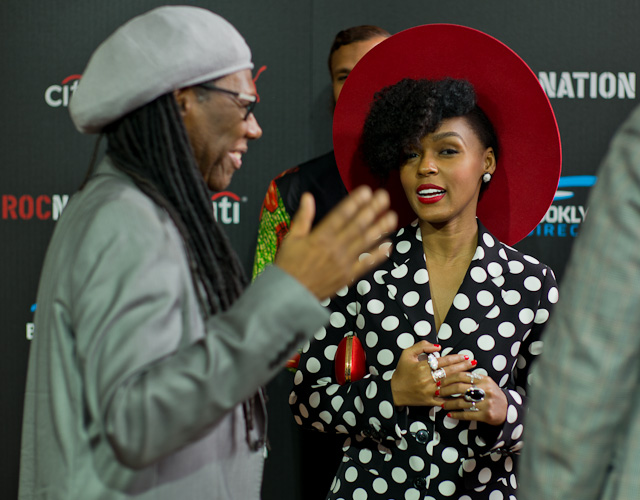 Nile Rodgers and Janelle Monae at the Rocnation pre-Grammy Brunch 2015. Leica M 240 with Leica 50mm Noctilux-M ASPH f/0.95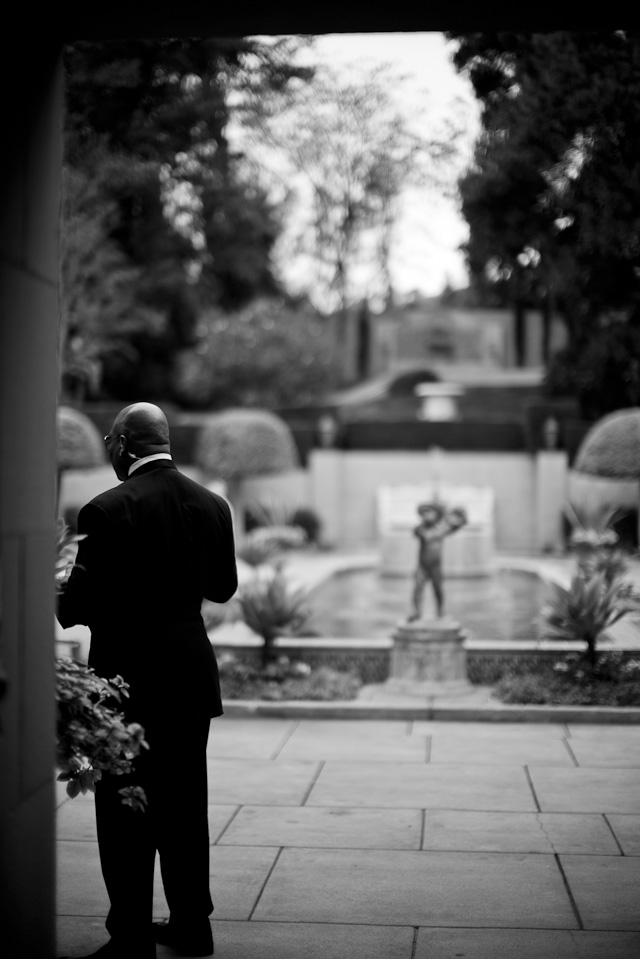 The security around the whole mansion and the area outside was scaled for a mafia war. Here the main entrance to the mainson. Rocnation pre-Grammy Brunch 2015. Leica M 240 with Leica 50mm Noctilux-M ASPH f/0.95

My outfit designed by Jean//Phillip in Denmark and shoes from Louboutin got a lot of approval from people who came over to ask what brand, designer and so on. We got several brands who wanted to send us stuff. I managed to stay out of the photographers line throughout the whole Grammy weekend.
Join the NEW Thorsten von Overgaard
Photography Extension Course

"My wife game me this course and I absolutely love it.
Now I think more in light and shadows. Used a lot of the techniques on a recent trip and
my photos have improved a lot. Well done, Thorsten!"
S.N. (Mexico)

"I am happy with my purchase of the extension course. Well written, easy to understand"
K.D. (USA)

"I very much enjoy the incredible knowledge"
V.V. (United Kingdom)

"Addictive, beautifully and simplistically written. Just amazing. Cleared my concepts"
V.P. (USA)

"The extension course is the best course I read about photography (and I'm still at the beginning)"
M.S. (Luxembourg)

"I'm already in page 81 of the Extension Course, and your communication and words provoked a change in me at an aesthetic level that I felt but I couldn't explain"
C.L. (USA)


The NEW
Overgaard Photography Extension Course

The waiting list is over!

After a couple of years with a long waiting list, I have finally redesigned the course so I can handle the students interested in this course. Not only that. The number of pages has gone up from 120 to 330!

I teach you the basics of photography in an easy-to-understand and step-by-step way that anyone from ages 12 to 90 can understand and easily apply.

The intention with this extension course is to get you going in your photography adventure with lightning speed, and to inspire you to reach to new heights.

Enjoy!

Specially tailored for Leica and digital photographers.

You work at your own pace after you receive the full package of material via mail. It works as a PDF on computer, iPad, Kindle, or - if you like - make your own print.

Join the Home School for
Leica and Digital Photographers

Only $798.00

Buy now. Instant delivery by mail.

ITEM #1708-2016

Note: If you have bought The Overgaard Extension Course (2010) previously you may enroll on this new course for free. Simply e-mail me.