By: Thorsten Overgaard. May 24, 2014. Latest edited March 22, 2023.
It almost didn't happen. I had spoken with the wife of Don Hunstein about coming by and photographing him. It wasn't that easy though it was just a 5 minute drive away.
I had told Don and his wife DeeAnne that I would like to come by and "preserve Don Hunstein", because after all that was what his thirty year career had been about:
In 1955 a manager at Columbia Records had wanted what went on in the recording studios at 30th and 52nd Street be photographed and preserved, because it was "history in the making". It became Don Hunstein who got the task of being the house photographer.
And boy was that Columbia Records manager right!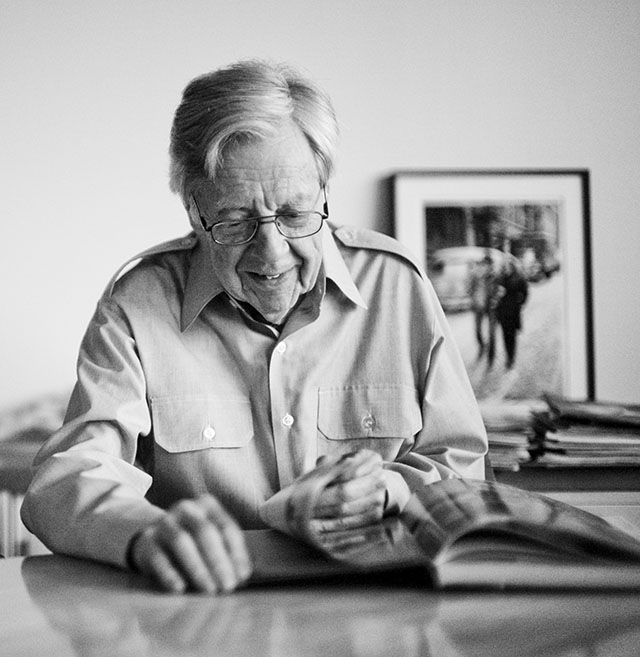 Don Hunstein in his apartment by Central Park in New York, with his book Keeping Time on the table and one of the Bob Dylan Freewhelin' images in the background. Leica M 240 with Leica 50mm Noctilux-M ASPH f/0.95.
Don Hunstein started photographing the the new and upcoming musicians that you may have heard of: Bob Dylan, Simon & Garfunkel, Miles Davis, Billie Holiday, Duke Ellington, Dave Brubeck, Aretha Franklin, Thelonious Monk, Johnny Cash and Barbra Streisand.
It went so well and the musicians liked Don Hunstein so much that he soon found himself on tours with them. Everything got documented and access was not an issue. Don was one of them.
"Hanging out with Don Hunstein overrides the self-consciousness of picture taking. We were new stars on Columbia in 1964, Don was in his professional pocket. But he turned out to be one of us". - Art Garfunkel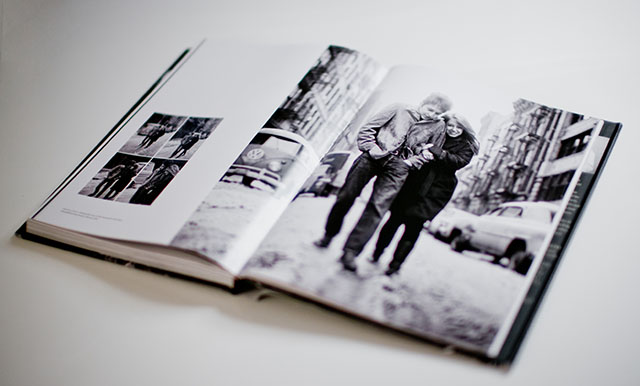 Icon of a time: In the book Keeping Time the cover photo for "Freewheelin'" is shown in black and white though the album was in color. The signed edition of the image is available both in color and black & white
The Freewheelin' photo session
This is how and why Don Hunstein went on tour with Bob Dylan and casually asked Bob Dylan and his then girlfriend to come outside on the street and take a few snaps. The result is wellknown. Bob Dylan liked the photo so much that he asked it to be the cover.
And there is is, an icon that in unspoken words represents the spirit of freedom and of the times.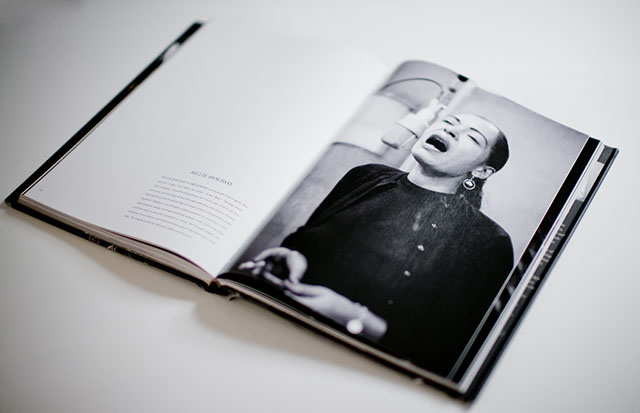 Billie Holiday in the book Keeping Time.
Keeping Time
Keeping Time is the title of the book that was published in 2013 with many of the great and often iconic photos that have since become icons of music history.
When the curious piano talent Glenn Gould went shy and decided not to perform on stage anymore, Don Hunstein was still there in the studio with him. Don was preserving the performance in still images for later use in publicity, for covers and as a general recording of history. And now in the book.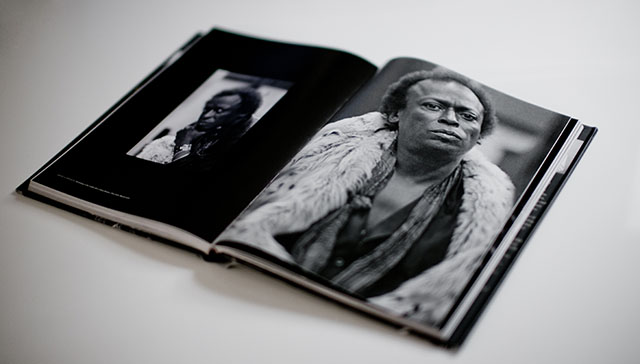 The book Keeping Time contains many classic photos of Miles Davis.
Preserving stuff
I think is is a fundamental urge to preserve things that drive most photography. Even though we can recall the smell, sound and vision of everything we ever experienced (if we look deep enough), the urge to record it on a file or a film still exists.
It becomes real photography when we add our own viewpoint and sense of aesthetics to it and make it our own communication.
And often there is also an urge to share what we saw or envisioned. And perhaps a duty to do so, as in this case where the inside stories and the dense atmosphere of a golden age of music would now have been lost for most of us, if only the few who were there in the studios had experienced it.
That's why it is important to always wear a camera, record with style and aesthetics, and then preserve the files or film and share the best of the images with the world.
That's what photography is all about.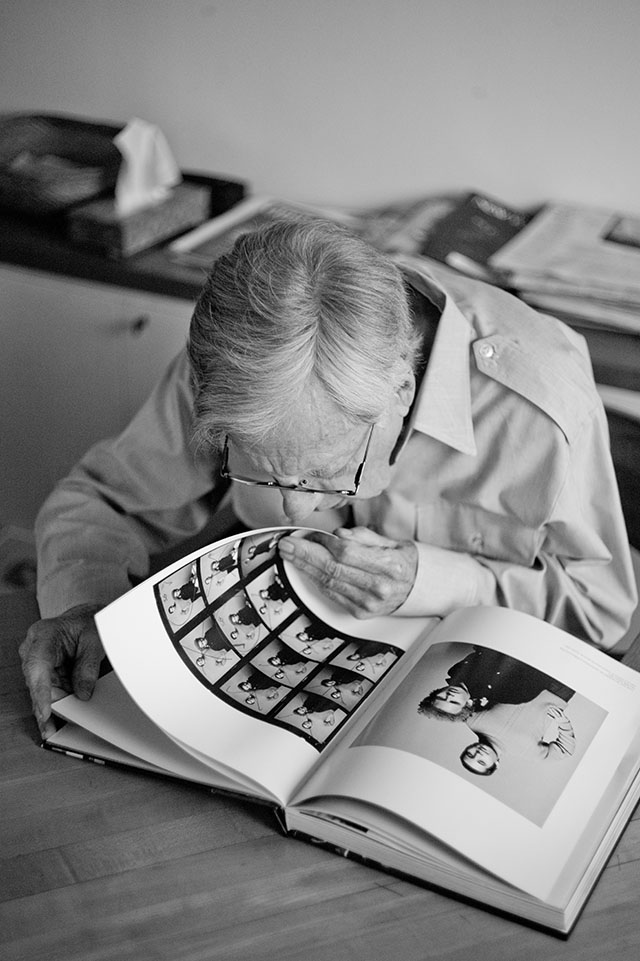 Don Hunstein with the contact sheets of Simon & Garfunkel shown in his book. Leica M Monochrom with Leica 50mm Summicron-M f/2.0 II.
Don Hunstein signed prints
Several of the photographs Don Hunstein made are available as signed, limited editions from three galleries:
www.peterfetterman.com (Freewhelin' in color)
www.rockarchive.com
www.morrisonhotelgallery.com (Freewhelin' in black & white or color)
Don Hunstein in person
It was a touching experience finally to arrive in the apartment by Central Park. It almost didn't happen, but then the last day in New York I decided to call again. It worked out, I took a taxi uptown and entered an apartment not large enough to give air to the piano crammed into the space between the front door and living room.
As I walked in and greeted DeeAnn, the maid and finally Don, I noticed the hallway to the right with some of the iconic photos hanging on the wall casually, as if some random pictures had come with the frames.
I spoke with DeeAnn for a while and almost too long, because suddenly she was in a rush. I wanted to take the photo the instant I walked in the door, but I also wanted to hear how they had met, toured together (DeeAnn is a music manager) and their experiences through a long life together. She would tell the stories and Don would listen, some times impatiently as he also wanted the picture to happen. That was what it was about. The picture.
There was only one spot I wanted to photograph him in, by the table with a large panorama window on the side. I used both the Leica M 240 and the Leica M Monochrom cameras, and Don would fondle the one I didn't use with a smiling recognition of the Leica M format. His own Leica that he used was stored away in an unknown corner somewhere.
It was over in 10 minutes, then a selfie by the help of the maid.
DeeAnn was in a hurry now, so we had to rush out the door. Don still sat by the table with his book. He waved at me. I gave him a hug.
He doesn't have his voice anymore, so he couldn't say anything. He dragged me back with a gesture as if he would say something, looked me in the eyes.
Then he took my hand and kissed it.
There was wet eyes. We hurried out the apartment. Maybe I also had wet eyes.
It was a historic experince and I decided to walk the 20 streets down to my hotel. Needed to savor it all before flying out of New York next day.
Visit the www.donhunstein.com official website.
Epilogue
I've had quite a few e-mails from people around the world who liked this article, and a handful of mails from media who also did storys or television interviews with Don Hunstein. However, on March 20, 2017 I got an e-mail from DeeAnne who wanted to let me know that Don Hunstein had passed away on March 18, 2017. In a way I knew, as you somehow do. I had thought about Don on several occasions that week. His soul lives on, as does his pictures.
New eBook from Thorsten Overgaard:

"The Portrait Book
– How to Make People Look Beautiful"

"Love the book.
Very insightful and very well done"

"You are my favorite author"

Questions answered in this new eBook:
- What's the secret behind Mona Lisa?
- How do you make anybody look beautiful?
- What is the right timing for portraits?
- What do you say to the people?
- How to photograph your spouse?
- How to edit portraits?
- What is the one right thing in all portraits?
- How to do research for portraits?
- What is the secret to light in portraits?
- Which lens to use for portraits?
- What is the composition rules for portraits?
- How to photograph children?
- Who should I photograph?
- How to do street portraits?
- and more...

Buy Now. Instant Delivery.
Only $298.00
578 pages.
Released April 5, 2020

#1905-0119

100% satisfaction or money back.
Leica Monochrom Masterclass
For more info on Paris Masterclass, have a look here: