A couple of weeks ago we walked twenty-five streets down to Elixir Juice Bar on Greenwich Avenue and 7th Avenue to pick up from Kevin some fresh made juice for a 3 day juice fast. They closed at 8:00 PM and it was 7:50pm, so we had to walk fast despite the heat.
Crossing over from 6th to 7th Avenue almost all crossings had beautiful light as in this photo. We were in a hurry but we stretched the minutes after spotting the light to shoot in some of the crossings.
Seeing light like that, the yellow taxis and the buildings reflecting the sunset ... that is a scene that you can use and simply just wait for someone or something to walk into.
Which is what I did.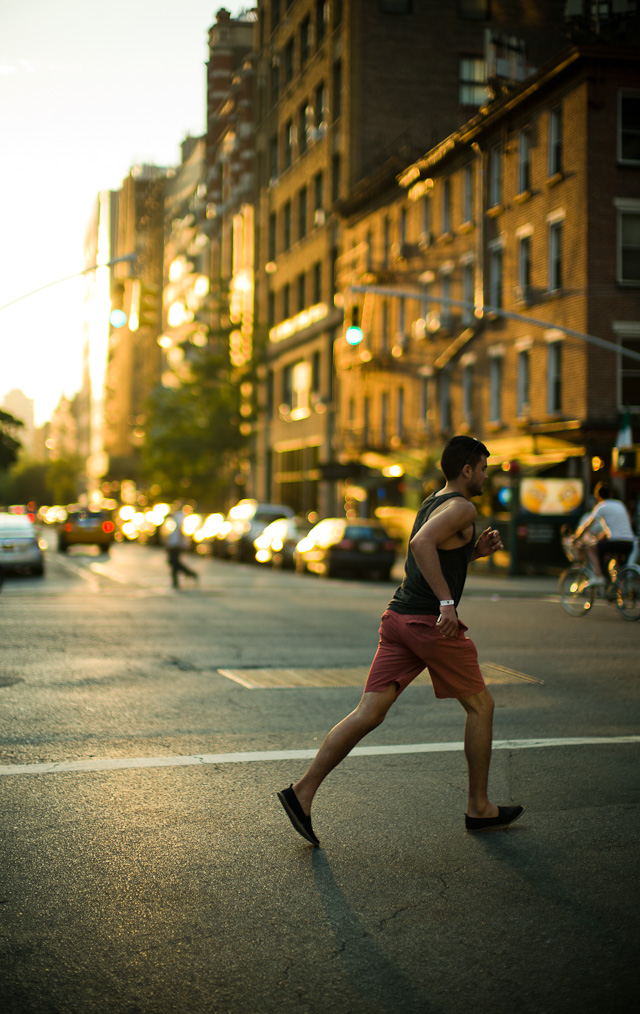 "Light of New York". Leica M 240 with Leica 50mm Noctilux-M ASPH f/0.95. © 2013 Thorsten Overgaard
I probably did 15-20 photos with different people and cars walking into the frame. This one was the one I liked the best.
We made it just in time to grab some of the fresh juices before they closesd, the cashier just about to close before we jumped through the door.
And most importantly, one know that most days in end of June and beginning of July, the light will look like this on those streets. So make a mental note to go and see what you can get into the frame when around there.
The scene is set. Waiting for you, your camera, and somebody to perform in i t...