By: Thorsten Overgaard. December 30, 2010. Edited December 19, 2015

I'm in New York with my three kids. So if you think this is going to be a talk about the weather ...
I've said before, and many times before that, that one should always bring the camera. It may snow, rain or the sun may shine, something might happen, or nothing is happening: In any case there is always images to make from it.
It's a misunderstanding thinking that photography is something one goes doing, like an excursion you prepare for. It's not.
It's somethig that happens while you live life. I have a few good examples of that in this last article of 2010, and it's also the experience from when we have had the photo seminars in Berlin, Copenhagen, London or other places: That when we go out as a group of photographers, we may stop for coffee, lunch and dinner quite often, and by actual statistics, the majority of good images comes from inside a café or when we are doing something you may feel you shouldn't be doing when "you are out photographing."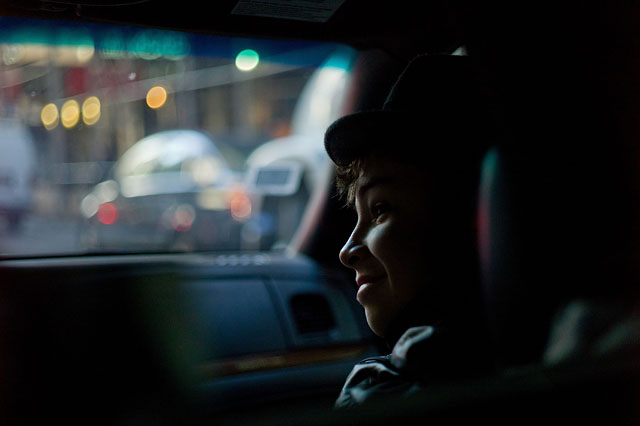 My son Oliver in the Taxi from the airport to our apartment in Manhattan.
One thing I look for when we go out shooting are large spaces, narrow streets, inside locations, architecture, water, people ... any an all situations we can find instead of just looking for people to photograph.
And often great images happen when you are the least prepared, and often under stress and bad conditions technically. Which is why - I guess - so many great images happen when you are taking a break from "being out photographing."
Somebody asked me to do "the axioms of photography" which is not an easy task. But here is one to start with:
1. Always bring a camera no matter if you feel inspired or not. Inspiration can come suddenly, a forgotten camera can not.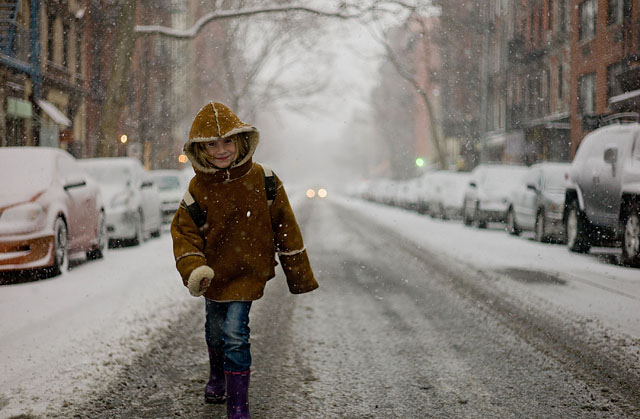 The other day, December 26, it started snowing, and in two hours it looked like this. We were not out photographing, but out shopping for a dress when photographically inspiring circumstances fell down from the sky.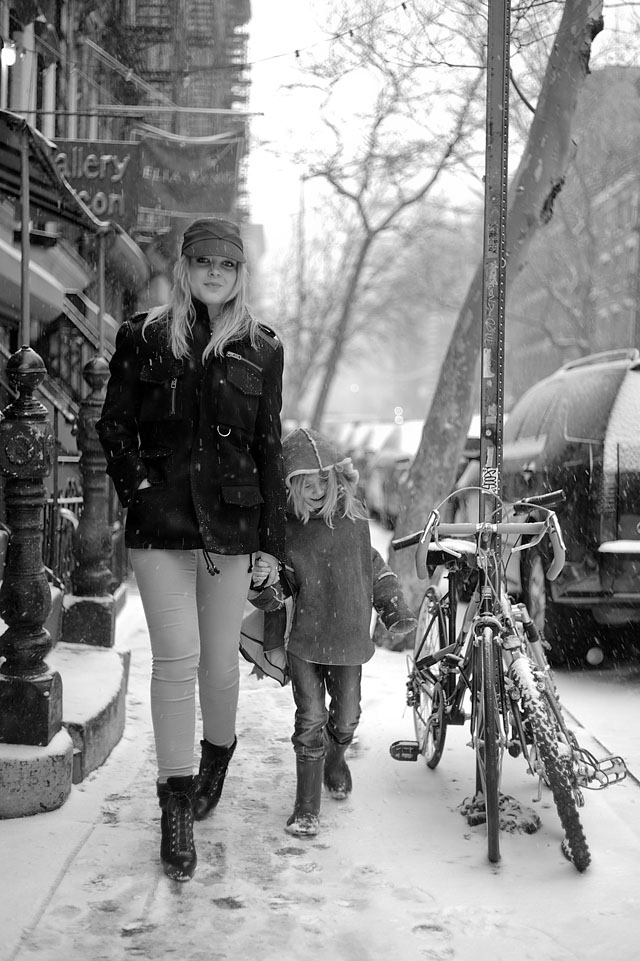 Caroline and Robin on 9th Street.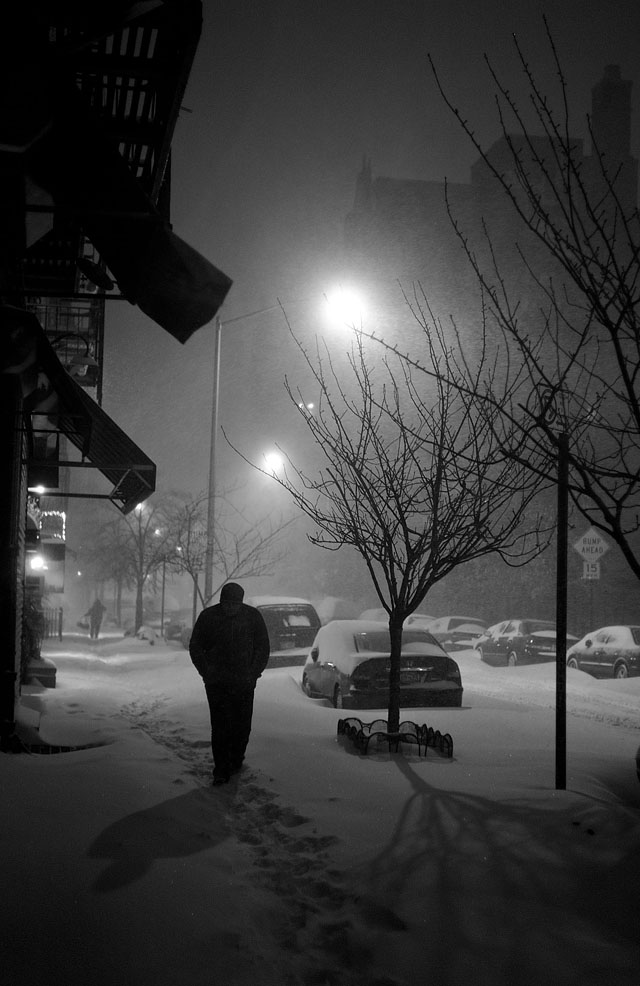 By midnight it had turned into a breaking news and entertainment event "Blizzard Slams U.S. East Coast" in the media and amongst people on the street. So I did a series of photos for Getty Images as well by midnight.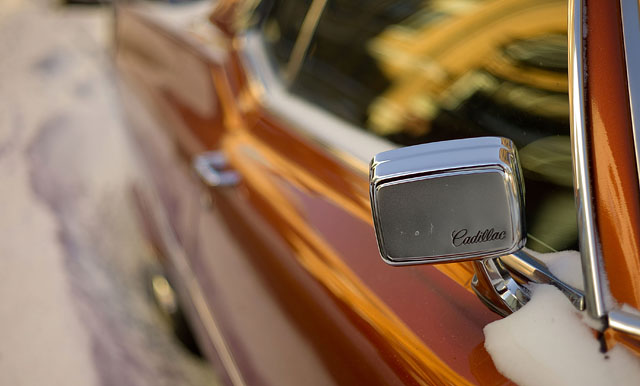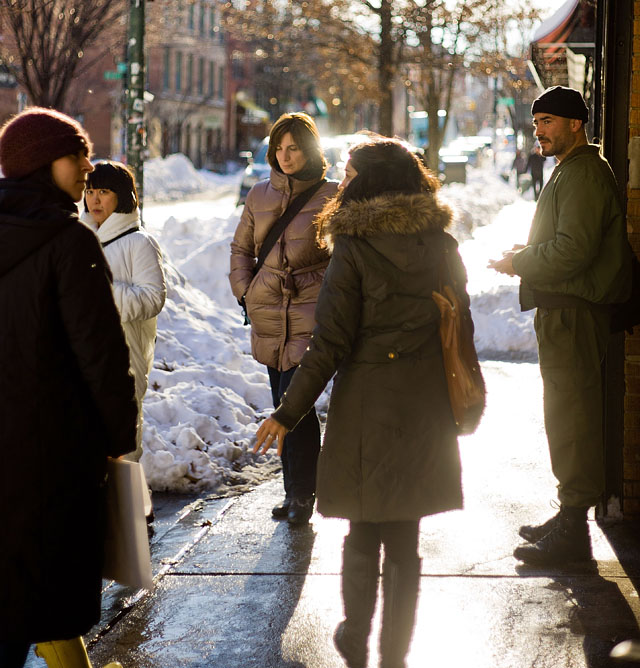 Whereas snow and rain can be inspiring, nothing beats interesting light, so whenever I see some of that, I wait for the composition to come in play. As in this one from Bedford Avenue in Williamsburg (Brooklyn).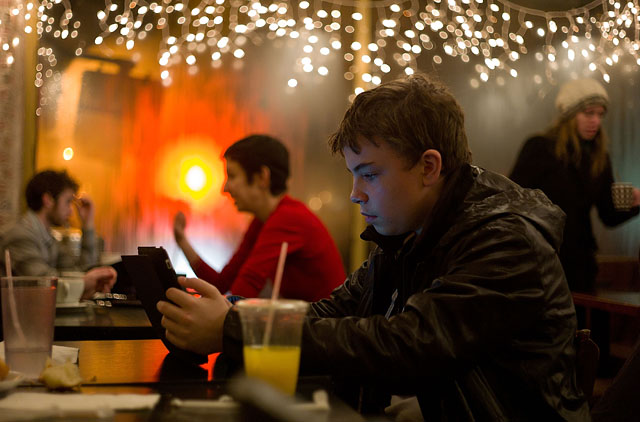 Another picture made up of interesting light conditions, my son Oliver with his new iPad inside the Atlas Kafe in Williamsburg.

Another café picture during breakfast in another café.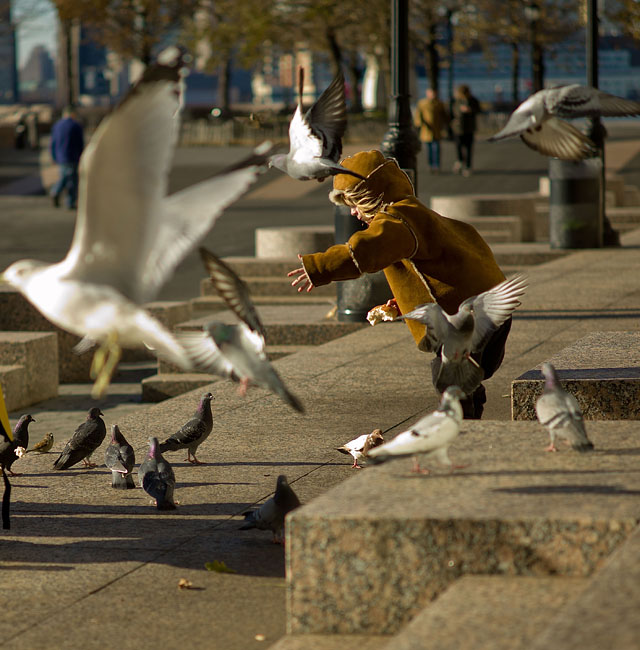 Now, walking around with three kids in a big city with shoe stores and McDonalds on every street corner ... is not always as relaxing as you would like it to be. But it's a good drill in having your camera ready at all times. As long as you make sure you don't carry bags or other things preventing you from handling the camera with both your hands (use a messenger bag over the shoulder), you will be able to get a snap from time to time. So focus on the ones you get, not the ones you didn't because you were preoccupied yelling, handing out money or being concerned about young guys looking at bit too interested at your teenage daughter.
I like the lines in this photo of Robin above, after she had tilted a freshly made hot cacao over and decided to feed the birds with the bagel she had insisted she needed not to die of hunger. It's just one of those things.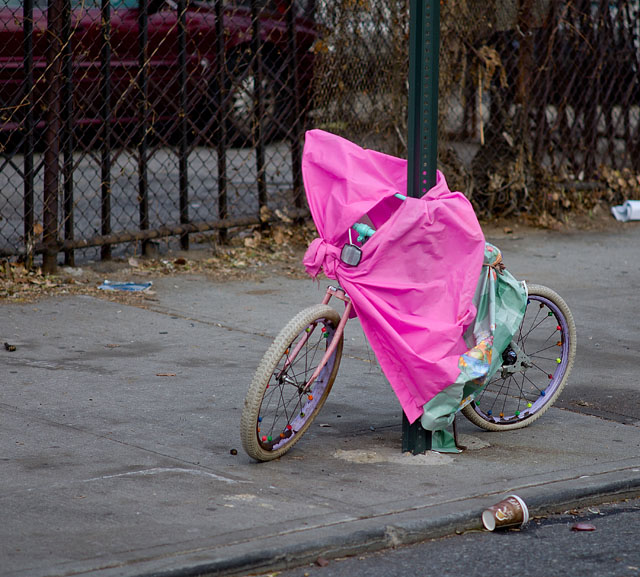 It's a Barbie thing, I guess.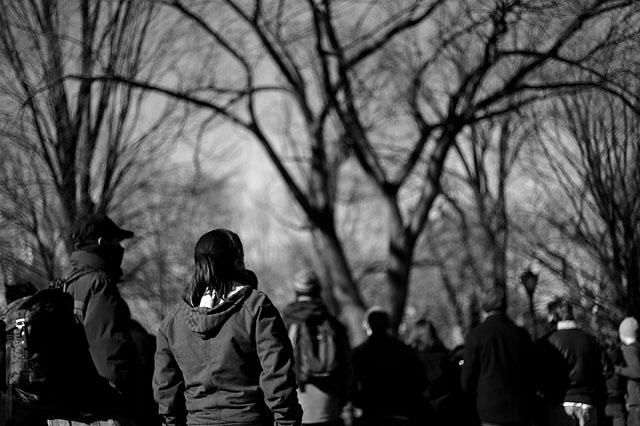 I try to stay out of tourist places because, but this is Central Park.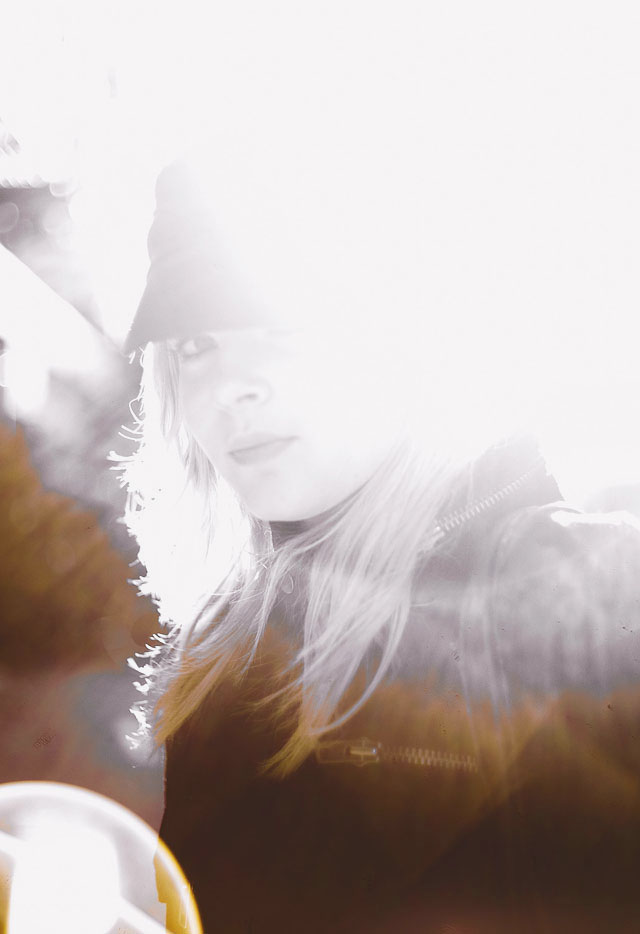 Some technician at Leica might be able to give some technical explaination on this photo, but for me it's what you get when you turn a lens directly into the sun and shoot for that odd effect you are bound to get. Some times it works, some times it don't.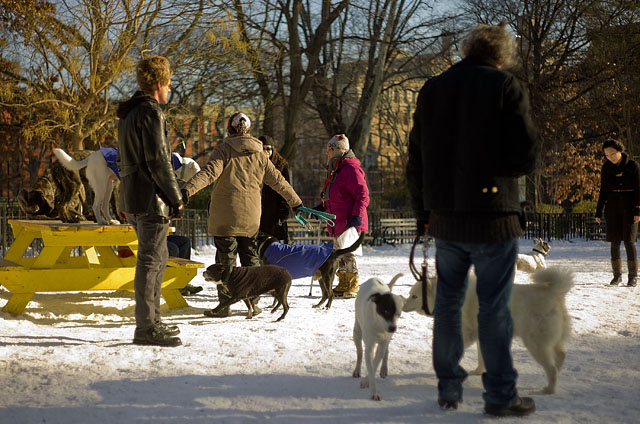 From another park this morning where we met a lot of dogs with their owners.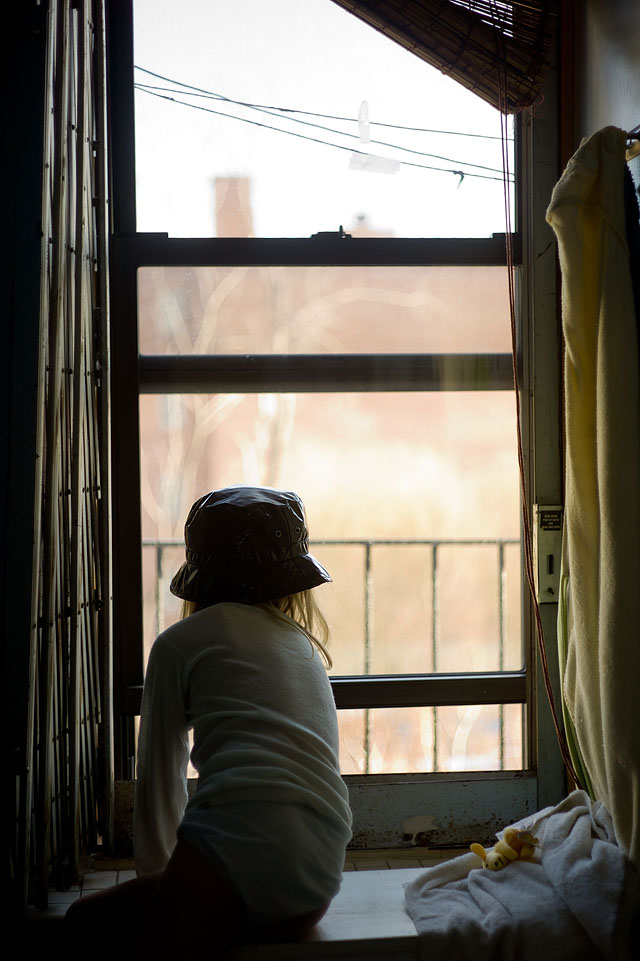 And finally one from a few hours ago, Robin looking out the window. I've done more color photos from Manhattan and Brooklyn than I usually would. The colors are just very interesting in this area and at this time of year.
I guess this will be the final image from me in 2010.
One final advice, which should be obvious when you look through the above images, is that I always keep my camera in an upright vertical position so as to get straight lines in an image. If you point the camera at some action, you will tilt the lines. If you maintain a vertcal straight position of the camera and compose the image within that frame, you will get straight lines in the background and in the foreground that will frame the story you are trying to tell. Unless the story demands that you position the camera differently (as in the Cadillac photo above).