Fashion is an art, at least when we talk about the truly talented designers that originate style. The whole subject of fashion stems from designers thinking new ways of doing things, and an audience of buyers willing to pay for, and try out, new looks and styles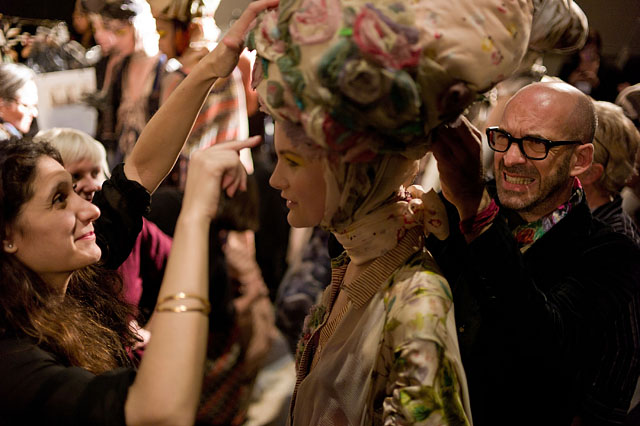 Kenzo designer Antonio Marras (right) doing final adjustments on a model minutes prior to the KENZO 40th Anniversary show starts in London. Photographed with Leica M9 and new 35mm Summilux-M ASPH f/1.4
How artistic the fashion scene is becomes evident at fashion weeks around the world when the fashion for the next season 6-8 months ahead sees the flashlight of the runways. But no other place than back stage does it become more evident that this is real art, because this is where the designers and their helpers does the final touch on new designs that in terms of life cycle are somewhere between prototypes and the future look of fashion.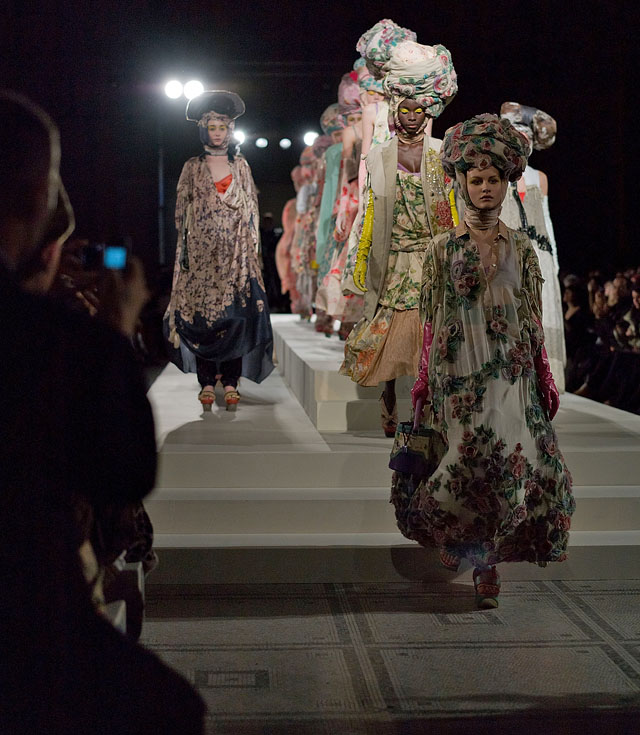 The runway shows display what will be in the stores in 6-8 months. At this stage the creations are somewhere between mere prototypes and the future look of fashion. Shot with Leica S2 and Leica 70mm Summarit-S ASPH f/2.5
It's a process where models, show designers, stylists, DJs and more work the last hectic few hours to prepare a runway show that will normally be over in 20 minutes. The final presentation of half a years work of creating, re-creating, testing out, killing your darlings, deciding what direction to take and how to make it possible. And with that extra catch that fashion has - it has to be profitable as well.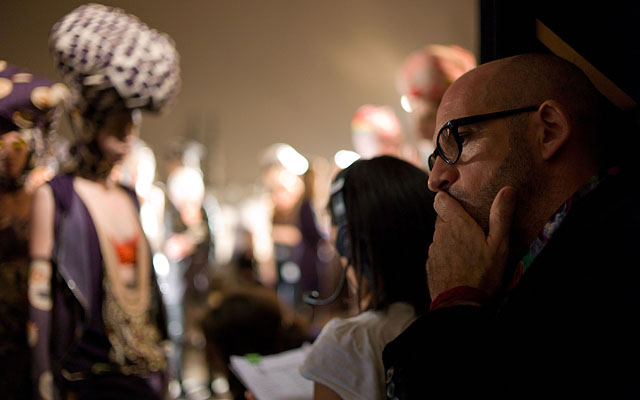 Kenzo designer Antonio Marras in deep thoughts just before show start
This can be done better
When I saw the local press coverage of the Copenhagen Fashion Week last August, I though, "This has to be done better," and that was when we were a group that started figuring out new ways of cover fashion so that it would show the art and creation in a way that would validate the true nature of fashion.
The first tests has been done in London throughout the last few months, and a small team of artistic photographers will cover the Copenhagen Fashion Week in two months, and a growing team of writers, photographers and videographers will be taking on the future fashion weeks around the world.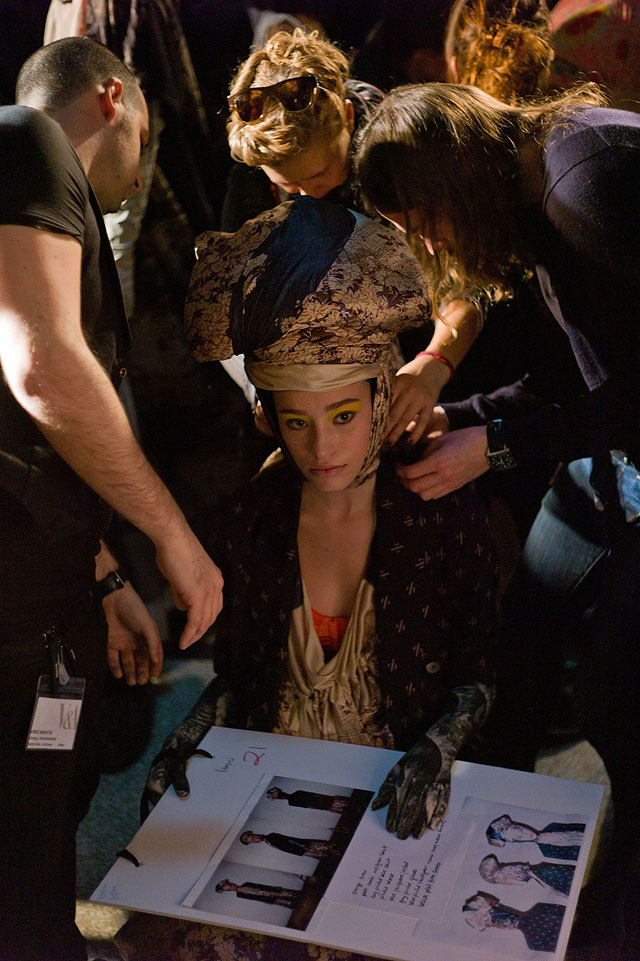 A model with the design board while stylists, hairdressers, assistants try to complete the look befiore she has to enter the runway. Shot with Leica M9 and Leica 50mm Summicron-M f/2.0
It's all characterized by the same enthusiasm any artist must have for his or her own ideas. The first thing is the idea and believing in it. Then when you start working on it, you realize new ways of doing it, that what the audience need and want may change the scope of the original idea, and at some point you will start figuring out a business plan and how to actually make money on it.
But to do something the right way, you have to follow your guts feeling from the beginning and not listening to photo editors saying "we always use flash for fashion weeks" or other random rules made by people who are capitalizing on ideas rather than originating them.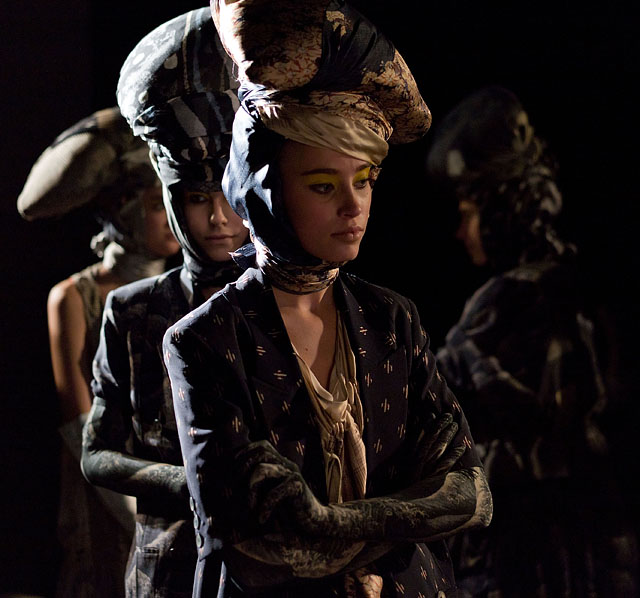 Shot with Leica S2 and 70mm Summarit-M f/2.5 at 640 ISO.
Aesthetics
We happened to decide on using Leica cameras from the beginning because the Leica lenses create the most truthful and unaltered images. Photography is all about light, in the same way music is all about sounds. If you listed to music on a class a stereo, you will notice that all music becomes interesting and quite beautiful. Because the reproduction is truthful, actually. And in the same way, light has to be reproduced truthful for colors, shapes, details and all to be beautiful. This is the simple basic of aesthetic in photography. If the light is right, and reproduced truthful, it is aesthetic.
Composition and timing are other elements, but composition is simply the placement of things, and timing is the moment that captures some moment of interest.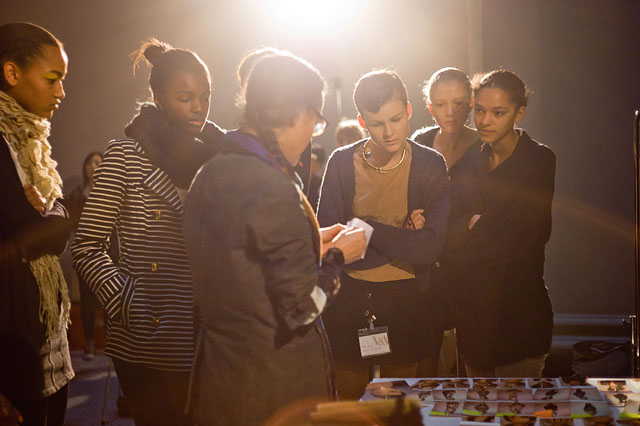 Models arriving and learning about their looks for the show
Preserving the beauty
We actually first worked on ideas of preserving the creation backstage with high resolution Leics S2 cameras shooting 37.5 megapixels. But one of the lessons we learned so far is that the small Leica M9 cameras are plenty capable of capturing and preserving the beauty as well. So we will be using both so as to create truthful and aesthetic images of designers, models, hairdressers, stylists and all in action, as well as their final creations they prepare for the shows that are the finale of six months work.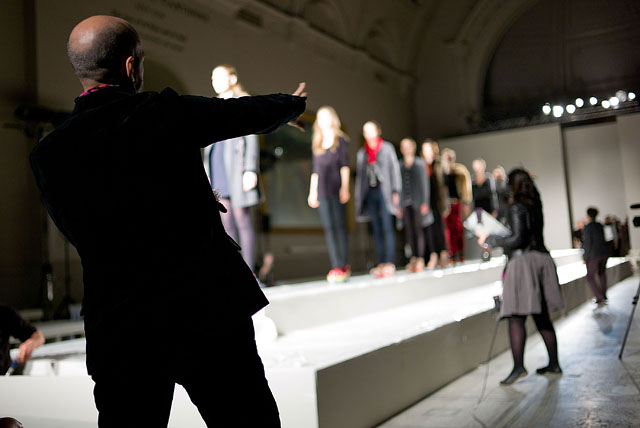 Kenzo designer Antonio Marras and show designer Charlotte Lurot directing rehersals hours before the actual show. Leica M9 with new 35mm Summilux-M f/1.4
Backstage with the 40th Anniversary Kenzo Show in London
One of the tests we did is the one illustrating this story, the Kenzo show in London on November 12, 2010
If you are interested in the "February Issue" project, shoot me an e-mail. Don't be shy.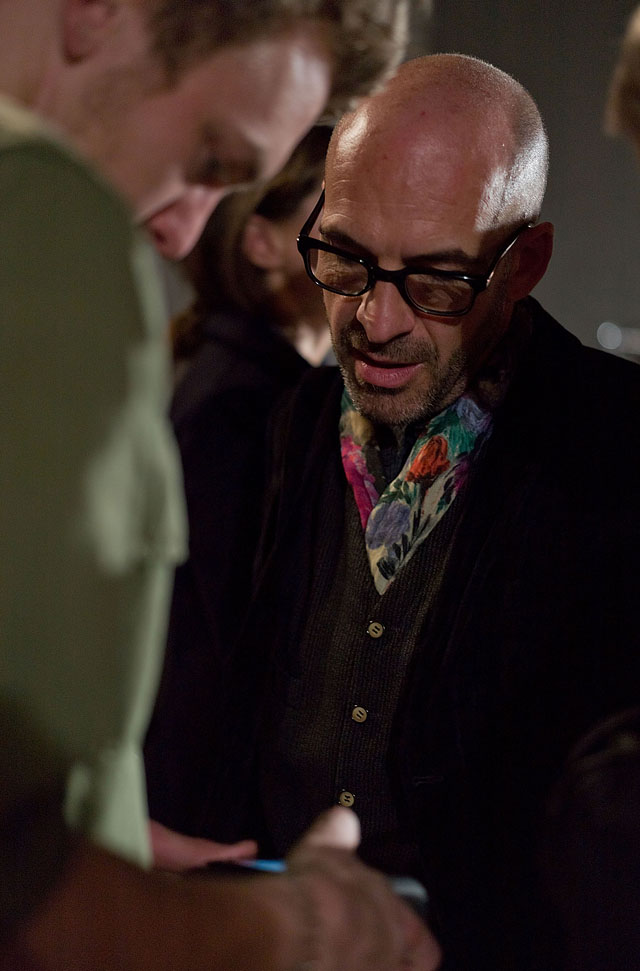 Kenzo designer Antonio Marras and viewing some of the backstage images made by Tue Juelsbo with the Leica M9 at the KENZO 40th Anniversary show in London
Here's a video showing the light setup we did in September in London for a backstage studio setup with daylight lamps and Leica S2 medium format 37.5 megapixels camera.