Enhver person har fundamentale rettigheder. Disse kaldes "menneskerettigheder" og er ikke et privilegie, der kan tages væk. Enhver person har visse rettigheder, han eller hun er født med, fordi han eller hun er et menneske på denne jord.
FNs Ungdomsår startede lige for lidt siden
For lidt over en uge siden mødtes unge fra alverdens lande i Geneve for at deltage i det 7. årlige internationale møde om menneskerettigheder i De Forenede Nationer i Geneve (7th Annual International Human Rights Summit). Mødet fandt sted samme dag som det internationale Forenede Nationers Ungdomsår startede.
Det var lidt af en oplevelse af se salen i det oprindelige FN i Geneve befolket med unge mellem 15 og 22 år, nærmest med de faste FN-delegerede i Geneve og ambassadørerne som gæster.
For os som danskere kan det ligne en sød gestus, en slags "med far på jobbet" dag, men flere af de delegerede havde ikke så nemt ved at komme ud af deres hjemlande, som man måske skulle tro. Menneskerettighederne er ikke lige populære overalt i verden.
Der var således god grund til, for den kommende generation af politikere og ledere, at mødes og tale om menneskerettighederne, der jo nok blev vedtaget i 1948 men stadig mangler at blive gjort til realitet i alle lande. Nedenfor kan du læse de 30 menneskerettigheder (med et link til den fulde tekst på dansk), og afhængig af hvor man er i verden, vil man se at der stadig er nogle der stadig skal arbejdes på at få på plads (igen).
Som fotograf hører jeg konstant om f.eks. Englands overtrædelser af menneskerettighederne for fotografer. Senest en ironisk artikel hvori terrorister påberåber sig deres rettigheder til ikke at blive behandlet som fotografer.
Og selv i vores egert lille skønne sensommerramte land er der også en rettighed eller flere at arbejde på. Og her tænker jeg ikke bare på hvad myndighederne gør mod borgerne eller landets gæster, men også på hvad vi hver især gør, eller undlader at gøre, overfor vores medmennesker. Den sværeste ting med menneskerettigheder er ikke at påberåbe sig dem, men at overholde dem selv. Så det er et godt sted at starte.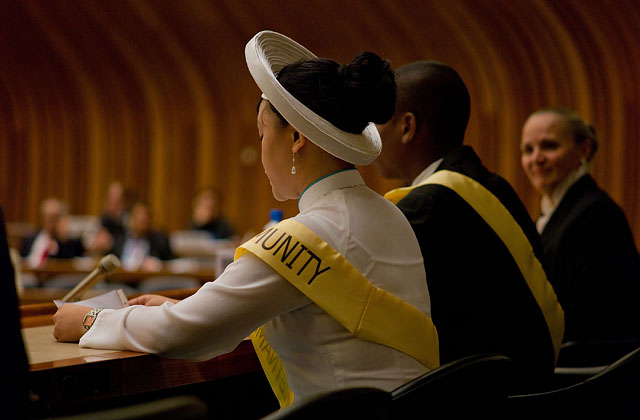 Grundlæggeren af, og præsidenten for Unge for Menneskerettigheder (Youth for Human Rights International), Mary Shuttleworth (til højre), er værtinde ved en paneldiskussion ved det 7. årlige internationale møde om menneskerettigheder til ære for FNs Ungdomsår, 27. august 2010 i Geneve. (Foto: Thorsten Overgaard/Getty Images)
En menneskeret som forsamlingsfriheden er synes at være så givet for de fleste, at man nemt glemmer at det er en af menneskerettighederne (artikel nr. 20), men enkelte af de unge delegerede måtte kæmpe bravt for at få udrejsetilladelser, og enkelte var forsinkede. Men de nåede alle frem, trods "lovmæssigt bureaukrati," og takket være den forenede indsats fra andre lande, således at de øvrige 29 rettigheder kunne diskuteres.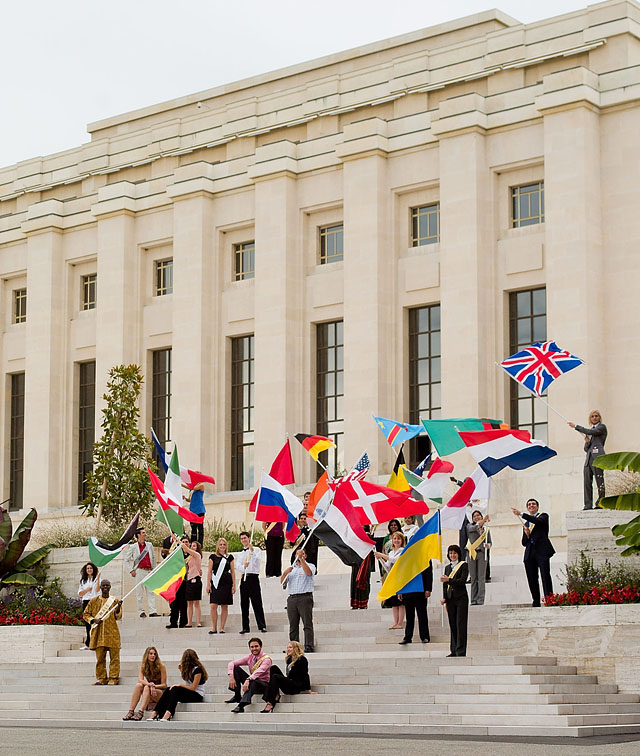 De delegerede foran De Forenede Nationer
At gøre menneskerettighederne til en realitet
Unge for Menneskerettigheder internationalt og i Danmark arbejder med at uddele undervisningsmateriale om menneskerettighederne til skoler. Man har også lavet den prisbelønnede musikvideo United, ligesom alle 30 menneskerettigheder er lavet som 60 sekunders OBS!-udsendelser som denne:
MENNESKERETTIGHEDERNE (i simpel form, på engelsk. Den fulde tekst kan læses på dansk her)
1. We Are All Born Free & Equal. We are all born free. We all have our own thoughts and ideas. We should all be treated in the same way.
2. Don't Discriminate. These rights belong to everybody, whatever our differences.
3. The Right to Life. We all have the right to life, and to live in freedom and safety.
4. No Slavery. Nobody has any right to make us a slave. We cannot make anyone our slave.
5. No Torture. Nobody has any right to hurt us or to torture us.
6. You Have Rights No Matter Where You Go. I am a person just like you!
7. We're All Equal Before the Law. The law is the same for everyone. It must treat us all fairly.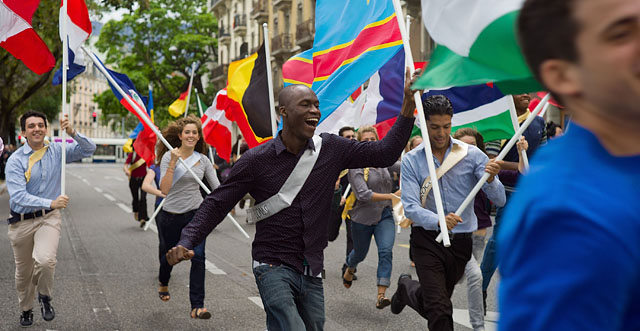 8. Your Human Rights Are Protected by Law. We can all ask for the law to help us when we are not treated fairly.
9. No Unfair Detainment. Nobody has the right to put us in prison without good reason and keep us there, or to send us away from our country.
10. The Right to Trial. If we are put on trial this should be in public. The people who try us should not let anyone tell them what to do.
11. We're Always Innocent Till Proven Guilty. Nobody should be blamed for doing something until it is proven. When people say we did a bad thing we have the right to show it is not true.
12. The Right to Privacy. Nobody should try to harm our good name. Nobody has the right to come into our home, open our letters, or bother us or our family without a good reason.
13. Freedom to Move. We all have the right to go where we want in our own country and to travel as we wish.
14. The Right to Seek a Safe Place to Live. If we are frightened of being badly treated in our own country, we all have the right to run away to another country to be safe.
15. Right to a Nationality. We all have the right to belong to a country.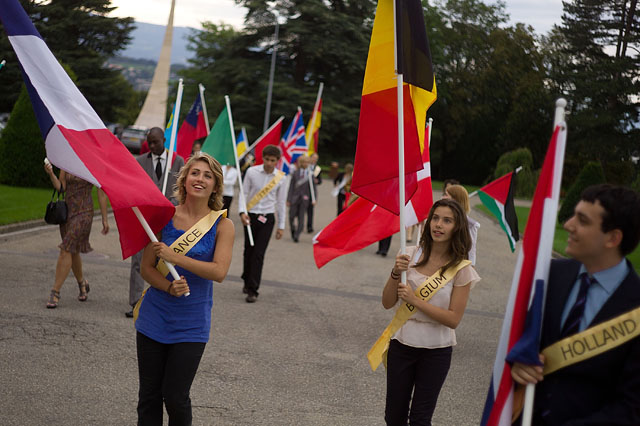 16. Marriage and Family. Every grown-up has the right to marry and have a family if they want to. Men and women have the same rights when they are married, and when they are separated.
17. The Right to Your Own Things. Everyone has the right to own things or share them. Nobody should take our things from us without a good reason.
18. Freedom of Thought. We all have the right to believe in what we want to believe, to have a religion, or to change it if we want.
19. Freedom of Expression. We all have the right to make up our own minds, to think what we like, to say what we think, and to share our ideas with other people.
20. The Right to Public Assembly. We all have the right to meet our friends and to work together in peace to defend our rights. Nobody can make us join a group if we don't want to.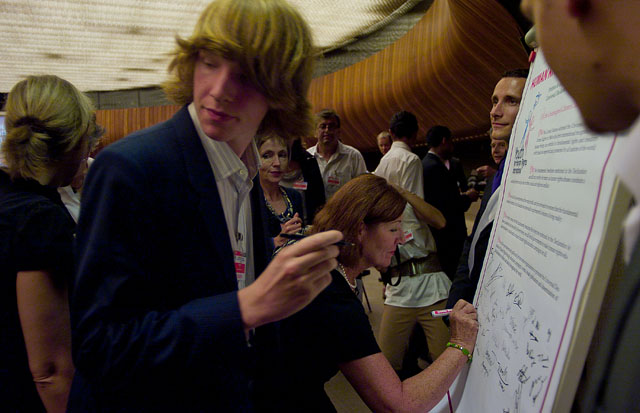 De delegerede underskriver støtteerklæringen for menneskerettigheder.
21. The Right to Democracy. We all have the right to take part in the government of our country. Every grown-up should be allowed to choose their own leaders.
22. Social Security. We all have the right to affordable housing, medicine, education, and childcare, enough money to live on and medical help if we are ill or old.
23. Workers' Rights. Every grown-up has the right to do a job, to a fair wage for their work, and to join a trade union.
24. The Right to Play. We all have the right to rest from work and to relax.
25. Food and Shelter for All. We all have the right to a good life. Mothers and children, people who are old, unemployed or disabled, and all people have the right to be cared for.
26. The Right to Education. Education is a right. Primary school should be free. We should learn about the United Nations and how to get on with others. Our parents can choose what we learn.
27. Copyright. Copyright is a special law that protects one's own artistic creations and writings; others cannot make copies without permission. We all have the right to our own way of life and to enjoy the good things that art, science and learning bring.
28. A Fair and Free World. There must be proper order so we can all enjoy rights and freedoms in our own country and all over the world.
29. Responsibility. We have a duty to other people, and we should protect their rights and freedoms.
30. No One Can Take Away Your Human Rights.