During this seasons Copenhagen Fashion Week I spent most my time covering Adidas Originals' "City Attack" celebrating Copenhagen (which I will get back to in my next newsletter), but I did have time to visit the two coolest acts at the Copenhagen Fashion Week SS11. And here is a little of what went down.
[Definition: SS in fashion refers to Spring/Summer, whereas AW refers to Autumn/Winther. Often shows are simply referred to as for example "SS11" meaning the Spring/Summer collection 2011; and designs are usually presented in shows half a year before you can buy them in stores]
Copenhagen - a fashion city
The Copenhagen Fashion Week has grown to become a real cool fashion week and is probably one of the most well-organized worldwide in terms of coorporation between the people and the city of Copenhagen and the fashion business, which is why it is growing each year, spreading the news about cool Scandinavian fashion design, and at the same time branding Copenhagen as a fashion city.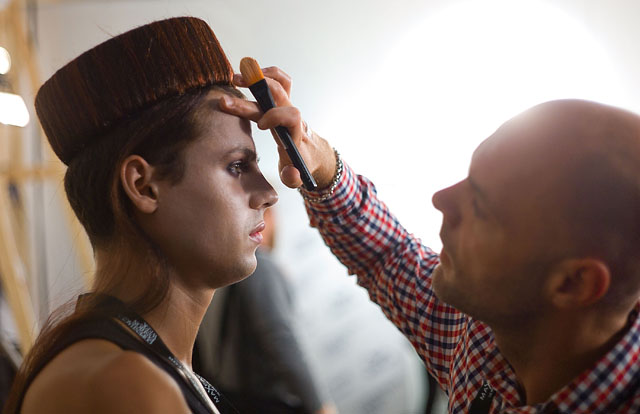 Where fashion weeks around the world can be quite some work to cover, the Copenhagen Fashion Week is organized so the press apply for one accreditation, and then that covers access and transportation from one show to the next, which is why bloggers, photographers and fashion people can attend all 14 fashion shows in one day! - or 42 in three days. All taken care of, including the food. It's also a Fashion Week that offers free transportation every five minutes between the big fashion fairs and hotels around Copenhagen, as well as an official daily Fashion Week paper (Dansk Daily), live video feed from fashion shows online on iTunes and on huge television screens throughout town in a matter of minutes after show end.
It's organizing meets creativity, the result being big business.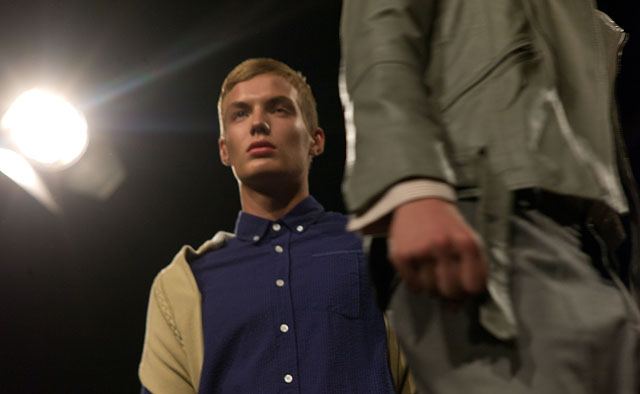 Soulland by Silas Adler
Here is a few images from backstage Soulland just before show start. Silas Adler (b. 1985), founded Soulland in 2002 and what started as a small company specialized in print t-shirts has now grown into a well-established menswear brand recognized worldwide and represented in leading stores across Europe and the USA.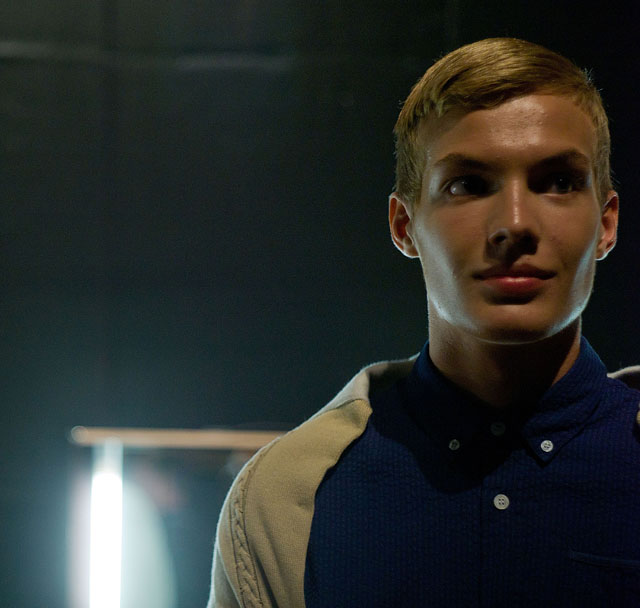 In 2008 the Scandinavian fashion community acknowledged Silas Adler's work with nominations for best Danish up-and-coming designer by Danish Fashion Awards and Scandinavian talent of the year by the Swedish Plus46 Award.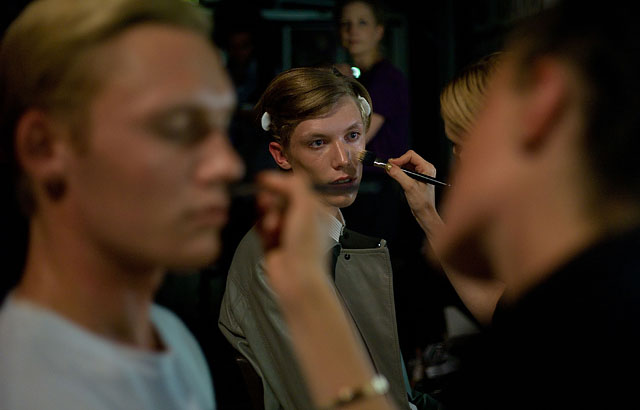 Soulland is sold in stores around the world including Pigalle (Paris), Goodhood (London), Normann (CPH), Assembly (NY), Soto (Berlin), Freudian Kicks (Oslo), Beams (Toyko), Daily Projects (Seoul), Støy Munkholm (Aarhus), Margreeth Olsthoorn (Rotterdam), Bblessing (NY), Aplace (Stockholm) and Asos.com.

A fellow photographer going for the classic look with the Hasselblad and 400 ISO Tmax film.
Henrik Vibskov
One of the multi-talents of Danish fashion is Henrik Vibskov who's work you may also stumble into on the walls of a gallery in Berlin, or as the drummer when international acclaimed electrinica/house musician Trentemøller plays live.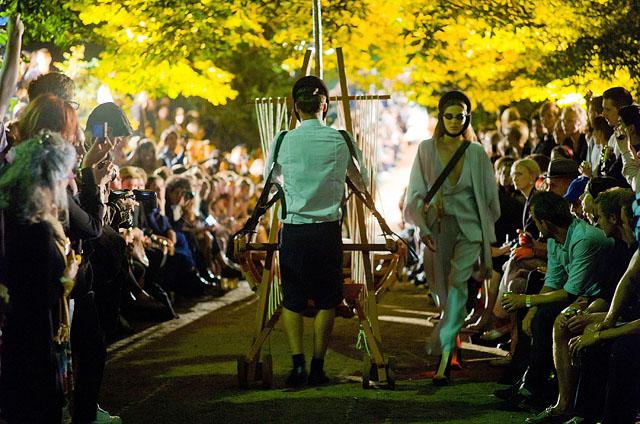 A model walks with a boat on wheels down the catwalk at the Henrik Vibskov show. According to Henrik Vibskov the inspiration for this years show at 23:00 PM by the lake in a park in Copenhagen, comes from Mad Max 2 and other sources, and is some sort of homecoming or returning theme.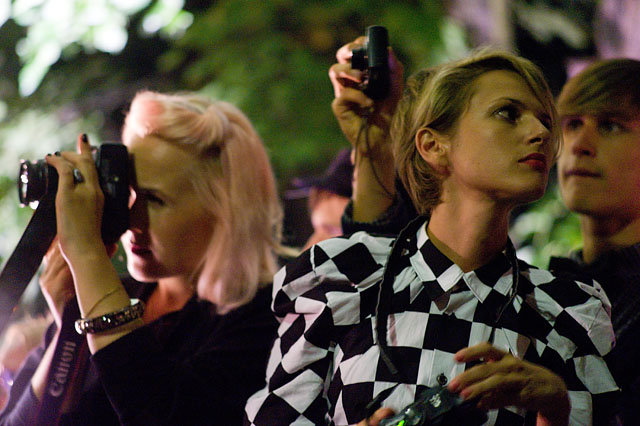 The catwalk at a Henrik Vibskov show is packed with fashion designers from other brands and fashion industry people who eagerly snaps photos and inspiration.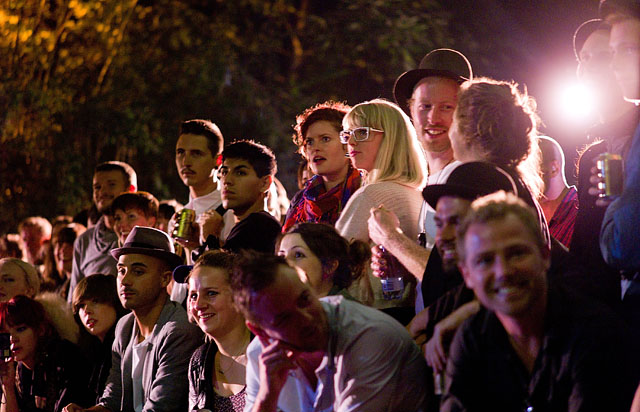 As the only show during Copenhagen Fashion Week, the Henrik Vibskov show is open to all, and is the one where it's allowed to openly display surprise, laughter, jokes, comment to the models, admiration and surprise.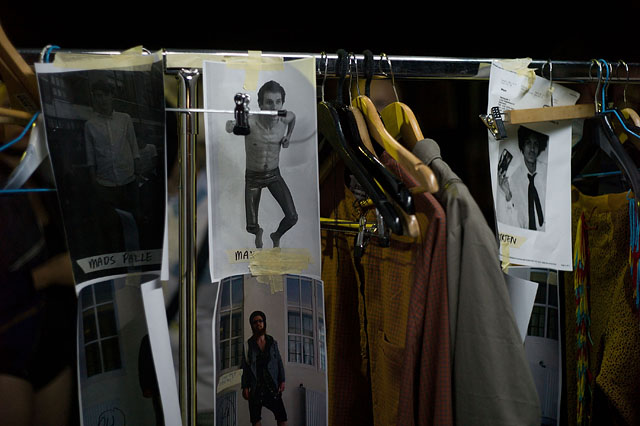 Weeks of work went into the preparation. The Show itself is 20 minutes.

Shoes and high heels ready to enter the catwalk.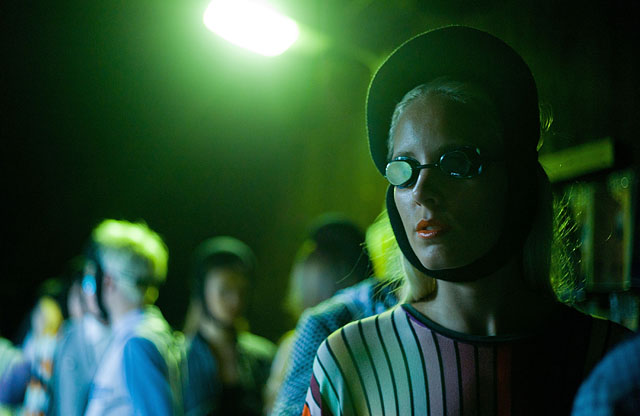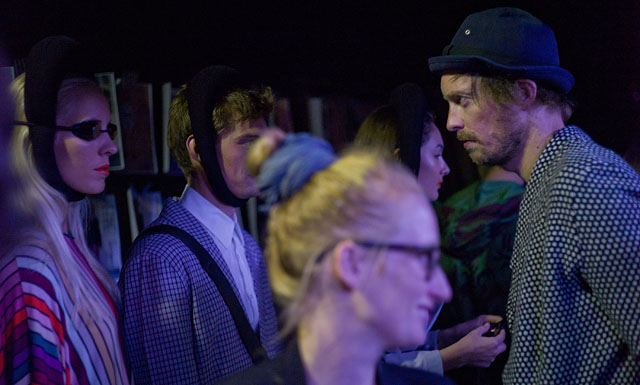 Henrik Vibskov performs the final check backstage before show start. The backstage is by a workers cottage hidden in the woods so some of the inspection is done with a flashlight.
Thorsten Overgaard, August 23, 2010
PS
You can see a slideshow from the Copenhagen Fashion Week Spring Summer 2011 by Felix Kunze here.