I always wear a camera, even on airplanes.
Though sometimes I will stowe the camera away in the compartment above. I usually plug my inear headphones (Shure 535 that isolate 80% of the sound away from outside), and then I go to sleep! I don't watch movies, I don't try to work. I just sleep as much of the trip as I can. I find that flying takes so much energy for the body that drinking water and sleeping is the best way to preserve the energy.
Some times the last hour before landing is a good time to reflect and make plans. Maybe because you are free and not attached.
When I arrive in a place, I go by the local time, no matter the time zone. I don't keep track of what the time might be at home or elsewhere. Present time is where you are at, not where you were. That way you can survive tremendous shifts in time zones.


Emirates, airline of the year. Here the stewardesses are making Polaroid photos for the kids during the flight to Asia.
When I travel to Asia, the route is determined by the least shifts in time zones. It's better to fly six hours and stay in the same time zone than to travel one hour and move three hours in time zone: A day of travel is a day of travel. Checking in and out and getting to and from airports takes so much time that the actual flight is often not the majority of time spent. It's a curious detail that it is faster to drive six hours to Berlin from my home, than to fly there.
Unlike what many think, I almost always fly economy and not Business. I would fly sleepless spending three times the amount on what I find unimpressive airline service. Airlines at large live in the 90s, some even before electrcity. A first class train ride is usually 30% more than economy, a hotel limo to the airport is usually 20%-40% more than a taxi. In the air it is 300% more for Business and 500% for First Class. It's more a sign of years of bad management rather than a sign of improved facilities.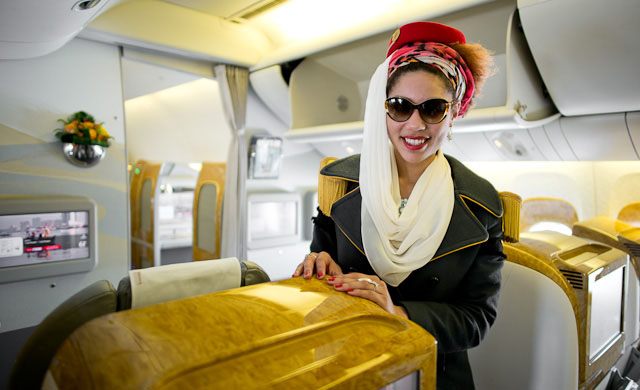 Joy dressed as Emirates airline crew.
On the Airbus A380
The A380 flight is extremely soft and quiet. It is so remarkable that you notice. I liked that there was a little of the style from back when flying was done in style. It's not much, but there are a few spaces where people can hang and talk, almost like an airline bar. People would actually hang there and talk to each other while stretching their legs. What a difference such a small thing makes! You appreciate the little things in a metallic tube with 500+ people, especially when you feel claustophobic when the shoes, carpets and spilled chips on the floor start to get on your nerves.
I wonder what it would take to put a half-circle large red velour sofa lounge in the back of the cabin. Imagine if you could go there and hang with your computer, put your feet up on the table and talk to each others and have a Nespresso.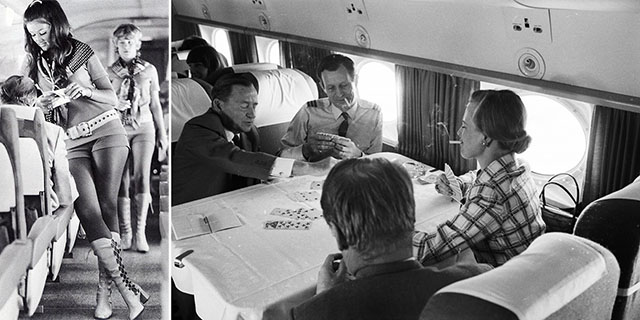 A couple of pictures from back when you could easily travel in style. To the right is Queen Margrethe II of Denmark on a DC4 promotional trip to Italy.
The A380 uses 2.9 liters of fuel per passenger per 100 kilometers (1 gallon is 4 liters). That is approximately 3/4 of the 'usual' fuel comsumption on large long-distance airliners. The new improved fuel economy in airplanes might push the airlines to upgrade their fleets.
The camera
The philosophy in "always wear a camera" is that it is ready when you feel inspired. It has to hang over the shoulder, and it has to be 'on' without lens cap. The ISO and white balance should be ready for the environment you are in. When I feel inspired (usually because of the light or/and people), I keep the camera on me. When not, I keep it close. When I woke up and took a walk while we flew over Nevada an hour before we landed in Los Angeles, I took my camera with me.
I had brought myLeica 80mm Summilux-R f/1.4 and the Leica R-to-M adapter on this trip to test it out on the Leica M 240.
Buy the new eBook
"A Little Book on Photography"
by Thorsten von Overgaard

Order now - Instant delivery.

★ ★ ★ ★ ★ ★

It's a humorous understatement to call this
new eBook by Thorsten Overgaard for
"A Little Book on Photography".
It's a grand book, a history lesson, life experience, a biography and poetry book and brilliant photo book!
All in one beautiful package of 180 pages
to fire you up and get you to love
photography ... unconditionally!

"A Little Book on Photography"
eBook for computer, Kindle and iPad.
New release March 2017.
Intro price only $47 - 180 pages.

Buy Now

Instant Delivery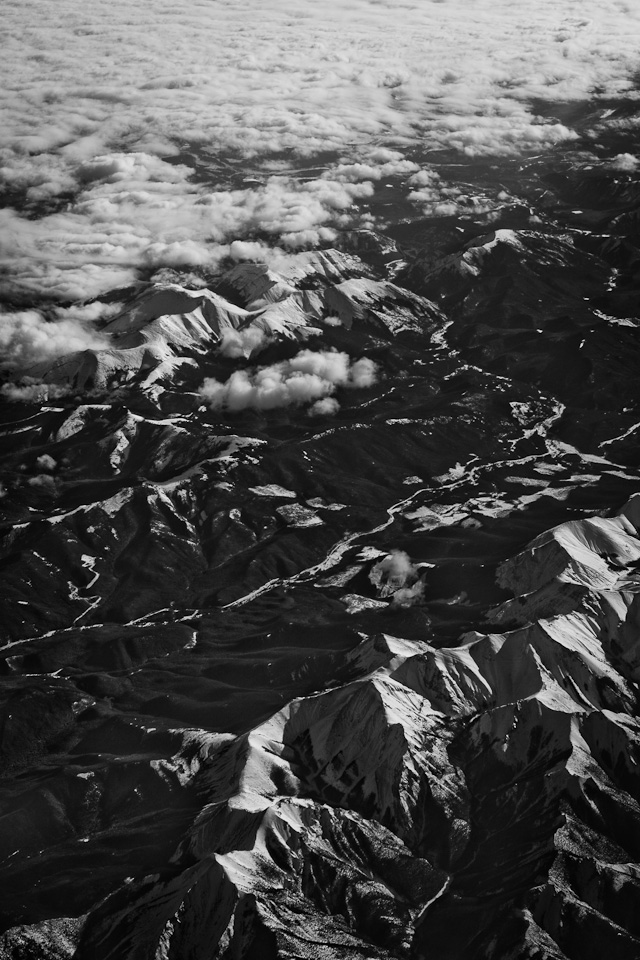 Nevada mountains. Leica M 240 with Leica 80mm Summilux-R f/1.4