On Sundays some of the large main roads in Jakarta that are usually packed with a depressing mess of traffic, are closed half the day. It is called Jakarta CFD (Car Free Day).
On these Sundays the roads will serve a somewhat public park. People walk, talk, skate, bicycle, set up lemonade shops, sit in the roadside and have a picnic.
There is something very liberating about taking over a space that is normally roaring of large trucks and cars with impatient drivers in them. It wouldn't be the same if it was a normal park. The lack of traffic makes it a victory and a limited freedom you enjoy!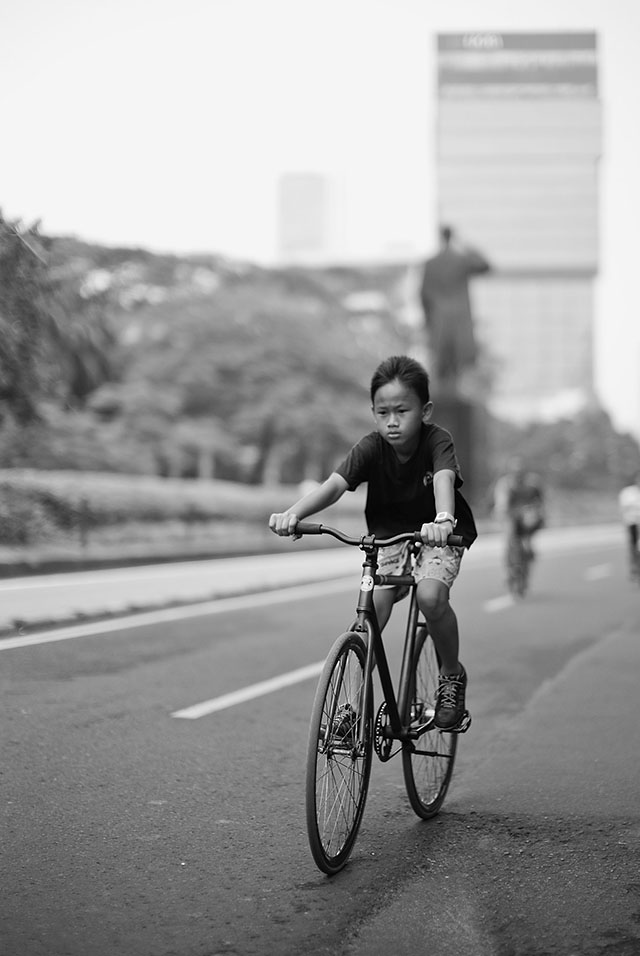 "The Future of Indonesia", Jakarta, Indonesia, December 2013. Leica M 240 with Leica 50mm Noctilux-M ASPH f/0.95. © 2013-2014 Thorsten Overgaard.
The right moment
I did a workshop in Jakarta, and we walked all Sunday. We spent a couple of hours walking and photographing the many situations.
I did many great shots, but one I really like is this one of a boy on a slightly too large bicycle. There are many things I like about it, but perhaps I like the concept implied that Barack Obama lived four years in Jakarta when he was about that age. Later in the day we went to see his school where there is a statue of him.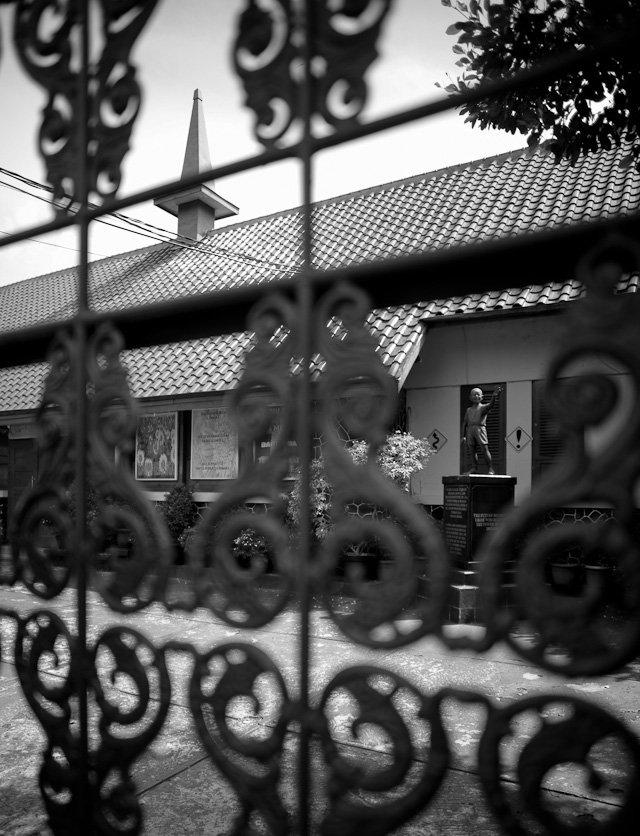 You could easily oversee this statue with the inscription "The Future Belongs to Those Who Believe In The Powers of Their Dreams" that reminds the kids in the school that the 44th president of the United States of America went to this school from 1969-1971. Who would have known he would once become the president?
I think very few people know that the american president speaks Indonesian and know many of those streets as his own pocket. Also, I imagine it gives him a very unique understanding of Asia.
So that was what I meant with naming the image "The Furure of Indonesia", because no matter what this young fellow makes of life, he will be part of the future. Some thought I was referring to the bicycle, but it was actually the boy!
For those who continue to be puzzled by how I get a moving subject in focus with a Noctilux lens that has a very narrow focus (and that is the beauty of it; all the out of focus dreamy play with light and tones), I simply focus first and wait for somebody or something to come into focus. Then I shoot 2-3 pictures, and hopefully one of them is in focus. Which is not always the case.
The other side of the story is that you never know what comes into your viewfinder. You know there are people walking, some are funny, some are beautiful, and some are kids with ablloons and dogs. Some of them look straight into the camera, others are eating someting so they look pretty stupid in the moment.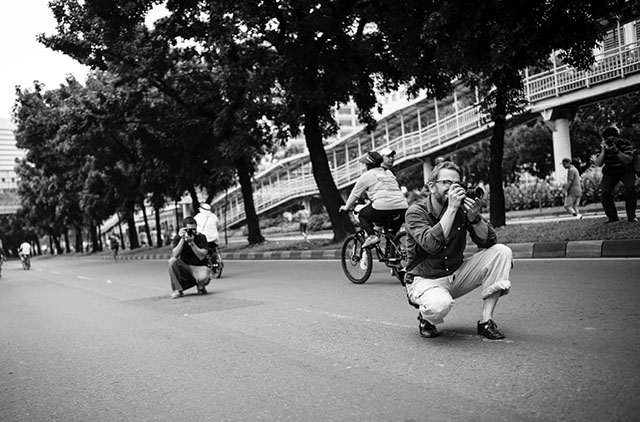 Me and one of the workshop students waiting for somebody or something to come into the frame. Photo by Kresna Priawan.
So you stay ready for a while and shoot what comes into the viewfinder. The light and composition you have decided beforehand. For example the statue in the background is one I wanted in there for what it might imply or not imply for the image.
I got a lot of intersting things, but the boy on the bicycle was the one wanted to show today.
Hope you like it!
"Dear Mr Overgaard,
After visiting your site and seeing what a Leica camera could do I went out and purchased one. Thanks for all the great advice and tips, it's really helped me to understand the M240! All best."



- J. L. (Singapore)
To read more about my views on light and how to use it, feel free to download the book:
Buy the new eBook
"A Little Book on Photography"
by Thorsten von Overgaard

Order now - Instant delivery.

★ ★ ★ ★ ★ ★

It's a humorous understatement to call this
new eBook by Thorsten Overgaard for
"A Little Book on Photography".
It's a grand book, a history lesson, life experience, a biography and poetry book and brilliant photo book!
All in one beautiful package of 180 pages
to fire you up and get you to love
photography ... unconditionally!

"A Little Book on Photography"
eBook for computer, Kindle and iPad.
New release March 2017.
Intro price only $47 - 180 pages.

Buy Now

Instant Delivery
Thanks for Irfan and Abi for making the visit to their hometown Jakarta unforgettable!