Traffic lights for drivers in London are imperative; in Paris - they're suggestive; in Rome - they're decorative.
This photo is one I did when we were out and about working with reflections in the rain during the latest Paris Workshop.
The scooter was waiting for a green light, so I wasn't laying around in the traffic but simply kneeled down next to the waiting traffic.
The aim was to get both the reflections in th street to communicate the rain, and then as much effect as possible of the front light of the scooter and cars.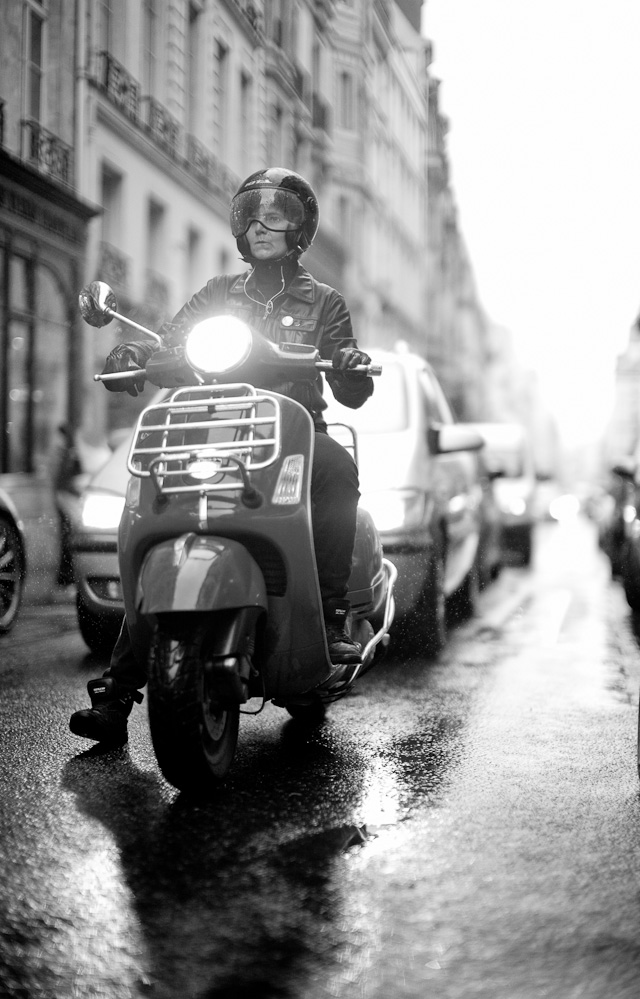 Paris in the Rain. Leica M 240 with Leica 50mm Noctilux-M ASPH f/0.95.
If one notices, there are very few signs of the falling rain, even though it was raining quite a bit. You may see a few drops around the headlight, but in the overall image there is no rain falling. The point of the exercise out in the rain with the workshop was to show that you can't easily photograph falling rain but will have to use reflections of wet surfaces to show that it rains.
In any case, I didn't think much of this picture, but when it got 100 likes on Facebook in a few hours I realized others liked it. So there you go.
I think I wanted it to be more dramatic, perhaps with some halo-effect from the frontlight of the scooter. And when I didn't get that, I classified the image as less interesting. So it's good to have Facebook friends who can tell one otherwise so I also can appreciate the image.
Thanks!
| | | |
| --- | --- | --- |
| | | |
| | "As a parisian I like this picture because I immediatly know this is Paris. ... it tells me a story, it brings me somewhere. It is what I like in photography, and what I like in your photos generally speaking." | |
| | - B.D. on Facebook | |
| | | |
| --- | --- | --- |
| | | |
| | "This would make a lovely print, you know exactly where it is, without reading the description." | |
| | - A.O. on Facebook | |