Some times you see a great picture and miss it because you didn't work fast enough
This was the case in Paris when we were out and about photographing late afternoon in the rain. The idea was to show how to communicate heavy rain in images. You don't do that by trying to capture the raindrops, because they are almost invisible in photographs. Instead, you have to work with the reflections of wet surfaces combined with people fleeing from the rain.
We found a good corner to capture people walking towards us. One of the people that came our way was an elegantly dressed gentleman with his bag. I got so eager I tried to follow-focus him so I could get several photos of him.
This is a technique that seldom works with manual focus, and this case was no exception. All my photos were blurred. What happens is usually between the time you have gotten the person walking in focus and the time you take the picture they have walked further towards you and out of focus.
The right way is to set focus to a point, and then when the person walks into focus, you shoot three photos.Most times one of them will be in focus.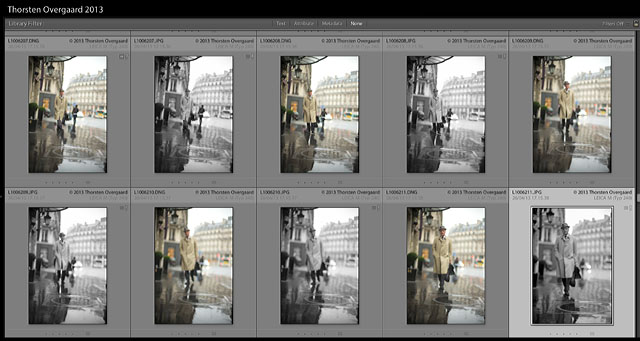 A series out of focus. The last one in the right corner would have been perfect reflections and background.
So I missed this shot, even though I was ready. But I remained eager and still wanted more. I should know better as I have done lots of catwalks at fashion shows where everything you don't care about wil be in focus, whereas when you try too hard, you get over-exited and you loose the focus.
A second chance
| | |
| --- | --- |
| | |
| | You will get surprised what walks into your frame. This just wasn't what I wanted now ... |
| | |
But it was a great spot so we waited another ten minutes, as you will often be surprised how many interesting people walk into your focus. Still, nothing that looked as parisian as this one I wanted.
We went back to the coffee place to get the rest of the group and head out for dinner in Paris. On our way I stumbled into the gentleman again. This time he had dropped his bag at home and had taken the dog out for some fresh air.
So I photographed him again, and as he had clearly noticed being photographed twice in half an hour, we spoke and I asked if I could do some more when he walked around the corner.
So I got ready with a good background, set my focus and exposure and waited for him to walk into the focus. And this time... I got him.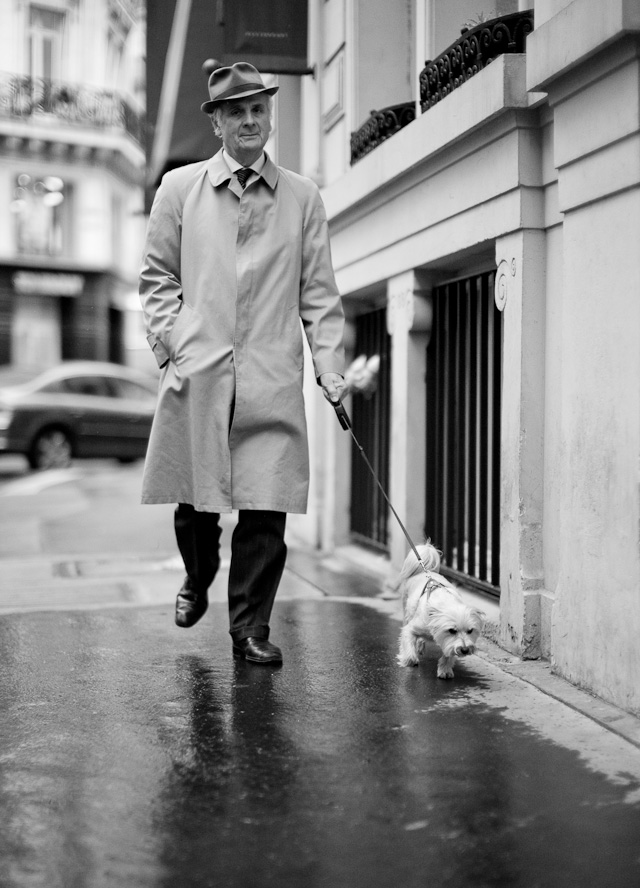 Don't regret the pictures you don't get. Cherish the ones you do get
I usually say that one must forget the ones you don't get and focus on the ones that work. It's the images that count and not the errors.
But that doesn't mean that you can't kick yourself for 10 minutes. But then you better get on with it and make something else that works. In this case I was lucky to meet the same person again and make something that was almost as good as the first one could have been.
- May 12, 2013
Epilogue
In the last week, two people in a photo has been identified. One was a person in San Francisco who appeared in one of my photos with a t-shirt "Fix More, Whine Less" and asked for a print. The other is the above genteman in Paris where another person told me that he is Jean-Luc Chartier, the President of the Polo of Paris (Président de la Fédération Française de Polo et du Polo de Paris) and President of the Horse Riding Federation in France, a Knight of Saint-Grégoire-le-Grand and more.
- June 15, 2014