The main advice in photographing kids is "Shoot a lot of pictues and be happy for the one that works". But first:
Always wear a camera
If you got kids, then always wear a camera and be ready. Suddenly they do something, the light is great and you get it. You know this thing that kids say funny things. Some parents note them down, some of us think we will remember it...
Your camera is your notebook for historic moments in your childrens' life, and a continuing record of growing up. If you wear the camera, you get some great shots.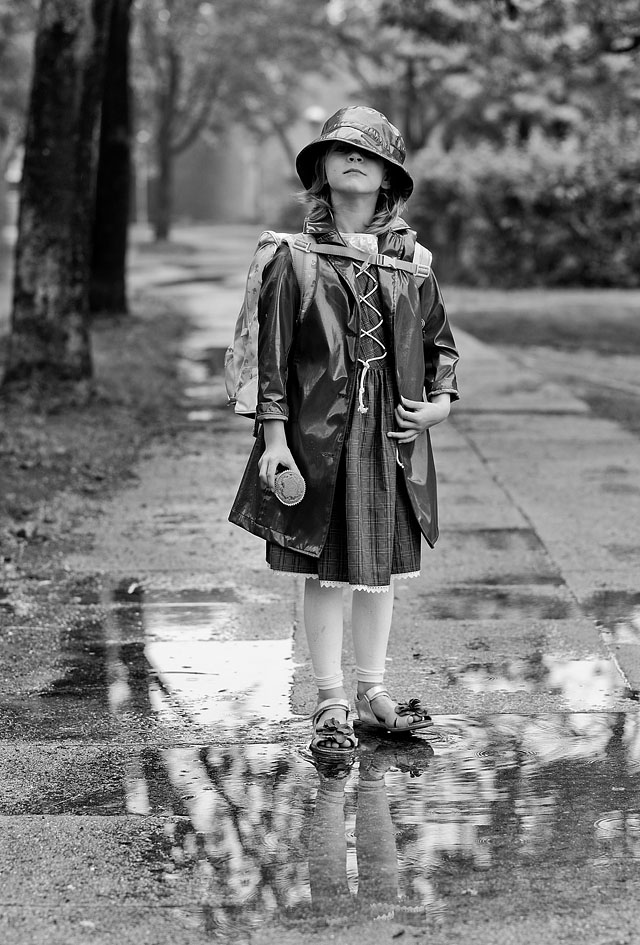 I always wear a camera when I pick up Robin from the school. It's not allowed to take photos inside the school of the other kids, but I bring it anyways, and that is how I got this on the walk back to the car. Leica M9 with Leica 90mm APO-Summicron-M ASPH f/2.0.
Shoot many - get one good one
The problem that many face is that they can't focus fast enough on the kids, and often the remedy seem to be to get a super-fast, super-big camera with a super-huge super-zoom and 8 super-frames per second. I'm sorry to say, but that won't solve it.
Kids are exactly as other people. The more discrete and natural you can photograph them, the better result will be.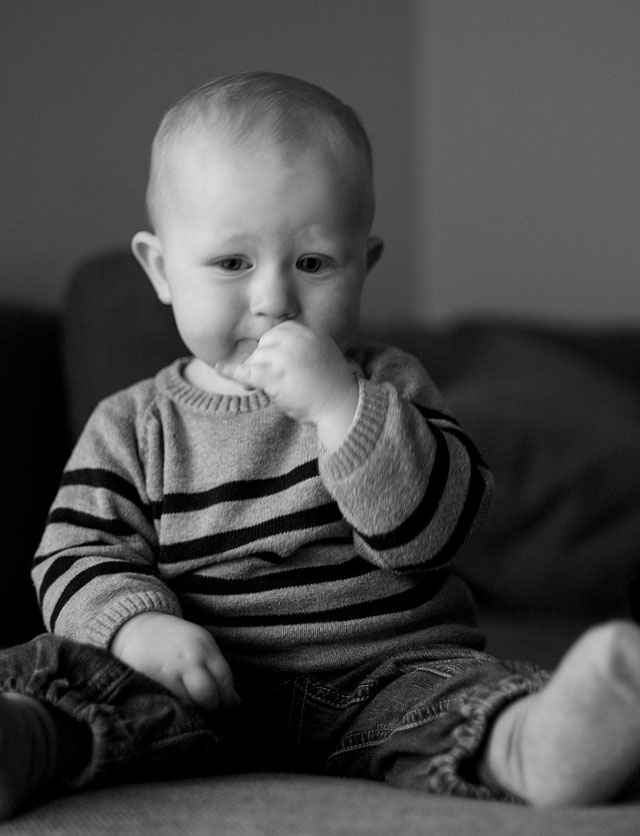 Kids are fast and there may not be much light. But if you keep focused you will catch the moments that are worth it all. You can tell on the motion blur of the arm how slow the shutter speed is on this one. Leica M9 with Leica 50mm Summicron-M f/2.0 (II).
Let the kids do what kids do
Let the kids do what they think is fun to do. Some times they will avoid the camera, then few seconds later they find interst in posing. And then they want to show you their race car!
While they are busy in a dark corner with something that you won't photograph you may plan a photo where the light is good. It can be in front of a window with good light where they played with something before. And with few gestures you can get them intersted in that thing again - but this time you have the focus and exposure ready to capture them.
But also, if they are not actually interested, you must let your idea go and follow what they do and use the chances you will be getting.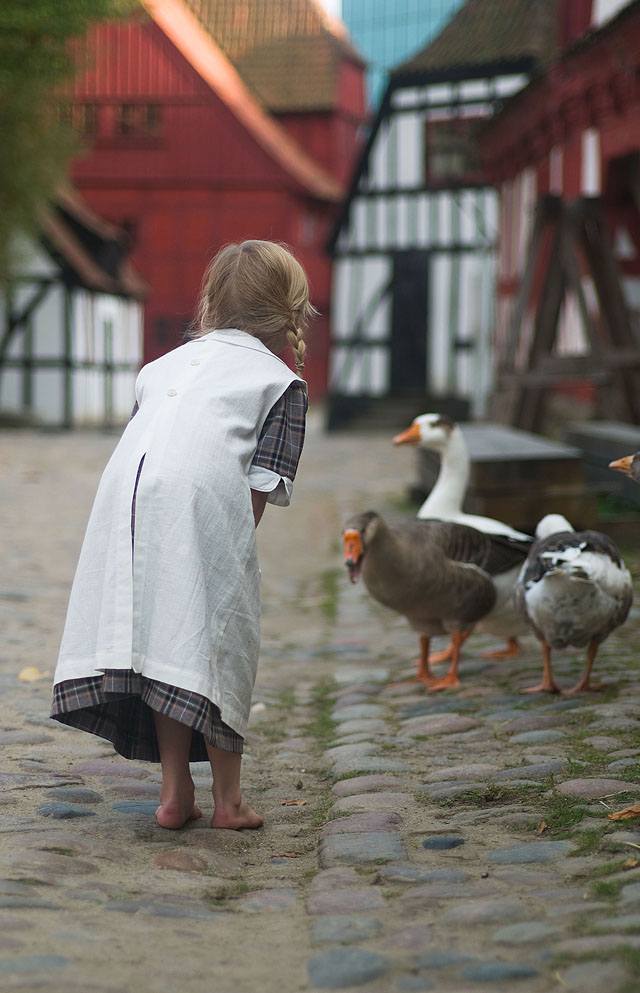 Some times kids follow their own head and don't face the camera as you had planned. Some times they are better at directing cute children photos than we are. Leica M9 with Leica 90mm Elmarit-M f/2.8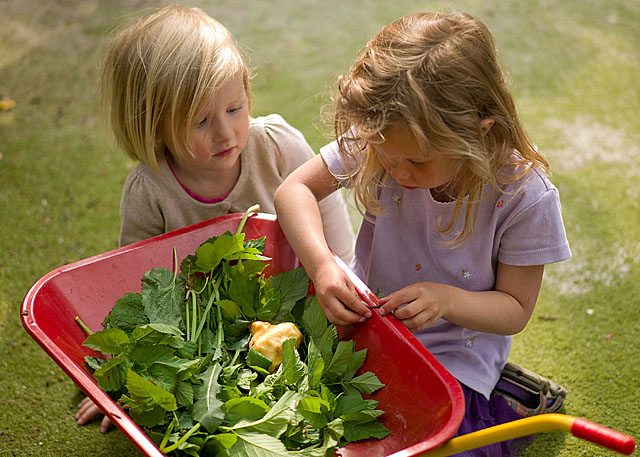 Kids some times have more important projects than being photographed. And some times their projects are more photogenic than staged photos. Leica M9 with Leica 90mm Summarit-M f/2.5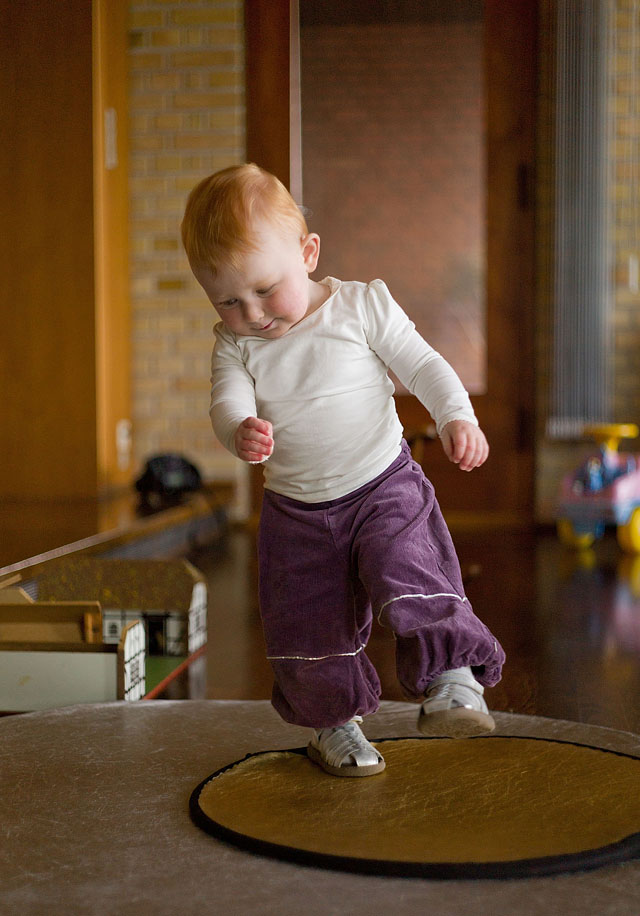 For this young man the photographers' reflectors turned out to be a great new toy. So be it ...
Leica M9 with Leica 50mm Summicron-M f/2.0.
For the posed photograph, prepare your self and work as fast as Superman
If you want children to pose, make sure you set up everything first so you don't have to test their patience with setting exposure, testing reflectors and all. The photo below is my daughter looking nice just before she throws the flowers to the ground again.
But half a second of beauty is mostly all you need for a photo.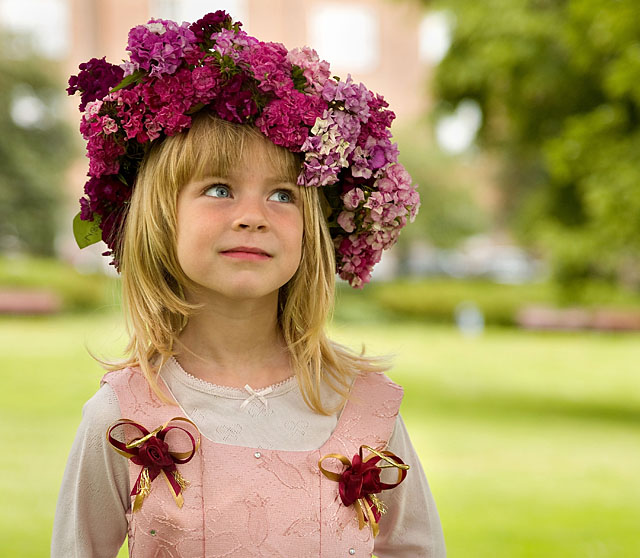 Leica R9 with DMR digital back, Leica 35-70mm Vario-Elmarit-R ASPH f/2.8.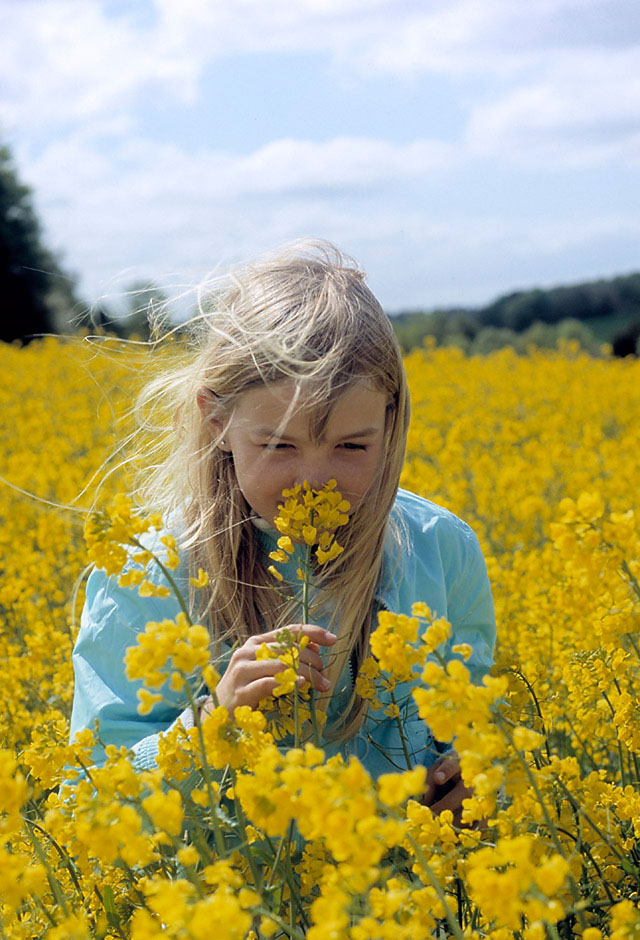 Leicaflex SL with Leica 80mm Summilux-M f/1.4. Fuji Astria slide film, Imacon scan.
My oldest daughter Caroline was 7 years when I forced her out in a field to do this. Her brother was standing to the right and holding, and both were they complaining that they had to spend five minutes of their precious youth on this.
But if you prepare, you will get the short moment where they look like kids you could be proud of.
And if you continue to shoot good photos of them that might motivate them to work with you (as it is also the case with other people in your surroundings). But basically there are is no real motivation for kids who are not accustomed to having to work, except if they happen to like it. But even when they like it they really don't have that much patience. They are more intersted in getting the result than going through the process of getting it.
The solution is not to make the kids more patient and understanding but to become better at preparing yoru self and faster at shooting without people have to wait for you.
Don't cry just because you are not fast enough. Keep doing it
If you shoot one photo in the car or in the supermarket, you may very well be lucky that is a dream shot. And if you shoot for 10-20 minutes in a park or indoor, you will get a lot of photos that doesn't work. But you will also get a handful that are good, and maybe one that is extraordinary.
And if you extend that to the childhood from baby to teenager, you should be able to get quite a few great photos that will be an outstanding memory.