I was recently on a five weeks trip to Tokyo, Shangha, Sydney and Hong Kong, photographing and teaching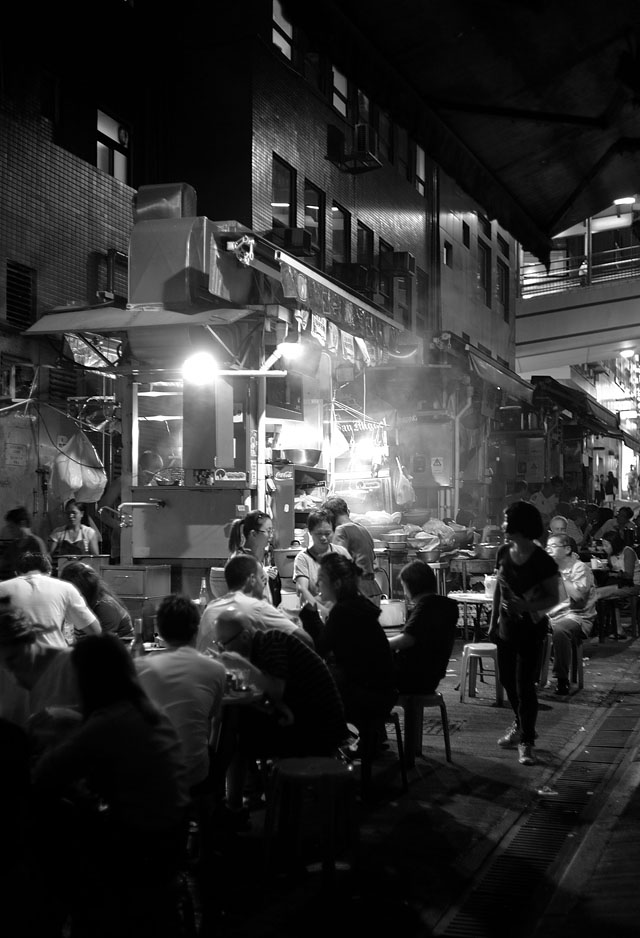 A street restaurant, also known as "Hole in the Wall restaurant" because it basically doesn't exist. It's only chairs and tables on a street, and in a couple of hours it's just a street again. Leica M9 with 50mm Summicron-M f/2.0, 800 ISO.
I've been to Hong Kong before, half a year ago. Then I did a seminar, and this time I did three seminars. I like Hong Kong because most people speak English (unlike China and Japan), yet it's an Asian city where the locals eat Asian food in a "hole in the wall" (an unsophisticated street restaurant that beasically is just a hole in the wall). But at the same time it's a buzzing city with big financial centers next to the family-run printer where husband and wife produce business cards on an old Heidelberg press.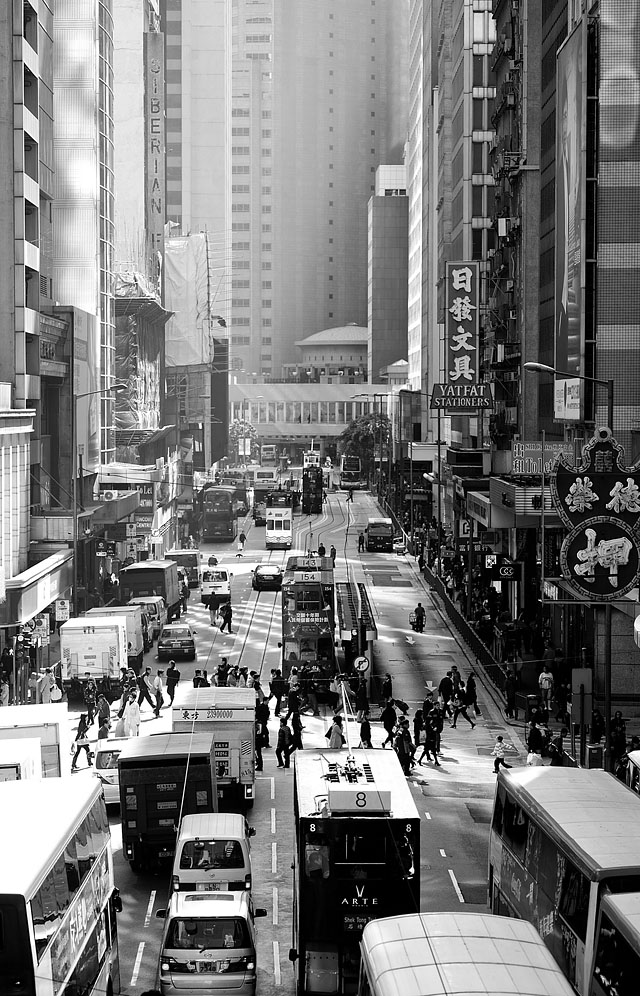 Hong Kong. Leica M9 with 90mm Summarit-M f/2.5
It has the feel of thousand of years of Asian livingness and spriituality, understated buzz coupled with the influence of the Western culture, mainly of course the British. It's a great city!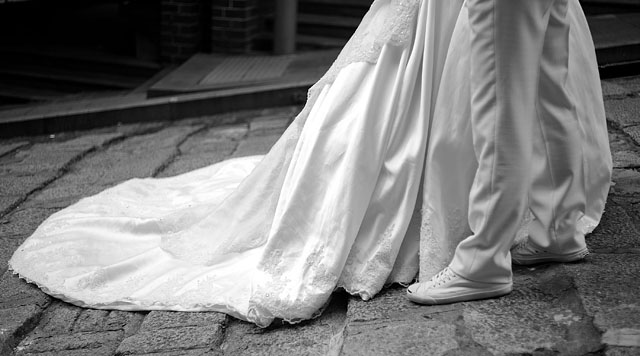 Wedding photographers seemed all around in Hong Kong and elsewhere I went. I really don't like to gatecrash a wedding shooting, so here is a detail of the whiteness from sneakers to dress. Leica M9 with 50mm Summicron-M f/2.0.
The basic needs of a new place
'm not a tourist type. I don't usually study history or maps or anything when I travel to a new city. I prefer to arrive and spend half a day or one day finding a good espresso place, a local prepaid internet-card for my iPad, visit the Apple Store and the Leica Store. It's very good to have something to walk towards because then you get around - and that's very valuable if you are a photographer!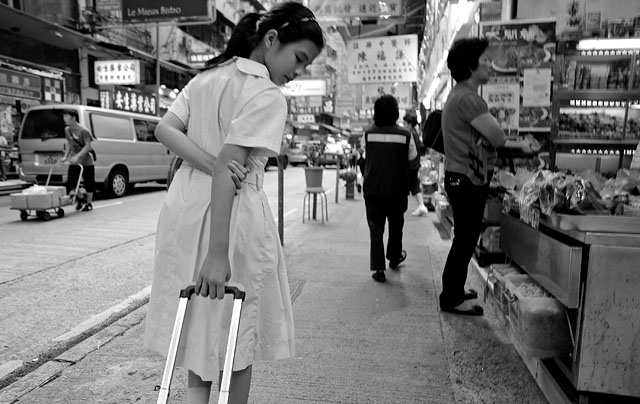 Three shots in a hurry as she passes by. Leica M9 with 24mm Summilux-M ASPH f/1.4
But theat's the amount of sight-seeing I usually do. Then I do my seminars, and as we walk about and photograph, I get to really look and notice a lot, usually guided by a few locals on the seminar along with others who traveled to the place for the seminar. And that's what I need, then I want to get to the next place.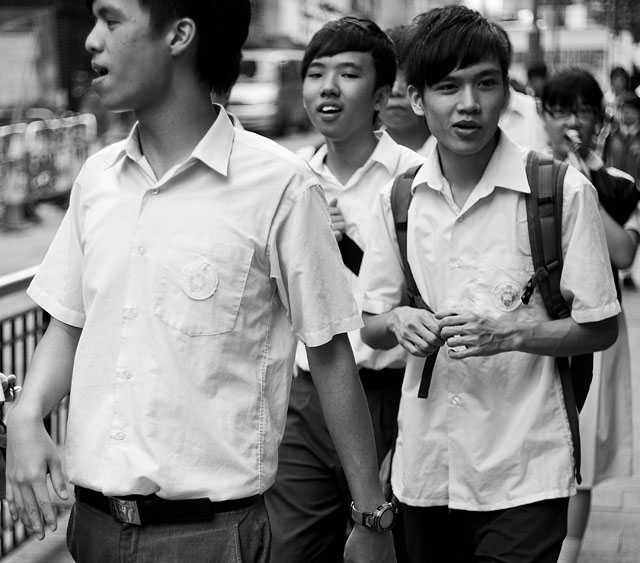 A few shots with fixed focus as a group of school children passes by. Leica M9 with 50mm Summicron-M f/2.0
Same drill in every city
Places are very much alike in the sense that the infrastucture is more or less the same. You come out of the airport, and then there is good taxis and bad taxis, buses and trains. I usually take a cigaret outside the airport so as to get an idea of what's happening. I don't want the black taxis.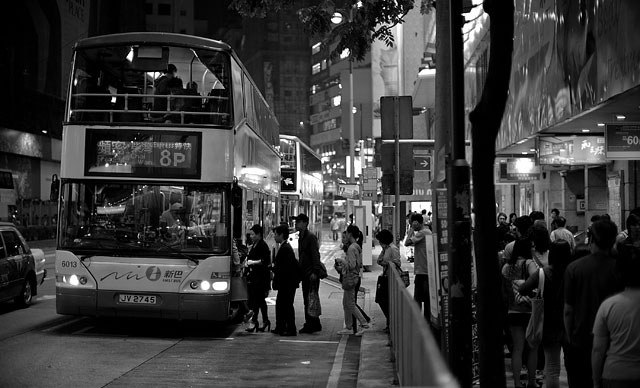 The busstop around midnight where people wait in line for the buses. Leica M9 with Leica 50mm Noctilux-M f/1.0

Hong Kong is pretty well planned. Cars of course is a dead end as in most places. But they have a wery well-organized trin from the airport to the center of the city where also the international fairs are. A neat little details is that when you leave Hong Kong, you can check in your luggage already at the main train station.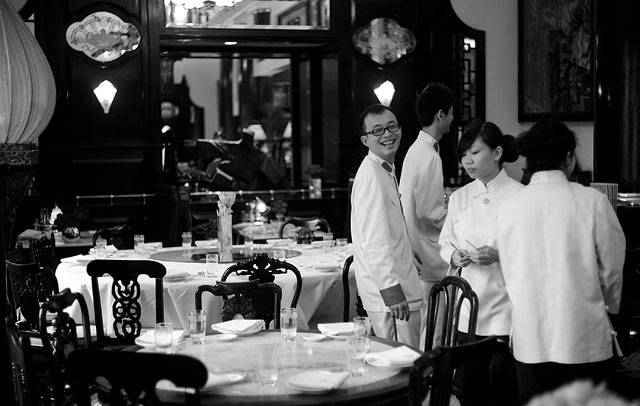 The members-only Chinese Club in Hong Kong after closing hours where the staff is preparing for the dinner later in the day. Leica M9 with Summicron-M f/2.0.
An iPad with a prepaid card in invaluable in a new place. Then you can look up directions from where you are to anywhere. It can tell you which bus to take, from which corner, in 6 minutes, and when you are going to arrive. The important thing to figure out is always how to get from point A to point B. In some cities it's a metro system, in others you walk or go by taxi. So first thing is to attack that and learn the system.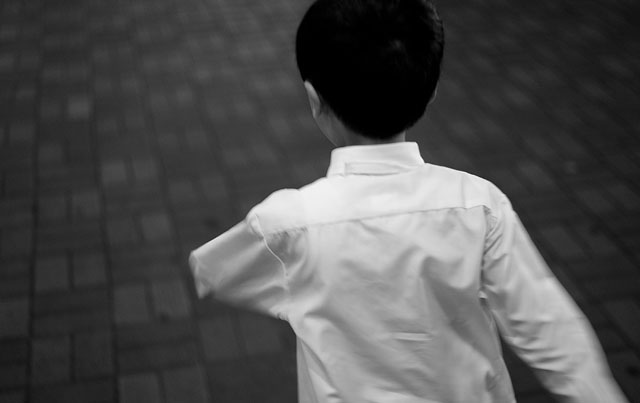 A young fellow walking fast and determined with his mother in thee evening. I followed for four frames. Leica M9 with 50mm Summicron-M f/2.0
The people
People are - amazingly - not that different as they might seem. I always find that after a while you will find that people of different nationalities basically value the same and have similar goals for them self and their family. We all have a lot in common and are basically good.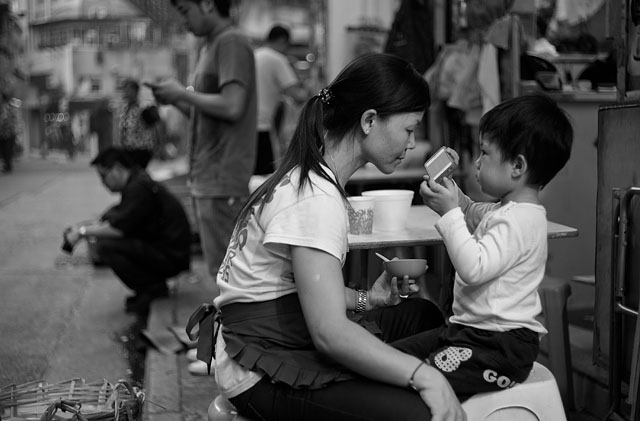 I shot a series of mother and son on the street before they noticed me. I like this one for the tired look she had, and just before she smiled to the camera. Leica M9 with 50mm Summicron-M f/2.0
Facebook
As I travel I try to complete editing my photographs every day before I go to bed. Some of them goes onto Facebook same evening, and it's always intersting to learn which ones people in other places of the world notice and what they comment about them. In the end it helps me to learn what others see in a picture, which is invaluable later when I have to decide which to use for what.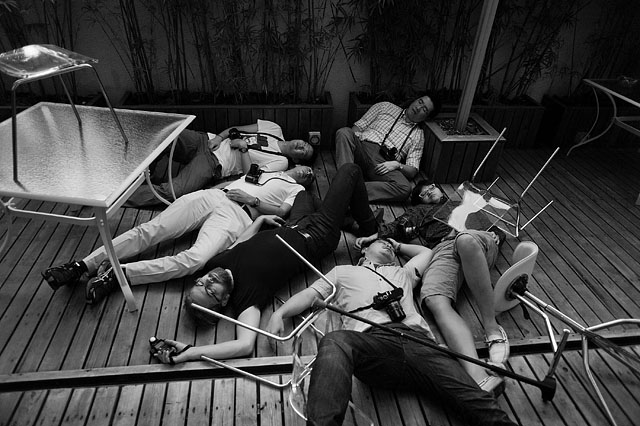 Group shot 1, "Dead Photographers Club": I try to get a group shot taken at every seminar, and of course it has to be memorable. So this ia an alternative attempt to do one such. Leica M9 with 28mm Elmarit-M f/2.8
But finishing everything every day is a great feeling, but mainly you realize that you actually succeeded with some of the attempts you made. And that gives energy to a new day. Editing is part of the creating of a picture when done soon after you photographed it and still remember the vision you had. Editing is also the action of reviewing while you can still remember what you did. Next time I know how to things better.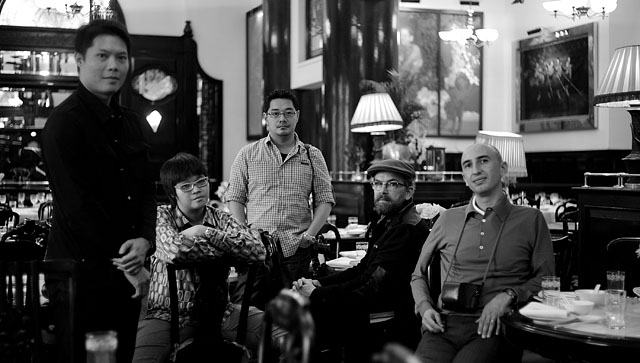 Group shot 2, "The Elephant Hunters": Another attempt to make a group shot, this time in a rather unique - members only - location, The China Club in Hong Kong. Leica M9 with 24mmSummilux-M f/1.4