The Story Behind That Picture: "Ólafur Arnalds"
By: Thorsten Overgaard [In Danish]
Last weekend I shot the SPOT Festival 2009 for three days, and after the first day I sat in the evening and edited pictures while listening to the promotion-CD showcasing the artists on this years festival. Tim Christensen, Mads Langer, Choir of Young Believers, Mike Sheridan, Carpark North and other artists whom I knew already.
| | |
| --- | --- |
| | I did loads of pictures of atmosphere and other musicians, and portraits as well. This one above is the celloist of Ólafur Arnalds. The one below is one of the Danish stars, Tim Christensen who just released an album in English. |
| | |
| | |
But then suddenly there's some music I don't know and which is utterly fantastic. "Who made that?" I think to myself - which is exactly the spirit of SPOT Festival, because the whole point is that you walk from concert to concert and meets new and unexpected talent.
There's of course a program, but if you only mark the ones in the program you think looks interesting, you lose out. Because it's the ones you don't know who's the interesting ones. Like driving off the highway in France and you might meet an unexpected view or a fantastic castle. Or you will end up in mud to your knees. In any event it's more fun than driving on the highway.
Music export
That there's a great deal of "world famous in Denmark" names on the festival this year is because there was many foreign music professionals. About 700 people. Including a regular guest; the Senior Editor of Rolling Stone Magazine, David Fricke.
His comment to the SPOT festival is, "Be there. Or lose out." It's extremely good PR for Denmark and Scandinavian talent as many of the foreign visitors only have praise for the content and style of the festival. This year there were even trend magazines from Spain, UK and what have you, to spot new designer and fashion trends.
So, who is it?
Well, the name of the composer who made this piece of musical enlightenment is Ólafur Arnalds, and he's from Iceland. I would have cried a little tear if I had missed his concert, but to my relief I saw he was not playing till the next day. So I could both see and photograph him (in fact, I met him the following day again and could give him a CD with pictures and enjoy yet another concert - but that's another story).
The picture on top is not a piece of art, but it does capture the essence of classic acoustic music meeting new technology and new talent. Which is what I like about it.
Classic musicians seldom use computers on stage, and electronic musicians seldom bring live acoustic instruments and musicians on stage. But in this one they all meet; Steinway Ólafur Arnalds, violins, classic musicians.
And well, then there also the age aspect. He doesn't look like the usual Steinway piano player in the classic concert venue where it's actually taking place.
In particular is symbolizes the spirit of SPOT Festival. Which is that unknown talent suddenly is discovered (hopefully by more than I) and become a big name. As it happened for Teitur after he played at the SPOT Festival 10 years ago. And in saying so it's important to notice that those people who actually decide what will be spinning on the record players around in the worlds living rooms, they are all here: Because they want to discover new talent.
As for the technical part, I used two cameras at the concert. The picture on top was shot with the Leica Digilux 2, and then I also used my Leica R8 with digital back. If you view the slideshow below, it's those two cameras behind all the photos.
- Thorsten Overgaard
Listen to the music
You can have a listen to the music of Olafur Arnalds by clicking on the picture below and see my slideshow from SPOT Festival 2009, showing some of the photos from this years festival. Enjoy!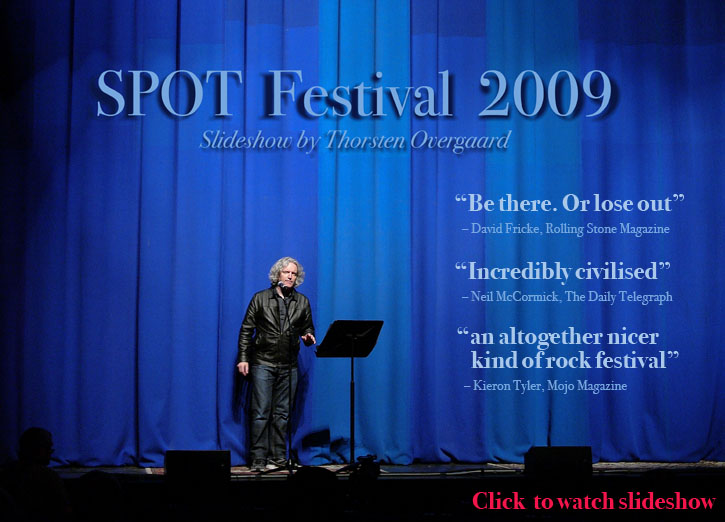 To buy the track of the slideshow on iTunes - click here [Olafur Arnalds: "3055"].