Is this for you?
Looking for excellence in photography, doing it simple, effective and the right way, be able to see and manage the magic light?
The main purpose of the extension course is to make you and not the camera the photographer. This implies that after the course you will know exactly which camera is the right tool for you and how to use it. Those days where you went into a photo shop to buy "a camera that takes good pictures" will be over. Because you as a person will know how to take great pictures with any camera.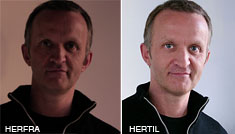 A familiar situation: Some times it works,, some times it doesn't. The course answers why and puts you in control of it.
The basics and the history
We go over all the basics of photography from early history to the ins and outs of today's advanced cameras and end up with a simple understanding of how photography is basically about light - and how to control it.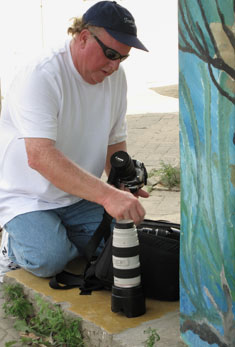 Student photo by Michael Juffart
It's fun when you know how
This of course will affect your enthusiasm for photography, as well as your ambitions as a photographer. But mainly you will be able to focus your talent on what is in front of the camera. I've had semi-pro photographers turn professional after the course, but everyone who attend will grow and become more active with better results.
Who can benefit from this?
The people who attend the course are all ages - and range from professional working photographers to keen amateurs, to people who have just recently taken up the interest of photography again and now want to get updated on digital technology. Also a great many has as part of their job also to take photographs now and then, and this course is perfect for this.
Filling in the things you don't know
We start from the basics and up. Because while we don't want to admit it, we all have blind spots and misunderstandings in the field of photography. That goes for professionals and amateurs, and we fill those blind spots with knowledge and certainty.
On top of that we add tricks and know-how you can use immediately to improve your photography.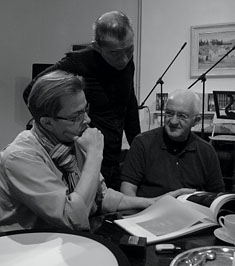 Student photo by Charles Grant
The course outline
Below is the outline for the extension course. One should expect that it will take about 24-30 hours to complete.
The course goes one step at the time: You get the first section, and when you have returned and successfully compelted that step, you will get the next step.
Each step has questions you must answer in some fashion or other. Some steps contain assignments you send in and get response to.
You are not expected to complete any step within a certain time frame, though one week is adviced per step.
Each student work individually with Thorsten Overgaard why you can work fast or slow and even go on holiday between sections.
The course starts as soon as you have signed up and paid.
Course outline:

16 lessons and photographic assignments
The extension course consist of 16 tailored lessons laid out in a sequence to build your knowledge and talent.

See a detailed description of the course content on this page --->
You will get assignments
For each lesson you will get one or more assignments that you mail in and get personal response to, before you get the next lesson. If needed you will be directed to further reading that suit your needs. You will be prompted to move on and up!
You can ask questions
You can ask any question that is relevant for your current level of photography. And questions and doubts that arise during the assignments can be addressed.
16 lessons
The Extension Course take off in the fact that "all photography has to do with light," which will turn out to be a large enough truth to keep us occupied for a while – because light exist in different colors, strengths and comes from many sources.
Focusing on what's on important
The extension course will make it easy to see which parts in photography is essential , and which are cool, but not even remotely essential.
One of the tricks is that the extension course covers all the stuff you thought you knew about, or you thought that the camera or your computer did automatically. In other words, there will be things to learn and be surprised about before we get into the real sexy parts such as composition.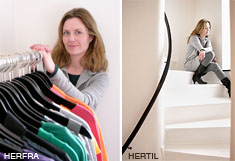 How to make pictures that work
Composition is just one part of making great pictures, and it ties into timing, prediction, framing and rhythm as well as light. And we'll look at how to produce filmic storytelling in a single image.
What you can do with your talent
We will also cover the message and language of photography, your goals as a photographer and your responsibilities as a communicator and artist.
It will all make sense
The many questions that open up during the extension course - such as which camera you should use, what type of lenses, if you do things right, if you should choose a rangefinder camera or a SLR - well, those and many other questions will fall in place.


Price only 798$
Only 798$
** Waiting list **
There is curently a waiting list for the Extension Course. You can send an e-mail to thorsten@overgaard.dk to get more info and enroll at a later point.
Certificate
When you have completed the course you will receive a certificate that you can hang on your wall and use in your CV.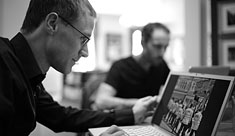 What you need:
Access to a computer to receive and send reading material and assignments. And a camera - analog or digital.
What other students say:
"Simple and easy to understand but with lots of little interesting details."
"Made me want to go out and shoot more often!"
"He is truly a professional at what he does, has an excellent eye and create aesthetic images. He freely communicates how he does and shares the knowledge in a way that is easily duplicated."
- Aruba, Dutch Antilles
"Thorsten Overgaard's Photo Seminar delivers deeper than any other I've been to, and does so in a faster way than most. By building on the rock-solid foundations that Thorsten is a master of, he helps give you exactly the pieces of knowledge you need to start your own honest-to-god journey into the fascinating subject of photography."
- London, Great Britain
"His critiques are full of compliments. He emphasizes the good things and only slightly point out the bad."
– Dallas, Texas
"Right time to acknowledge and to thank you for the great photo seminar. My purpose got rehabilitated regarding photography in general."
- Mallorca, Spain
"Thank you so much for an amazing seminar. I know I still have a lot to learn, but I'm pretty sure there can be no better introduction to 'real' photography than what I've experienced on this seminar. It will certainly burn long in the memory!"
- Manchester, Great Britain
"Just to say a big thank you for a most informative, inspiring and enlightening seminar. Found all the talks and practical assignments most useful"
- Hamburg, Germany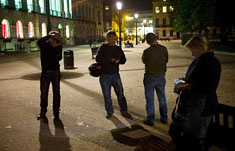 Doing practical assignment during the evening photo seminar in Fitzroy Street, London (Photo by Felix Kunze, October 2009). You can read more about the "live" seminars here.

Thorsten Overgaard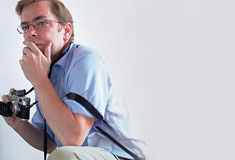 Thorsten Overgaard works as photographer, feature writer and teacher. He is the only Danish photographer who works for the worlds largest celebrity picture agency, WireImage.com and also photograph for Getty Images, Jyllands-Posten, Samvirke, TDC and Microsoft.
His work has been published in Vogue, Glamour, Variety, New York Sun, O Donna, Hollywood Life, Euroman, Times and on E!, CNN, MTV and more.
His hearth lies with Leica cameras and traditional color photography on slide film, scanned on the best scanners available. But today's workflow requires use of digital equipment on most assignments.
Free eBooks
Download the free "Year 2008 In a Box" photography eBook with selected portrait photographs of 2008: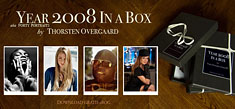 Download the free"Twenty Portraits of 2007" eBook with 20 selected photos of 2007: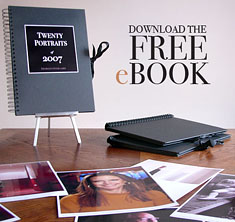 Enroll online -->

3 What a camera really is -->

2-3 hours for 3, 3A, 3B and 3C
4 Choosing a lens -->
1/2 hour
8 Dogma assignment -->
Three photo assignments and assignment response
5 hours
11a Documentary assignment -->
Assignment about message in photography, and assignment response
2 hours
14 Checklist Assignment -->
Using a checklist to complete an assignment utilizing all above
2 hours
| | |
| --- | --- |
| | 18 What did you learn? --> |
| | Your before and after photograph, your response to the course. |
| | 1/2 hour |
| | |
| | |
| --- | --- |
| | 1 Needed and wanted --> |
| | Your background, goals, problems you encounter, equipment, etc. |
| | 1/2 hour |
| | |
| | 3A: Exposure time --> |
| | Definition, how it works, where is it on the camera |
| | |
| | |
| | 5 Light types --> |
| | Available light, flash, strobes, reflectors, etc. |
| | 1 hour |
| | |
| | 9 Timing --> |
| | |
| | 1/2 hour |
| | |
| | 12 Use of light --> |
| | |
| | 1/2 hour |
| | |
| | 15 Filmic assignment --> |
| | Assignment to do a filmic image |
| | 2 hours |
| | |
| | |
| --- | --- |
| | 19 Certificate --> |
| | Certificate that you have completed the Overgaard Photography Course |
| | |
| | |
| | |
| --- | --- |
| | 2 Light --> |
| | Types of film, amount of light, light metering, the eye versus the camera |
| | 1 hour |
| | |
| | 3B: ISO --> |
| | Definition, how it works, problems, usage in the future |
| | |
| | |
| | 6 White balance --> |
| | What is it, how does it work, how to obtain correct colors |
| | 1 hour |
| | |
| | 10 Composition --> |
| | |
| | 1/2 hour |
| | |
| | 13 Portraits --> |
| | |
| | 1/2 hour |
| | |
| | 16 Quality --> |
| | The three main parts of quality |
| | 1/2 hour |
| | |
| | |
| --- | --- |
| | 20 What's next? |
| | You may sign up for the next advanced course. |
| | |
| | |

| | |
| --- | --- |
| | Questions, ideas, advice --> |
| | You can ask any question anytime covered or not covered in the course |
| | |
| | |
| | 3C: Aperture --> |
| | Definition, how it works, where is it on the camera, what it does |
| | |
| | |
| | 7 Learn your camera --> |
| | |
| | 2 hours |
| | |
| | 11 Message --> |
| | |
| | 1 hour |
| | |
| | 13a Portrait assignment --> |
| | Assignment to do a portrait, and assignment response |
| | 1-2 hours |
| | |
| | 17 Essay on photography --> |
| | An article on photography and art |
| | 1 hour |
| | |