By: Thorsten Overgaard
(Last updated 2011)
It can be hard to find the right places in town when you are travelling and only have a few days get familiar with a town. So here is a list of some of the good places that my friends and I have tested. The places that can serve quality in a hurry and which are cosy as well.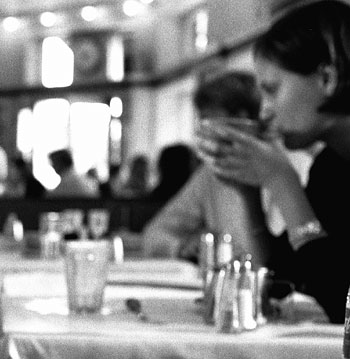 Copenhagen, Denmark


Café Quote, Kongens Nytorv 8-16, 1050 København K.
Italian-inspired café with exclusive atmosphere, nice service and a superb kitchen for breakfast, brunch (€ 19), lunch and dinner. In the kitchen is the chef Christian Rasmussen who comes from Restaurant René in Aarhus. We recommend Roasted Duck Breast if they have it (€ 29).They also have drawing tools for kids if you bring them.
And close to the more interesting shopping of Copenhagen, the Royal Theatre, etc.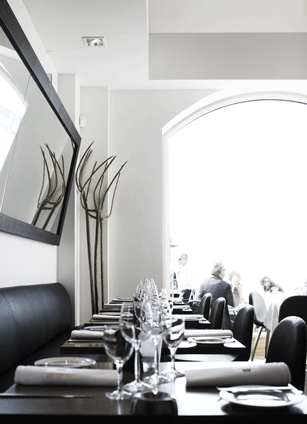 Café Quote in Copenhagen - highly recommended



Bjørg's Café, Vester Voldgade 19
A nice meeting point andcafé in the hearth of Copenhagen where a lot of different people come. Used to have a great kitchen, but those days are over. So get your food elsewhere. But nice spot for a meet-up.


Cafe Bjørg's in Copenhagen. Homepage: www.cafebjorgs.dk


Vesuvia Of Copenhagen, Corner of Rådhuspladsen 4/H. C. Andersens Boulevard, 1550 København K., tel. (+45) 3315 3315
This is the real Italian kitchen and Italian waiters. The food is great, the prices from ca. 110 dkr for a pizza to ca. 300 for the best fish dish.
And you can smoke in three designated smoking areas without disturbing the other guest, yet without having to step outside!




Estate Coffe & Choclate Bar, Gl. Kongevej 1, København V.
Those guys and girls can really make coffee!
Cookies and sanwiches are available too and are often quite good.


Café Europa, Amagertorv 1, København K.
The world champ in coffe-making works in this place, and you can tell. Their coffee is from heaven and their coffee-menu-card is extensive! Try the ice-coffee (but skip the syrup that comes with it). Their sanwiches and cookies are not world-class but will do. Though their strawberry-cake might be world class after all. It's a trendy place that has gone mainstream why it is often packed.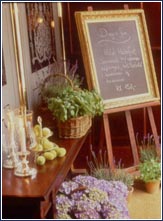 Hotel King Frederik's Restaurant, Vester Voldgade 25
Telephone (+45) 3312 5902
Very high quality restaurant for slow food. French-inspired slow-food, expensive but not that expensive. Small place for an enjoyable evening.


If you stay at the 4-star hotel King Frederik it is also this restaurant that deliver room-service - and then we recommend their roomservice burger as an absolute 5-star fastfood with silverware.
Staying at the hotel, the room price is without breakfast. So we advice you to sleep untill 10 and then go to Bjørg's Café which is 50 meters away. Their brunch is better than the hotels. The hotel guests arfe mainly asian and american guests. Also a preferred hotel for stars in town (Ray Charles, Robbie Williams and the lot). A de luxe room for two is about 1.600 dkr a night.
As a gues here one can visit the Hotel d'Angleterre's Turkish Bath and Fitness for free (se below).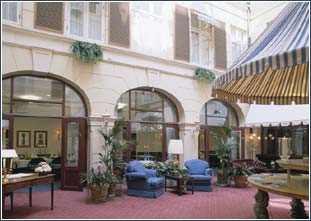 Hotel Kong Frederik. www.remmen.dk


Hotel D'Angleterre
If you're more to the limelight – hotelwise and servicewise – consider stayin at the "big brother" to Hotel Kong Frederik: The D'Angleterre. Voted as one of the 50 best hotels in the world, very historic and well-located next to the Royal Theatre. Service is extremely timely and the style is royal and lofty. After a more than 12 months renovation the hotel is up to standard.
The service is addictive – they will even go shopping for a new shirt for you to wear in the evening if you ask them to.
Hotel D'Angleterre. https://www.dangleterre.com

+1
MITT, Ægirsgade 46 AB, København N, Tel. 3967 1512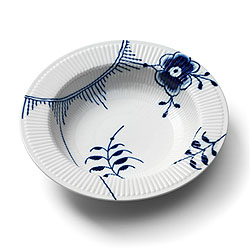 "Private dining" is the concept: A restaurant open for only one company of 6-12 guests for the evening. Another part of the concept is that the guests during the evening will be served 18 courses that goes with a (very) special selected wine menu.
The experience is unique. Not only does three chefs spend the day preparing your food and serves it in the evening with enthusiasm and storytelling, but the concept also allows the chefs to controle events fully so that they build up this 5-6 hours aesthetic food and wine experience to an addictive thing that just gets better and better for every hour. Price around 1.000 dkr. a person (150$) and highly recommened.
The evening can end off in a cosy lounge by the kitchen with well-made coffee, sweets and Cuban cigars (Monte Cristo no 5 is in stock).
MITT Executive Chef is Jesper Witt Paustian
www.myfieldkitchen.dk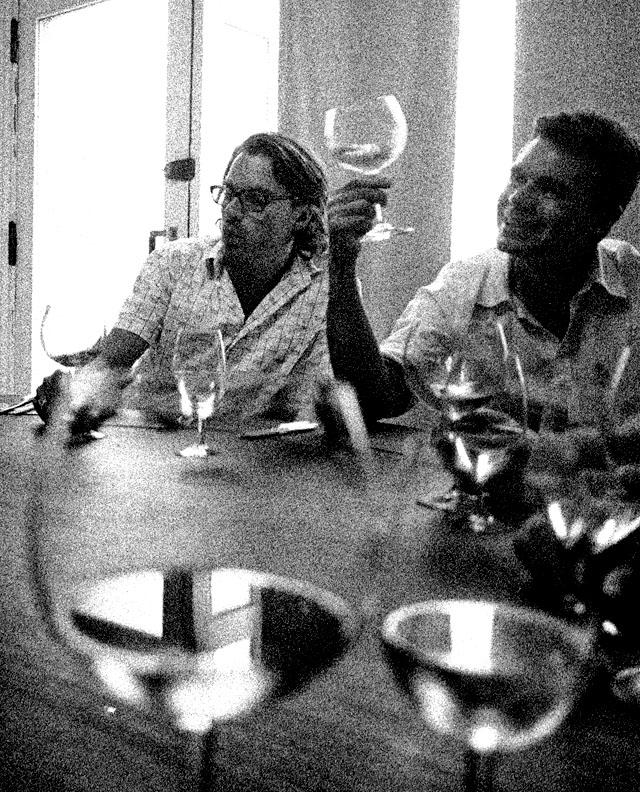 Mitt, Private dining for 6-12 persons.
Århus, Denmark



Café Englen, Studsgade 3, Århus
The best café-kitchen in town and good coffe-makers as well. The menu changes every month or so, but the classics remain the Englen Burger which is a tasty and enormous burger packed with high quality meat. But anything on the menu is interesting, even the sanwiches.
Classic café with mixed crowd of nice people. If you have kids you can bring them, the staff is very friendly and vill make sure the kids gets pencils to draw on the table!
www.cafe-englen.dk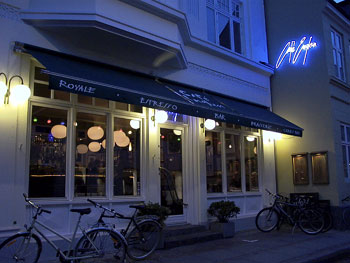 Cafe Englen, Århus.



Café Drudenfuss, Studsgade/Graven 3, Århus
Opposite Café Englen is Drudenfuss, which since 2010 have shared kitchen chef with Café Englen. The interior is furniture classics and outright cool and cosy. If you visit in the late afternoon you have the sun playing in the room as well.
Outside seating as well on leather benches and chairs. Their coffee is great, and so are some of their things on the menu. It changes a bit and their vegetarian choices are a joke. The coffee is usually amongst the best in town.
https://www.drudenfuss.dk


Café Drudenfuss, Århus, Denmark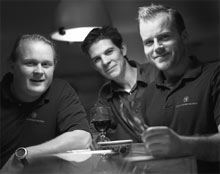 Fredes Flyvende Tallerken, Østbanetorvej 2, Århus.
An enthusiastic kitchen and good service for lunch and dinner. Many of the staff comes from Englen. The menu changes often but is always of high quality.
Reserve your table at (+45) 86 16 92 57.
www.fredesflyvendetallerken.dk



Emmeys, Guldsmedgade/Klostergade, Århus
The trendy bakery Emmerys is an inspiring place to take business associates, family and friends. Even kids can come there and they have facilities for babycare as well. The crowd hanging out in Emmerys is broad; from 1/2 - 90 years, local and international celebrities like Yoko Ono, families and the lot. Light food, sanwich, brunch, coffee.
Emmery's also exist in Copenhagen and in other locations in Aarhus, but this is the original Emmerys the others originated from (same owner though).
Trendy lounge music is playing from the walls and their brunch is spectacular if you are into bread.
www.emmerys.dk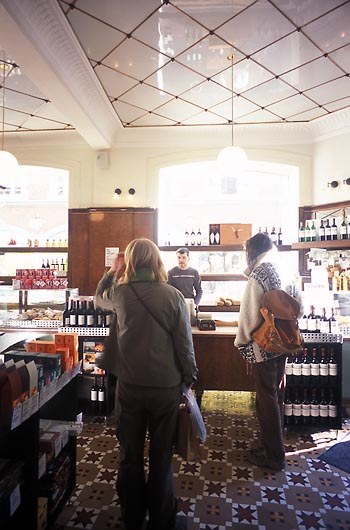 Emmerys i Guldsmedgade, Århus

+1
Sigfreds Coffe Bar, Ryesgade, Århus
Without any doubt the best coffee place in Århus, served by the Jutland Barista Master Thomas Sigfred. Tasty small place where the owner has put a lot of thought into the interior design. They also serve cookies, a few sanwiches and hot soups. But their coffee is the main attraction.
The Sigfreds was expanded in November 2005 with a coffe bar in the Vanggaard Bookstore, also in Ryesgade. There is a smoking and a non-smoking department, classic furniture design and free books to read in (also for the kids).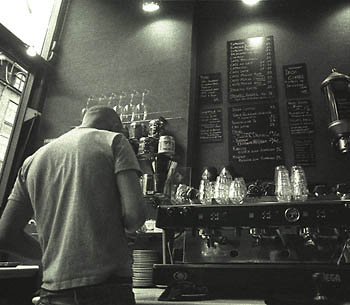 Sigfreds Coffee Bar, Århus - the small one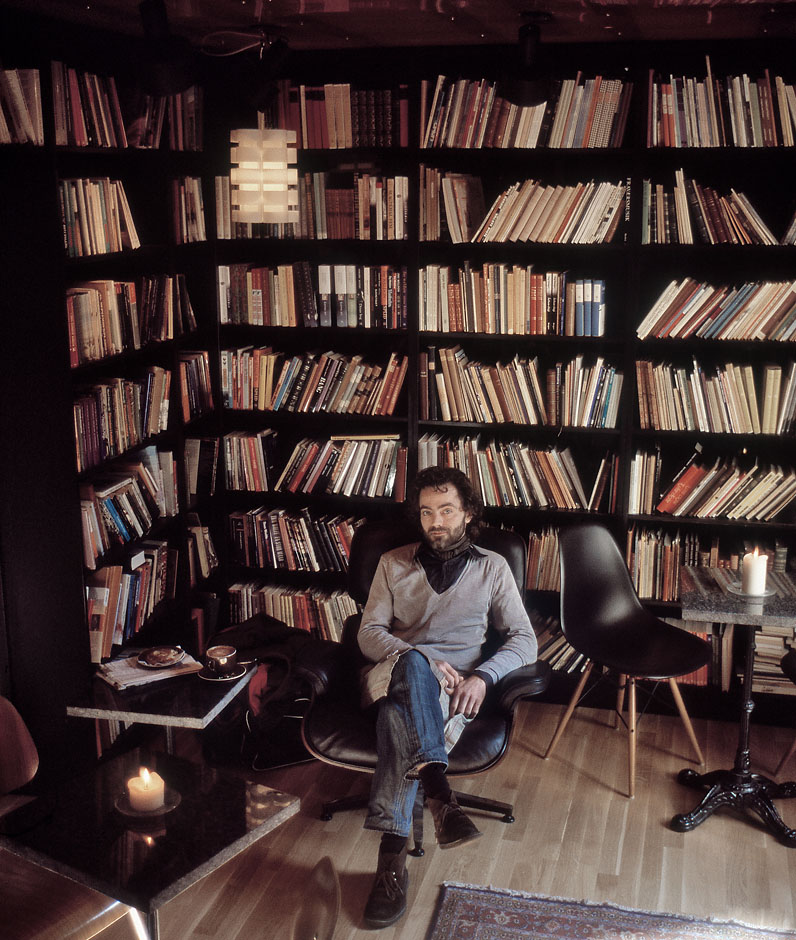 Sigfreds Coffe Bar, Århus - the large one in the Vanggaard's bookstore. Also in Ryesgade. It's Sigfred himself in the chair.



Lynfabrikken [The Thunderlight Factory], Vestergade 49B, Århus Denmark
Funny new place in the backyard and two floors up. A nice peacefull place away from the world where they serve coffe and light food dishes, soups and cake (open 10-18 mon-sat). Very open space with a view over town and also functions as a showroom for handcrafted artish clothing, jewelry, porcelain, glassware, Möleskin, designer gadgets, etc.
They also have a sunroof for sunny days or smoking on rainy days.
Free wireless access 20/20 Mbit why you'll see quite many working on their projects while lounging there.
www.lynfabrikken.dk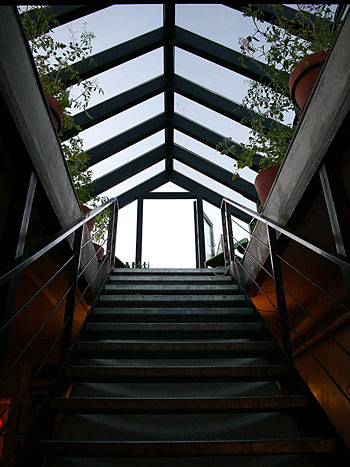 Not 'Vanløse Stairways' but the stairway to the rooftop of Lynfabrikken. For smoking and sunny days. Some days they throw a barbecue.

Also in Vestergade...
The street has plenty of art galleries these days, presenting Scandinavian artists. Take a walk and visit the small cosy galleries, for example Galerie MøllerWitt.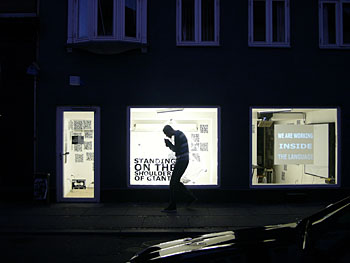 Lots of exiting art galleries in Vestergade in Aarhus.



Café Casablanca, Rosensgade, Århus
The classic café in town where you might meet the crown prince and other celebrities. Sometimes also the Hells Angels. The kitchen goes up and down but has mostly delivered 4 star food since the place was renovated in summer 2003. But all in all it's not a trendy place anymore, but is intersting for the history and the interior whihc is the café style.


Jacobs BQ, Vestergade 3, Århus
Kitchen open till 01:30 every night(!) why this is the place to get food for people who works in the music business, at the theater or just eat late. Very high quality meat dishes and some fish as well.
We recommend most dishes going from 78 dkr for a beef to 300 dkr for a real tasty 300 g steak.
Since the rebuilding in 2003 they also got a cappucino machine and now makes a decent cafe au lait. Located in 18th century buildings (through the gate and to the 1st floor in the back building: Don't confuse it with the Jacobs bar or cafe on the front street).


Lajmi (Formerly known as Restaurant Victoria), Jægergårdsgade 9, Århus
A nice little place that sometimes delivers 5-star food, at other times 4-star food. Depends on who's in the kitchen that day. French-Tunesian-Italian kitchen, owned by a Tunesian waiter/chef who have been around working at the finer places in Europe. Fair prices, many good wines too.
https://www.lajmi.dk


Pizza Service, Vesterbrogade, Århus, tel. 8620 2966
Need a pizza in the middle of the night? This is the place to call. They deliver day and night. You can also go there and pick up a pizza till 23.00. We recommend no. 16 with mozarella and steak + extra cheese.
Cinema in Århus:
Cinemaxx Cinema, Bruns Galleri, Århus
If you want to go to the cinema in Århus, Cinemaxx is the place. It was chosen as "best cinema" in Denmark in 2005 and is state-of-the-art screen, seats and popcorn. Located in the large shopping mall Bruuns Galleri at the train station.
Paradisbio, Paradisgade, Århus
This is the über-cultural cinema if you're into French moviemakers and can watch a full movie without popcorn. Instead you can bring hot coffee from the bar.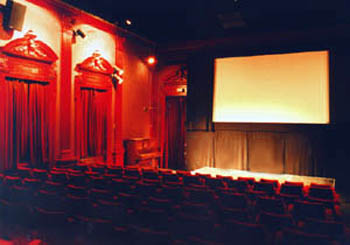 Paradis Bio www.paradisbio.dk
Outdoor in Århus:
Den Permanente - sunbathing and swimming
Take a free citybike, the train (which stops right by the beach) or simply walk along the water 2 kilometers to the closed beach "Den Permanente" where students and families hang out in the summer. There's cabins you can use if you want to change into something more comfortable. And there's life guards as well.
As an extra facility there is also a closed area for men and one for women for those who have forgotten their cothes – or simply like to hang out in Chanel No 5 or whatever.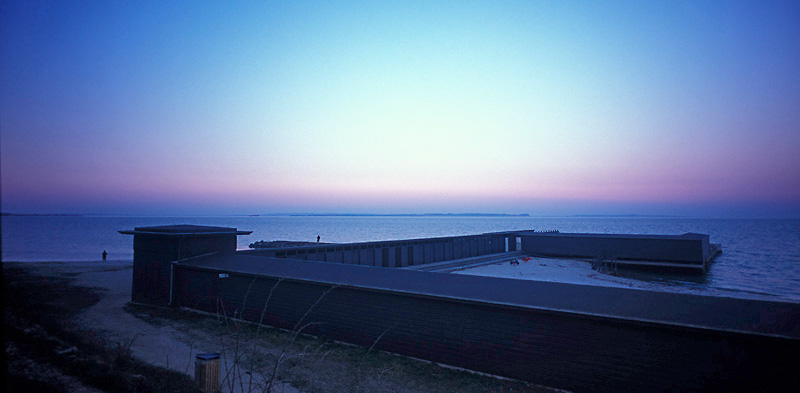 Den Permanente (2 kilometers north of Århus).
Vienna (Wien), Austria
Das Moebel, burggasse 101070 wien


This one I haven't been to (yet) but it sounds so cool you should go anyways: "Das Moebel is a cafe in Vienna where the furniture doesn't match and is renewed on a daily basis. Everything is for sale. Even the coffee. This space was founded as a showcase for young Viennese designers. The concept aims to bring craftsmen and the public closer together. And another fact worth knowing is that their opening hours are not very Germanic. They serve breakfast until 2pm!"
https://www.dasmoebel.at
Singapore coffee places:


40 Hands
78 Yong Siak Street, #01-12 Tiong Bahru, Singapore




Papa Palheta
150 Tyrwhitt Rd, Singapore 207563
+65 6299 4321
Probably the best coffe in Singapore
Nylon
4 Everton Park. Onsite roasting. Interesting vibe and environment.
Smitten Coffee and Tea Bar
60 Robertson Quay (near Toby's Estate)
Jewel
1 Shenton Way

Strangers Reunion
37 Kampong Bahru Road.
Singapore food places:


Udipi Ganesh Vilas (Indian vegan/vegetarian)
On a small quiet street you can sit indoor or outdoor in this not very fancy looking Indian restaurant that makes great vegan/vegetarian Indian food to stay or go.
10 Ceylon Road, +65 6348 7708





328 Katong Laksa
Corner of Ceyolon Road and East Coast Road. Traditional and famous place that serve rice and duck for SG$ 4.00. Lots of locals go there to eat.




Rabbit Carrot Gun
Corner of Ceyolon Road and East Coast Road. Great coffee and vibe, British inspired kitchen with brunch, lunch and dinner. Lunch around SG$ 20-30. Free WiFi.
Paris, France


Le Castiglione
Smack in the center of the shopping district of Paris is a cafe and restaurant that looks like a tourist trap. But the food is actually good (best had upstairs in the red sofas), and their coffee and brunch and lunch is great to have outside with 1st row view to the Parisian streetlife.
Vis a vis the Goyard Paris store that is next door.
235 Rue Saint Honoré, 75001 Paris, France
www.lecastiglione.com


Frenchie, 5 rue du Nil 75002 Paris - 01 40 39 96 19
I haven't been on this yet, but this the word on the street: "An amazing experience in French modern food, just enough but incredebly tasty. The only problem is reservation because it is a small restaurant. Reservation can be from a month to three in advance... but it is totally worth it"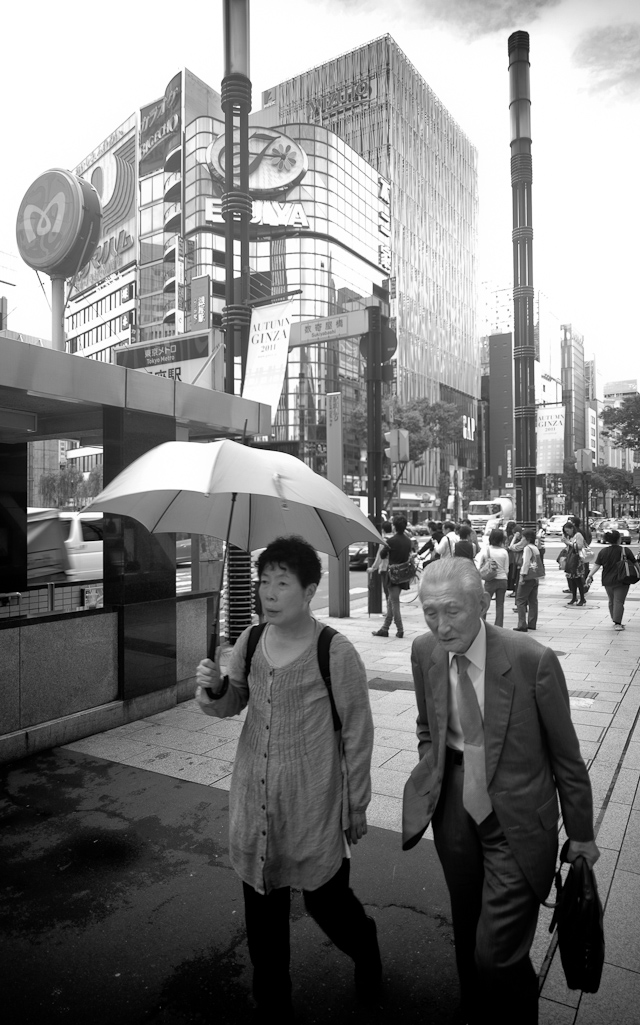 Tokyo, Japan
Tokyo, Japan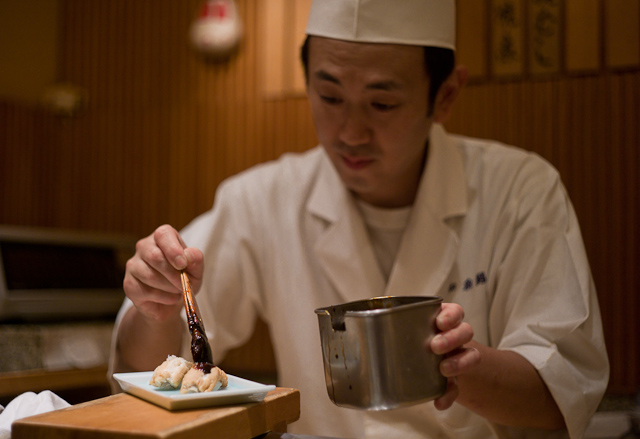 Izumi Zushi
Shibuya-ku, Tokyo www.izumizushoi.com
Cosy little sushi-place where ou can sit by the counter and point out the fish and then watcht he chefs prepare the food. Also nice sofa groups for a cosy dinner.
I would recommend the eel, but anything they have us really well prepared. Smoking allowed.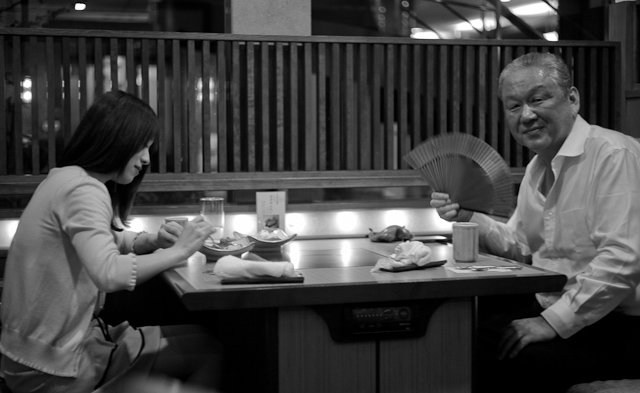 Shabuzen
Aoba Roppongi, BLD, BIF 3-16-33, Roppongi, Minato-ku, Tokyo, Japan
www.ropponngi.shabuzen.jp
In this very nice restaurant in the basement you cook your own dinner. You can get an "all the meat you can eat" menu in the 5,000 range, and then you get rice, vegetables and all to the meat.


Saemon Sushi Restaurant Ginza
Sakaguchi Bldg. 6F, 5-5-13, Ginza, Chuo-ku, Tokyo
www.seamon.jp
This is a very exclusive sushi place on the 6th floor where you may sit by a counter and follow the preparation, or choose a private booth.
Lunch is about 3,000 ¥ and dinner is about 7,000 ¥ so you may want to check it out by lunchtime between 1.00 and 3.00 PM.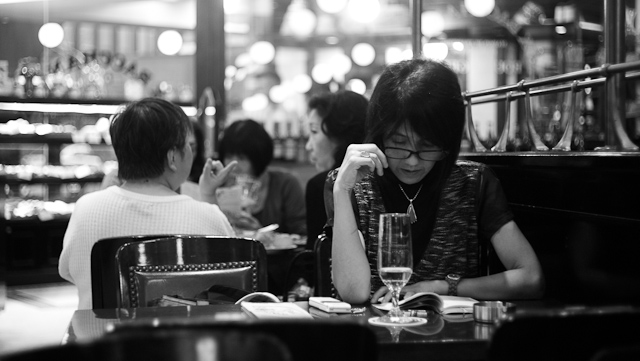 Brasserie Aux Bacchanale
Gallery Center Bldg 1F, 6-3-2, Ginza, Tokyo, Japan
This is a french cafe in Tokyo that serves coffee by tables inside and outside where you may also smoke. Steak with fries, French breakfast with crossiants from the bakery next door. It's a bit expensive, 850 ¥ for a Cappuccino.


Armani Restaurant
Ginza, Tokyo, Japan
On the 5th floor of the Armani Store in Ginza, Tokyo, you'll find the exclusive restaurant. Lunch is about 3,000 ¥ and dinner is considerable more. It's a very quiet and nice place to hang out, with exclusive furniture design.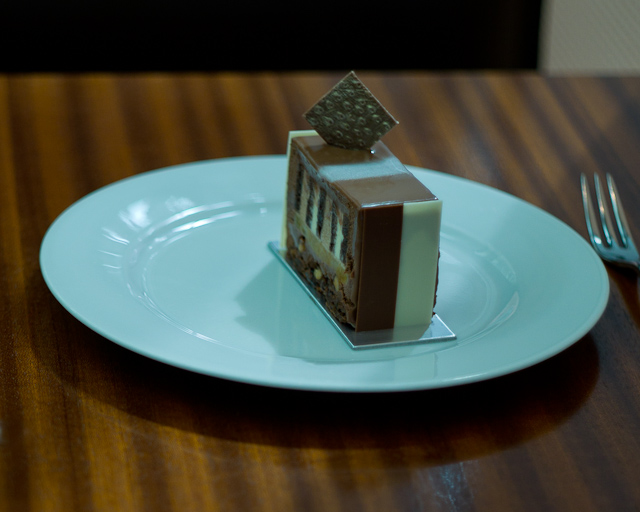 Coffee Cafe at Grand Hyatt Tokyo
6-10-3 Roppongi, Minato-Ku, Tokyo, Japan 106-0032
This is the cafe in the ground floor with indoor and outdoor seating, and vis a vis the Hyatt Pastry Boutique. The cafe features the above choccolate cake that was the Choccolate Cake of the Year 2009. This is an economical way to visit the Hyatt (where the rooms are 30,000 ¥ and up per night)
This is not the Hyatt that was used for the Lost in Translation movie, that is the Park Hyatt Tokyo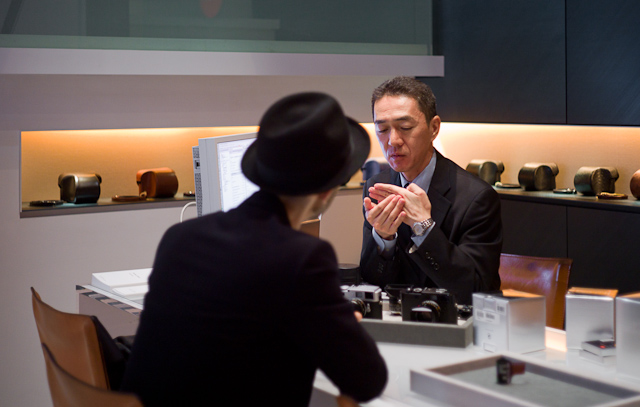 Leica Gallery Ginza website
6-4-1 Ginza, Tokyo, Japan
This is the basic Leica Store Tokyo, the first Leica Store concept store ever made, and is the most expensive and exclusive in design and choice of materials (silk walls and other). The ground floor is a Leica Store, and first floor is the Leica Gallery Ginza with ever-changing exhibitions as well as a Leica Customer Service center that services cameras. The hallway also features a collection of rare Leica models.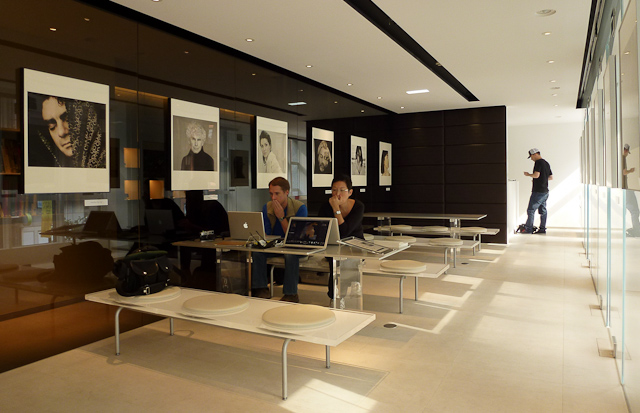 The Leica Gallery Ginza in Tokyo. Nearby is also found the Apple Store, the Hermes and the Armani stores.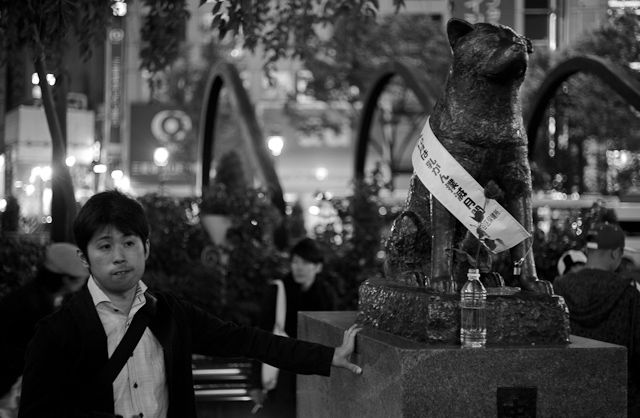 Outside Shibuya Stayion is a statue raised for Hachiko, the famous dog that waited for its master.
Hotels in Tokyo:
These two hotels are easy to get to from the airport, and are next to the metro station Shibuya (that is known for the statue of the dog Hachiko.




Granbell Hotel, 15-17 Sakuragaoka-cho
150-0031 Shibuya-ku, Tokyo, www.granbellhotel.jp
Very nice designer-hotel where most of the rooms are 12-14 m2. Prices in the range of 12,000 ¥ a night (80$). From the airport there is a 3,000 ¥ bus ride directy to the Cerulean Tower 300 meters from the Granbell (so walk or take a taxi the last bit).


Cerulean Tower Hotel, 26-1 Sakuragaoka-cho, Shibuya-ku, Tokyo, Japan.www.ceruleantower-hotel.com
Very high service level, and a hotel with a view. The hotel starts from about 20th floor and up on top of an office building. Every room has the most amazing view and space in the window to sit and wonder. The hotel feature its own jazz club (though only 1,200 meters to the famous Blue Note Tokyo). Price range 40,000 - 60,000 ¥ a night though it is possible to get specials (early booking or so) around 24,000 ¥. From the airport there is a 3,000 ¥ bus ride directy to the Cerulean Tower


Shanghai, China


MQ Cafe (espressobar)
1FB, Ruijin Tower 205 Maoming Nan Lu by Fuxing Zhong Lu
This is a hidden cafe inside an office building with many japanese companies. They are roasting, and their beans were in the winning cup of the World Barista Championships 2011. So they know their stuff.
Opened one more location now. Check their website.


Tempura
Ippoh food center (www.ippoh.cn), F, Shanghai World Financial Cente (inside the highest Hyatt)
This is japanese kitchen at its finest, with Michelin starts and all. A little expensive, but you may survive, and it's worth it. I would suggest the dinner dish in the area of 500 ¥.
Hong Kong
... coming soon
Solms and Wetzlar, Germany
Home of the Leica Camera AG factory, also known as "The Mothership"
If you have to visit Leica in their new factory in Wetzlar (at Am Leitz Platz 1), there is a very good hotel just within walking distance:


Blankenfeld Hotel Wetzlar
Im Amtmann 20, 35578 wetzler
Their website does not reveal what a great place it actually is. Easy internet with just one code for all devices, great breakfast, restaurant for lunch and dinner, friendly staff, walking distance to Leica.
Around $100 a night for a double room.
https://www.hotel-blankenfeld.com


Wetzlarer Hof
Oberstrasse 3, 35578 Wetzlar
This used to be the hotel Leica recommended for guests to stay at. It's good, especially theirs rooms with balcony. Not as close and nice as the above mentioned, but almost.
Good breakfast, restaurant.
https://www.wetzlarerhof.de


The Leica Camera Cafe
The Leica Camera AG campus offers a canteen inside the building where you can get really good lunch and coffee for less than 10 Euro. Staff, guests and everybody comes here, so it is the place to be at lunch time.
The Leica campus also offers an outdoor cafe (Cafe Leitz) that is the perfect place to meet friends and new friends, just because of the coffee, or because you are waiting for Leica Customer Service to do adjustments on your equipment.


Hotel & Restaurant Heyligenstaedt
Aulweg 41, 35392 Gießen, Germany
This is a design hotel and mainly restaurant, and perhaps a little overdone. It has the quality of being 10 minutes away from the Leica factory, so if you need 20Mbti internet and peace to work, it could be it.
A very good restaurant, but not a lively place. Basically a very small reception, and once you have your keycard, you are on your own.
Around $200 a night for a Deluxe Double, and $300 for their suite with bathtub in the room.
https://www.restaurant-heyligenstaedt.de

Sydney, Australia


Di Bella
2/50 Holt Street, Surry Hills NSW 2010
Roasting and espressobar. They serve great brunch from 07.00 in the morning and close late afternoon.
2-3 other cafes in the street will do as well. Just look for where the longest cue is, that is usually where the best coffee is too.
www.dibellacoffee.com.au
Fratelli (espresso bar)
81 Macleay Street, Potts Point, 2011
Bamboo Vegetarian Organic Cafe (espresso bar)
45 Gould Street, Bondi Beach NSW 2026, Australien
Gusto Bondi (espreso bar)
16 Hall Street, Bondi Beach NSW 2026, Australien
Melbourne, Australia


CAFE MYRIADE
Downtown Melbourne
www.cafemyriade.com
Scudella in Moonee Ponds (espresso bar)
New York, USA


Miss Lily New York Jamaica restauran
Cool vibe and great music. They have a restaurant on one side of the corner with outside seating and inside groovy feel, as well as a diner on the other side of the corner with fresh made juices and other great stuff.
132 West Houston Street, 10012 New York
www.misslilysnyc.com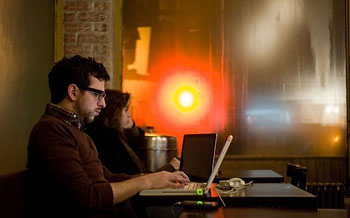 Atlas Kafe - free wifi and always a crowd working



Atlas Kafe in Williamsburg, Brooklyn
116 Havemeyer Street, Brooklyn, NY 11211, Tel 718.782.7470. Open 7:00 AM - 9.30 PM
Dressed-down trendy place in the midst of what might become the "New Manhattan." Opens real early for the first well-made double espresso of the day. They also offer baguettes with mozzarella, pesto and tomato or a nicely mashed tuna salad, as well as bagels in all combinations.
By the way: Just around the corner is the Paul Smith Sale Outlet where one can get Paul Smith for 50%.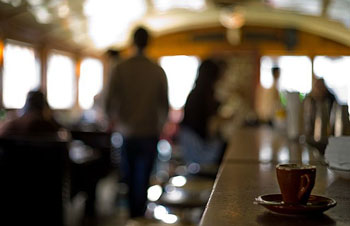 The Diner




The Diner aka The Brooklyn Diner
85 Broadway, Brooklyn, tel. 718-486-3077
A 1927-designed diner with brilliant kitchen and upbeat service. Opens for lunch and brunch at 11.00 AM and turns into a trendy bar and dinnerplace in the evenings. Always intersting specials every day. Seats outside for a coffee where one can enjoy the sound from the train going over Williamsburg bridge.
www.dinernyc.com


Stumptown Coffee Roasters
Ace Hotel New York, 18 W 29th St, New York, NY 10001
The best morning experience in New York. Expect a long line right after they open 07:00 AM - but it's worth it.
www.stumptowncoffee.com


Café Grumpy, Manhattan
224 West 20th Street, Manhattan
Probably the second-best coffee in Manhattan.
www.cafegrumpy.com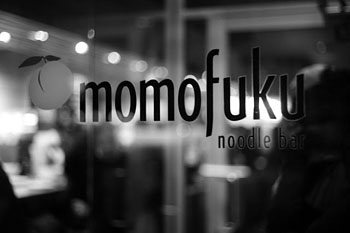 Ruby's Cafe in Nolita web


Entwine (Turkish backyard and cafe)
765 Washington Street, New York NY 10014n
Turkish coffee in New York. Great place for lunch and late afternoon in their secret coutryard. I guess they also do great wine, but I never drink.
www.entwine.com


Franchia (Vegan/vegetarian Korean)
12 Park Avenue, New York 10016
Great place for lunch and dinner and meetings. The best way is to order a lot for the table and share.
www.franchia.com


momofuku noodle bar
171 First Avenue, Manhattan
Special dinner meny every day with very very special and very very very tasty items.
www.momofuku.com




D.O.C. Wine Bar
83 North 7th Street, Williamsburg, Brooklyn
Italian place run by husband and wife with interesting italian food and loads of vine.
www.docwinebar.com
Los Angeles, USA
We've tried a lot of tendy and not so trendy places in Los Angeles. And it is tough. There is a lot of waste of time in lousy places and then a lot of good-looking places that is rather boring when you get inside.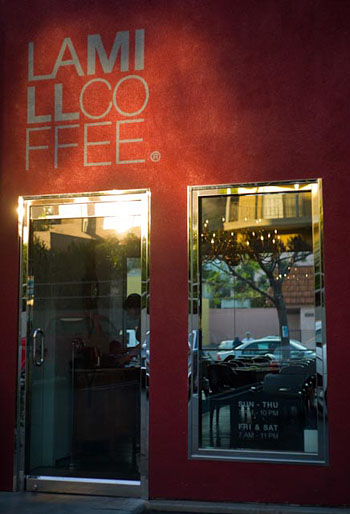 LaMill Coffee Bar


1636 Silver Lake Boulevard, Los Angeles
Some of the best coffee in the world, made on rare coffee machines. And they have a menu to go with the coffee, orchestrated by a Michelin chef Michael Cimarusti (or restaurant Providence). Fair prices, trendy place, wifi, free parking and sunshine on the front terrace most of the year. www.lamillcoffee.com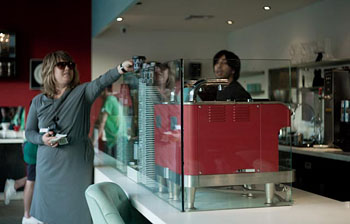 LaMill Coffee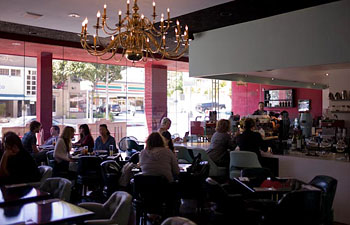 LaMill Coffee
Urth Cafe on Melrose (espreo bar)


Intelligensia in Silverlake (espresso bar)
Tiago Coffee on Hollywood Blvd (espresso bar)
Caffe Luxxe, Santa Monica web (espressobar)


The Edendale Grill
2838 Rowena Avenue , Silverlake, Los Angeles
In-and outside dining in a villa, with a large bar in another room as well. They do meat dishes so the angels sings.


Diner 101 (24/7)
Franklin Avenue, Hollywood
The younger international and Hollyood crowd hang out in this rebuild 1950ies diner below the Best Western Hotel.


Standard (24/7)
Sunset, Hollywood
Nice trendy diner that is always open. Furniture design is american 50ies mixed with Italian and Danish timeless simplicit. It lies inside the trendy Standard hotel in Hollywood and has the night club next door why in the evenings it also act as a bar. Food and coffee is good, the crowd a mix of locals and hotel guests.


Il Fornaio Italian Café,
Corner of 301 North Beverly Drive / Dayton Way, Los Angeles, Tel. (+1) 310-550-8330
The best brunch you can get. Italian cafe/restaurant/bakery where they serve you breakfast with pancakes, strawberry, fresh italian bread, eggs and the lot - and a very talented coffee as well.
Just next to Rodeo Drive in Beverly Hills. You will usually find plenty of parking space at Rodeo Drive in the morning. A not very expensive place with a crowd of families on holiday and retired americans (don't ask why).
They have a homepage: www.ilfornaio.com and places around in the US.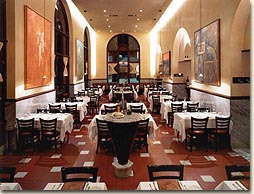 Il Fornaio in Beverly Hills, Los Angeles


Osteria MOZZA, 6602 Melrose Ave, Los Angeles
A very buzzing and discrete place you wouldn't know was open from the outside. Many avant garde dishess with lamb, yougurth, mozzarella, fish and all. Partly open kitchen so you can see how they prepare salads (while the meat kitchen is in a closed part). They also have a small shop and take-away at 6610 Melrose Avenue.
Palma, Mallorca (Spain)


Celler sa Premsa, P. Obioso Ber. Paulo, 8, 07003 Palma de Mallorca
This is an almost hidden gem established in 1958. They have a visible entrance door, but second time you go there you may want to take the "secret" entrance with no signs, just to show you are in the know.
Everyone working there seem like they have been doing so forever and you will meet lots of local characters having lunch, dinner and/or coffee. Great meat dishes, cosy surroundings and speedy service. Perfect for lunch before the siesta.
www.cellersapremsa.com


Cappuccino is a Mallorca coffee and lounge chain expanding to Saudi Arabia and other places. Very cool locations at the harbor and in the city of Palma where you can go and get brunch (3-star), coffee (5-star) and food almost at any time of the night and day (4-star). They have their own music compilations (the first CD in the series is the best).
www.grupocappuccino.com
Hamburg, Germany


Vapiano, Rothenbaumstrasse 76, 20148 Hamburg, tel (040) 3611 1780
Italian restaurant chain with an interesting lounge concept with indoor and outdoor seating. When you arrive you get a "credit card" and order in the kitchen and the (coffee-) bar. If you or you rkids or anyone else on the table need more, they go and order by the kitchen, and then when you leave, you pay the balance on the "credit card."
Perfect for lunch and dinner. www.vapiano.com


Vesuvio, Kirchenallee 55, 2000 Hamburg, tel. 24 01 07
Not a lofty place, actually very ordinary just next to the train station - but very italian kitchen and staff. The food is real italian, fast and inexpensive. And they can make coffee.
Three stars overall, but four stars if the restaurant had been located elsewhere.
Berlin, Germany: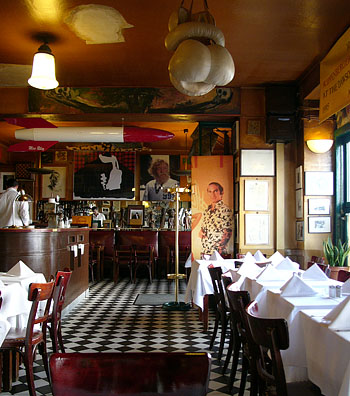 Paris Bar is a Danish-owned french bar in Berlin!




Paris Bar and Restaurant, Kantstrasse 152, Berlin 10623, Charlottenborg district (near by ZOO).
Very friendly and artist atmosphere in those two Paris places that lies next to each other: The traditionel one (pictured) from before WWII, and the new Bauhaus-style inspired one build in 2002 (which we prefer). Both are open till late, serving great food, drinks and coffee at very nice prices (as everything Berlin is).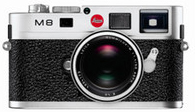 Leica Berlin, Fasanenstrasse 71, 10719 Berlin
Vis a vis Paris Bar is one of the most happening Leica camera shops in the world. Open 11-19 daily, 11-16 Saturday, lots of new and second-hand Leica equipment and collectors items.
www.leica-camera-berlin.com
Café Einstein Stammhaus
Kurfürstenstraße 58, 10785 Berlin, www.cafeeinstein.com
The Villa has an obscure history as it "was given" to Goebbels girlfriend and afterwards used as an illegal officers casino ... Great place to see different kind of people and do photography.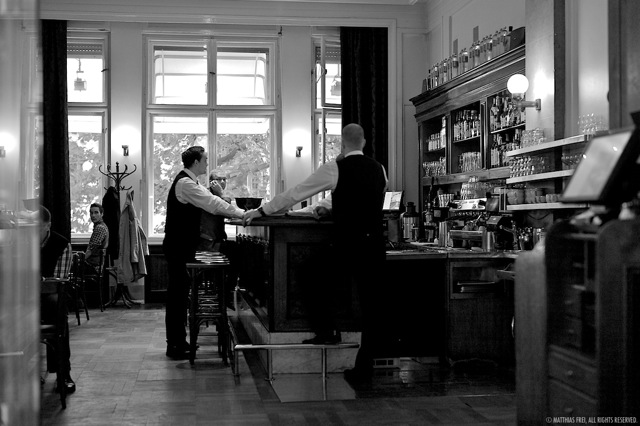 Café Einstein Stammhaus by Matthias Frei.
Marc Ann's
Invalidenstrasse 112 (Nearest U:Naturkundemuseum S:Nordbahnhof)
www.marcanns.com
For good coffee, sandwiches and pastries! A lot of come and go residence people to watch, cosy and informal.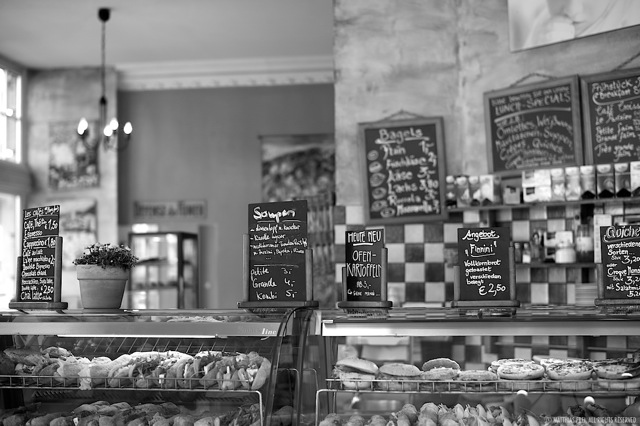 Marc Ann's by Matthias Frei

London, UK: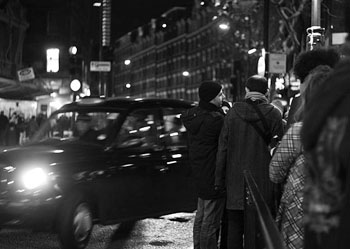 Swinging London...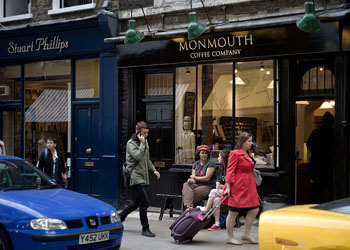 Monmouth Coffee Company at Monouth Street

+1
Monmouth Coffee
Monmouth Street 27, WC2HEU London, Covent Garden
Probably one of the worlds best coffee places for dedication and location. They serve a variety of coffee (and a 6-page briefing to read about each bean) as well as small chocolate balls, interesting cakes, sweets things and a croissant with ham and cheese for those of us so obsessed with getting coffee we didn't have time for lunch.
It's a busy place, as real great coffee places are, so the few boots for groups of six persons they have are taken. You can book one and wait, and then here is also a bench just outside as well as on the other side of the street where you can smoke while you enjoy the street life.
https://www.monmouthcoffee.co.uk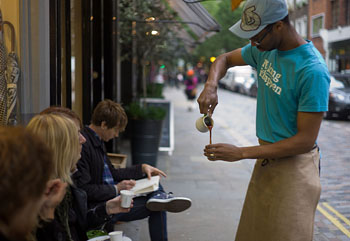 Monmouth dedication. Harris serving coffee for my friends at the bench on the opposite side of the Monmouth Street.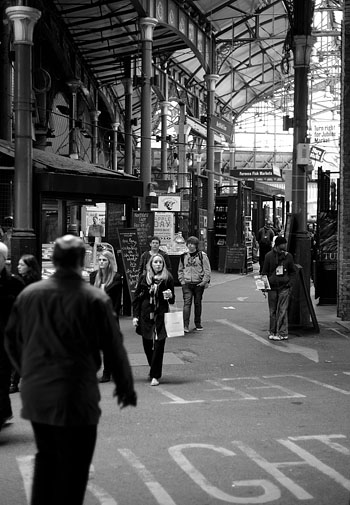 There is also a larger Monmouth Coffee at 2 Park Street
SE1 9AB London, Borough Market, but the original one is the onego to. Though the Borough Market under the London Bridge just next to the café is also an interesting and hidden gem of London.
Lantana Cafe (espresso bar)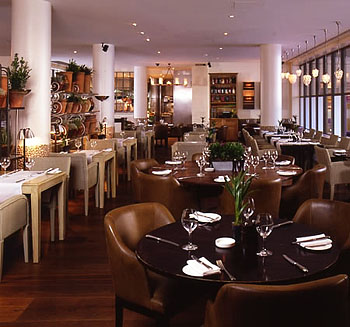 REFUEL bar and restaurant, The Soho Hotel,
4 Richmond Mews, SOHO, London
www.formdale.com
What might srike you as one of the coolest hotels in London, with celebrities wall-to-wall, surprisingly has a very fair priced bar/restaurant.
Enjoy a short break from London life in one of their lounges - or in the bar - with tea or coffee. But more interestingly, dine in the restaurant and try their ecological Buffalo Burger (from Laverstoke Organic Farm) for 17.50£.
Their WiFi unfortunately requires payment per the hour, but else it's a great hangout place or meeting point. If you want to stay for the night, room rates start at 280£ for a Superior Double Room. They don't have them less than superior.
If you fancy a good movie, or brought your own 35mm cinema rolls, The Soho Hotel features two screening rooms you can rent by the hour. Which will explain why you sometimes see staff carrying film rools in and out the lobby.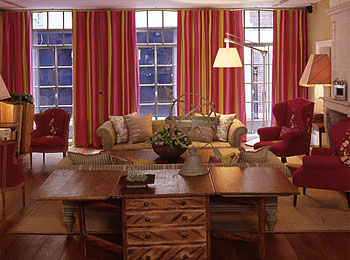 The Drawing Room at The Soho Hotel where you can enjoy coffee or teatime in a civilized, yet private manner.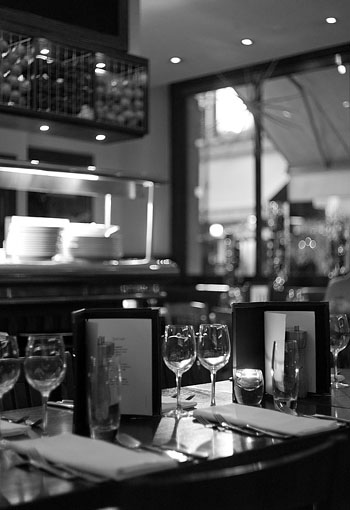 PICCOLINO Italian restaurant
21-23 Heddon Street, close by Oxford Circus, London
Italian operated place that is part of a chain with restaurants throughout UK .This one lies a short walk from the noisy Oxford Circus with Apple Store and all, in a small street with restaurants and bars. It's almost as a little village in London, and in summertime they serve outside in this courtyard/village as well.
Tasty and real italian food, a Carbonara is only 10£.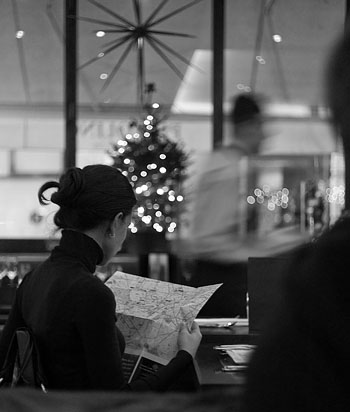 "You're Beautiful," as they say in London (James Blunt). More importantly, when italians too dine in an Italian restaurant in London it can't be all bad.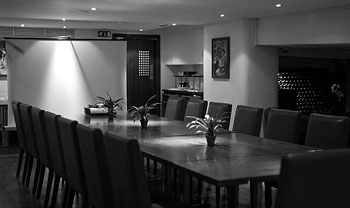 Piccolino also feature a private dining room in the basement with space for 8-40 persons. At no extra const but the food you order from the menu.


Next to Piccolino (to the right) is an arabic restaurant as well. You can smoke water-pipe outside and have very intersting dishes inside.



Moscoss Café Brasserie
26 North Audley Street, Mayfair, London
Nice little place for coffee and pastry or a sandwich.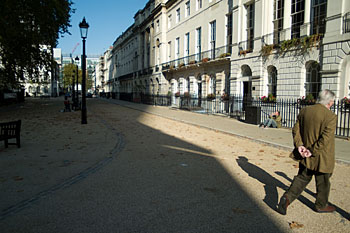 Fitzroy Square - a happening site for photographers. If you continue down Fitzroy Street a few hundred meters you will get to Charlotte Street and this little Italian place:


ITALIA UNO
The italian family's coffee and sandwich place
91 Charlotte Street, W1T 4PX London
It is called Italia Uno, but that is less important. The important thing is to find this little gem at Charlotte Street just opposite Saatchi & Saatchi. It's tiny, and you can recognize you have arrived to the right place by the cue outside of locals getting their coffee fix and getting italian sandwiches for lunch break.
It's all prepared and served by italians from the age of 4 to 90.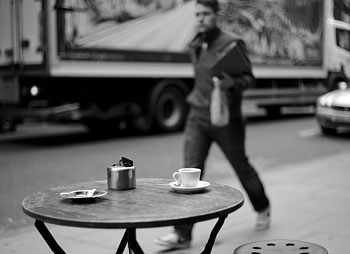 The view from Italia Uno in Charlotte Street, London

Photographing in London: Fizroy Square
Very close to The Soho Hotel the photographic interested will find Fitzroy Square, north of Fitzroy Street which is a well known place for the threes, shadows and building making a great photographic scenery you can spend an half hour or more chasing great shots at. I did it in 60 seconds because I was in a hurry, but did notice like 10 photographers having a go with the place.

Red Dot Cameras photo store in London, 68 Old Street
EC1V 9AN London
When in London, visit the Red Dot Cameras store that sell new and second-hand Leica cameras, Bllingham bags and other Leica acessories. Operated by Ivor, his friendly dog and beautiful wife. As you can see: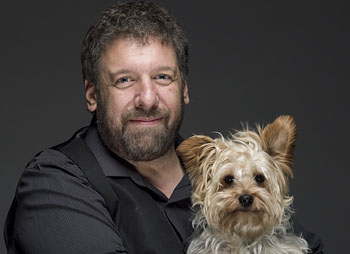 Ivor and his friendly dog.
London is also home of the "Leica Embassy," the Leica Mayfair Store at 34 Bruton Place
W1J 6NR which is the Leica Camera AG showroom and studio in London, as well as the service department on the opposite side of the street (for adjustment of focus on your rangefinder camera, or for longer repairs performed either in London or sent to Solms in Germany).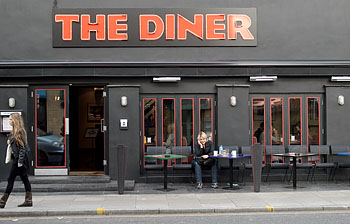 The DINER, Jamestown Road, Camden, London, Tel 020 7485 5223 www.goodlifediner.com
A posh place in the cool Camden town of London where the big media have their offices (AP, Sky, Getty , etc) as well as drug dealers, t-shirt pushers and a great deal of rastafarians ;-)
I like their breakfast which can be composed of eggs, pancakes, bacon, beans, bread and all. Coffee is simple but very good. Prices fair - expect less than 10£ for a huge meal with coffee.
They also do burgers and it's said to be a happening place in the evenings.
The Diner also exists in Soho and Shoreditch (check their website).
Shopping in London. The New Bond Street is the place where you will find all the major luxory brands, Chanel, Louis Vuitton, Mulberry, you name it.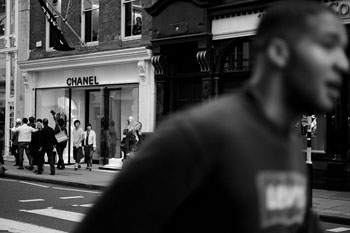 New Bond Street
East Grinstead, West Sussex, UK



Casablanca at High Street, East Grinstead
New 2010 café with sandwiches, ecological milkshakes, ice creams and great coffee. Also outside seating and they have free WiFi.


PIZZA EXPRESS italian cousine, 39 High Street, East Grinstead
Nice place for a fast dinner with or without dessert (their cheese cake with ice is great).


PREZZO italian cousine, 13 High Street, East Grinstead, Tel 01342 300211
A new restaurant that opened in 2002 - and boy did they need such a place in East Grinstead!
A very pleasant designed restaurant with great service and good Italian kitchen. Prices are fair.
Thei also have one PREZZO at High Street in Crawley ( 20 minute drive) which is actually a bit more trendy than this one.


Nizam Indian restaurant, High Street, East Grinstead.
Just on the other side of the street of PREZZO lies a large indian restaurant. The kitchen and sevice is true Indian. We recommend the duck with youghurt sauce.


Coffee
A newly 2010-renovated coffee bar with great coffee, food and cakes located at the main street on the corner to the train station.
Puerto Rico, Gran Canaria


La Cantina at the beach hotel El Greco
(CL DORESTE Y MOLINA, S/N 35130 - PUERTO RICO)
A restaurant located in the beach hotel, El Greco, and owned by the an Italian gentleman who also is the owner the hotel. Occasionally the owner (who owns hotels in Miami, Mexico and La Santa) will help out in the restaurant serving...
A real cosy and high quality place with an extensive wine menu as well. We recommend their cheese fondue for circa 16 € per person.
If you are lucky, you can ask for a cafe au lait and get one in this place – else nobody in Spain seems to know what it is and will most likely serve cafe long (double expresso).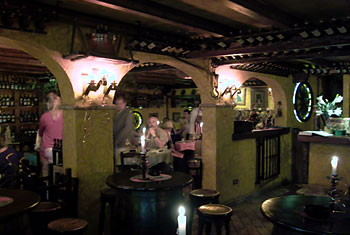 La Cantina


La Grill at the beach hotel El Greco (CLOSED as of 2011)
The sister restaurant to La Cantina, outdoor dining and almost as delightfull food. We recommend their starter menu; cheese in hot oil.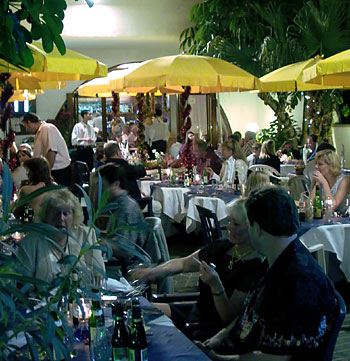 La Grill


Oliver in the Shopping Center (1st floor by the entrance)
The Shopping Center is a nighmare of noise and a display in bad taste. One restaurant stands out however and serves quality food and meat of a very high quality. Lying elsewhere it would earn 5 stars. Professional service as well.


Gloria Palace
The newly build 4-star hotel is a delightfull visit for its architecture that reminds you of an ocean liner. And you don't have to live there to visit and enjoy their buffet from 13 to 15:30. Only 12 € it is, with a spacious view from 10th floor terrace to the ocean.
Take the walk from the beach in Costa Rica along the waterfront for ca. 1 kilometer – it's a walkingstreet build on the mountain side – and you can take the hotel's elevator from there to the 10th floor.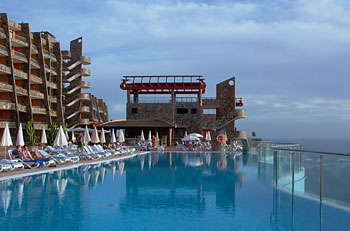 Gloria Palace's buffet is served on the 10th floor "pool deck"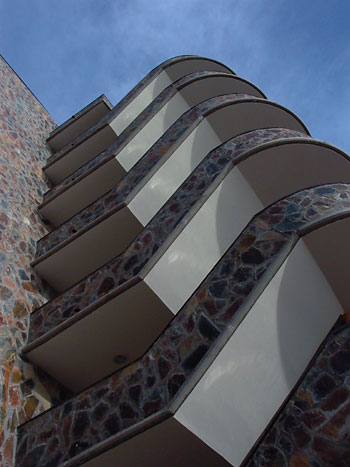 Gloria Palace architecture...
Las Palmas, Gran Canaria


The Coffee House
Cosy italian coffe house and restaurant with a good beat and – it seems – real italian spirit. We recommend their cheese cake with strawberry. Not an expensive or slow food place, but nice and fast when you need a break in the shopping.
Lies in the exclusive shopping area with Mont Blanc, Cartier shop, etc. just next to the big walking street.


More restaurants and cafés to follow...