By: Thorsten Overgaard. March 30, 2018.
On March 25 2018 I promoted a 24hr travel bag made of elephant skin, and on March 29, 2018 I decided to no more promote elephant skin. The story behind this you can read here.
This page is tucket away here (as I decided not to promote elephant skin) to give the facts about elephant skin that might be useful for some.
Final argument
What convinced me that I do not want to promote elephant skin was the fact I had come upon, that when governments flushed the market with 105 tons of legal ivory in an attempt to remove the market for illegal killing and trade, it had the opposite effect. The illegal killings for ivory went up. The logics of this must be that the more ivory and elephant products are promoted, the more it is wanted.
That's why I won't promote elephant products. History has shown that legal trade will cause an increase in illegal trade too.
Ivory is the real problem
This doesn't justifice or change my viewpoint on skin. Ivory and skin is two different animals, so to say. One animal is killed for the ivory and tusk, another for the hide. But in reality, the hide is of minimal interest. It's always been the ivory and the tusk that was the reason for killing elephants. By the beginning of 1900's there was about 6,000,000 million elephants, and when regulations stepped in around 1972, there was less than 1 million. In the period of killing 5,000,000 (or more, presuming elephants were born in that period as well), was mainly for ivory. The estimate is that 20,000 elephants were used for hide in a 30-year period from 1940-1972.
So hide is of little interest, compared. The illegal killing is for ivory and tusk, and the skin is left behind. As in this photo: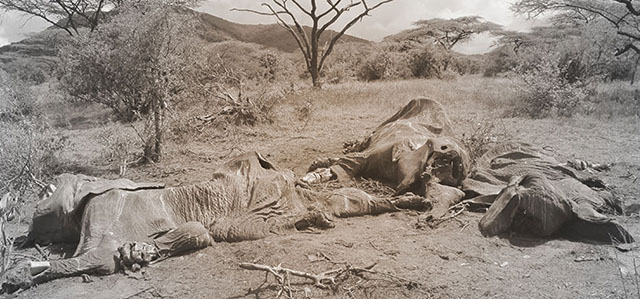 Elephants killed for their ivory and tusk, the rest is left behind. Photo from savethelephants.org
The need for Ivory
There is factually no real need for ivory. All products ivory was used for in the past, the ivory has been replaced by plastic (piano keys, decoration on guitars, billiard balls, etc).
How many elephants?
There was about 5 - 6,000,000 elephants in year 1900, and there is now 500 - 600,000 worldwide. Zimbabwe has about 83,000 in their reserves, which are growing in numbers.
By 1972 when the "normal producers" of products including ivory stopped, there was about 1,200,000 elephants.
In the last 3-4 years the illegal killing of elephants for their ivory and tysk have reached an all-high with 33-35,000 killings a year.
Ther is three ways elephants die: 1) Illegal hunting for ivory and tusk, 2) Legal hunting as trophy (banned in Kenya from 1973) and 3) Natural death.
Legal hunting
There are not much numbers avavilable for lega hunting. The price to hunt elephants is usually 10,000 - 60,000. Article in National Geographic.
Skin trade
Article in National Geographic.
Skin for health
Here is an article in The Guardian on elephant skin for "medical reasons". People who work with skin is disgusted that anyone would eat (any) skin.
Travel with skin
One of the stories I was sent was a story from 2012 that implied that one would get arrested if one had elephant skin products. This turned out not to be true. There was a woman that traveled with 15 items of elephant ivory, as well as leater bags. The items were confiscated and the woman was let go.
Here are the facts from U. S. Fish and Wildlife Service:
Travel with Exotic Skin Products
You may travel with products for personal use. If local authorities like US Customs and Border Protection deem it is more than for personal use, they can hold the products for clearance by USFWS.
Can a person freely travel into California and any other state in the US with with boots and bags made og elephant hide?
There are no federal restrictions on moving across state lines with items manufactured with African elephant hide, provided the item or skin used to make the item was legally exported from Botswana, Namibia, South Africa, or Zimbabwe (Appendix II populations). There may, however, be state-specific laws or regulations that would need to be address by the individual traveling with the item.
Is a person advised to bear a certificate of (legal) origin of elephant hide (and other exotic skin like alligator, etc) products?
There is no requirement under federal regulations that an individual must carry a document with them when traveling that documents the legal origin of the skin used to produce an item that they are traveling with. It is advisable to maintain invoices or sales receipts indicating where the items were obtained as documentation on the origin of the specimens (most likely not needed, but if the individual were to travel outside the U.S., they might need to document legal ownership).
What type of travel/import of elephant hide is prohibited?
Provided the elephant hide was obtained from elephant populations listed in Appendix II (e.g. from Zimbabwe, South Africa, Namibia or Botswana), there are no prohibitions. Hides from Appendix I populations of elephants (e.g. the rest of Africa and any elephants born outside of Africa) would require permits to move in or out of the United States or other Convention on International Trade in Endangered Species (CITES) party countries.
Here is the overview of illegal items: https://www.fws.gov/le/tips-for-travelers-species-list.html
What happens now?
My personal ambition is to work out a design of "the elephant bag" that out-creates the elephant skin. A bag that is better than what any elephant bag would ever been. For myself, yes - but potentially also for others.
I consider possibilities to influence the food chain of elephant skin as much as I can, from my own stand: From the reserves that sell legal skin from animals that died of natural causes, the agents that trade in these skind, the artisans that used to make bags, boots and other products from these skins, and the people who would use those producst. Without the skin, something else has to be there, and that other thing should be so obvious better that nobody talks about elephant skin anymore.
Ther is also the even larger scheme of illegal trade with ivory which I have not much information about. I don't understand what it is that drives this (besides money; but the reason for acquiring ivory I don't understand as there is no real need for it).
As always, feel free to e-mail me at thorsten@overgaard.dk with questions, ideas and suggestions.