(Note: This page is by far completed, but I thought I might as well publish what is there, hoping helpfull people might add in data)
Once photographing meant a large box camera on a tripod, shifting film plate after each shot - and working with a dark cloth over your head and the camera.
But then something happened...
The Leica was extremely compact and could be fitted with a very high quality lens that enabled photographers to work in ordinary outdoor settings with available light. It was always instantly ready to capture life and action effortlessly from any angle with the photographer often able to remain unnoticed. Without the usual heavy equipment, photographs of people no longer had to be confined to stiff conventionally artistic poses.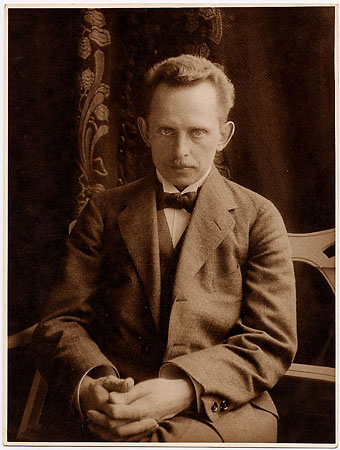 Oscar Barnack selfportrait ca. 1914
"Barnack's camera"
Oskar Barnack was the designer of the Ur-Leica which Ernst Leitz II decided to put into commercial production in 1924. Ernst Leitz made this decision on his own as all of his advisers warned him against the large risk it would involve for such a rather small company to enter the camera market.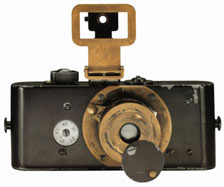 "Barnack's camera," or the Ur-Leica as it is called, anno 1913.
It was introduced first time to the market at the 1925 spring fair in Leipzig.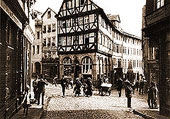 A testshot done by Oscar Bannack ca. 1914 in the city of Wetzlar. Using the Ur-Leica.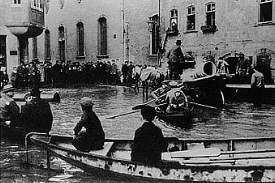 Another testshot, ca 1920.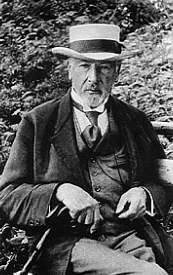 Ernst Leitz I [19xx-1920]
Ernst Leitz I becomes partner in the factory "Optical Institute" [founded 1849 by Carl Kellner to produce optical microscopes] with its twelve employees in 1865 together with the widow of the original founder. In 1869 he takes over the sole management and expands it under his name: Ernst Leitz Optical Industry. Tventy years later there is 120 employees and they have sold their microscope no 10.000.
[The photo right is Ernst Leitz I ca. 1917].
Ernst Leitz II [19xx-1956]
Ernst Leitz II takes over after his fathers dead in 1920 and when he decides to start production of the Leitz camera in 1924 there is 1.000 employees in the company.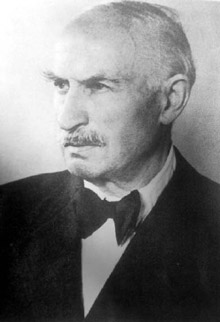 Ernst Leitz II
1956
The sons of Ernst Leitz II; Ernst Leitz III, Ludwig Leitz and Günther Leitz, take over the management of the firm after their father's death.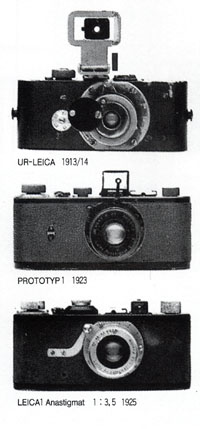 1952
Construction of the manufacturing plant in Midland, Ontario, in Canada.
1966
In April production starts in the Oberlahn plant.
1973
The Portugal plant in Vila Nova de Famalic"o near Porto starts production.
1986
Foundation of Leica GmbH in order to bundle activities in the photo market.
1987
On the January 1st, 1987, Ernst Leitz Wetzlar GmbH and Wild Heerbrugg AG merge to form the Wild Leitz group. The new company
employs a total 9,000 people.
1988
Move to the new plant in Solms near Wetzlar.
1990
The merger of Wild Leitz Holding AG with The Cambridge Instrument Company plc creates the new Leica Holding B.V. group. So now the Leica name also stands for the leading manufacturer of microscopes, surveying and photogrammetry systems, as well as optical-scientific instruments. Incorporation of the Zett-Geräte-Werk (former Zeiss-Ikon) into the Leica Camera Group and foundation of Leica Projektion GmbH.
1996
On April 1st, Leica takes over the camera division of Minox GmbH, manufacturer of sub-miniature and miniature cameras.
On July 25th, 1996 the Leica Camera GmbH is transformed into a
public company. Now the company is called Leica Camera AG.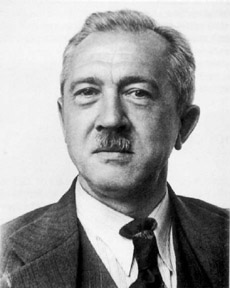 Professor Dr. Max Berek [1886-1949]
Was employed at Leica in 1912 after he had finished his studies in mathematics and mineralogy in Berlin. He later won world fame for his inventions in the area of polarization-microscopy; the Brek compensator and the formula to compute depth of field of miscroscopic vision which are still in use today. He worked at Leica from 1912 till his death in 1949 and was the architech of the first Leica lens which Ernst Leitz asked him to design for the "Barnack's camera." The lens was a f/3.5/50 mm and was known as the Leitz Anstigmat and later the Elmax [Ernst Leitz Max Berek]. Five elements [with the last three elements in one group] helped to give the lens and outstanding performance which, according to Leica lens expert Erwin Puts, would result in an outstanding MTF measurement if done today.
In an interview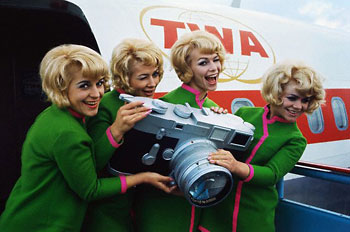 The German entertainers, The Jacob Sisters holding a big Leica M in 1967.
ELCAN
[Ernst Leitz Canada, established 1952] ELCAN was and still is the military/industrial branch of the old "Ernst Leitz Canada". In 1998, the ELCAN plant was sold to Raytheon (USA), who bought it from its previous owner, Hughes Aircraft Co.
According to John Francis from the Leica Forum, ELCAN was asked by the US millitary to develop the U.S. Navy High Resolution Small Format Camera System during the Viet Nam war which is/was composed of the following:
- ELCAN-R 75mm f/2, code C-341
- ELCAN-R 180mm f/3.4, code C-303
- ELCAN-R 450mm f/5.6, code C-329
- There was also a "standard issue" Leitz Summicron-R 35mm f/2
- Leicaflex SL 35mm SLR camera (modified??)
- Leitz Focomat II (modified), code EN-121A
- Vincent electrical shutter (for enlarger)
- ELCAN 52mm enlarger lens (20x-25x enlargements)
- ELCAN 20mm enlarger lens (40x-75x enlargements)
- Very high resolution B&W film, and developer
All above lenses are of apochromatic correction [APO] of the very highest degree, and were specifically designed by Walter Mandler of Leitz Canada/ELCAN.
Walter Mandler was, at the time, the Chief Engineer at Leitz Canada and a true legind in his own time. He was responsible for the design of the current Summicron 50mm, both for the Leica M and R systemwhich is considered one of – or the – best 50mm lenses in the world, the Noctilux-M 50mm f/1, the original APO-Telyt-R 180mm f/3.4 and the original Elmarit-R 19mm f/2.8, etc... A legend in his own time!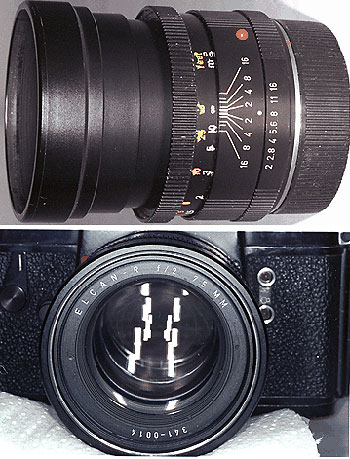 The lens in the picture is the ELCAN-R 75mm f/2 C-341, made by ELCAN, Canada in the 60ties or early 1970's as part of the "U.S. Navy High Resolution Small Format Camera System." I the picture above it is no 14 and below is no 8. There should have been produced 30 or so of which some was lost during the Viet Nam war.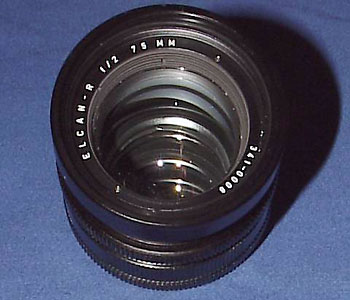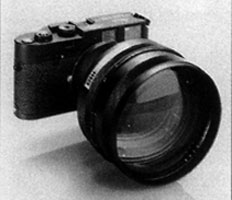 It seems ELCAN have been producing small series of many interesting things over the years. According to Hans Kafle at the Leica Forum there was one Elcan-R 90mm f/1.0 (picture right) sold at Christie's auction in London for 20.900 £ a few eyears ago – with a Leica KE-7A from 1972 included though.

Expensive Leicas
According to roumers, a Leica M3 with the first serial number 700000 was sold for 75.000£ on auchtion around 2003.
In August 2004 a person in the Leica forum told about a IIIg his father had given him. The father had closed down his photo shop and had saved a Leica with several lenses for each of his three kids. The camera mentioned had the IIIg serial number 825001 (anno 1956) and thus was the first Leica IIIg in production. The owner wanted to inquire as to what such a camera would be worth and some forum members said "minimum half" of the 75.000£ the first M3 had given at an auction. The owner was kind enough also to show how the camera looks (which must be said to be in mint condition):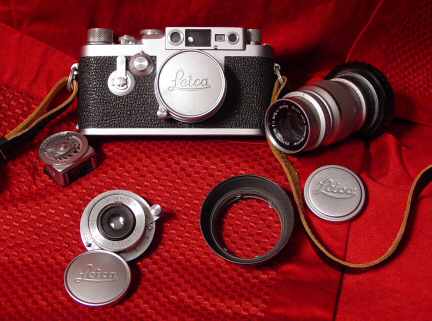 The IIIg first off the assembly line ever anno 1956 with serial number 825001 and the lenses that goes with it. The lenses does not carry any "special numbers."
On 6th November 2004 a Leica M3 black paint was sold for 38.125 Euro. In mint condition and with the box of course.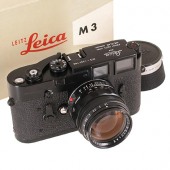 Another rare Leica, the 250 GG, was sold at auction the 29th May 2004 for 171.250 Euro. As can be seen it is made for taking many pictures in a hurry: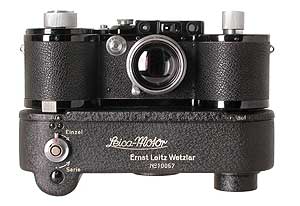 Leica 250 GG ... Sold for 171.250 Euro in May 2004
Leica and the Jews during Second World War and Holocaust
While Leica was a major supplier to the German war during World War II and was highlighted by Minister of Propaganda, Joseph Goebbels as a German model company, it was also a company where the top management was systematically saving Jews.
These activities, enabling Jews to emigrate, began shortly after Adolf Hitler became Chancellor in 1933 and was intensified aftrer the nationwide "Kristallnach" in November 1938. But with Germany's invasion of Poland and the sealing of borders in August 1939, these activities more og less came to an end.
Frank Dabba Smith has written a very intersting story about this in a document available on the internet, presenting many stories about Jews who's lifes were saved by the help of Leica.
Credits:
Thanks to
Erwin Puts
Frank Dabba Smith
Justin Scott
Douglas Herr
...and others ...
for knowledge and interest.
Download Leica family tree -click on the picture below [PDF]: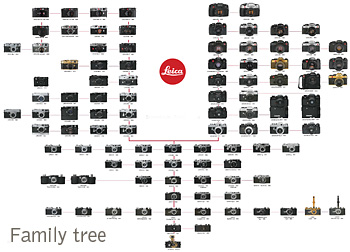 Thorswten Overgaard, latest update; August 2004