By: Thorsten Overgaard. February 10, 2016
Death as a performance art
I was in London the day David Bowie died. I happened to visit several places where people remembered him, and I visited his childhood home. Just because. This is my personal homage to David Bowie who lived as a great artist, and died as an even greater artist.
I made a conscious decision not to read the newspapers the morning of January 12, 2016.
I got The Times brought to my room in London and it had a front page and an 8-page insert dedicated to Bowie.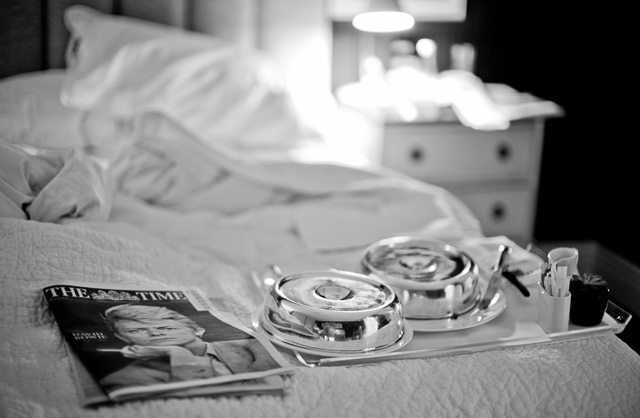 I got The Times to my room in the morning with a special section I made sure not to read. I still travel with it in my suitcase.
"Read the Bowie article", Joy told me before she left for the airport at 6 AM to fly to Singapore to perform, "It's really good".
It seemed the world was in a 24/7 indulgence in Bowie and it was ok to stop everything to read and hear about Bowie. I considered to go downstairs and read all the newspapers and websites and waste the day till I had to go to the airport at 4 PM. All the papers had Bowie on the front page in London, and the same when I arrived in Hamburg, Germany in the evening.
But I think Bowie would have focused on his work rather than what had become a media event.
What matters is what Bowie did when he was alive, and particular how he set the bar really high for how to exit a career and this planet.
Most would think that if you die … well, that's just too bad. Who would start filling the calendar with stuff to get done?
But to orchestrate your last months by producing a final album, and a video, release it … and then die. That's performance art of a new caliber.
(Bowie had two other projects in this period: His family and he participated the making of the off Broadway theatre play Lazarus that ran for two months till January 19, 2016).
Spending the time
I find myself thinking about my legacy. Not about my image; but what I would like to write and photograph, and how I continuously apply a workflow that will make sure it will be available for those who might want it. I am aware there is a deadline, and when you realize, it's too late to sort it al out and organize it.
I'm busy. I have stuff to do, so sitting and reading newspapers wasn't what I would do. That would almost be like celebrating it.
We're holding on
Joy and I happen to have had Ziggy Stardust as the soundtrack to our romance the first 6-9 months of our time together. When traveling from New York through Canada, Europe and to Asia we had it on repeat.
Apart from that period, Bowie haven't filled our thoughts much of the time.
But when he died, you realize what you lost.
"Sometimes you will never know the value of a moment until it becomes a memory," as his wife Iman said.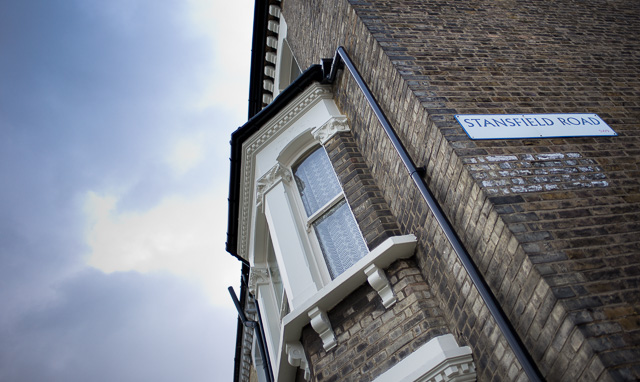 The street David Bowie grew up on in Brixton, London. Leica M 240 with Leica 28mm Summilux-M ASPH f/1.4. © 2016 Thorsten Overgaard.
Visiting Bowie
We had been discussing where he was from, Joy and I. I happened to look it up and found out it was on 40 Stansfield Road in Brixton. He lived there till he was 6 and then the family moved to Kent.
I looked it up on the map and figured I could get there by Underground, take some pictures and get back in less than two hours. I might learn something, and I would be able to produce some pictures. That was a reasonable deal, I wouldn't come empty handed back, much better than reading about him.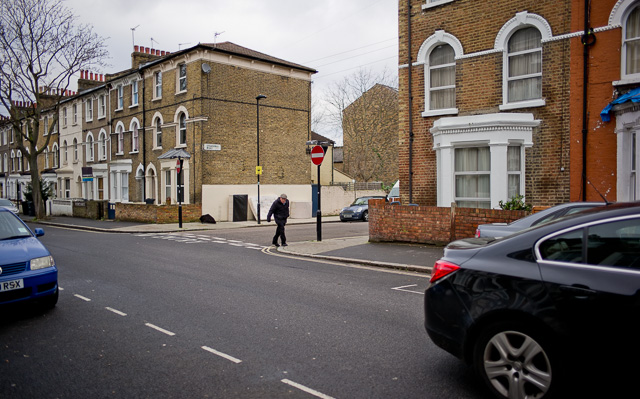 I had expected more, but this is how David Bowies neighbourhood in Brixton looked on January 12. Leica M 240 with Leica 28mm Summilux-M ASPH f/1.4. © 2016 Thorsten Overgaard.
His house was a 5 minutes walk from the Underground station. Not much happening till I got to the house. Outside was two older rock'n'rollers taking photos. Eventually they grouped up next to me and talked about that it was a nice house and how they owners had to hate the attention.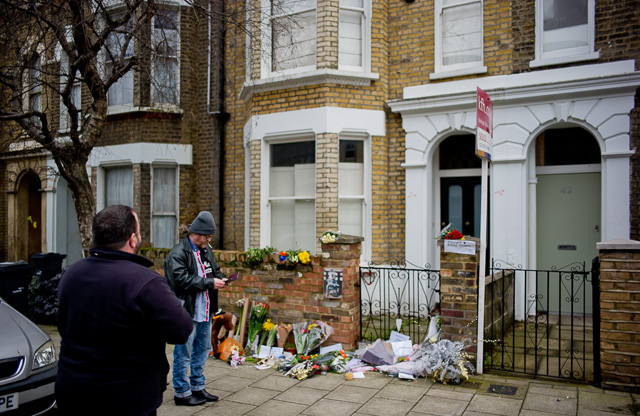 Of the possible ways to remember David Bowie I would say I had found the exclusive one with just three people outside his childhood home. Leica M 240 with Leica 28mm Summilux-M ASPH f/1.4. © 2016 Thorsten Overgaard.
"I wish I had his energy", one of them said, "but I haven't", he concluded with a sigh. They went on talking and finished with one giving directions to the mural in Brixton.
The windows in the house was sealed off. It seemed empty and I thought it might make a good museum one day.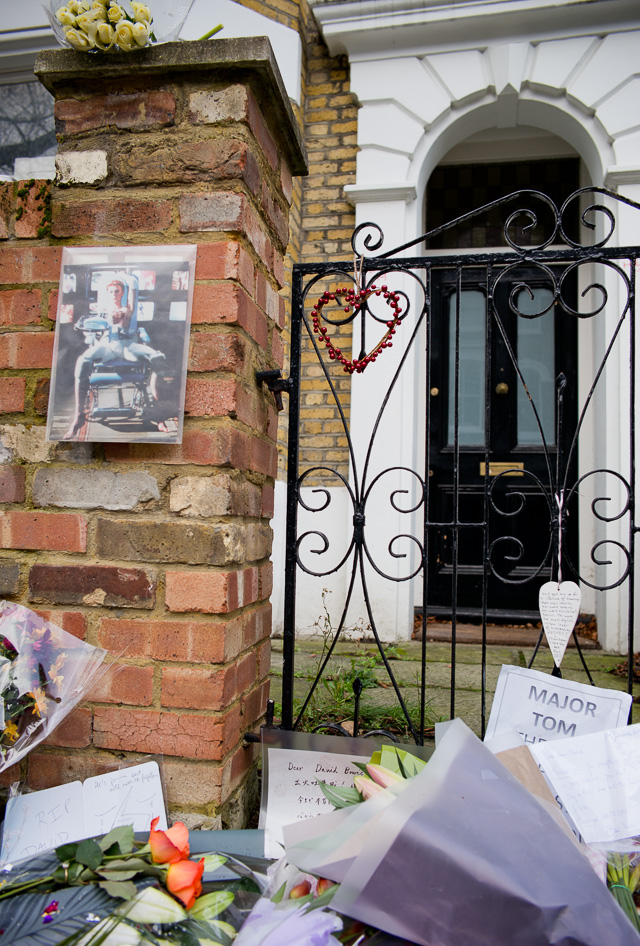 Messages for David Bowie in Chinese and other languages outside his childhood home where he lived till he was 6 years. Leica M 240 with Leica 28mm Summilux-M ASPH f/1.4. © 2016 Thorsten Overgaard.
I hadn't followed the instructions on how to get to the mural, only heard "It's easy to find" so I decided to go see that as well.
I circled the streets a bit and saw press people. A camera crew from some television station looked very determined so I decided to follow them. But as it turned out, they didn't know nothing and kept asking people and finally walked the other way.
Oh well, I had gotten what I came for and was still on time. So I headed back to the Underground station where nurses and doctors were demonstrating outside. As I looked at them to see what they were up to, my eye caught the mural just on the other side of the street. How I had missed it when I arrived I have no idea. I must have looked at my Google map.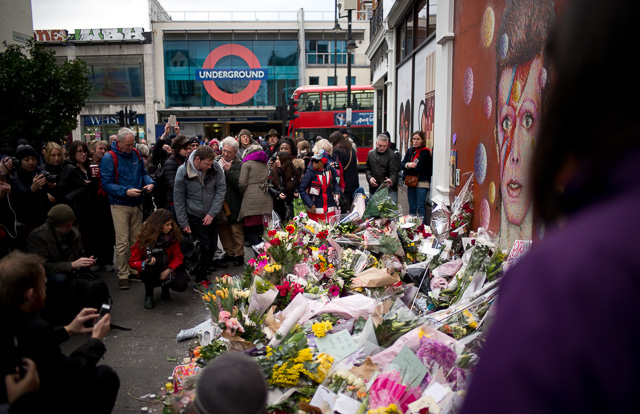 The David Bowie mural in Brixton. Leica M 240 with Leica 28mm Summilux-M ASPH f/1.4. © 2016 Thorsten Overgaard.
Let's Instragram it
Let's Instagram it the world seemed to think, just so we remember the moment.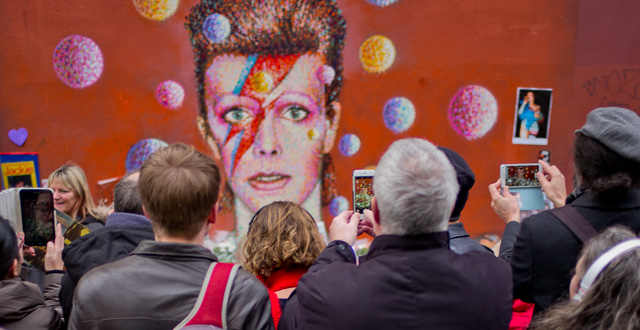 Instagramming the Bowie mural in Brixton. Leica M 240 with Leica 28mm Summilux-M ASPH f/1.4.
© 2016 Thorsten Overgaard.
It's what we used to do with photography. Preserve the moment. Now it's modernized, made smarter, with filter effects and tags, and we don't wait for nobody to come to our house and see the photo album. We post it instantly so it's out there for everybody to like.
It's our diary, photo album and the dreadful slide show-evenings made into one app.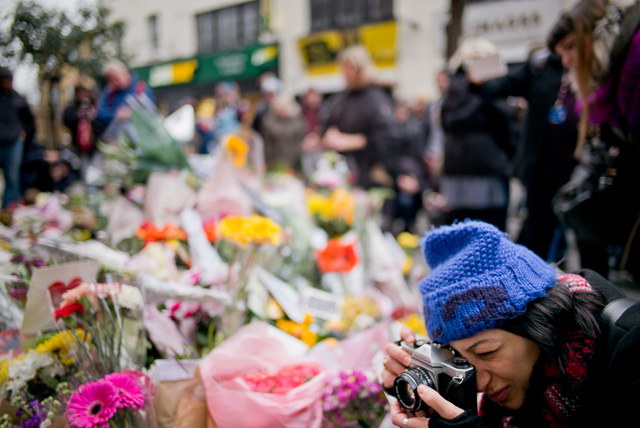 One real camera creating something out of it. Leica M 240 with Leica 28mm Summilux-M ASPH f/1.4. © 2016 Thorsten Overgaard.
There's "look right here" in Men in Black (when they use the Neuralizer) that will make you forget, and there's the Instagram that will make you remember.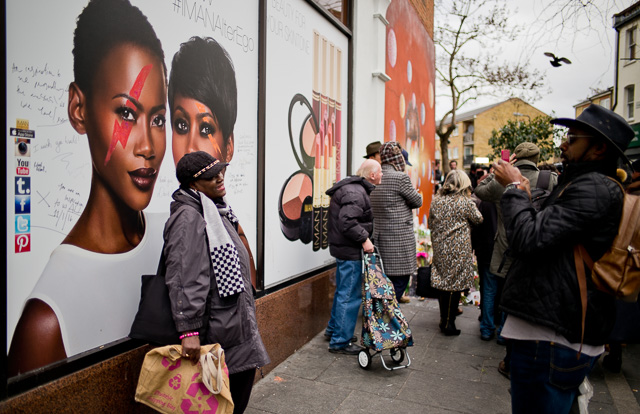 By some sort of coincidence, next to the mural was two billboards for Iman Cosmetics that she founded in 1994 to fulfill the need for makeup suited for darker skin. Bowie and Iman next to each other. Somebody had painted Bowie makeup on the models' faces which made for another selfie opportunity. Leica M 240 with Leica 28mm Summilux-M ASPH f/1.4. © 2016 Thorsten Overgaard.

Bowie and I was like this
I've never been as close to David Bowie as in the month after his death. I never saw his concerts, and I never photographed him. But when he died, I found myself in the location where the Ziggy Stardust cover photo was made in the evening of the 11th. On the 12th I went to visit his birth home.
A week later in New York I thought about visiting his home there but when I realized I had been just one block away the day before I decided it had to be close enough.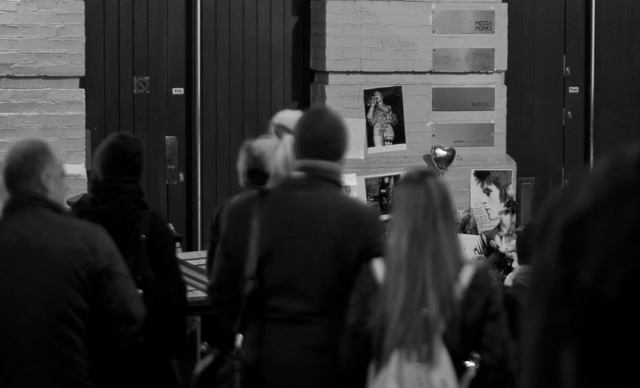 The location in London where the Ziggy Stardust cover was photographed by Brian Ward. I met the guy who had put on the Bowie music playing all over Heddon Street that is now the home of restaurants. I've been there many times but didn't know the album cover was made there. Leica M 240 with Leica 28mm Summilux-M ASPH f/1.4. © 2016 Thorsten Overgaard.
The history of the Ziggy Stardust album cover was that Bowie and the musicians were recording in a studio close by. It was raining and none of them wanted to go out. Except Bowie who had the determination and went out and did it all alone. At least, that was the story I was told by one of the people there.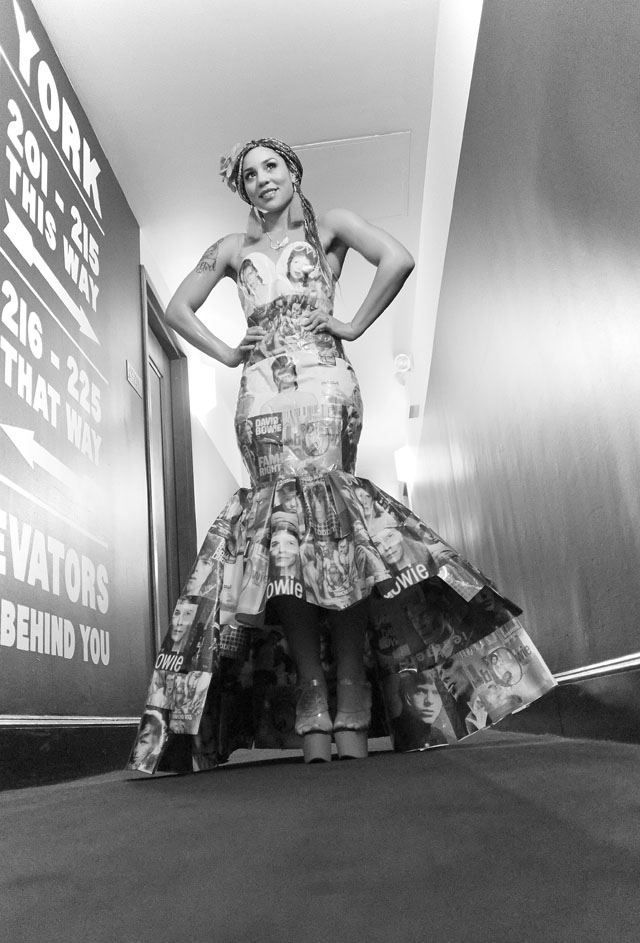 Joy Villa in the David Bowie dress made of vintage record covers. Workshop photo by Mark Tenally.
Our own mural
Out of coincidence we had met Garbage Gone Glam at the Grammys last year and made an appointment to make something together when in New York.
They came by to our hotel in New York and made a dress on Joy Villa by gluing vintage David Bowie covers together.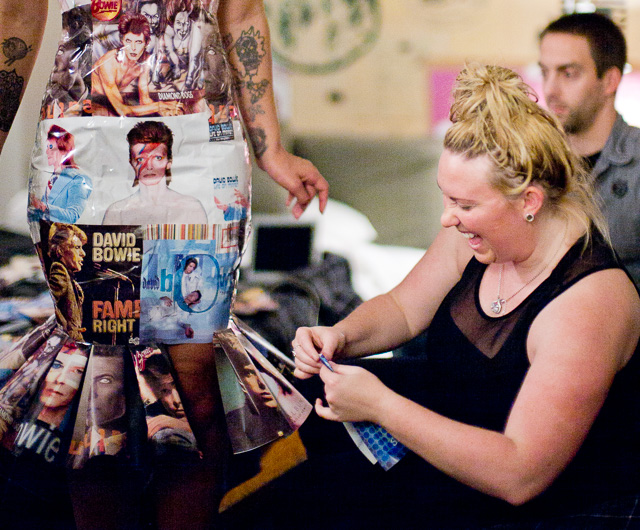 Kristen Alyce from Garbage Gone Glam making a dress on Joy's body. They had to cut her out after.
They actually made it on her. In the final stage they cut it open in the back and added Velcro so she could get in and out of it.
We did a shoot of it in the ACE Hotel with the workshop the next day.
A mural of Bowie records made on Joy's body. Our final memory of Bowie.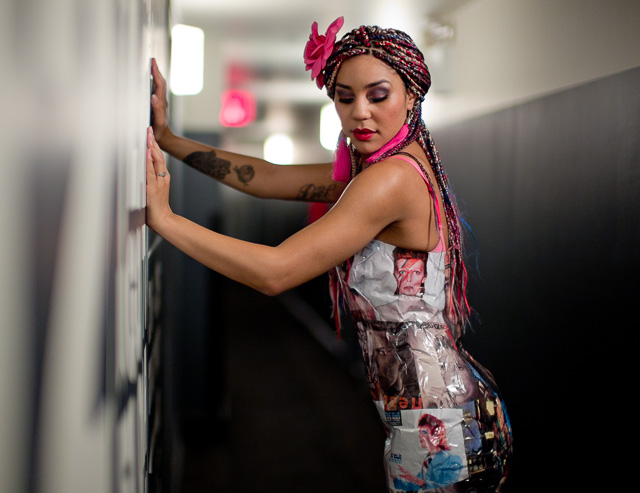 Joy Villa in the David Bowie mural (a painting or other work of art executed directly on a wall) created by Garbage Gone Glam.
Buy the best-selling eBook
"Finding The Magic of Light"
by Thorsten Overgaard

Order now - Instant delivery.

(Note: If you bought the first edition of this book, this new edition is free. Simply send an e-mail for your free update).

In this easy to read and apply eBook,
Thorsten Overgaard takes you on a journey to see, understand and simply use light.
"One of the most important ways to get an aesthetic and pleasant picture is to
find the good light."

"Finding the Magic of Light"
eBook for computer, Kindle and iPad
Only $47 - NEW 2nd EDITION - 87 Pages.Also available in German -->

Buy Now

Instant Delivery

"I've already read two of your books and it goes without saying that you "walk the talk! I'm very happy that I stumbled upon you and hope some day to attend a live class with you."
J. F. (USA)

"I was able to pick up some significant techniques on lighting."
J. M. (Philippines)

"Love your approach to photography,
very refreshing, no B.S."
M. B. (UK)

"Your work is great! I sit down with your eBook on "The Magic of Light", grab my coffee, read and then open to a new page in my notebook and write! Your work affirms my thoughts on beauty and life. Thank you!"
M. B. (USA)

"I found your eBook "Finding the Magic of Light" very inspiring and useful in my own personal development as a keen photographer and have improved my skills already from reading this."
P. B. (Denmark)

"Exactly what I craved. Excellent book.
I plan to attend one of your workshops
this year."
C. S. (Toronto)

"A must have
(particularly useful for street photography)"
A. F. (Spain)

"A great and creatively inspiring read.
Highly recommend it."
L. T. (USA)

★ ★ ★ ★ ★ ★
Epilogue ...
Jesus brings Lazarus to life
The song Lazarus on the Blackstar album David Bowie dropped two days before his death, caught my interest. The lyrics are playful (quoted in the bottom of this article), and that melancholic saxophone ... It reminds me of Clarence Clemons saxophone on Springsteens "Born to Run" album.
When I was back in Denmark some days later and the lady from The Watchtower knocked on my door, I asked her what her take was on it. She didn't know the song, but she knew Lazarus. Lazarus is from the Bible.
She told me that Lazarus was particular interesting because he was brought back to life by Jesus after having been death for four days; the point being that a dead body would have started decomposing after four days.
But as Jesus said, "I am the one bringing people back to life", and bringing Lazarus back, even when the body had started decomposing, showed that Jesus was stronger than death.
It's all in Johannes 11, that reads:
A man by the name of Lazarus was sick in the village of Bethany.
When Jesus got to Bethany, he found that Lazarus had already been in the tomb four days. Jesus said to Martha (Lazarus' sister) "Your brother will live again! Everyone who has faith in me will live, even if they die".
Jesus started crying, and the people said, "See how much he loved Lazarus." Martha said, "Lord, you know that Lazarus has been dead four days, and there will be a bad smell."
When Jesus had finished praying, he shouted, "Lazarus, come out!" The man who had been dead came out. His hands and feet were wrapped with strips of burial cloth, and a cloth covered his face.
Jesus then told the people, "Untie him and let him go."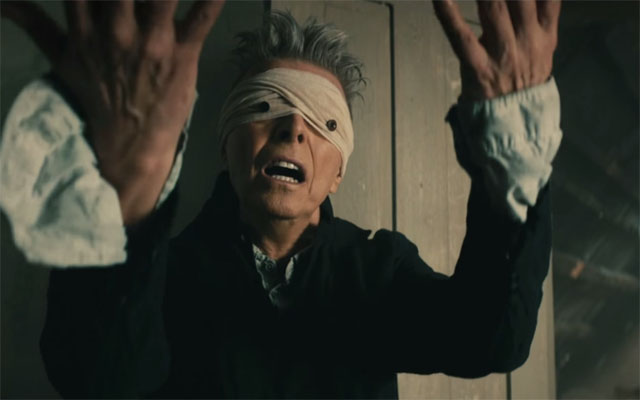 David Bowie in his last ever music video.
Lazarus, by the way, means "God is my help".
I don't know what to make out of it, except it is intriguing that David Bowie sings to us from Heaven. Then again, as Bowie sings in another song on the album, "Saying no but meaning yes, This is all I ever meant, That's the message that I sent, I can't give everything. Away".
He left us where he found us. Amazed.
Thank you for reading. I hope you enjoyed this look back at events that are now a month ago. Enjoy the music, and as always, feel free to e-mail me suggestions, questions and ideas at thorsten@overgaard.dk.
Lazarus
By David Bowie

Look up here, I'm in heaven
I've got scars that can't be seen
I've got drama, can't be stolen
Everybody knows me now
Look up here, man, I'm in danger
I've got nothing left to lose
I'm so high it makes my brain whirl
Dropped my cell phone down below
Ain't that just like me
By the time I got to New York
I was living like a king
Then I used up all my money
I was looking for your ass
This way or no way
You know, I'll be free
Just like that bluebird
Now ain't that just like me
Oh I'll be free
Just like that bluebird
Oh I'll be free
Ain't that just like me