On The Road with Thorsten Overgaard · October 2017
By: Thorsten Overgaard
This is the ongoing journal of my travels, photography, experience with people, places and equipment.
"The whole weekend was a really amazing experience and the knowledge gained will be a game changer.

There were so many different things that I took away from this weekend, from organizing my files, working in Lightroom, working with models and proper lighting techniques, and now a new-found love for Leica.

I really enjoyed meeting other great people with a passion for communicating and writing with light".



- B. F. (USA)
Winning the APA Award 2017
My picture "Shadowland" won the category Photojournalism in the prestigious international competition by American Photographic Artists.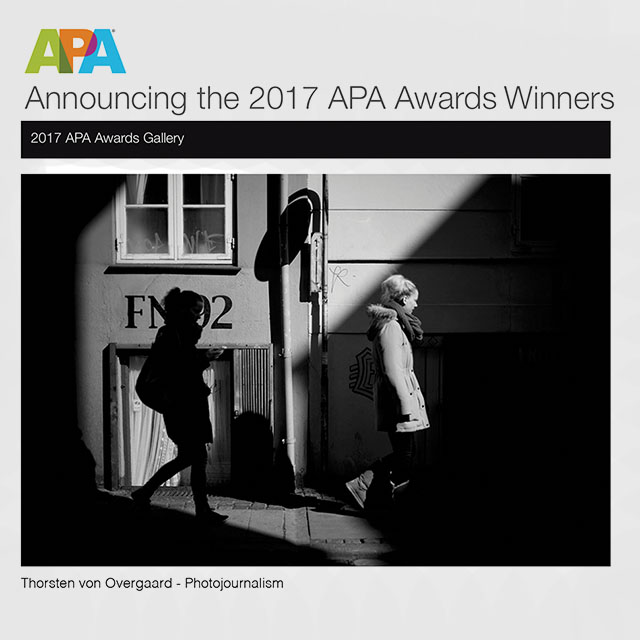 | | | |
| --- | --- | --- |
| | | |
| | "Just finished you Leica M10 video and I must say, your focusing section was worth the price of the entire ensemble. I, like so many others, think we must being doing something wrong when our pics are not in focus!" | |
| | - T. A. | |
London Workshop
Another blast of a London workshop. Full house with rain, sun, wind and overcast in an ever-changing mix that made photography interesting and fun. My next visit to London will be in May and October 2018.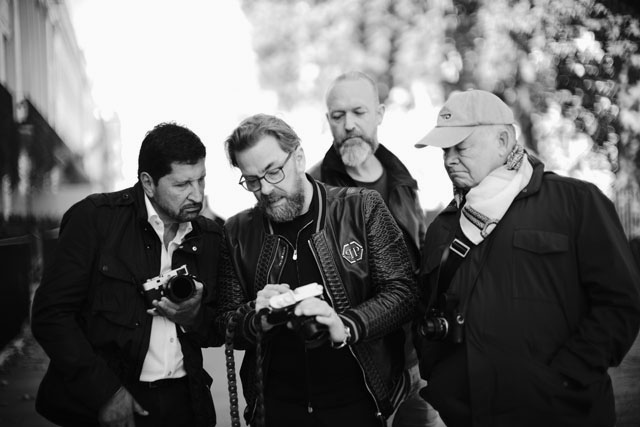 London Overgaard Workshop, October 2017. Photo by Joyce Tang.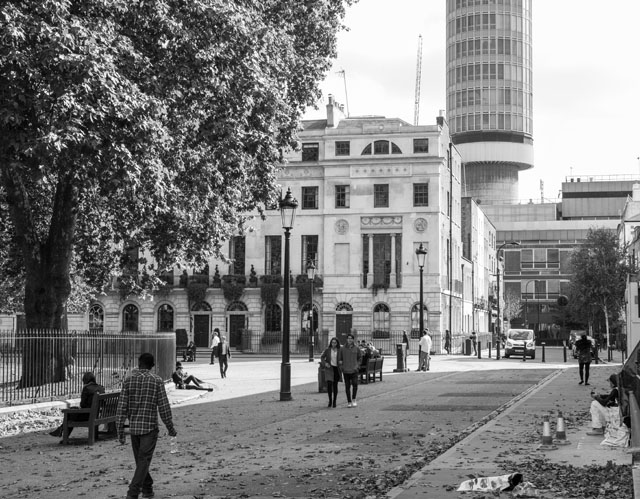 Fitzroy Square in London by Eric Scots-Knight.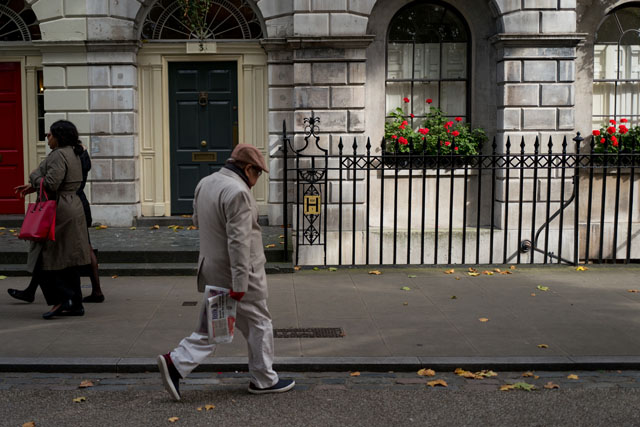 London Workshop October 2017. Photo by Brett Patterson.
| | | |
| --- | --- | --- |
| | | |
| | "What a privilege it was to spend a weekend with all of you! Thanks so much for the companionship as we continue to navigate the Leica journey we've embarked on and I feel like I've got a few new mates for life! Great tutoring by the Viking too, what a colorful life you, Joy and Robin lead - I loved immersing myself in it for a short stint. I look forward to staying in touch". | |
| | - B. W. | |
London Portrait Workshop
London, October 5, 2017
The first ever Portrait Workshop was in London and was a great success that will definitely be repeated. Next one is in New York, Nuremberg and Amsterdam.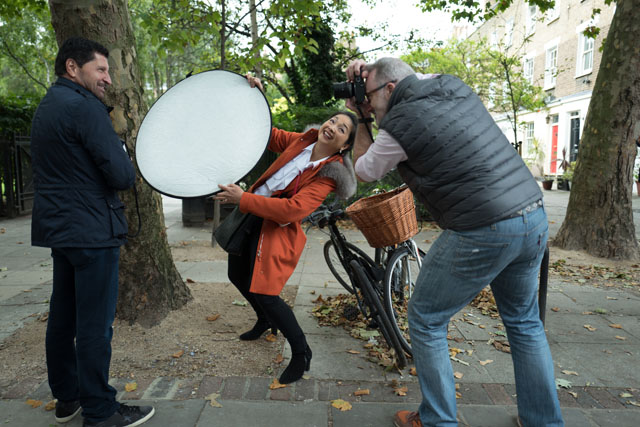 Working hard on portraits in the Overgaard Workshop in London. Photo by Brett Patterson.
Buy the new eBook
"A Little Book on Photography"
by Thorsten von Overgaard

Order now - Instant delivery.

★ ★ ★ ★ ★ ★

It's a humorous understatement to call this
new eBook by Thorsten Overgaard for
"A Little Book on Photography".
It's a grand book, a history lesson, life experience, a biography and poetry book and brilliant photo book!
All in one beautiful package of 180 pages
to fire you up and get you to love
photography ... unconditionally!

"A Little Book on Photography"
eBook for computer, Kindle and iPad.
New release March 2017.
Intro price only $47 - 180 pages.

Buy Now

Instant Delivery
New York Portrait Workshop and Masterclass Workshop
New York, October 27, 2017
Join the Overgaard Portrait Workshop in New York, and/or the Overgaard Masterclass Workshop, "New York in Monochrom"
Sign up for the next Paris Workshop: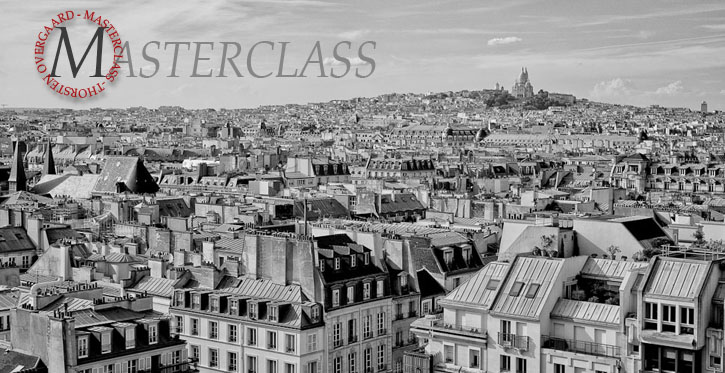 New Lightroom Survival Kit 6
for only $498

250 pages on how to set up a photography workflow, from calibrating the screen to editing in Lightroom. How to organize files, back up, use DAM (Digital Asset Management) and Photoshop. Read more here

Video tutorials, image files, presets, checklists, definitions, tutorials of Lightroom, Media Pro 1 and Photoshop that boils down years of experience to a workflow you can implement in less than one day.

Update for only $198

Update your Lightroom Survival Kit to the new
Lightroom Survival Kit 6 for only the difference
between the old and new Survival Kit, only $198.
You get a complete new installation.

Join the NEW Thorsten von Overgaard
Photography Extension Course

"My wife game me this course and I absolutely love it.
Now I think more in light and shadows. Used a lot of the techniques on a recent trip and
my photos have improved a lot. Well done, Thorsten!"
S.N. (Mexico)

"I am happy with my purchase of the extension course. Well written, easy to understand"
K.D. (USA)

"I very much enjoy the incredible knowledge"
V.V. (United Kingdom)

"Addictive, beautifully and simplistically written. Just amazing. Cleared my concepts"
V.P. (USA)

"The extension course is the best course I read about photography (and I'm still at the beginning)"
M.S. (Luxembourg)

"I'm already in page 81 of the Extension Course, and your communication and words provoked a change in me at an aesthetic level that I felt but I couldn't explain"
C.L. (USA)


The NEW
Overgaard Photography Extension Course

The waiting list is over!

After a couple of years with a long waiting list, I have finally redesigned the course so I can handle the students interested in this course. Not only that. The number of pages has gone up from 120 to 330..!

I teach you the basics of photography in an easy-to-understand and step-by-step way that anyone from age 12 to 90 years can understand and easily apply. This extension course is for everyone from 12-90 years.

The intention with this extension course is to get you going in your photography adventure with lightning speed and inspire you to reach to new heights.

Enjoy!

Specially tailored for Leica and digital photographers.

You work at your own pace after you recieve the full package of material via mail. It works as PDF on computer, iPad, Kindle, or - if you like - make your own print.

Join the Home School for
Leica and Digital Photographers

Only $798.00

Buy now. Instant delivery by mail.

ITEM #1708-2016

Note: If you have bought The Overgaard Extension Course (2010) previously you may enroll on this new course for free. Simply e-mail me.
| | | |
| --- | --- | --- |
| | | |
| | "Thank you for the e-book. I have found it very useful." | |
| | - J. T. (South Africa) | |
| | | |
| --- | --- | --- |
| | | |
| | "Totally enjoy your newsletters, find them very helpful." | |
| | - R. D. | |